We flew from Kuala Lumpur, Malaysia to Tashkent, Uzbekistan. This is the first time we have flown Uzbekistan Airways. My flight review is below along with arrival information.
Transfer to Kuala Lumpur International Airport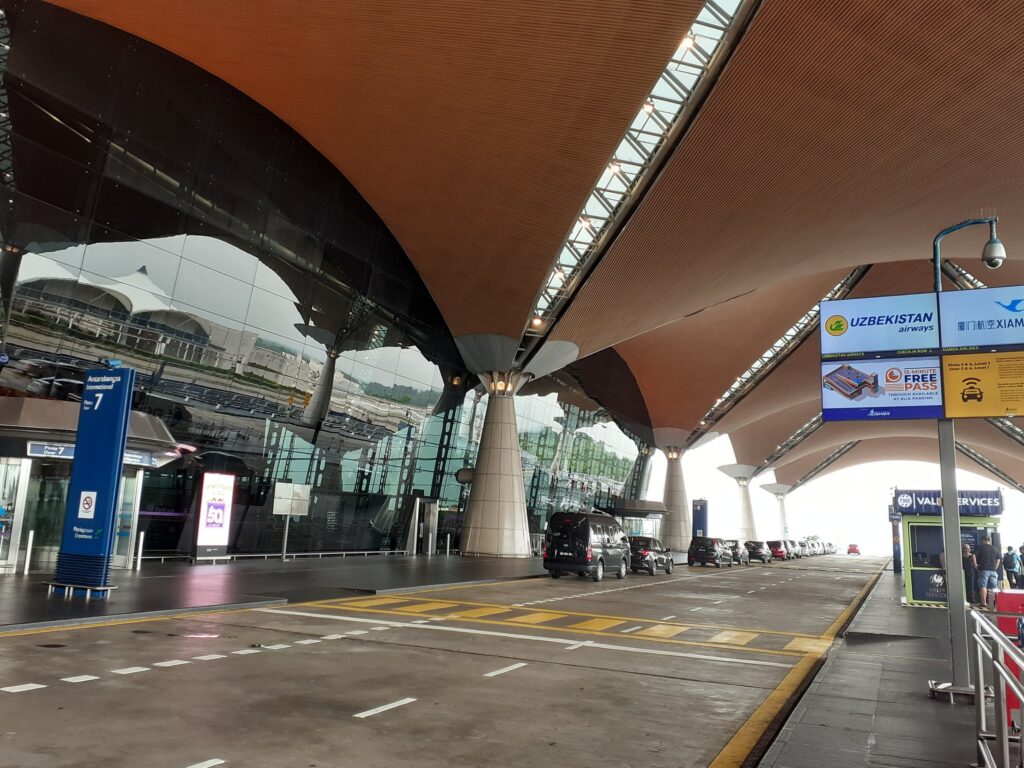 Kuala Lumpur International Airport is more than 50 km from Kuala Lumpur city centre. We spent five nights in Kuala Lumpur city this time, but decided to stay near the airport the day before our flight.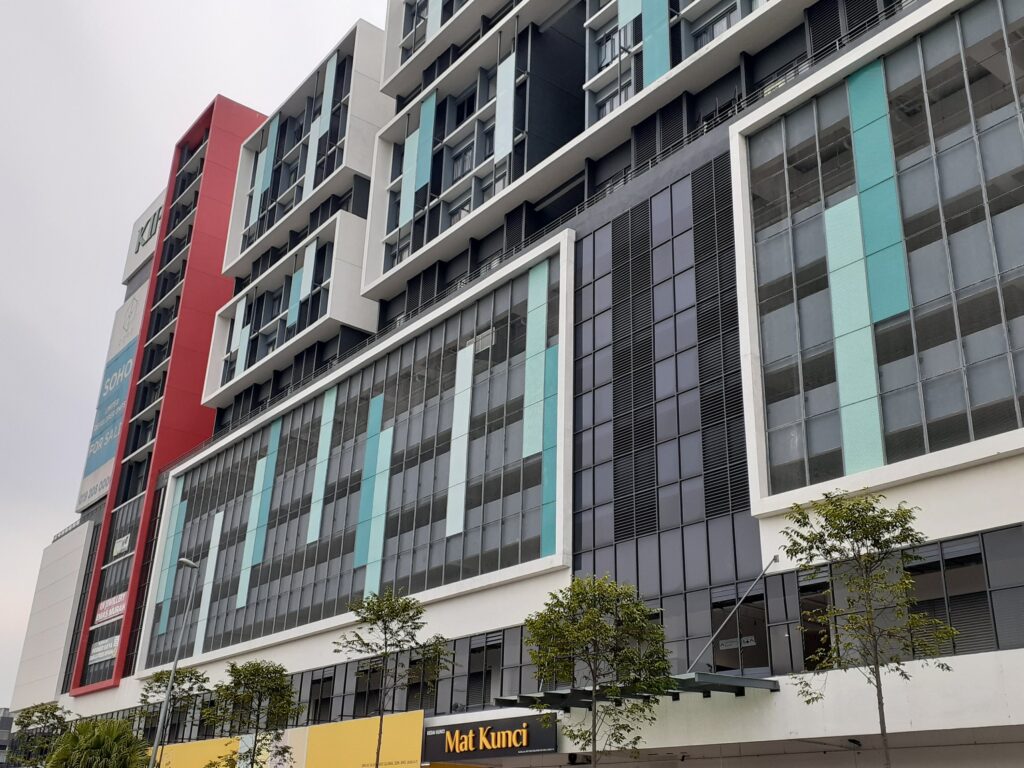 There are hotels near the airport, but recently many condominium owners have been renting out their places. We stayed in a flat near the airport when we used Kuala Lumpur Airport to transit a few months ago. This time we booked the same type of accommodation, although not the same room.
As it is a residential area, there are plenty of places to eat. On the morning of our flight, we had nasi lemak, Malaysia's national dish, and then took a Grab taxi to the airport which cost 30 Ringitt.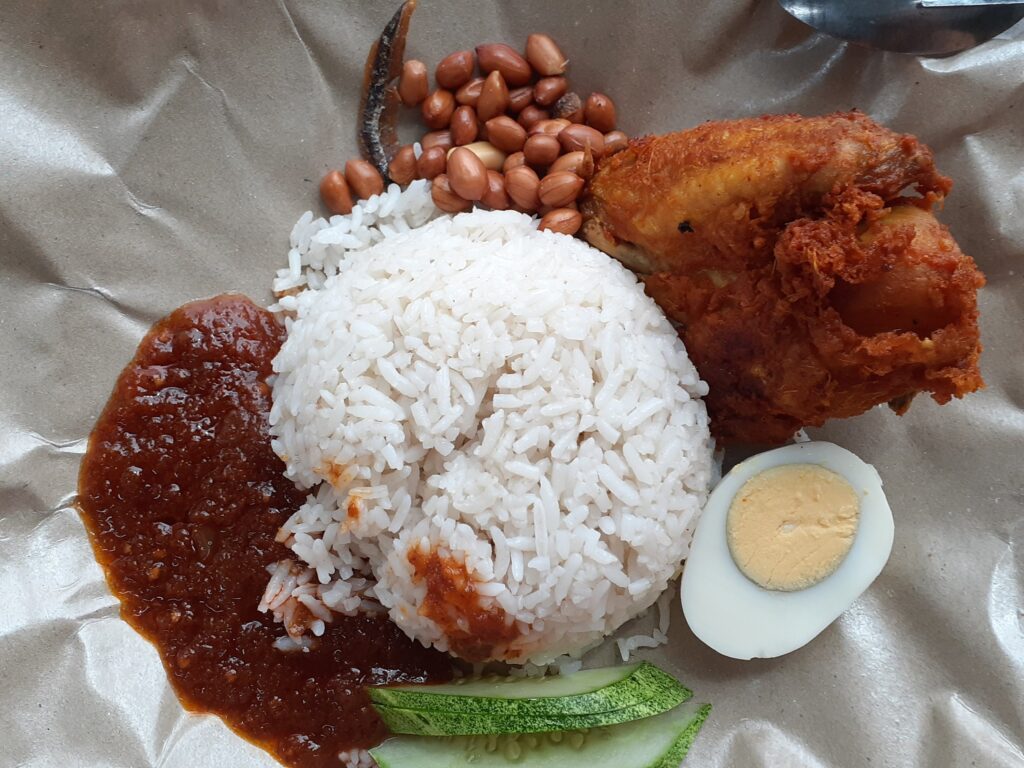 Uzbekistan Airways did not allow online check-in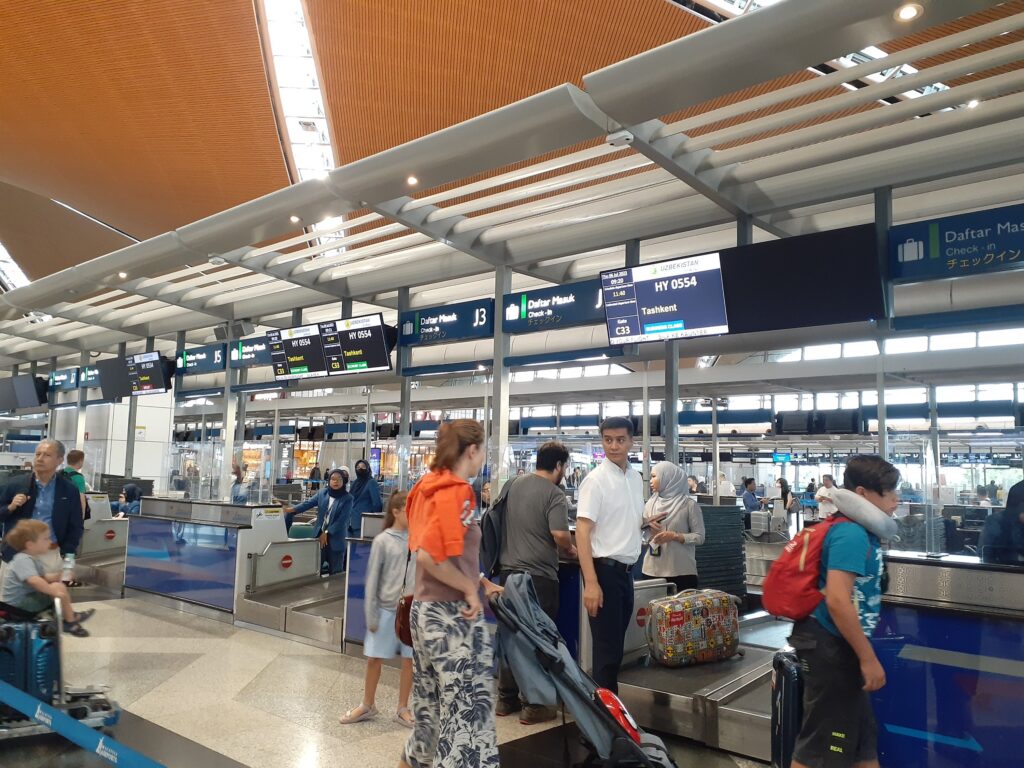 Uzbekistan Airways operates two flights a week between Kuala Lumpur and Tashkent. We were flying on flight HY554, which departs from Kuala Lumpur at 11:40am. The flight takes approximately eight hours, but there is a three-hour time difference between Kuala Lumpur and Tashkent, with arrival in Tashkent at 4:40pm local time.
We tried to check-in online the day before, but it did not work. So on the morning of our flight we checked in directly at the airport counter, which was not very busy and we were able to complete the process quickly. During check-in, we were asked about our plans after staying in Uzbekistan, and when we replied that we intended to leave the country by land to Tajikistan, the lady issued us boarding passes. We were not asked to show our departure ticket out of Uzbekistan. This was good because we don't actually have one yet!
Boarding the Uzbekistan Airways plane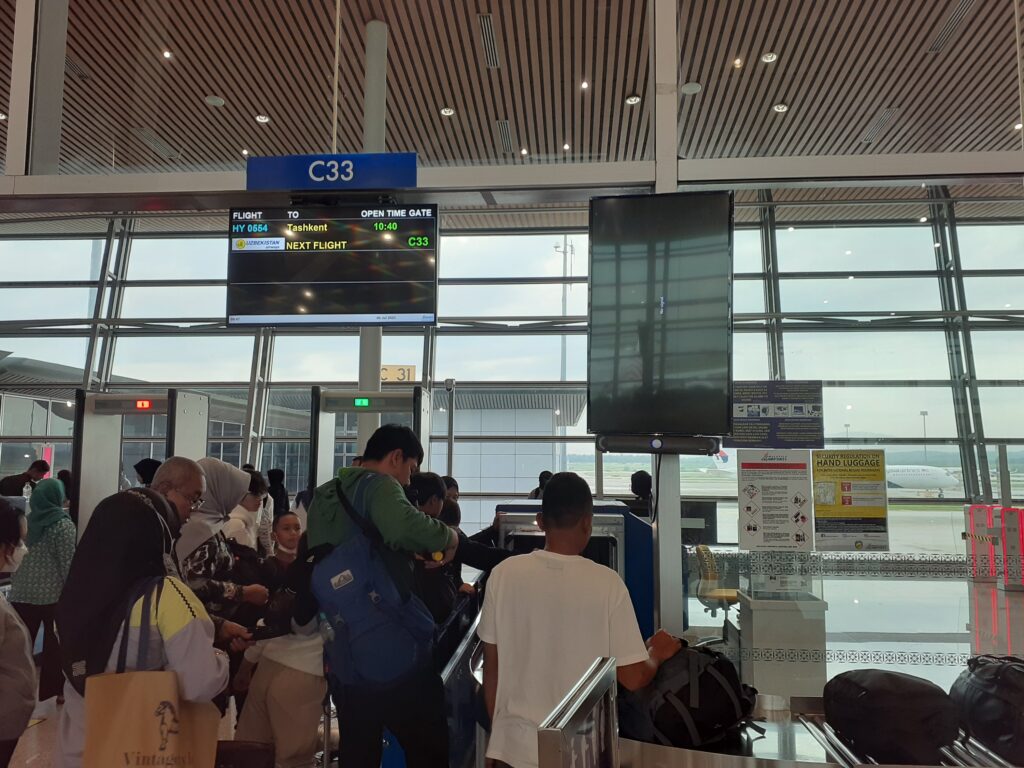 The Uzbekistan Airways gate was Gate C. We were transferred to the gate by bus. Security checks are carried out at the boarding gate.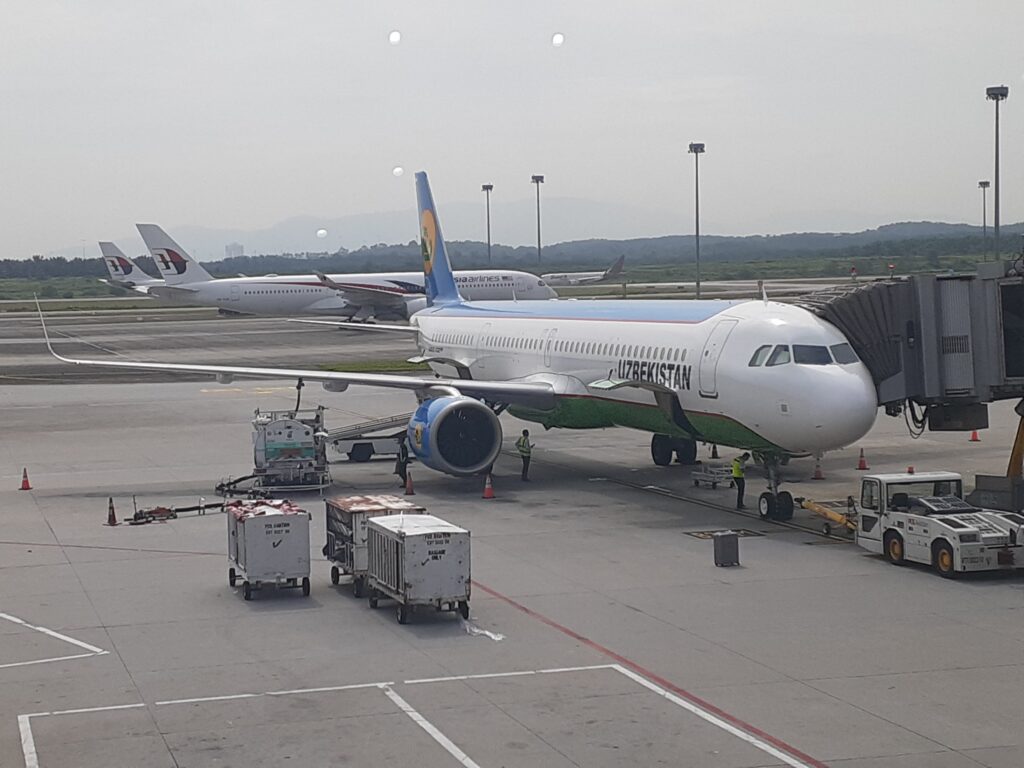 The boarding started on schedule and we were able to board the aircraft smoothly. It was a small plane with three rows on each side, but it was not full.
Uzbekistan Airways in-flight service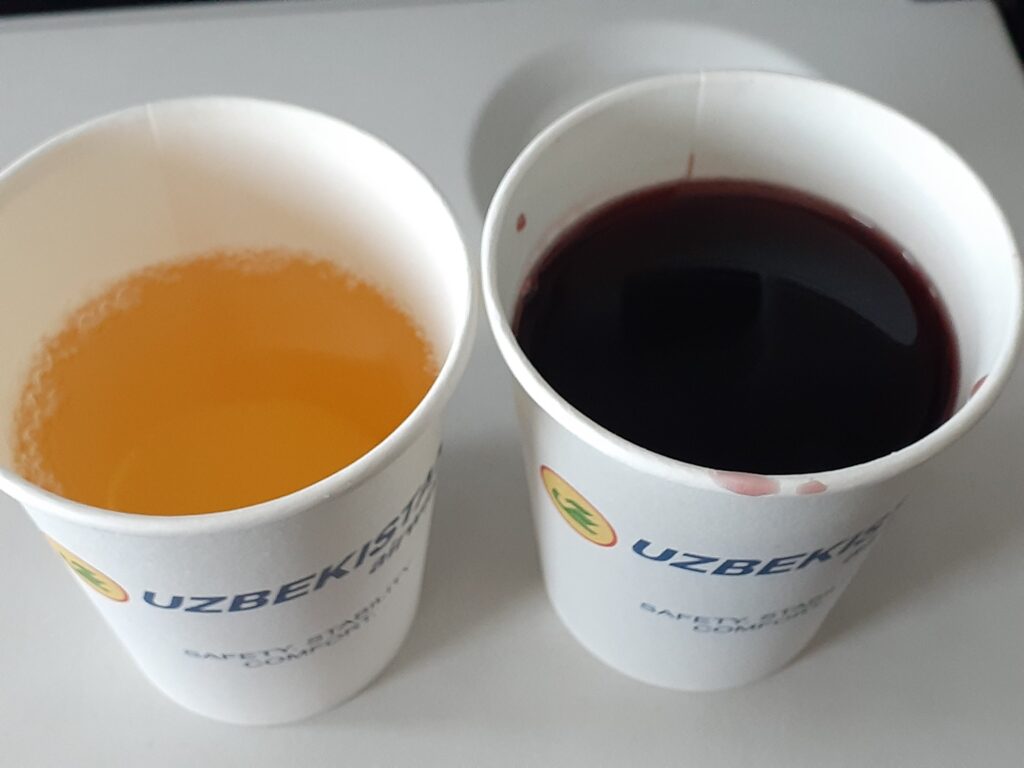 As Central Asia has a large Muslim population, we were not necessarily expecting an alcohol service, but there was wine available, and we were served red and white. It was low in alcohol and tasted quite reasonable.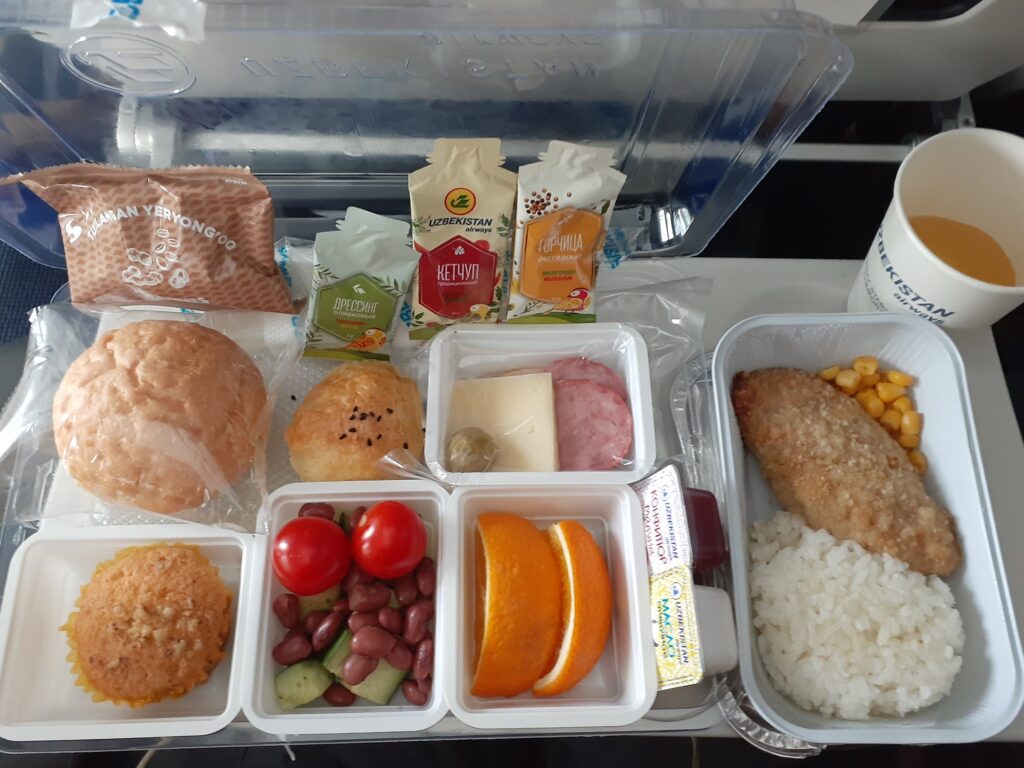 The in-flight meal was either chicken or beef, and we chose chicken. It is quite beautiful to look at. The meal was simple but tasty.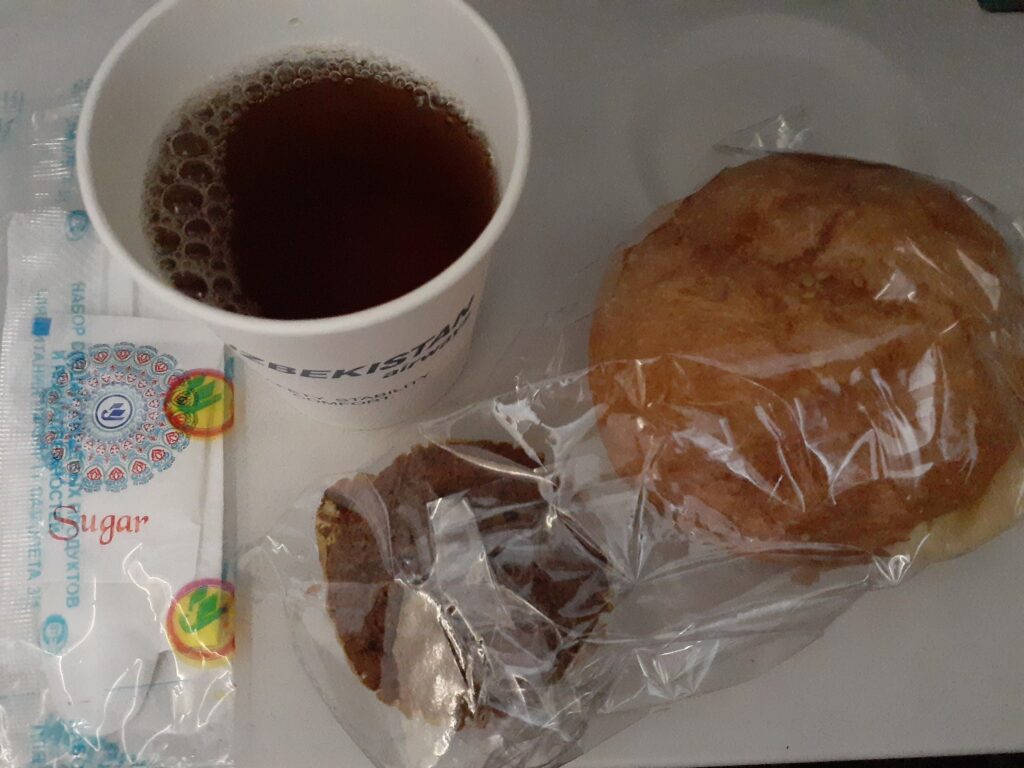 About three hours before arrival, light sandwiches were given; cheese and paprika sandwiches and chocolate mini cupcakes.
Cabin crew service was serious, yet smooth. Smiles should not be expected:) Russian was much better understood than English.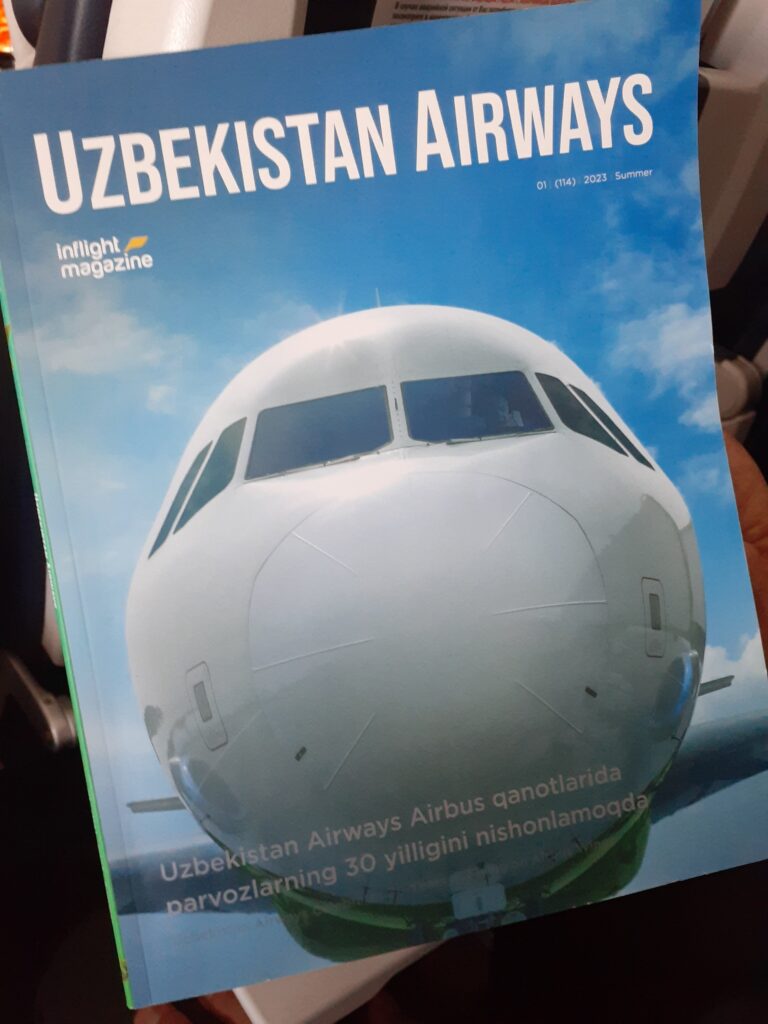 There was no entertainment screen in each seat, but USB sockets for charging are provided in each seat. There was an inflight magazine, which is less common these days.
Arrival in Tashkent
The plane took off on time and we arrived at Tashkent International Airport earlier than scheduled. It is a small airport and we took a bus to immigration.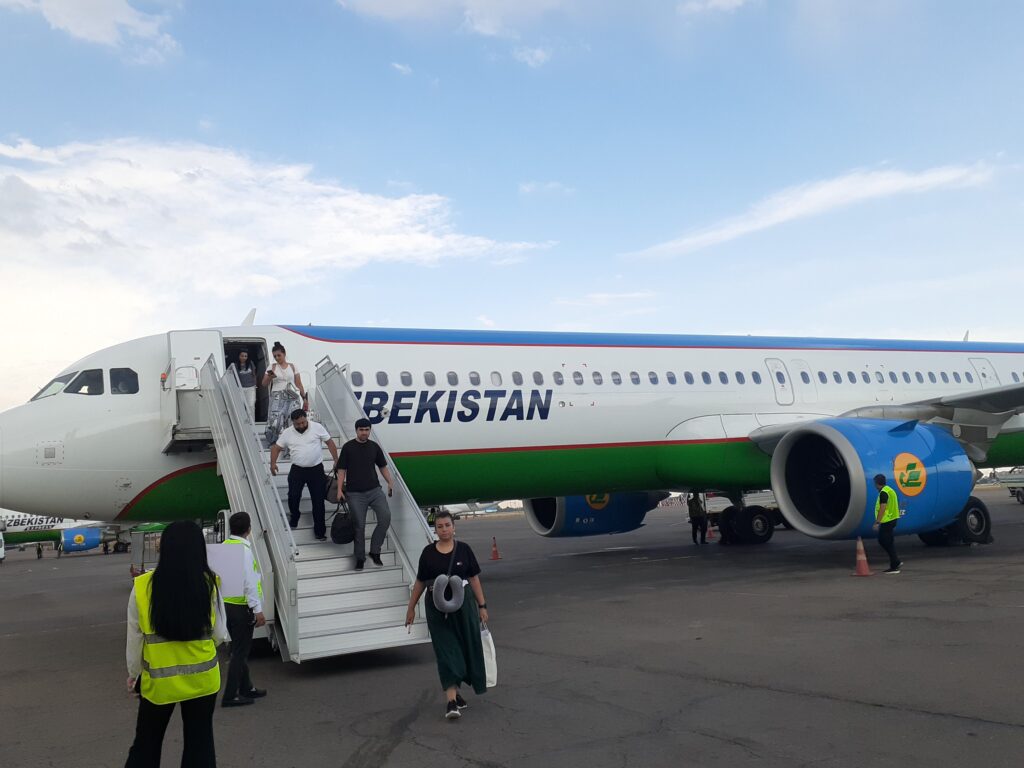 The flight from Kuala Lumpur to Tashkent often hit turbulence and was quite bumpy, but the landing was smooth.
Uzbekistan immigration
Immigration is located as soon as you enter the building by bus. You will be processed at the foreign passport booth.
We were a little worried because we did not have a ticket out of Uzbekistan, but we were not questioned about it and entered the country easily.
Foreign currency exchange at Tashkent airport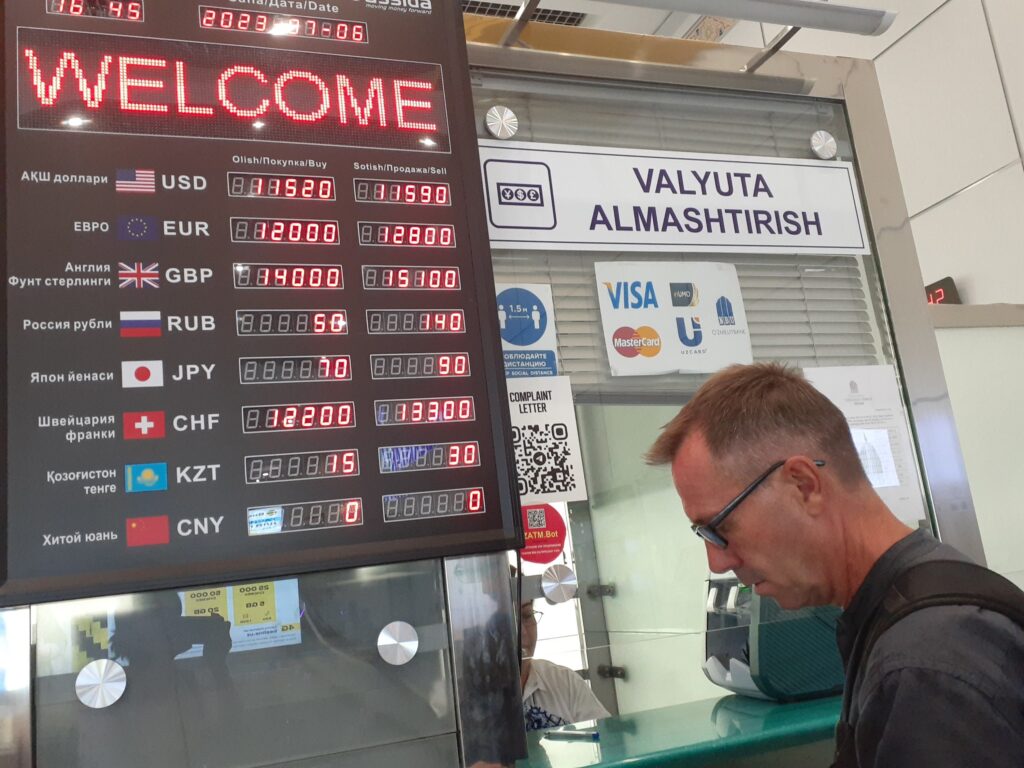 After passing through Immigration, you will see the baggage claim counter. When looking back towards Immigration you will find foreign currency exchange shops offering good rates for US dollars. The currency of Uzbekistan is the Sum/UZS, but US dollars are also widely accepted in the country.
SIM card purchase at Tashkent airport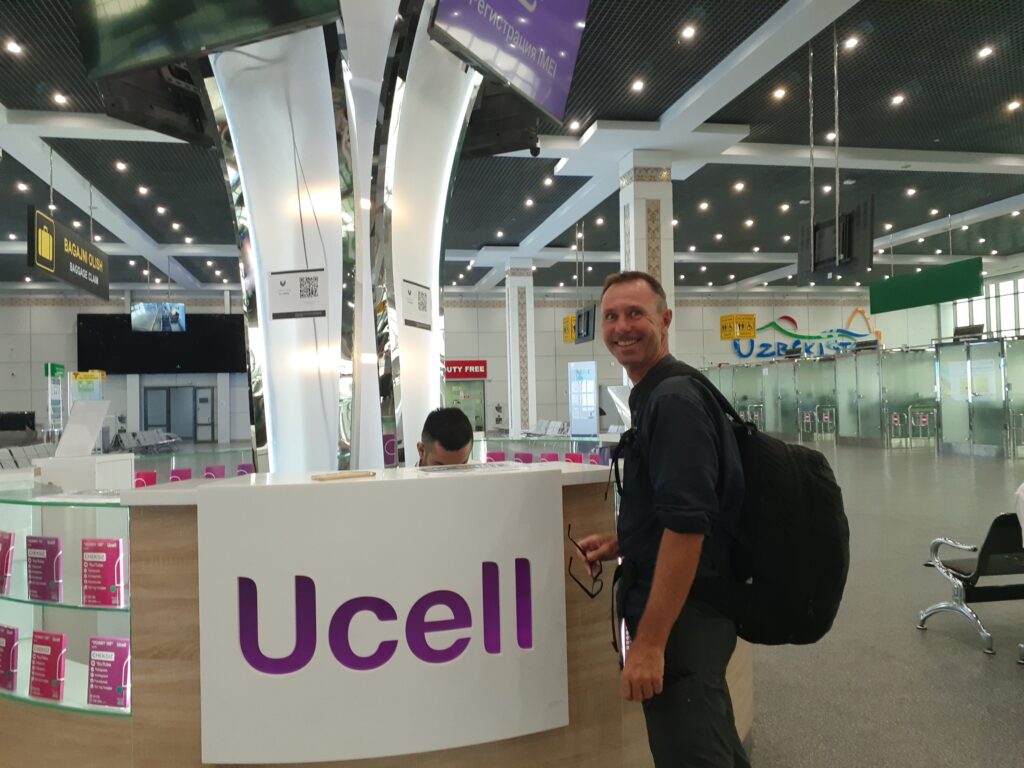 We changed 100 USD into Sum. Nearby there was a SIM card sales counter, where we bought a SIM card with 35 GB internet plus unlimited calling plan valid for one month for 70,000 soms.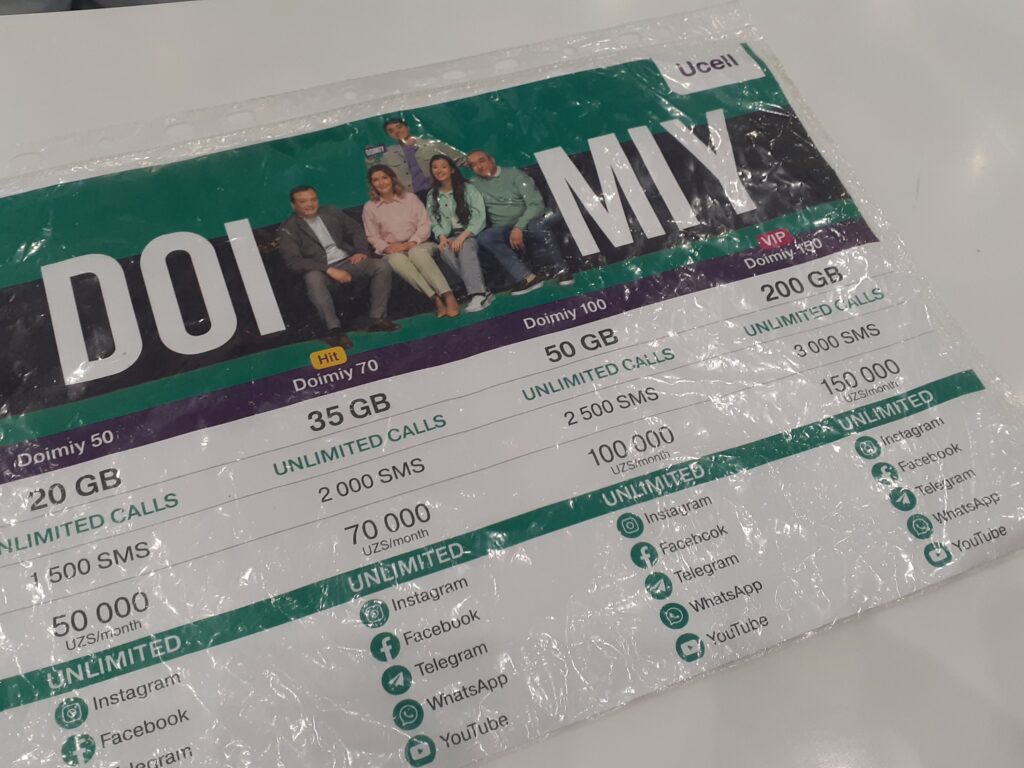 We immediately installed YandexGo, a car-dispatch app commonly used in Uzbekistan and headed to our hotel.
Getting from Tashkent Airport to the city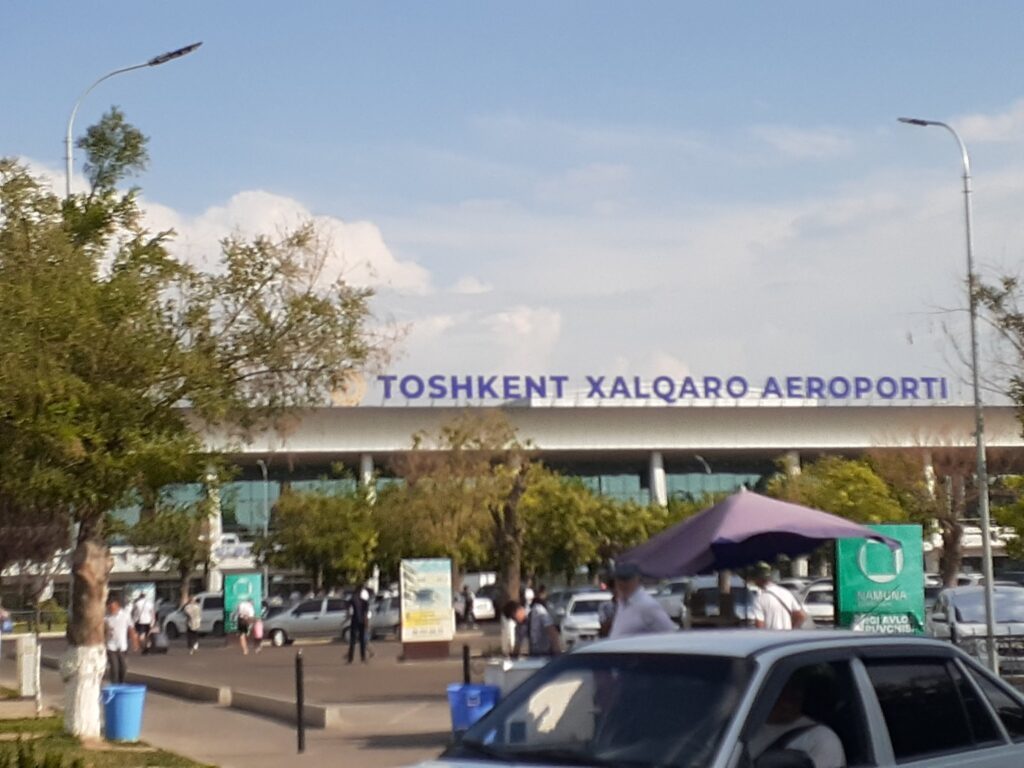 We searched for a taxi on Yandex and hailed one. In the meantime, while walking from the airport to the roundabout outside the airport, many taxi drivers tried to get our custom. If you take a taxi on the spot, you can reduce the risk of misunderstanding by actually showing the driver the money (actual notes) for the asking price before getting into the car.
We finally got a taxi from Yandex to our hotel about 7km away. The taxi fare was 17,500 som (cheap!).