Tashkent, the capital of Uzbekistan, has a population of approximately 2 million.
We entered Tashkent from Kuala Lumpur and spent one and a half days exploring the city.
Sightseeing and attractions in Tashkent
Tashkent developed as a transit city on the Silk Road, but after being incorporated into the Soviet Union in 1924, many buildings collapsed in a major earthquake in 1966. At that time, the city was planned in a Russian style, so many buildings retain their Soviet-era atmosphere.
There are also many museums and galleries. However, despite foreigner fares for entering some of them you can expect poor English-language explanations and additional charges for taking photographs in the museums. We focused our visit to Tashkent on the architecture, so we did not enter any museums or art galleries. If you are considering a tour of the museum, check out the reviews of individual places.
In addition, Tashkent has an underground system, and each station has its own unique design. It is also very interesting to visit those stations.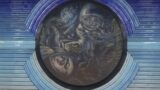 Tashkent Metro Tour: Museum worthy Station Designs for Only 14 Cents!
Tashkenthasametrosystem,whichisanimportantmeansoftransportforitscitizens.ButitwouldbeashametousetheTashkentmetroonlyasam...
Tours of the metro stations are summarised in a separate post, so this post will focus on other historical architecture.
Hotel Uzbekistan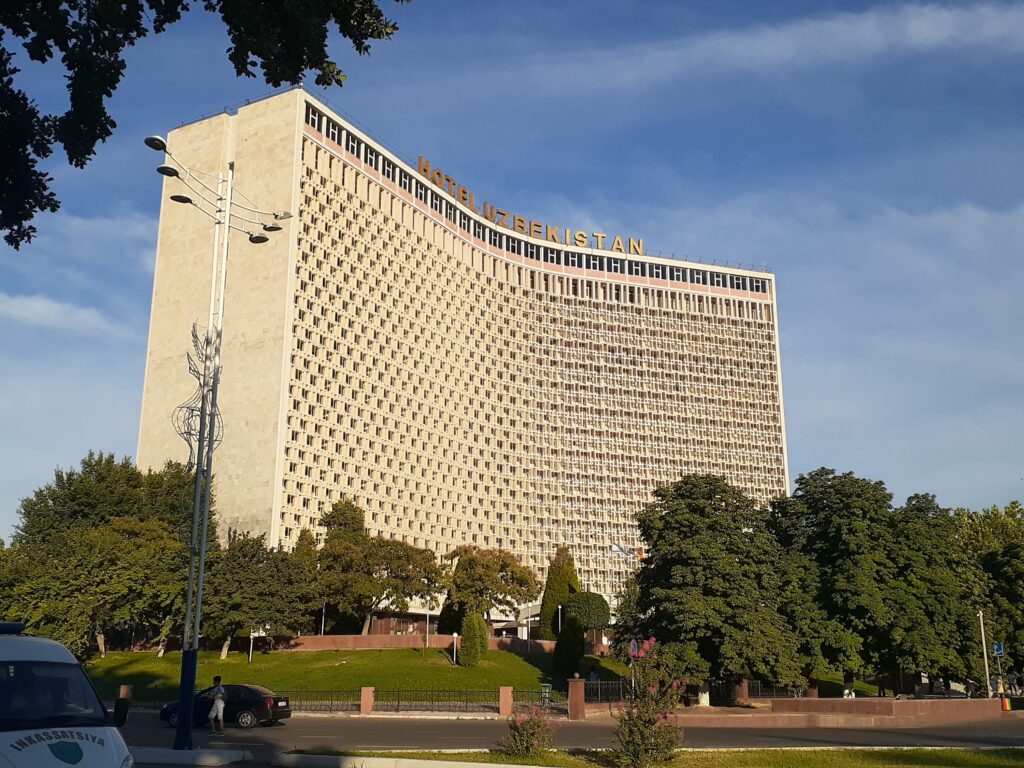 This long-established hotel stands majestically on the opposite side of Amir Temur Square, a beautiful sight.
The Tashkent Tourist Bus leaves from right in front of this hotel. As the building is facing west, the best time to take photos is in the afternoon.
Palace of International Forums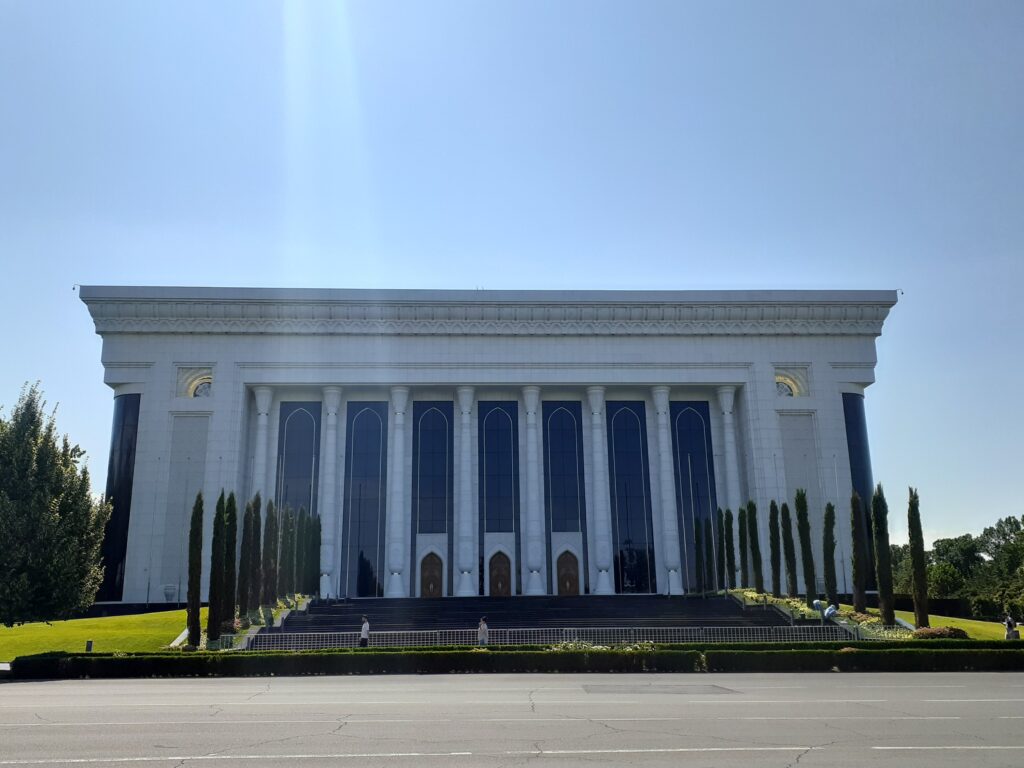 The Palace of International Forums is located next to the Hotel Uzbekistan. The symmetrical façade attracts a great deal of attention. It is also beautiful when lit up.
Amir Temur Square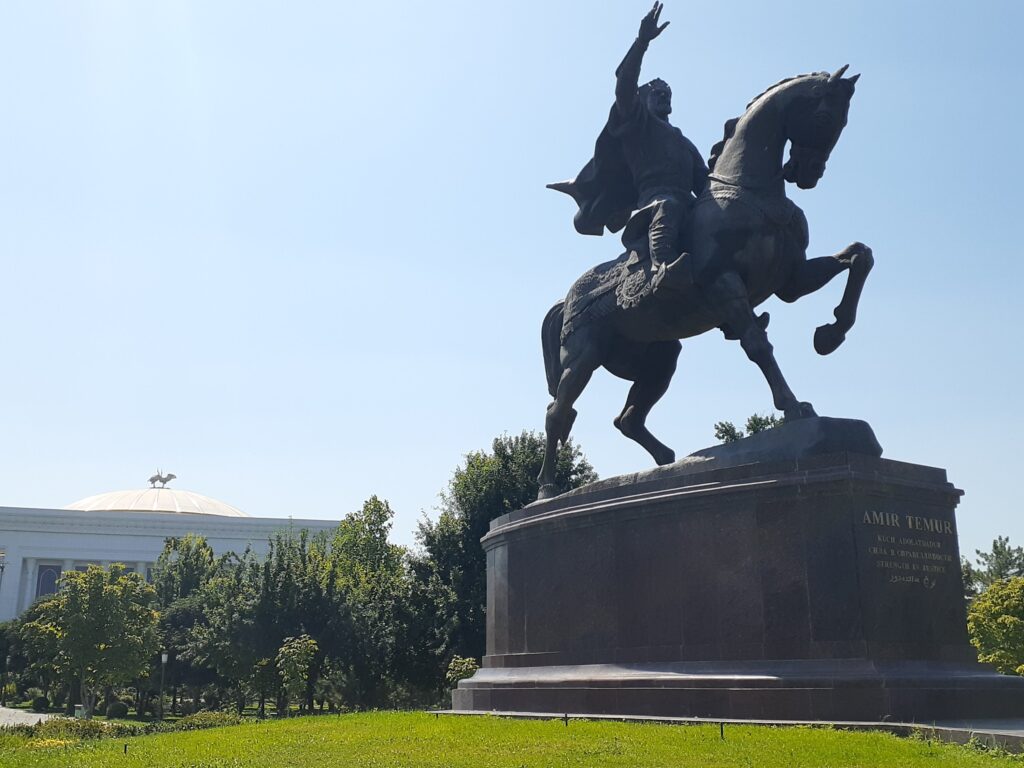 A statue of Amir Temur, a national hero, is in the park opposite. The Hotel Uzbekistan and International Forum Palace can be seen in the background of the statue, making for a picturesque sight.
State Museum of the Temurids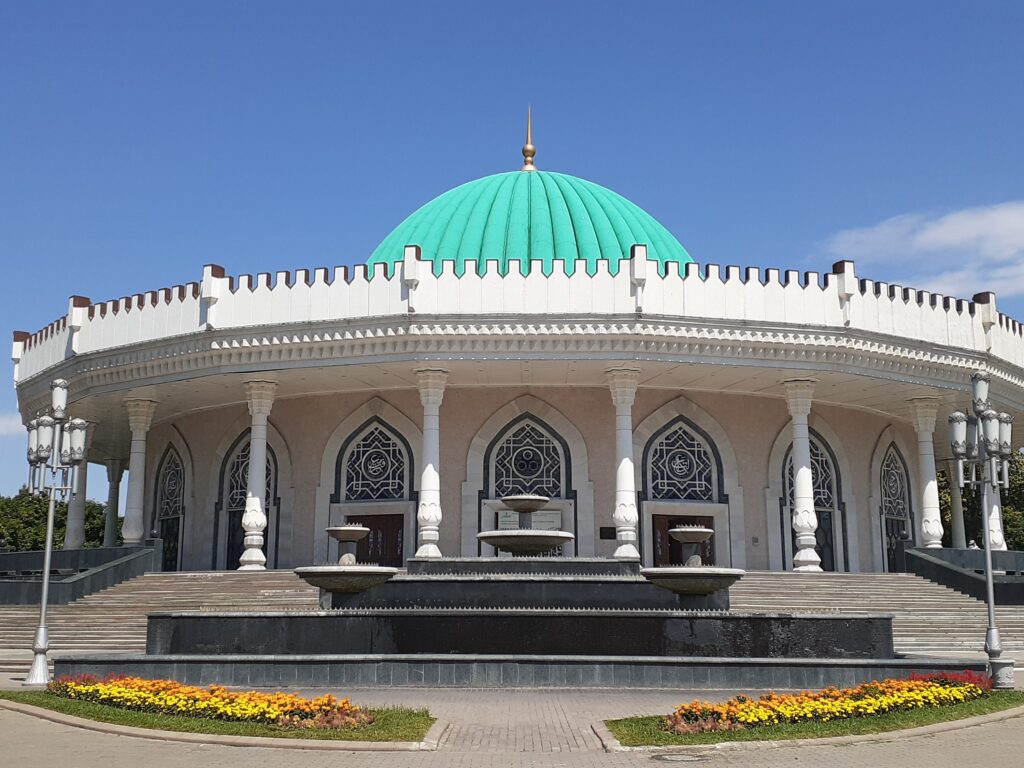 This museum has a collection of works related to the 14th century ruler Tamerlane. Beautiful building with green dome. Admission is 25,000 som per person for foreigners.
State Museum of the History of Uzbekistan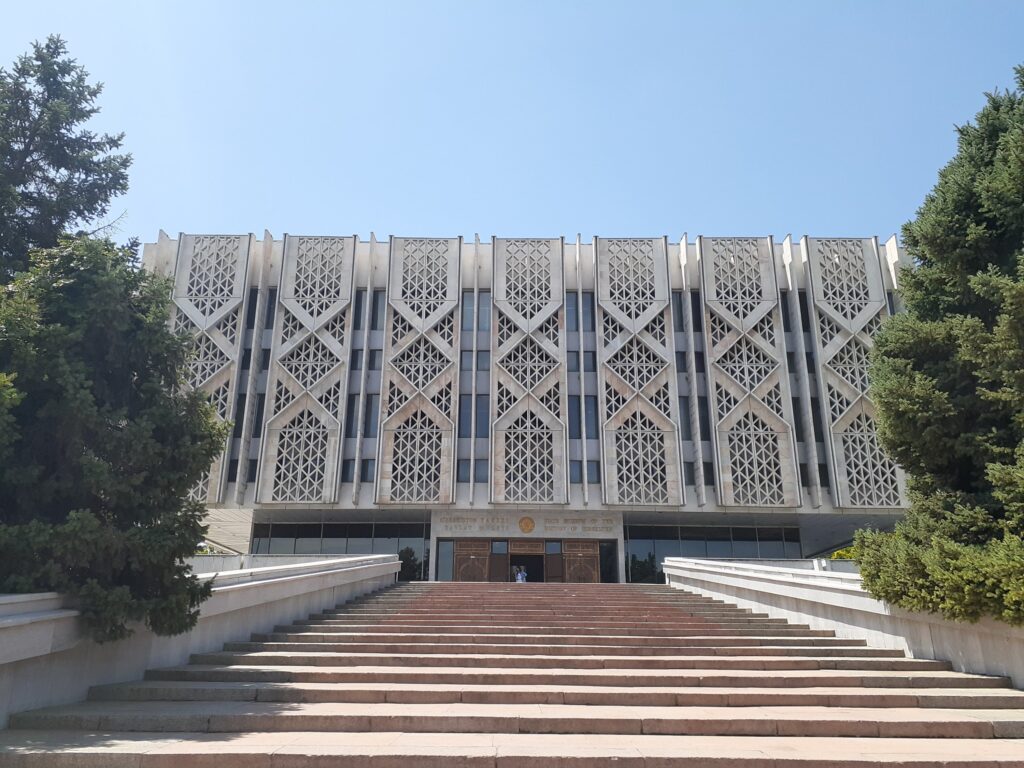 This museum exhibits materials on the history of Uzbekistan. The geometric decoration of the facade is beautiful.
Independence Square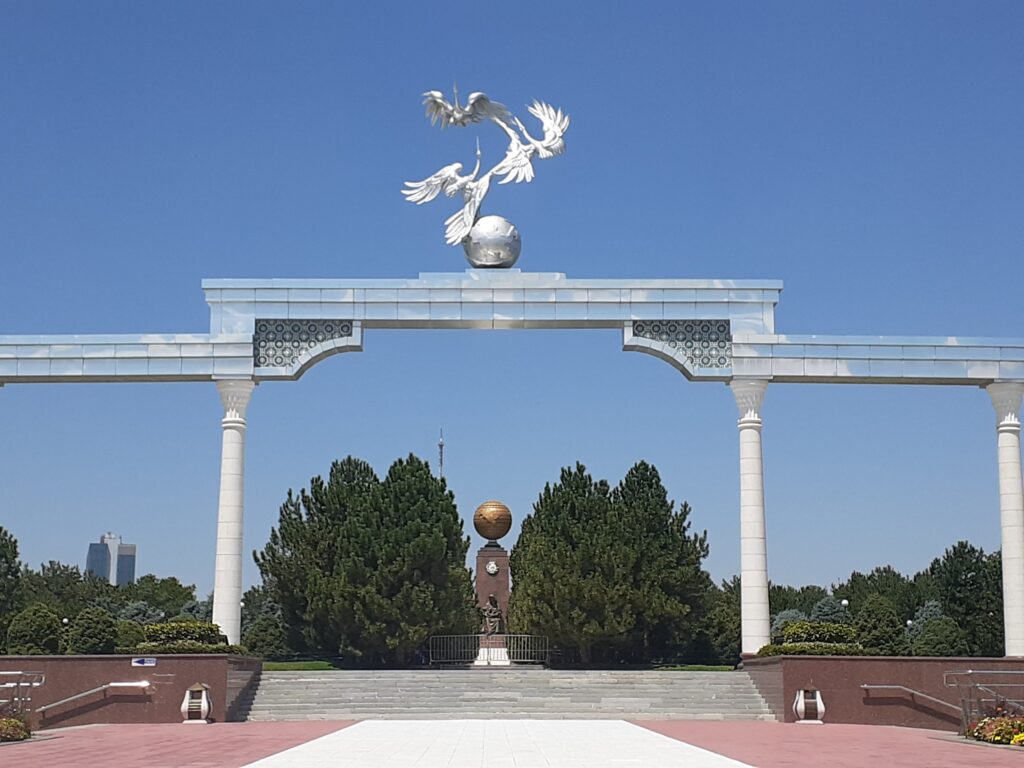 Located near the Mustakillik maydoni metro station. The monuments are beautiful, but it was not possible to enter the square.
Central Exhibition Hall of the Academy of Arts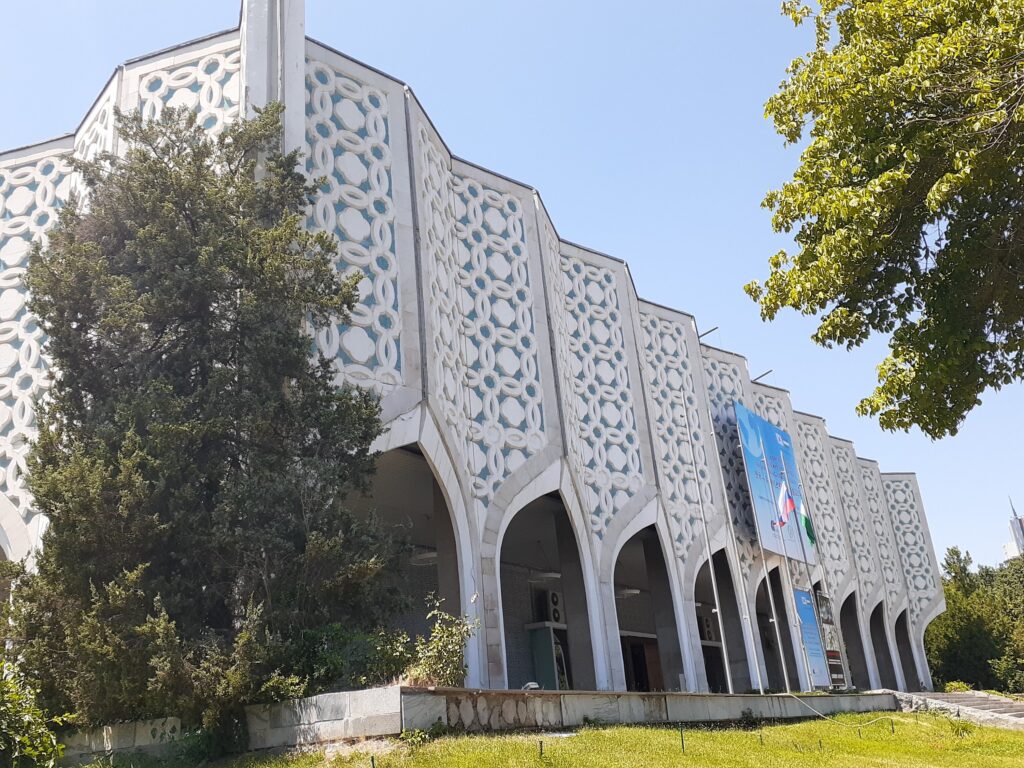 This is another beautiful building with a geometric decoration. Various events are displayed here depending on the time of year.
State Museum of Art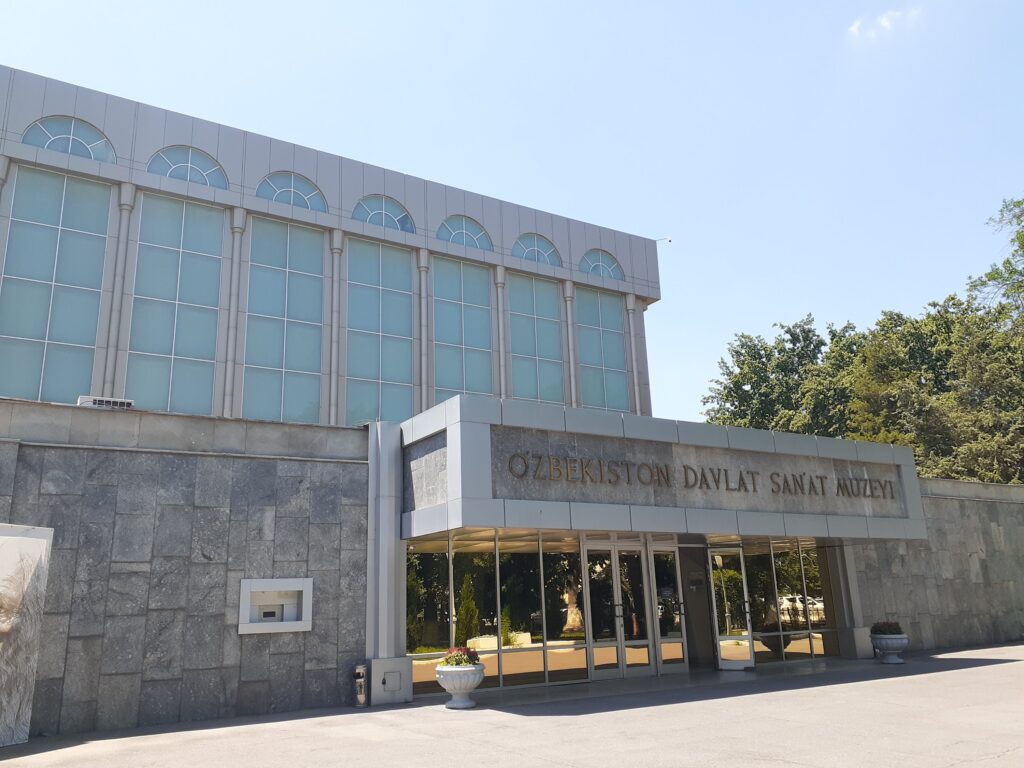 This museum exhibits works of art from the Russian and Soviet Union periods, as well as Asian and Western art. The building's design is not as exciting as others though.
From here we travelled by metro.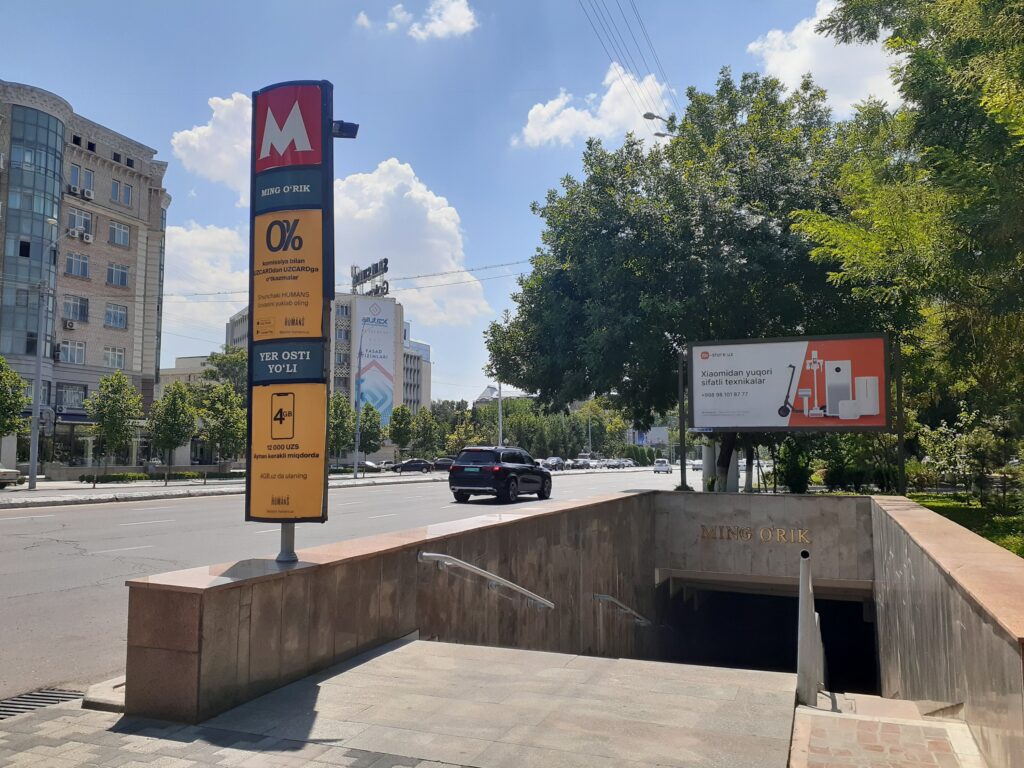 Chorsu Bazaar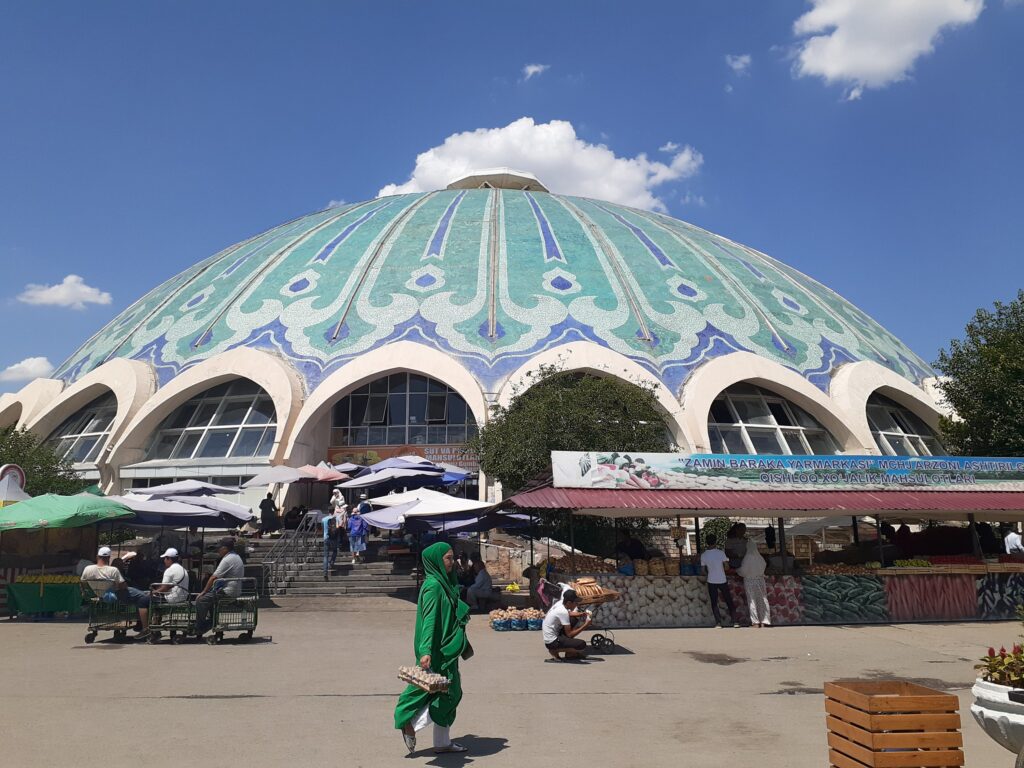 The market is just above ground level from Chorsu metro station. All kinds of things are sold in this huge market.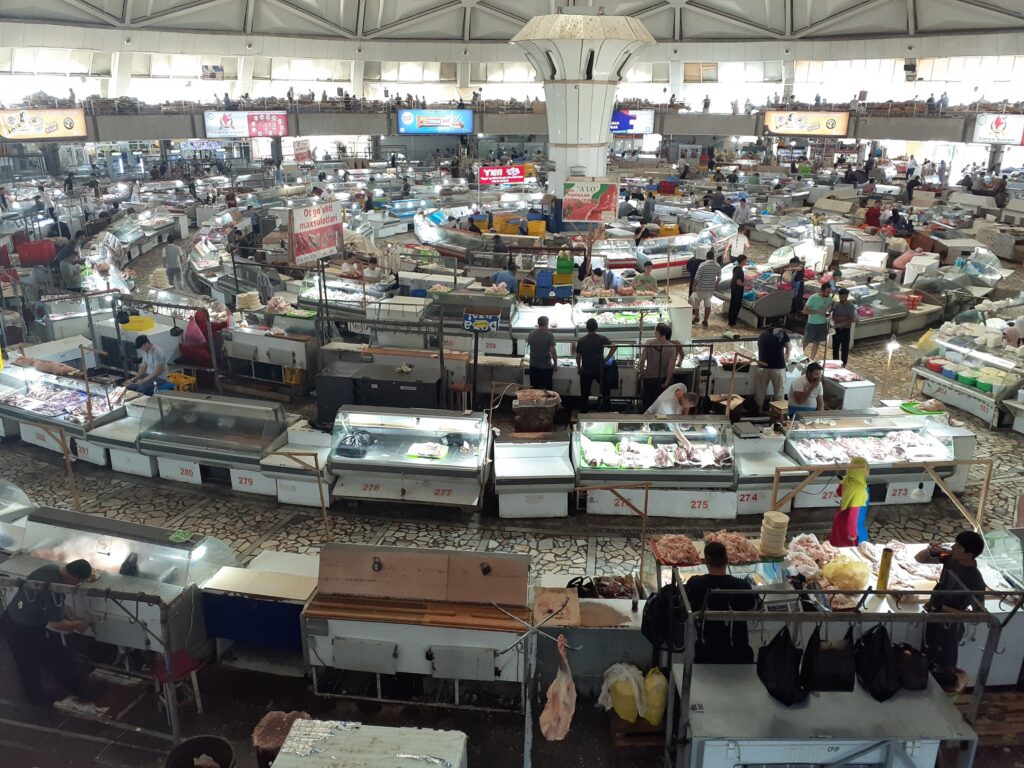 In the main building which has a domed roof, meat and meat products are sold on the ground floor, while spices and tea are mainly sold on the second floor.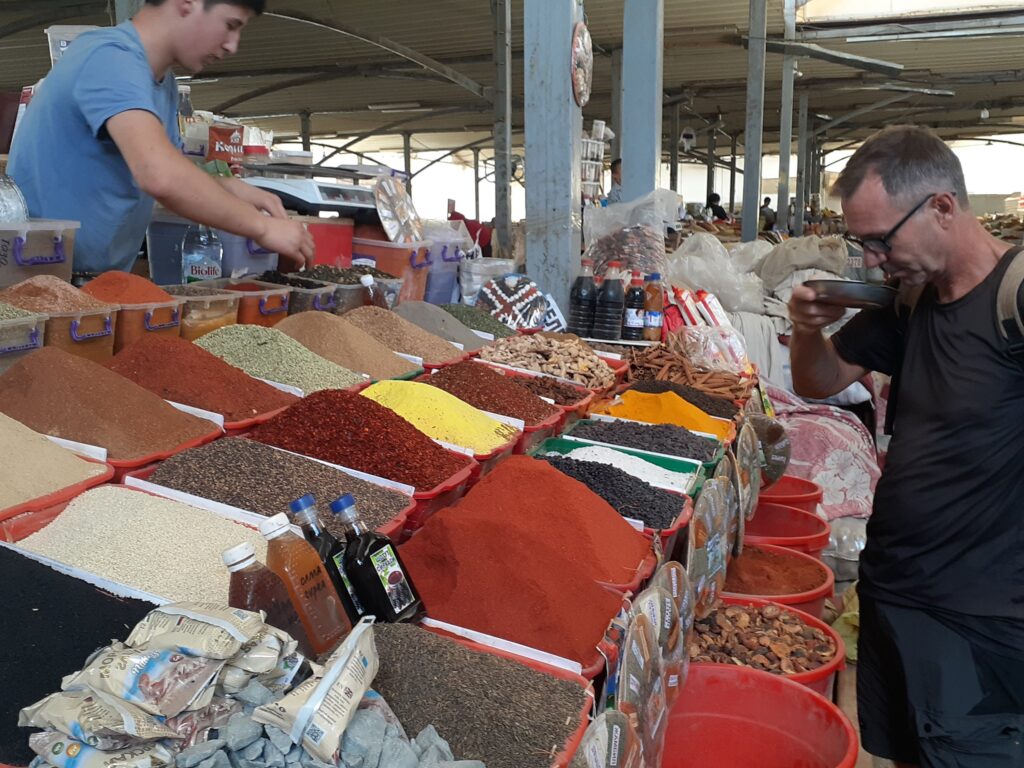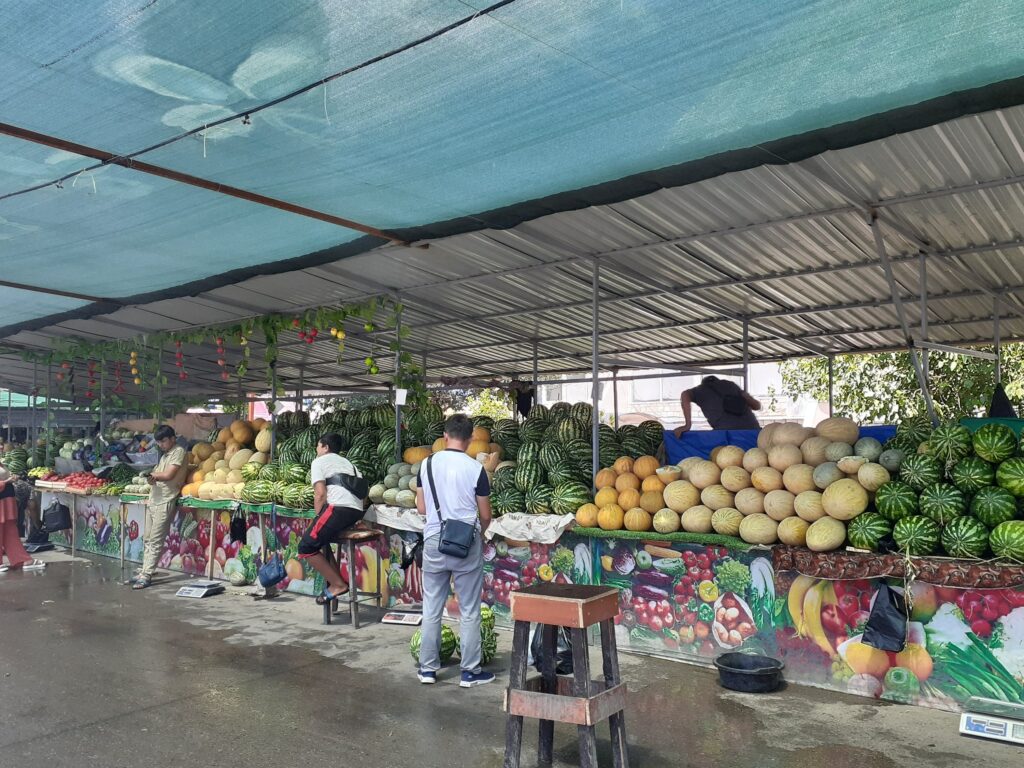 Large watermelons and honey melons are common in Central Asia, and there were many shops selling them.
Kukeldash Madrasah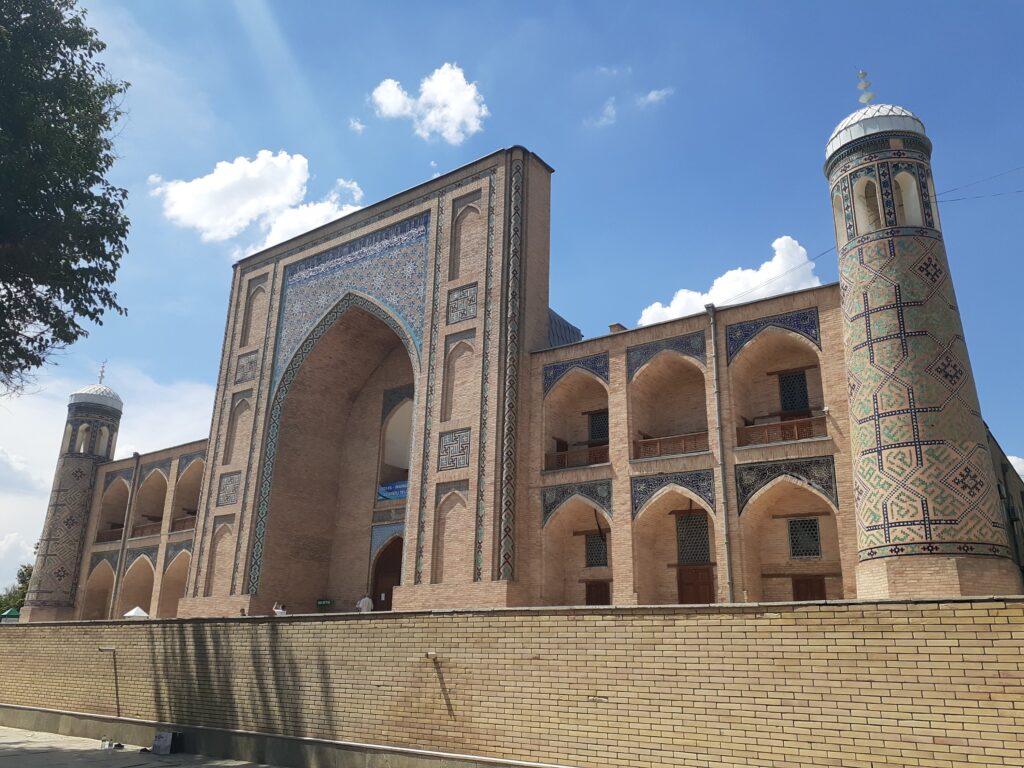 The earth-coloured brick architecture dates from the 16th century. It now serves as a place of Islamic teaching.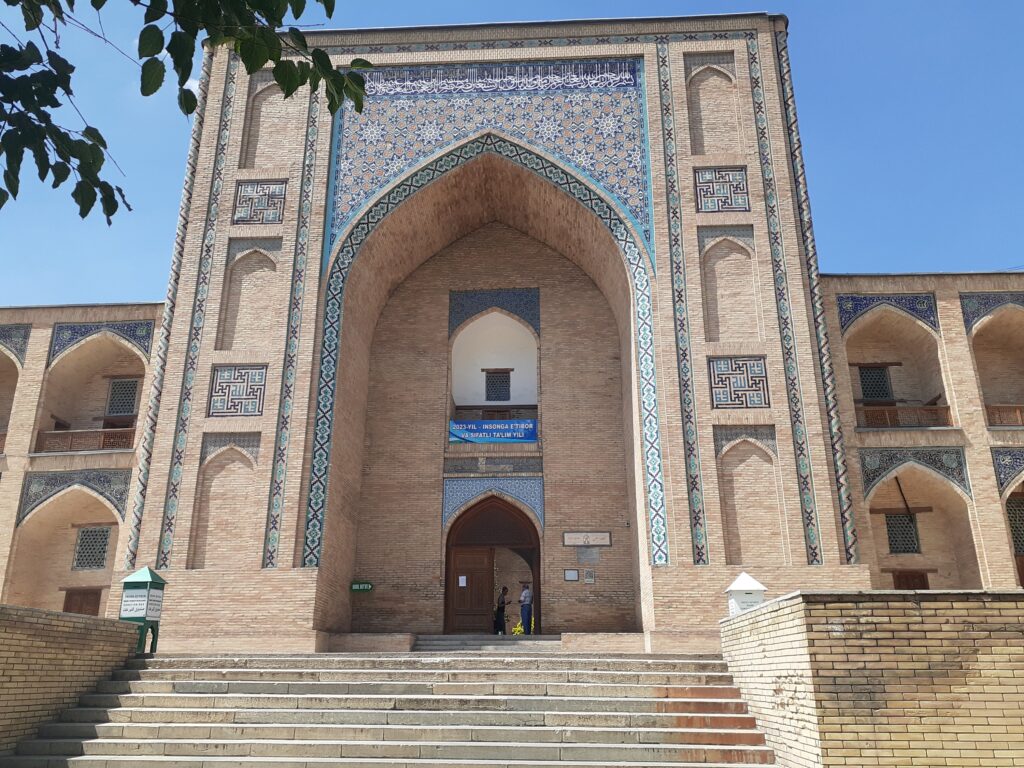 Located near Chorsu Bazaar, there were many tent shops around this area. It is a lively district and it is fun just to wander around.
National Circus of Tashkent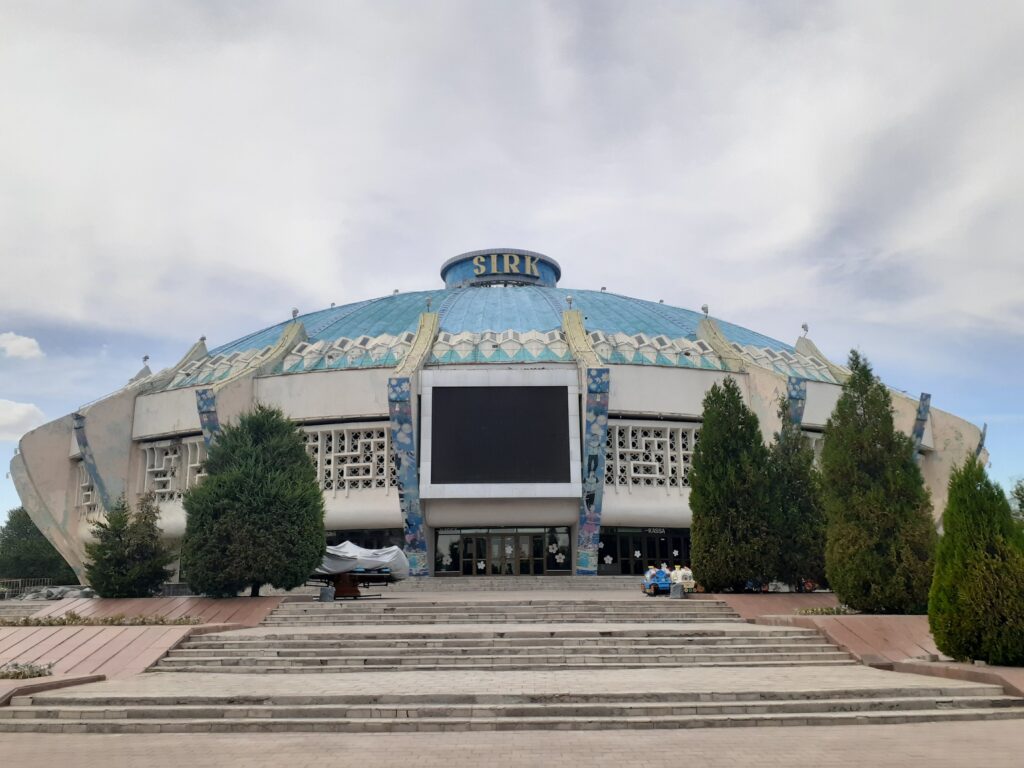 The disc-shaped building looks like a spaceship from a distance. The columns are painted with circus paint, giving the building a fun feeling.
Hazrati Imam complex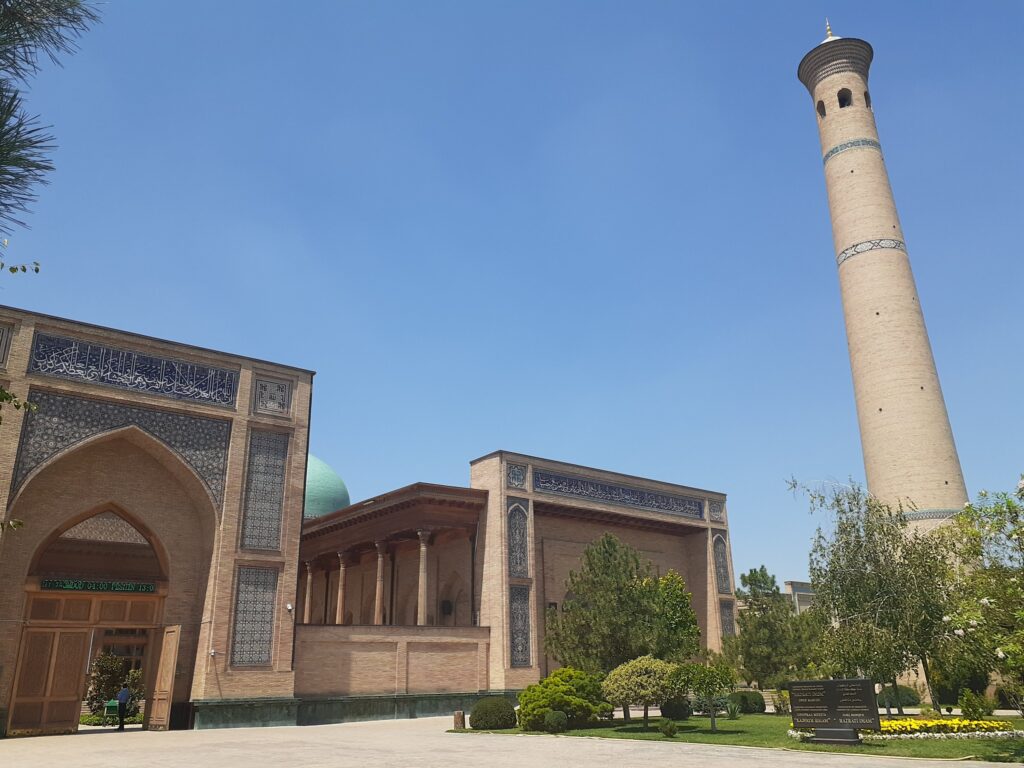 This is a complex of Islamic buildings, including a mosque and a museum. All are beautiful buildings and popular with travellers.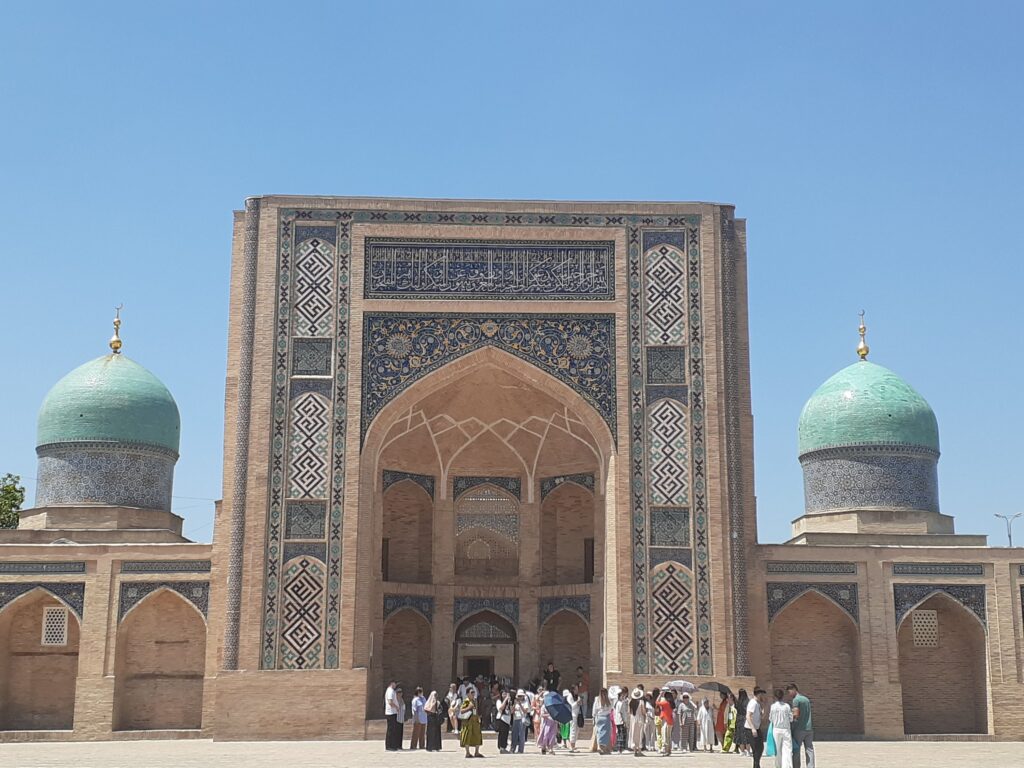 The huge minaret is clearly visible from a distance. The main entrance is backlit in the afternoon, so it is best to take photos in the morning.
There are also a number of gift shops, so it is a good place to look for souvenirs.
Below are the spots we visited when we revisited Tashkent on 28 July 2023.
Tashkent Russian Orthodox Сenter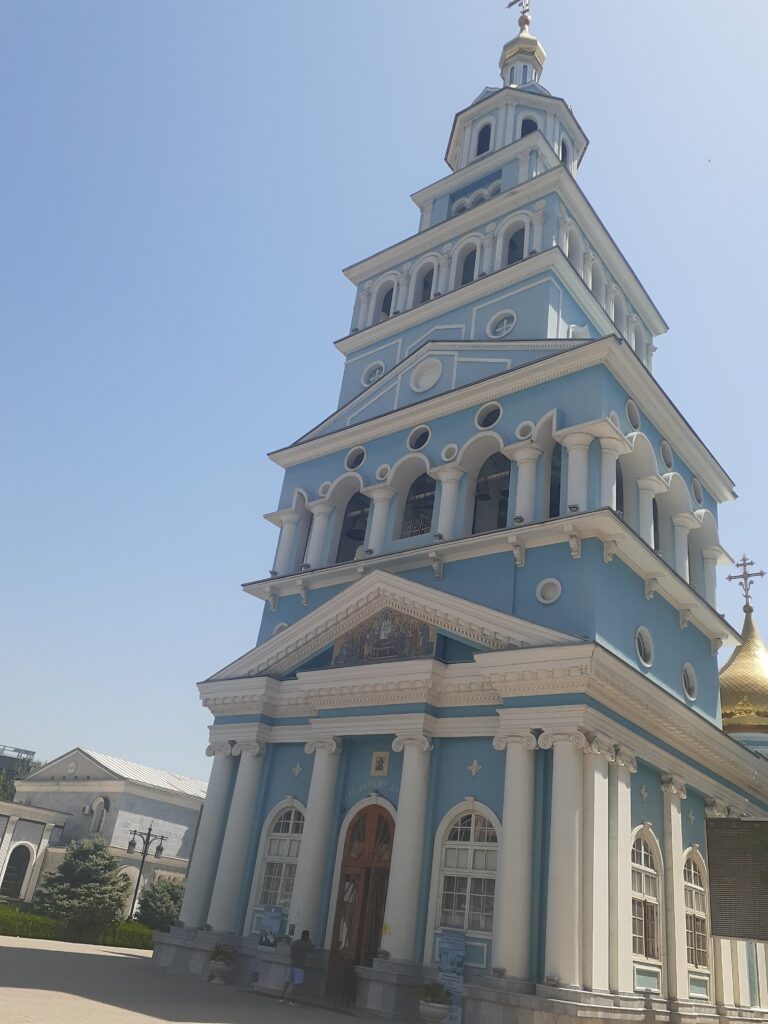 The Russian Orthodox Church was built in 1872. Photography is not allowed inside the church. The main building is painted in light blue and white, with a golden dome set on the roof. The multi-storey central section is decorated with arches of different designs for each level. Inside, a sumptuous chandelier is hung from the ceiling which is filled with murals in shades of blue and purple. On the background of pale blue walls and white pillars, religious paintings richly decorated with gold leaf are shining.
There are several buildings on the site, each built in a different decorative style. The religious murals, decorated with tile mosaics, are also beautiful, so be sure to take a tour around the grounds.
Sacred Heart Catholic Cathedral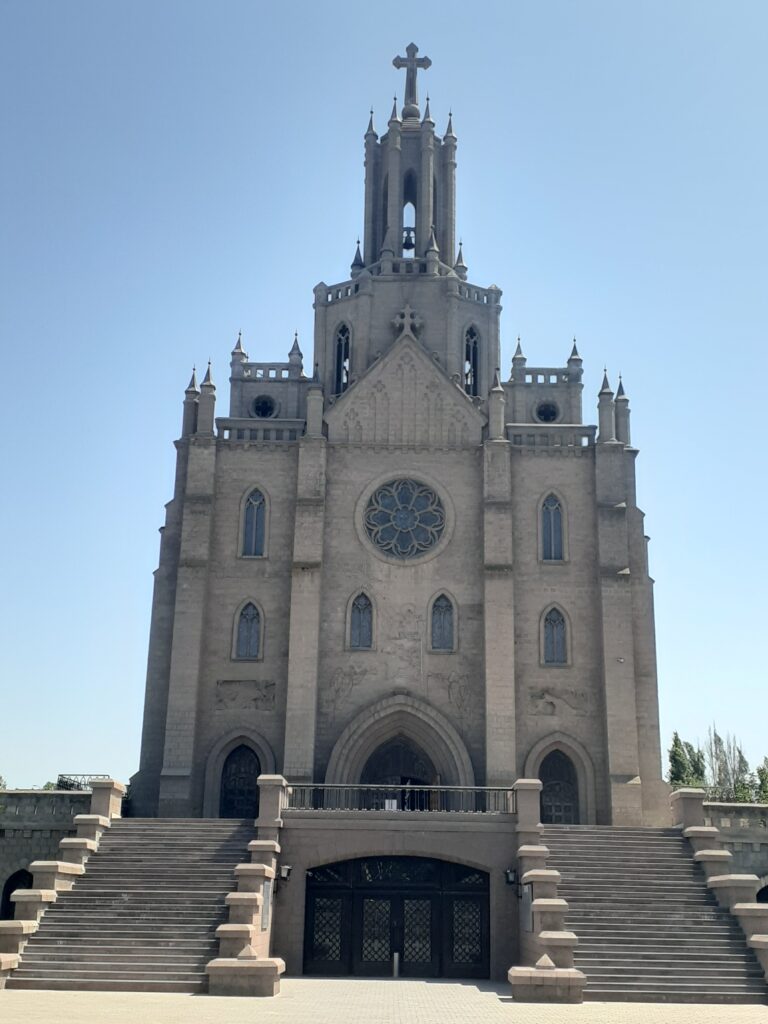 Beautiful stained-glass windows and lighting and decorations with grape and ear of wheat motifs are gorgeous. The exterior is rather rugged, giving the impression of a castle on a platform, but the interior is calm and relaxed.
Eco Park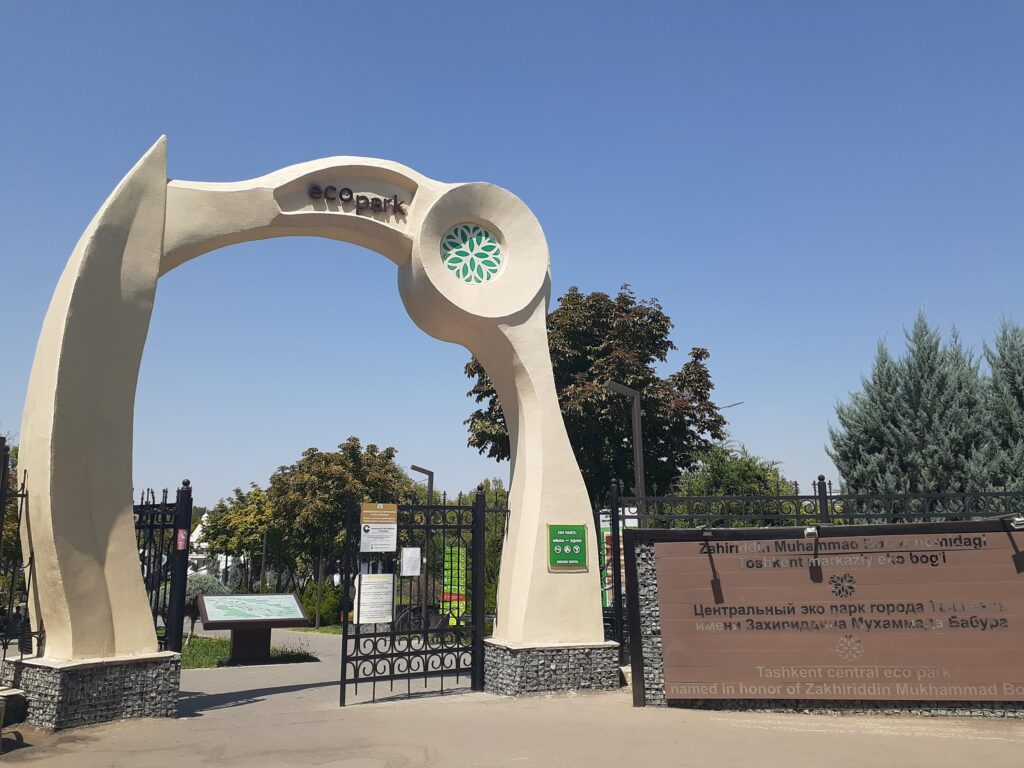 This park extends from opposite Sacred Heart Catholic Church. It is well maintained and contains a variety of facilities. The locals also seemed to visit it for sports recreation and relaxation.
German Evangelical Lutheran Church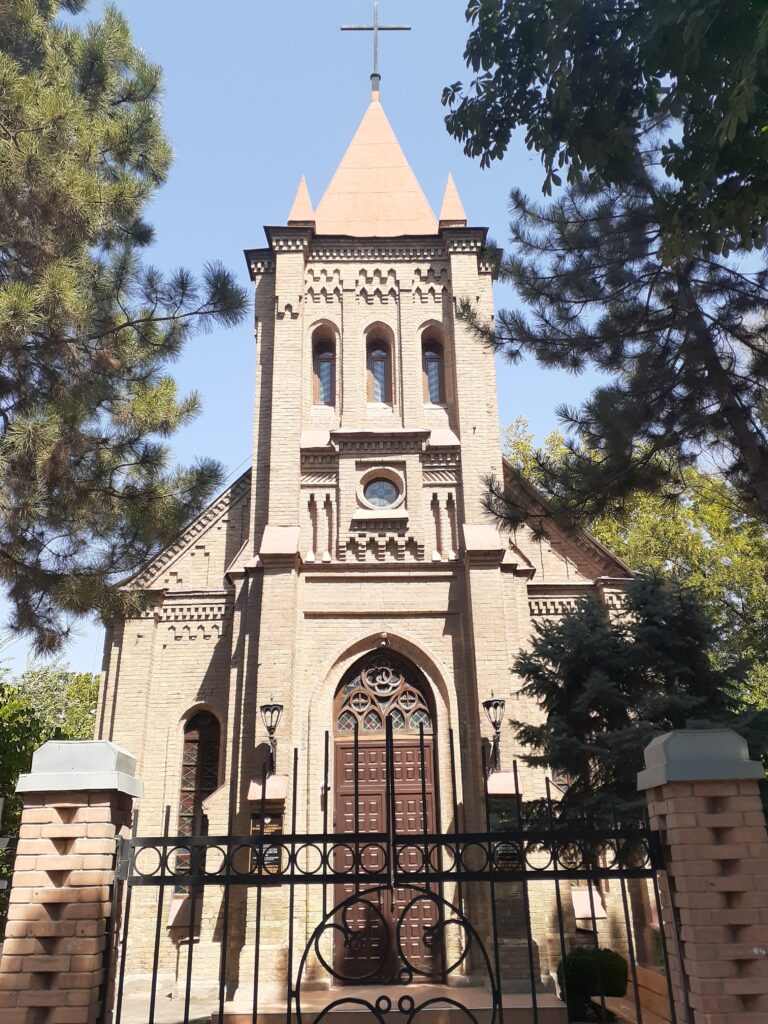 This is a small church near the Eco Park. It was closed when we visited and we could not go inside.
The first service was held in October 1899, and around that time, Germans were establishing communities in Central Asia.