Departing the Philippines from Cebu Airport was probably a lot more enjoyable than flying from or through Manila.
We were able to buy cheap AirAsia tickets to Kuala Lumpur with an overnight there and then flew on to Makassar, Indonesia the next day.
Flights from Cebu to Makassar via Kuala Lumpur (Air Asia)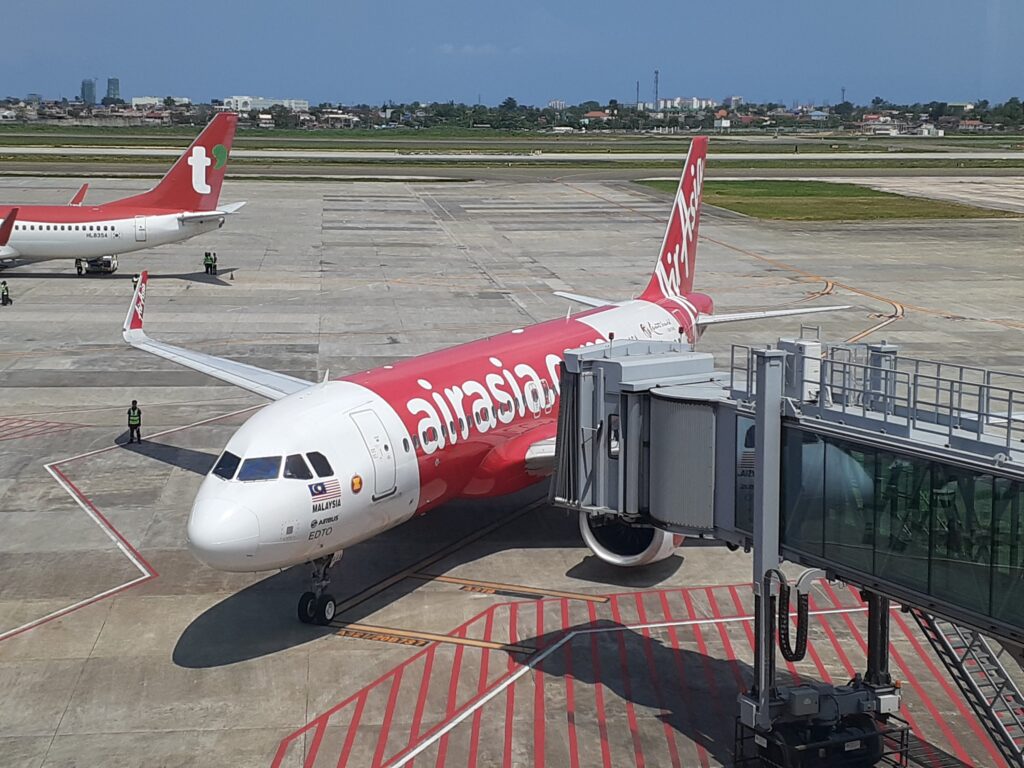 The cheapest flight from Cebu in the Philippines to Indonesia was Air Asia to Makassar via Kuala Lumpur.
Two separate tickets were purchased, one for Cebu – Kuala Lumpur and one for Kuala Lumpur – Makassar.
Flight AK591 departed Cebu at 13:45 and arrived in Kuala Lumpur at 17:35; the flight departed on 14 May and lasted 3 hours 50 minutes. The price was P4687 (approximately US$84). We only bought the tickets three days before flying.
The next day's flight departed Kuala Lumpur at 13:40 and arrived in Makassar at 17:05. Flight AK334 with a flight time of 3 hr 25 mins was priced at 199 Malaysian Ringgit (approximately US $44).
AirAsia carry-on luggage
Both flights are operated by AirAsia, but when flying with an LCC, luggage capacity is a concern.
We are travelling with smallish backpacks, so no checked baggage. However, if you are flying with an airline that has strict regulations on carry-on luggage, the weight of your luggage can be an issue.
The conditions about carry-on luggage of AirAsia are;
56cm x 36cm x 23cm or a total of three sides not exceeding 115cm; and
40cm x 30cm x 10cm or a total of three sides not exceeding 80cm.
You can bring two of those bags at most and the total weight must not exceed 7 kg.
Depending on the airport, the weight of your baggage may be checked at check-in, during document verification or at the boarding gate. However, it is often the case that only the larger of the two items is placed on the scale.
AirAsia online check-in

AirAsia allows online check-in 24 hours before departure time. AirAsia's online system is not very good and you may have to wait quite a while depending on your internet connection speed.
Nevertheless, we were able to check in and received our boarding passes by email.
We didn't need to go to the baggage counter as we didn't have any checked baggage. However, according to the guidance that came with our boarding passes, we had to go to the counter at least one hour before departure to have our documents checked.
We checked in online on the afternoon of the 13th, the day before the departure from Cebu, and at that time we also wanted to check in for the flight to Makassar departing on the 15th. However, only Mai received her boarding pass, and for some reason I could not check in online. I had to go to the Kuala Lumpur airport check-in counter on the day of travel to check in.
Transfer to Cebu International Airport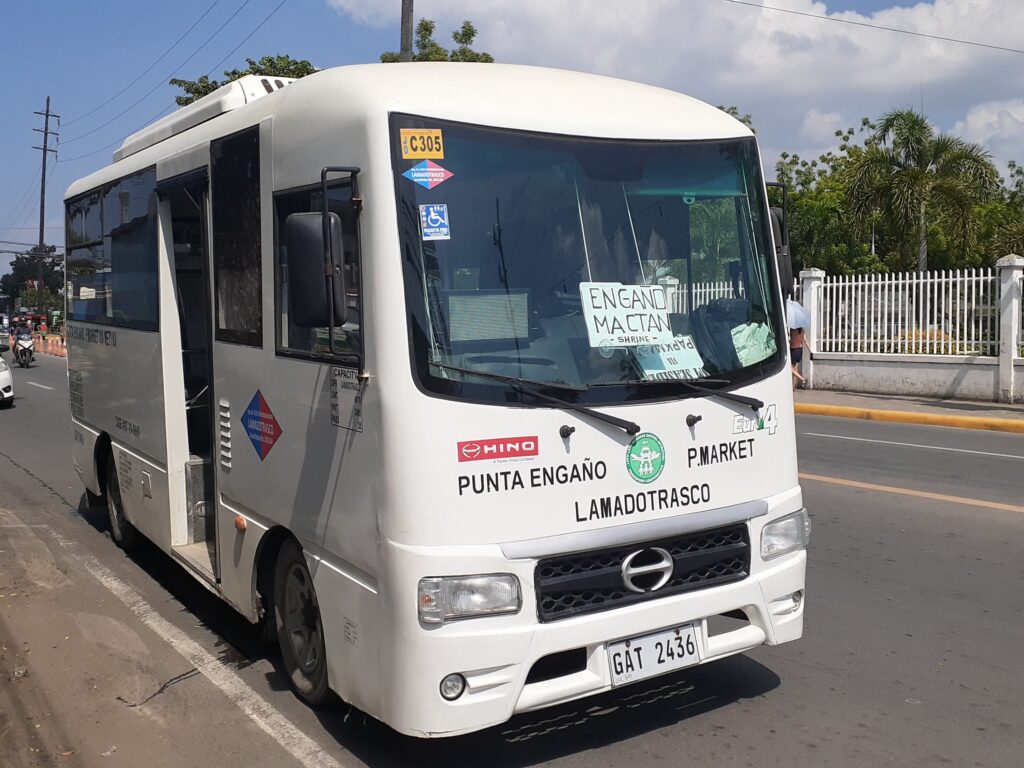 Cebu's Mactan International Airport is located on the island of Lapu-Lapu. We had booked a hotel near the airport the day before. However, it is too far to walk there, so you have to take a taxi or bus.
Buses to the airport left from outside the bus stop near the guesthouse (Lapu-Lapu City PUJ Terminal); you can board at the point facing M.L. Quezon Street. I was told that it costs 15-16 pesos to the airport.
We could have taken this bus, but we decided to call a taxi using Grab, a car sharing app.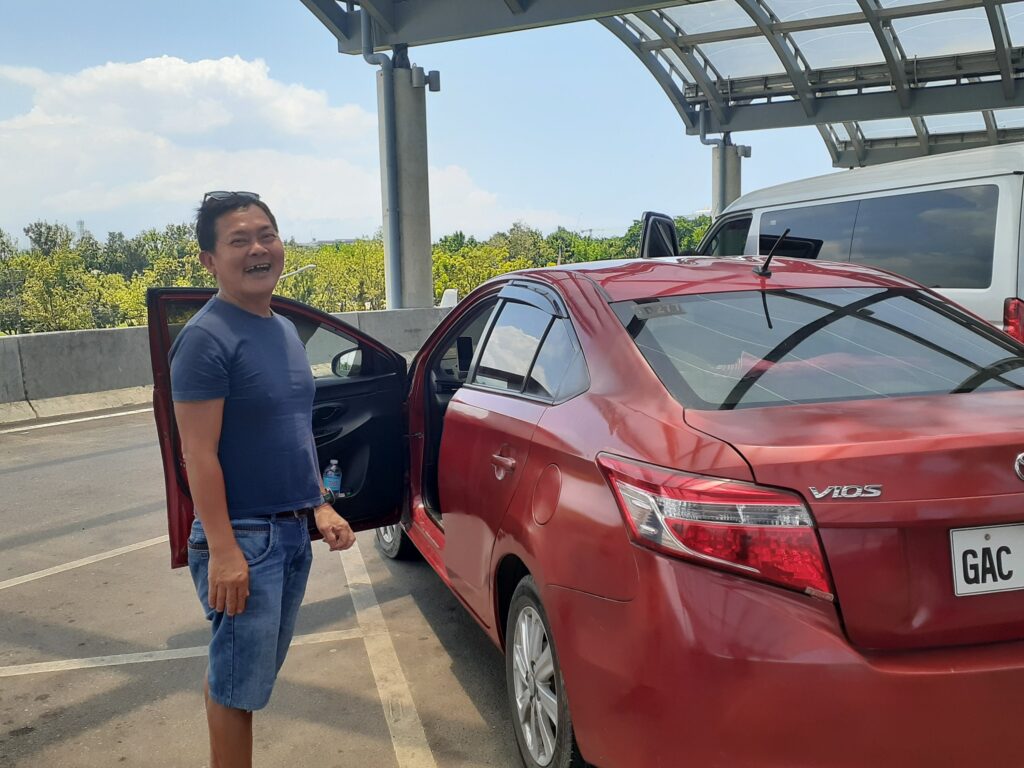 At around 11.30am, we called a taxi on Grab and the taxi came in about seven minutes – I think it was less than 10km – and cost 185 pesos for the taxi to the airport's Terminal 2.
Document check to boarding at Cebu International Airport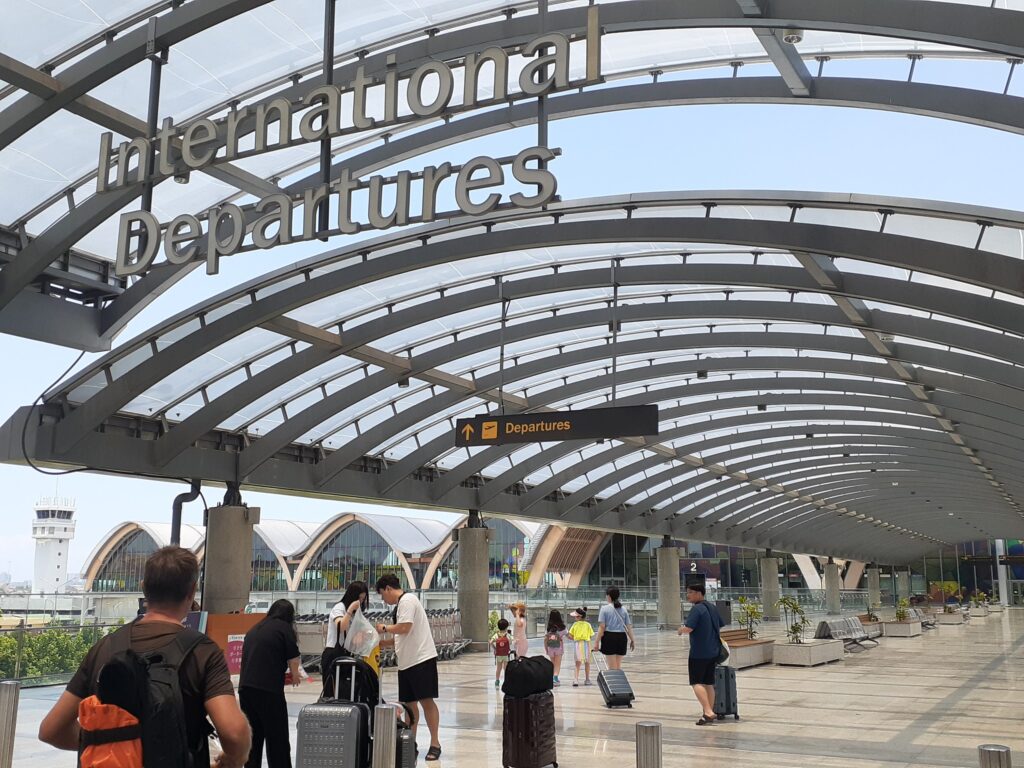 Terminal 2 still looks new. It was not crowded at all and everything went smoothly.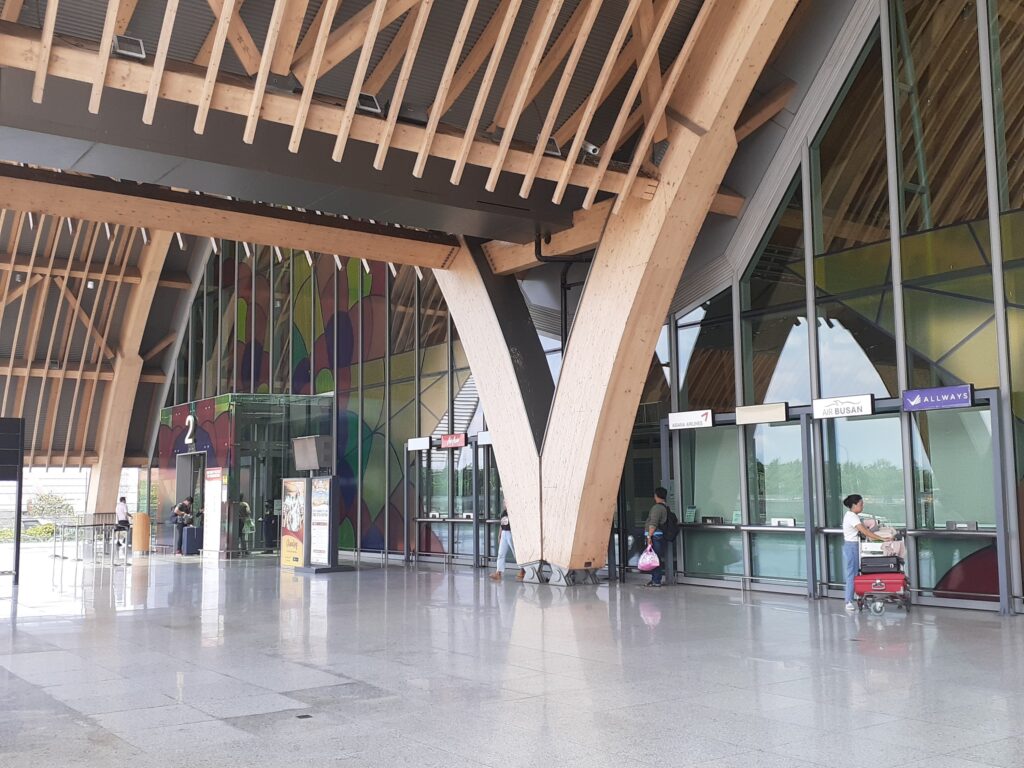 Not many international flights seem to arrive at or depart from this terminal, so we were able to relax in the spacious airport.
At the AirAsia document check, after submitting our passports and boarding passes, we were asked if we had an exit ticket from Malaysia. We showed them the ticket to Makassar the next day and so all was good. There was no weight or size check of hand luggage.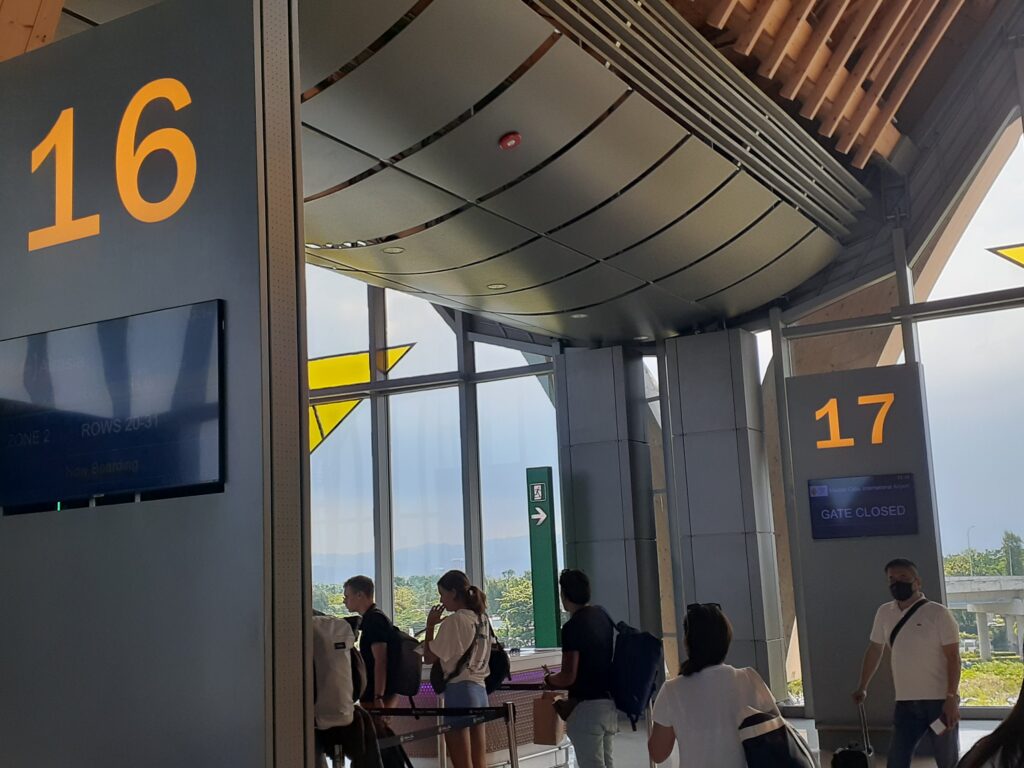 After the check-in counter, we proceeded through immigration and security checks in that order. None of these were crowded at all and we were able to pass through quickly and easily.
Boarding procedures were also very smooth. Boarding started on time. There were scales at the boarding gate, but no luggage weight checks. I did not see any other passengers being checked.
AirAsia in-flight services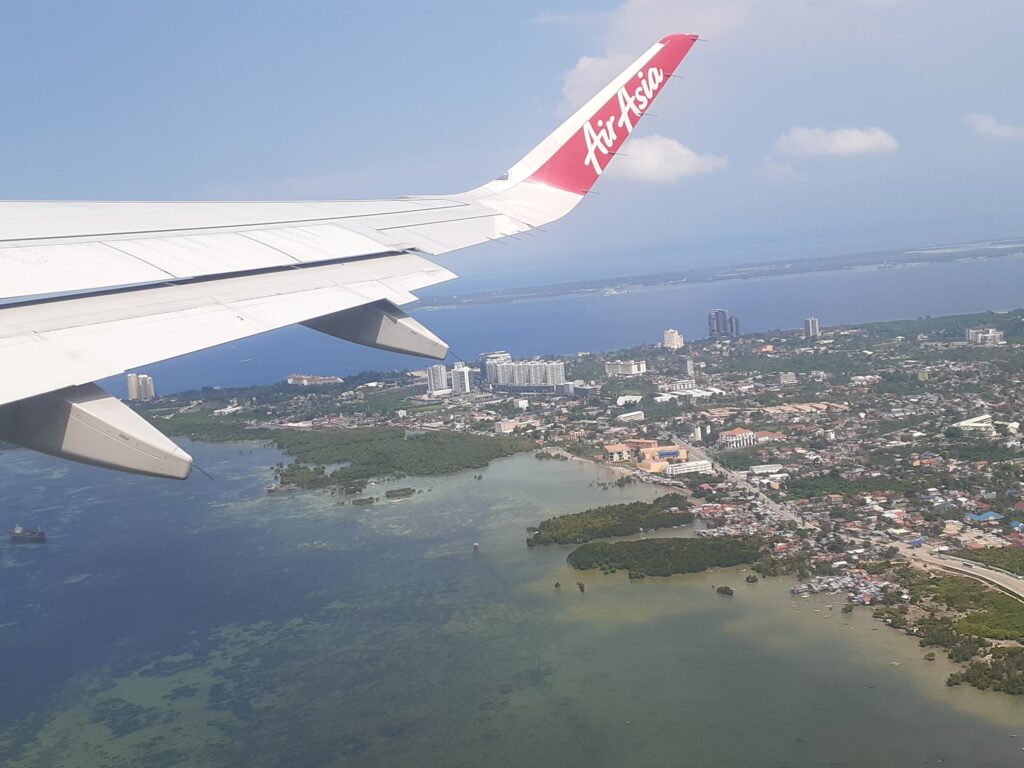 The plane took off almost on time.
AirAsia charges for in-flight meals. In addition to hot food, there were cup noodles and soft drinks. No alcohol was available.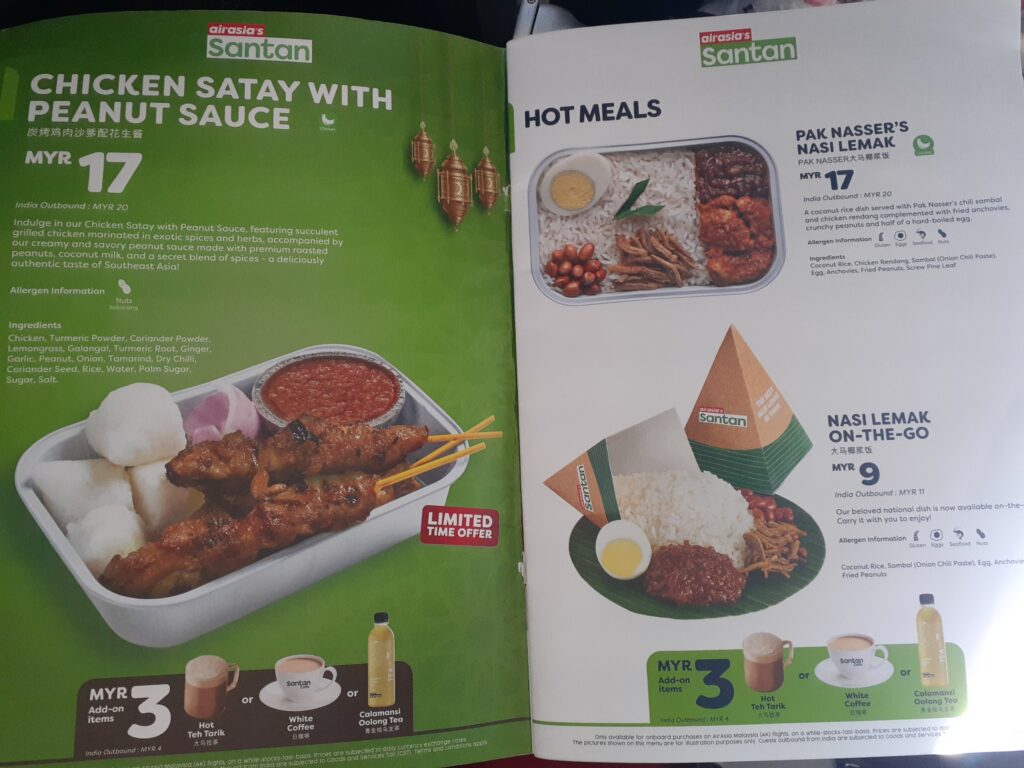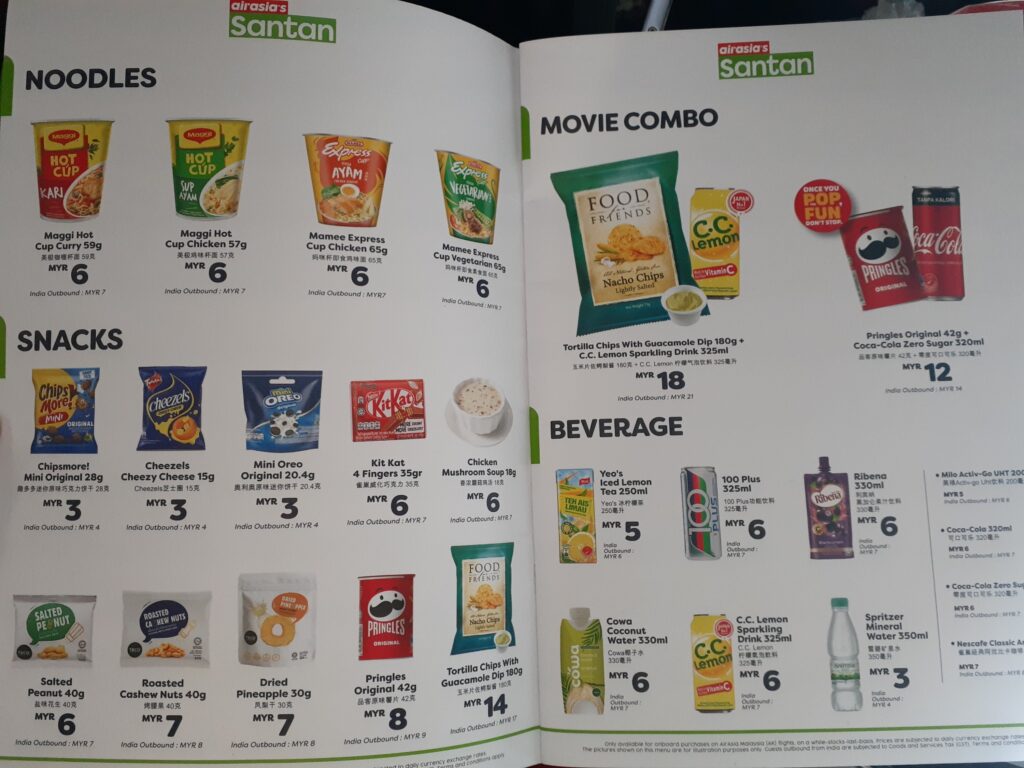 There was no entertainment, but inflight shopping was available, but not many people used it.
The cabin was not full and there were quite a few empty seats. Legroom was small, but did not feel too cramped.
Arrival in Kuala Lumpur
We arrived in Kuala Lumpur a little after 5.30pm. We arrived at Terminal 2.
It was quite a walk to immigration, but immigration was not as busy as expected.
We had no checked baggage, so after immigration we went through customs and headed for the exit.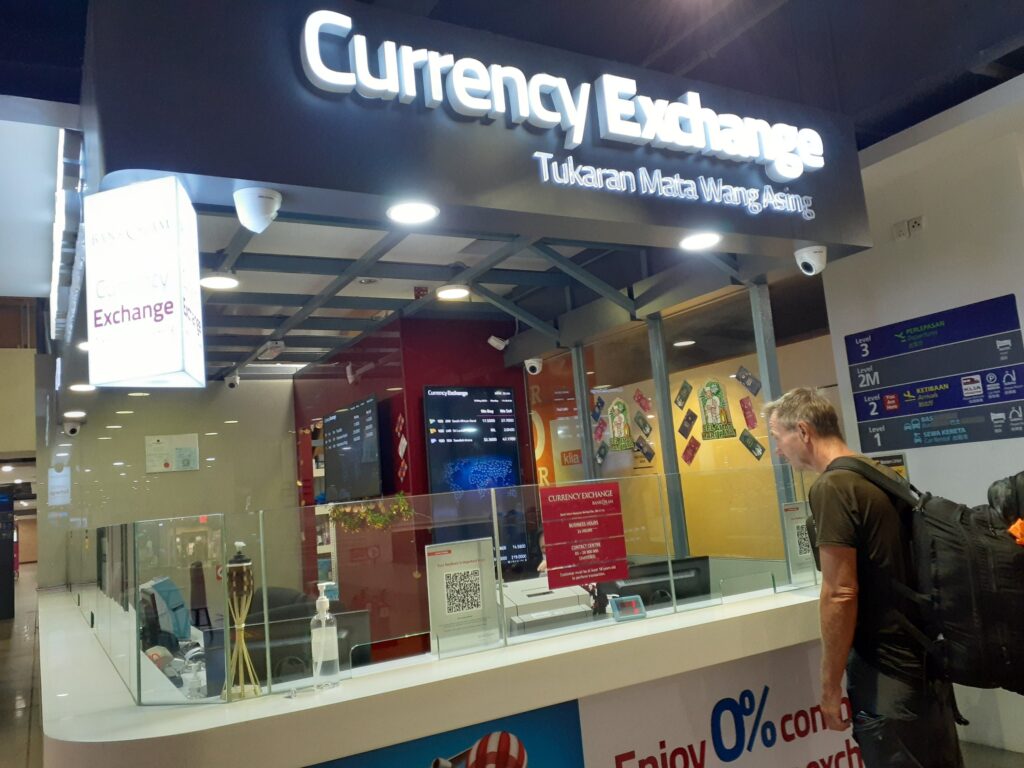 We would only be in Kuala Lumpur for one night, but we still needed local currency for transfers to and from the hotel and for meals. There were several foreign currency exchange offices after the customs exit, but the rates are almost the same everywhere, and they are all poor.
However, this time we were staying in a residential area near the airport and knew there would be no exchange offices around. So we had no choice but to exchange a small amount of money into Malaysian ringgit.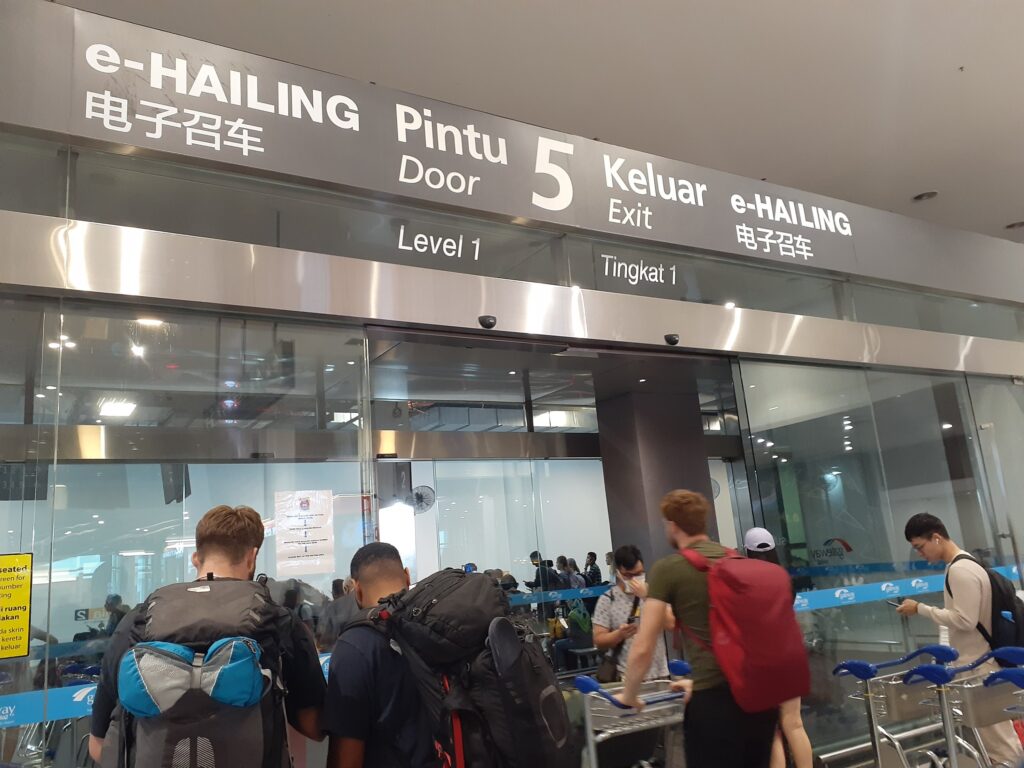 We used Grab taxis to get to the accommodation. Kuala Lumpur International Airport has an 'e-hailing' exit for users who hail a taxi using a hailing app. There are also information signs.
We used the airport's free wifi to call a Grab taxi and got in here. Very convenient. It was about 14 km to the accommodation and cost 30 ringgit.
Overnight in Kuala Lumpur and back to the airport again the next morning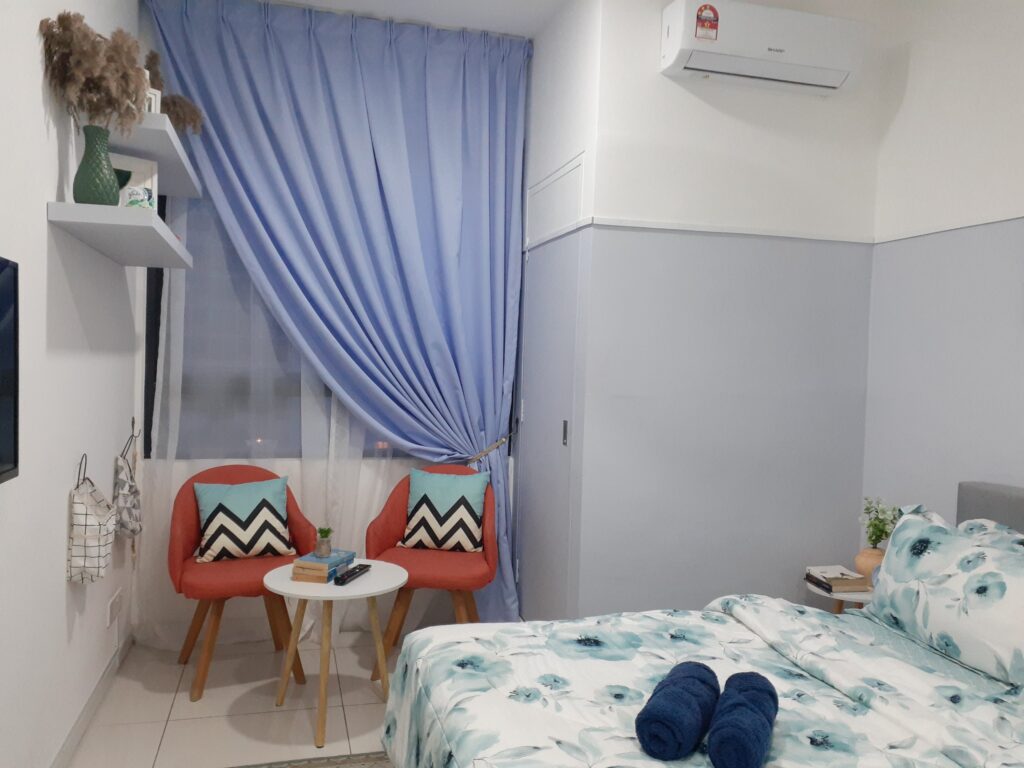 Of the accommodation options close to Kuala Lumpur Airport, the Horizon Suites KLIA was the most affordable. It is part of a large condominium complex and a double room cost 87 ringgit per night. There is also a swimming pool on site. A detailed review can be found on Google Maps.
There are not many restaurants nearby, perhaps because it is a new residential area, but there were a few places offering good food at reasonable prices.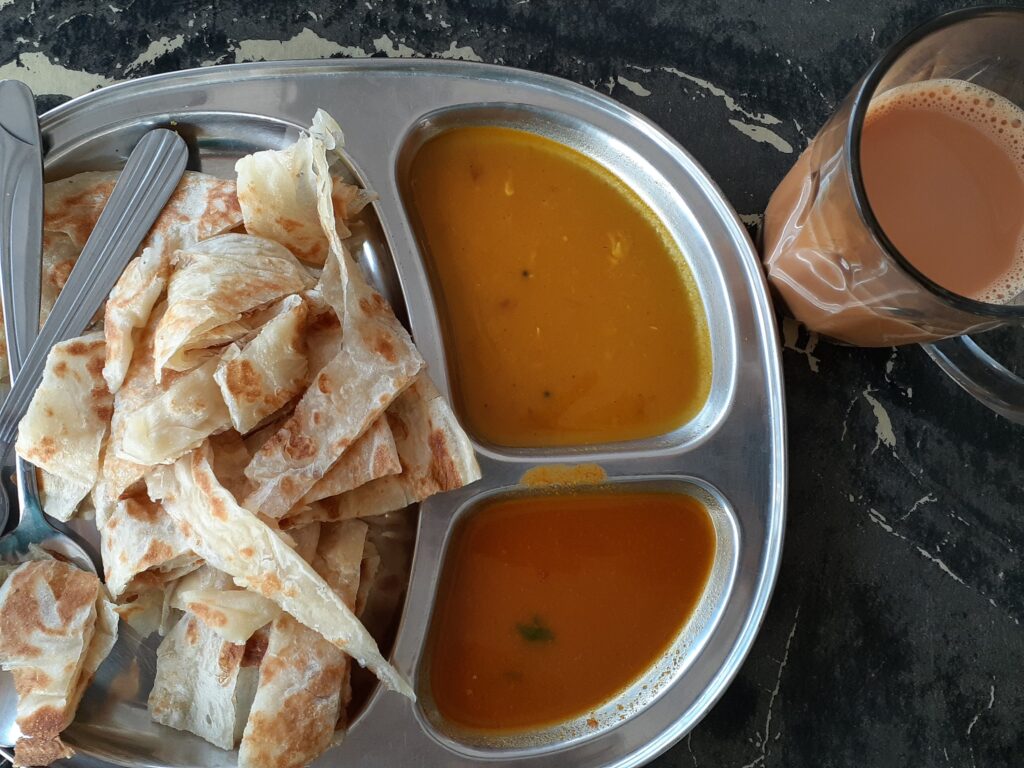 The next morning we had roti and sweet milk tea for breakfast and headed to the airport at around 11am, taking a Grab taxi to the airport's Terminal 2 for 30 ringgit.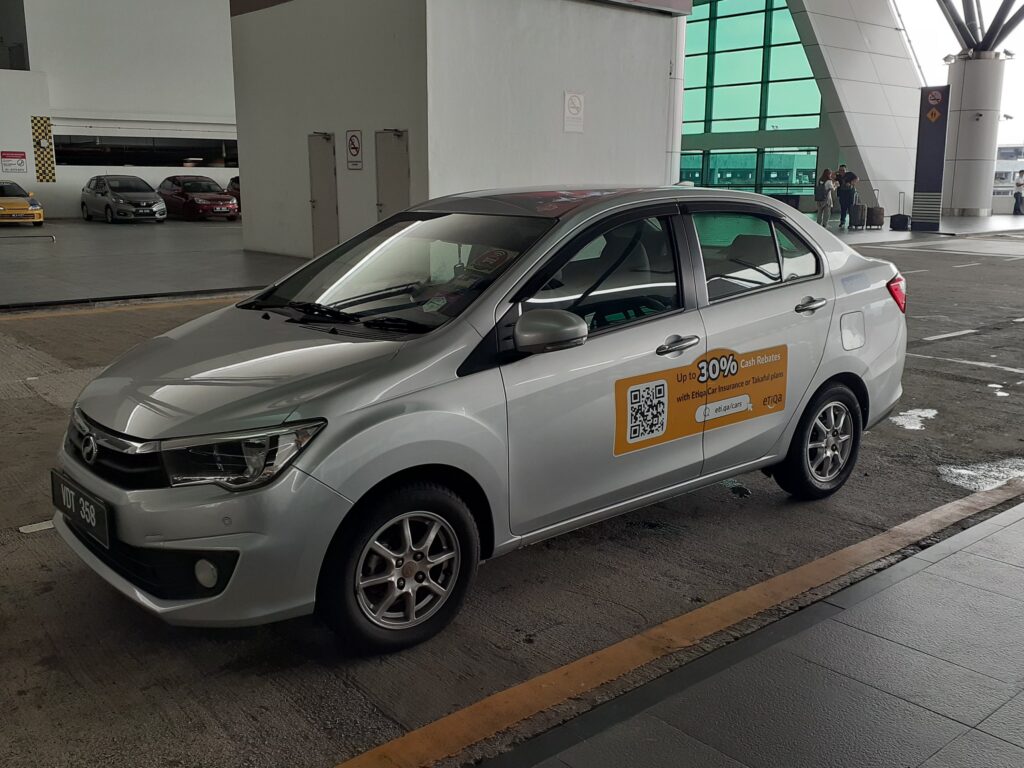 The story will continue to the next post about getting from Malaysia to Makassar and entry problems in Indonesia.