We flew from Samarinda to Berau and stayed overnight in the town of Berau. The next morning, we headed to our next destination, Maratua Island.
Speedboats operate from Berau to Maratua Island. We crossed to Maratua Island on this.
Boat from Berau to Maratua Island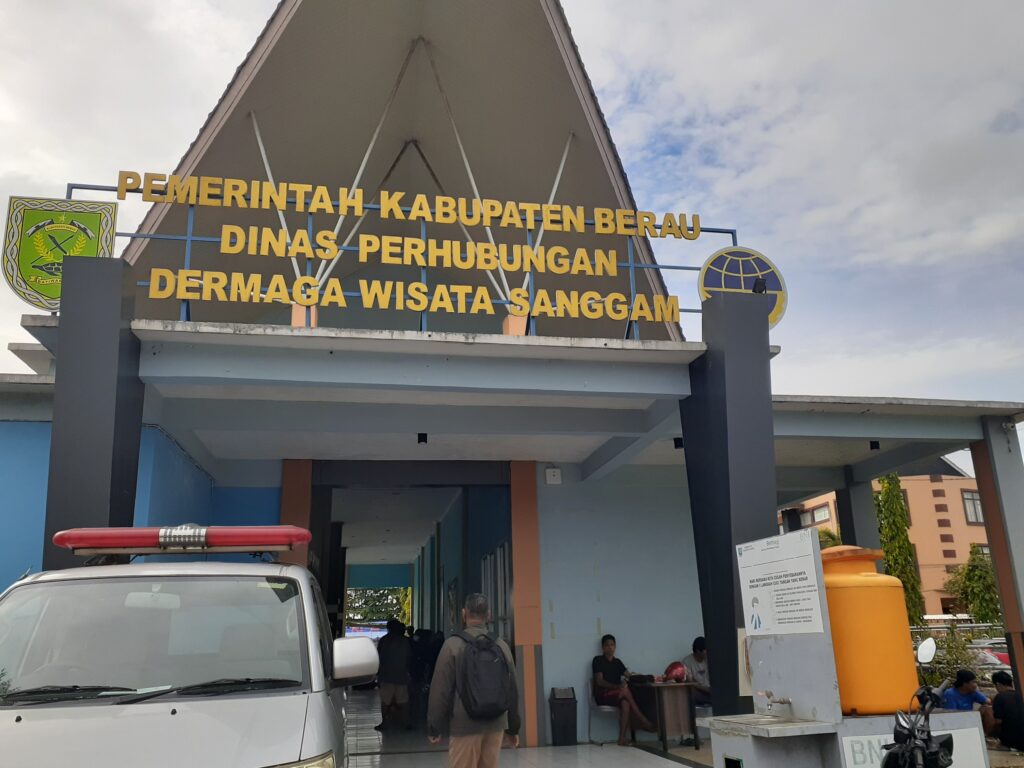 Speedboats operate from Berau (or Tanjung Redep) to Maratua Island which is approximately 120 km.
They leave from Berau boat pier (Pelabuhan Berau) . We were told that the boat departs daily at 10am, but our boat left 15 minutes earlier. It is recommended to book the day before as they are small speedboats. We asked the staff at the Ohana Guesthouse where we stayed to make a telephone reservation for us, but I believe you can also go directly to the landing to make a reservation.
The boat fare from Berau to Maratua Island costs Rp 510 000 per person for foreigners, Rp 310 000 for Indonesian tourists and Rp 260 000 for local Indonesians.
There is another popular tourist island of Derawan close to Maratua island. Boats also operate from Berau to Derawan Island. It may therefore be possible to cross to Derawan Island and then on to Maratua Island, but there is no clear information on this. research indicates that this could be a costly charter exercise or join a day trip to Maratua (if there is one). This time we decided to go directly to Maratua Island.
Boarding the speedboat from Berau to Maratua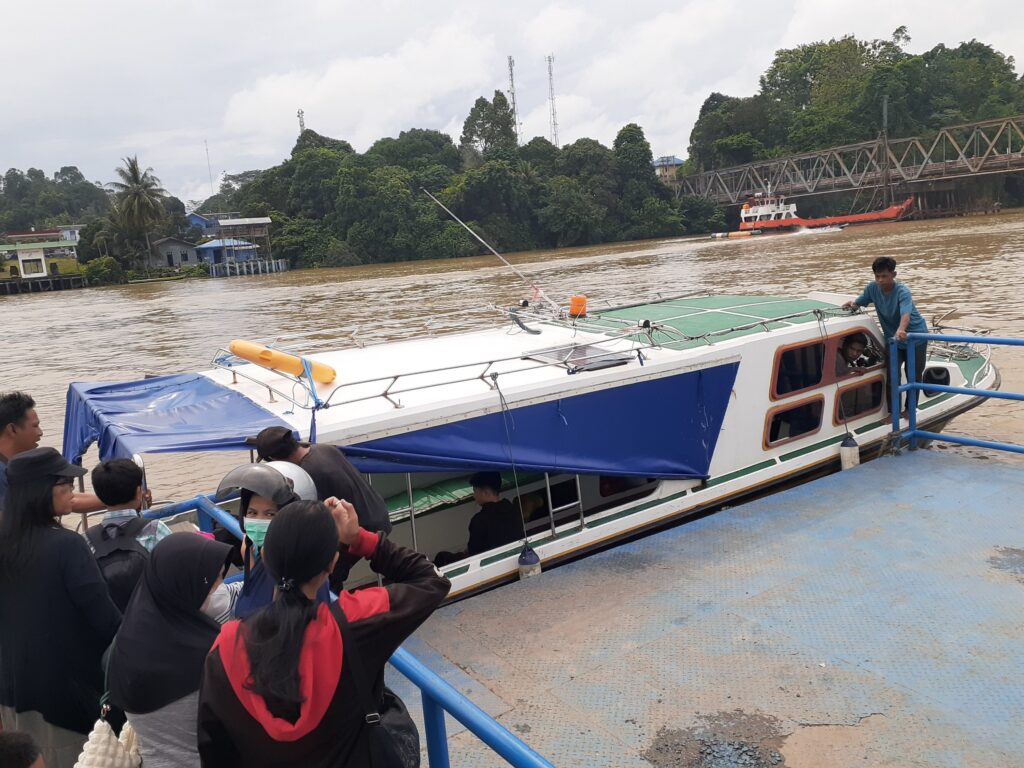 The speedboat from Berau to Maratua Island departs at 10am and we were told to leave the guesthouse at 9am. On the morning of the day, an Indonesian man turned up at the guesthouse to meet us.
He was the father of the guesthouse staff member who had booked the boat seats by phone the day before. He owns two speedboats and had been a captain for many years. He and another guesthouse staff member kindly took us to the boat pier by motorbike.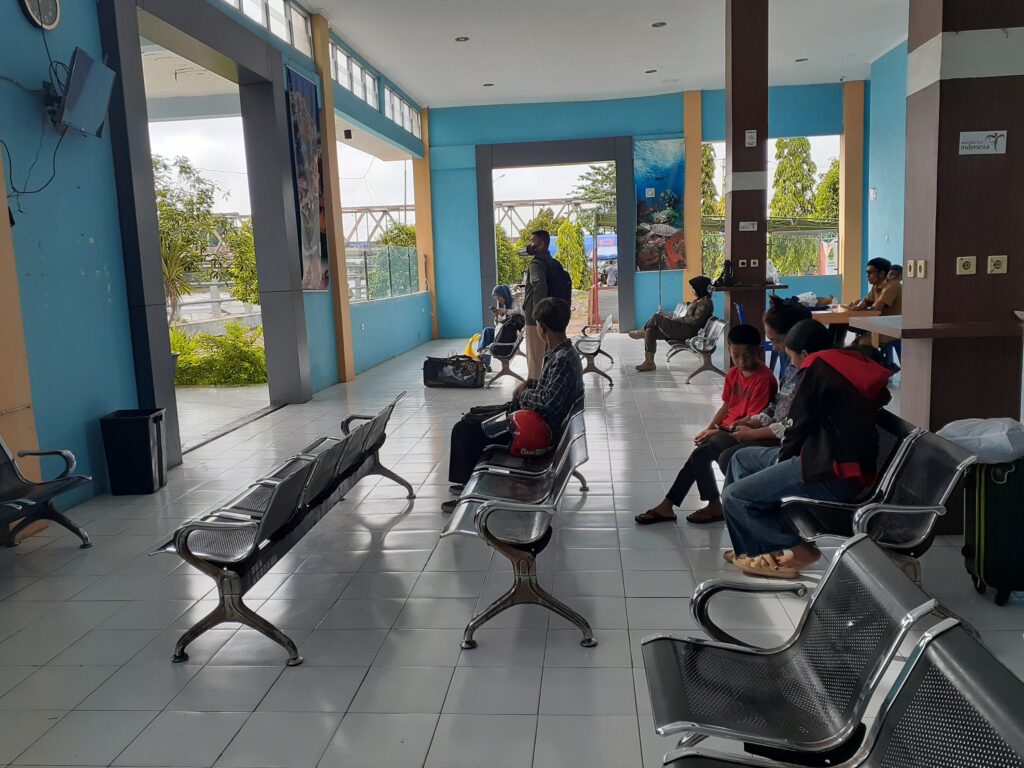 The waiting room at the boat pier was busy with a few travellers. We waited for a while, as there was still some time before departure, and at around 9.30am we were allowed to board the boat.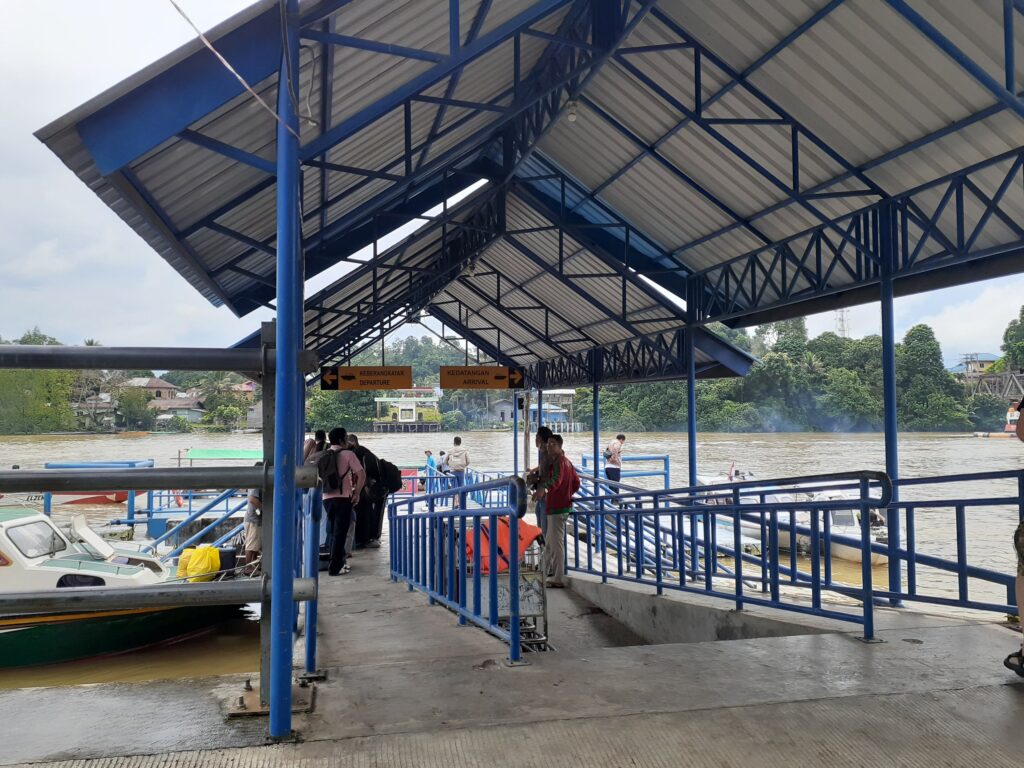 The speedboat carries 18 passengers. We boarded the boat, checking that it was bound for Maratua. Some locals had got on the wrong boat!
Departure from Berau harbour: 9:45 am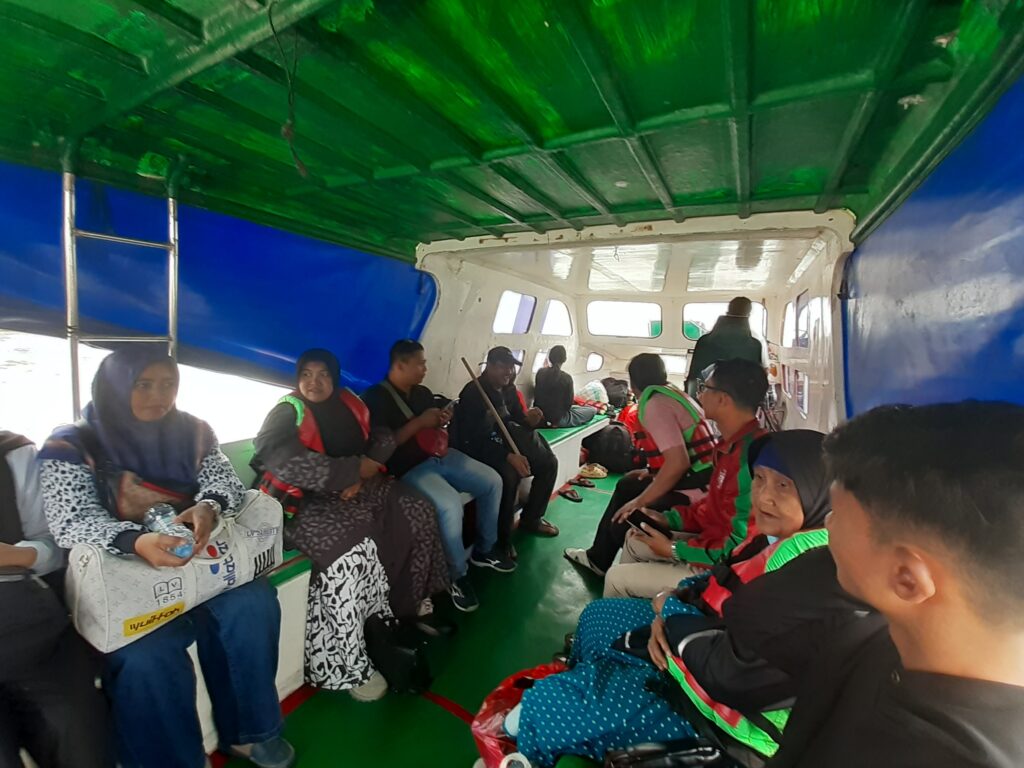 The boat departed as soon as all passengers boarded. The time was 9:45 am. We were told that the journey from Berau to Maratua would take about 2.5 hours.
The boat, powered by two YAMAHA 200 engines, sailed down the river towards the sea to the east. Unfortunately, it was cloudy, but thanks to this, it was not hot on board. It was rather chilly in the sea breeze, and after a while I put on a life jacket to keep warm.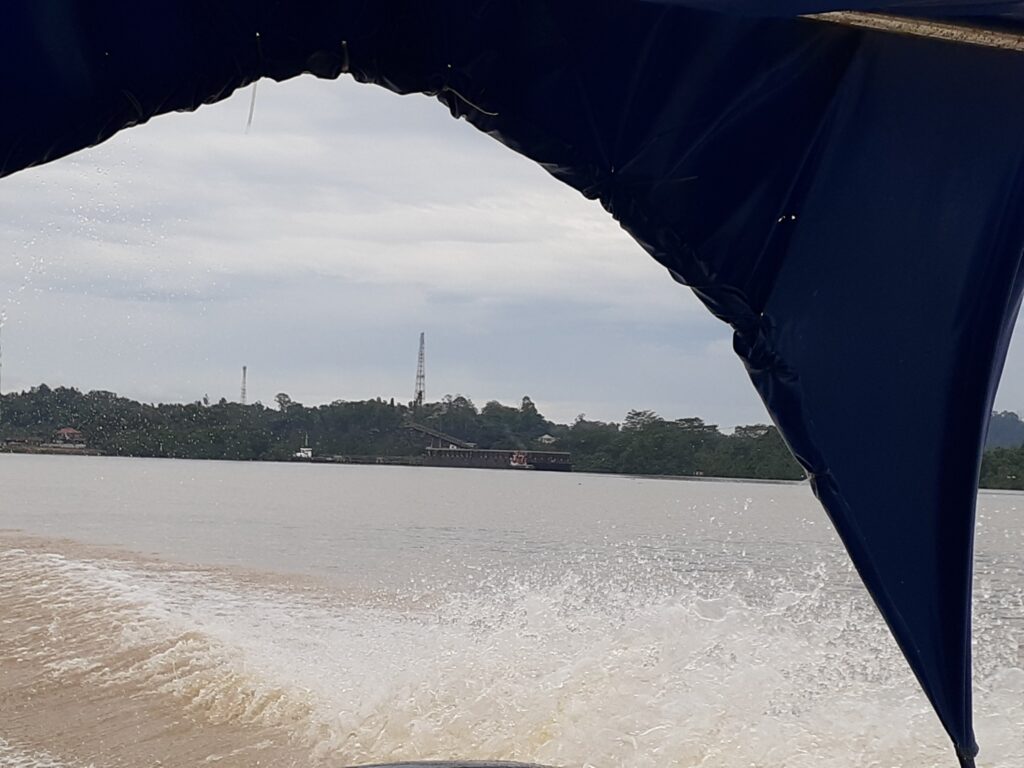 Coal is an important resource on Kalimantan and this river is also used for its transportation. We saw many coal carriers on the Mahakam River the other day, but here there seemed to be a mining site on the riverbank and an empty carrier was waiting. The image above shows the coal mining site, although it is difficult to see from a distance.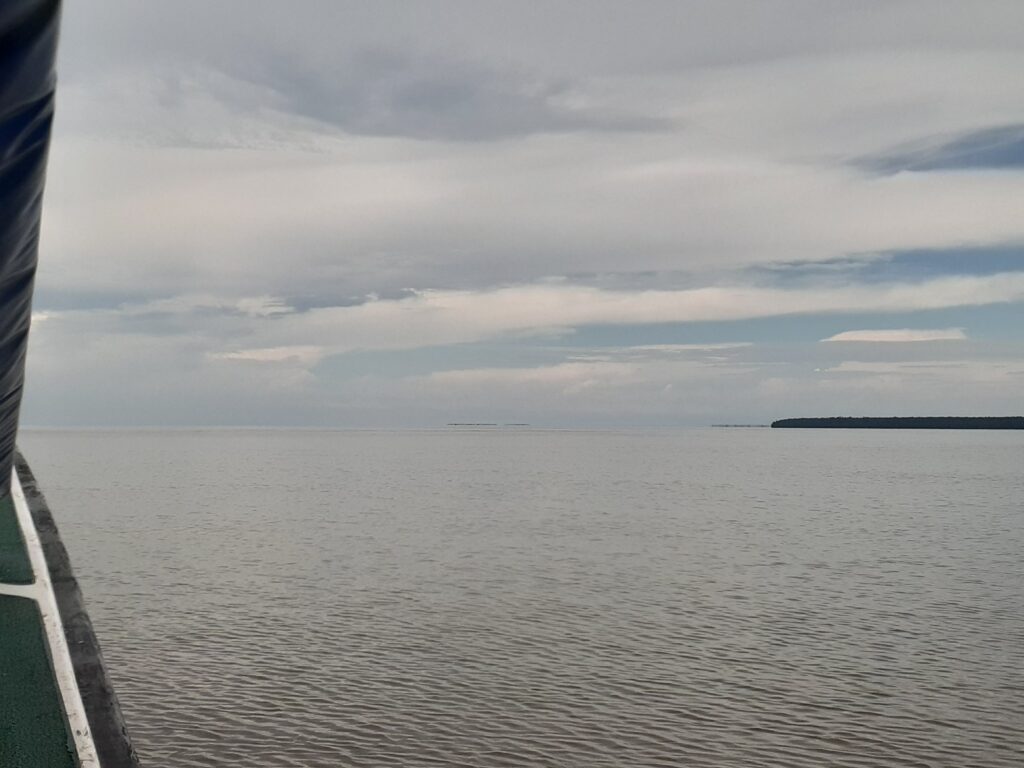 Arrival at the river mouth at 10:36 am. From here it goes out to the sea. The water slowly changes colour as it passes the river mouth.
11:10 am, we passed about 15 km south of Derawan Island.
Arrival at Maratua Island: 12:00 pm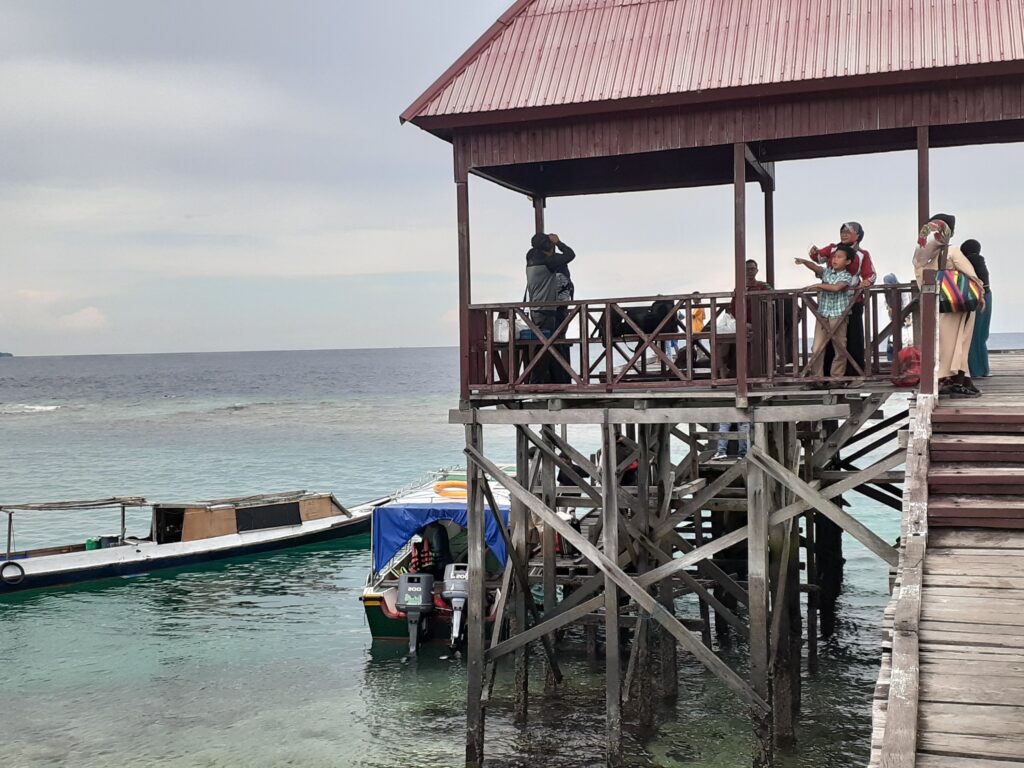 The boat sailed smoothly and arrived at the Maratua Island boat pier at 12.00 pm, ahead of schedule.
Almost all accommodation on Maratua Island is expensive, but we decided to stay at Nouri Cottage, which is one of the most affordable. After arrival, we walked to Nouri Cottage from the boat pier. More accommodation and snorkeling information on Maratua Island will be in the next post.