After two nights in Semporna, we decided to travel all the way to Kota Kinabalu.
Flights are available from Semporna to Kota Kinabalu, but there are also reasonably priced long-distance buses that run from Semporna to Kota Kinabalu. We took the VIP bus from Semporna to Kota Kinabalu.
Bus from Semporna to Kota Kinabalu
The distance from Semporna to Kota Kinabalu is approximately 530 km. Both Semporna and Kota Kinabalu are well known to travellers, and several bus companies operate bus services between the two cities.
The bus stop from Semporna to Kota Kinabalu is located in the bus area near the port in Semporna, where several companies have offices. We enquired with several of these companies.
Fares vary depending on the bus company, ranging from RM50 for four seat rows or RM60 for a VIP bus with three seat rows. Journey times also seem to vary from 9 to 11 hours, according to them.
Departure times for most bus companies from Semporna are 7.30am and 7.30pm.
Buying VIP bus tickets from Semporna to Kota Kinabalu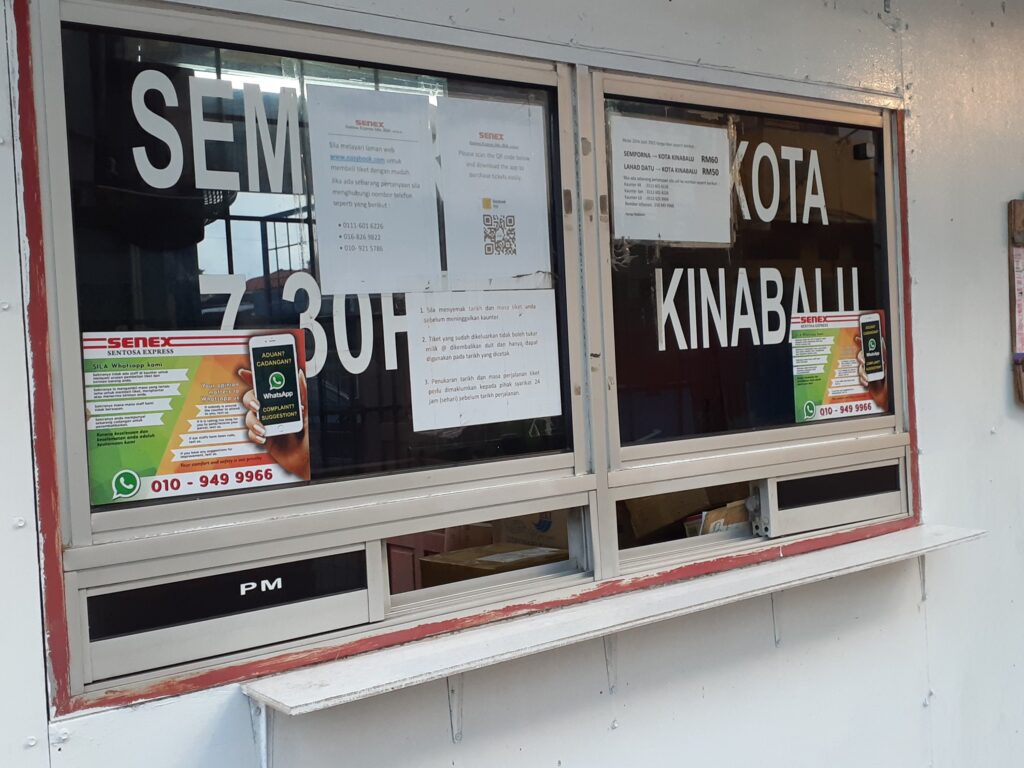 We chose the Sentosa Express bus, which was a little more expensive, but we were told the journey would take nine hours. The fare to Kota Kinabalu is RM60 per person.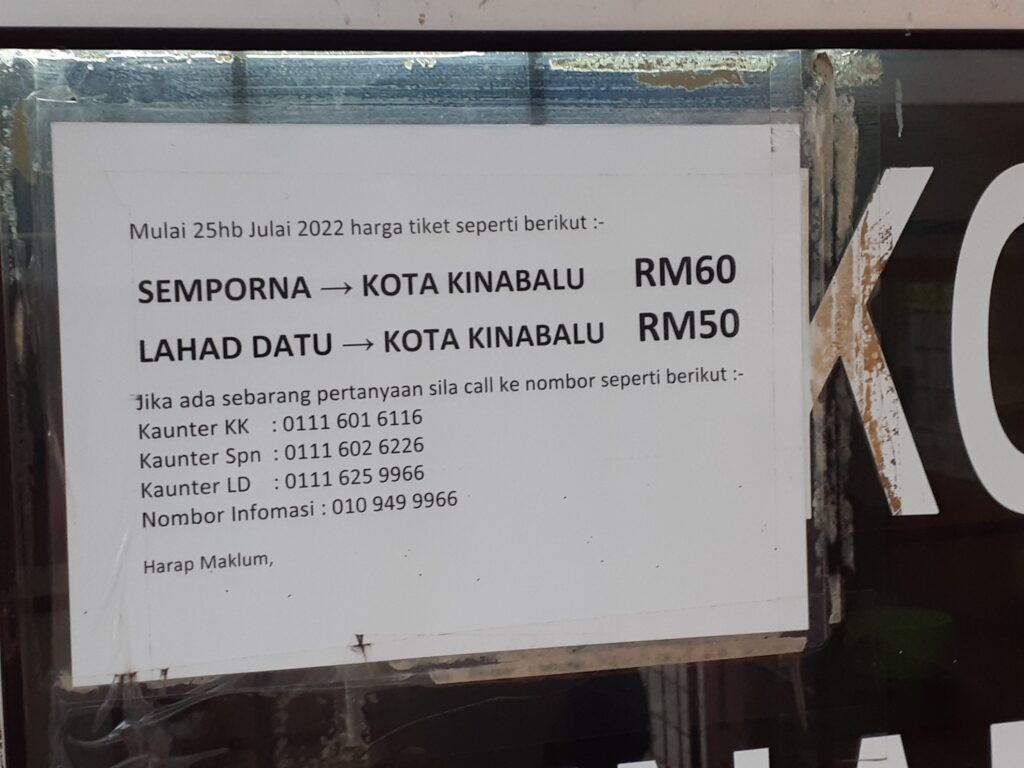 There is a Sentosa Express Senex ticket office and bus station a few blocks northwest of the Memory Boutique Hotel where we were staying. We bought the tickets there in the morning we were going to leave. It was around 6am but the ticket office was already open and our bus was parked there.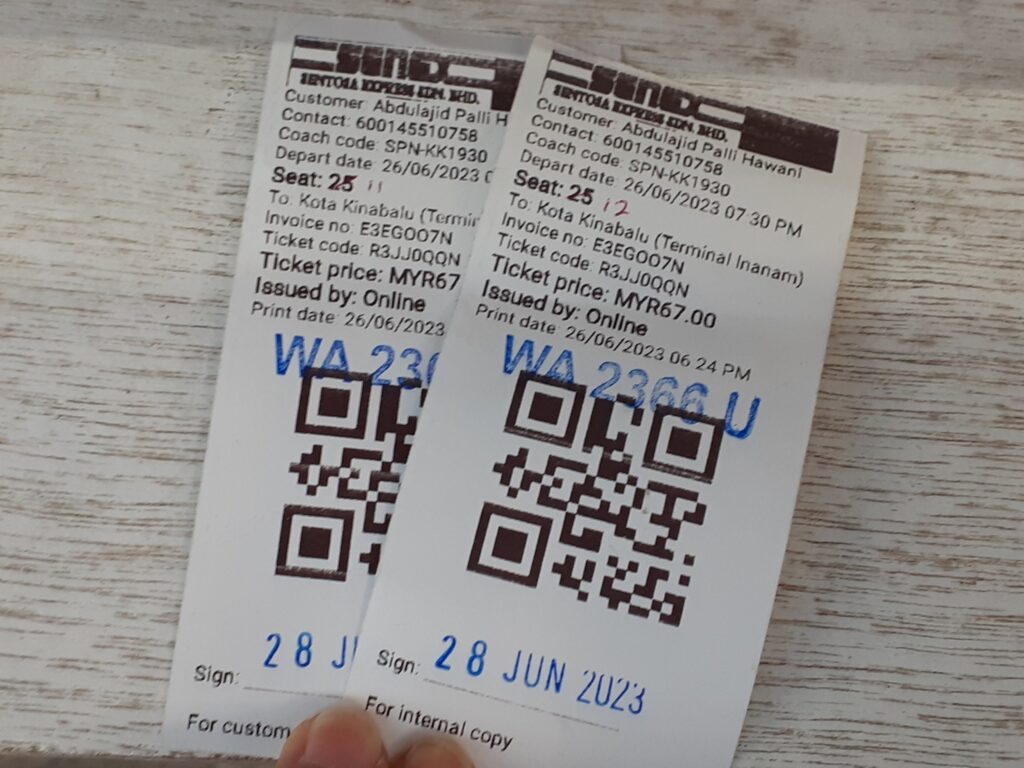 You can choose your seat when you buy your ticket. There are toilets on board, but we chose frontwards seats, away from the toilets. QR codes are printed on the tickets.
The bus departs at 7.30am, so we were told to be on board by 7.15am.
We took the VIP bus from Semporna to Kota Kinabalu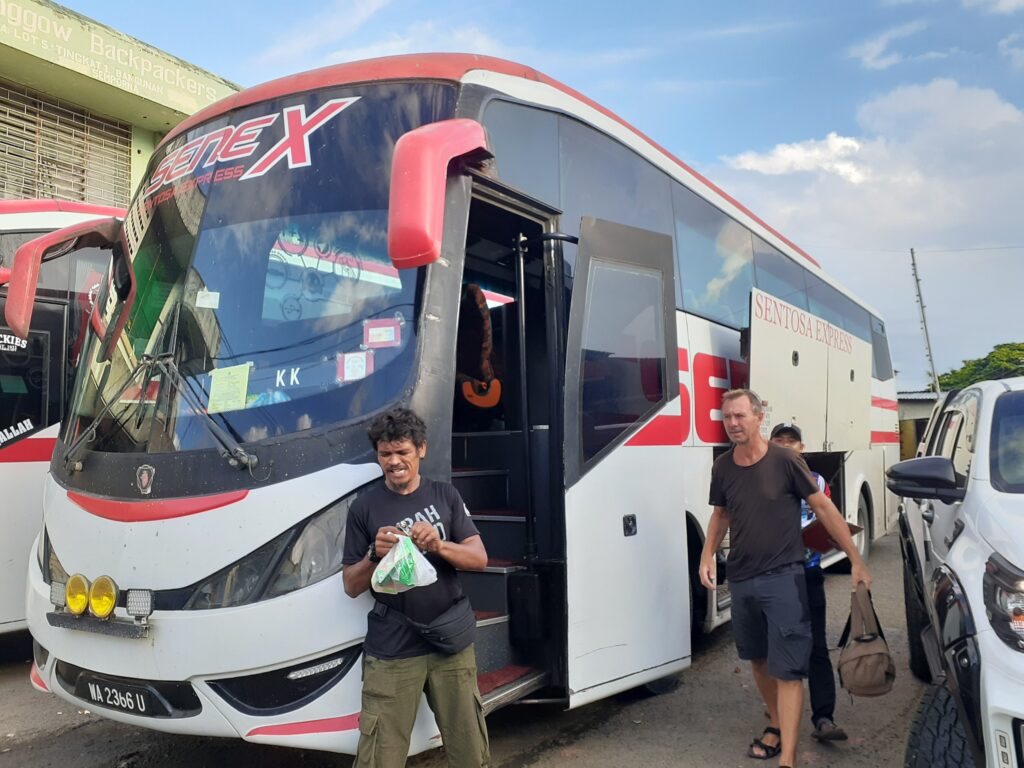 We returned to the bus station at around 7.15am as required and boarded the bus. The ticket will have your seat number on it and you board accordingly.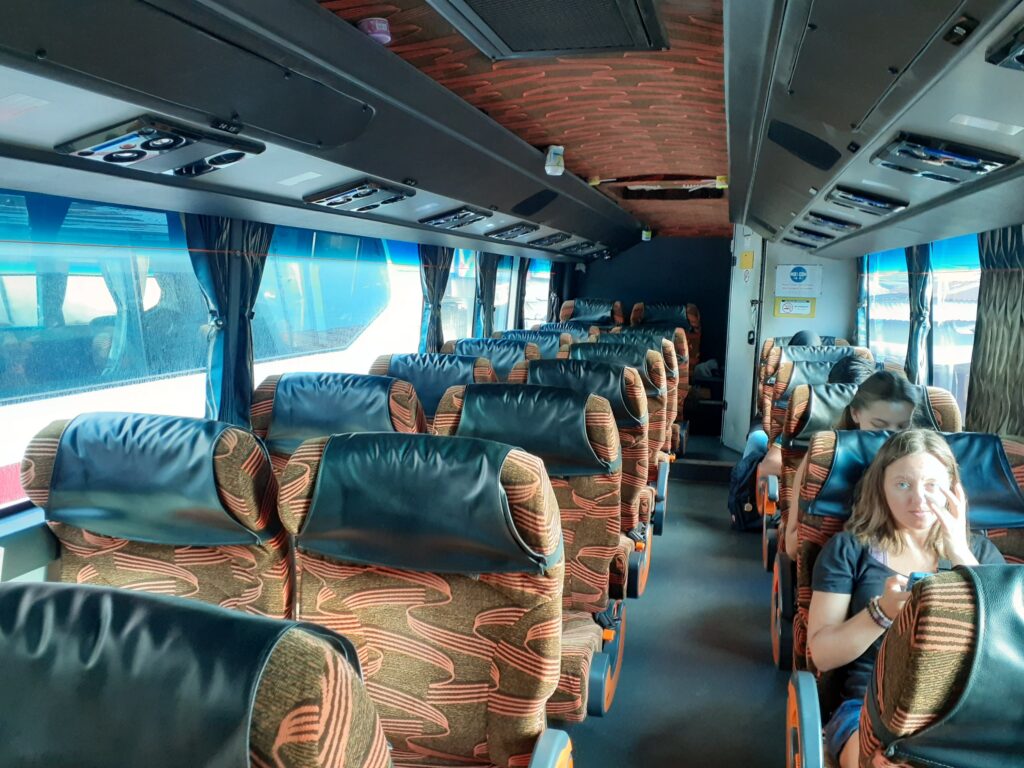 The interior of the bus had deluxe three-row seats, wide enough to recline, with footrests and charging plugs.
The VIP buses can be overly air-conditioned and cold, so we brought long-sleeved tops on board and backpacks were stored underneath.
Departure from Semporna: 7.30 am
The bus left Semporna bus station on time at 7.30 am. There were a few other passengers on board besides us, but there were a large number of empty seats.
At around 10:00 am, the bus stopped at Lahad Datu bus terminal for about 20 minutes while a few passengers boarded.
There was a checkpoint before we reached the lunch stop. Officers in camouflage uniforms boarded the bus and checked the identity of all passengers.
Lunch break: 1.30 pm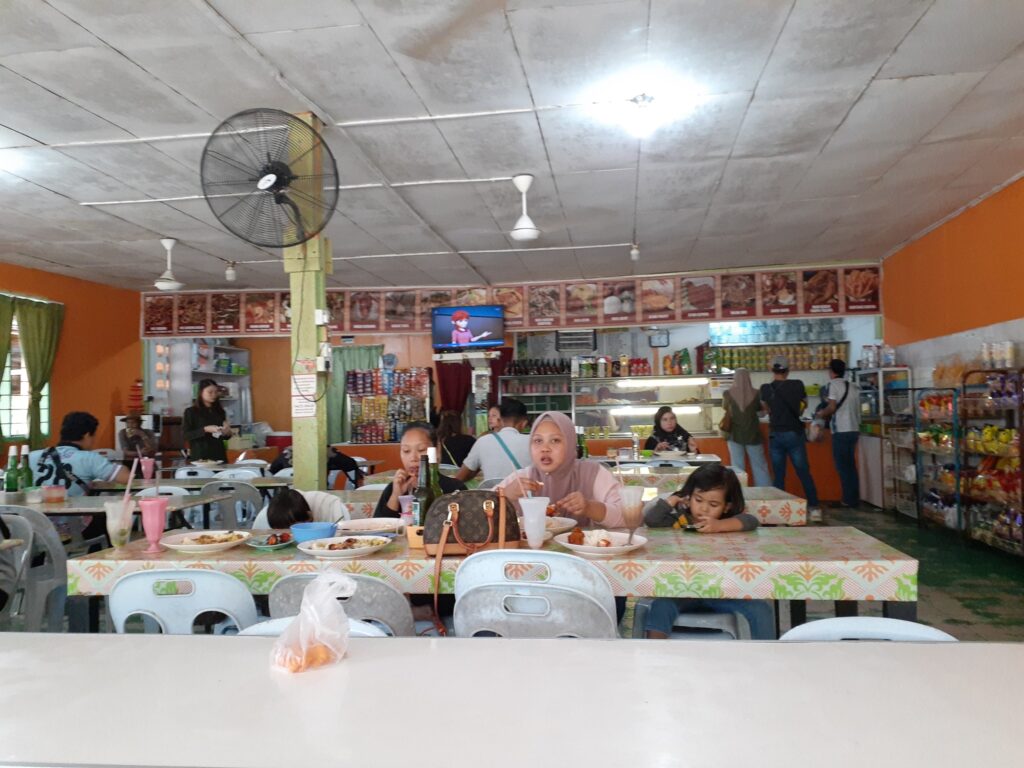 After leaving Lahad Datu, some parts of the road was under construction, but the road was in good condition and smooth most of the time.
At around 1.30pm, we stopped for a lunch break. We took our meal at a restaurant.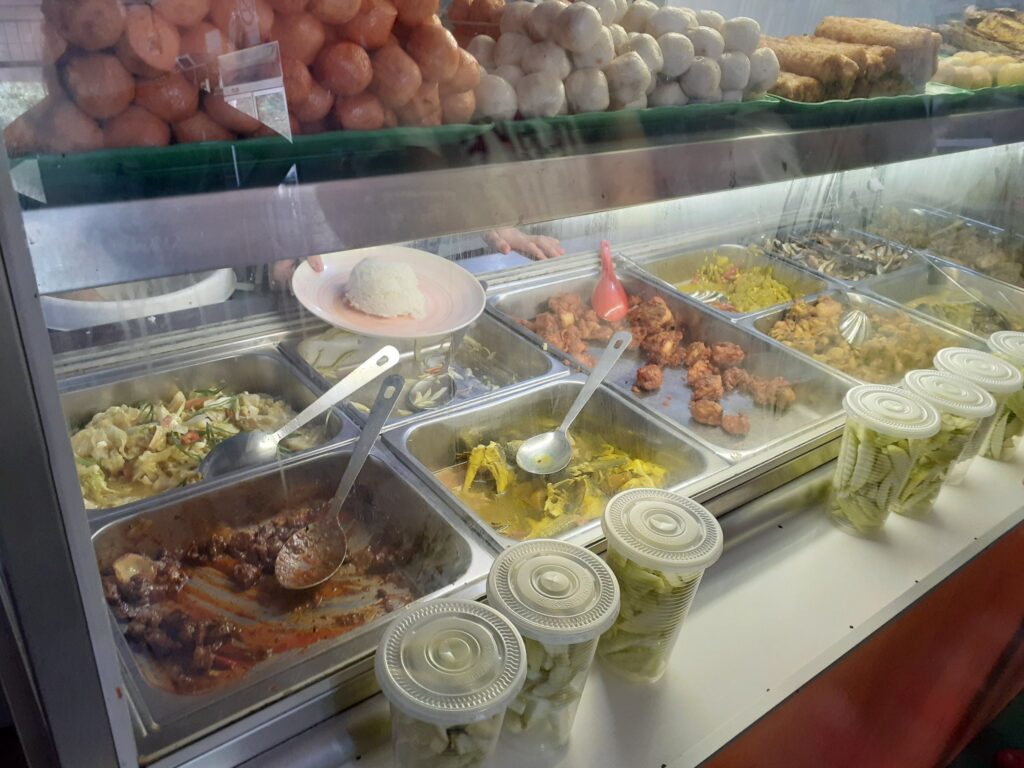 It seems that you can order a la carte, but a rice set with a choice of ready-made side dishes is faster and probably cheaper.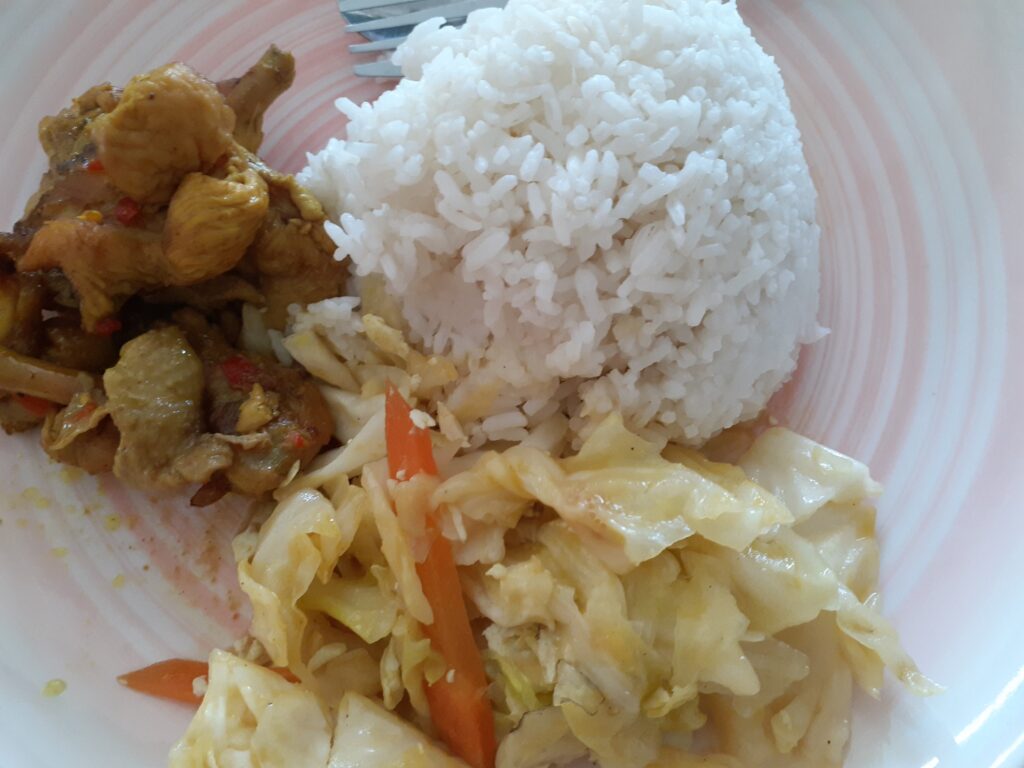 After lunch and toilets break, we boarded the bus again.
Arrival in Kota Kinabalu: 6.30pm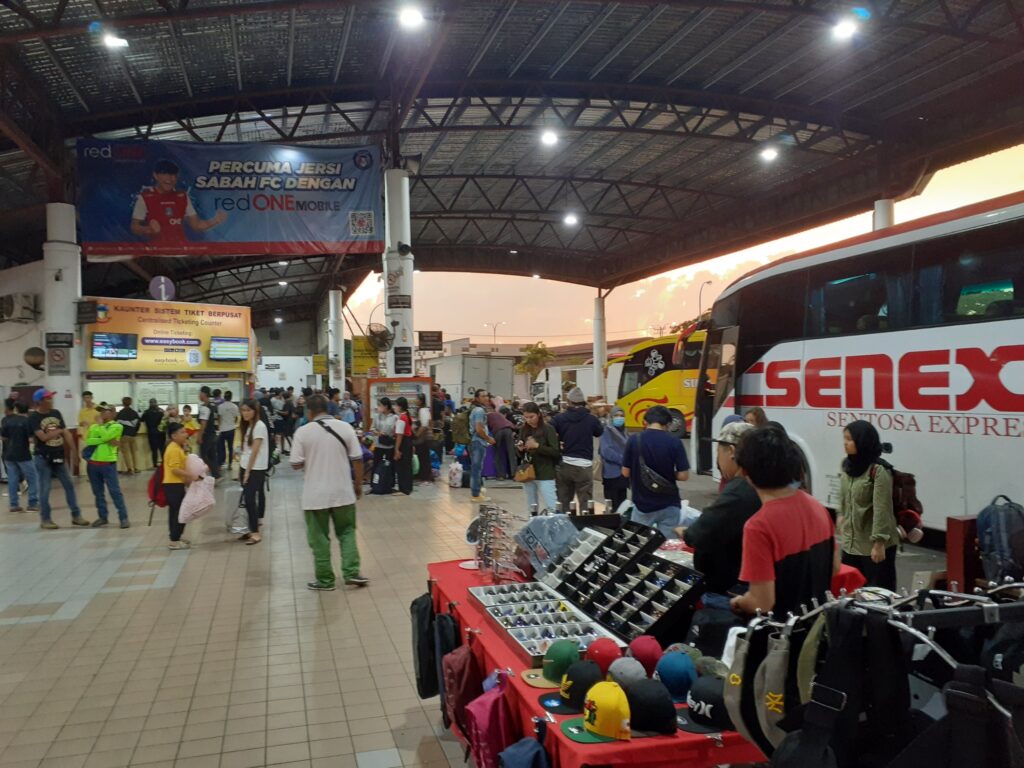 Traffic increased as we approached Kota Kinabalu and we got caught in a traffic jam. We finally arrived at the final bus terminal at 6.30pm. We were told that the original plan was for the journey to take 9 hours, but this was greatly exceeded and it took 11 hours.
Travel from Inanamu bus terminal to Kota Kinabalu city
Although I said we arrived in Kota Kinabalu, the long-distance bus terminal is located on the outskirts of Kota Kinabalu. Buses from eastern Sabah, such as Semporna, arrive at the Inanam Bus Station Terminal. Kota Kinabalu city centre is about 10 km away and you will have to travel further into the city from here.
It was a Wednesday, but the next day was a public holiday in Malaysia and the bus terminal was crowded with people, so we hailed a taxi from Grab app. It took RM12, about 30 minutes, to reach the hotel we had booked in Kota Kinabalu city. It was another long day.