Foreigners staying in Uzbekistan as tourists are required to register their stay. If you are staying in a hotel or guesthouse, the accommodation will do this for you, but you may be wondering if it's really necessary to register? Also you may want to know if it costs you.
We travelled to Uzbekistan this time in July-August 2023 and would like to share our experience with registration of stay.
Registration of stay in Uzbekistan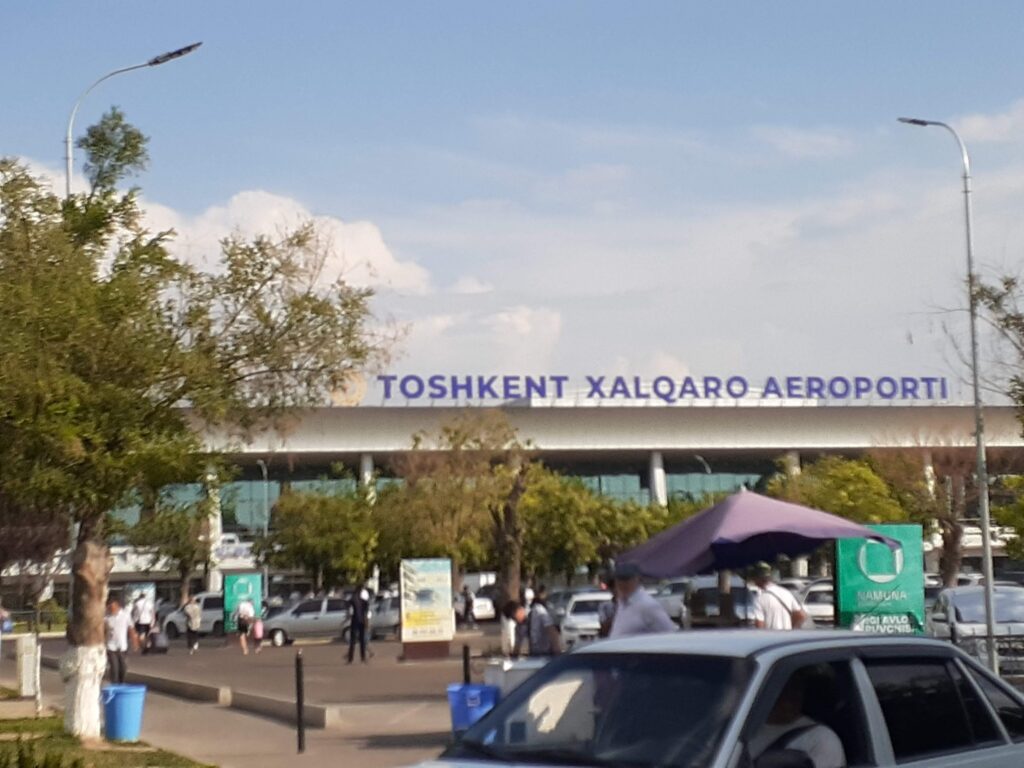 There is some information about registration in Uzbekistan online and Mai checked it with the relevant authority, namely the website of the Embassy of Japan in Uzbekistan states that,
Foreigners staying in Uzbekistan for more than 72 hours are required to register their stay. If you are staying at a hotel, the hotel will take care of the registration procedure on your behalf. When you check in, be sure to ask to register your stay and you will be given a piece of paper with the name of the hotel and the date of your stay as proof of registration, which you should keep in a safe place until departure clearance.
Visitors with a tourist visa are not allowed to stay beside the accommodation who can register their stay. 

If you have not registered your stay within 72 hours of entering the country, hotels and other establishments may often refuse to accommodate you. Please register your stay at a hotel as soon as possible after entering the country. If you are travelling by night train, please keep your train ticket.
If you fail to register your stay, exceed the registration period or stay overnight at a place other than your registered accommodation, you will be deported or fined a large sum of money.

Reference: Embassy of Japan in Uzbekistan
This is the website of a government organisation, so it should be considered reliable. However, my impression is that it is a very old system, and I wonder whether registration of your stay is really necessary now, in 2023.
It is suggested that it is required at Immigration checkpoints, but do they really check it every step of the way? And, although not at all implied in the above information, during our actual trip, registration at the hotel was sometimes charged extra money, which also raises the big question of whether hotels should charge us.
Does Uzbekistan Registration cost?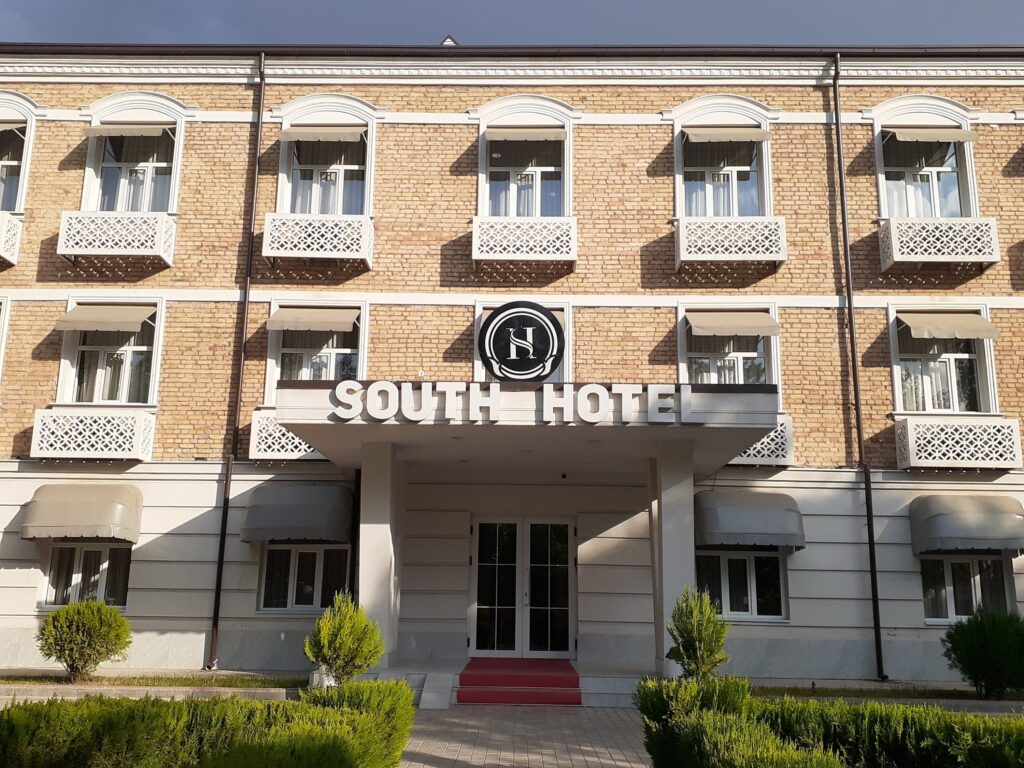 On the day we flew from Kuala Lumpur, Malaysia to Tashkent, our first overnight stay in Uzbekistan was at the South Hotel in Tashkent, which I booked online because it was after an eight-hour flight, although we didn't often book accommodation in Uzbekistan in advance.
However, when we checked in, we were told that there was an additional charge of USD 4 per person per night for registration of our stay, in addition to the amount shown on the online booking website. We intended to stay for two nights, so we would be charged USD 4 x 2 people x 2 nights, for a total of USD 16 extra. It was a surprising amount and difficult to believe. The average hotel in Uzbekistan costs around USD 30 per room per night, so an additional stay registration fee of USD 8 per person per day for two people is a significant proportion of the basic accommodation price.
We knew we had to register our stay, but we thought the hotel would automatically do it for us, and we didn't expect there to be a charge. However, when I carefully checked the page on the hotel booking website again, I found a small note under the displayed room rate, "there may be additional charges such as taxes and fees." In fact, the majority of accommodation facilities, not only in Tashkent but also in other parts of Uzbekistan, have such a proviso.
In the end, the South Hotel gave us a small discount on the registration fee after a long negotiation. However, we were a little disappointed to think that the same thing would continue to happen during our stay in Uzbekistan… We just arrived in Uzbekistan, and then, our excitement of arriving we wondered whether we would have to deal with this crap all the time…
What does an Uzbekistan registration look like?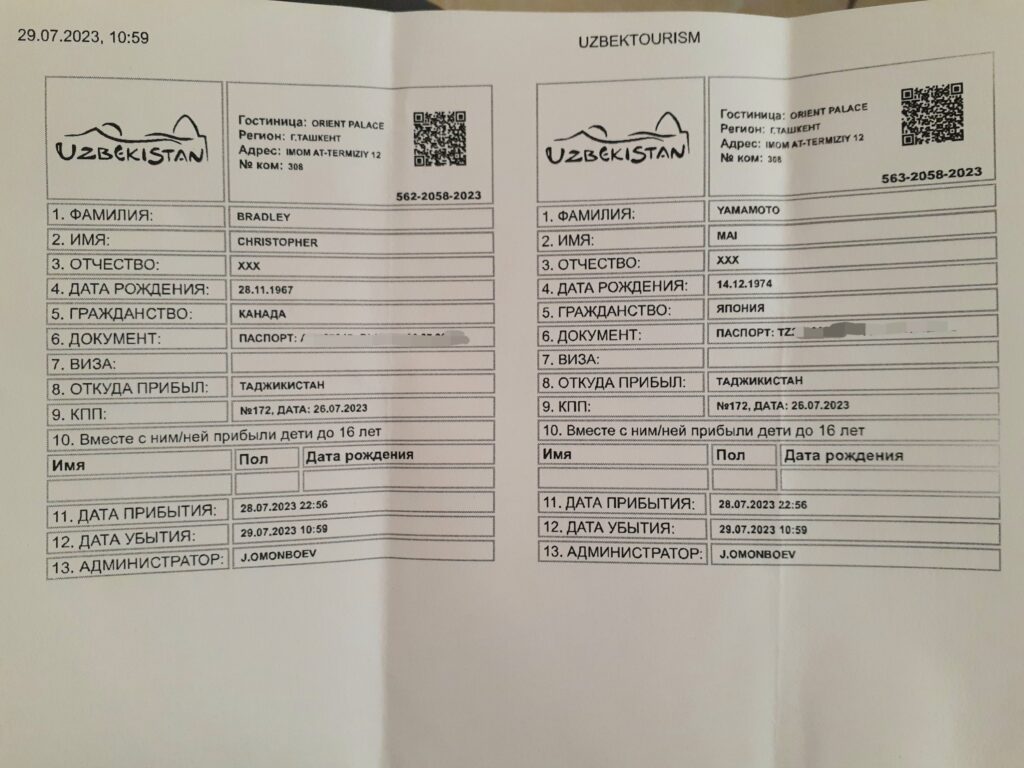 They charged us USD 4 per person everyday for registration, but we wondered what a registration looked like. What we actually received was just an ordinary piece of paper with accommodation and personal details printed on it. At some accommodation, it was even handwritten and stamped with an official stamp.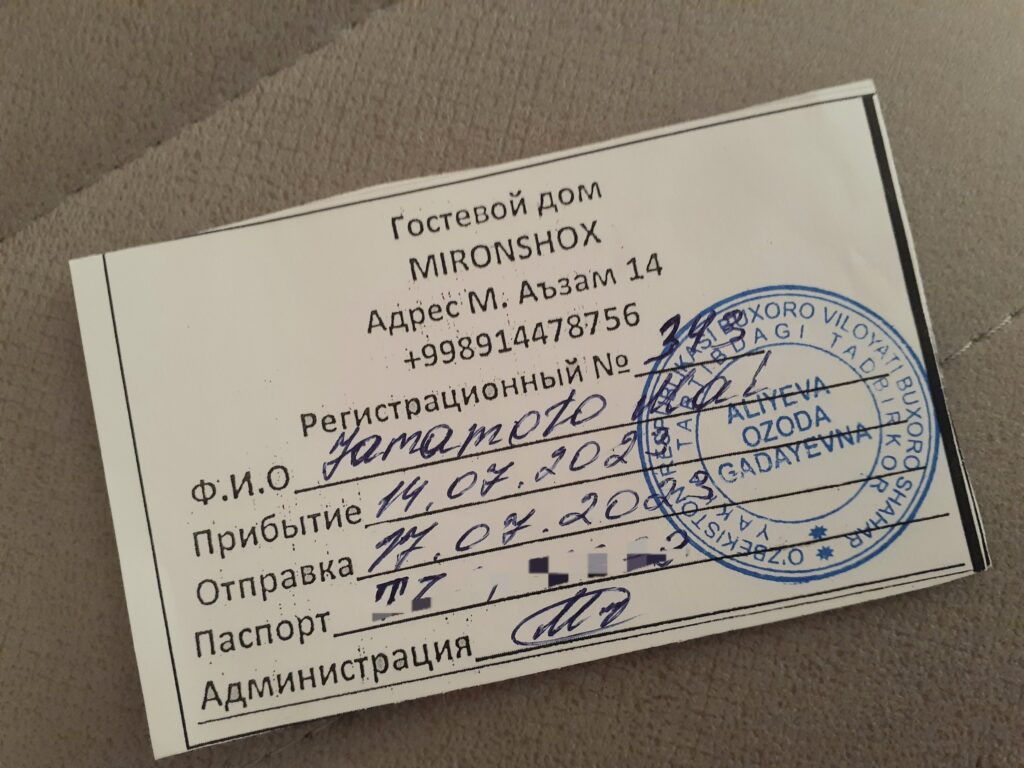 You would normally receive a registration of your stay at the guesthouse when you checked out, as it would indicate from what date to what date you had stayed. However, in Uzbekistan, where there are many power cuts, if the power goes out when you check out, you may be told that the registration of your stay cannot be printed. 'Then couldn't you have handwritten it?' But it is not that simple for them, apparently. As a guest, you have no choice but complaining that the system is inefficient, impractical and troublesome…
Registration costs the hotels
Booking a hotel online is convenient, but lots of accomodation in Uzbekistan indicate that there may be an additional fee. Not knowing the actual cost makes difficult to keep up your travel budget. In some cases, the basic room rate was USD 9 per room and the registration fee was USD 10 more.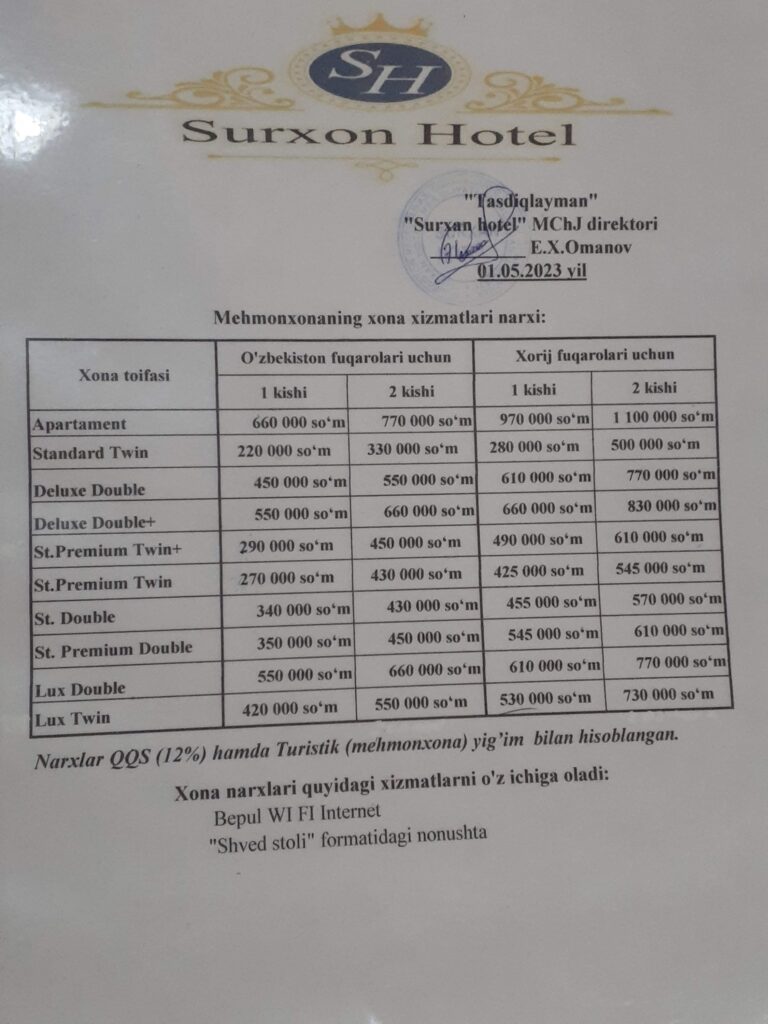 Apparently, the accommodation that registers foreign visitors pays a fee to the Government when issuing the registration. It is a kind of foreign traveller tax. The price (tax) paid by the accommodation establishment varies according to the category of accommodation, with hotels, hostels and family guesthouses being cheaper in that order. Therefore, the difference of prices between Uzbek and foreign guests in hotels is the largest.
Does your accomodation ask for the registration of your previous day?
The information provided by the Embassy of Japan states that accommodation establishments may require the registration of the previous day's stay. Is this actually the case?
The cities we stayed in were,
Tashkent
Nukus
Khiva
Bukhara
Qarshi
Termez
Samarkand
Kokand
Margilan
Of these, the accommodation in Qarshi, Termez and Kokand (one of the two different accommodations where we stayed) required us to present the previous day's registration. Whether it was required or not depended on the accommodation, but we got the impression that 'hotels' were more likely to ask for it than 'guesthouses' or 'hostels'.
Does Uzbekistan Immigration ask for your 'registrations' when you're leaving?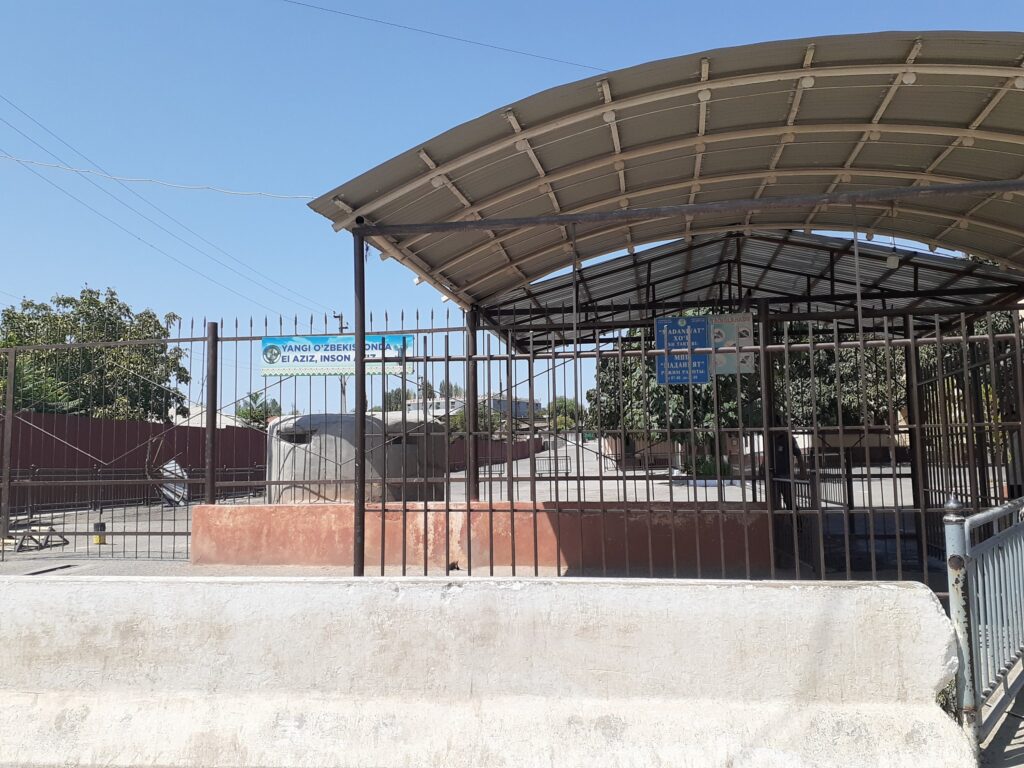 This may be the biggest question that you want to know the answer. When leaving Uzbekistan, will you be asked to present your registration at immigration?
When crossing the border from Denau to Tajikistan, we were asked to show our registration at immigration on the Uzbek side. Actually, Mai was asked in front of me.
At that time, we she was not prepared to submit our registration of stay, so she handed the registration documents – a pile of papers – to the inspector in a mixture of both of us (registeration documents are issued for each person). It was not organised at all and she thought there were some other credit card payment receipts from supermarkets mixed in. Anyway, she handed the bundle of papers to the examiner, who received them, did not check them one by one, but stamped her passport with an exit stamp and gave her back her passport and the entire bundle of papers (including the receipts). The reason why we knew that the examiner did not check them properly is because the registration she handed over was missing two nights. These were ones for the night we travelled from Tashkent to Nukus by sleeping car (overnight in a train) and the night we stayed at a friend's house in Denau.
When crossing the border from Izboskan, Mai was also asked to show our registration documents when leaving Uzbekistan. The examiner at this time seemed to have checked the documents a bit more properly, but it was unclear how carefully he checked them.
In any case, we recommend that you should do the registration of your stay as we were required to submit it both times when we left the country through the different immigratios. It's a really annoying system, but it can't be helped.
Hassles related to registeration in Uzbekistan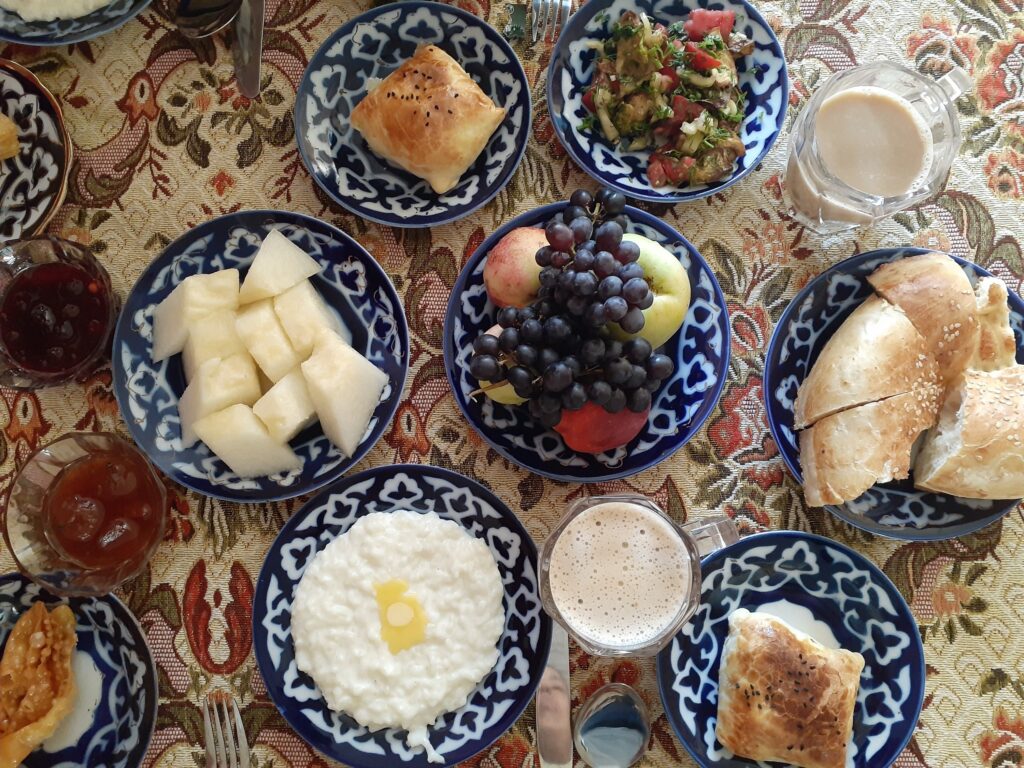 Registration documents are usually handed to you when you check out. In many cases, printing of the documents starts only after you tell them you want to check out (and sometimes the paperwork starts only after you check out, no preparation in advance at all). So please note that the check-out process, including payment, takes longer than in other countries. It is possible to pay the night before and have your accommodation registration ready by the next morning, saying that you will check out in early morning tomorrow, but unfortunately not all hotels work super efficiently.
Furthermore, there have been times when the power had gone out just as we were checking out and the registration stay could not be printed. The staff at that time were still very attentive and said they would send it to me via WhatsUp, but in the meantime the power was restored and we were able to get it printed. Another time they did send it to me by WhatsApp.
Registering your stay is a hassle, but more than that, Uzbekistan is a fascinating country to visit. Enjoy your trip to Uzbekistan while taking into account the time it takes to check out and register your stay.