Kota Kinabalu is on the Malaysian island of Borneo. Our visit to Kota Kinabalu was more for transit and sightseeing was secondary.
Kota Kinabalu is a very attractive tourist destination especially for nature lovers. We like nature too, but the main tourist attractions in Kota Kinabalu are not cheap.
So we tried to find some free tourist attractions.
Signal Hill Observatory Tower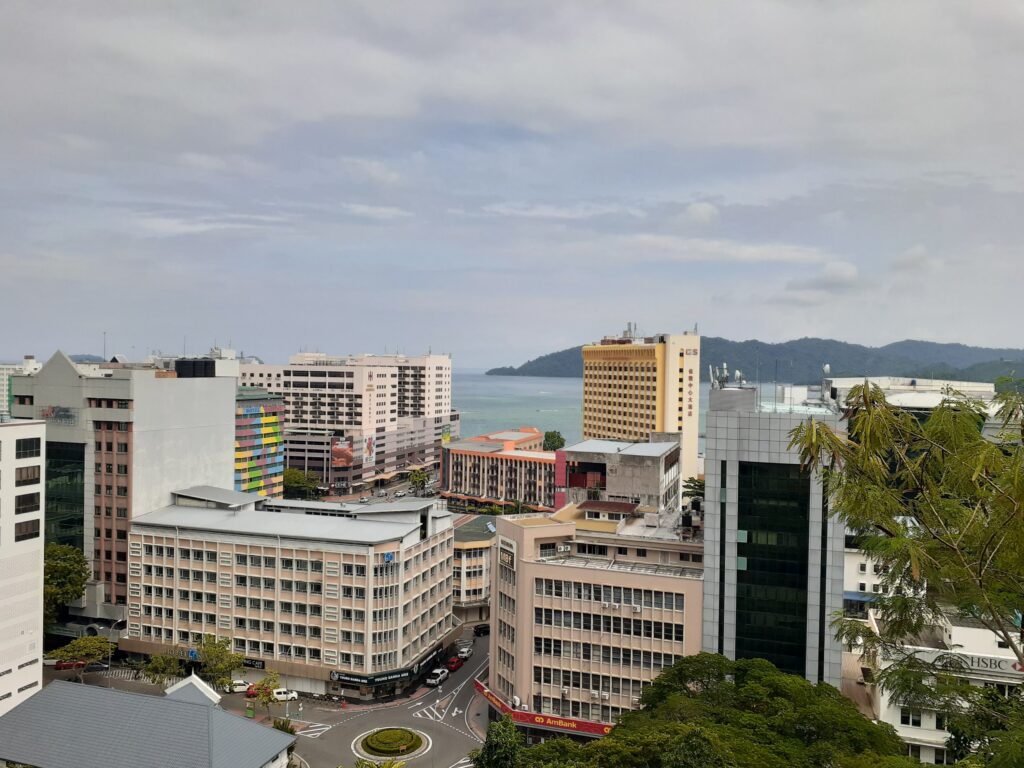 We were staying in the centre of Kota Kinabalu city, so we set off from there and headed uptown first. We were told there was an observatory on a hill called Signal Hill, so we climbed it. It's not that high up, though, and the stairs aren't too strenuous.
However, this is now temporarily closed and covered with green boards. We went inside though and took photos of the view over the city and harbour of Kota Kinabalu.
Puh Toh Si Chinese Temple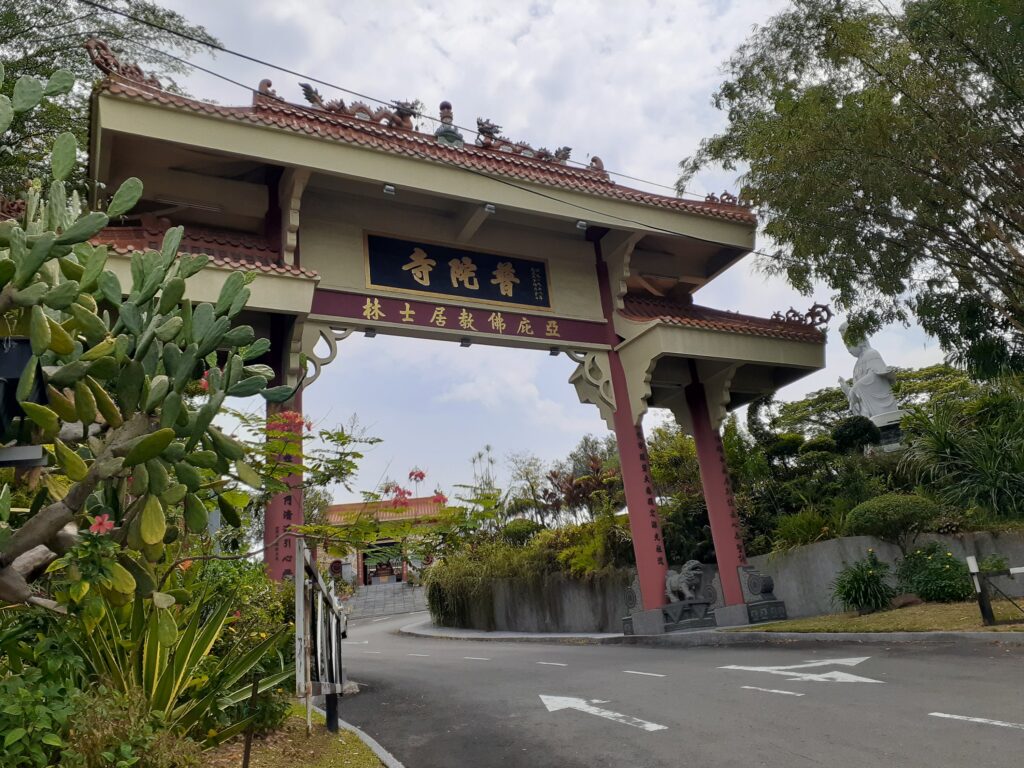 Walking east from the observation point, there is the Kota Kinabalu Wetland Ramsar Site. This requires an entrance fee, so we passed through and headed towards the Kota Kinabalu City Mosque.
A little east of the City Mosque, there is a Chinese temple, Puh Toh Si Chinese Temple (Putuo Temple), so we stopped by there.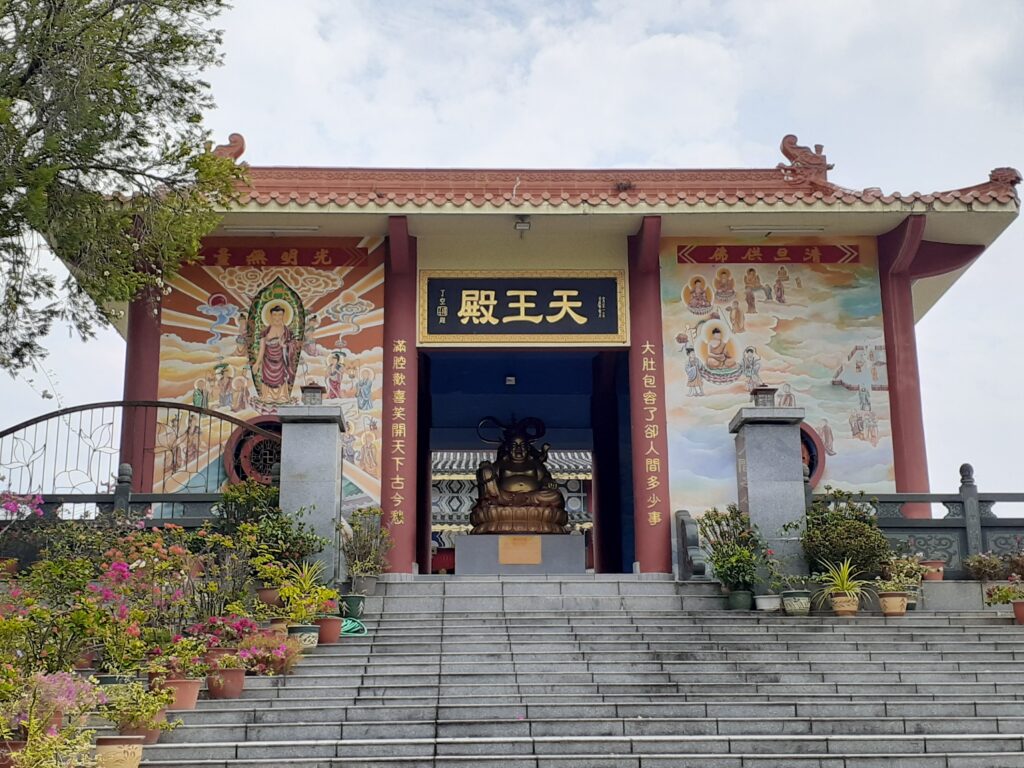 This colourfully painted Buddhist temple looked newly renovated and there were some Chinese people visiting.
Kota Kinabalu City Mosque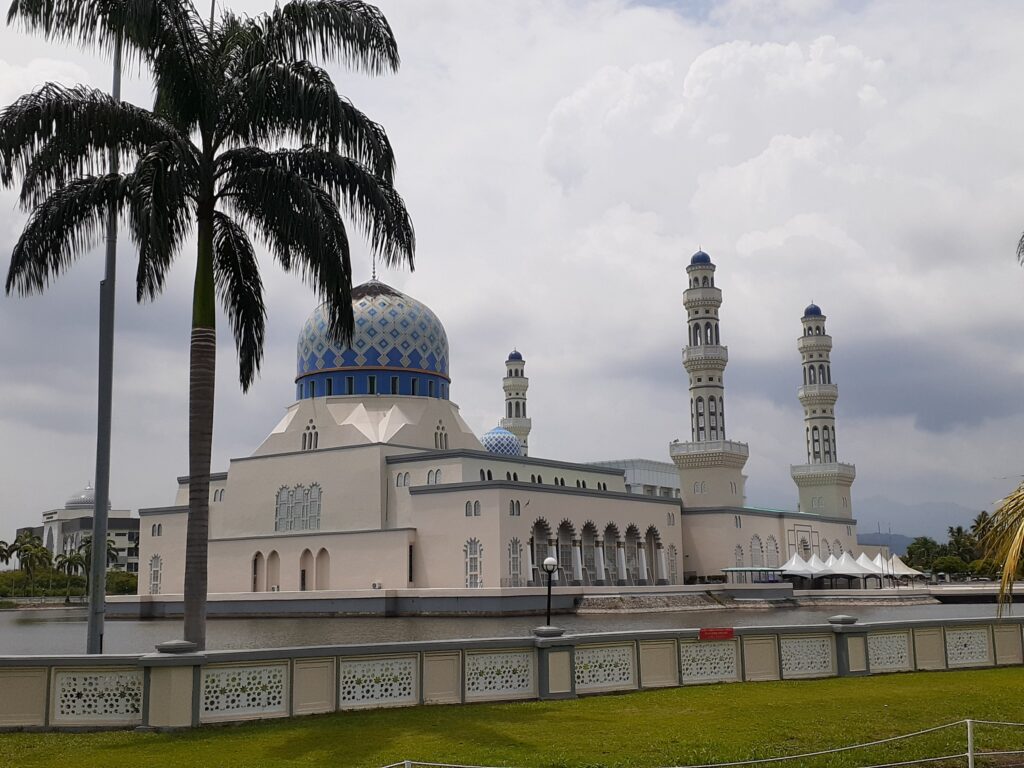 The Kota Kinabalu City Mosque (Floating Mosque) is a landmark in Kota Kinabalu.
Surrounded by a pond, the mosque's beautiful reflection in the water is impressive. It costs RM 5 per person to enter, so we just snapped a few photos from outside.
Taman Awam Teluk Likas Beach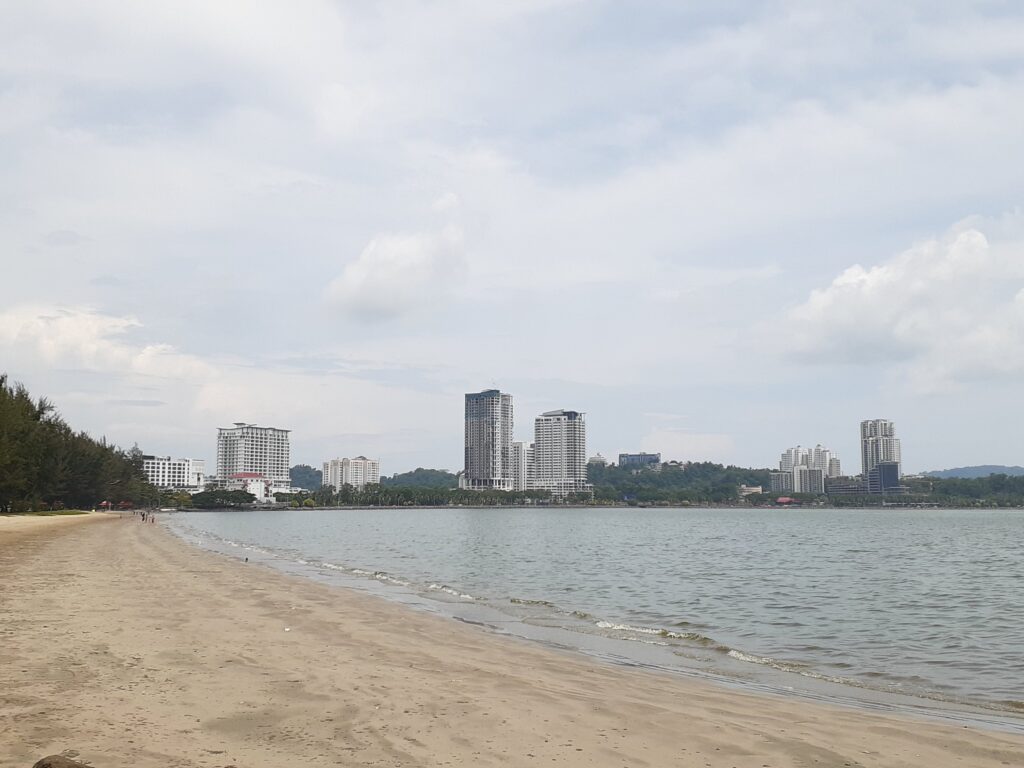 From the City Mosque, we went out to the waterfront. There is a viewpoint and the beach stretches out.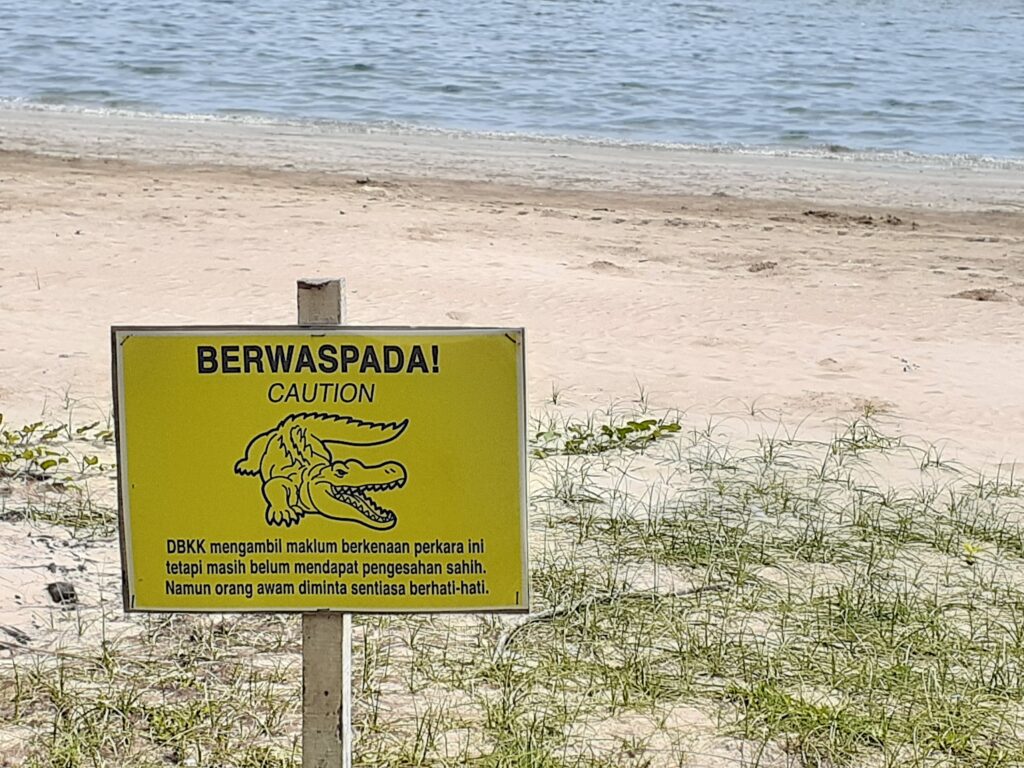 However, there was a sign warning about crocodiles, and fishing and swimming on the beach was prohibited.
Public bus back to city centre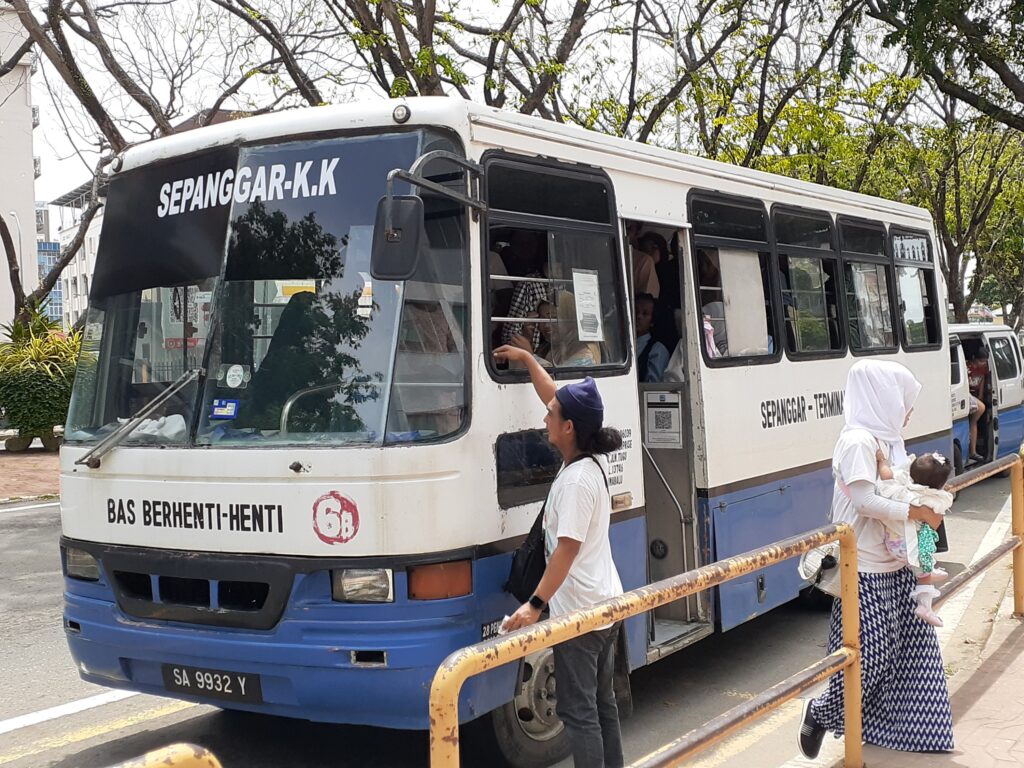 We wanted to return from the beach to the downtown area to have lunch, but walking back along the waterfront is quite a distance and there is a lot of traffic, so we took a city bus.
We waited at the bus stop sign on the road to the city centre, and a public bus, as shown in the image above, stopped for us. It was only a few minutes to the centre and the fare was as cheap at RM 3 per person.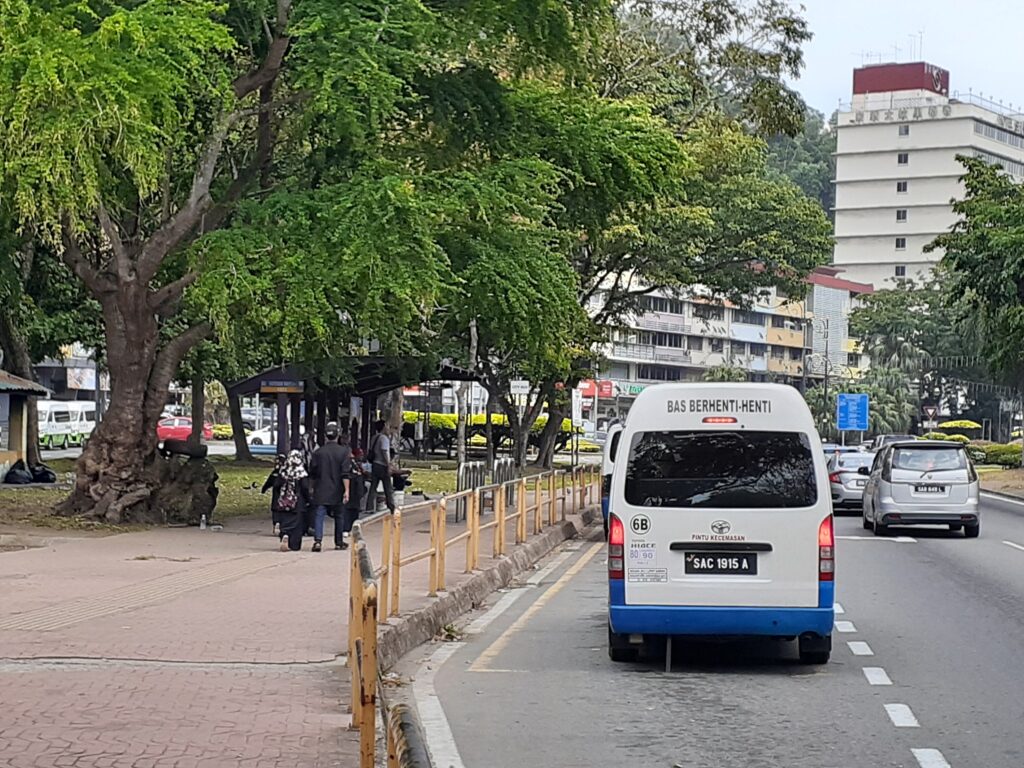 The bus stopped near Sepangar Bus Station in the downtown area. This seems to be the terminal for minibuses and shared taxis.
We had lunch at a Malay-Indian restaurant near here.
Sunset view points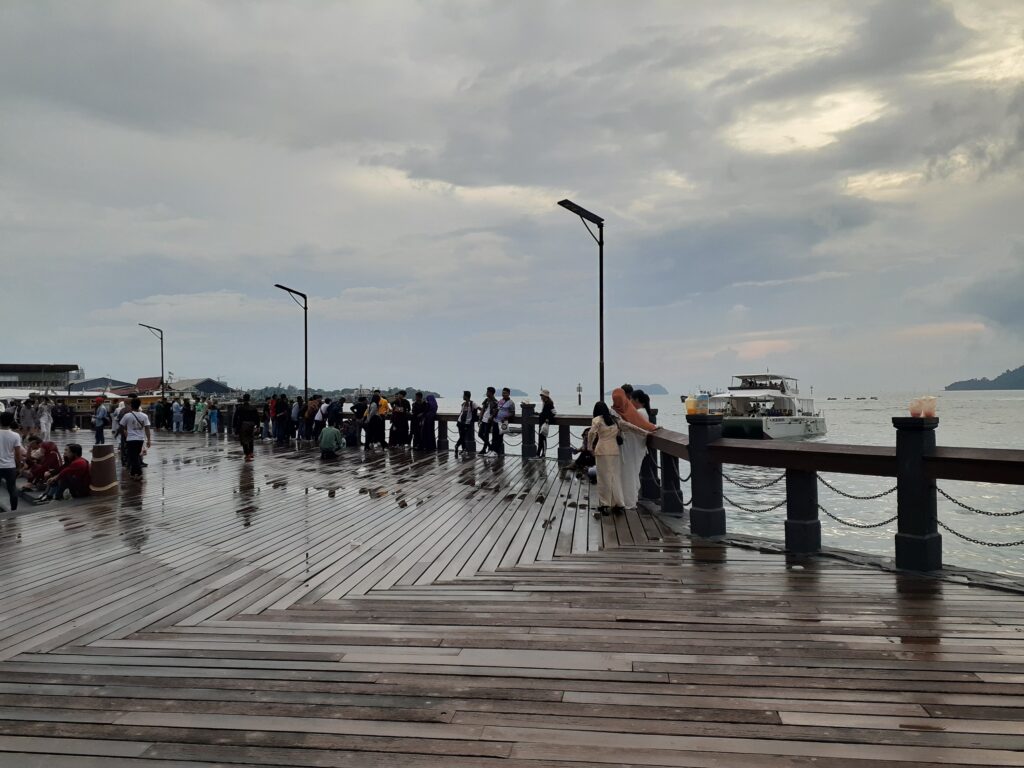 We were told that beautiful sunsets can be enjoyed from the Kota Kinabalu waterfront, and there are several sunset viewpoints.
Unfortunately, it rained on and off in the evening that day, so we could not see the beautiful sunset. But as it was a public holiday, some of the sunset spots were crowded with people.
Heading to Kuala Lumpur the next day
Kota Kinabalu offers botanical and zoological gardens, as well as snorkelling on nearby islands. For those who like to see nature, this is a place where you will want to take your time to explore.
We planned to fly to Kuala Lumpur the next day, so we did a quick tour of Kota Kinabalu. We would like to come back another time. Lots of great places to eat!