We came from Kampot to the town of Kep which is close to a border crossing point from Cambodia to Vietnam. We stayed here overnight and took a motorbike out to see some of the local sights.
Here are some of Kep's tourist attractions and how to get there from Kampot.
Getting to Kep
Kep is the capital of Kep Province in southern Cambodia. It is a small town close to the border with Vietnam, with a town population of approximately 5,500 (2019). It was formerly part of Kampot Province, which later separated and became Kep Province.
We travelled to Kep by bus from Kampot. The distance from Kampot is about 20 km and the journey takes about 30 minutes.
Transport between the two cities is expensive for Cambodia at USD 5 for a 30-minute journey.
We asked about shared taxis, but were told there were none to Kep. A tuk-tuk would be more expensive and so we decided to ask the guesthouse to arrange it for us. The guesthouse pick-up was included in the price.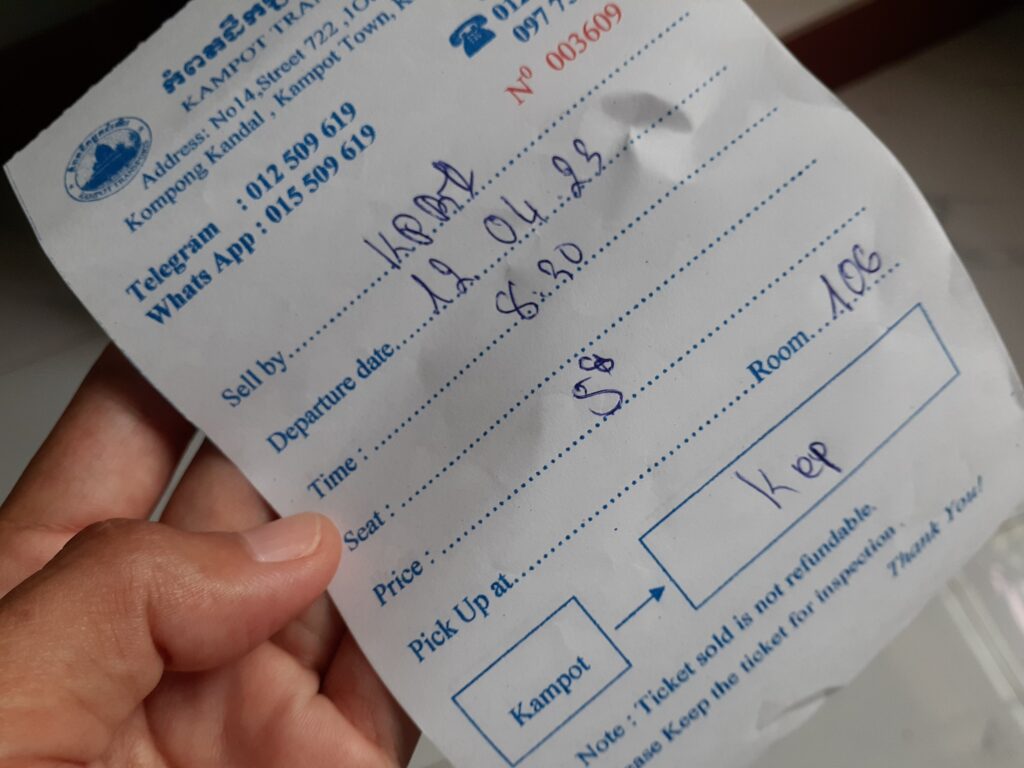 The night before we travelled, I asked the guesthouse to book a minibus for 8.30am the next morning. We were told that we would be picked up at the guesthouse at 8am.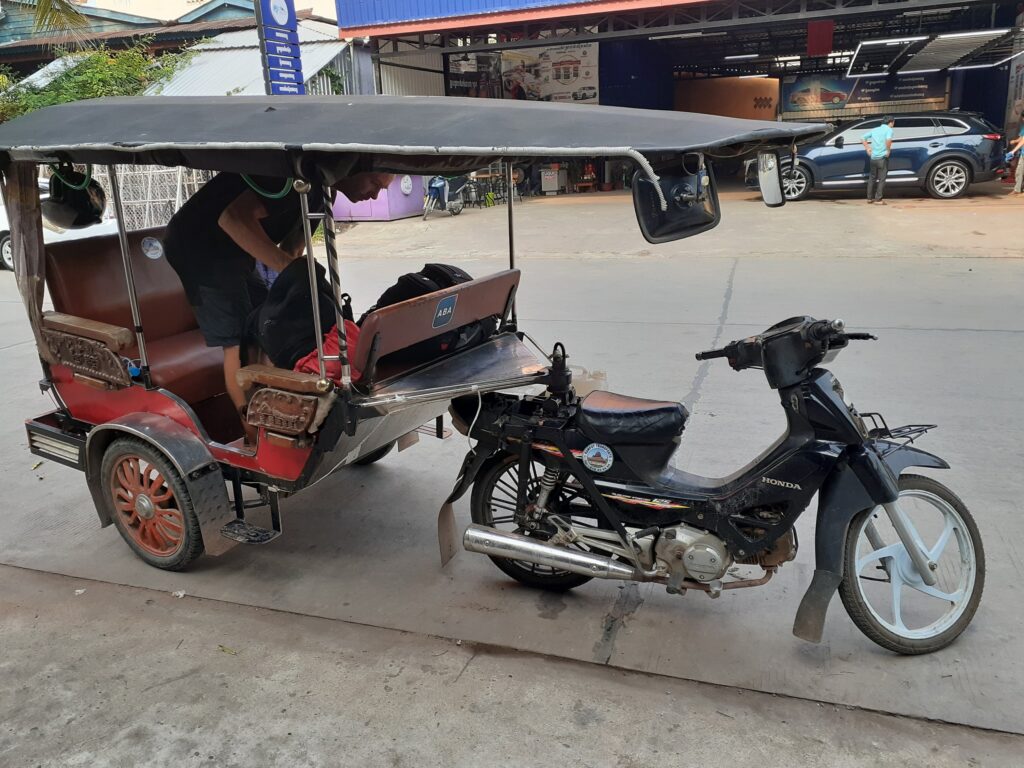 The next morning we waited at the entrance of the guesthouse from 8am, and the tuk-tuk came to pick us up around 8. The driver's T-shirt has the logo of the bus company on it.
I think we were in the tuk-tuk for about five minutes. We arrived in front of Kampot Transport Company.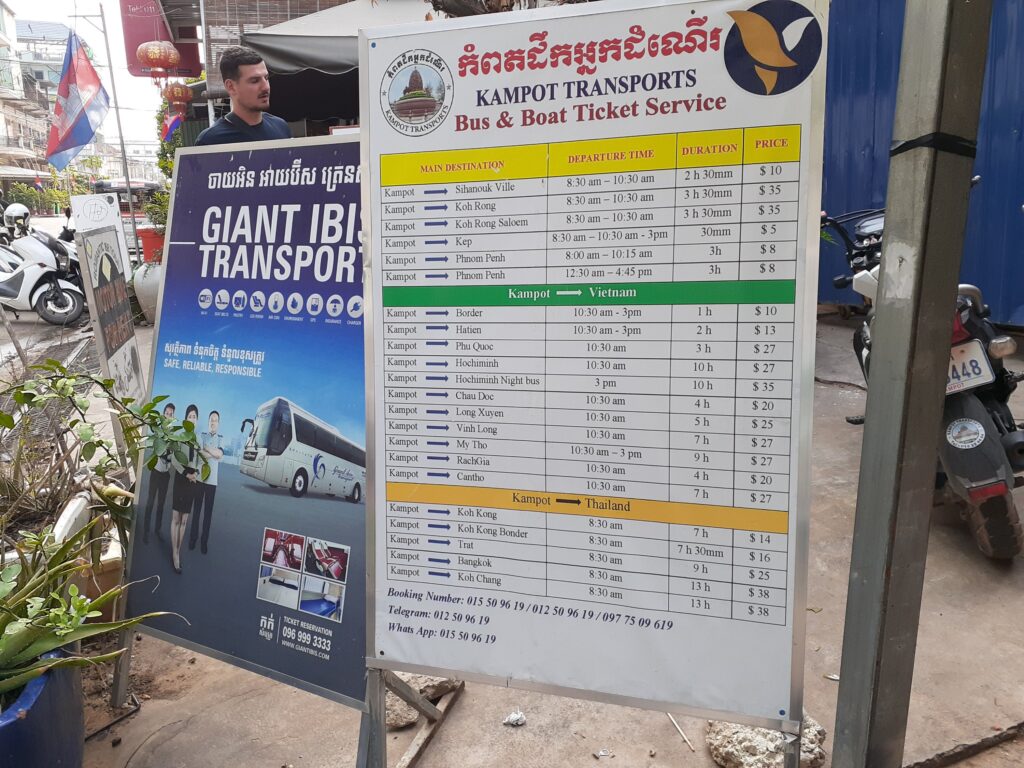 We asked to wait on a bench outside the office for a few minutes until the 8.30am departure.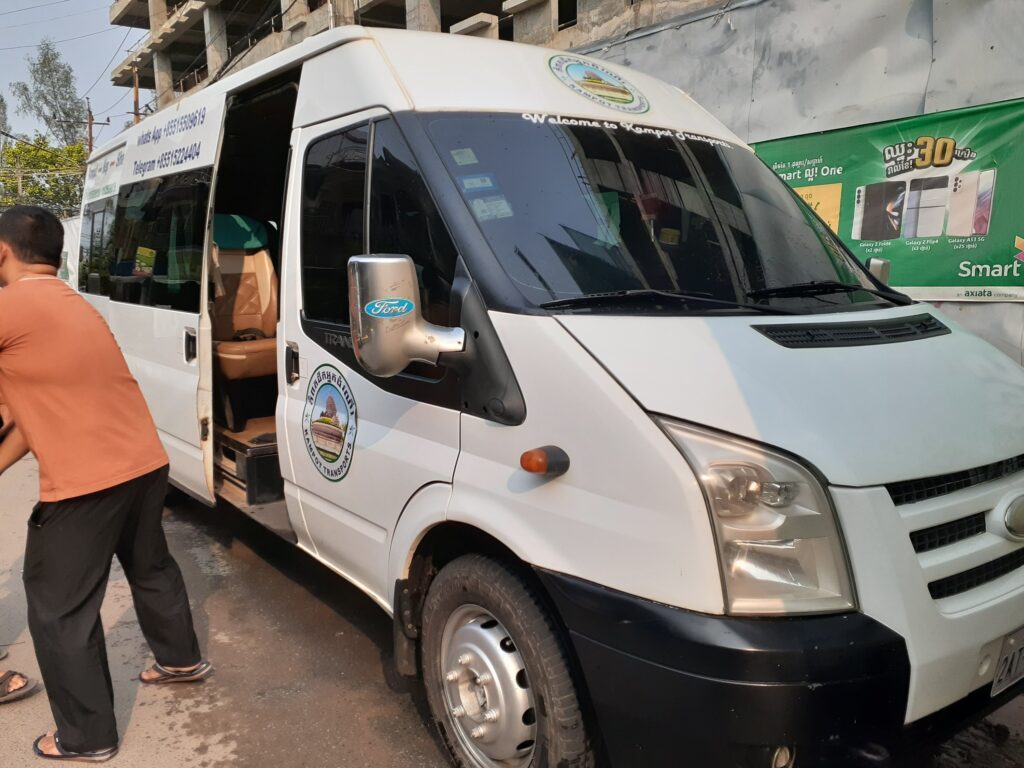 Apparently we were the only two people going to Kep. We put our luggage on the seats and set off, sitting comfortably in our seats.
We thought that the bus would stop somewhere on the way to pick up passengers, but it didn't and in about 30 minutes we arrived in front of the guesthouse where we were to stay in Kep.
Renting a motorcycle in Kep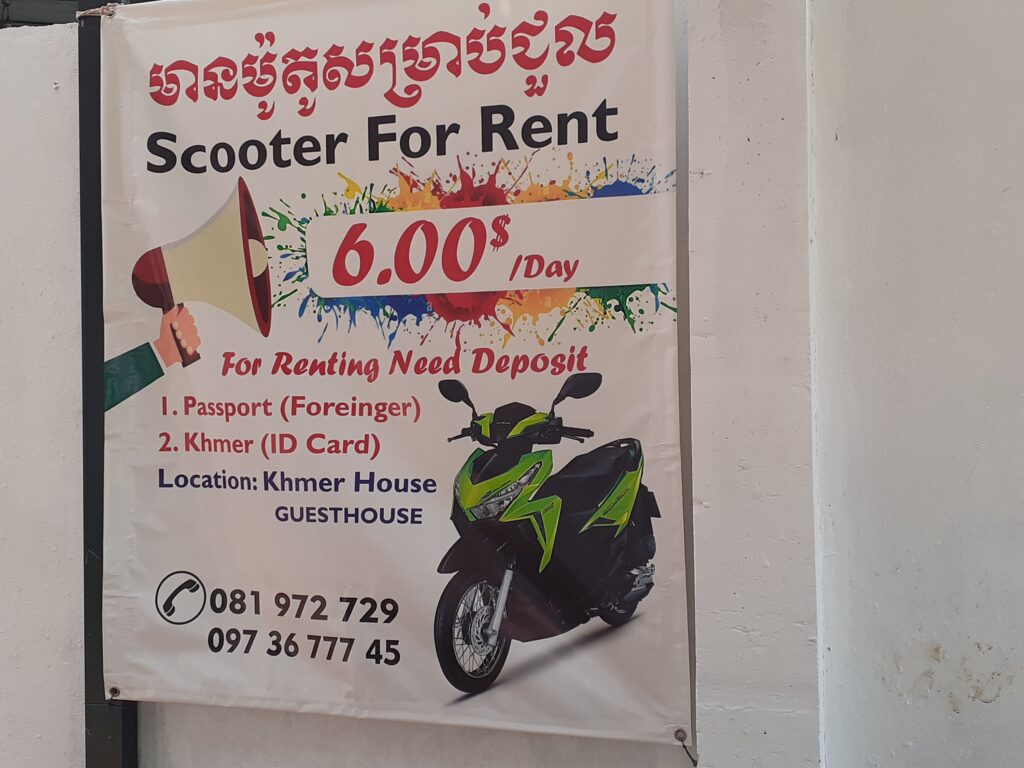 Kep is a small town spread out along the coast. There are several attractions to see, but the locations are a little inconveniently far apart.
We decided to use the motorbike rental service at the guesthouse where we stayed to explore the city. The bikes were automatic HONDAs and cost USD 6 per day.
Here are some of the sights to see in Kep.
Kep Crab Market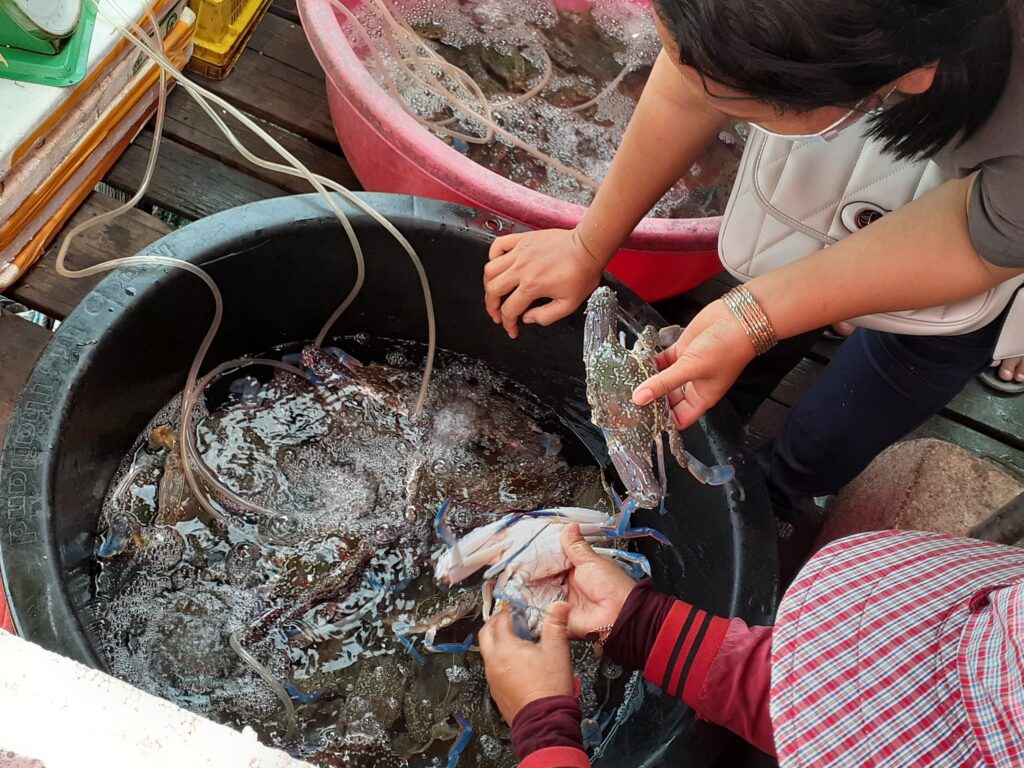 Kep is famous for crabs and there is a crab market along the coast. It seems to have already become quite a tourist attraction, and crabs and marine products are not cheap, but the lively market is a sight to behold.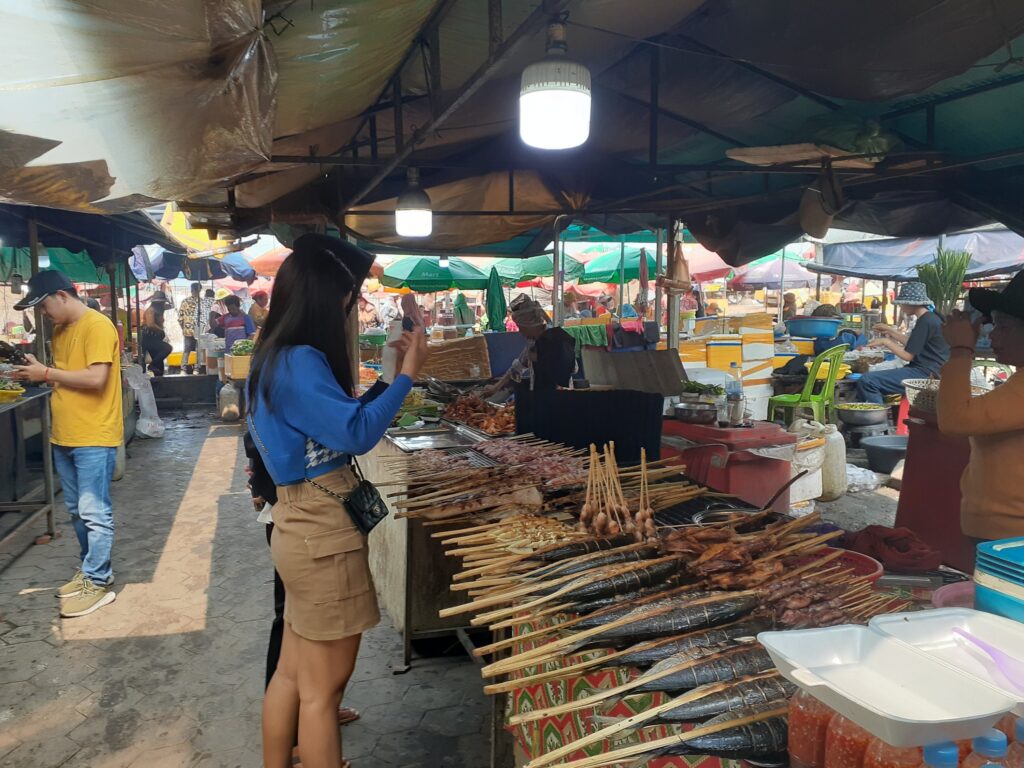 Not only crabs, but a variety of other marine products are sold here. There was also a place where you could have eat.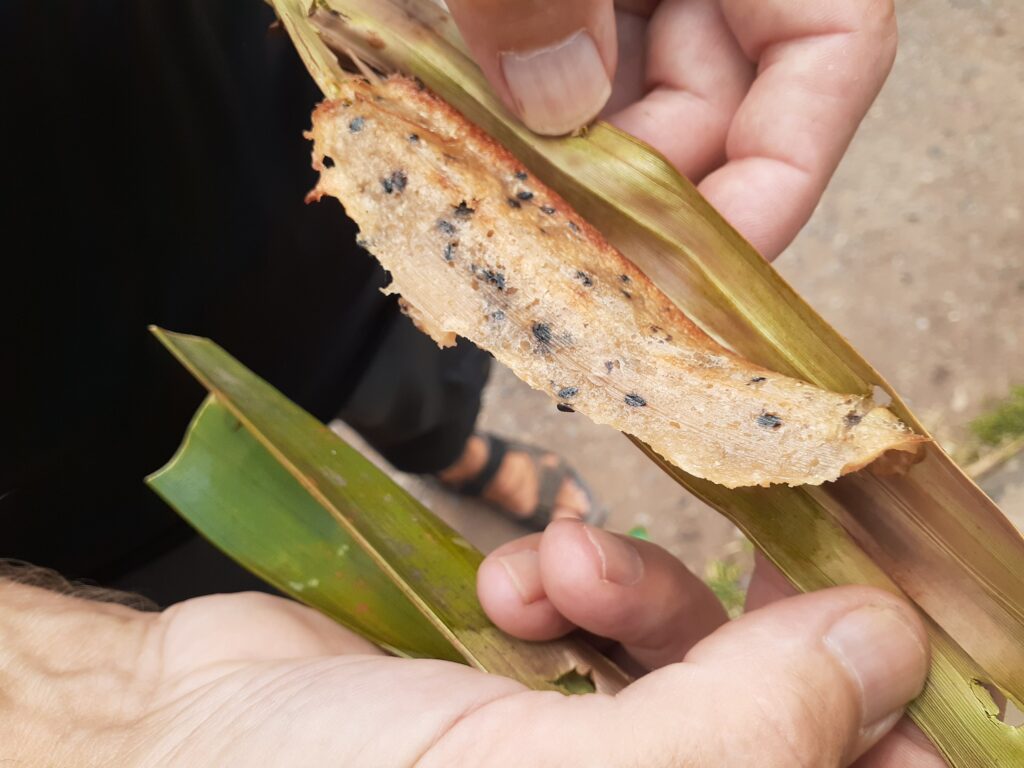 I was hungry after having just had soup noodles in Kampot town for breakfast, so I bought some coconut-flavoured sticky rice cakes to eat.
Kep Beach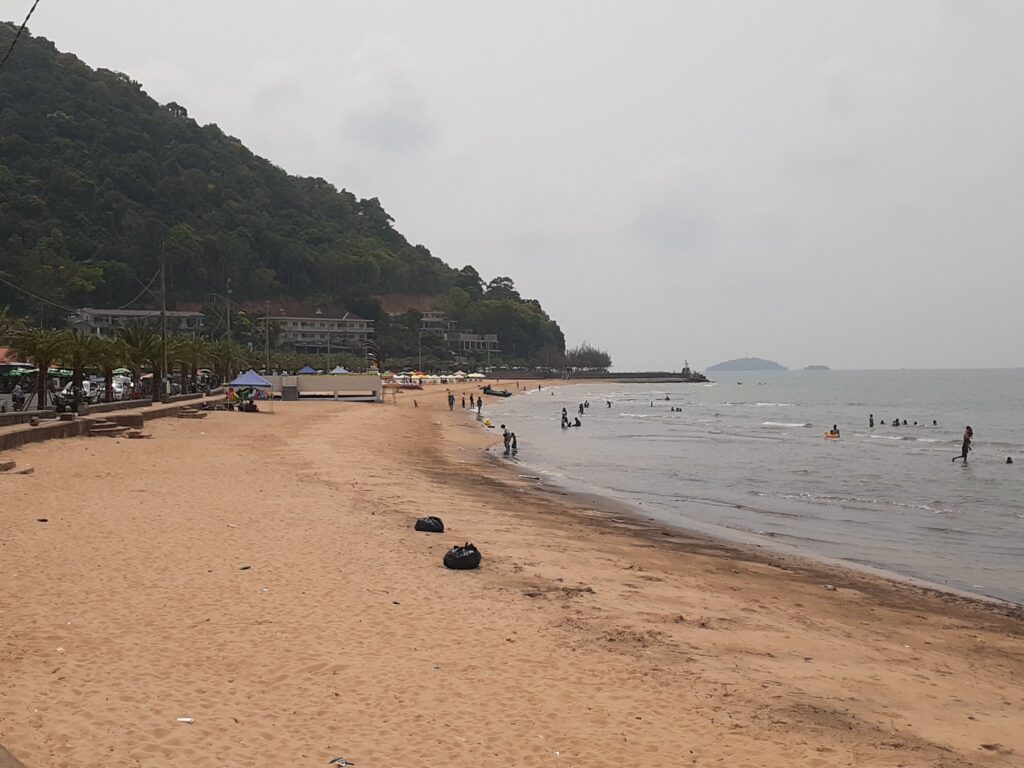 From the Crab Market continue south along the coast and you will reach Kep Beach. Some people were swimming, but we just passed by on our motorbike.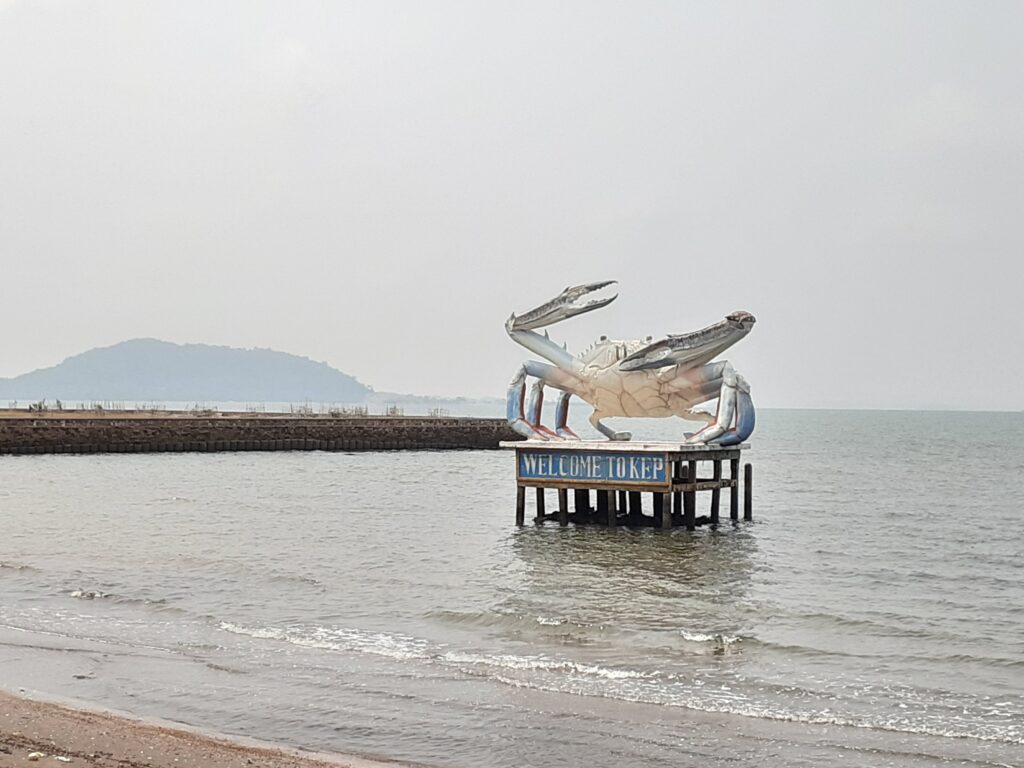 Further along from the beach, there is a large statue of a crab built in the sea. Again, we only took photos and passed through.
Salt fields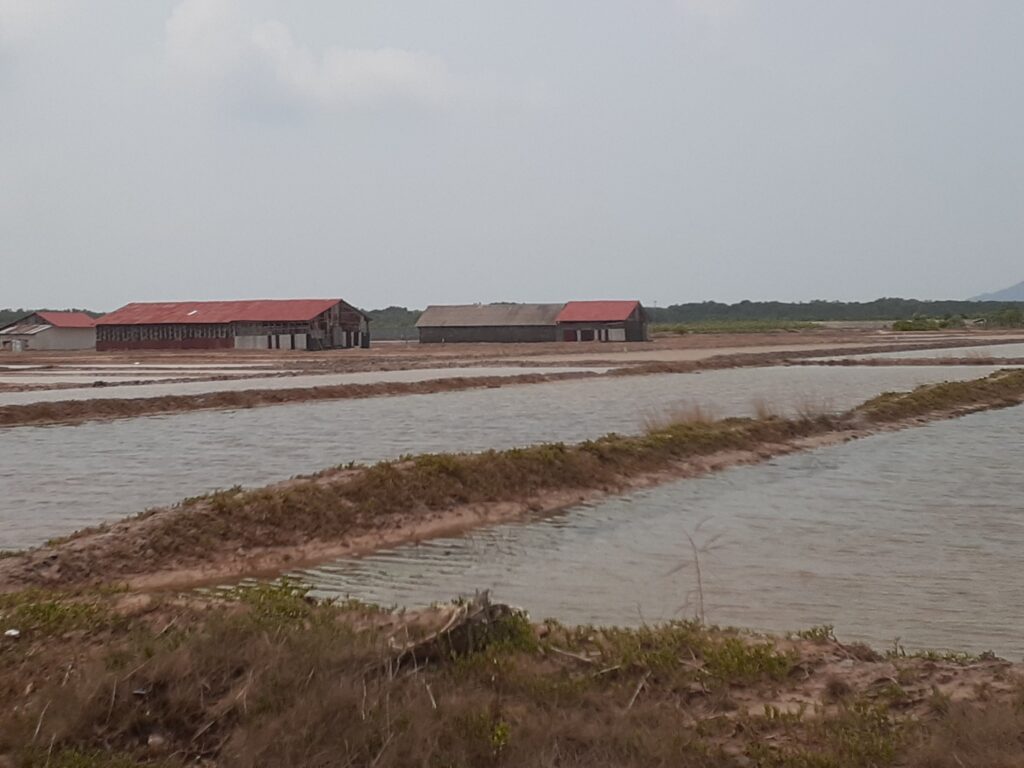 There are many salt pans spread out along the seafront in Kep. There are several spots for photographing the salt fields.
Lunch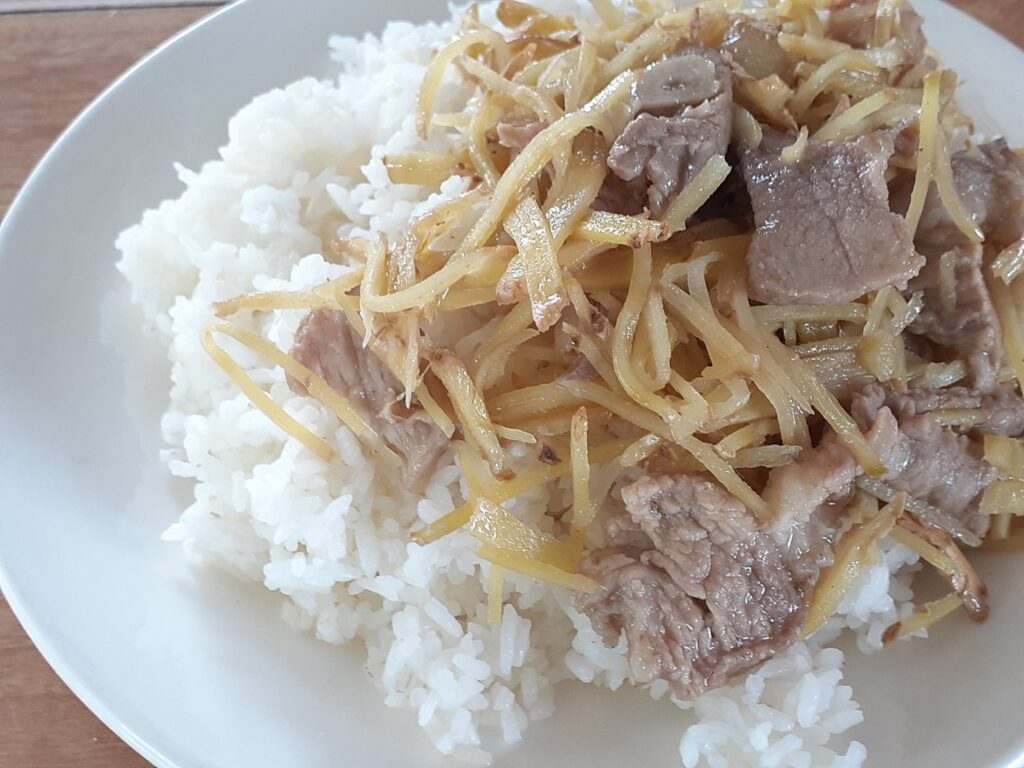 The town of Kep is really spread out and there is no central place. We had a lunch of stir-fried ginger and pork with rice for 5,000 riel.
Visit to a pepper plantation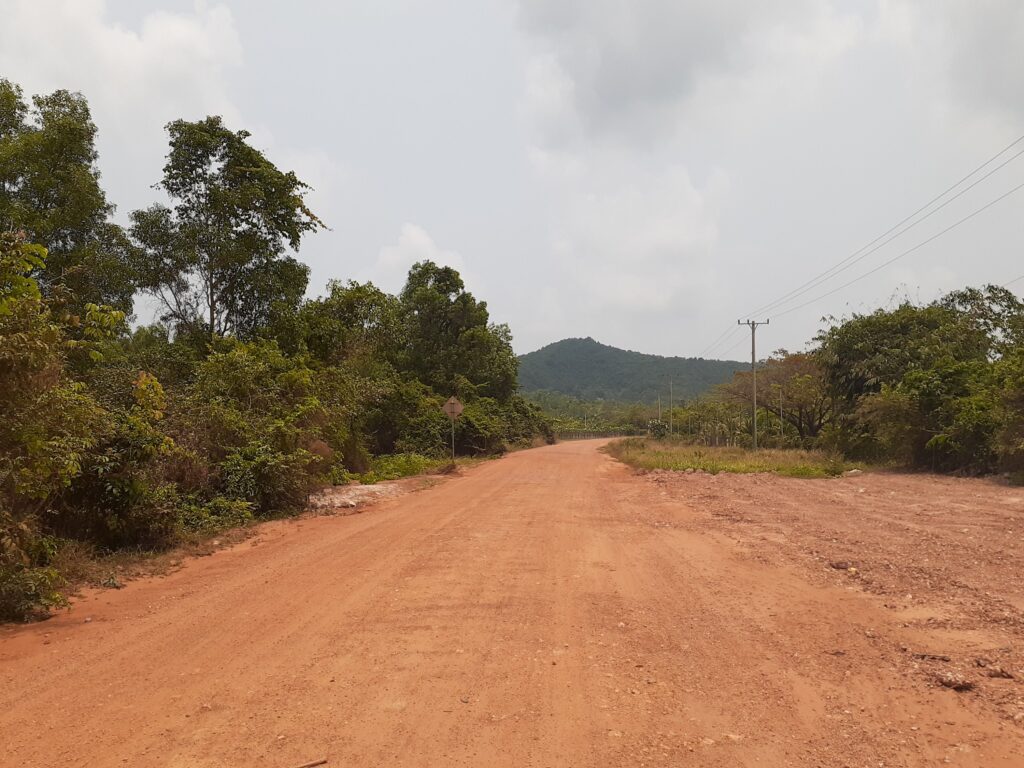 After lunch, it was time to visit the main part of the Kep sightseeing tour: the pepper plantations. Kampot pepper is internationally recognised as being a top pepper. Kep was part of Kampot Province until not long ago and therefore the pepper in this area is also called Kampot pepper.
There are many pepper plantations and several facilities where you can visit plantations. We visited Sothy's Pepper Farm which is relatively accessible.
From the main road, turn north and drive along the red clay road for a while. Then we saw a large sign.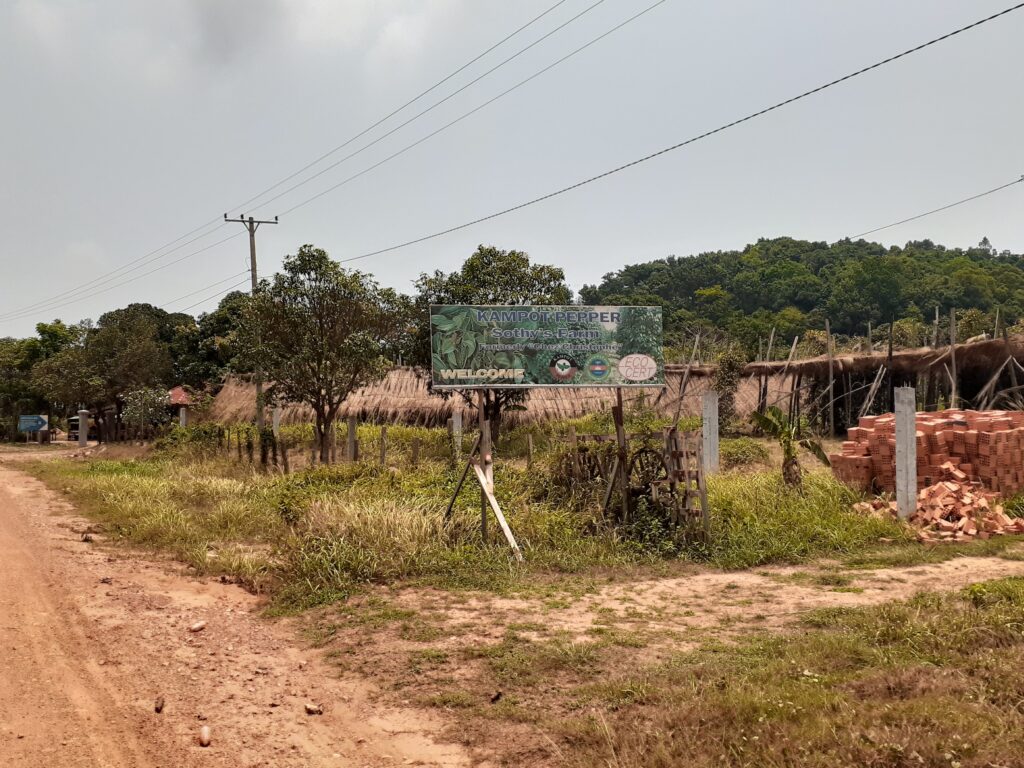 Once inside, we entered a café-style setting, where several western tourists were seated at large tables and were being briefed by a man who appeared to be from the farm. After a short wait, we were offered lemongrass tea and after the tour group had been briefed, our tour began.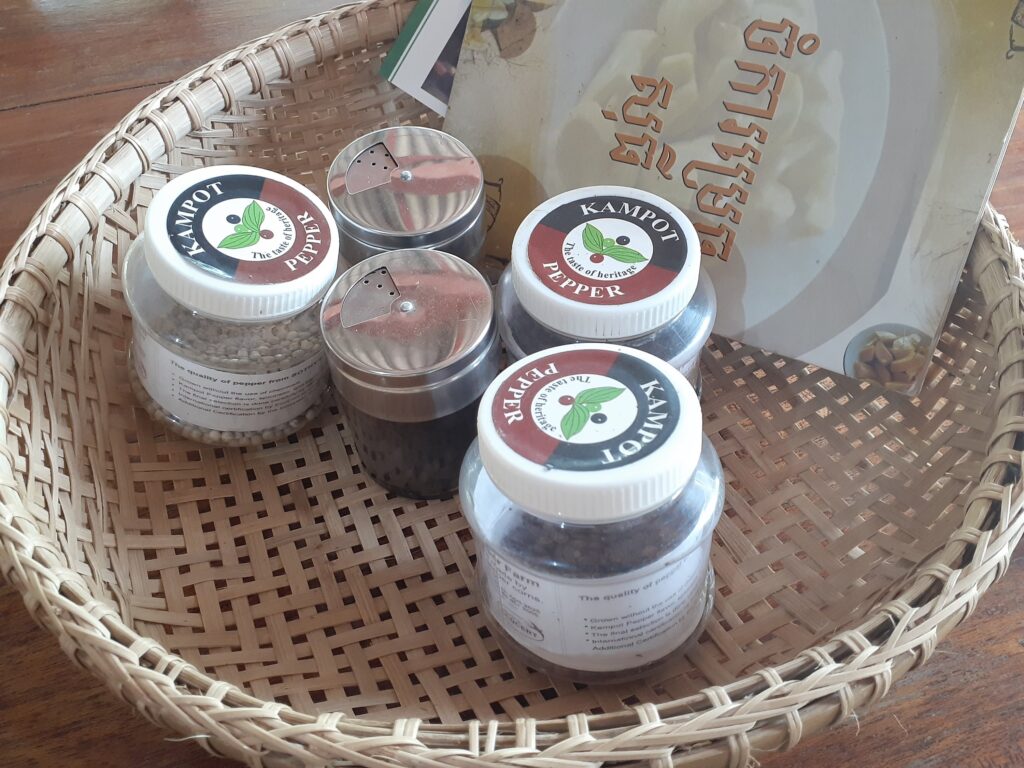 There were several types of pepper samples on the table, which we tasted first. Black pepper is made from green, unripe peppercorns, while red pepper is made from ripe, red peppercorns. White pepper is made from red peppercorns from which the skin has been removed.
As a newer recipe, we also tasted green and red peppercorns, each pickled in salt. Somewhat like Kyoto's pickled pepper in soy sauce, it was fresh and tasty.
All the peppers served here are organic and are only harvested by hand, not by machine. They don't even use scissors.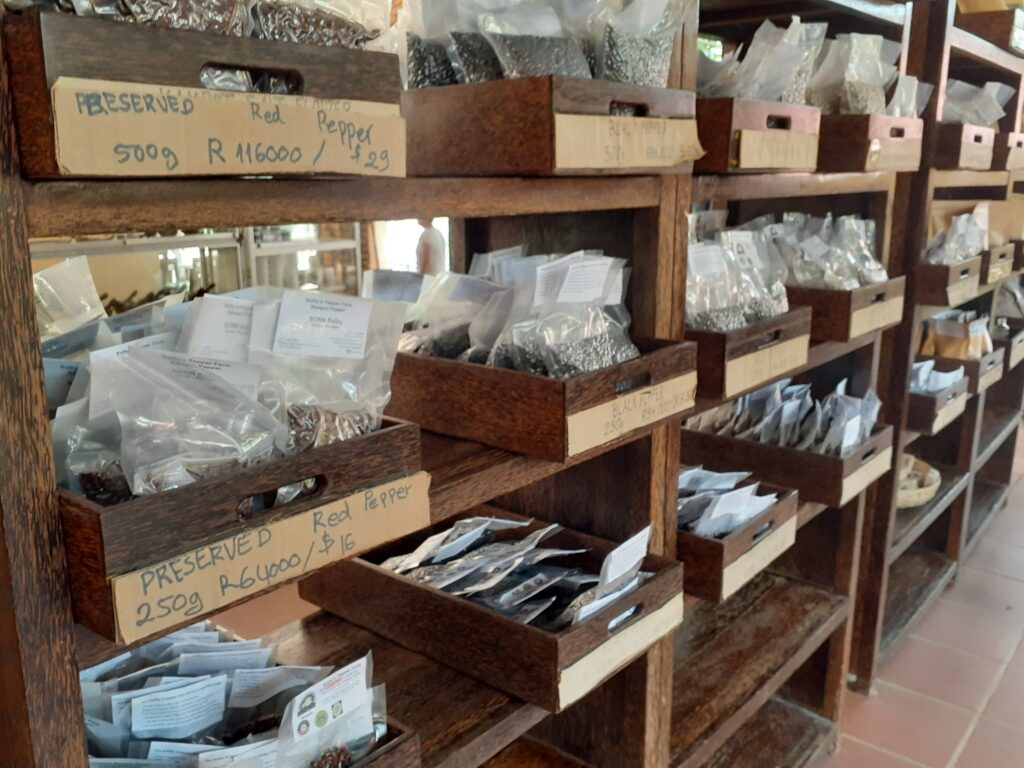 Next to the café there is a souvenir corner. The farm tour itself is free, so many tourists probably buy pepper on the way home.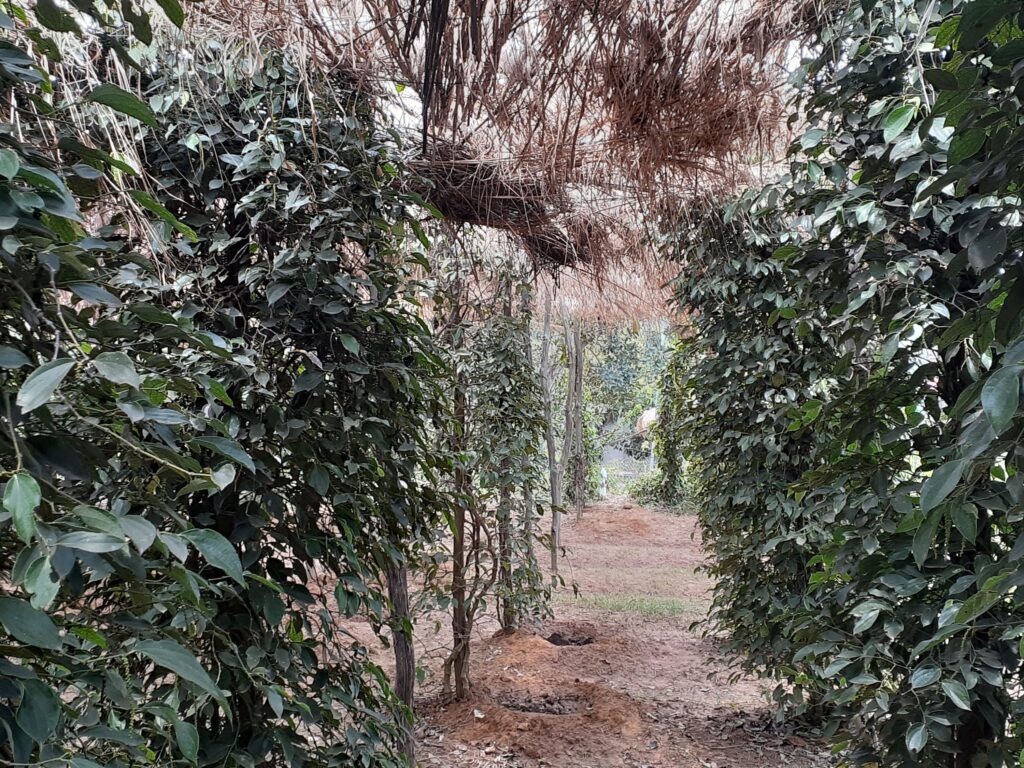 After the tasting, we walked around the plantation for a tour. The pepper trees are neatly planted, supported by posts.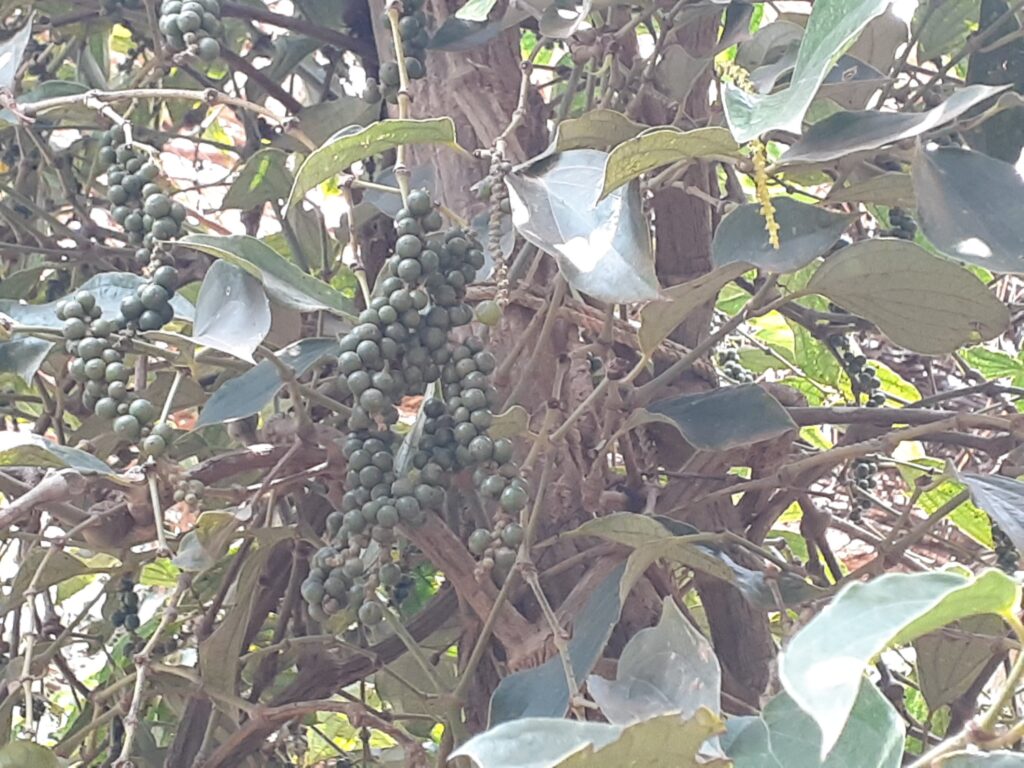 The peppercorns were in abundance, as it seems to be the harvesting season, and they are harvested before the rainy season starts in July.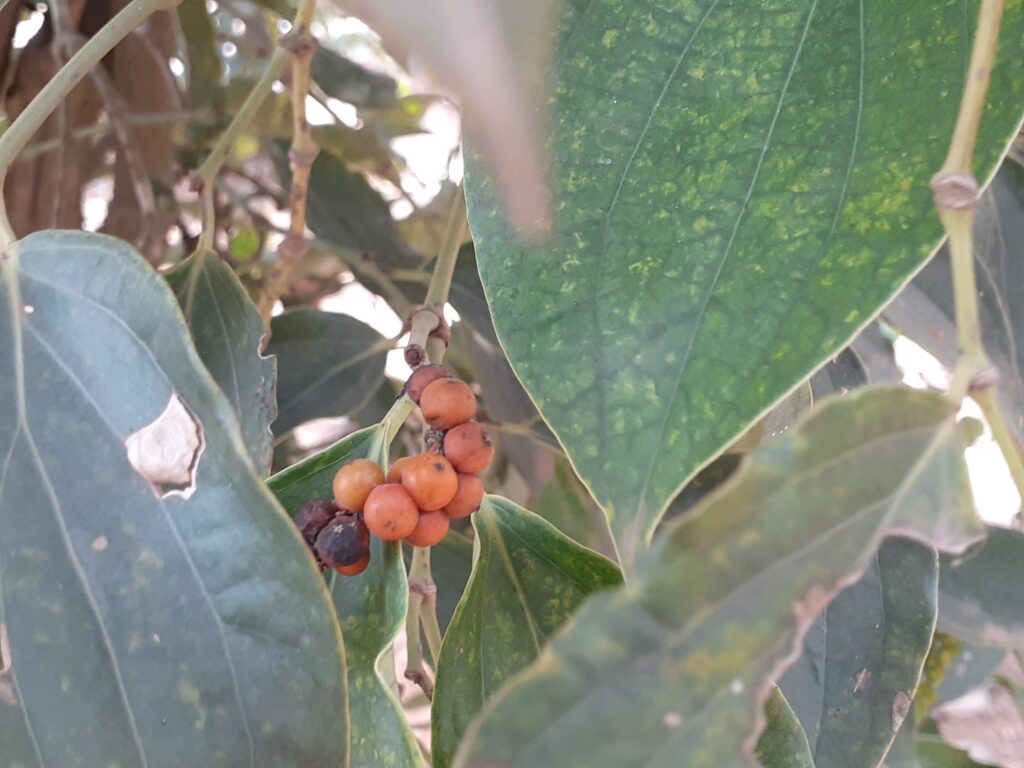 Green peppercorns turn red when ripe. The peppercorns are harvested in bunches, of which only 20 per cent are red.
In addition to pepper, the plantation also grows a variety of other fruits.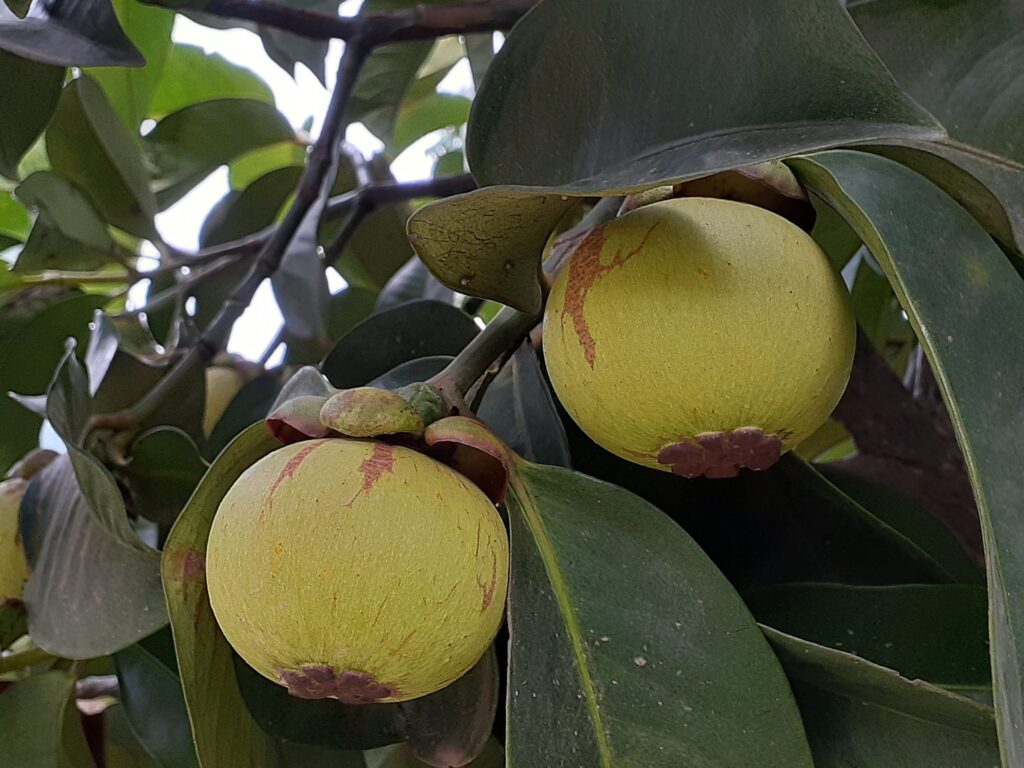 Mangosteen, rambutan, durian, jackfruit, pineapple and mango all seem to be in season now and were in abundance.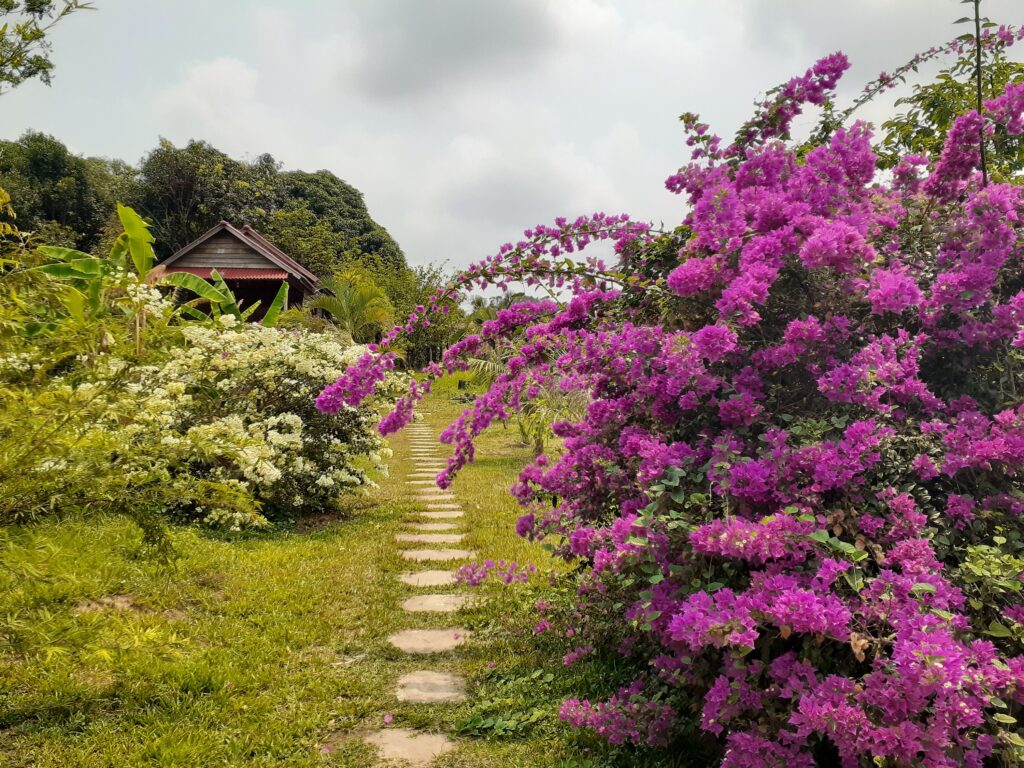 Our guide told us that the reason why good pepper can only be found in Kampot, Cambodia, is because the soil is suitable for pepper production. Indeed, all the peppers we tasted were not only fragrant and spicy, but also tasted really good.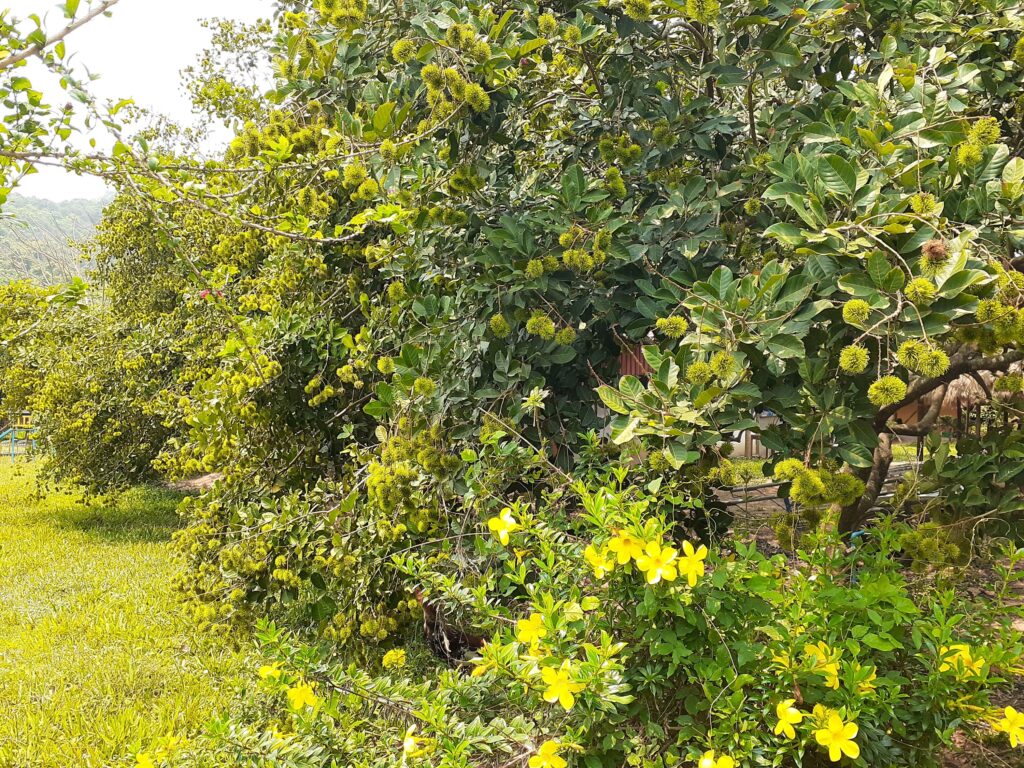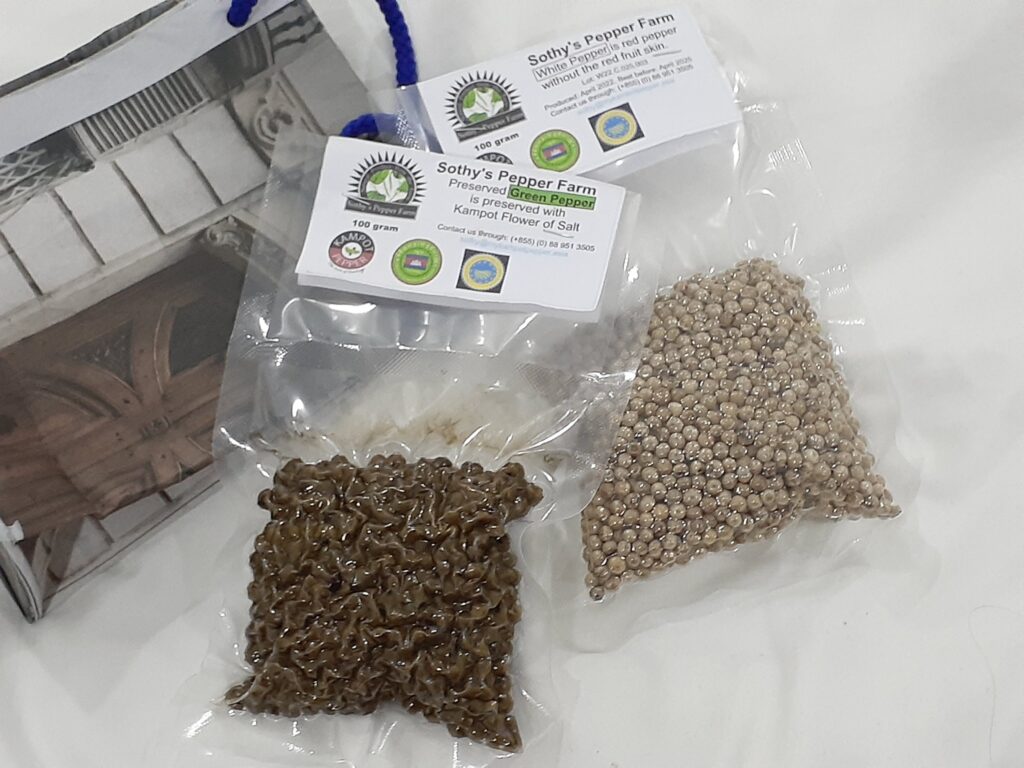 I thought the pepper sold in the shop as a souvenir was not cheap to be honest, but the tour was free and the pepper is top quality. The white pepper (more expensive than black or red pepper), which I found to be the most aromatic, and the green pepper in salt.
I think the tour lasted about 30 minutes before we moved on to the next highlight:)
Saltworks Workers Statue Crossing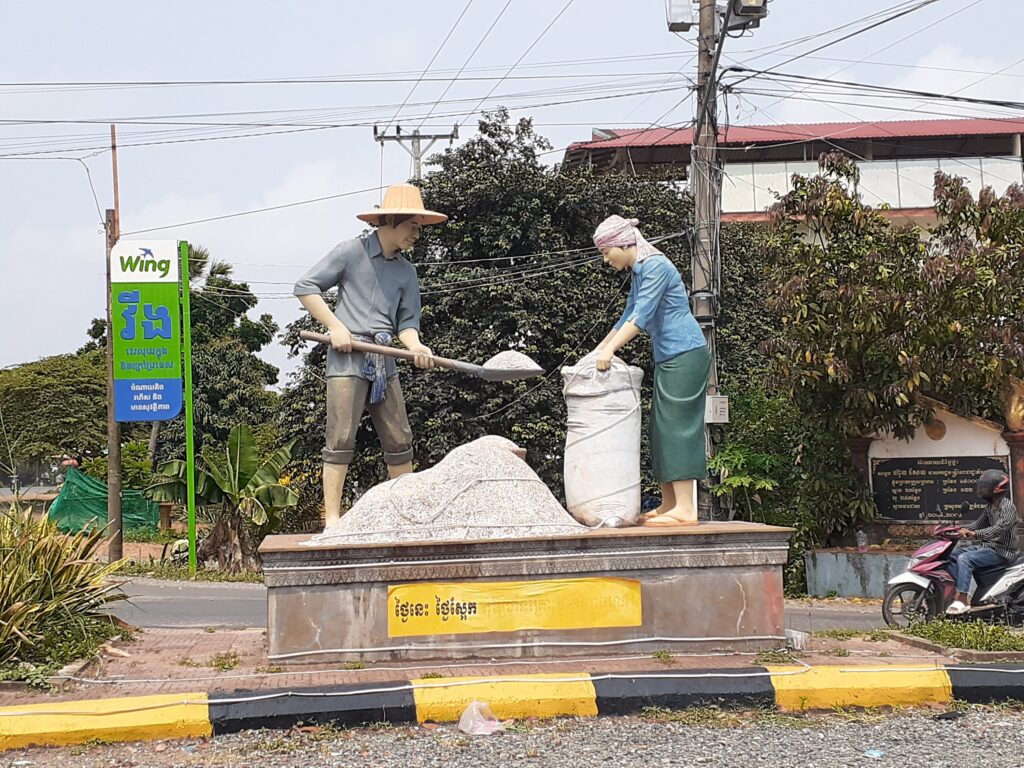 Salt field labour seems to be of high importance to this area. A statue of a salt field worker was erected here, as well as in Kampot city.
Angkol Beach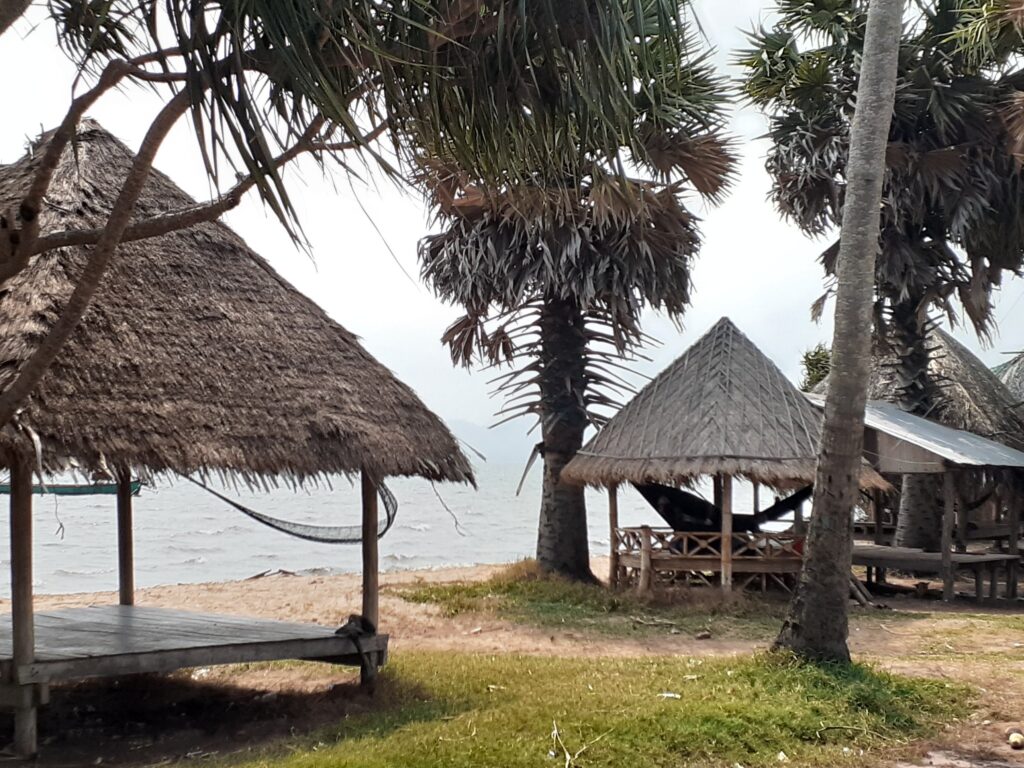 Along with Kep Beach, Angkol Beach is another well-known beach.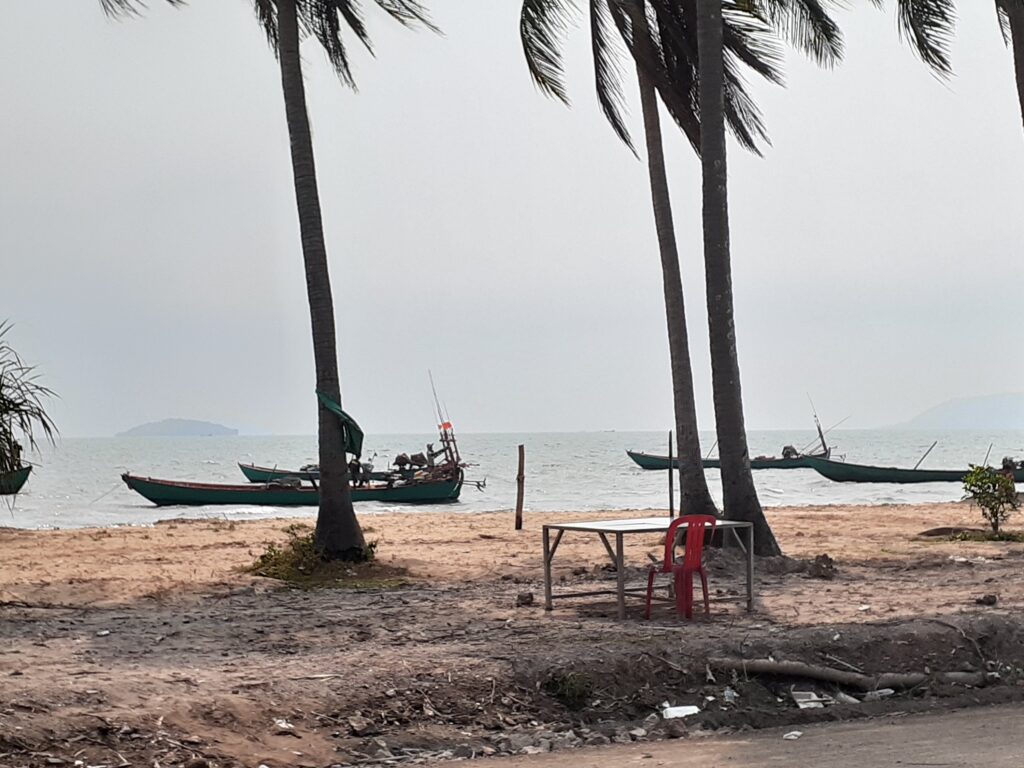 The beach seemed to be a long stretch of shallow water, but there were many fishing boats moored there. There were also many beach house-like places out and about, and although it was a Wednesday afternoon, we saw many people relaxing there.
Because of the strong wind and waves, there were relatively few people swimming in the sea, but I imagine that on holidays there would be quite a lot of people.
That was our day of sightseeing in Kep by motorbike.