After three nights in Siem Reap decided to go to Phnom Penh and there we intend to head towards the border to Vietnam.I will share my experience of the bus transfer from Siem Reap to Phnom Penh.
Getting from Siem Reap to Phnom Penh
Siem Reap to Phnom Penh is over 300 km and is his a popular route with many bus companies. As well as buses, there are also shared taxis.
The journey takes about six hours, including time for meals and toilet breaks.
Several companies offer bus tickets for sale online. Bus companies are dotted along the main streets of Siem Reap, so you can also arrange tickets directly there. Prices vary from company to company, but are usually around USD 10-13.
It is also possible to arrange bus tickets at guesthouses. In this case, you can also expect a pick-up service at your accommodation. You'll also pay a commission too.
Getting from the guesthouse to the bus company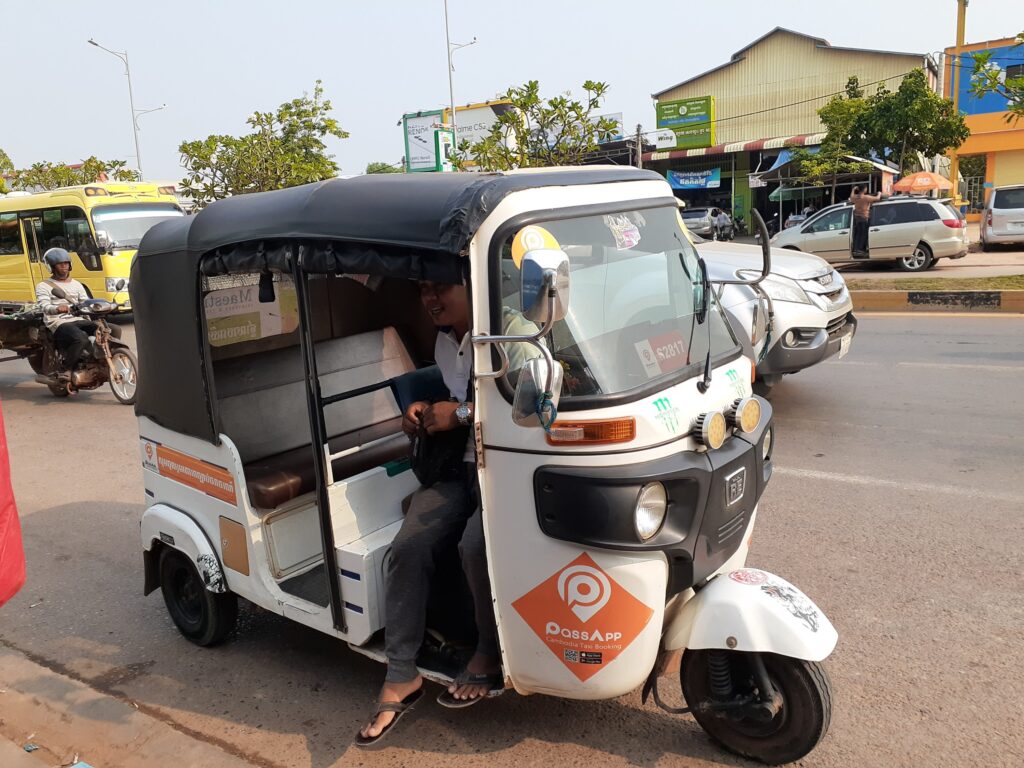 As we were staying a little further from the city centre, we took a tuk-tuk to the bus company on the main street. We called a tuk-tuk using the car dispatch app Grab to the Larryta bus company on Main Street for 9,000 Riel.
There are so many bus companies in Siem Reap and buses to Phnom Penh run frequently every day; Larryta is relatively expensive at USD 13 to Phnom Penh, but we chose this company because it is seemingly reliable and there is a bus to Phnom Penh every 30 minutes.
After confirming online that the bus times and seats were available, we made my way to the ticket office.
Buying a bus ticket from Siem Reap to Phnom Penh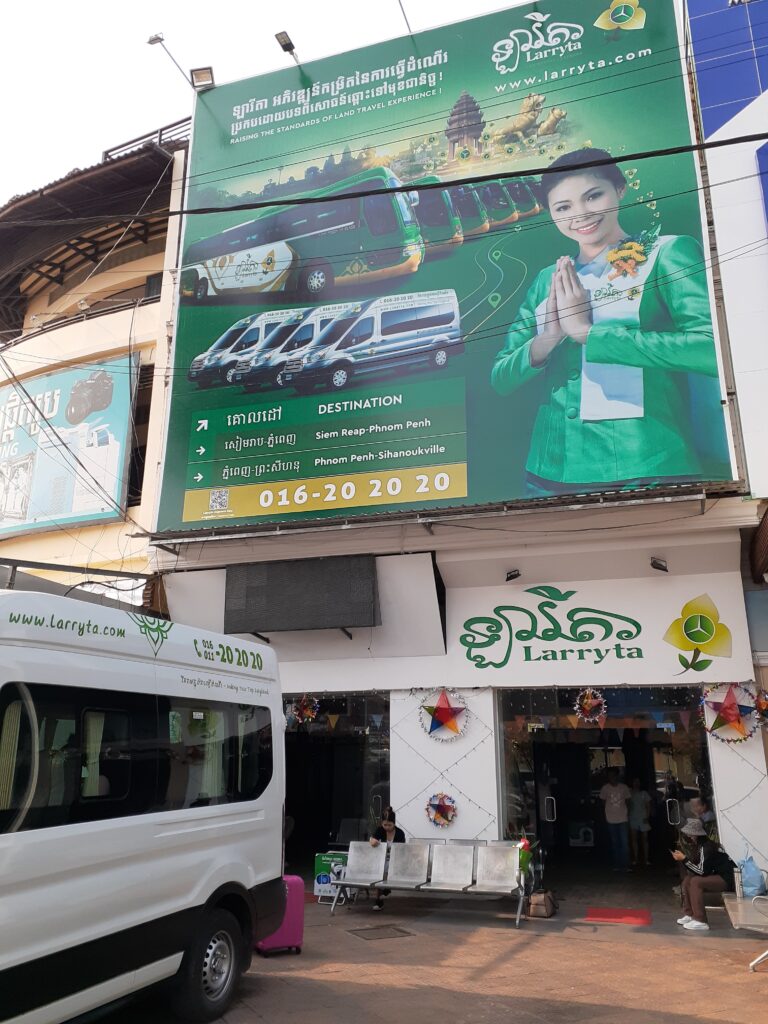 Enter the Larryta office and purchase a bus ticket to Phnom Penh.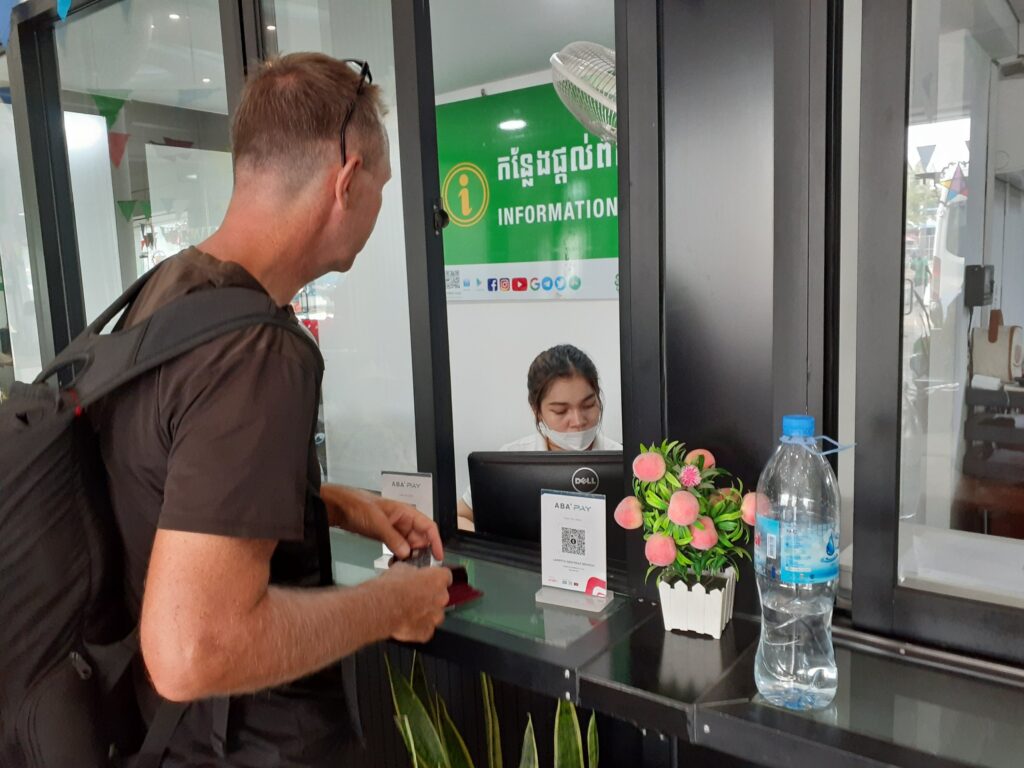 On line, there were many empty seats on the 9am bus, so I thought I would take that one, but when I asked at the ticket office, I was told that there was an 8:50am bus, so I decided to take this one. The price was USD 13 per person. Credit cards were supposed to be accepted, but the machine didn't work properly, so we paid in cash.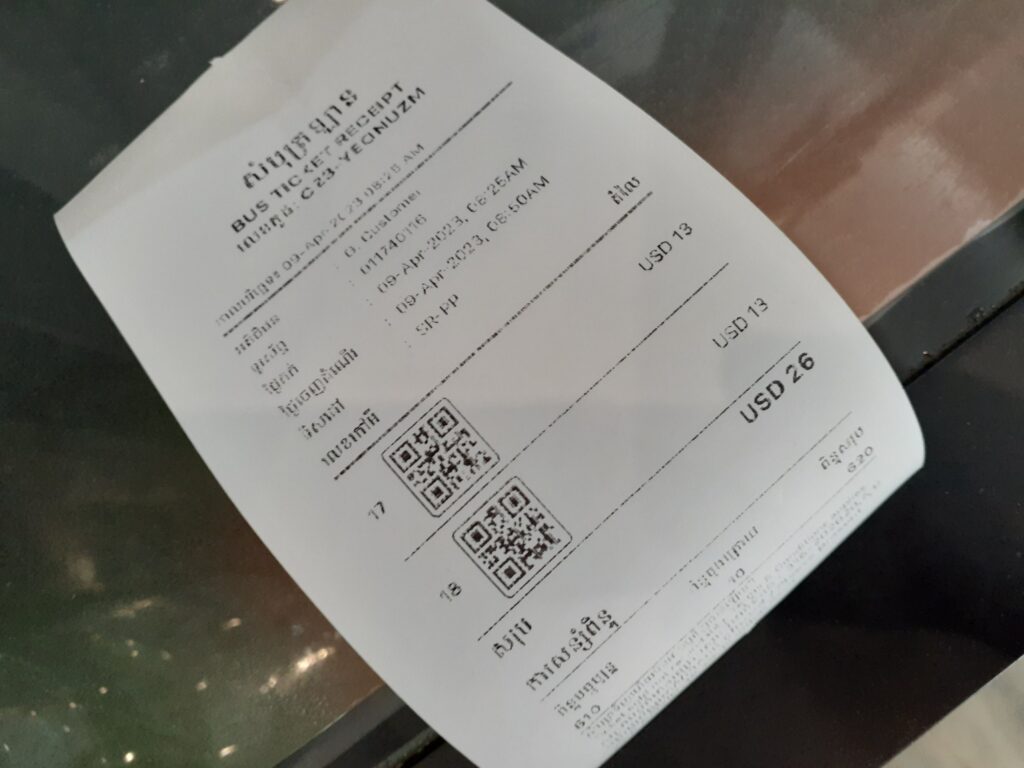 Seat numbers are printed on the bus ticket and you board the bus accordingly.
Board the bus from Siem Reap to Phnom Penh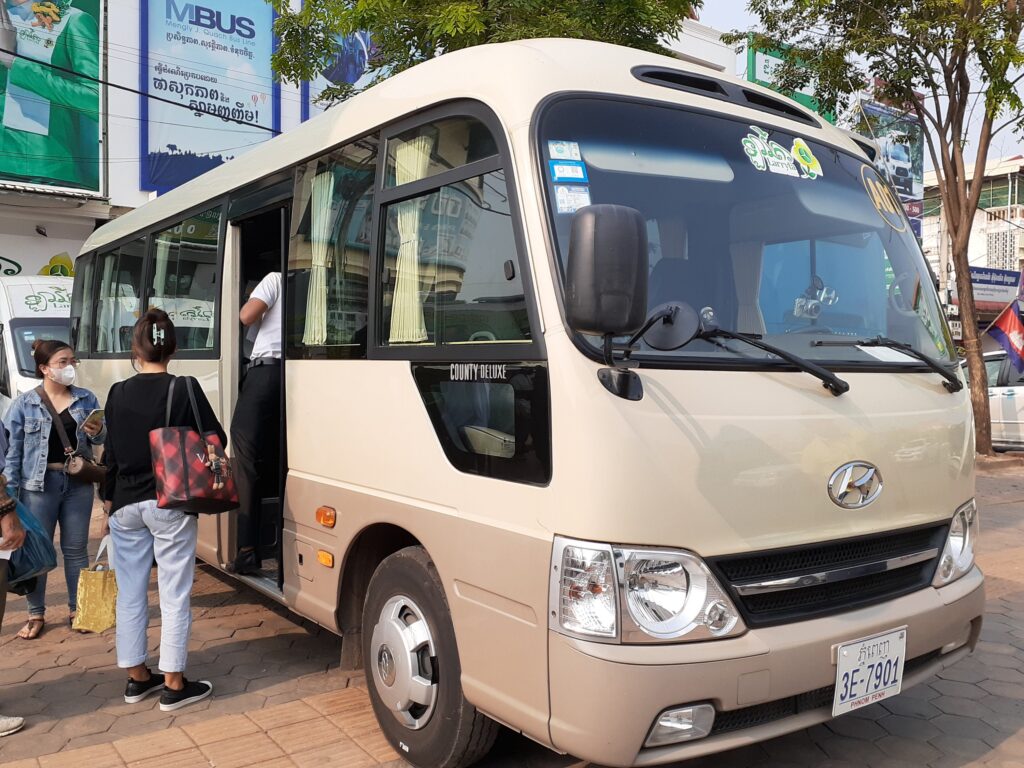 Our bus was a Hyundai 22-seater minibus, departing at 8.50am, with the 9am and 9.30am buses also already in front of the Larryta office. Our bus appears to be an extra service because of demand.
At around 8:45am, our bus arrived. At the time, an announcement was made and we are asked to board. The announcement was made in Khmer and English.
At the entrance to the bus, we showed our tickets to the staff and boarded the bus. We were told to sit according to our seat number.
The bus was relatively new and clean, but the leg space was quite limited. Luggage could be placed in the space behind the front passenger seat.
Small bottles of water and hand towels were given to passengers when they boarded the bus.
Lunch break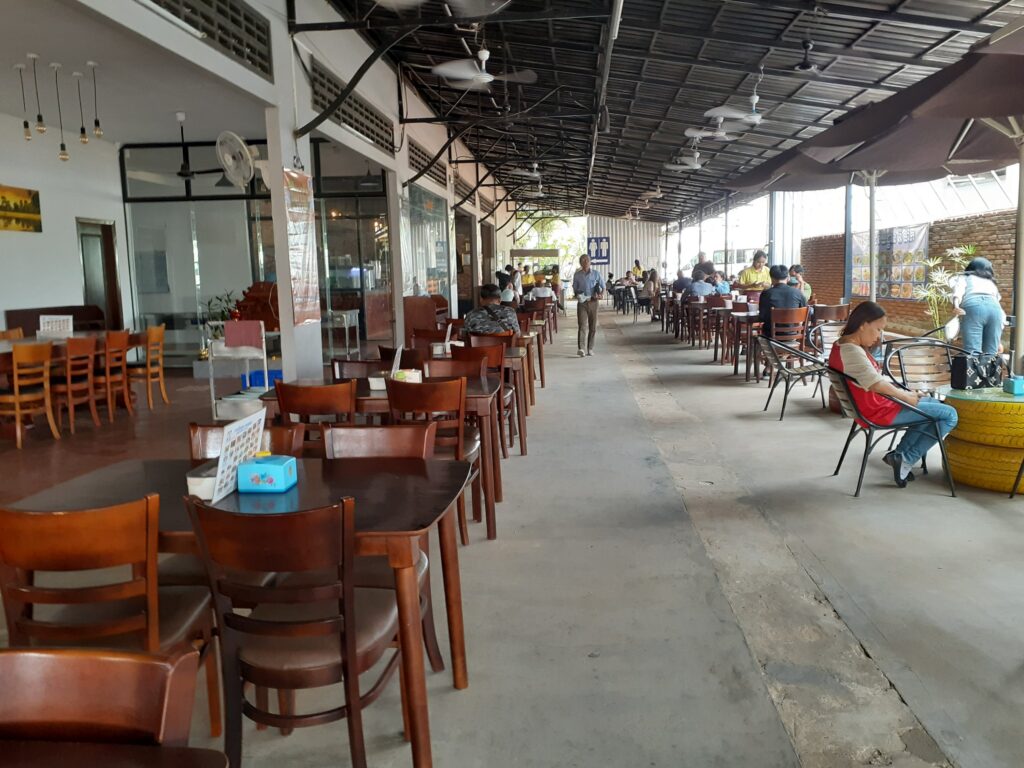 Shortly after 11am, we stopped for a lunch break.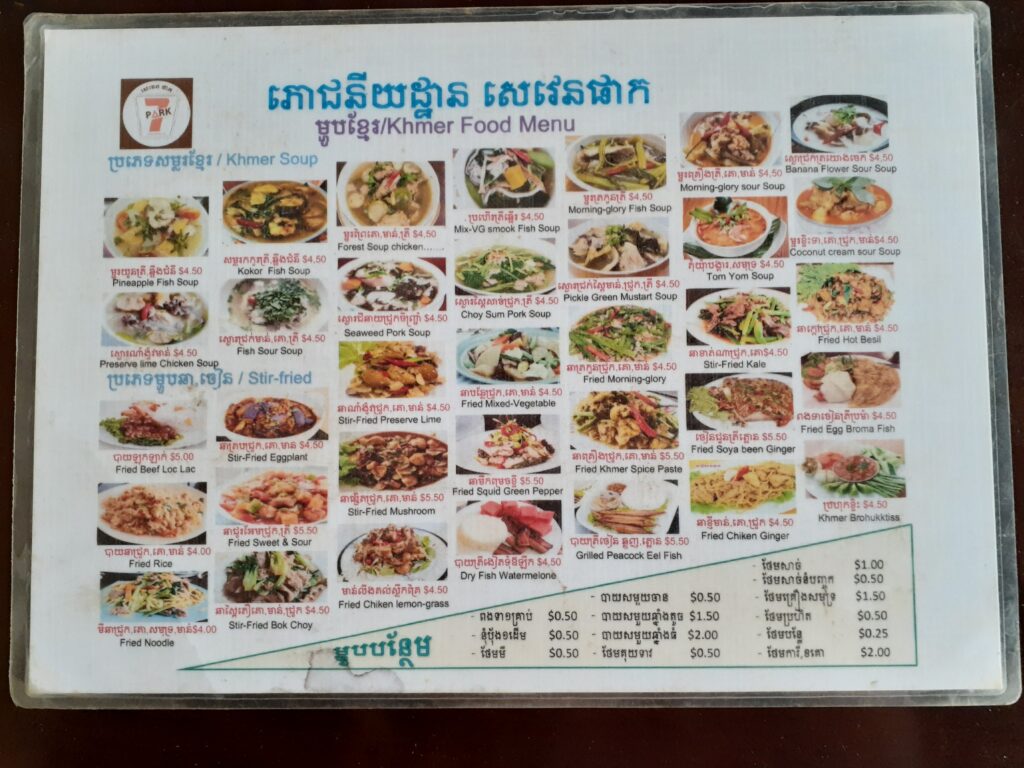 There is a small shop right next to the restaurant where we bought Oreos. We should have got our lunch beforehand.
Some passengers were having lunch, but we did not eat here as the menu was a bit expensive and we had already had a huge breakfast of chicken fried rice..
Arrival in Phnom Penh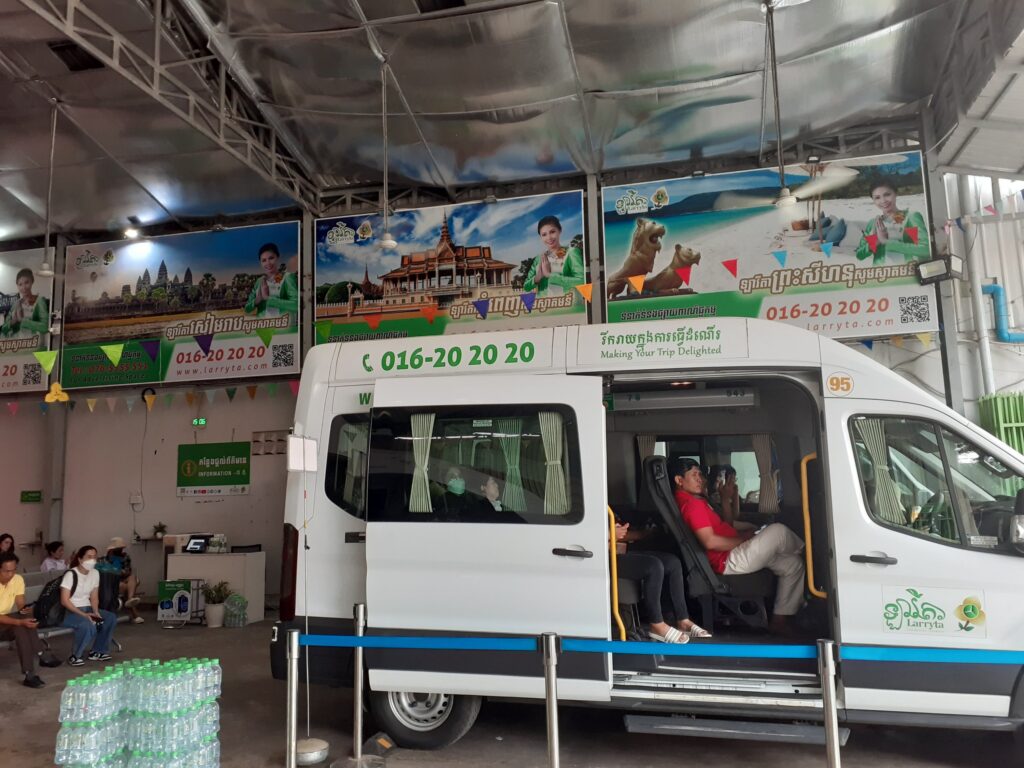 There was another toilet break before we arrived in Phnom Penh at 3pm.
We arrived at the Larryta bus company office in the north of Phnom Penh city centre.