After an overnight stay in Kep, we crossed the border into Vietnam.
The border crossing from Kep on the Cambodian side is less than 30 km, and after crossing the border the nearest town on the Vietnamese side is Ha Tien. It is approximately 6 km from the border to Ha Tien.
Getting to the Vietnamese border from Kep
Crossing from Cambodia to Vietnam using the Kep – Ha Tien border is easy, although there are only a few transport options from Kep to the border.
Perhaps this is due to the reduced number of travellers since Corona, but there seem to be limited services offering transport in the town of Kep.
When we enquired at the guesthouse where we were staying, we were told that it costs USD 10 per person for the approximately one-hour journey to the border. By local standards this was steep and the minibus left at 10:30 am, which was way too late for us.
So we decided to look around town to see if we could arrange our own transport. We had just rented a motorcycle for the day, so it was easy for us to move around.
The map shows that there is a travel agency near the beach close to the crab market, but the reviews from a few years ago don't look good. We dismissed it as it was highly unlikely to be open for business.
On the corner of the traffic light intersection where the small market is located, there is a shop with a transport sign and we asked, but they suggested we pick up a tuk-tuk near the market on the same day if we wanted to go to the border. Also, there were no tuk-tuks there then and possibly none in the morning.
Moreover, the guesthouse we were staying in is not within walking distance of this intersection.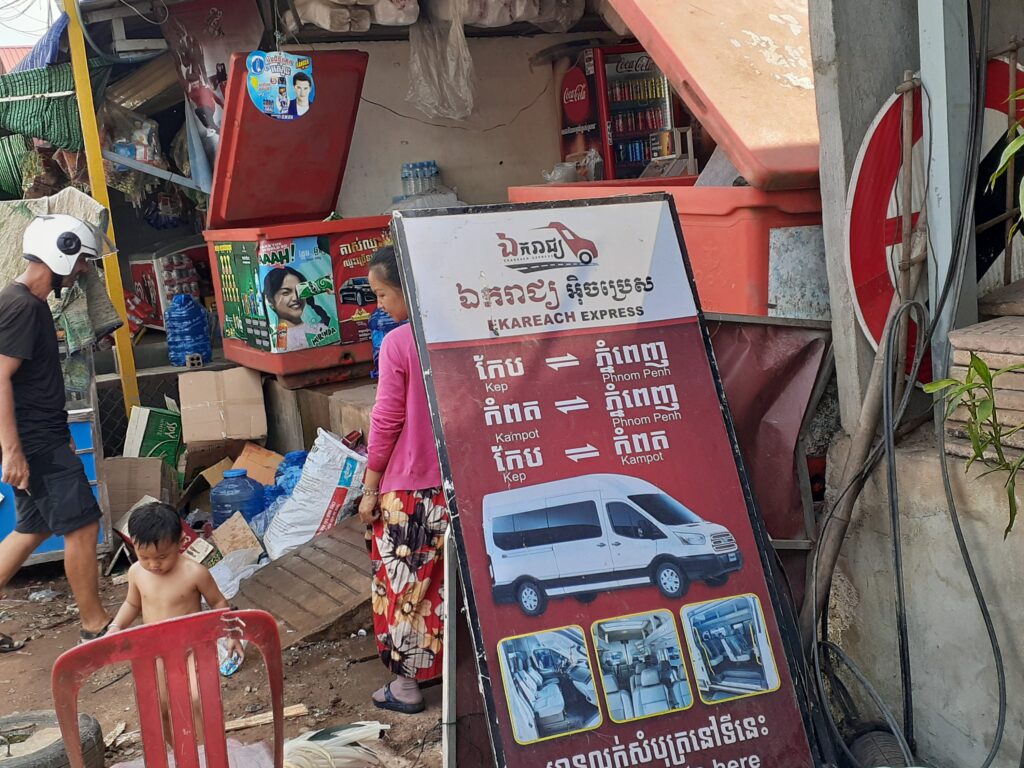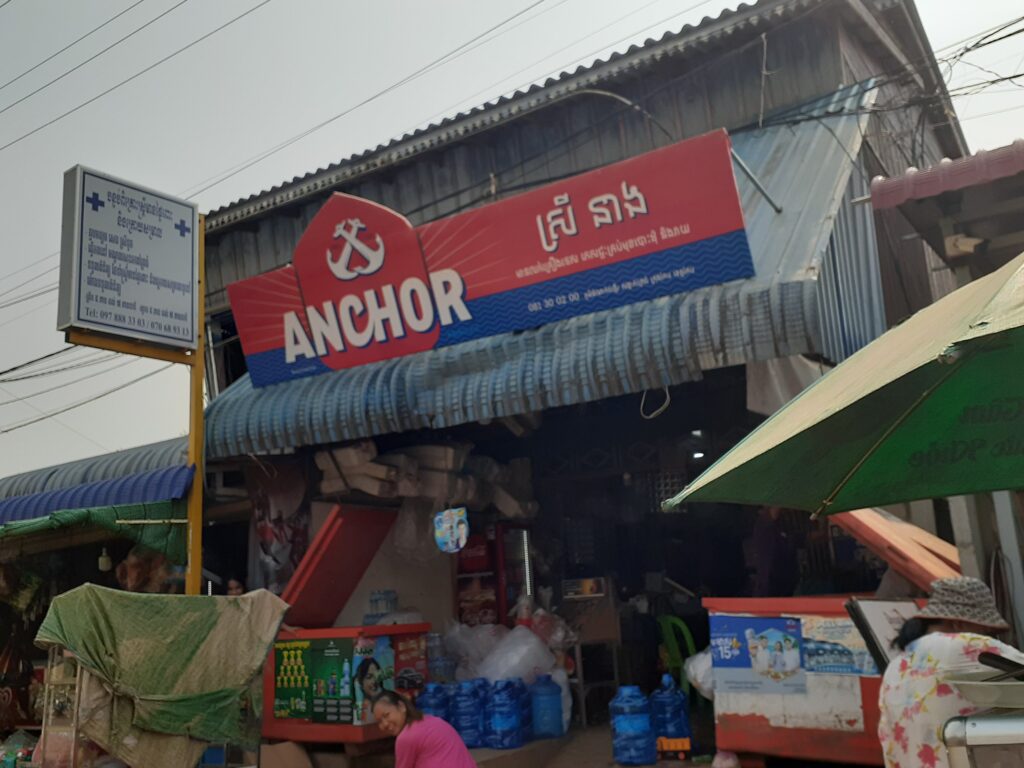 The plan was to negotiate with a tuk-tuk driver today and get them to pick us up at the guesthouse the next morning.
Next we went to the White Horse roundabout, which is about 3 km further north-west on the main road.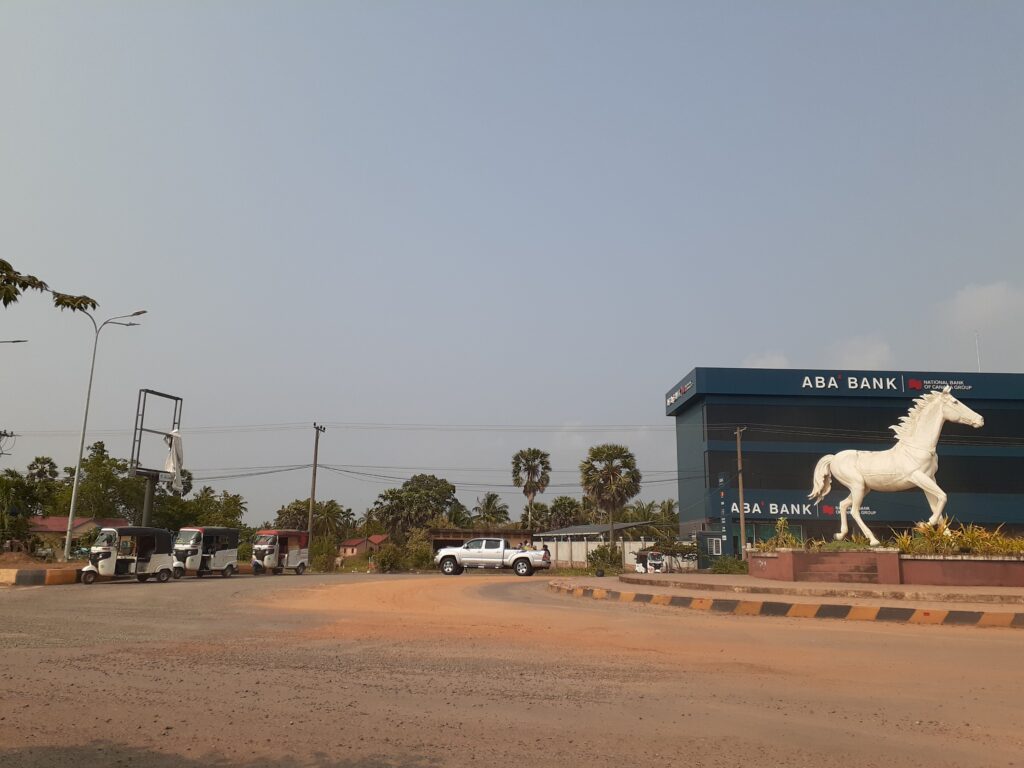 There were several tuk-tuks parked at the roundabout, so we spoke to one of the drivers.
As I was trying to tell him what I wanted to say with the Google Translate app in hand, a woman who understood a little English came out from a nearby shop and helped me.
The first driver I spoke to said it would be 50,000 Riel per tuk-tuk to the border, but I bargained and got the price down to 40,000 Riel. One tuk-tuk, or two people, costs 40,000 Riel (equivalent to USD 10), which is half the USD 10 per person we were told at the guesthouse.
When we asked them to pick us up from our guesthouse the next morning, they said that would not be a problem. Everything was fine when we showed them a picture of the guesthouse, but when we asked them to come at 7.30am they were reluctant. It seems like they had something else on!
Then he and the lady at the kiosk approached another driver who was nearby. "Can you take these people to the Vietnamese border tomorrow morning at 7:30am for $10?"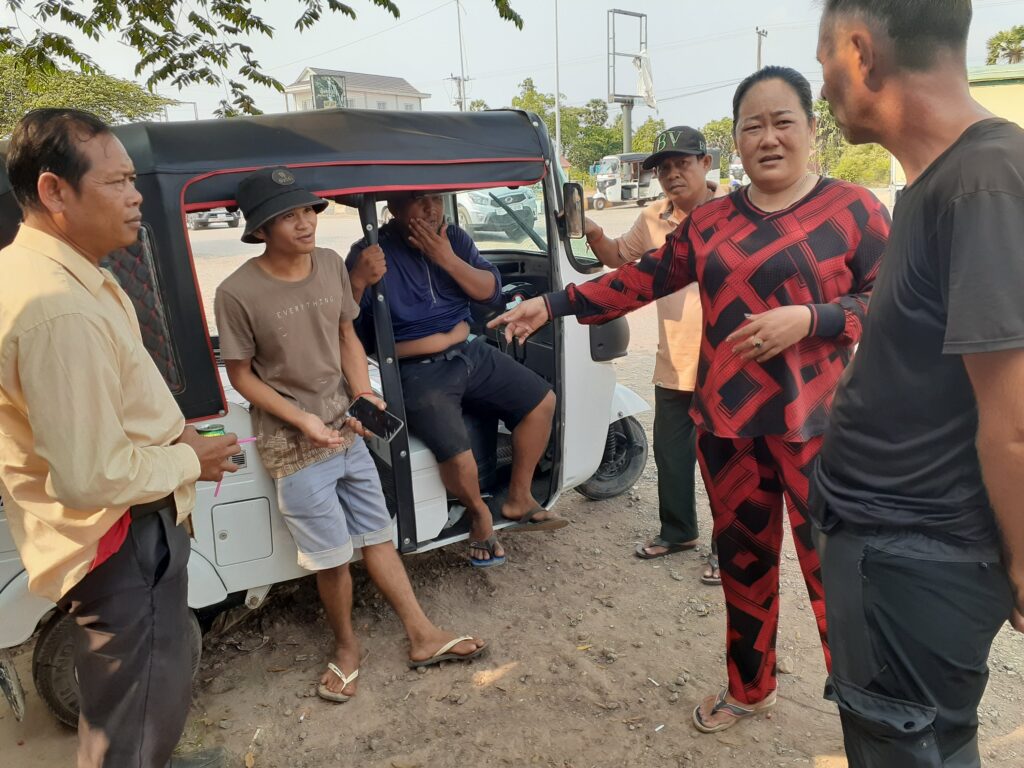 But that time of day seems to be a time when no one wants to go!
However, among these middle-aged drivers, there was one driver who was a bit younger in age and he agreed to come at 7.30am. I reconfirmed the location and price of the guesthouse and also wrote down his phone number. To be honest, I was a bit worried if it would all work …
We returned to the guesthouse, hoping that he and his tuk-tuk would show up on time.
And the next morning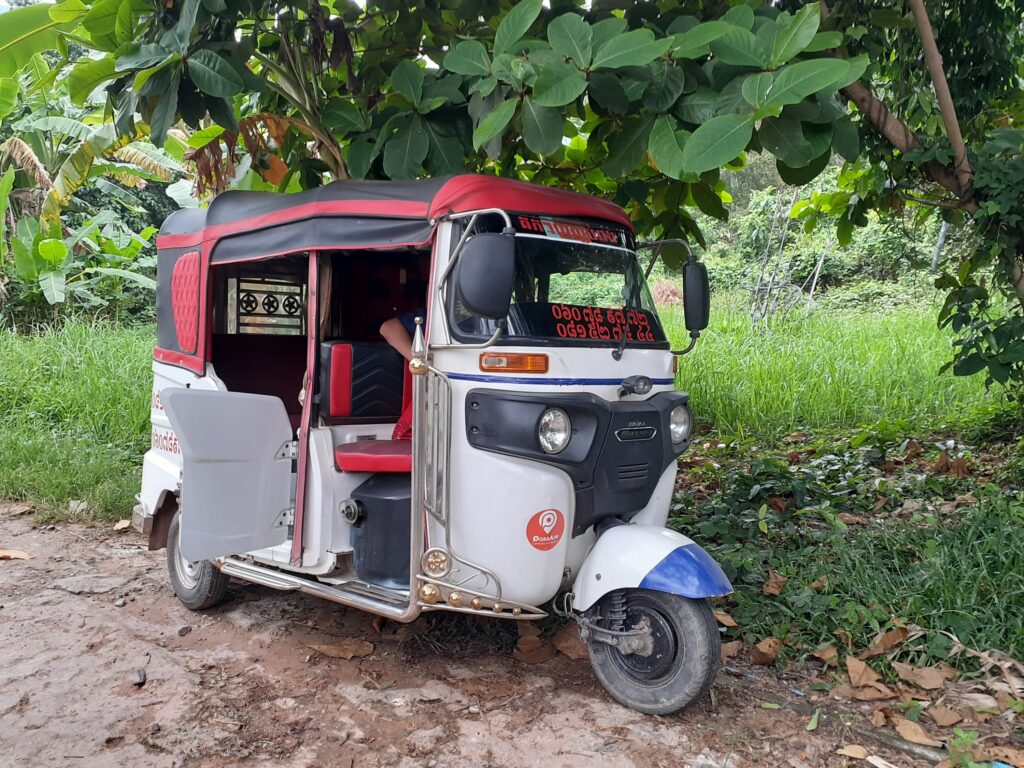 The next morning, we anxiously packed and checked out of our room. By the time we got downstairs to the ground floor lobby, the guesthouse owner was there, so we handed him the key and told him we were checking out.
I then showed him the telephone number of the tuk-tuk driver and asked if he could call to confirm that this driver was supposed to pick me up, and he said that if it was that driver, it was probably the one already at the entrance.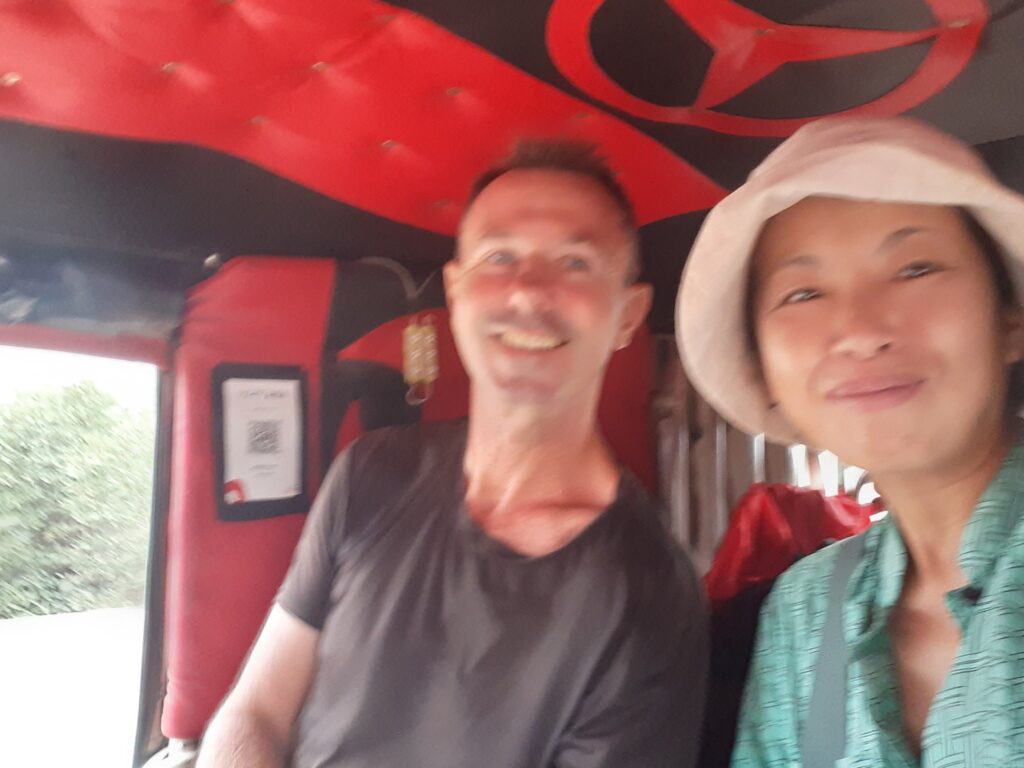 The time was still a little before 7.30am, but sure enough, a tuk-tuk with red and black seats was parked. The young driver was waiting for us.
We quickly said 'susadai' (good morning) and got in. The tuk-tuk drove smoothly along the coast of Kep and we soon arrived at the Vietnamese border. The journey took about 40 minutes.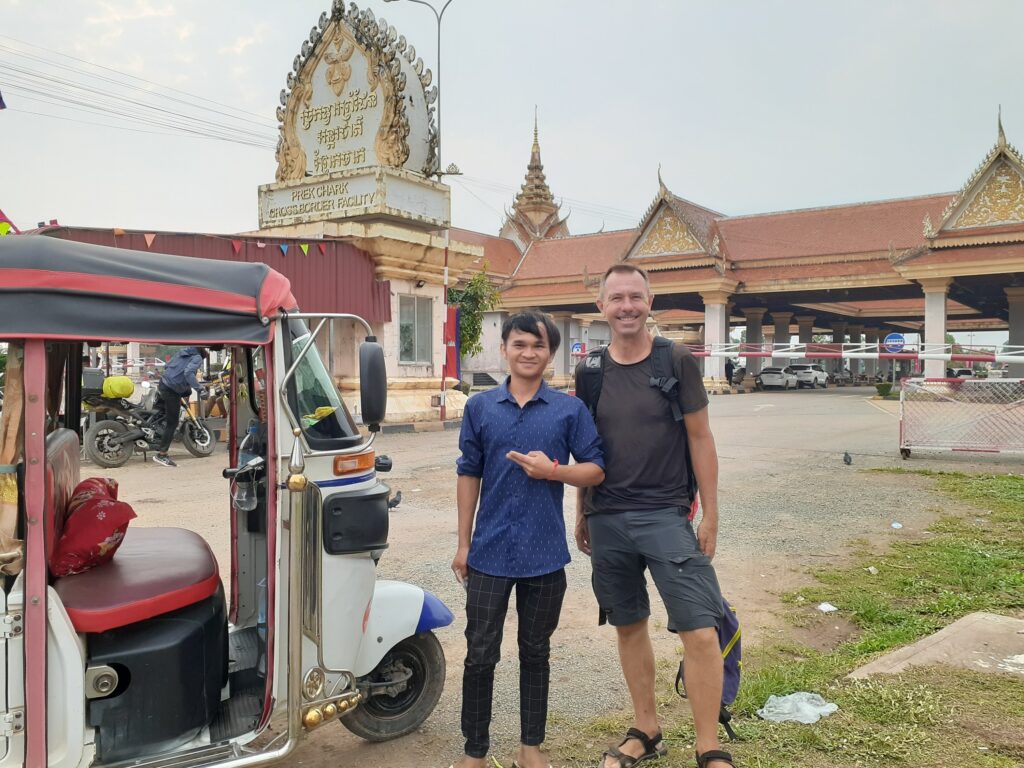 We got off the tuk-tuk in front of the Cambodian immigration and took a commemorative photo. We paid the 40,000, thanked him and said goodbye. Now it was time to cross the border.
Departing Cambodia at the Kep border
First, you complete departure formalities at immigration on the Cambodian side. As far as we could find on the internet, apparently this land border has a bad reputation on both the Cambodian and Vietnamese sides, with several reports of unjustified fees being charged.
So I was prepared for some hassle, but was not charged any money and was able to complete the procedure smoothly.
We went in the direction marked 'passport check' and got our departure stamp.
At the point when we passed through Cambodian immigration each of the Immigration counters had a sign saying "NOTHING TO PAY" (sorry I couldn't take a photo of this as it was inside Immigration). However, there is a separate booth for Cambodia entry Arrival Visa, so maybe more fun there!
Anyway, we passed through easily without being charged anything.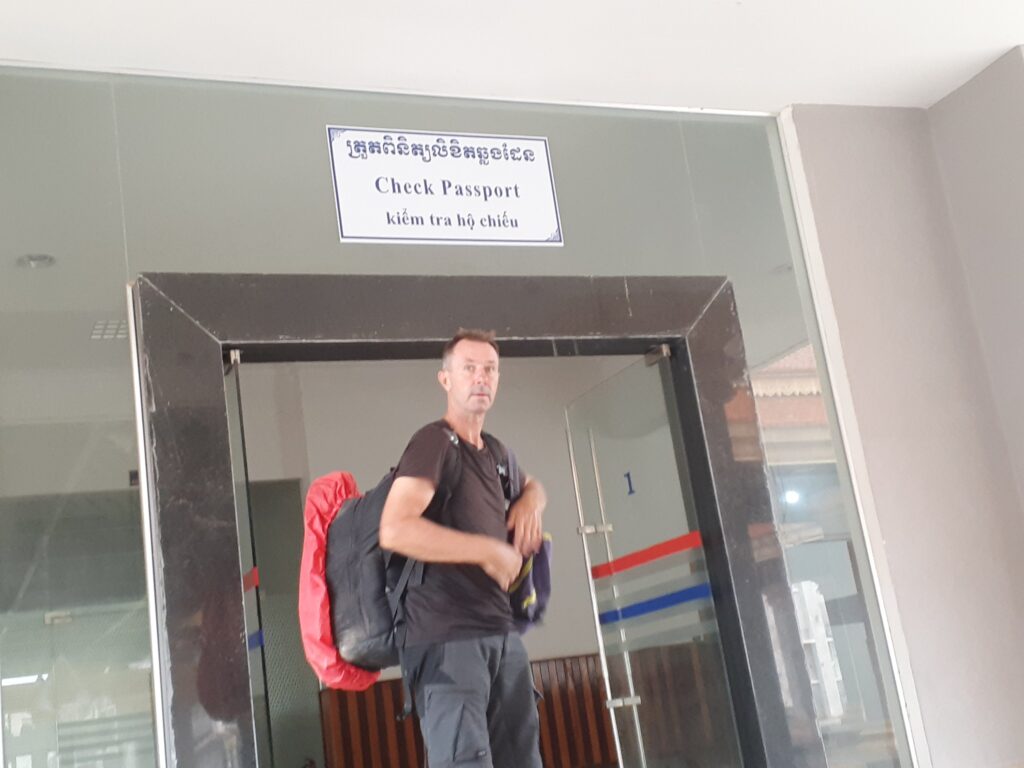 The immigration on the Vietnamese side is only a few metres away and you can walk across.
The Vietnamese Immigration counter was crowded because it was soon to be the Khmer New Year and there were also many Cambodians taking photos in the friendship corridor between Cambodia and Vietnam…no man's land. Normally, people hesitate to take photos at state facilities such as Immigration, but I took advantage of the situation and snapped some photos.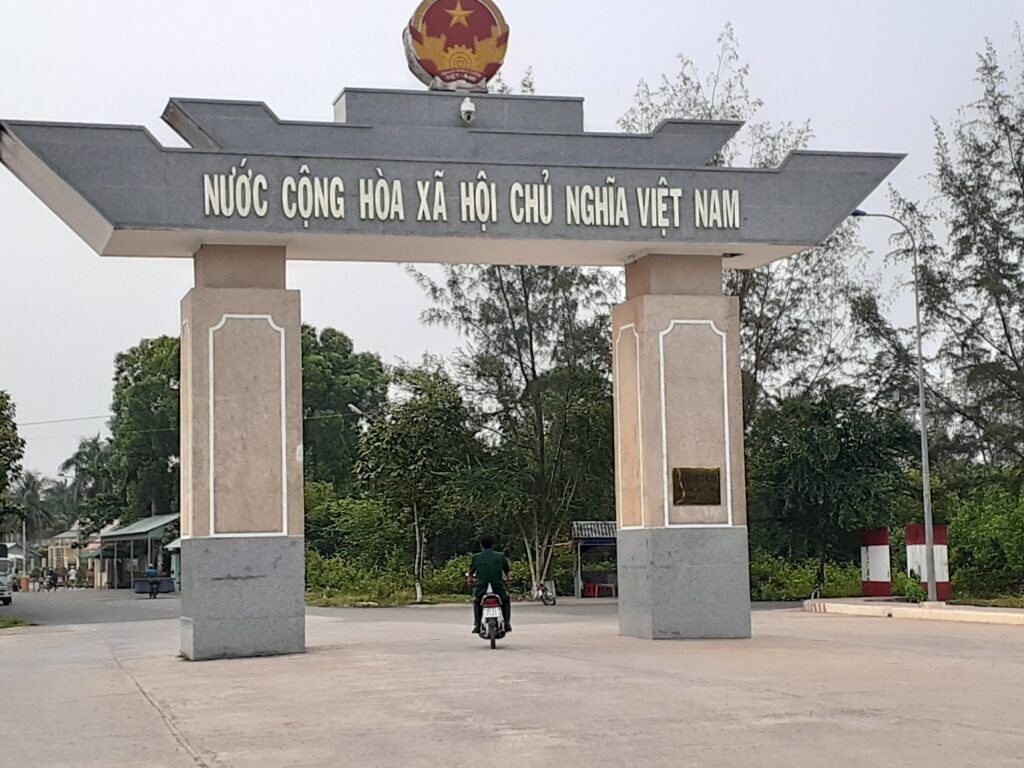 Entering Vietnam at the Ha Tien border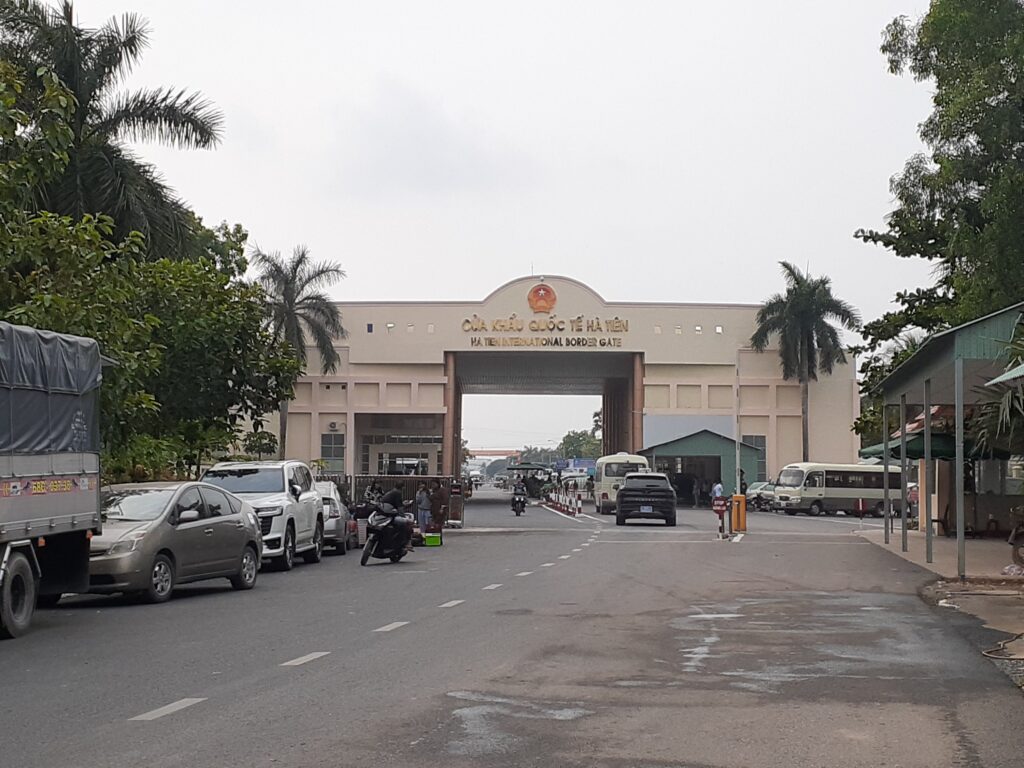 There is a gate with Vietnamese characters written on it, beyond which you can see the Vietnamese side Immigration. Now it was time for Vietnamese Immigration procedures.
Currently, both Japanese and British nationals can enter Vietnam visa free for stays of up to 15 days for tourism purposes.
Previously, there was a rule that a person could only re-enter Vietnam if more than 30 days had elapsed since their last departure from Vietnam, but this has been abolished. We were also able to enter Vietnam without any problems, even though it had been less than 30 days since our last departure from Vietnam.
When you enter the immigration building, there is an immigration counter where you submit your passport. You will be asked, "Do you have a visa?" You will be asked, "No visa", which is OK. You will soon receive an entry stamp and the procedure is complete. Check the date of your stay as it will be written next to the entry stamp.
Scan your luggage through the inspection machine and you are safely in Vietnam.
Transfer from the border to Ha Tien town centre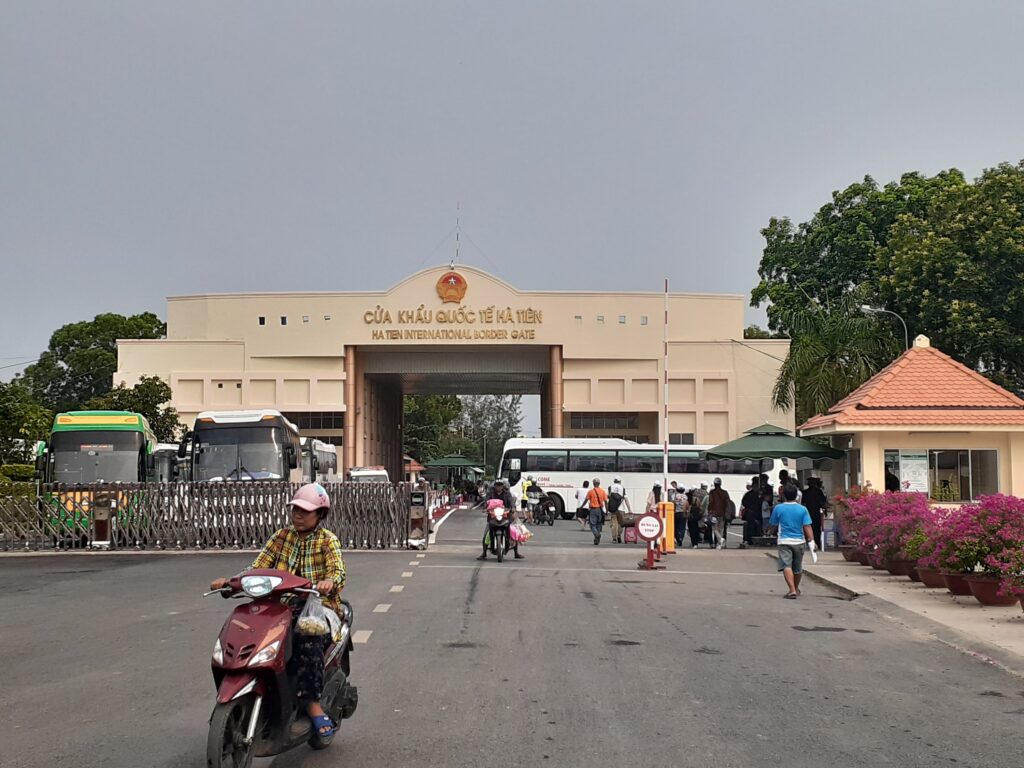 After completing Vietnamese immigration formalities the nearest town is Ha Tien. It is approximately 6 km from the border to Ha Tien, which is a bit of a walk.
Taxis and motorbike taxis were parked outside the immigration gates. I guessed that the market price from here to the city of Ha Tien should be around USD 5 and negotiated with the driver who approached us, but he was not willing to talk sense.
We had some Cambodian Riel cash on hand and wanted to spend it all, but the driver was adamant that "this is Vietnam" and refused to budge.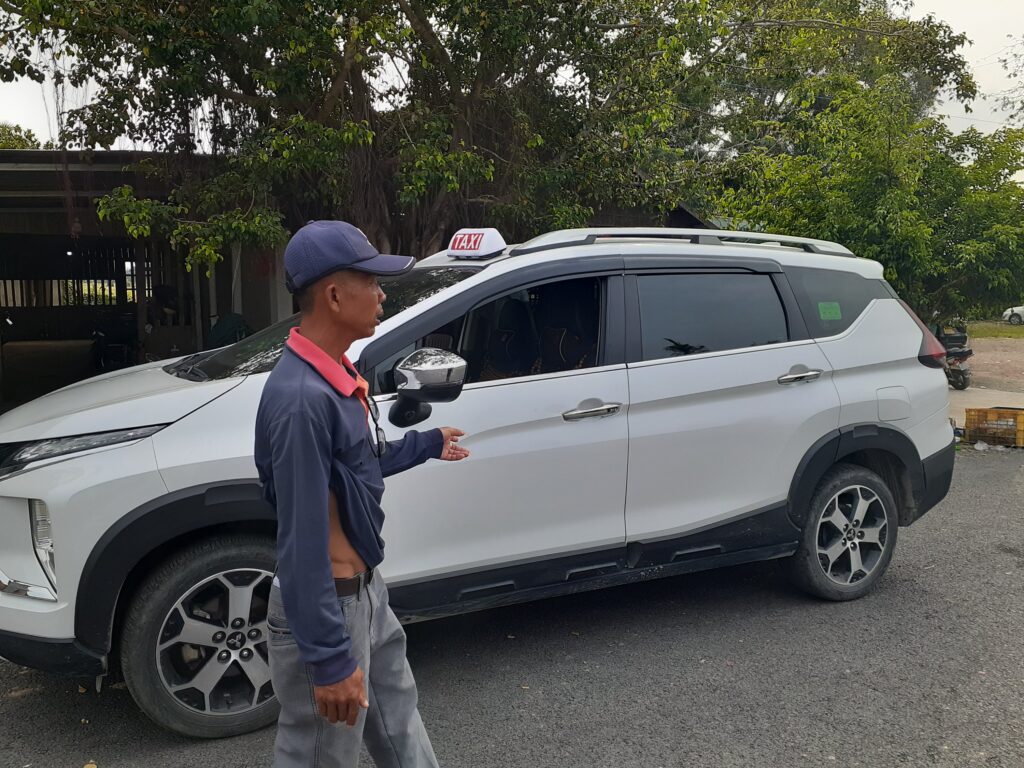 Since we couldn't agree on the amount we walked on. There were shops ahead at an intersection and it looked lively, so we thought we could pick up transport cheaper there.
The driver who spoke to us earlier followed us by motorbike after we had started walking and spoke to us, saying that it was impossible to walk to the town because it was 11km away. We ignored him and continued on.
Then, maybe not even a kilometre into the walk, a taxi driving went past us heading towards immigration honking his horn as he passed us. A few minutes later, the taxi returned from the border having dropped off his passengers.
It was a nice looking Toyota and we agreed a price of $4 per person which we could pay with our last Cambodian Riel.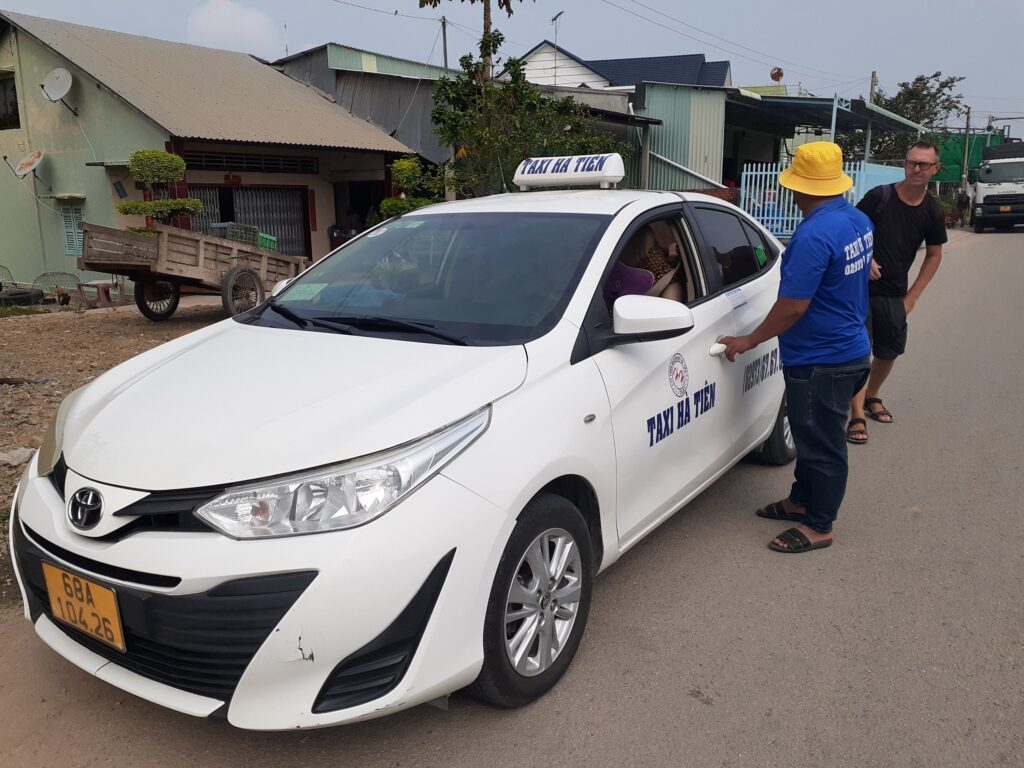 For him, he was making enough money taking passengers to the border, so our income was like a bonus.
When we got in the car, the driver asked us to pay first. When Chris paid in Cambodian Riel, he pulled over to the shoulder of the road, asked someone at a nearby shop to exchange some money and returned.
He then checked the guesthouse where we were going to stay and drove us all the way into town.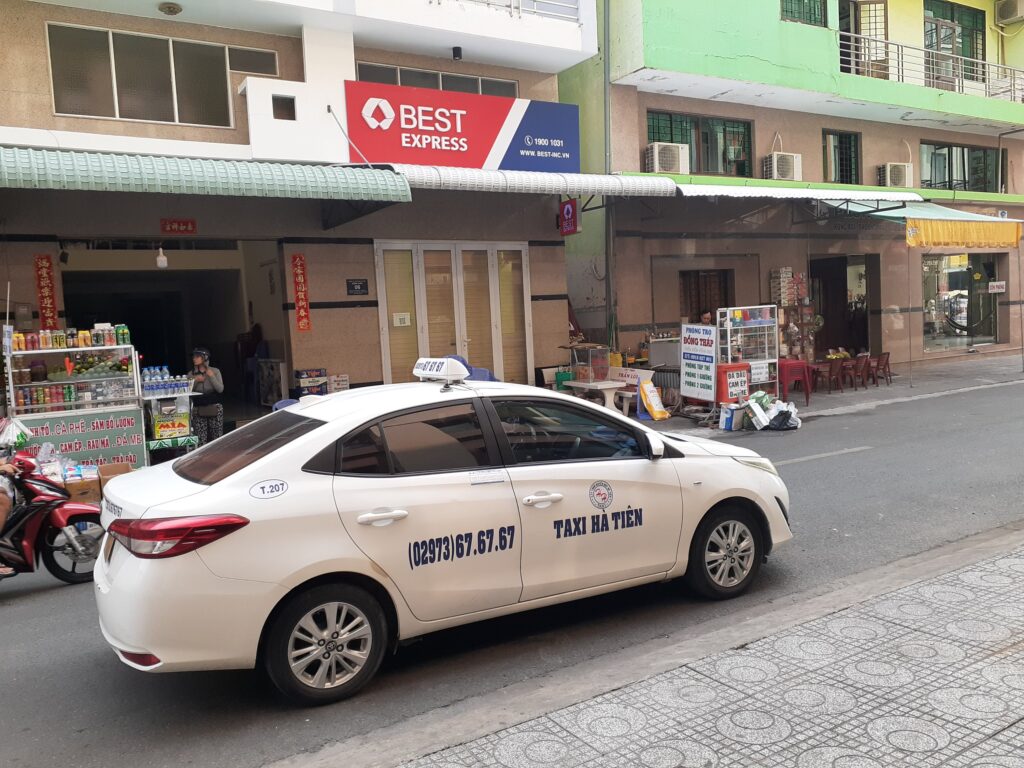 We were able to reach our destination guesthouse before 10.00 am in the comfortable air-conditioned car.
It took some time to secure transport in Kep, but after that it was a very smooth and stress-free border crossing.