We crossed the border from Ho Chi Minh City, Vietnam to Phnom Penh, Cambodia overland. We used the Moc Bai (Vietnam) to Bavet(Cambodia) crossing. This is the third different crossing we have used in recent years.
There are many international buses from Ho Chi Minh City to Phnom Penh, Cambodia, all of which are charging more than 30 USD for the convenience.
International buses, which can be booked through tour operators, are convenient and comfortable, but they can be relatively expensive. So we decided to try our hand at crossing the border independently, as we have done in the past.
Transfer from the District 1 to An Suong bus terminal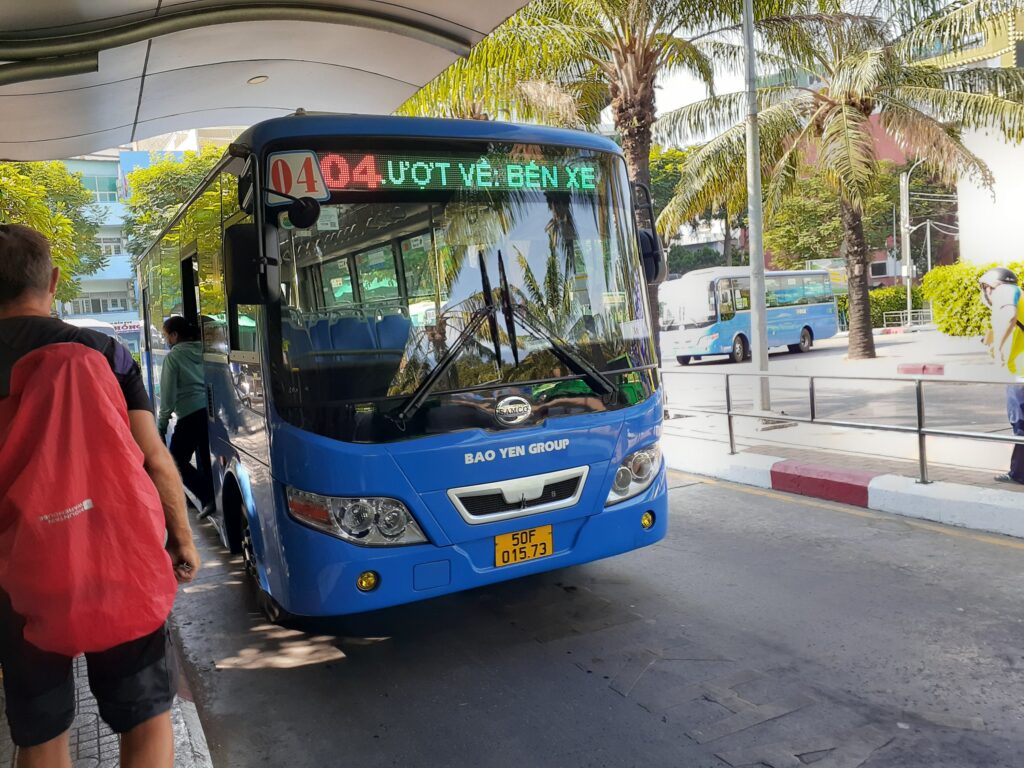 Buses to Moc Bai Border leave from An Suong Bus Terminal. An Suong bus terminal is about 15 km from the city centre, but it takes about 45 minutes by car due to the always busy Ho Chi Minh City roads.
We were staying in the Pham Ngu Lao area in downtown Ho Chi Minh City and took bus 04 from the bus stop west of September 23rd Park to An Suong Bus Terminal. Pre-covid there was a bus (109 I think) which used to go from Pham Ngu Lao.
Ticket to An Suong Bus Terminal

The fare to An Suong Bus Terminal was only VND6,000 per person.
Bus to Moc Bai border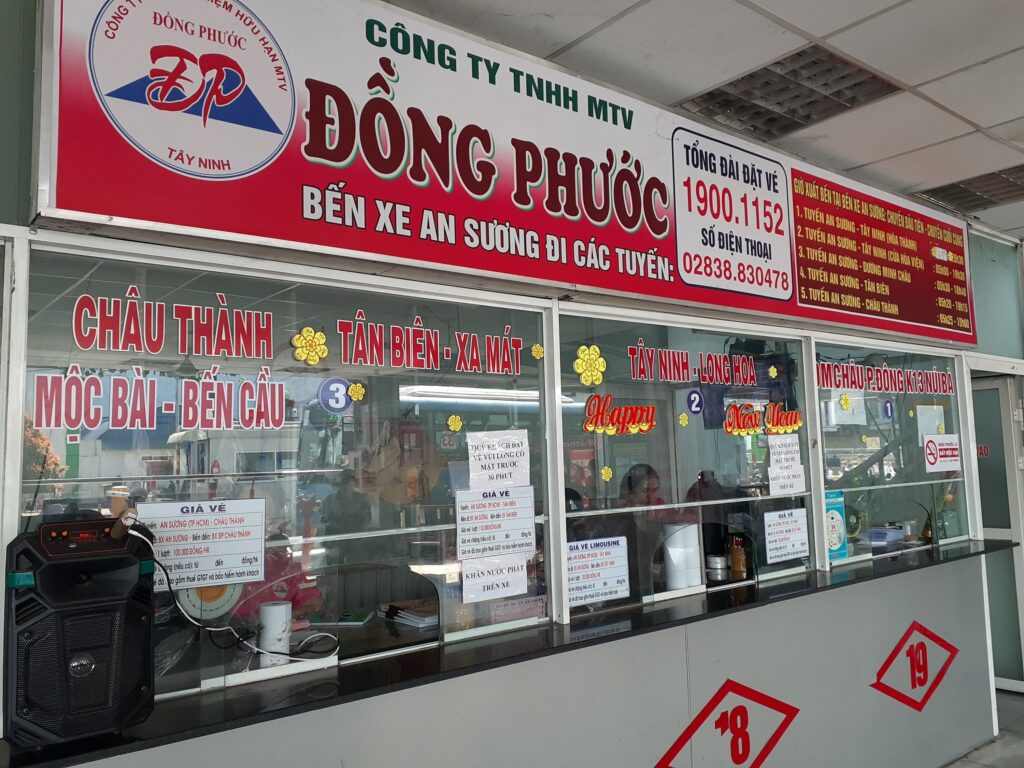 Bus No. 4 arrived at An Suong Bus Terminal at 9.45am. The bus journey took approximately one hour.
We bought our tickets at ticket office counter No. 3 for the bus at 10:10am. The fare was VND100,000 per person.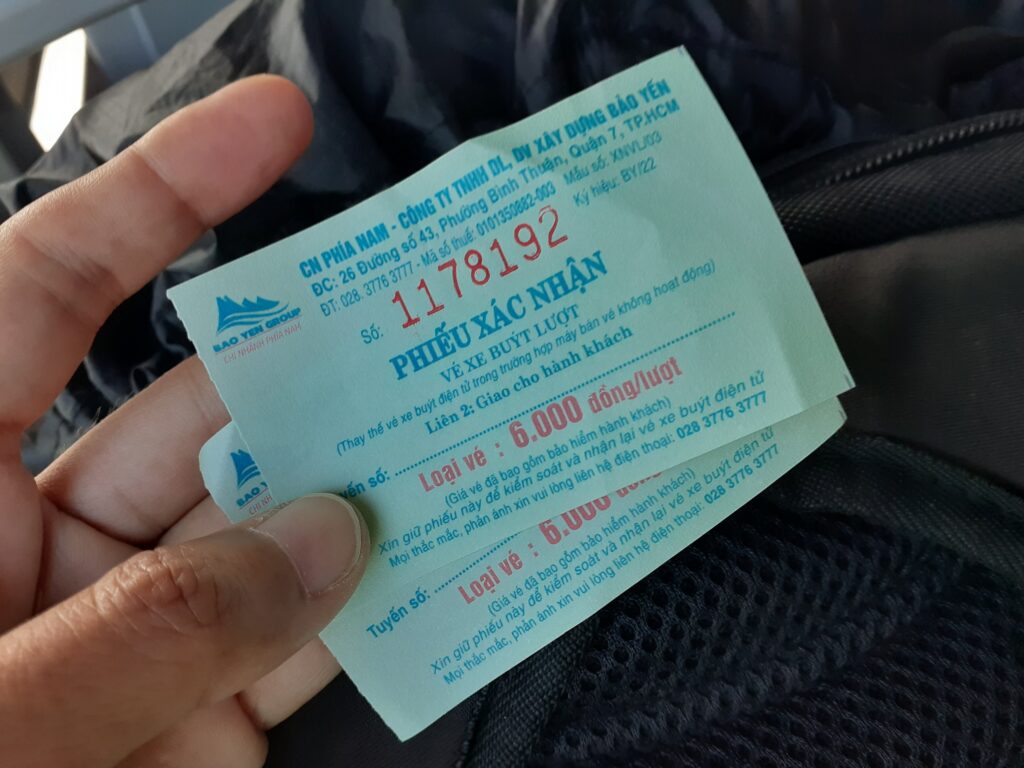 Bus tickets have seat numbers printed on them, so you board the bus accordingly.
In front of the ticket counter was a waiting room, where we were told to wait after purchasing our tickets. About 10 minutes before departure, a driver with a binder in his hand came and guided us to the bus station.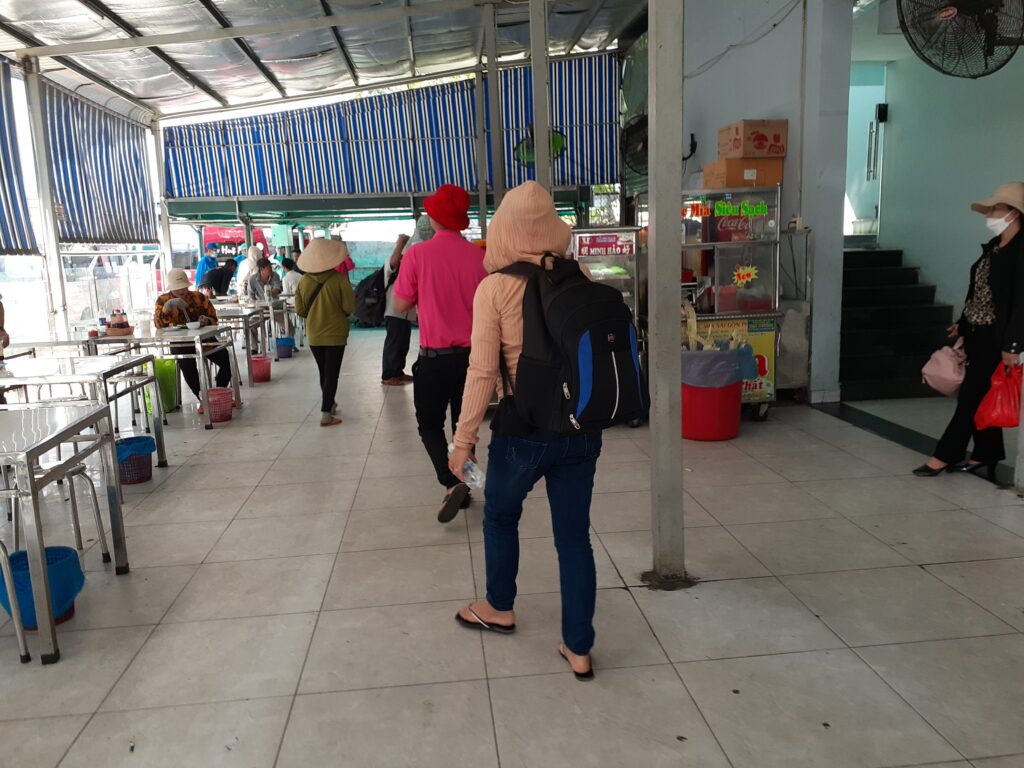 I confirmed that it was for Moc Bai and followed him.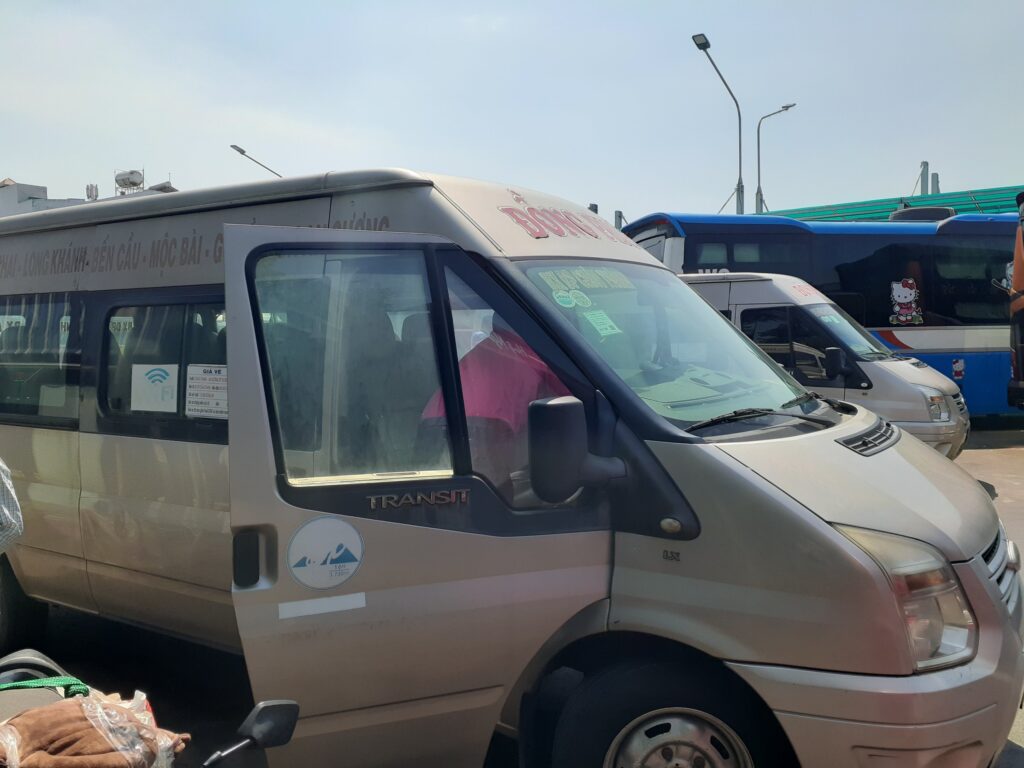 The bus is a 16-seat minivan with little luggage space and departed on time.
Lunch before the Moc Bai border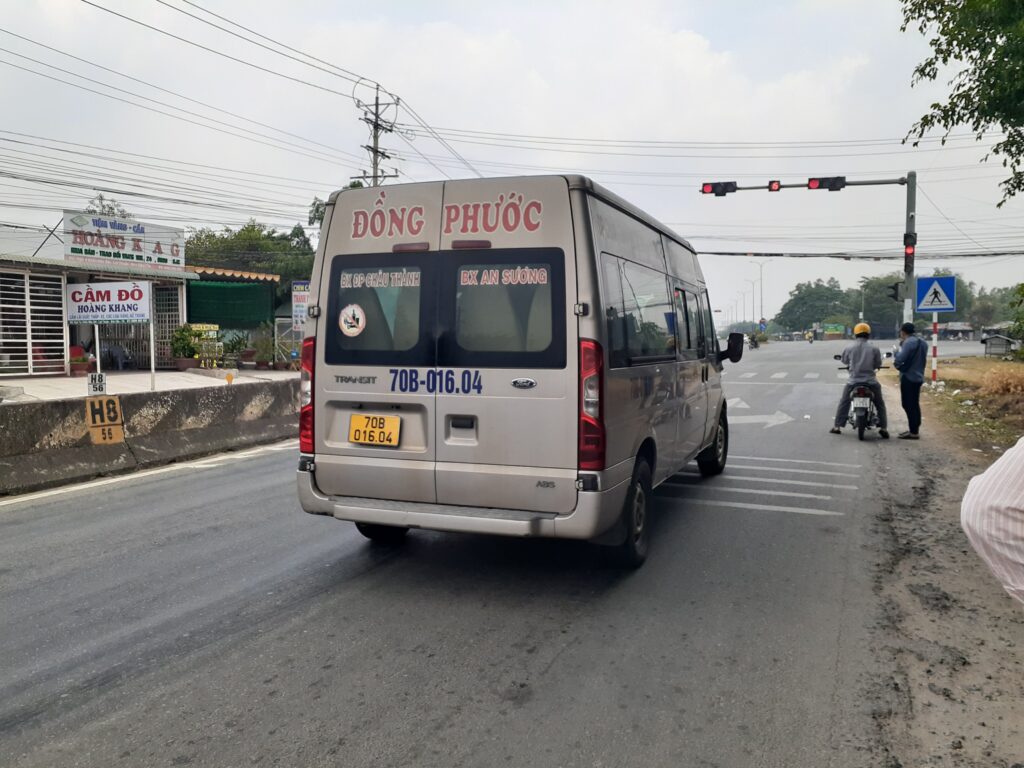 It is approximately 60 km from An Suong bus terminal to the Moc Bai border checkpoint and only took one and a half hours.
However, we were not dropped off at the border immigration, but at a crossing 1.5 km before. When you get off the bus, there are many motorbike taxi drivers, which can take you to immigration.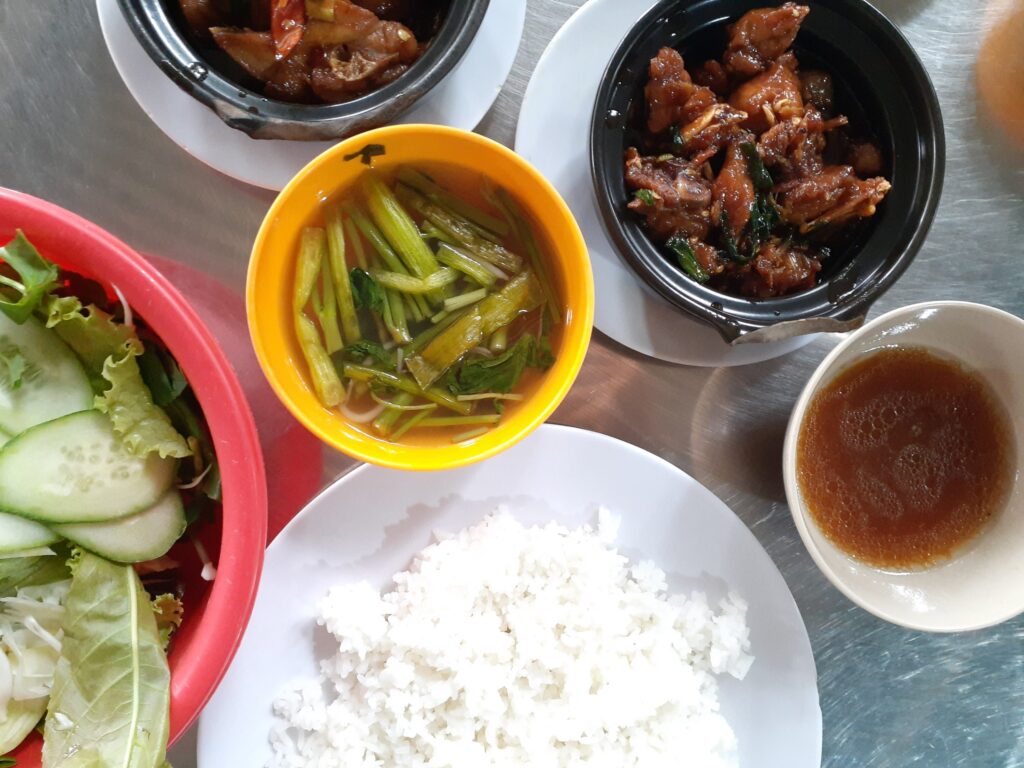 We had a delicious lunch at a restaurant near the crossing before walking 20 minutes to immigration.
Vietnam departure formalities at Moc Bai border checkpoint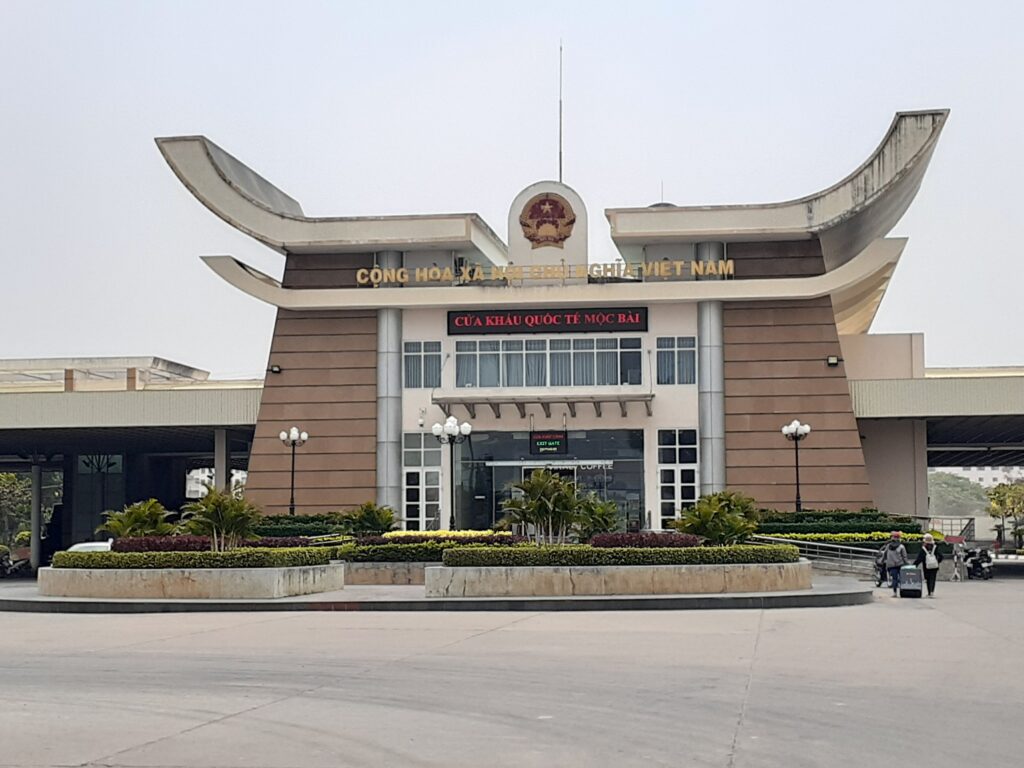 Departure formalities at immigration on the Vietnamese side were pretty chilled and the building even contained a coffee shop.
After scanning our luggage at the entrance, we had our passport stamped at passport control.
After completing the departure formalities, we walked across the border to the Cambodian side of the border to complete immigration entry formalities.
Cambodian entry formalities and obtaining an Arrival Visa at the Bavet border checkpoint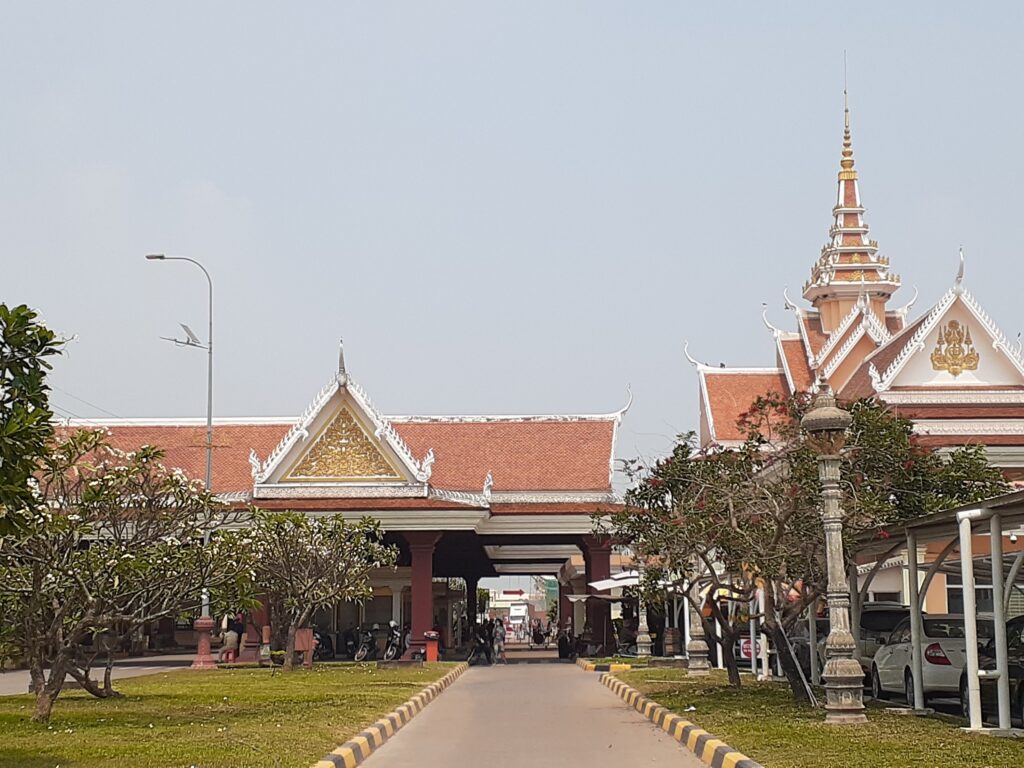 On the Cambodian side, you will first need to obtain an Arrival Visa, if you don't already have an E-visa. There is a booth marked Visa Service on the right hand side of the immigration building where you can apply for an Arrival Visa.
When you tell the desk that you wish to obtain a visa, you will be given an Arrival Card. Fill it in and submit it together with your passport and the fee. The fee was USD 35 per person.
After a short wait, the passport with the visa was returned and we proceeded to the immigration building.
In front of passport control, we were again asked to fill in an Arrival Card. Fill in the required information and submit it together with your passport to the immigration officer.
Once you have your entry stamped, proceed towards the exit. There is a customs booth, but we passed through it as we had nothing to declare.
You are now in Cambodia!
US dollars can be used in Cambodia, so we decided to move on without worrying about exchanging money.
Getting to Phnom Penh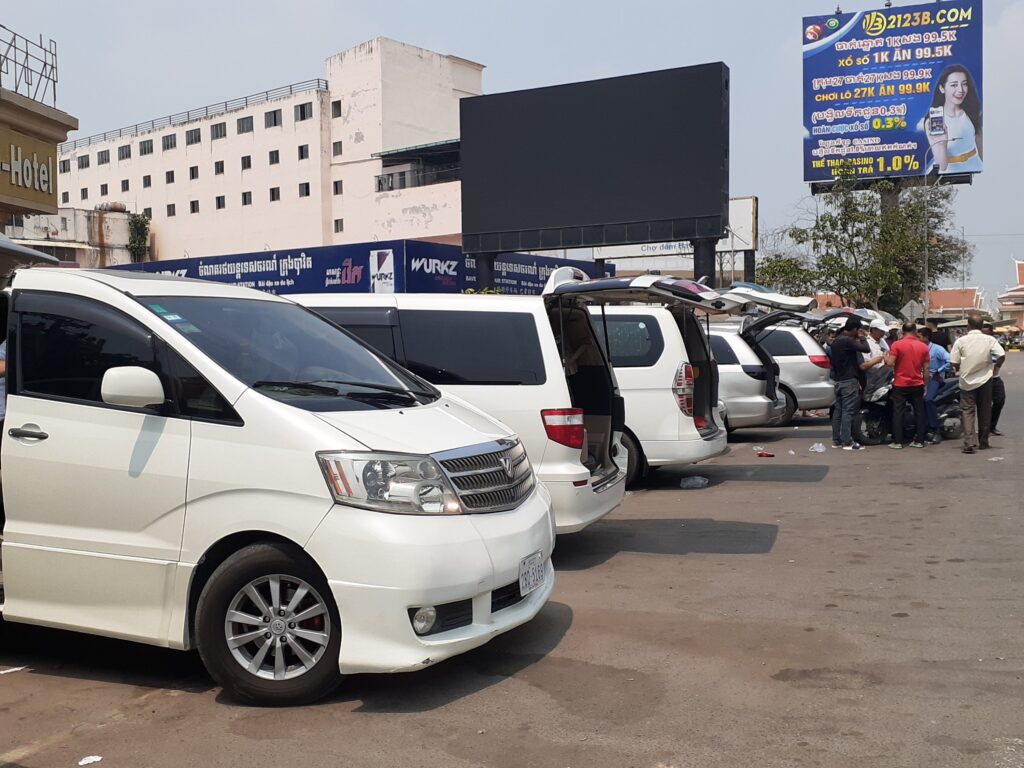 It is 170 km from the Bavet border checkpoint to Phnom Penh. Buses also run to Phnom Penh, but we decided to take a shared taxi.
A short walk out of Immigration and several vehicles were parked. These are shared taxis that have been taking passengers from Phnom Penh to the border checkpoint. We decided to use these as they seemed to be a more comfortable way to get to Phnom Penh than the buses.
The driver quoted USD 60 for two people to Phnom Penh. We negotiated and got the price down to USD 17 for two people, so we got on. There were already three passengers on board and the vehicle left as soon as we got on. The time at this point was 1:30 in the afternoon.
Arrival in Phnom Penh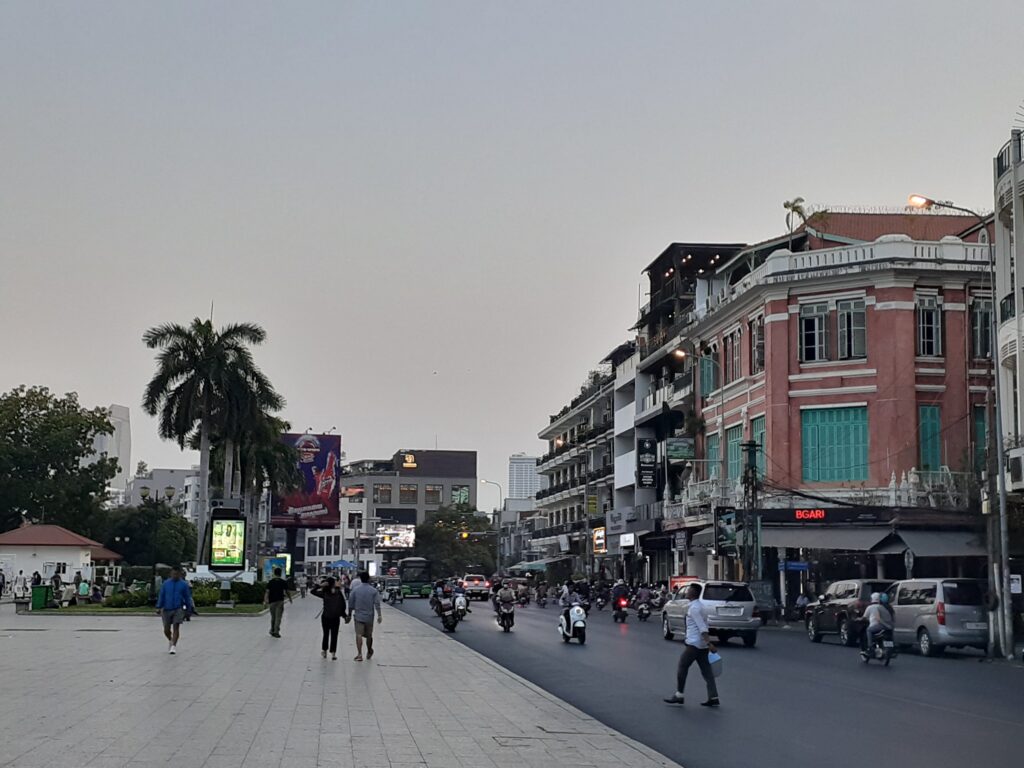 We arrived in Phnom Penh at around 5pm, having stopped and started quite frequently to drop off and pick up passengers. We were dropped a little more than 5 km away from the Royal Palace area, where we wanted to go and took a tuk-tuk to the area along the Mekong River, where budget guesthouses were lined up.
The tuk-tuk cost 10,000 Rials after negotiation.