We travelled down by minibus to the town of Pakse in four hours and in the afternoon organised a 110cc moped to cruise around the Bolaven Plateau.  We decided to do a two tour circuit, although some travellers do a four day circuit.  (We have another 4-5 day moped trip to come soon …).  The roads were in excellent condition and very light traffic.
Where to get your moped?
There are several places in Pakse to get your moped with prices being similar, although quality may not be!
We first tried one of the two main renters, Miss Noy, but they were sold out. We then popped around to Hang Noi Guesthouse where we struck lucky with a fully automatic 110cc bike for 150,000 kip a day. 
We initially took the bike for only a day to test it out and go to Wat Phou which is 45 Kms away from Pakse.
The bike was great and everything worked well so we dropped Nang Noi an email to confirm we'd keep the bike for two more days.
Bolaven Plateau day 1 – Mr Vieng's coffee plantation tour
About 35 kms out of Pakse we found ourselves at Mr Vieng's coffee plantation where we enjoyed a fine cup of coffee before making an hour long tour.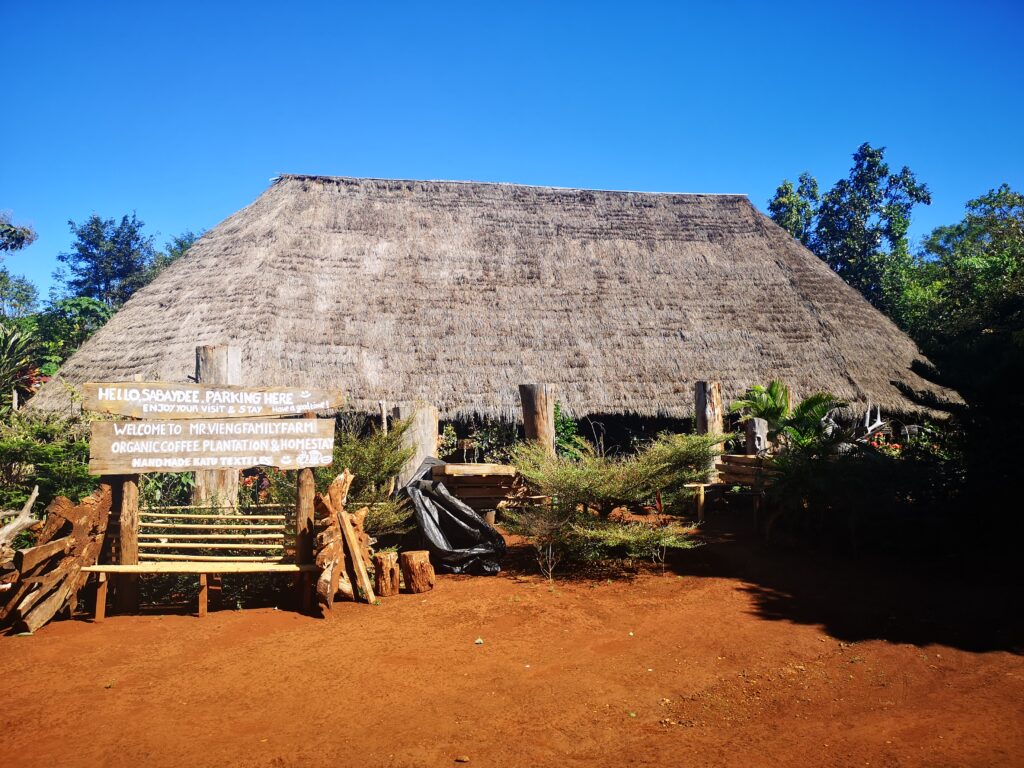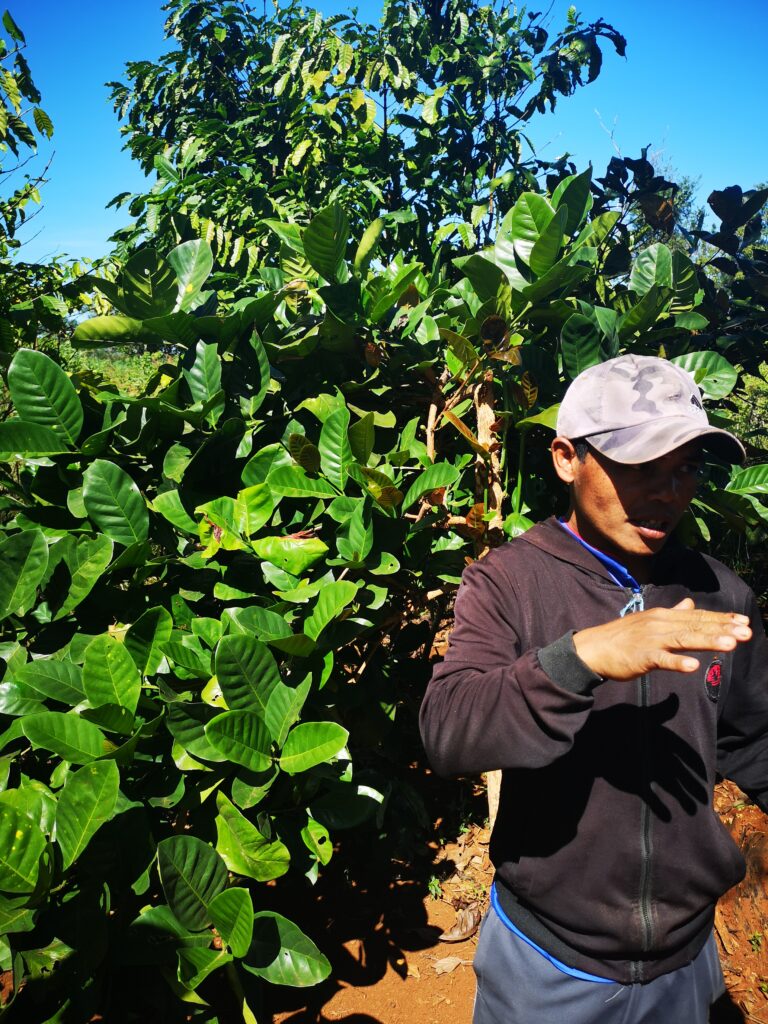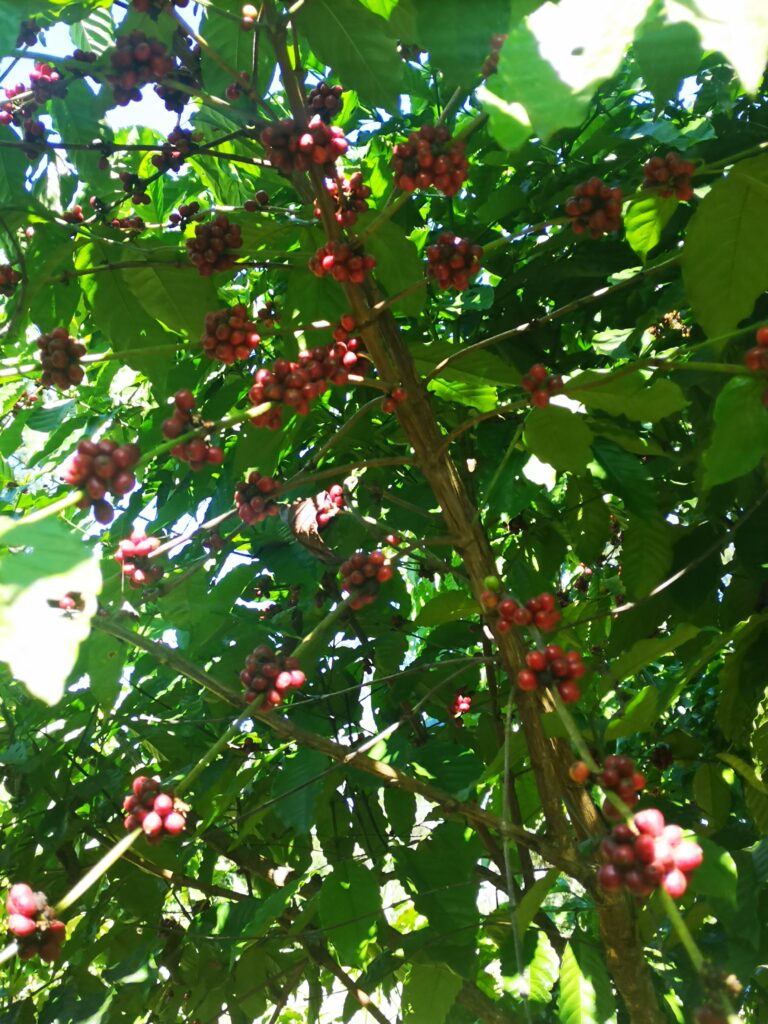 The tour was very interesting, especially as Mr Vieng explained how he had been learning the business step by step, as well as the different types of coffee out there.
The tour was really very informative and made all the more enjoyable as we were only six people.  It cost 35,000 kip per person and the fresh coffee was 13,000.
I'd definitely recommend the tour!
Over 90% of Laos coffee production is on the Bolaven Plateau.
Bolaven Plateau day 1 lunch
After the coffee tour we headed for Tad Lo where there is a cluster of guesthouses and where we were planning to lay our heads for the night.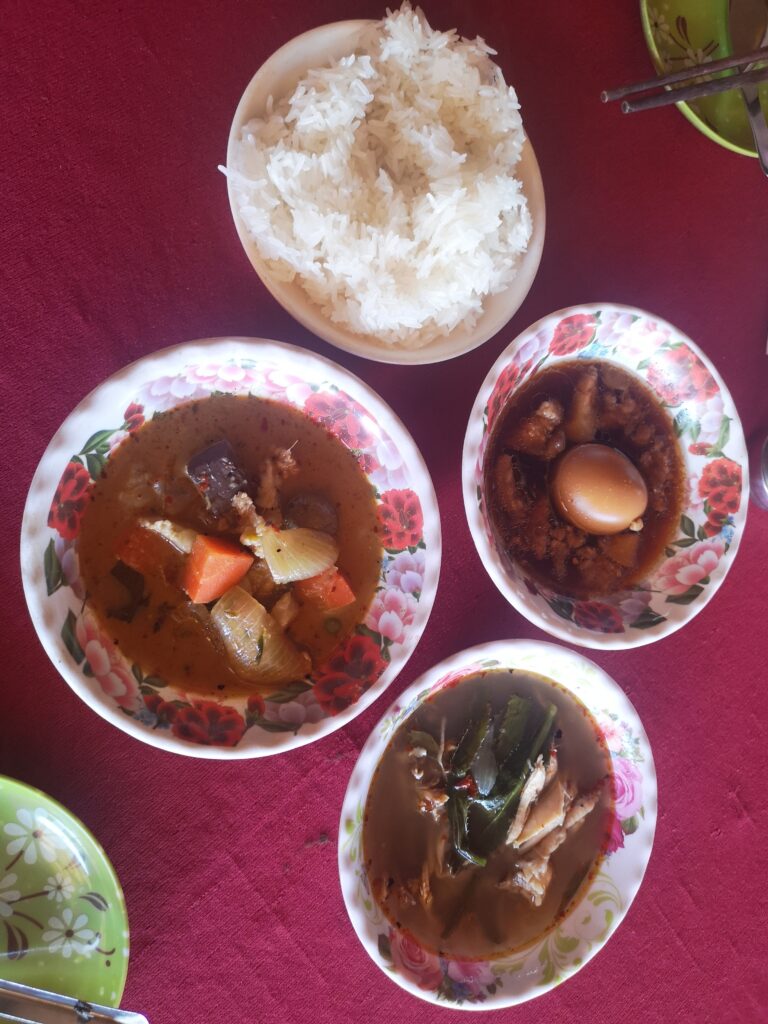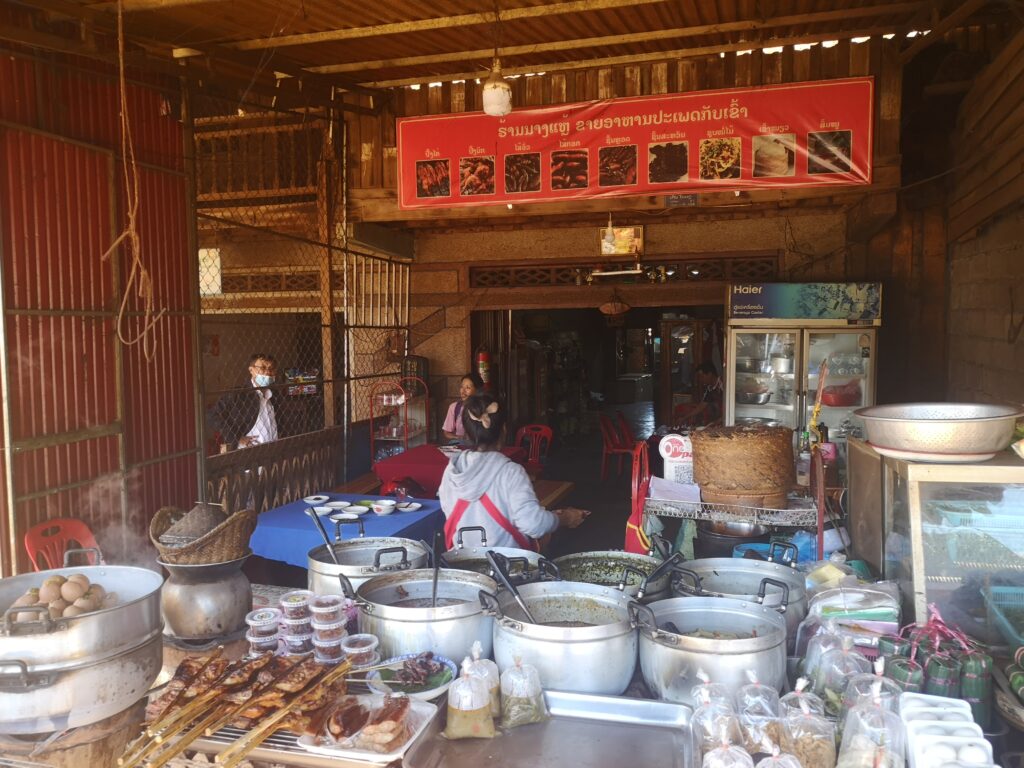 We stopped for lunch at a small town (Laongam) where there were a couple of roadside 'restaurants'.  We had a delicious lunch of green curry, sweet and salty boiled pork with eggs and a pork stew.  We also ordered two big bowls of sticky rice. 
Lunch was delicious and was incredible value at less than 2 USD!
Bolaven Plateau day 1 – Tad Lo and Tad Hang waterfalls
We drove into the village of Tad Lo and ended up staying at Sypasert Guest House which gave us amazing views onto Tad Hang waterfall.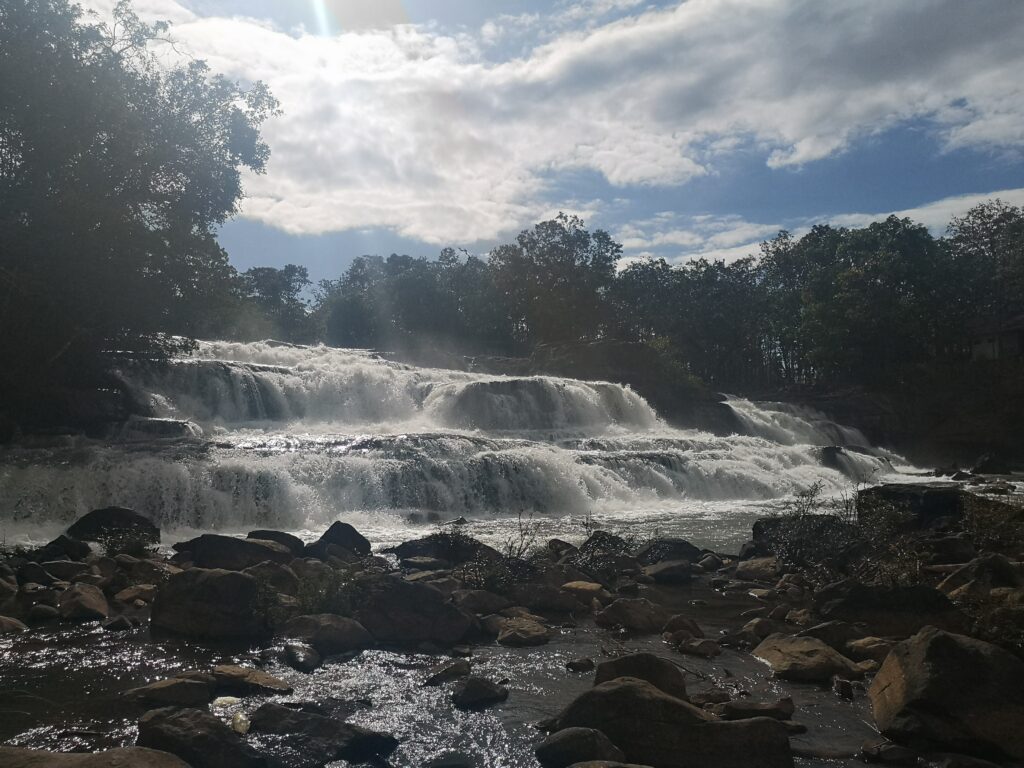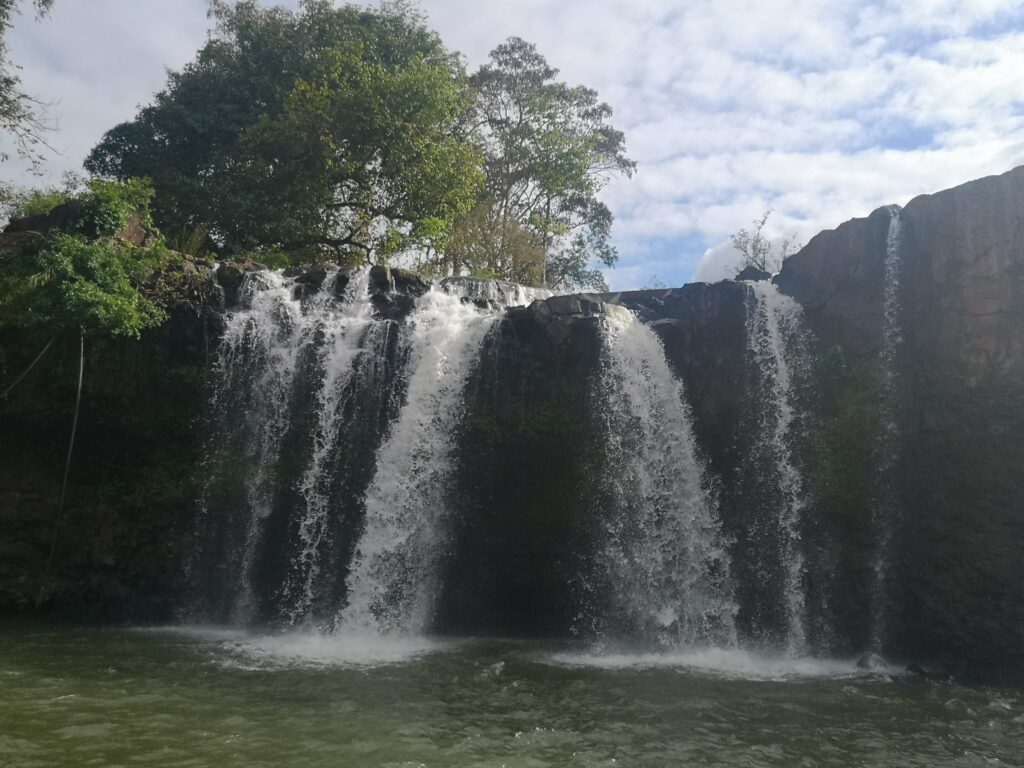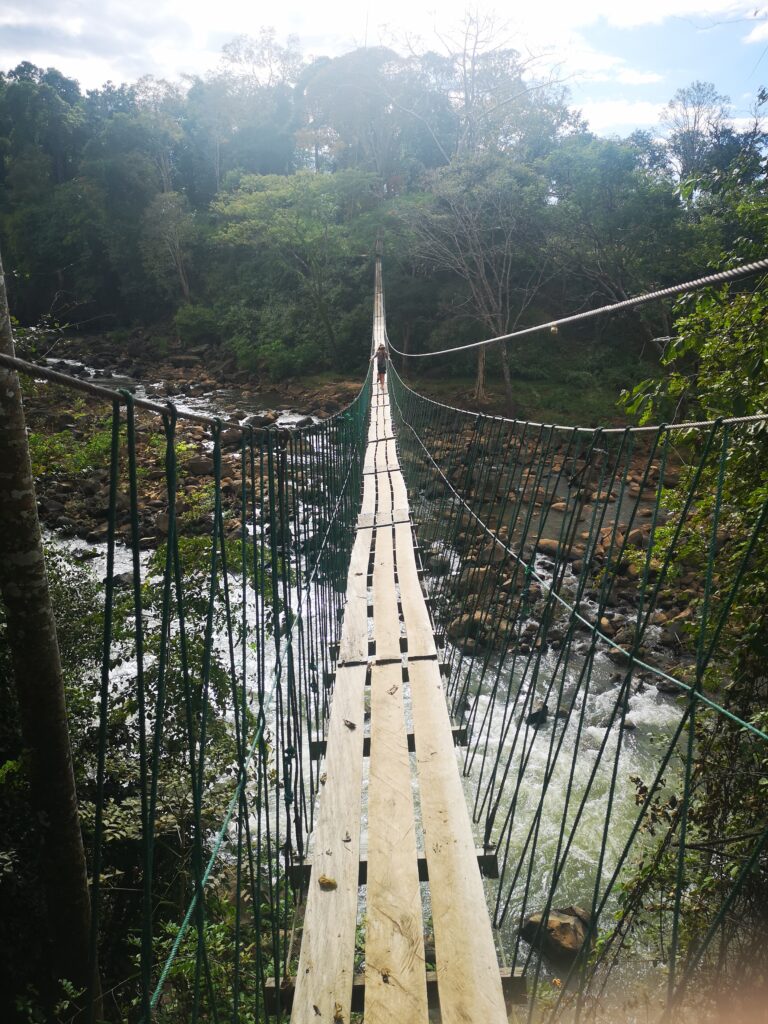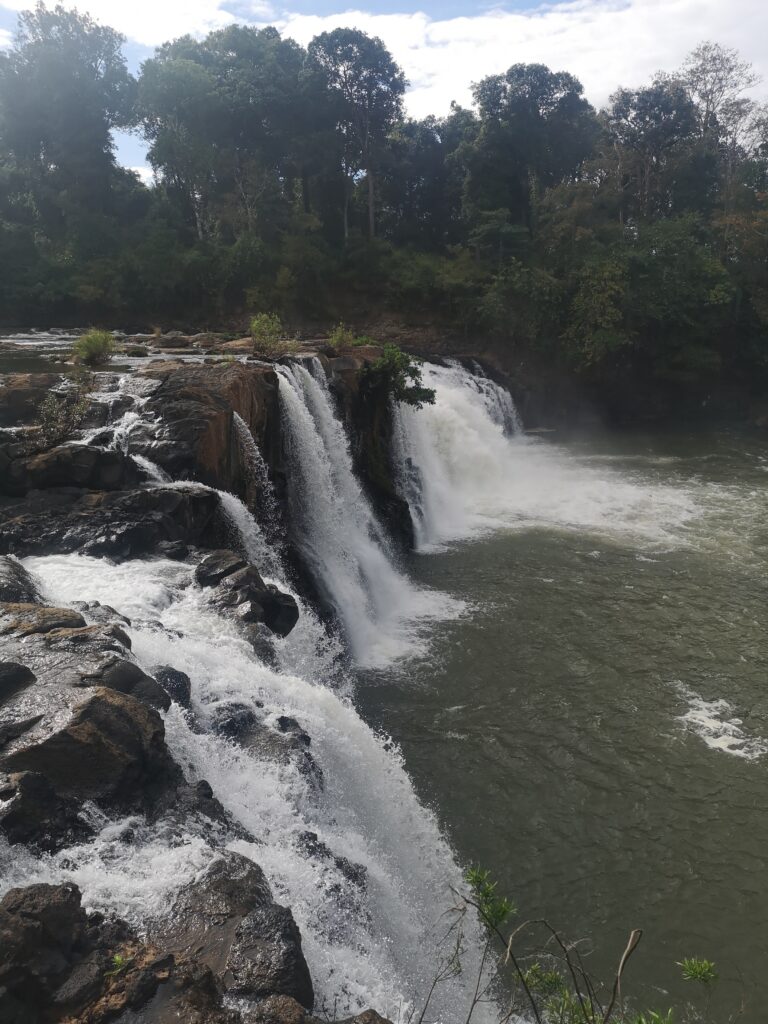 We took some pictures at Tad Hang and then walked to Tad Lo waterfall.  There's a little path along the river and you can bathe just above the falls.  Be careful not to be swept over the top by the current!
Bolaven Plateau day 2 – breakfast, coffee and lunch
We left we early an do stopped in a small village about 25 Kms later. We had steamed eggs and fishcakes, along with sticky rice.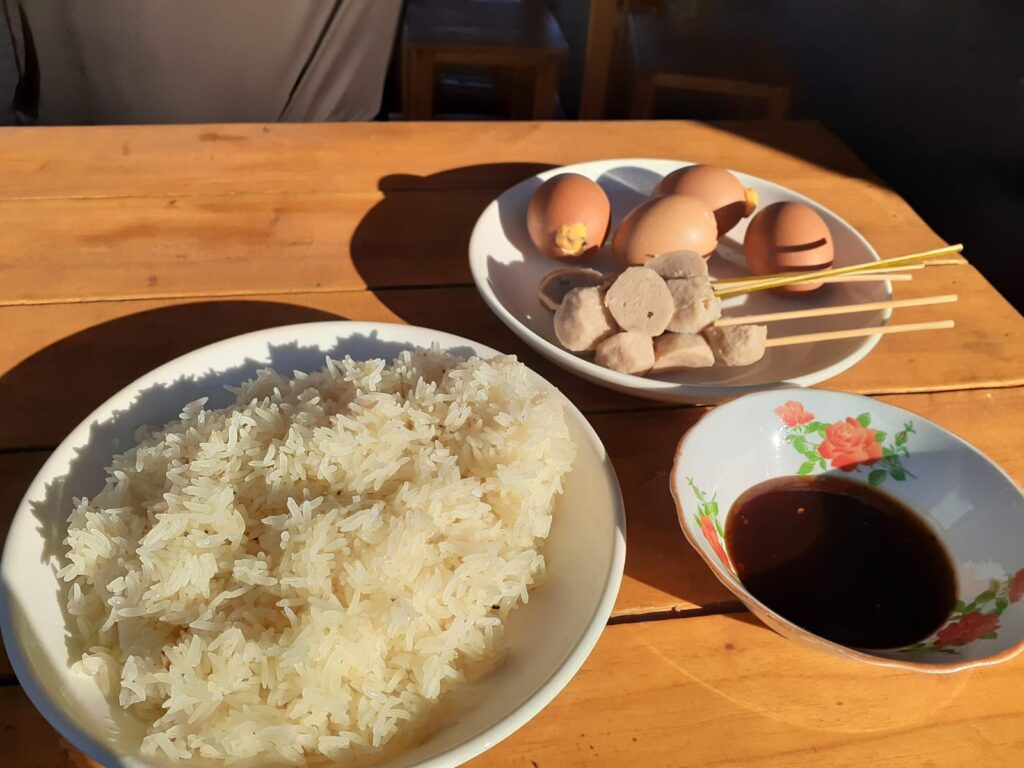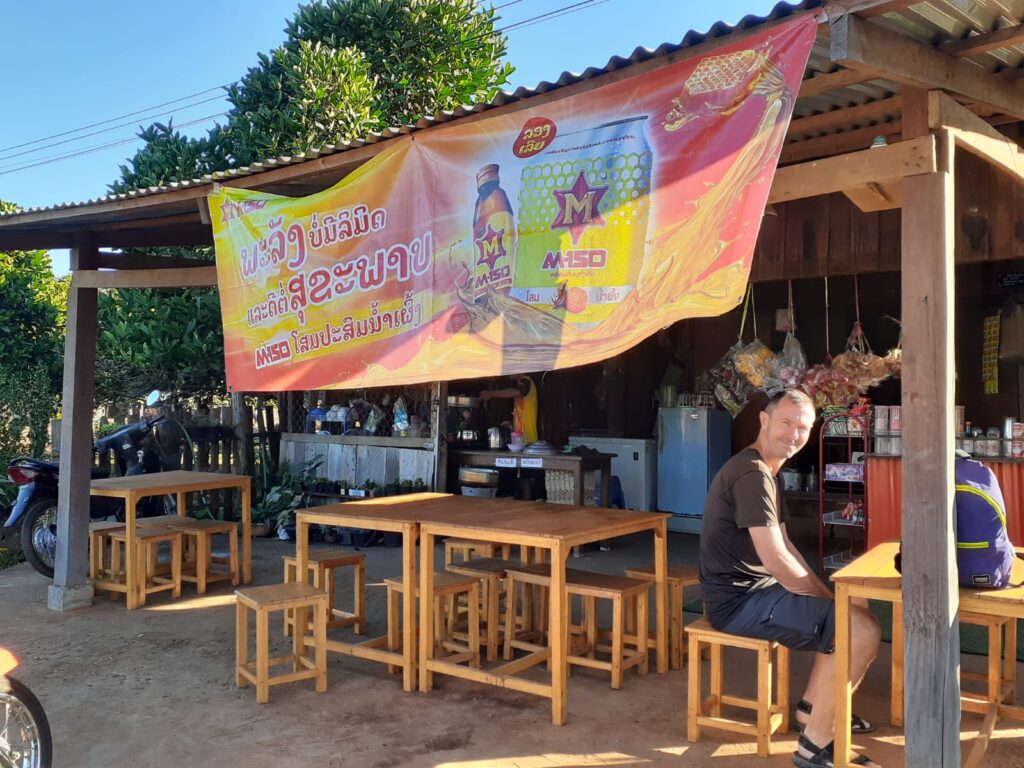 We continued on a few more Kms and stopped at the very swanky Sinouk Coffee Resort for some fresh coffee. 
Our desire for more coffee was slaked when we stopped at Jhai Coffee in Paksong .  Another great one!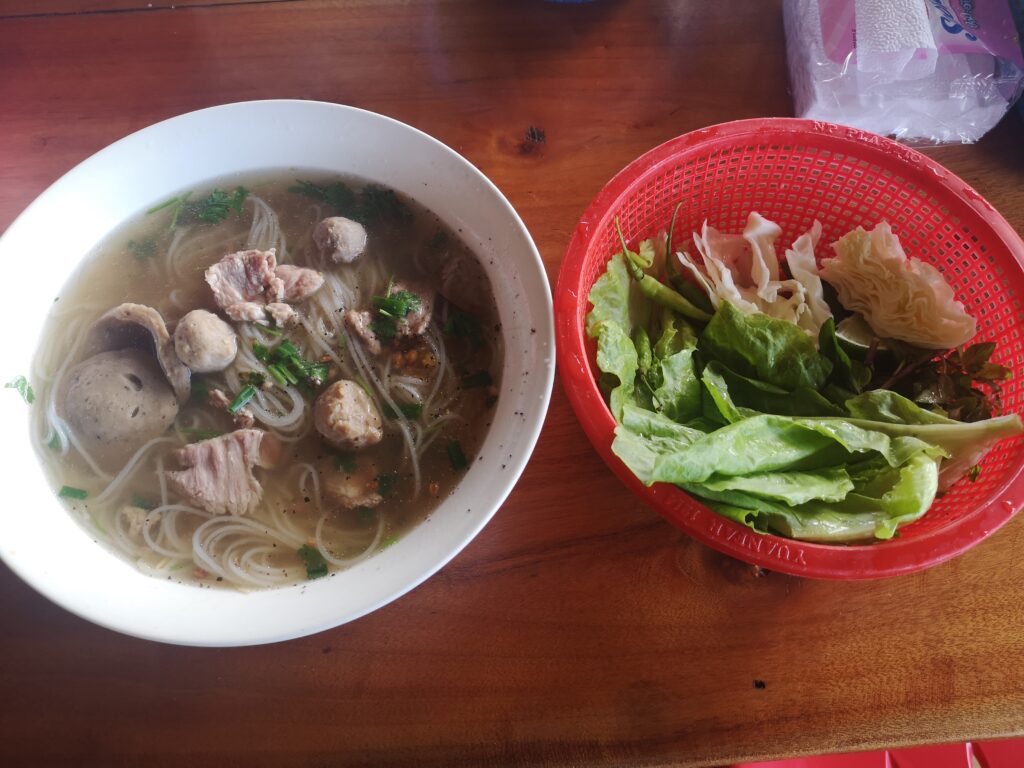 A few Kms later we decided to stop and have some noodles for lunch. Well it was 11:30! Another tasty roadside offering.
Bolaven Plateau day 2 – Tad Yuang and Tad Fane waterfalls
Both of these waterfalls were truly spectacular and quite different.
Tad Yuang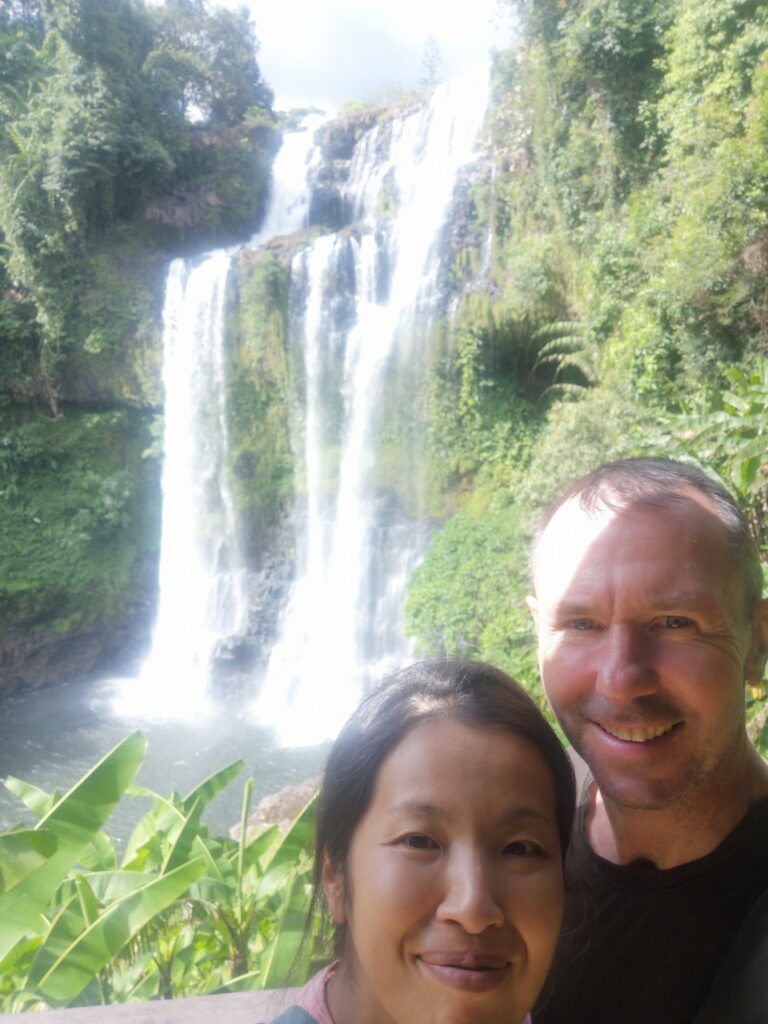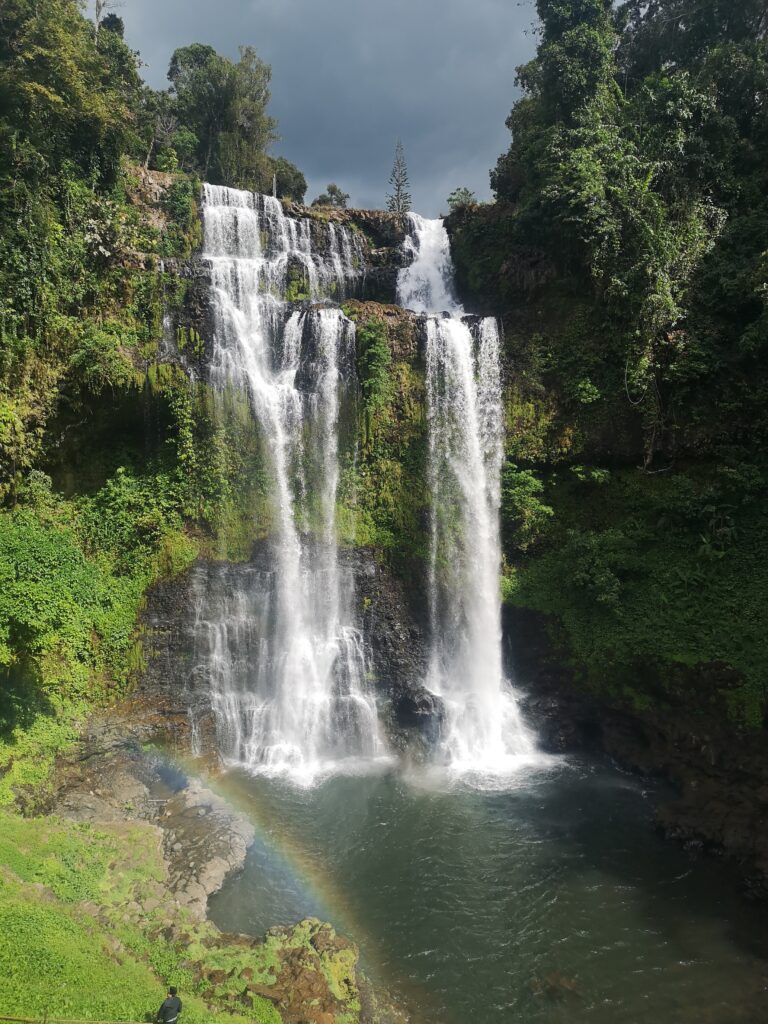 Tad Fane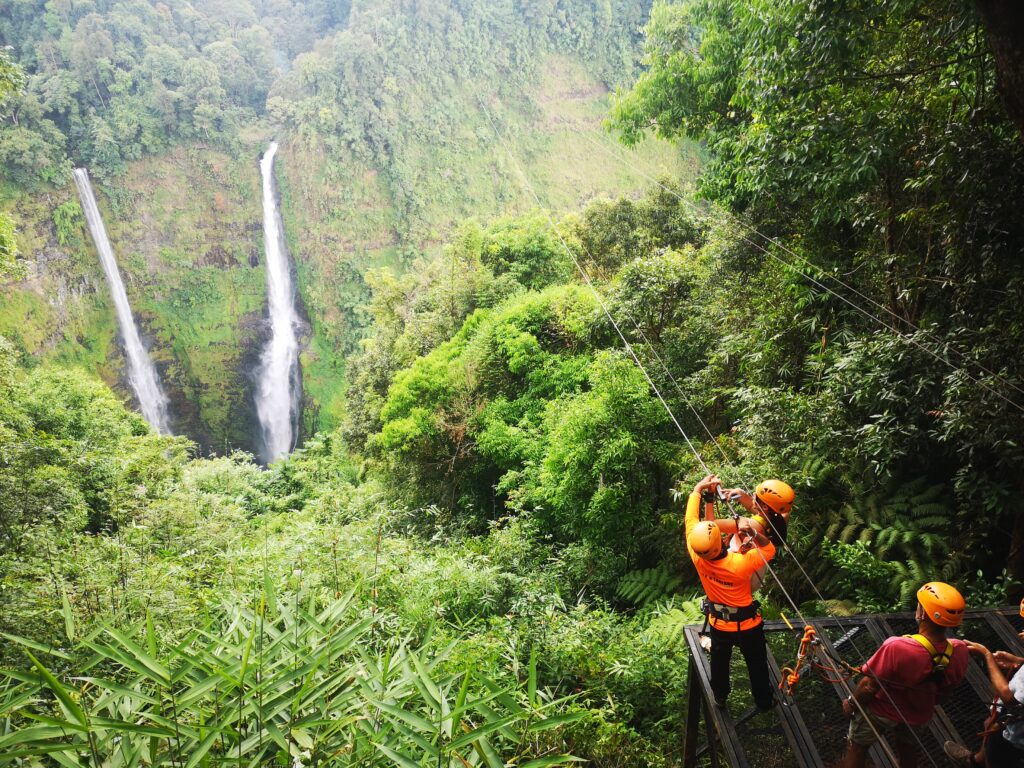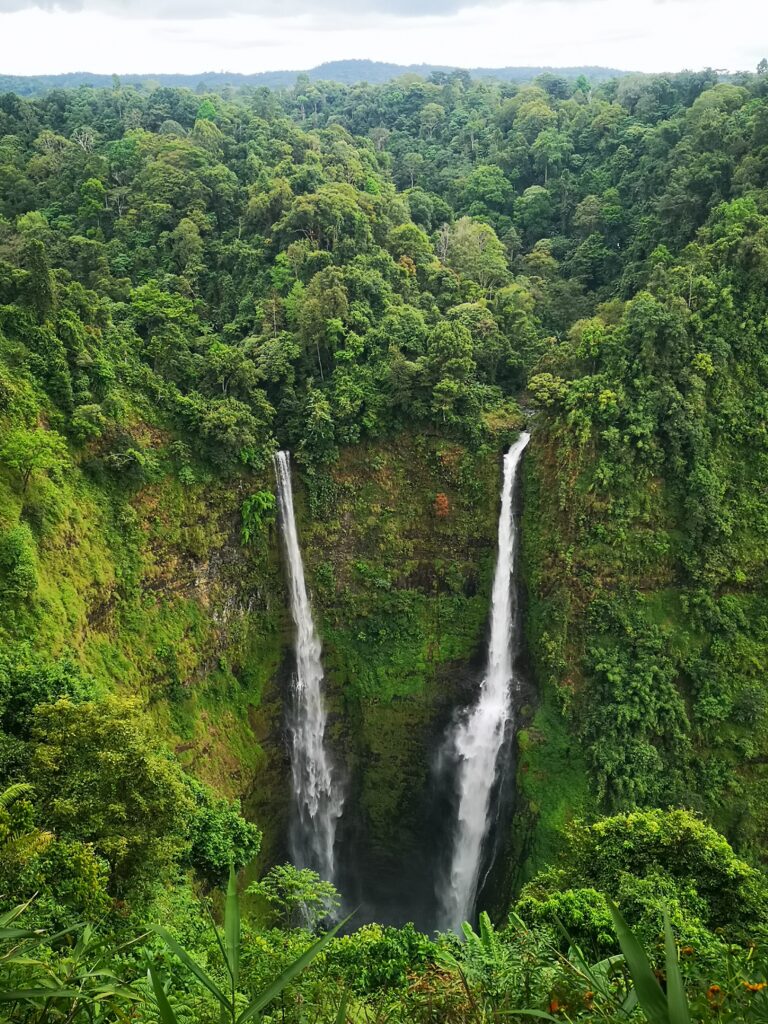 At Tad Fane we spent about an hour watching people doing an enormous zipline.  I'm way too chicken to try any of that!