Vang Vieng is a tourist town located between Vientiane and Luang Prabang.
It attracts many tourists from all over the world and proposes a wide range of activities.
The following is a list of activities and attractions that can be done in Vang Vieng.
What is Vang Vieng like?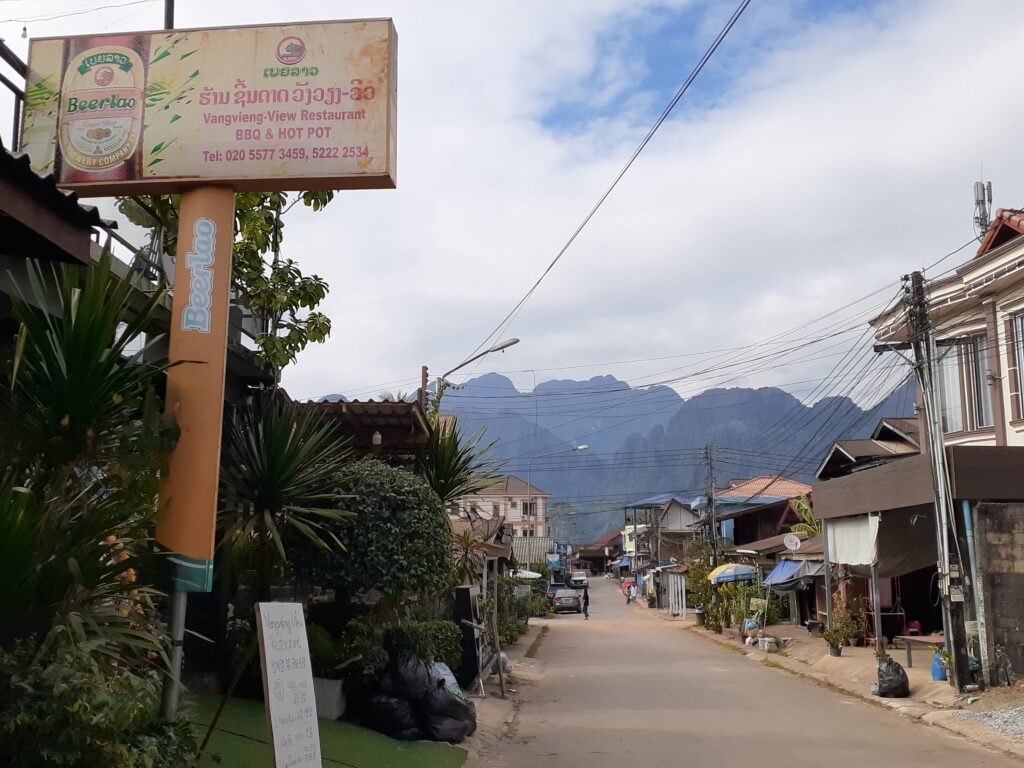 Vang Vieng lies between the two major tourist cities of Vientiane and Luang Prabang.
Vang Vieng has a reputation as a 'party town' and that is definitely possible! The nature around Vang Vieng is very beautiful and I'll share some of the things we did.
Cycling the lagoon loop in the outskirts of Vang Vieng
As mentioned earlier, Vang Vieng has beautiful nature around it!
There are several lagoons on the west side of Vang Vieng, and the access road to them is a loop, so you can cycle around in a circle.
Most parts of the road are unpaved, stony and bumpy. The roads are really dusty with a cloud of dirt rising every time a car or motorbike passes by, so wear clothes you don't mind getting covered in dust.
Bicycles can be hired from a number of shops in Vang Vieng. The condition and price of bicycles vary from shop to shop, so compare and contrast.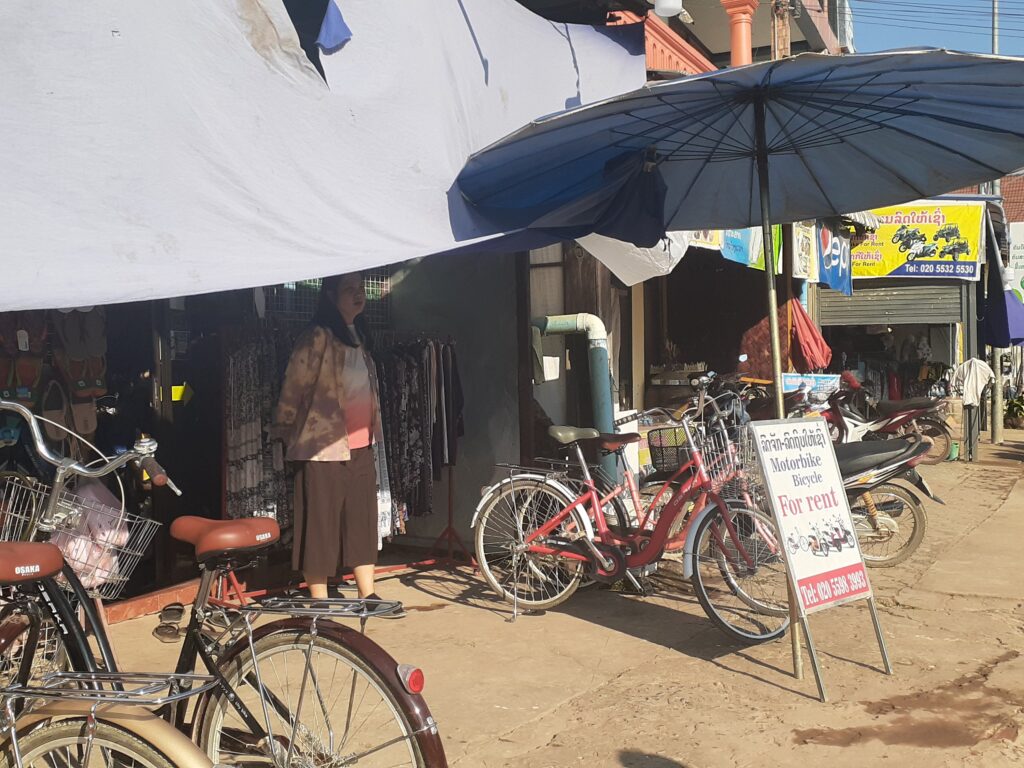 We used a bike rental shop located on the west side and near the foot of the bridge, which was a clothing shop. The initial asking price for a classic Asian sit up bike was 40,000 kip per day, but we negotiated and got a slightly lower price. It is easier to negotiate if you are using more than one bike or for more than one day, so give it a try.
To access the lagoon, cross the bridge into the western district of Vang Vieng and continue directly west, turning either way at the junction of Phone Ngeun village to go around in a circle.
There are several lagoon access points on this loop. In warmer weather, you can swim in the lagoon, so bring your swimming costume.
To be honest, the lagoons are not as spectacular as the nature I have seen in Laos. However, the cycling trails are a great way to enjoy the countryside.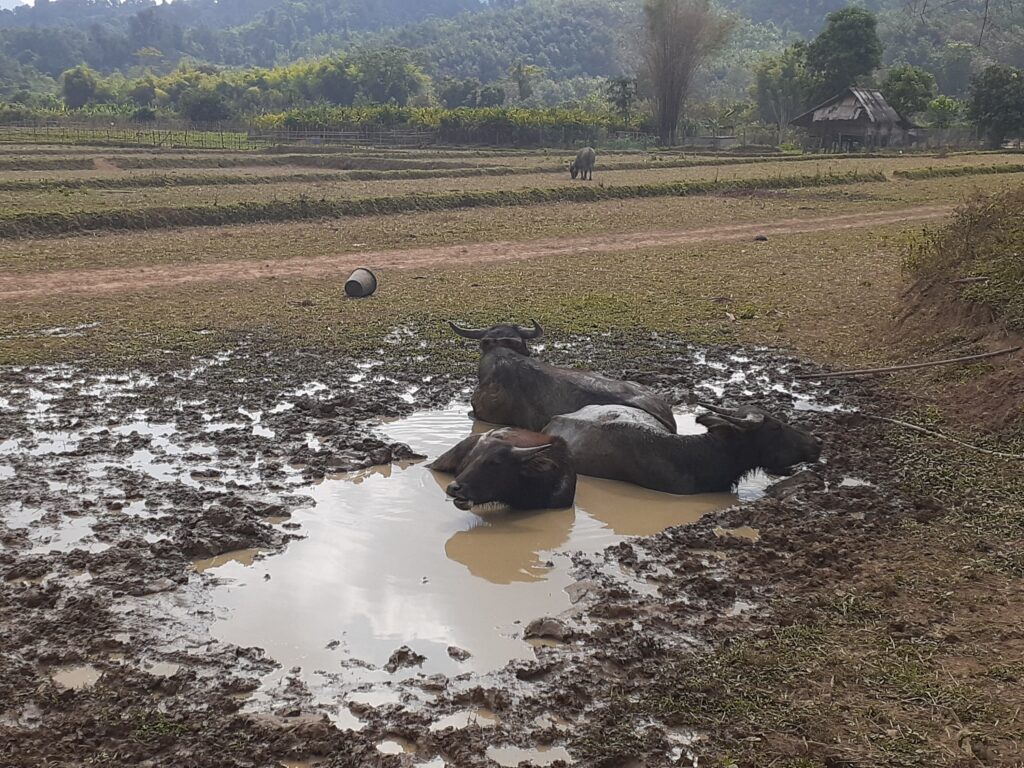 Outdoor sports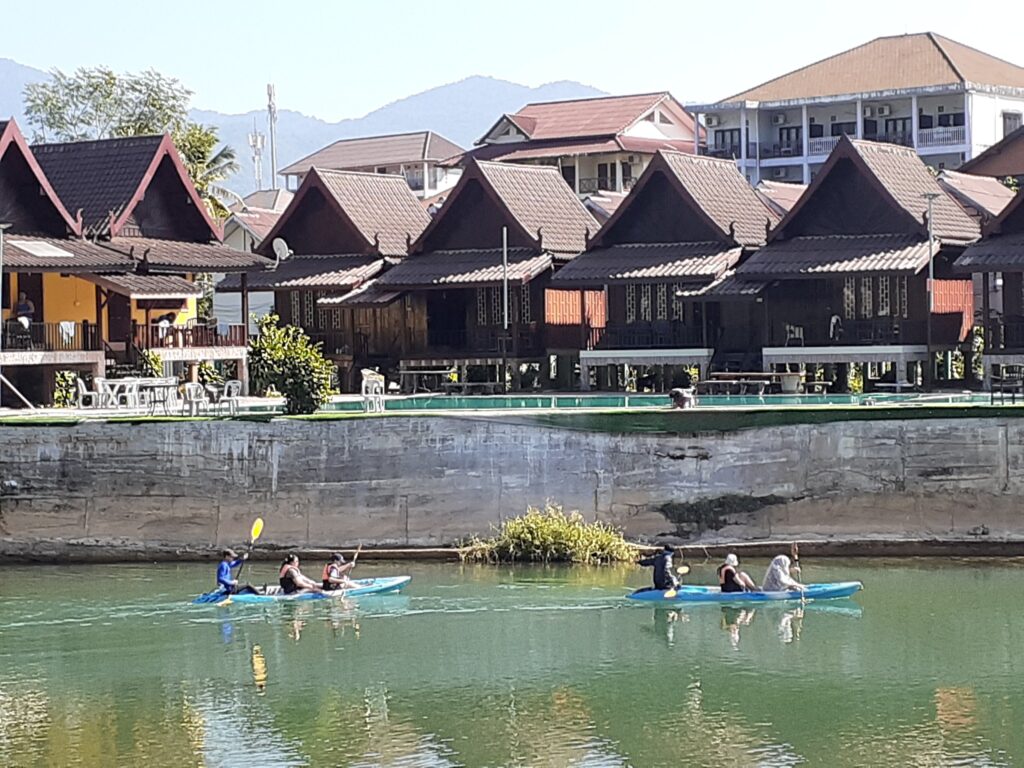 Vang Vieng (Vang Vieng) also offers a variety of outdoor sports.
Travellers enjoying canoeing were seen on the Nam Son River, which flows through the city.
There are also paragliding and rock climbing classes.
Balloon rides are also a popular activity.
Exploring the city of Van Vieng
There is not much to see in the town of Van Vien (Vang Vieng), but we took a wander around.
We stayed in a guesthouse on the western outskirts of the city. This meant we had to cross a bridge every time we went into town, which was unusual.
There are two bridges and you can see the Nam Son River from the bridge. Many travellers take photos.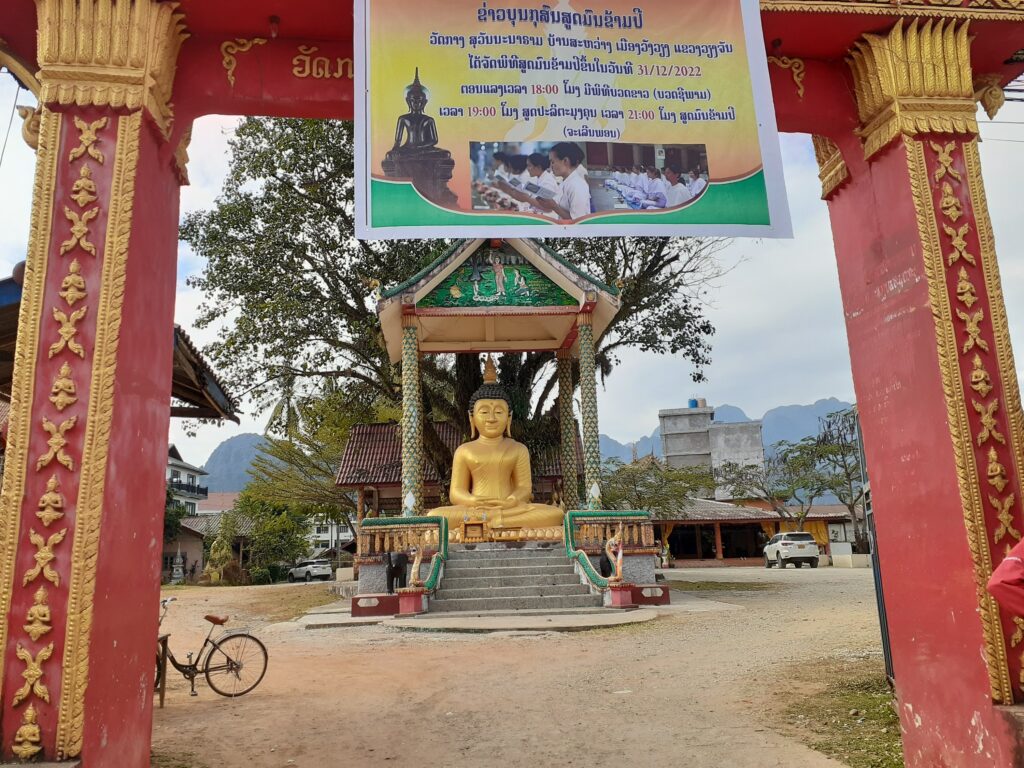 Like other towns in Laos, Vang Vieng has many temples. It is recommended to take photos at these temples and spend time in the trendy little cafés.
Accommodation in Vang Vieng
There are hundreds of places to stay in Vang Vieng (Vang Vieng). We visited on New Year's Day, a short time after Laos re-opened its borders, and it was easy to find accommodation without a reservation.
If you want to enjoy the city life and nightlife, staying in town will be more convenient. We stayed in a bungalow a little further out of town as we valued a quiet sleeping environment over partying.
Maylin Guest House is located on the west bank of the town. Detailed reviews are available on Google Maps.
Food and restaurants in Van Vieng
We came to Van Vieng on the 31st December 2022. So we were a bit excited to have dinner on the big day at a restaurant that was not typical of budget travellers.
Pizza Luka
This is an authentic pizza restaurant near the guesthouse where we stayed. It is run by a French couple and is somewhat upmarket, but the taste and service are excellent. For further reviews, see Google Maps.
Lotus restaurant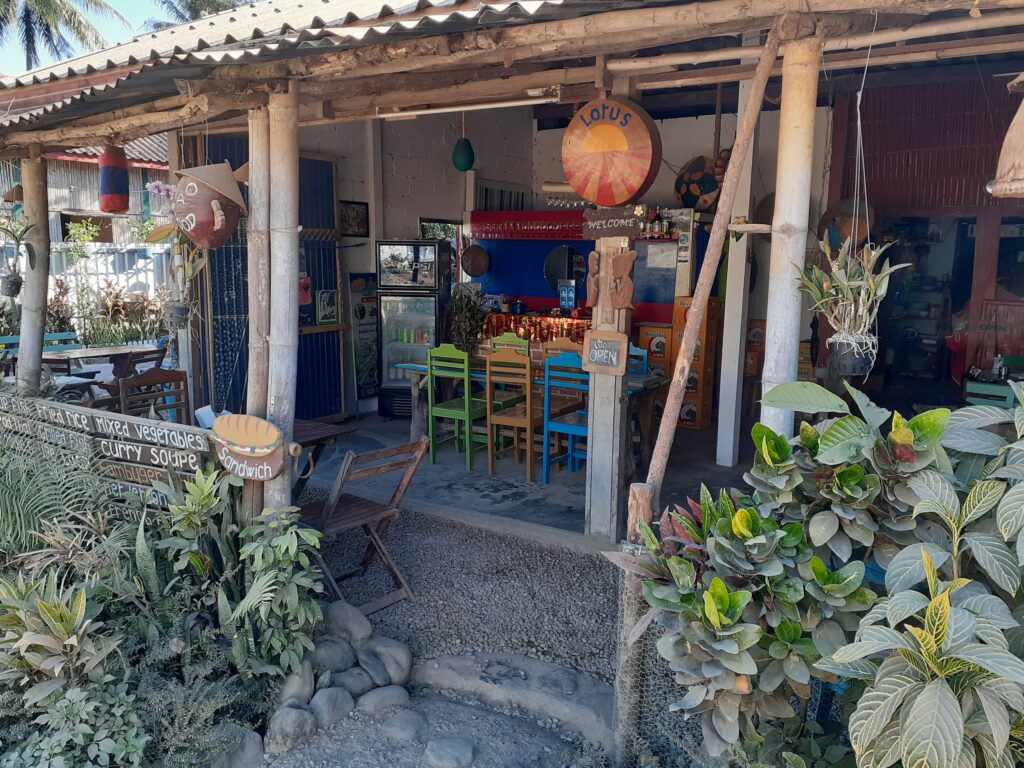 This restaurant is also close to the guest house. The handmade style of the restaurant has a nice and relaxing atmosphere. Click here for reviews and more information.
Rocky Mountain Restaurant and Bungalows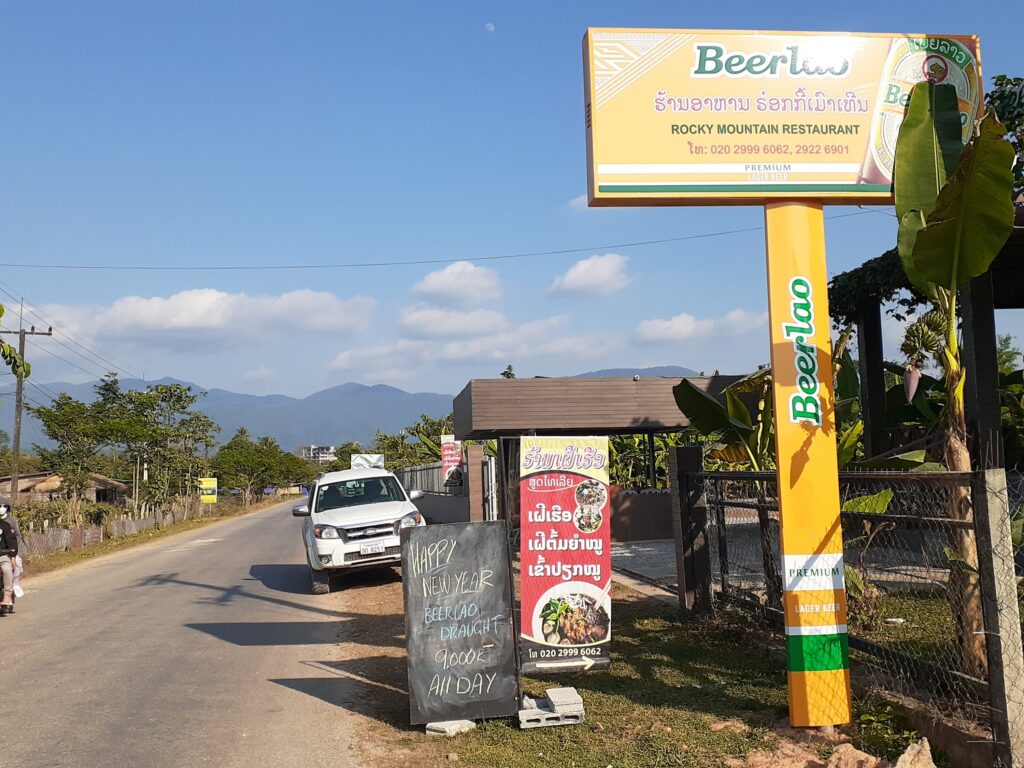 Stopped here on the way back from cycling. The restaurant is run by an Australian-Thai couple. We were attracted to the restaurant by the sign saying that a glass of Bia Lao draft beer costs 9,000 kip. Thai and Western food is available. Click here to see more details.
Family Restaurant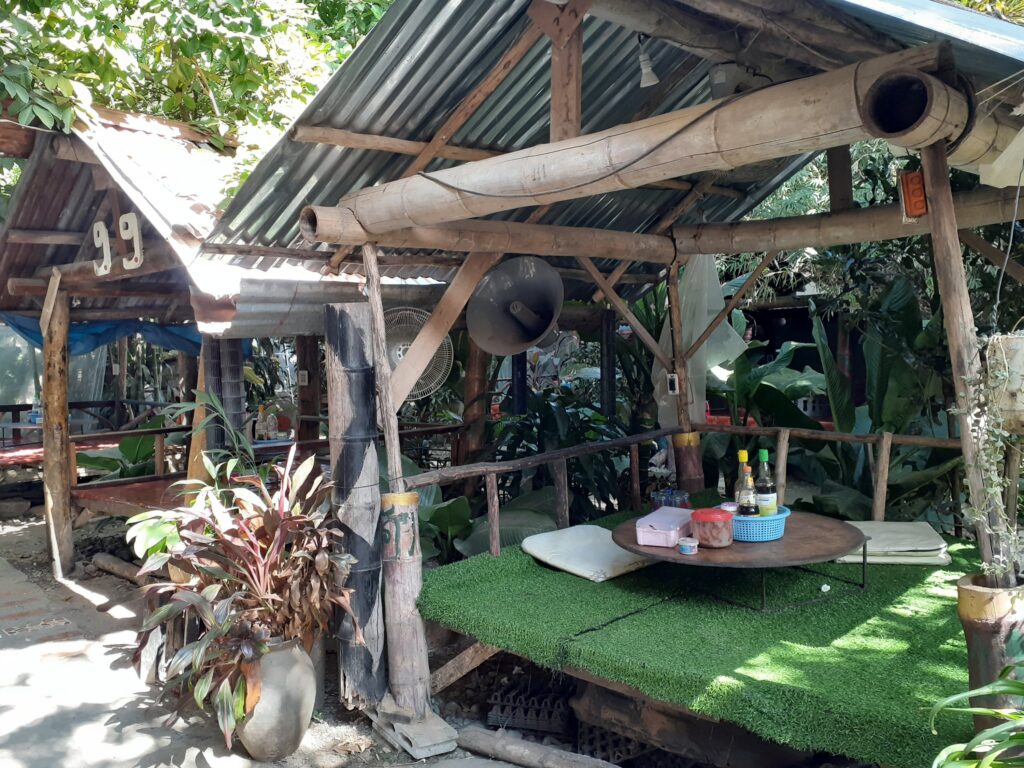 I don't know the name of this restaurant, but it was reasonably priced and had a good atmosphere and service. Click here for a review.
A little Restaurant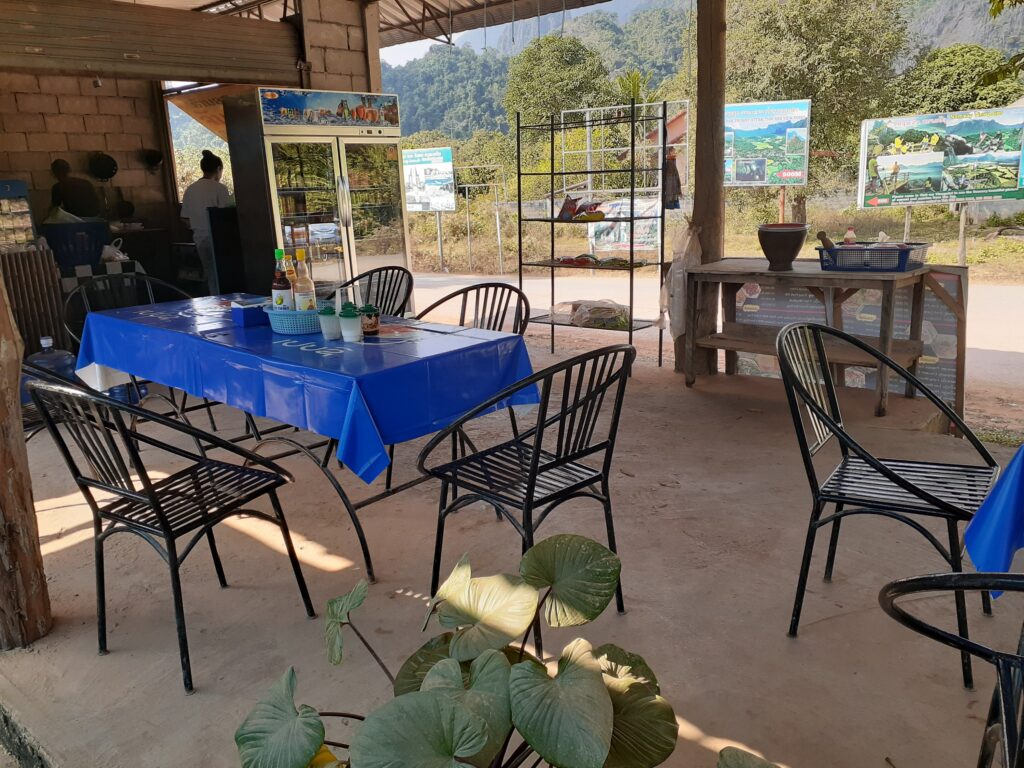 Stopped here on a cycling loop to the lagoon. There is an English menu and it is easy to order. See Google Maps for reviews and images.