I arrived in Singapore from Makassar and was going to stay overnight before connecting from Indonesia to Vietnam.
The metro is a convenient way to get from the airport to the city, so I had bought an EZ-link card, a transport IC card, when I was here last time.
However, when I tried to charge the card at the airport station, I could not charge it with my credit card.
EZ-link card in Singapore
The EZ-link card is a transport IC card that can be used to board subways and buses in Singapore with a simple tap.
The last time I was in Singapore, I bought an EZ-link card to take the metro from the airport to the city centre. Currently, regular tickets (standard tickets) cannot be used; they appear to have been discontinued in January 2022.
Therefore, you have to buy an EZ-link card or a Tourist Pass to ride the metro. We don't use public transport that much, so a Tourist Pass is not worth it. So we bought an EZ-link card.
EZ-link cards cannot be charged by credit card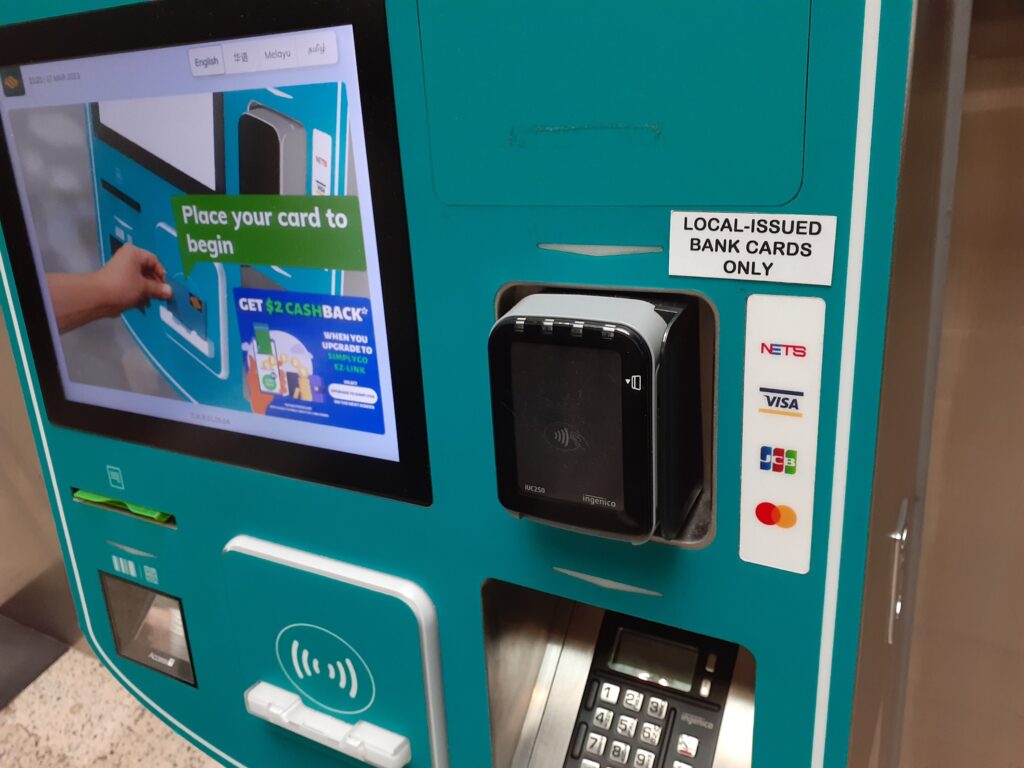 The EZ-link card will not let you through the turnstiles if your balance falls below $3. I remembered that I had almost used up my card the last time I came here and knew that I would have to charge it before I could use it this time to get through the turnstiles.
So I decided to charge my card at the airport station, and when I checked online before arriving in Singapore I found that I could charge it with a credit card. So I was happy that I could get to the city without having to exchange money at the airport…
However, when I tried to recharge my card at the machine at Changi Airport station, it did not work with a Canadian credit card or a Hong Kong credit card. On closer inspection of the machine, it says that only Singapore bank-issued credit cards can be used.
This inconvenience in the cosmopolitan city of Singapore was unbelievable, and I asked at the actual ticket counter if I could recharge my card there and was told it was cash only!
I had no choice but to return to the airport lobby to exchange money for Singapore dollars. I then went down to the airport metro station again and used cash to recharge the card at the counter.
How to use the EZ-link card
Where to buy an EZ-link card
EZ-link cards can be purchased at underground stations and 7-Eleven outlets in Singapore. Apart from subways and buses, they can also be used at 7-Eleven and some shops.
When purchasing the card, you pay $10 Singapore, of which $5 is collected as a card fee. Any unspent balance can be refunded by refunding the card, but the $5 card fee will not be refunded.
The EZ-link card is valid for 5 years
The card itself is valid for five years, so if you are planning to come back to Singapore, it is a good idea to keep the card .
How to use the EZ-link card
When you ride the underground, simply scan your card into the machine when you enter the ticket gate. After using the underground, the card should also be scanned when exiting the ticket gate.
On buses, you get on through the front door, scan your card, and when you get off, scan it again at the back door and get off through the back door.
As mentioned earlier, if your card balance falls below $3, you will not be able to enter the underground turnstiles or take a bus.
Where to charge the EZ-link card
It seems that you can also charge your card at 7-Eleven in addition to the underground stations, but I have not yet tried to see if international credit cards are accepted.
It also seems that you can recharge your card using an app, so I would like to try it next time.