After two nights in Kota Kinabalu, we flew to Kuala Lumpur.
As the journey was within Malaysia, we thought it would be simple, but it seems that passport checks are required when travelling between Borneo and the peninsula.
Flight from Kota Kinabalu to Kuala Lumpur
We booked a flight from Kota Kinabalu to Kuala Lumpur with Air Asia. It was AK5133, departing at 10:25am, expected arrival in Kuala Lumpur is 12:55pm.
Transfer from Kota Kinabalu city to the airport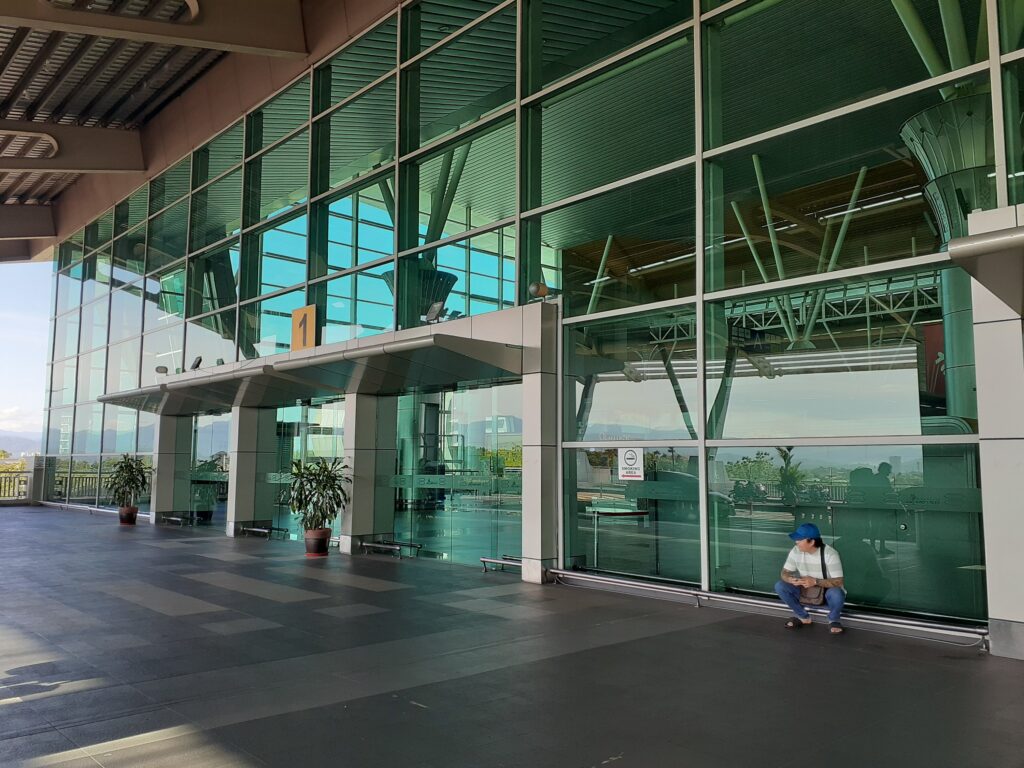 Kota Kinabalu Airport is approximately 7km from the city centre. There used to be airport buses from the city, although not sure in the post Covid world of they are. We saw an old sign in the street that said RM 5 per person.
However, when we checked the Grab app, it was RM 9 to the airport that morning. As there are two of us, a taxi would be cheaper. So we decided to take a Grab taxi to the airport.
It was a Friday morning, the roads to the airport were not busy and it took us about 15 minutes to get there.
Check-in was done online the day before and we also received our boarding passes. So at the airport we thought we would just go through security checks and board.
Passports check at the immigration
Kota Kinabalu is on the island of Borneo and Kuala Lumpur is a peninsula on 'mainland Asia '. But they are both within Malaysia, so we thought it would be a quick and easy way to get around.
However, after passing through security checks at Kota Kinabalu airport, we had to go through the immigration office. I remembered a Malaysian couple we met in Indonesia telling us that even if you are travelling between Borneo and West Malaysia, you need to go through passport checks at immigration.
So did we have to go through immigration again after arriving at Kuala Lumpur airport…?
Boarding an Air Asia flight to Kuala Lumpur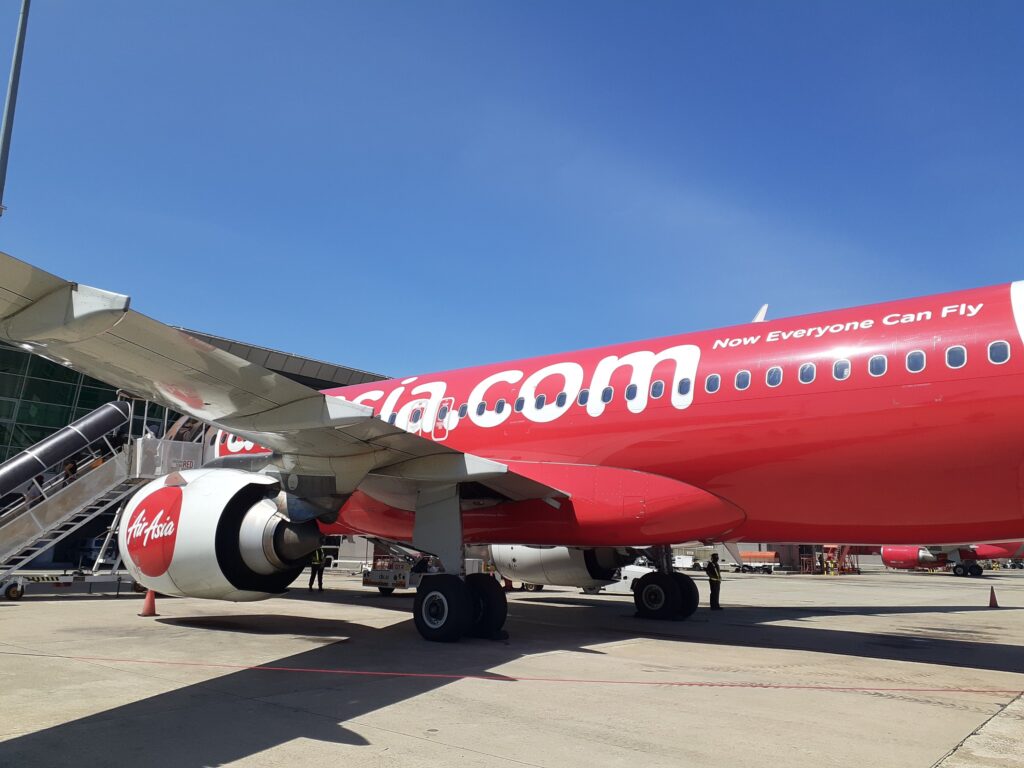 The flight was supposed to take off from Kota Kinabalu at 10.25am, but there was a delay and boarding did not start until the scheduled departure time
The flight was delayed a little and left Kota Kinabalu at around 10.40am.
Arrival at Kuala Lumpur Airport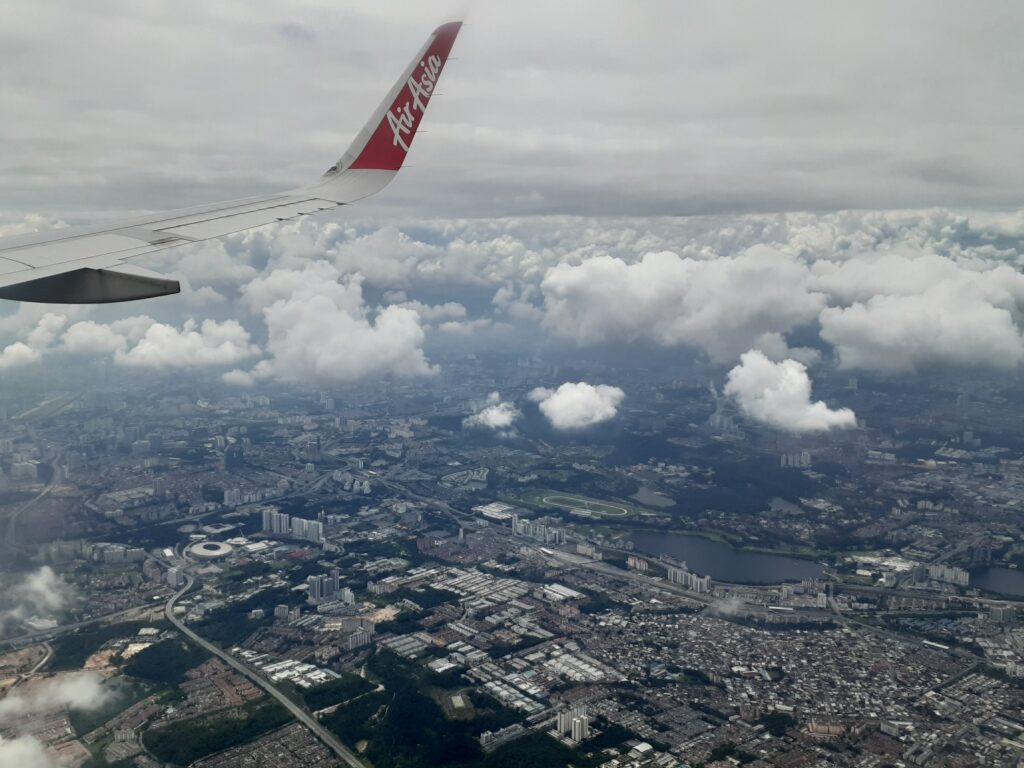 We arrived in Kuala Lumpur at 1.30pm. We walked briskly towards the Arrival Hall, thinking we might have to go through immigration, but there were no immigration-like booths and we went out to the exit.
It seems we didn't need to go through immigration in Kuala Lumpur because we had already been through immigration checks in Kota Kinabalu.
Getting from Kuala Lumpur International Airport to the city
Kuala Lumpur International Airport is more than 50 km away from the city centre. There are several ways to get to the city, including train, bus and taxi.
Normally, we would have taken the cheapest bus… but when we checked Grab Taxi, it was RM 65 to the hotel we wanted to go to. Compared to the bus plus train fare for two people, it's more expensive (about double), but it's easy and fast, so we decided to go by Grab. Grab has been a great help to us on this trip to Southeast Asia, especially when we have luggage.