After two nights in Bishkek, we crossed the border into Kazakhstan and travelled to Almaty.
The border point on the Kyrgyzstan side is Ak-Zhol and on the Kazakhstan side is Korday. The overland border crossing journey from Bishkek to Almaty is very easy!
Border crossing from Bishkek to Almaty
Both Bishkek and Almaty are large cities, so the border points seems quite organised with heavy traffic. However, as they are busy border crossings, we were told that they can be busy at certain times of the day and can take a while.
The border crossing from Bishkek to Almaty is through the Ak-Zhol border point on the Kyrgyzstan side and the Korday border point on the Kazakhstan side.
International mashrutkas (or buses?) from Bishkek to Almaty are said to be available, but we decided to travel to the border privately.
From Bishkek to the Ak-Zhol border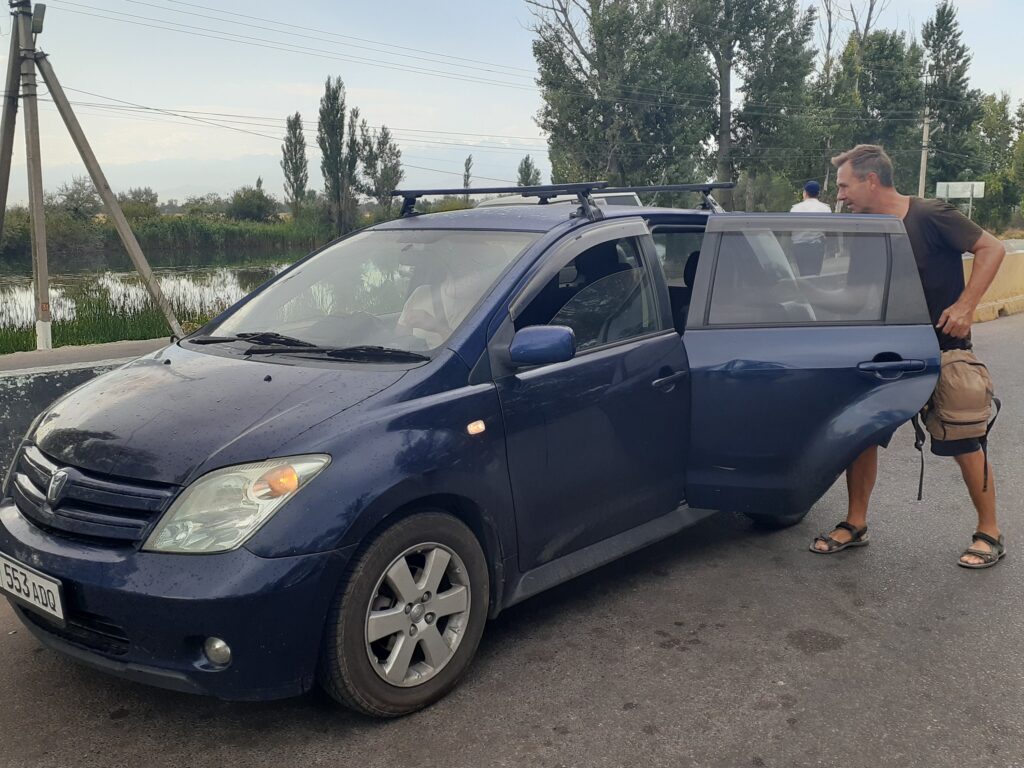 The distance from the city of Bishkek to the Ak-Zhol border point is 23 km. We took a Yandex taxi to the border. We left our accommodation at 8am. The car went smoothly and we arrived in front of the Ak-Zhol border point at 8:35 am. It cost 460 som.
Foreign currency exchange at the Ak-Zhol border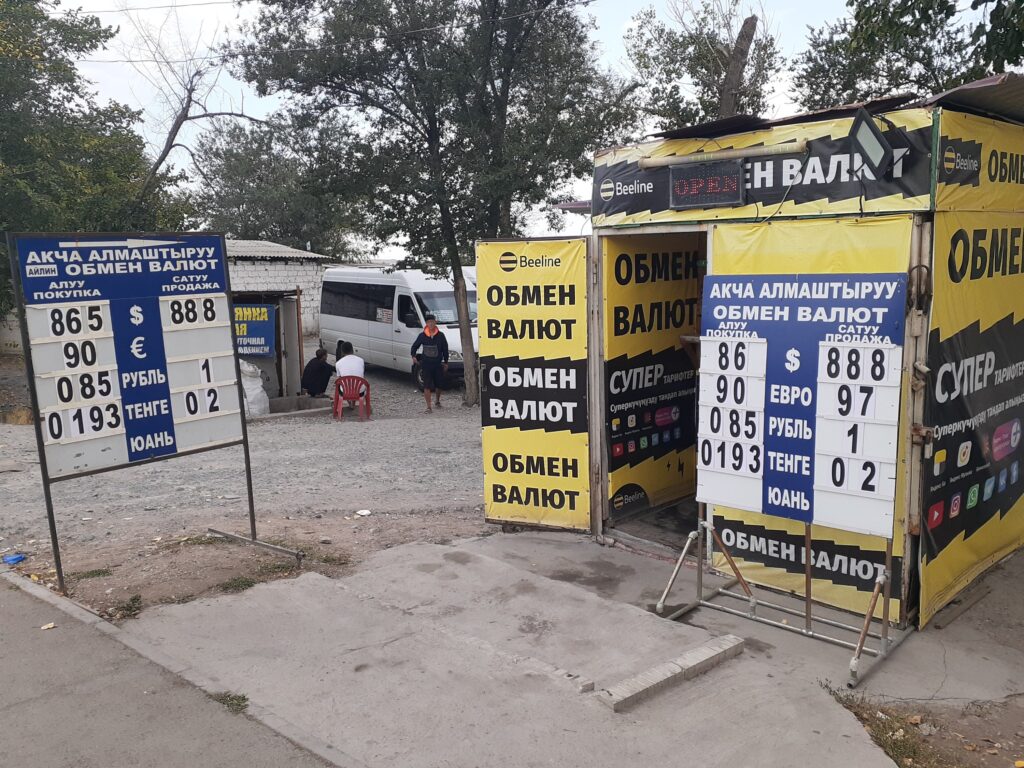 There were several exchange shops in front of the border immigration, so we exchanged our surplus Kyrgyzstan Soms and a small amount of US dollars there.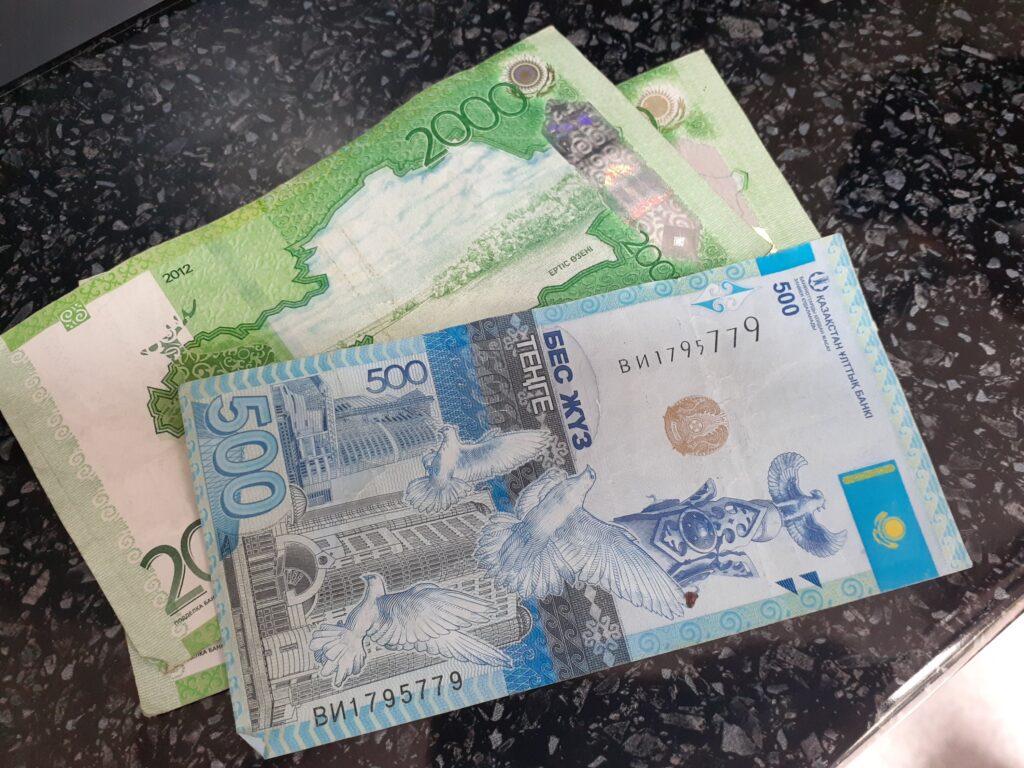 The currency of Kazakhstan is the Tenge. As Kazakhstan is a cashless country, the use of cash seems to be limited. Avoid exchanging too much currency.
Departure from Kyrgyzstan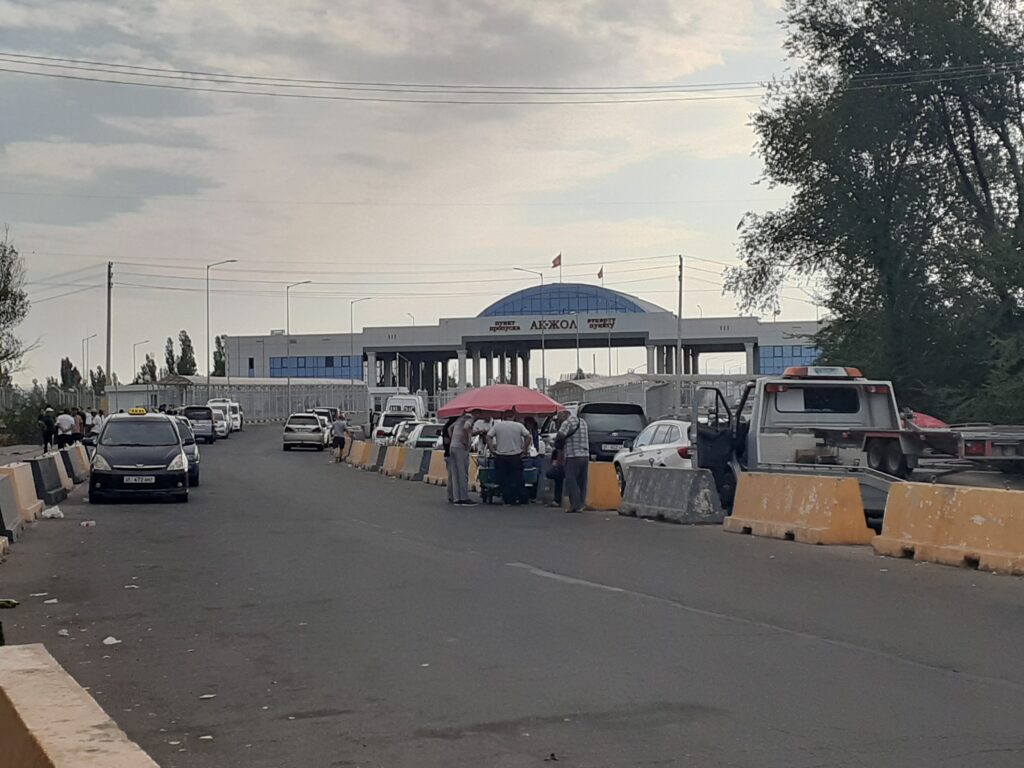 Both Bishkek and Almaty are large cities, so the border point between the two is well maintained.
Passport control is located as soon as you enter the building on the right side of the road. When we arrived, there were few other people leaving Kyrgyzstan and we were able to quickly complete the departure formalities without queuing up. We were quickly stamped without any questions and walked to Kazakhstan Immigration.
Entering Kazakhstan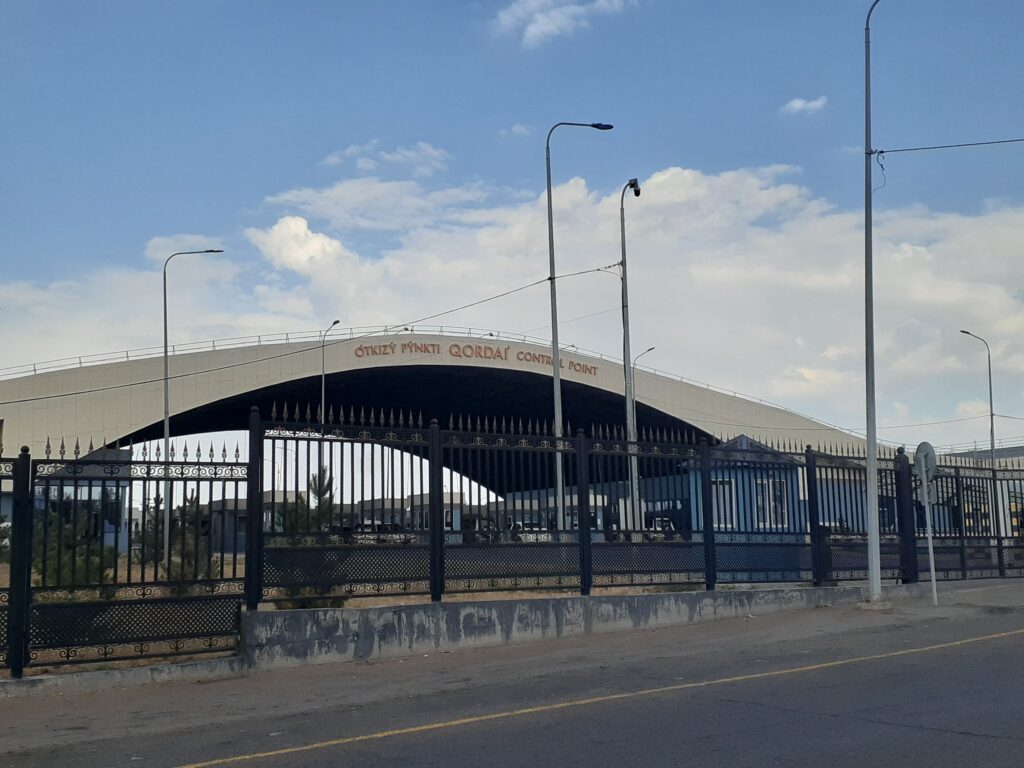 A pathway is provided from the Kyrgyzstan side of immigration to Kazakhstan immigration, so you can cross the border on foot.
The Kazakhstan immigration also had passport control as soon as we entered the building, but there were many booths in a row, and I imagined that there would be queues when it was busy. But on this occasion, we strolled through and were not asked any questions.
After passport control there was a section for scanning luggage and that was it. We left immigration on the Kazakhstan side at 8:50 am. It was an easy and smooth border crossing.
Road from the Korday border to Almaty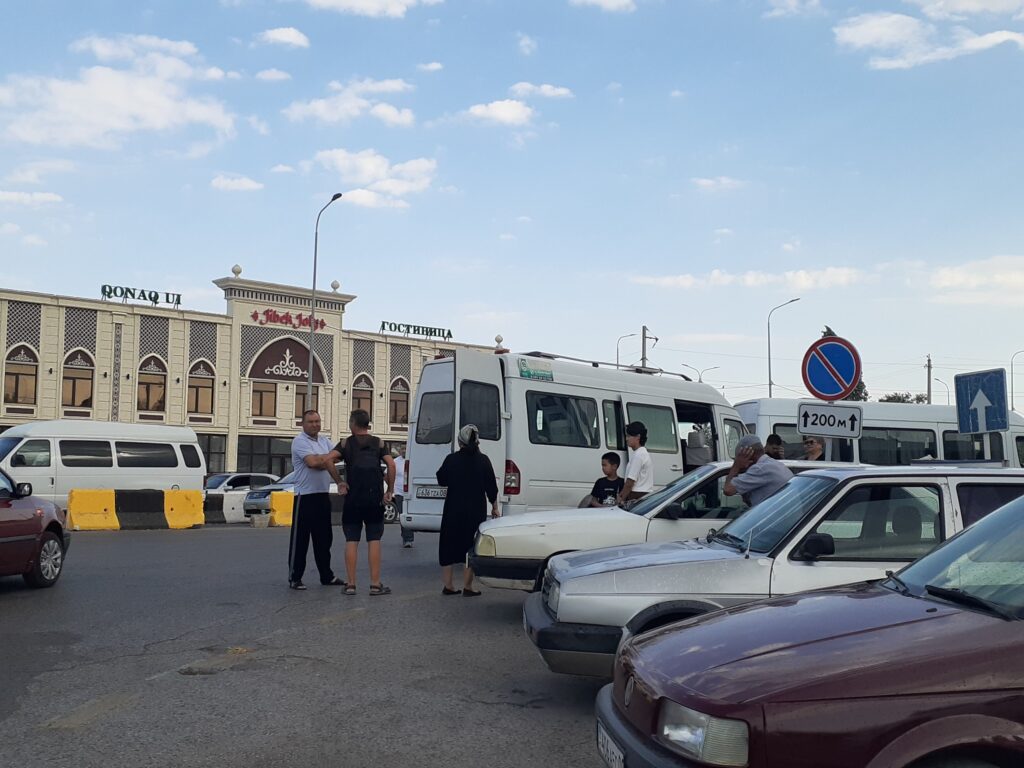 After leaving Korday immigration, we found many taxi drivers waiting for us, and according to the money exchanger just before the Ak-Zhol border, the taxi fare to Almaty costs 4,000 tenge. As we were planning to travel by mashrutka, we did not stop at the taxi stand. We hurried to the mashrutka stand at the square in front of the immigration.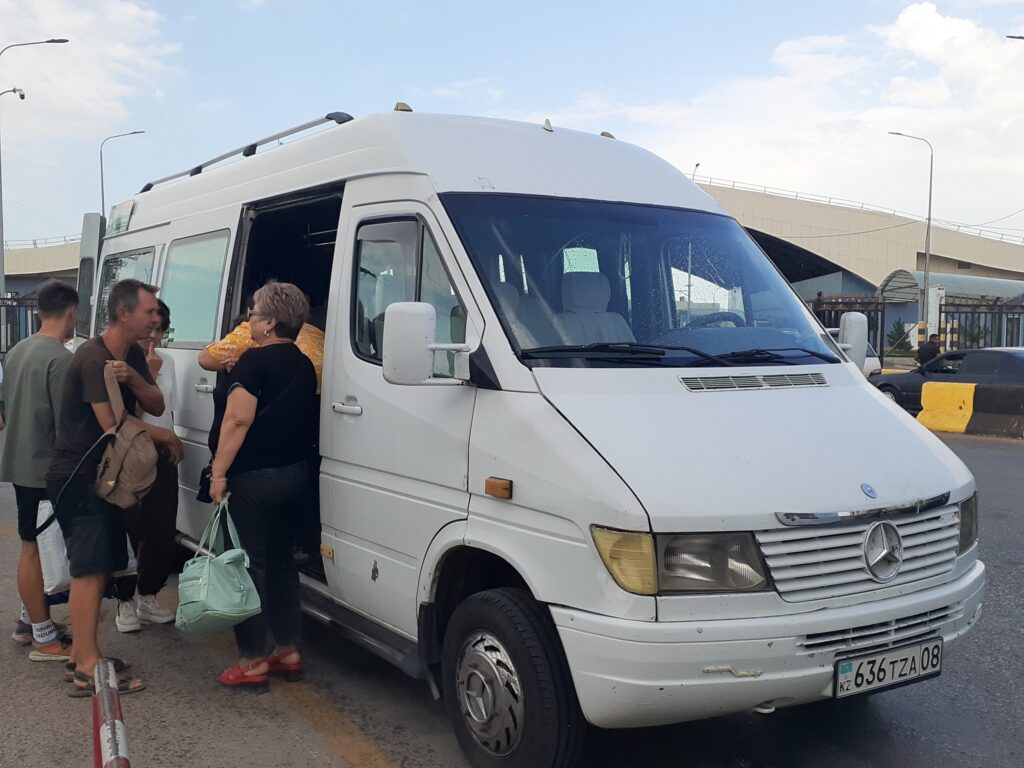 The distance from Korday border point to Almaty city is approximately 217 km. The mashrutka fare is 2,500 tenge per person. Mashrutka arrives at Almaty's Sayran bus station.
The Mashrutka was almost full when we boarded, and after a short wait for other passengers to gather, it departed for Almaty at 9:25 am.
There was a five-minute toilet break en route, but no food break. There are several shops in the toilet break area, so it is possible to get food there.
Arrival in Almaty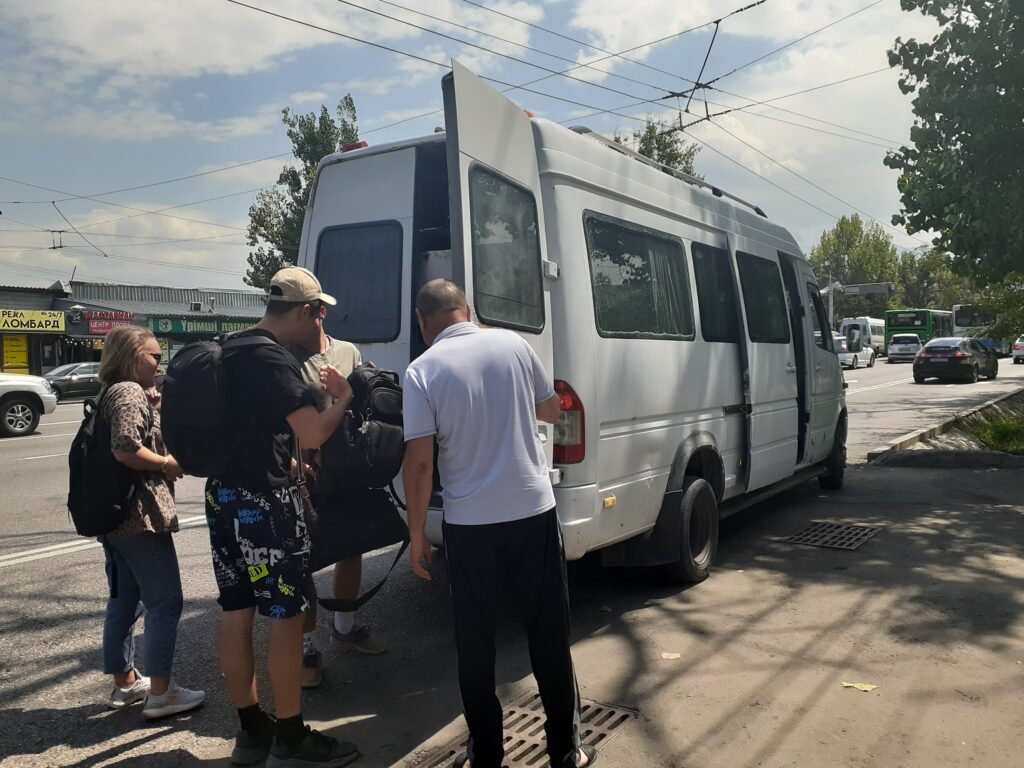 We arrived in Almaty just before 1pm, although there were some road works on the way and we travelled on an unpaved road, which probably took longer. We got off the Mashrutka a little before the bus station.
The accommodation we had booked was 7 km from the bus station. We wanted to buy a SIM card at a shop in front of the bus station so that we could take a Yandex taxi to the accommodation.
There was an area lined with shops selling mobile phones and SIM cards, and we were about to buy a SIM card there, but we were shocked to be told that we could not pay with a credit card. We didn't have much cash with us in Kazakhstan, so we decided to head to our accommodation first. The guy at the shop kindly let us connect our phone to his phone with wifi and we were able to call a Yandex taxi.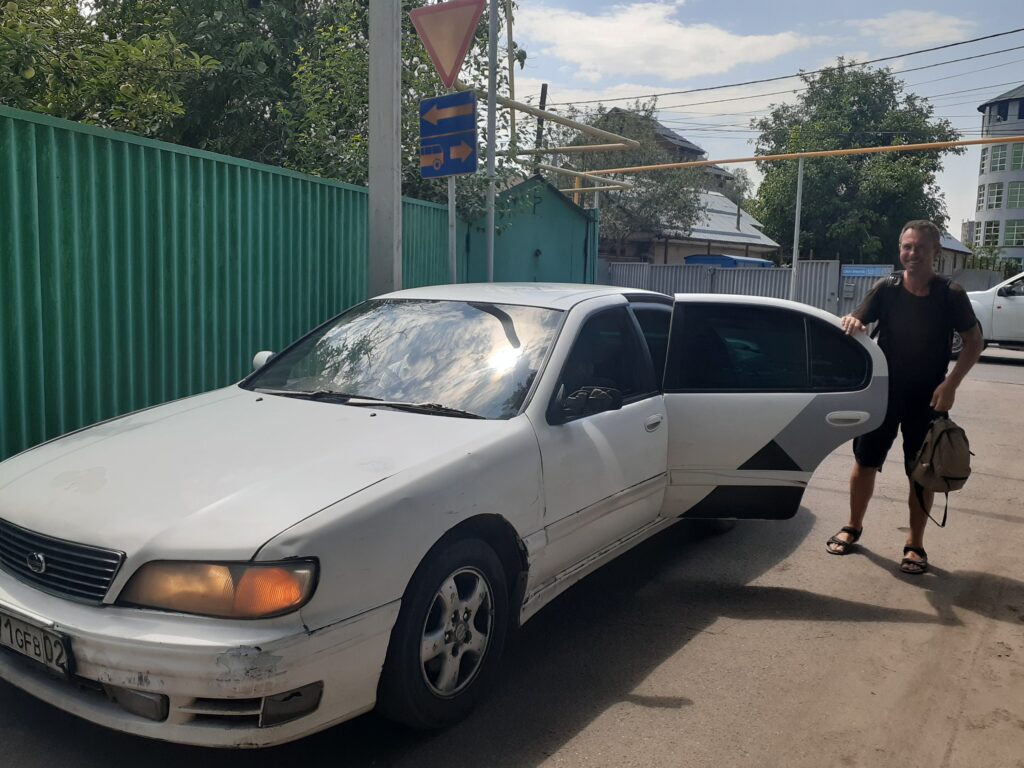 1,880 Tenge for 7km is about USD 4.2, which is expensive compared to Uzbekistan and Tajikistan. It's probably because they run on petrol, not gas. Anyway, thanks to the kind mab at the shop, we were able to arrive smoothly.