Maratua Island is a small island in the east of Kalimantan. We spent a week on the island and stayed in two guesthouses.
Maratua Island is a well-known diving spot, but our purpose here was snorkelling. I will write down my honest impressions of the accommodation and snorkelling on Maratua Island.
Can we snorkel on Maratua Island?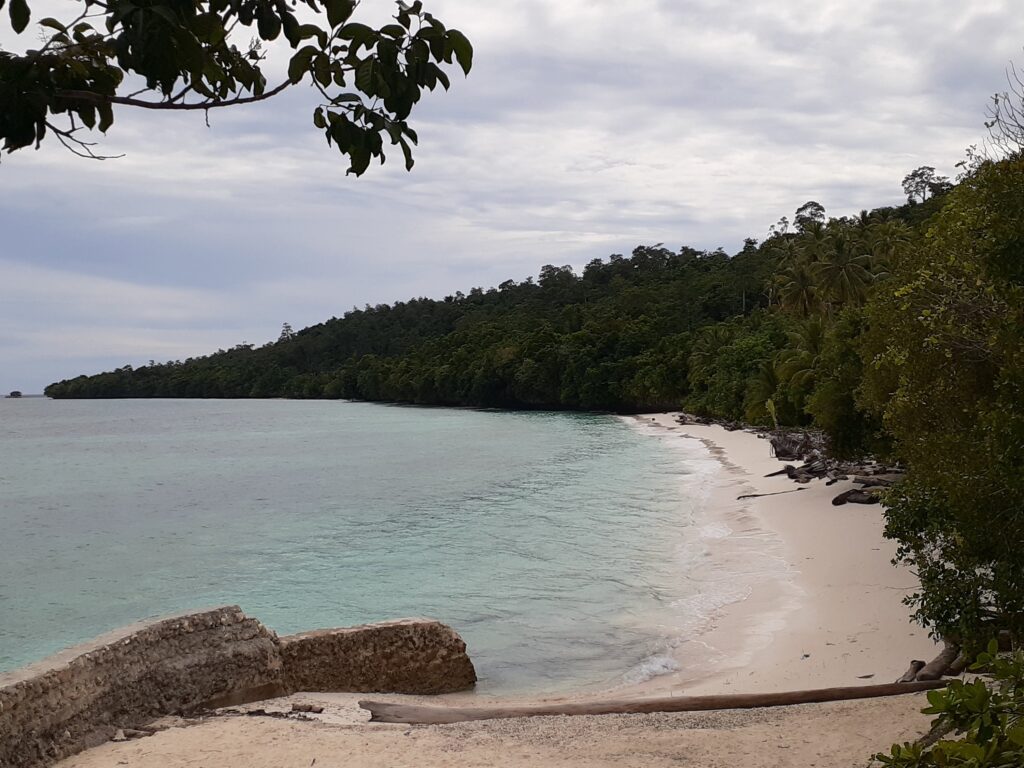 Maratua Island is a small island in east Kalimantan. It has a population of about 2,000 inhabitants and is a popular diving destination.
We don't dive, but as the island is built on an atoll (a ring shaped coral reef), we visited with the expectation that we would be able to enjoy snorkelling.
Between Kalimantan and Maratua, there is the island of Derawan, which is better known as a tourist destination. However, the island is very crowded because of the large number of travellers, mainly Indonesian tourists. Derawan covers a small area of about 2 km around the island and there is a lot of accommodation. We decided to skip Derawan this time and head to Maratua.
Maratua Island, on the other hand, seems to have become more and more touristy over the past few years, but it is still rich in untouched nature and we came here in the hope of getting a good look at the marine life.
Accommodations on Maratua Island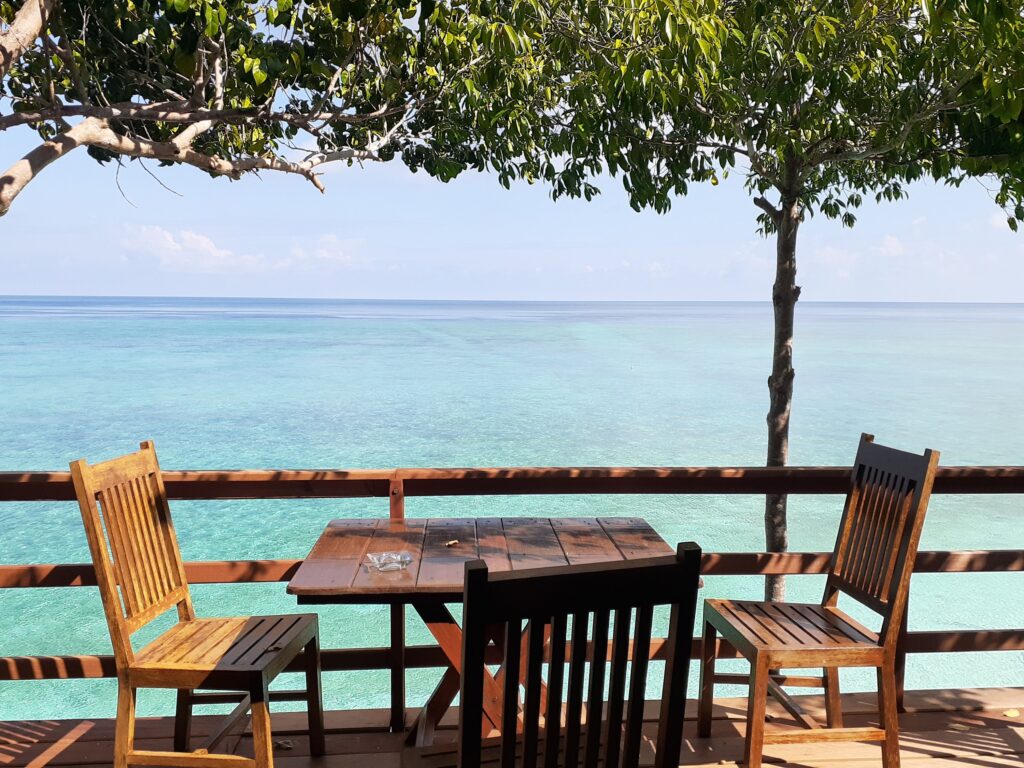 Again, Maratua Island is a popular diving spot, so there are many diving resorts. At the same time, the number of Indonesian tourists is increasing, and many homestays were built in the central area of the village. According to the owner of Maratua Guesthouse, as of 2023 June, there were 47 accommodations on Maratua Island, 22 of which were resorts.
The accommodations on Maratua Island compared to the snorkelling spots in Indonesia where we have stayed are;
Relatively high prices, but the service and quality are also high
High percentage of air-conditioning installed
Electricity is supplied 24 hours a day
Good chance of internet connection (WiFi or Telekomsel network)
Meal packages are available, but there are also many restaurants in the village centre
We stayed at two different bungalow styled accommodations, both of which were air-conditioned and had electricity 24 hours a day, one of which had hot showers. That helps explain why the accommodation prices are higher.
Offshore snorkelling on Maratua Island
When we first arrived on Maratua Island, we stayed at Nouri Cottages where we were the only tourists. On the third day, we moved to Maratua Guesthouse which was not fully booked either. We had the white sand beach in front of us all to ourselves!
Maratua Island is one of most popular diving places and it's getting more and more known to wealthy Indonesians, but still relatively unknown to snorkellers like us and beach-hopping tourists.
Once you go into the sea, you'll encounter lots of sea turtles, tropical fish and giant fish that don't seem to be alarmed. The condition of the reefs in the more easily accessible snorkelling areas is a little uneven from place to place, but once in a spot, all kinds of beautiful corals continue along the coast. Of course, we only stayed for a week, so we didn't get to see everything on the island. You will have to discover the beautiful sights for yourself.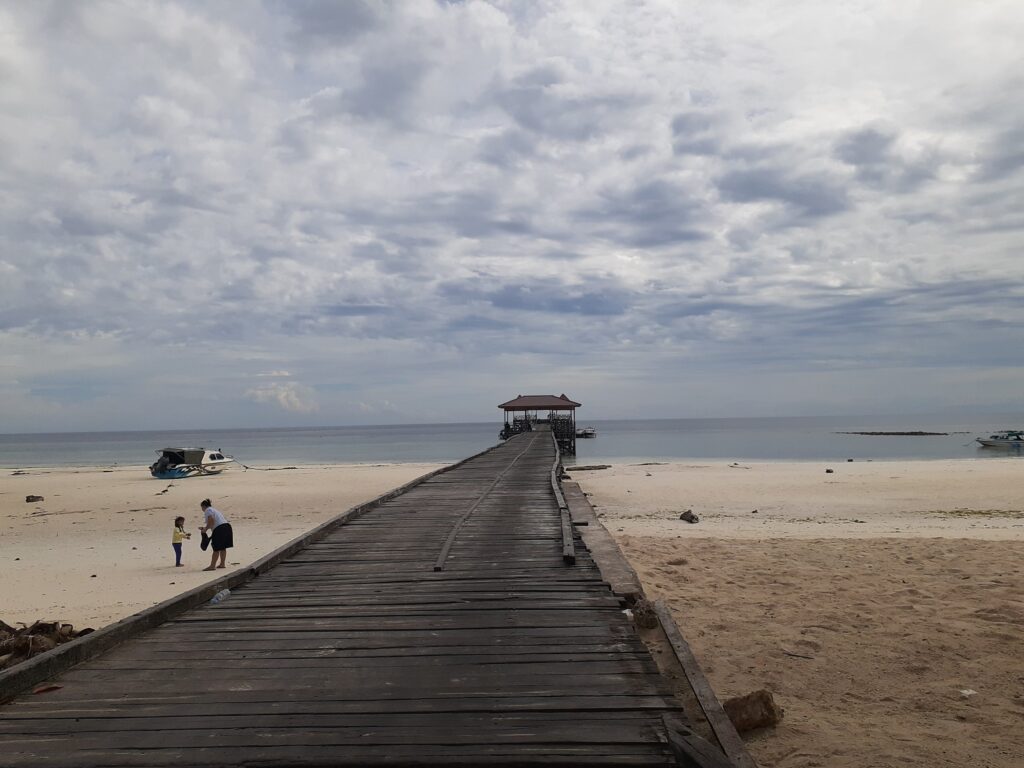 However, offshore snorkelling on Maratua Island is most easily done during high tides. The west coast of Maratua Island, where we stayed, has a gentle drop-off offshore, but up to it, the shallow water is dotted with coral (sea turtles can be seen at certain times of the day). It is therefore difficult to swim to the drop-off from the beach at low tide. It is possible to walk and get into the drop-off to snorkel, but you will need underwater shoes to avoid damaging your feet on the coral.
You can also enter the water from the jetty at Maratua landing, where regular speedboats arrive. However, the stairs are not in good condition and it may be difficult to climb out of the sea at low tide.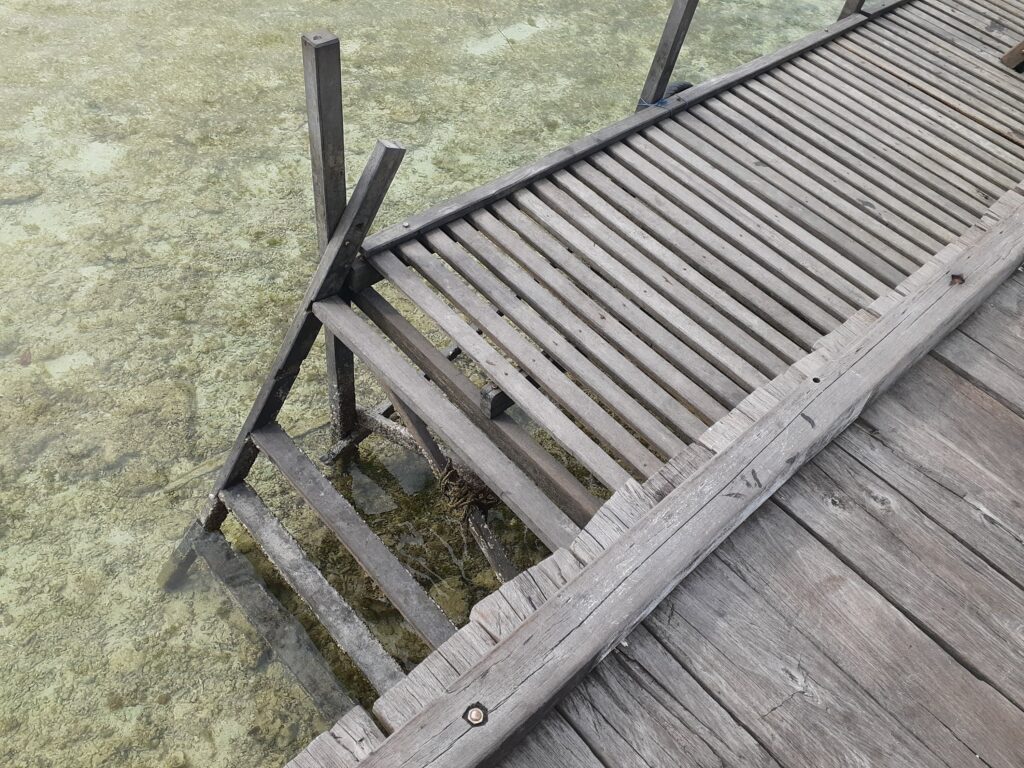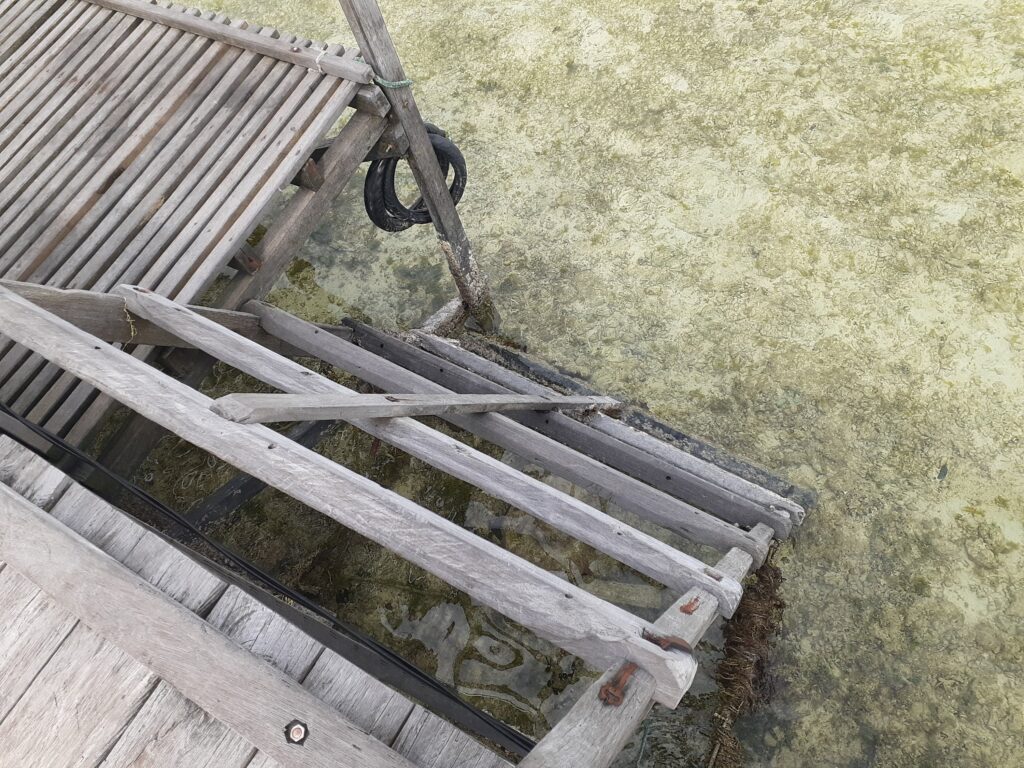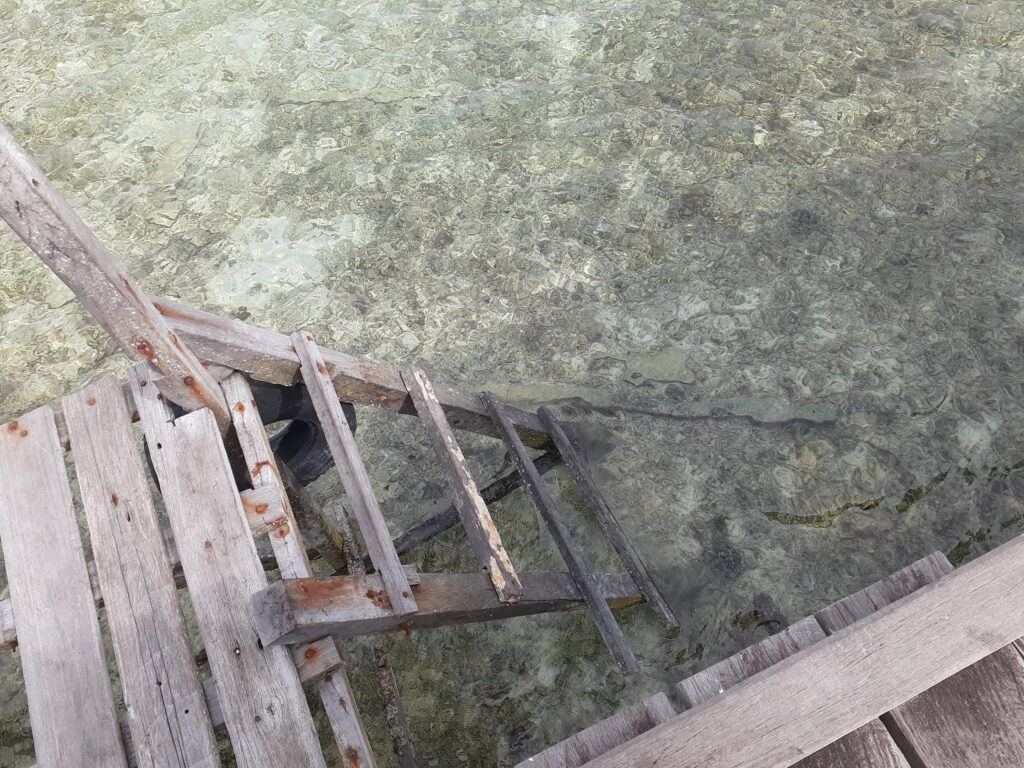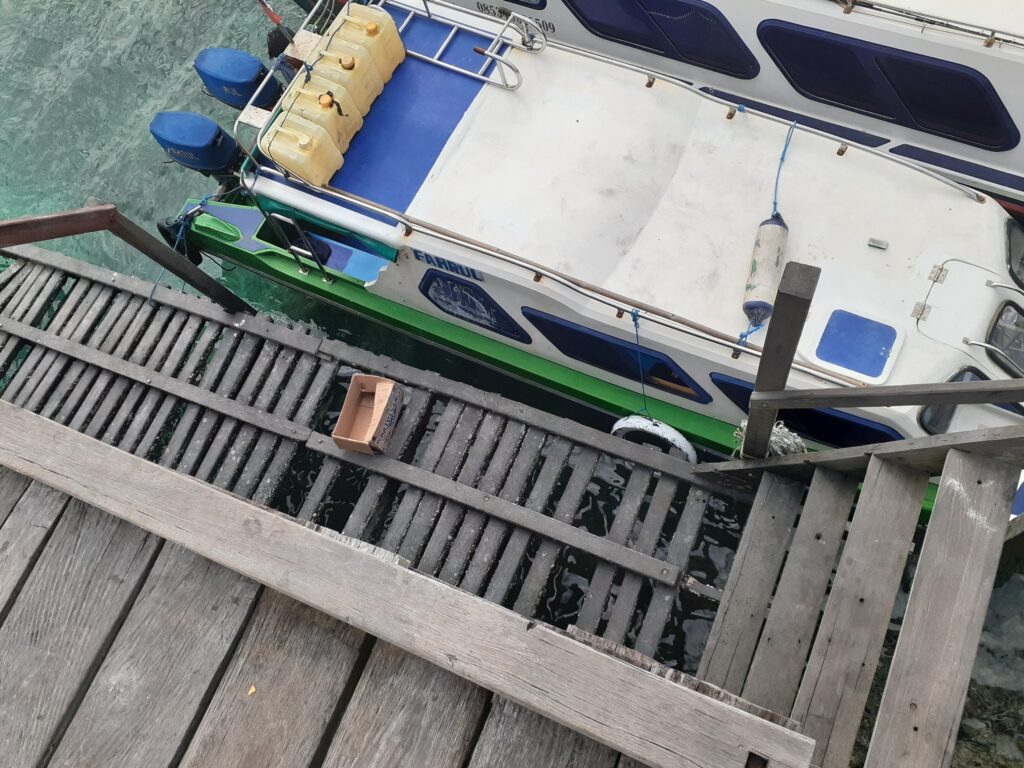 We saw a large sea turtle just below the jetty, and to the south of the jetty, just before the drop-off (closer to the beach), there is a lagoon with a coral reef formation and lots of fish. As it is a lagoon, the current was barely perceptible.
As for the drop-off outside the lagoon, we were also told that the reef south of the jetty is beautiful.
You also need to be aware that speedboats arrive and depart when snorkeling near the jetty. During our stay, no one else was snorkelling in the area, and the dive master at BORNEO COTTAGE MARATUA DIVING also advised us to watch out for the boats, as few people snorkel in this area. Speedboats move at considerable speed and may be slow to notice snorkellers. Bringing a buoy (usually fluorescent) to let people know you are snorkelling might be a good plan.
Maratua accommodation: Nouri Cottage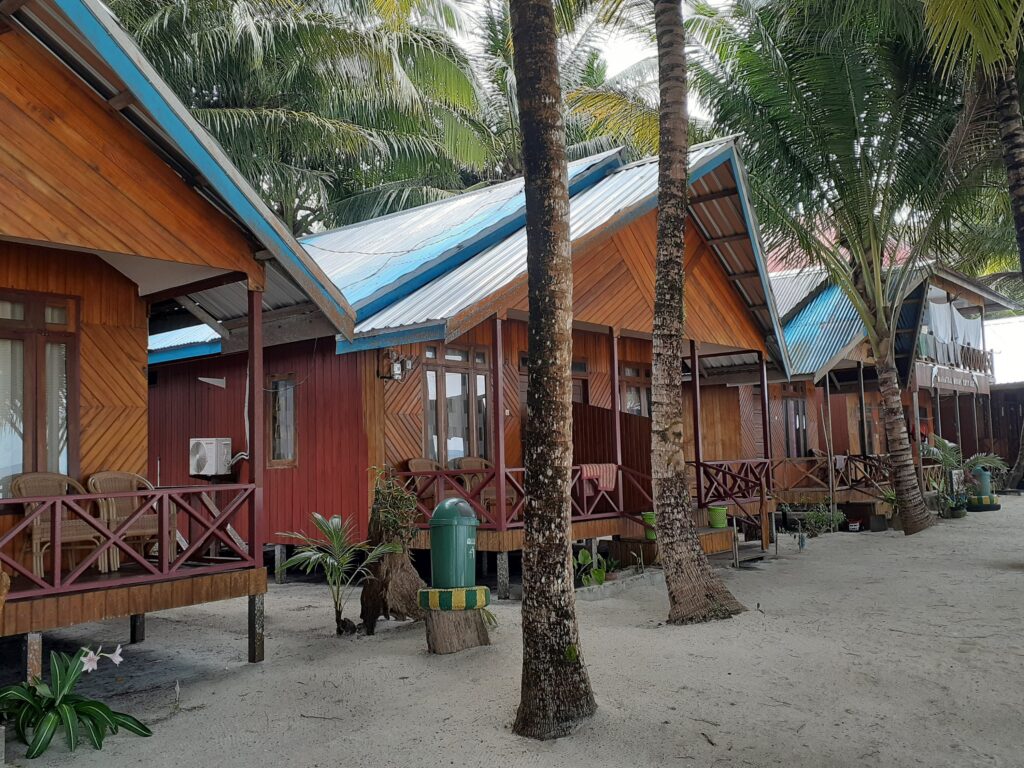 Nouri Cottage was the first place we stayed when we arrived on Maratua Island. It is a few minutes' walk south of the Maratua boat landing, where the speedboats from Berau (also called Tanjung Redep) arrive. It's a quiet place on the beach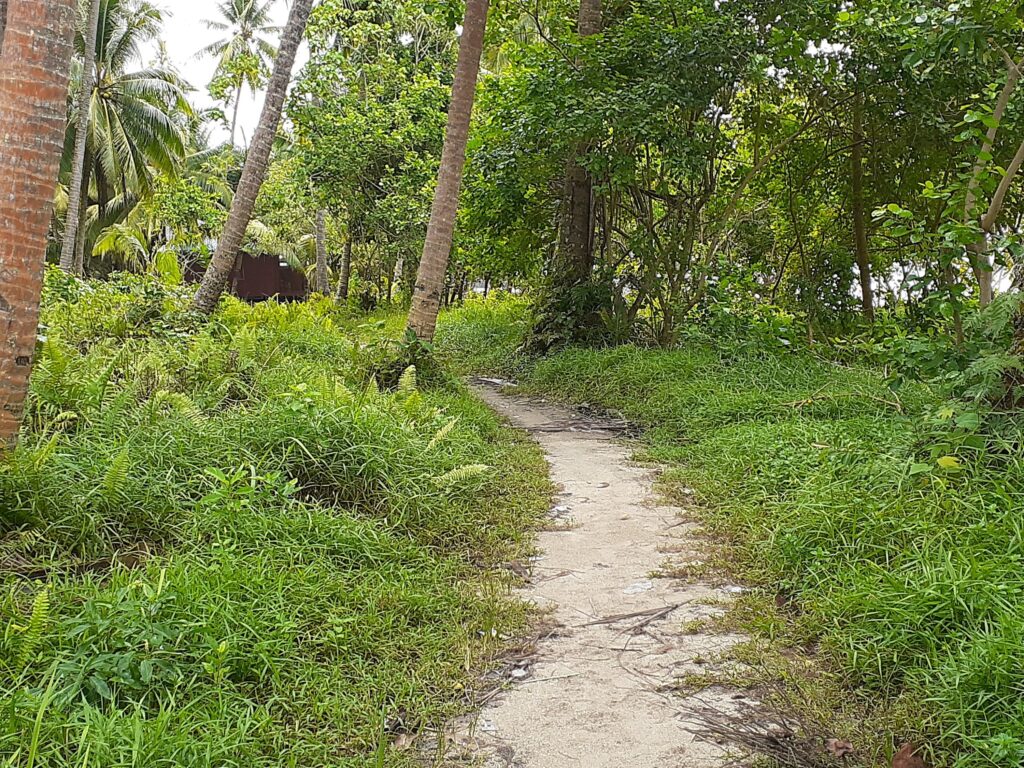 One building has two bungalows next to each other, both facing the beach. Advertised price is Rp 500,000 per night with breakfast. There is air conditioning but only cold showers. Further reviews are available on Google Maps.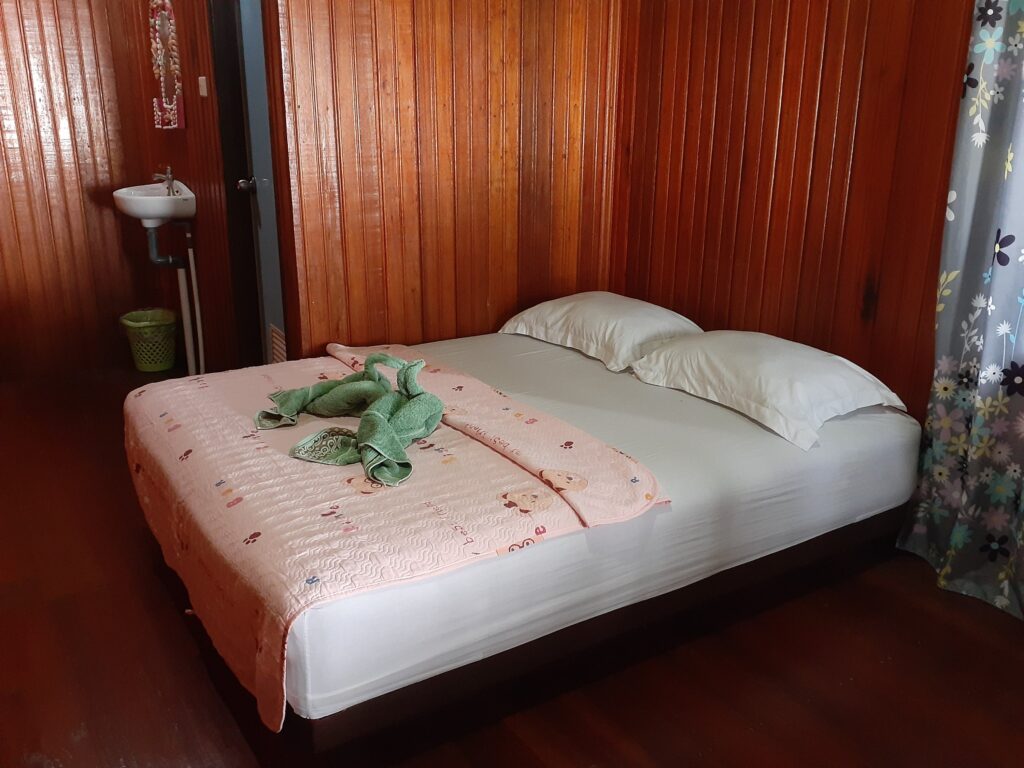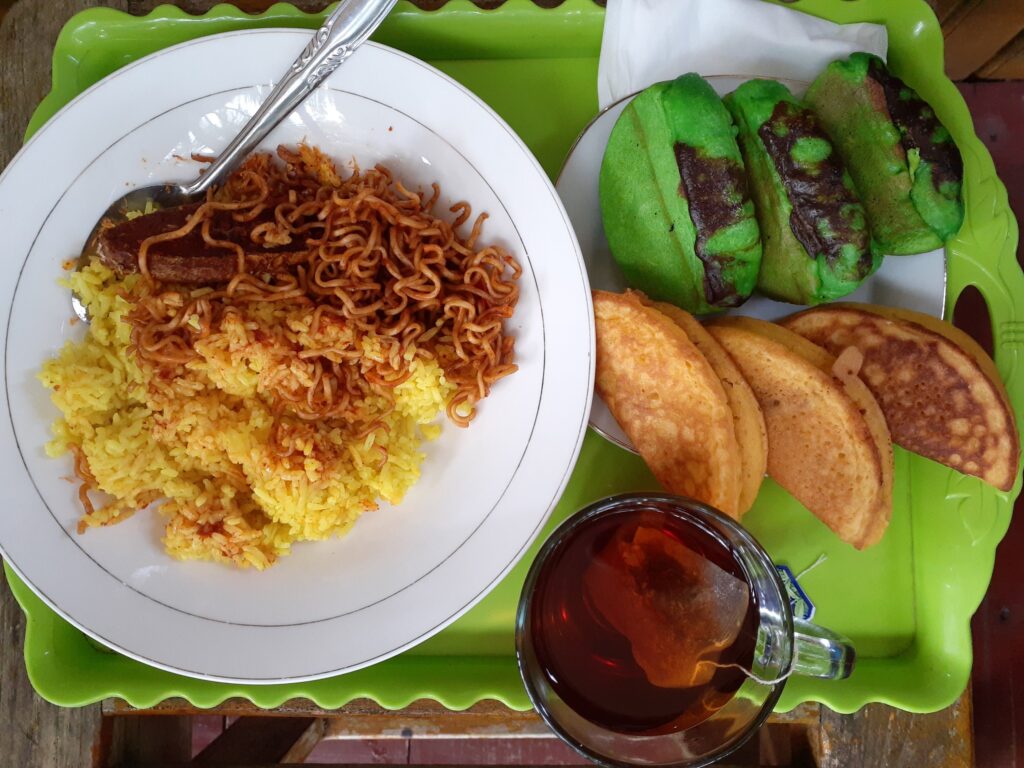 This is one of the cheapest bungalow-type accommodations on Maratua Island. It is close to the boat landing, and if it is not high tide, you can walk along the beach to the jetty. The house reef runs from the outside of the jetty, but it may be quite a distance to swim from the beach.
We landed on the island just after the new moon. It was not an ideal timing of the month for snorkelling with high tide at around 7am and 7pm and low tide at around 1am. Moreover, the day after we arrived it was so windy, the weather was not perfect. After we snorkelled in the lagoon near the jetty, we changed the accomodation without seeing the offshore drop-off from here, although the offshore drop-off here is one of the dive sites and we saw dive boats anchored there.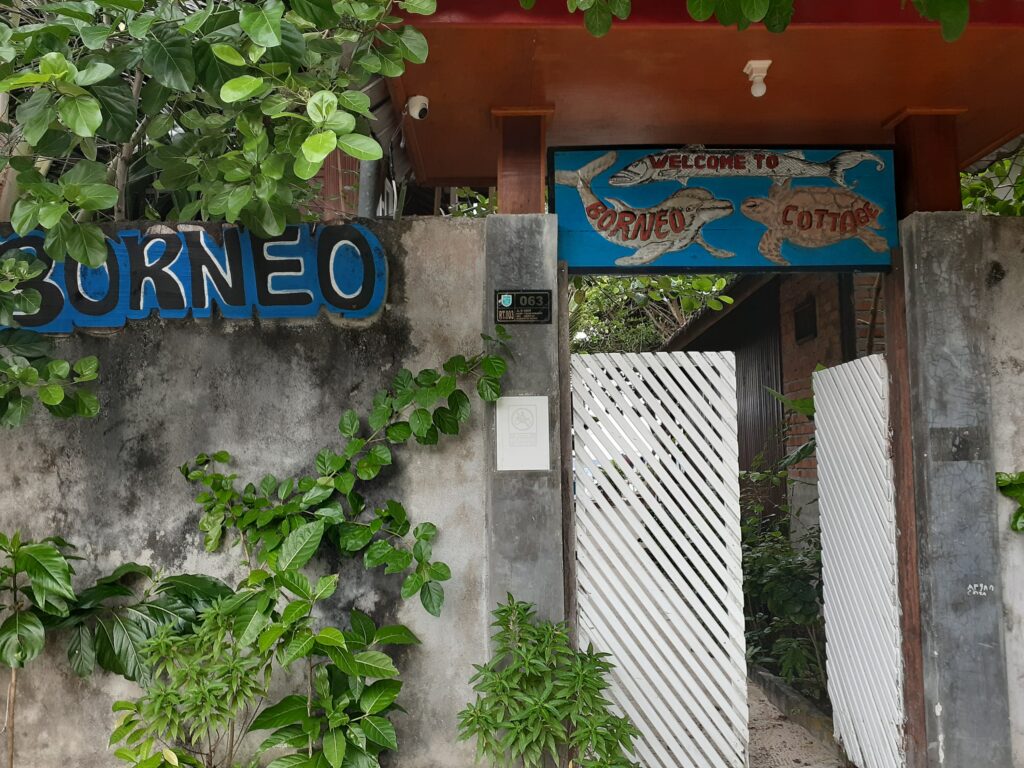 Apart from offshore snorkelling, we also considered taking a dive boat to the snorkelling spots. We asked about the Borneo Cottage Dive Centre, which is located next to Nouri Cottage. However, we were told that it would cost Rp 350,000 per person to share a boat. It was much more expensive than we had expected compared with how much we paid at the other places; Panorama Backpackers on Bunaken Island charged Rp 50,000 per person and Sanctum on Unauna Island charged Rp 100,000 per person. That suggests how expensive petrol is on this island. For us, it was a bit over our budget and we decided not to go with them.
Maratua accommodation: Maratua Guesthouse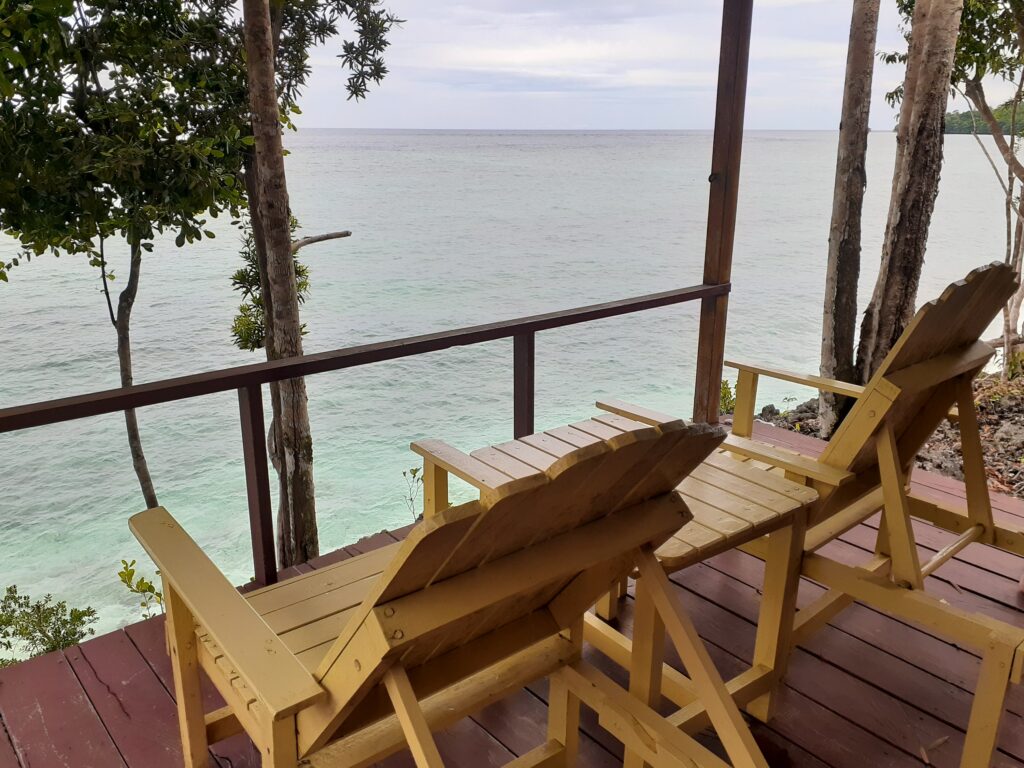 The next accommodation we stayed at was Maratua Guesthouse, located 3km north of the boat landing. Jungle view (lagoon view) bungalows cost Rp 600,000 per night, while sea view bungalows cost between Rp 700,000 and 750,000 per night depending on the size of the room. Meals can be ordered a la carte, but a package of three meals a day can be added for USD 30 per person. It's best to talk with Jun and Anna the owners to see what works best for everyone.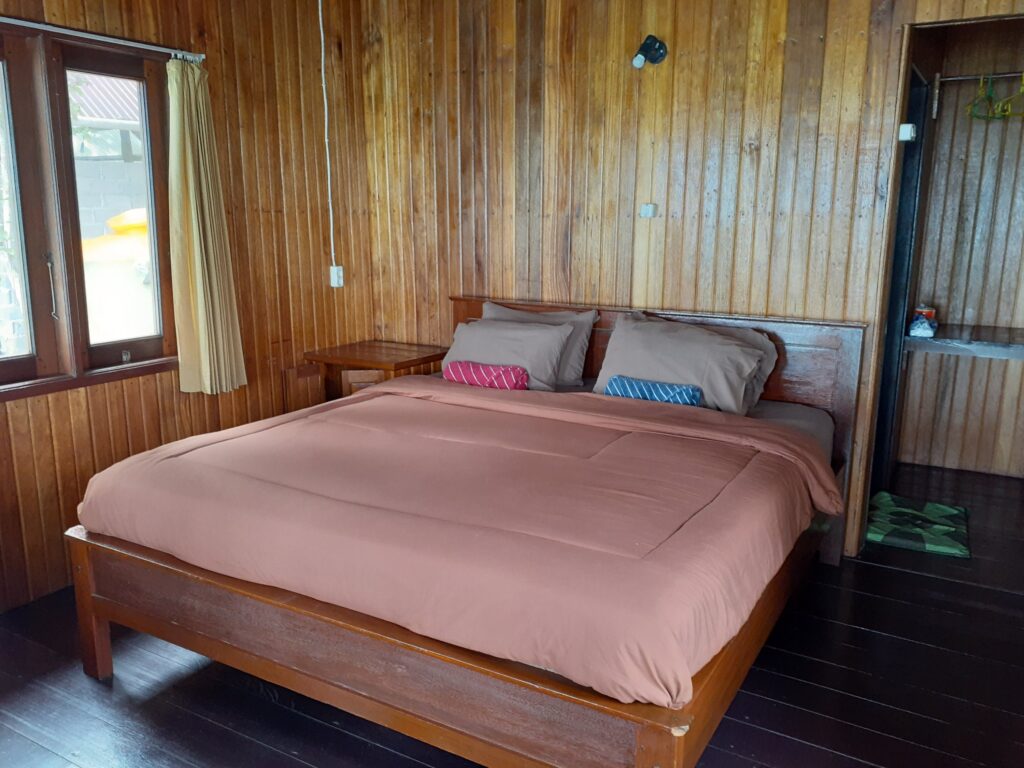 The rooms have air-conditioning and fans, with hot showers in the sea-view rooms. Each bungalow is built independently, so they are more private than the Nouri cottages. For further reviews, see Google Maps. The seaview rooms have fantastic views!
There is no jetty here, but stairs are provided down to the beach, from where you can swim and access the drop-off.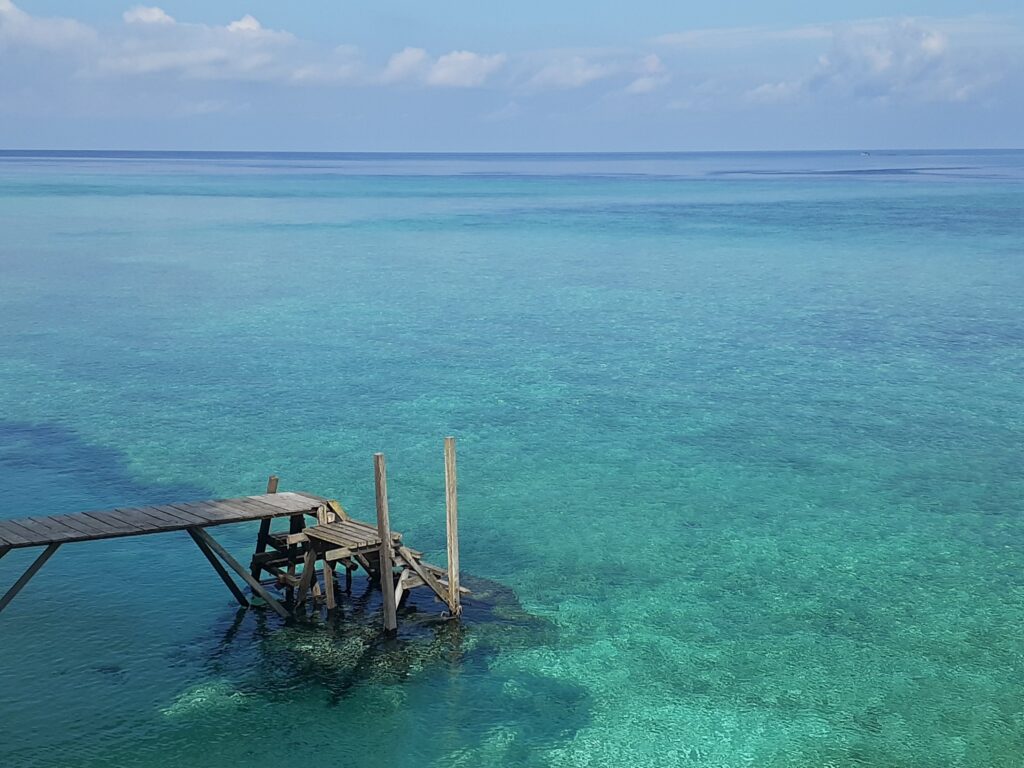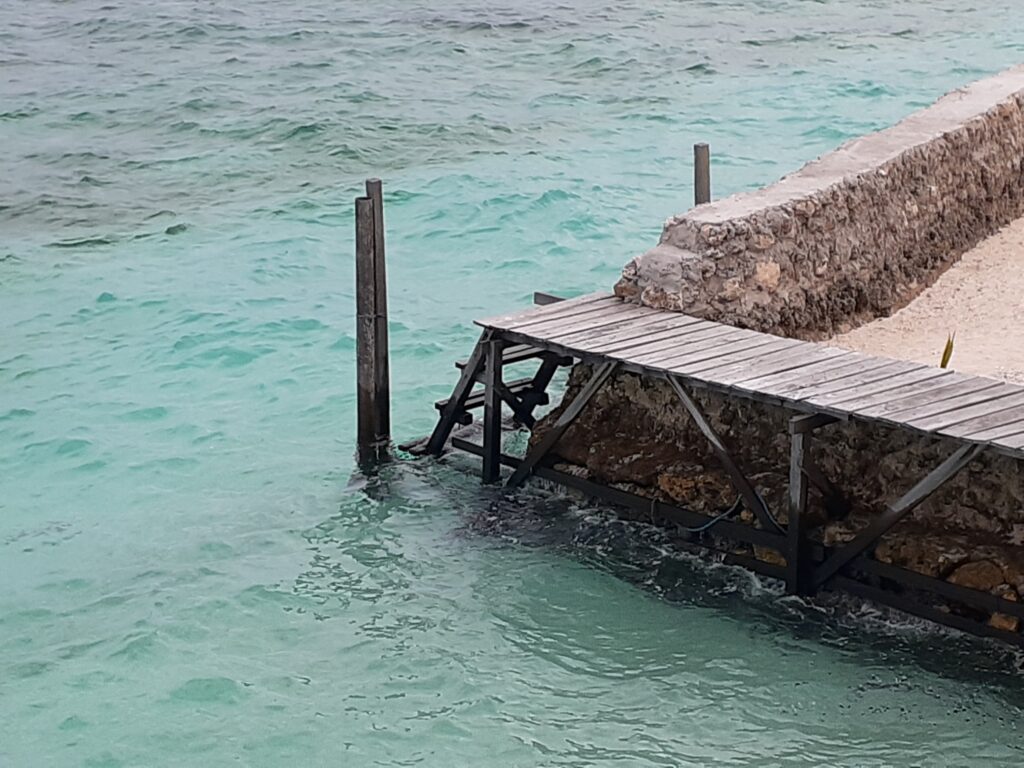 As mentioned earlier, when we stayed there in late June 2023, there were only a few guests, including us (the house is almost fully booked in July and August), and we had the fine white sand beach all to ourselves.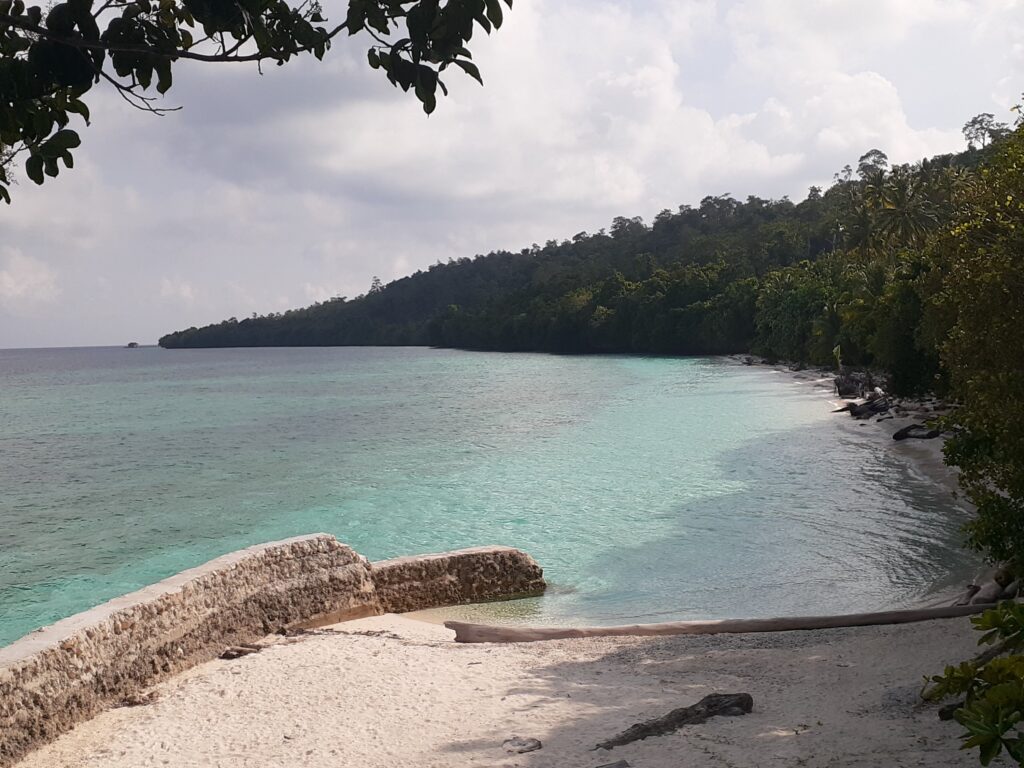 There is a terrace restaurant over looking the beach, where you can see many sea turtles at high tide. If you are lucky, you can even see manta rays from the balcony of the seaview cottages!
The house reef has a variety of coral reefs and a crazy amount of fish and sea turtles. Once in the water, we sometimes saw dozens of sea turtles.
The current at the drop-off was calm and we saw schools of bumpedhead fish, lionfish, manta rays, large schools of barracuda, puffer fish and spadefish, as well as millions of other tropical fish. Unlike the boat pier near the village, there are almost no boats offshore here, so you can concentrate on snorkelling in peace. Even if you don't go to the drop-off, you can swim in the shallows where coral reefs grow and watch the fish and sea turtles that congregate there.
Getting to Maratua Island
Maratua Island can be reached by boat from Berau (or Tanjung Redep) or Tarakan in Kalimantan. We travelled by speedboat from Berau.
Boats from Berau seem to run every day and arrive at the boat landing near the centre of Maratua village. From Tarakan, the boat to Maratua departs every Friday and from Maratua to Tarakan on Sundays. They depart from the southern island landing (a small landing south of the airport).
Apparently, there are also boats from Tanjung Batoe, but details are not clear.
Maratua Island has an airport and can also be reached by air. It's operated by Susi Air, which offers flights from Samarinda, Berau and Tarakan, although flights are not frequent. More details are mentioned in the following post.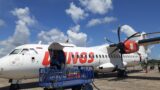 Flying with Wings Air from Samarinda to Berau! Final destination is Maratua Island
WereturnedtoSamarindafromKotaBangunandstayedovernight.ThereisnotmuchtoseeinSamarinda,sothenextdaywequicklystartedourjour...
Getting around Maratua Island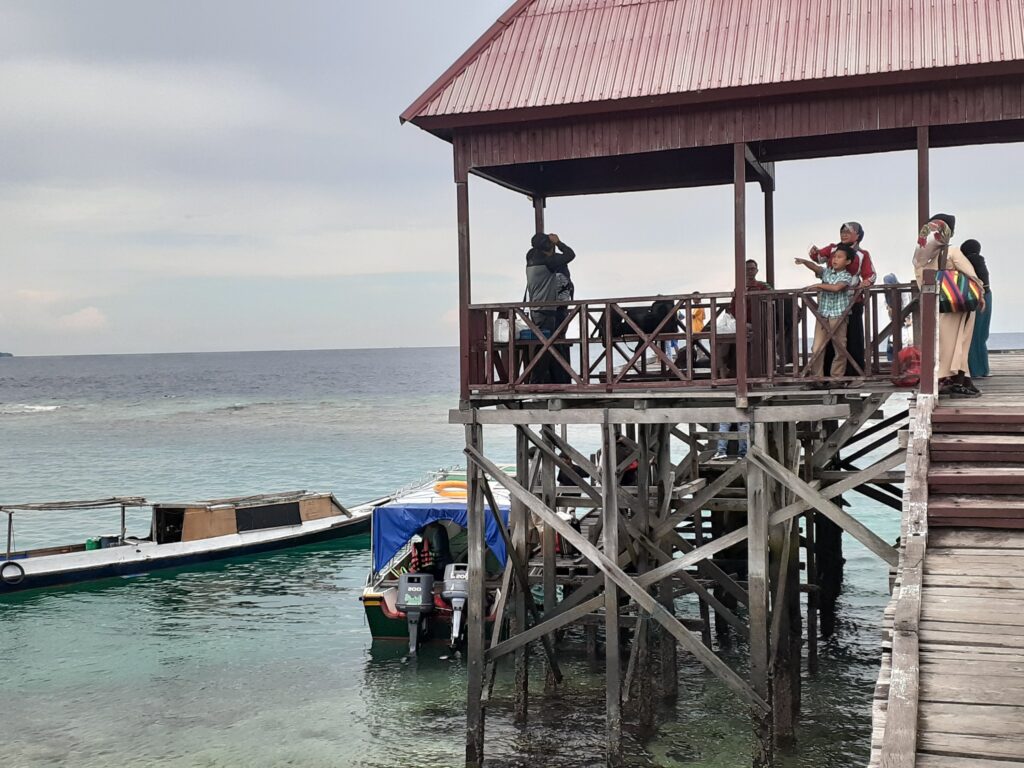 The landing stage for speedboats from Berau is located in the central part of the island, with a village adjacent to it. There are several guesthouses, homestays, restaurants and shops in the centre of the village, and one ATM, but international cash cards do not seem to be accepted.
Maratua Island's airport is located to the south of the island, and there are two landing sites around there, one near it and one further south. Boats to Tarakan depart from the southern landing.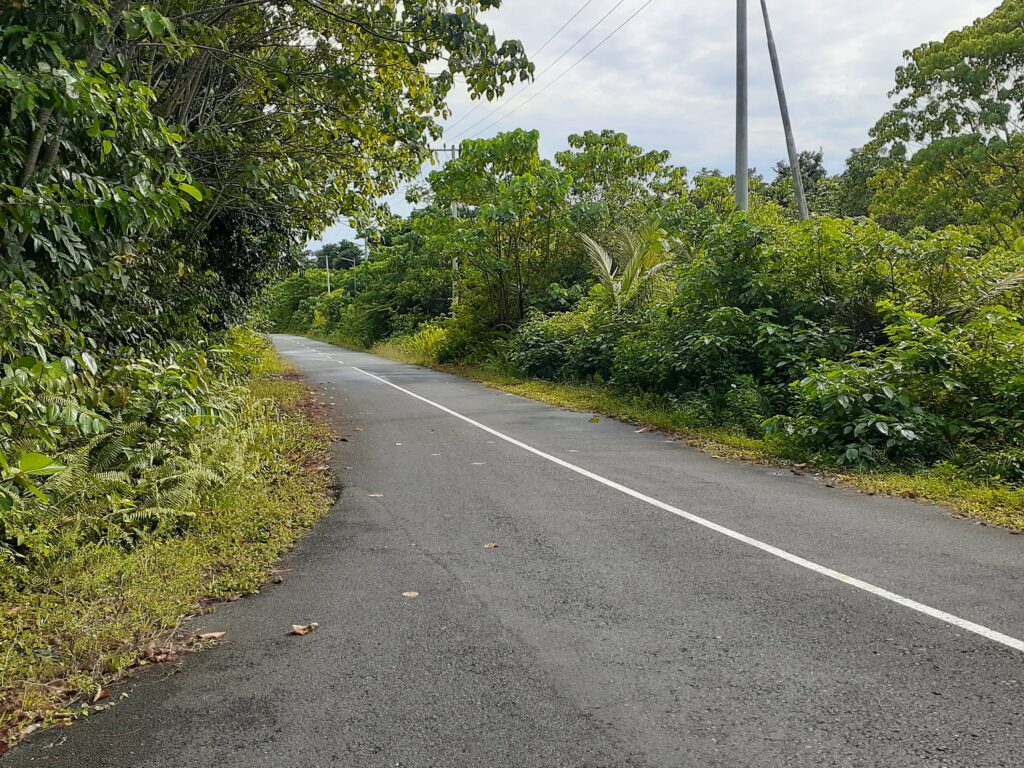 There is a beautifully paved road running north-south on the west coast of the island. Maratua Guesthouse, where we stayed, can be accessed via this road, and further north are the luxury resorts. The road is smooth and in very good condition.
Restaurants are concentrated around the boat landing in the centre of the island, but it is possible to use the resort's restaurant, and there are some (possibly pricey) restaurants in other parts of island. Basically, the cost of living on the island is high, so meal prices are set higher than in other parts of Indonesia. We often used Rm Rasa Maratua, which is located in the middle of the island, close to the boat landing.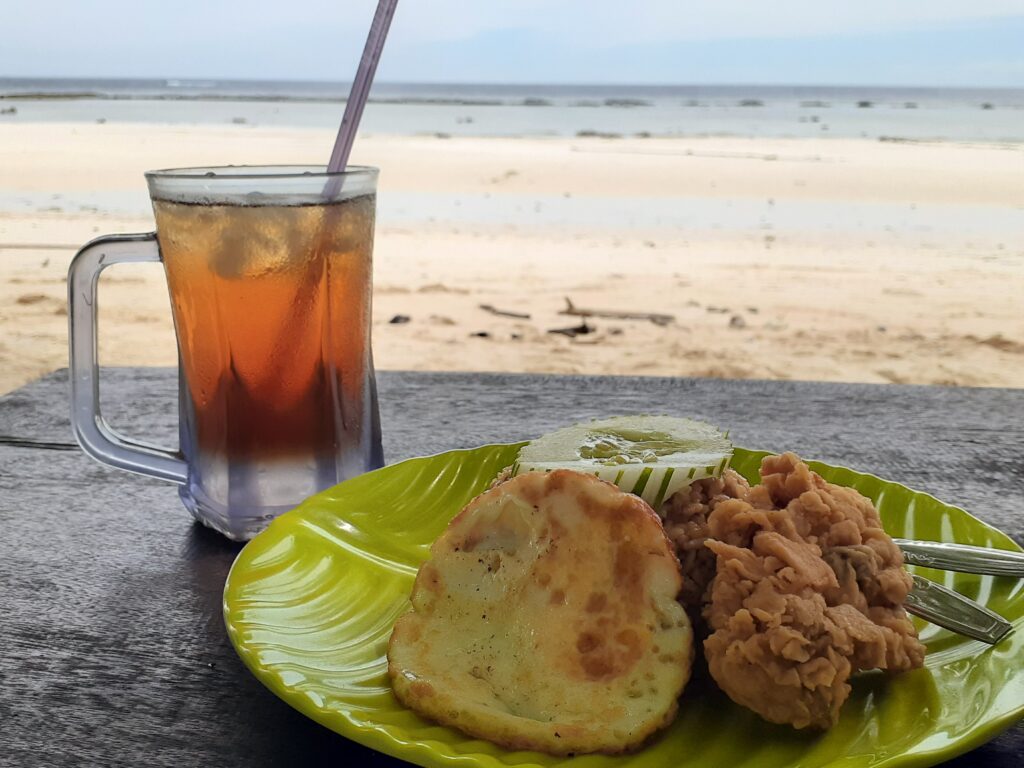 Internet on Maratua Island
We had a 24-hour electricity supply on Maratua Island. There is a telephone tower near the town centre and Telekomsel mobile internet was available in town. In some places outside the town, internet access is not available.
WiFi was not provided in Nouri cottage, but Telekomsel mobile internet was working well in our room.
At Maratua Guesthouse, internet was not available in our bungalow, but WiFi was provided in the restaurant area.
Overall, Maratua Island is really worth a visit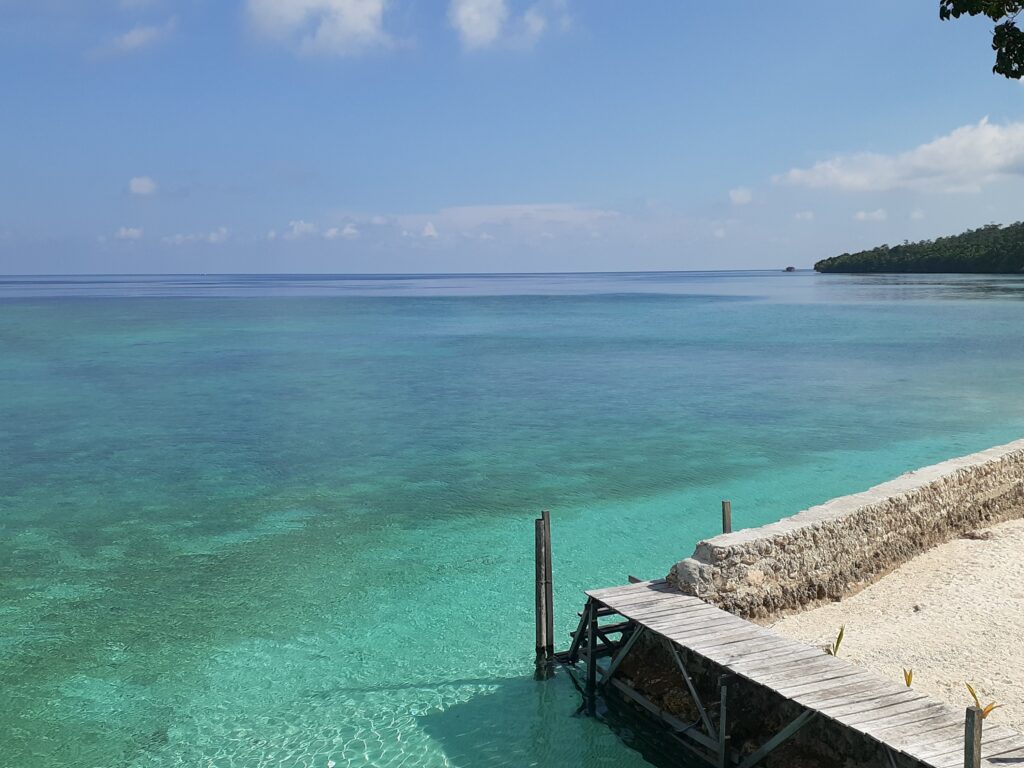 Maratua Island is surrounded by coral reefs. There are countless dive sites, and snorkelling at the drop-offs is a quick and easy way to encounter tropical marine life.
At high tide you have to swim to the drop-off, but at low tide you can walk close to it (shoes required). Even just standing on the beach, we saw sea turtles coming to feed on seagrass every day.
It is a little more expensive to stay here than in other areas of Indonesia where we have stayed, but it was worth it.
During our stay, we only snorkelled the north and west sides of the island. The other areas are for you to explore on your own.