We came to the Togean Islands. We spent three nights on Kadiri Island before crossing over to Una Una Island to stay.
From Kadiri Island, we took a half-day snorkelling tour, visiting several spots. The following is a review of snorkelling in the Togean Islands, mainly in and around Kadiri Island and Una Una Island.
Offshore Snorkelling Kadiri Island
In the Togean Islands, we first crossed to Kadiri Island. We chose to stay at the Kadidiri Paradise Resort because it has a long jetty that allows offshore snorkelling even at low tide.
We snorkelled from the jetty every day during our stay, but unfortunately the coral reefs were not in great condition. Compared to the snorkelling spots we have visited in Indonesia, the variety and colour of the coral reefs was a little monotonous.
However, there were plenty of fish. The current was not strong and we were able to enjoy snorkelling at any time of the day.
A half-day snorkelling tour from Kadiri Island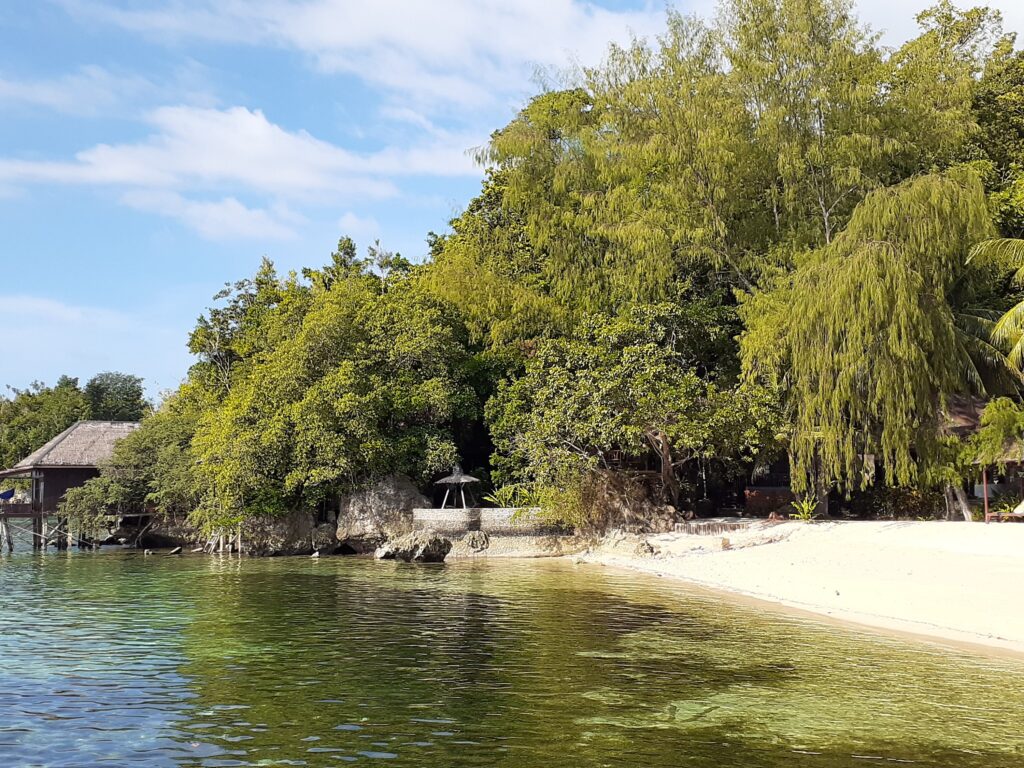 We joined a half-day snorkelling tour from Kadidiri Paradise Resort. Snorkelling tours (diving is also available) are available in half-day and full-day tours, with the half-day tour costing Rp 600,000 per boat while the full-day costing Rp 1,200,000 per boat. The cost is split between the participating guests.
The first stop was Jellyfish Lake, which is home to non-toxic jellyfish. Jellyfish can be seen from the surface of the water, but when you dive into the lake, you will see more jellyfish, large and small, and you can swim with them without fear of being stung.
The jellyfish here have lived in the enclosed area of the lake for so long that they have lost their venom, which protects them from their natural enemies, during the evolutionary process.
Afterwards, we went to the beach near the jellyfish lake. It is a white sand beach with a reef offshore. The reef here is in slightly better condition than the reef off the resort. The beach was very beautiful, there were no other tourists and it was a perfect place for photography.
After the beach, we snorkelled at a reef called Taipi Wall. The reef here was also not great, but we were able to admire sharks and other fish.
Travelling from Kadiri Island to Una Una Island
After three nights on Kadiri Island, we moved to Una Una Island.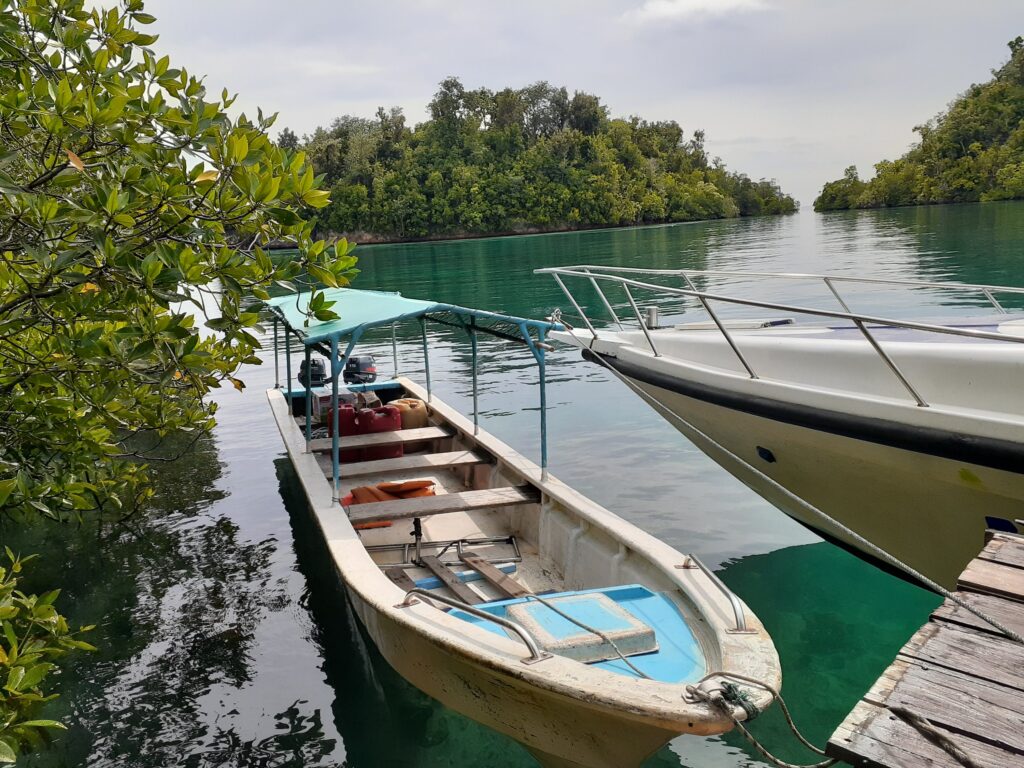 Una Una Island is considered the most beautiful snorkelling and diving spot in the Togean Islands.
There was a couple of the guests of Kadidiri Paradise Resort, who were planning to cross over to Unauna Island and stay there, and we decided to join with them.
We travelled to Unauna Island on a boat picked up from Sanctum, with four of us on board, which cost Rp 200,000 per person, Rp 800,000 for the whole boat.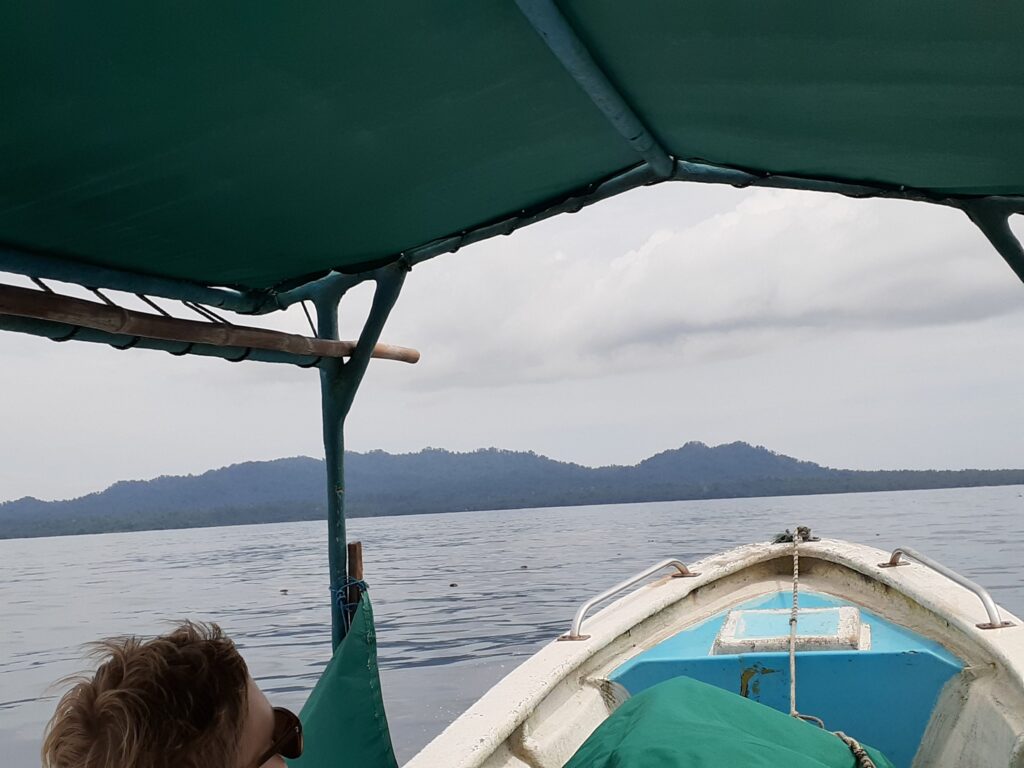 The distance from Kadiri Island to Una Una Island is about 30 km and took less than two hours.
We stayed at Sanctum Una Una. Official prices are Rp 100,000 per night for a garden view room, Rp 300,000 for a sea view. Meals are not included and cost Rp 250,000 per person per day.
Snorkelling on the house reef at Sanctum Una Una Island
There is also a jetty at Sanctum from which you can snorkel at any time of the day. There is a reef offshore, which is in better condition than on Kadiri Island, and there were many fish. Moreover, it is accessible from the guesthouse, which is very convenient. However, visibility was poor at certain times of the day and in certain weather conditions.
Snorkelling spots on Una Una Island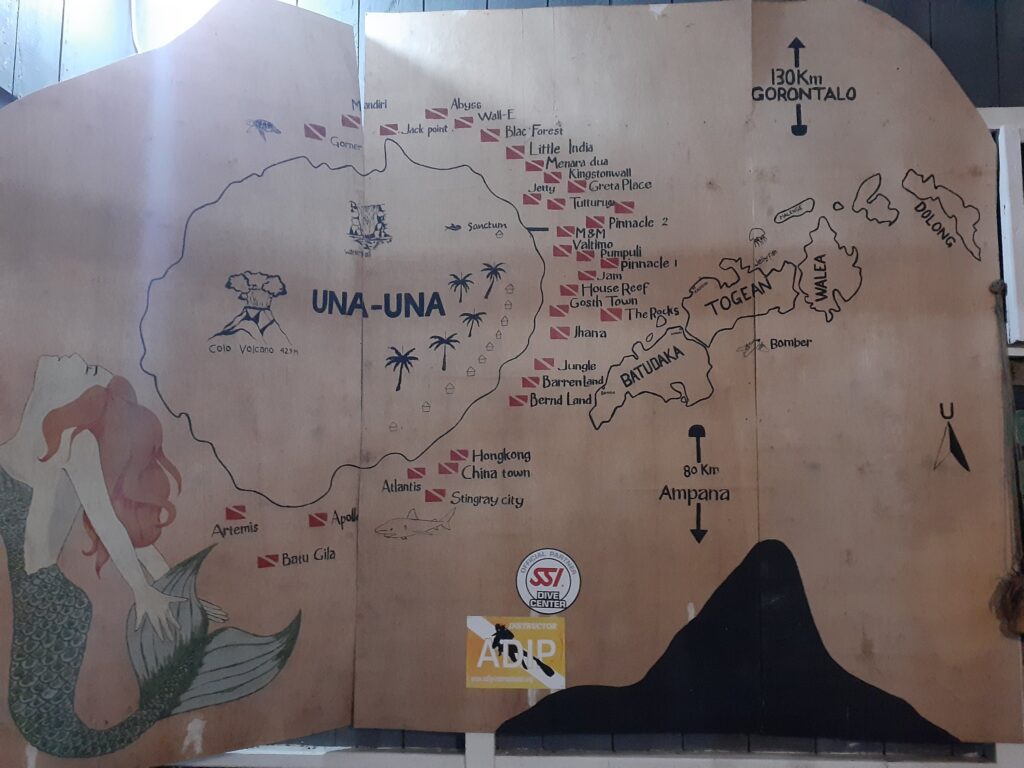 Una Una Island is the larger of the Togean Islands and has many snorkelling spots. We joined dive boats from Sanctum to visit several spots, for Rp 50,000 per spot per person. Here are reviews of some of the places where we have been.
Black Forest
It was as if flying over a black forest. It looks like a coniferous forest rising up to the water's surface. Not many fish, but we did see giant bumphead parrotfish.
Pelangi (rainbow)
The Indonesian name of this place means 'rainbow'. It is probably derived from the colourful colours of the reef. There are also many fish. This is the most beautiful reef we saw in the Togean Islands.
Hong Kong
This reef is named Hong Kong because of the frequent crossing and passing of fish. The pink coral reef was abundant and fuzzy, looking like a cauliflower. Many different species of fish came and went in schools, and we saw two sharks here.
Getting out from Una Una Island, Togean Islands
After five nights on Una Una Island, we decided to leave. Our next stop was Gorontalo.
The transfer to Gorontalo was again a bit complicated, but we'll talk about that in the next post…