After spending a week on Maratua Island, we left Maratua Island by speedboat to Tarakan.
We couldn't find much information about the transport to or from Maratua online, but it was not complicated. We took a boat from Maratua to Tarakan, and we will head to the border to Malaysia after that.
Boat from Maratua Island to Tarakan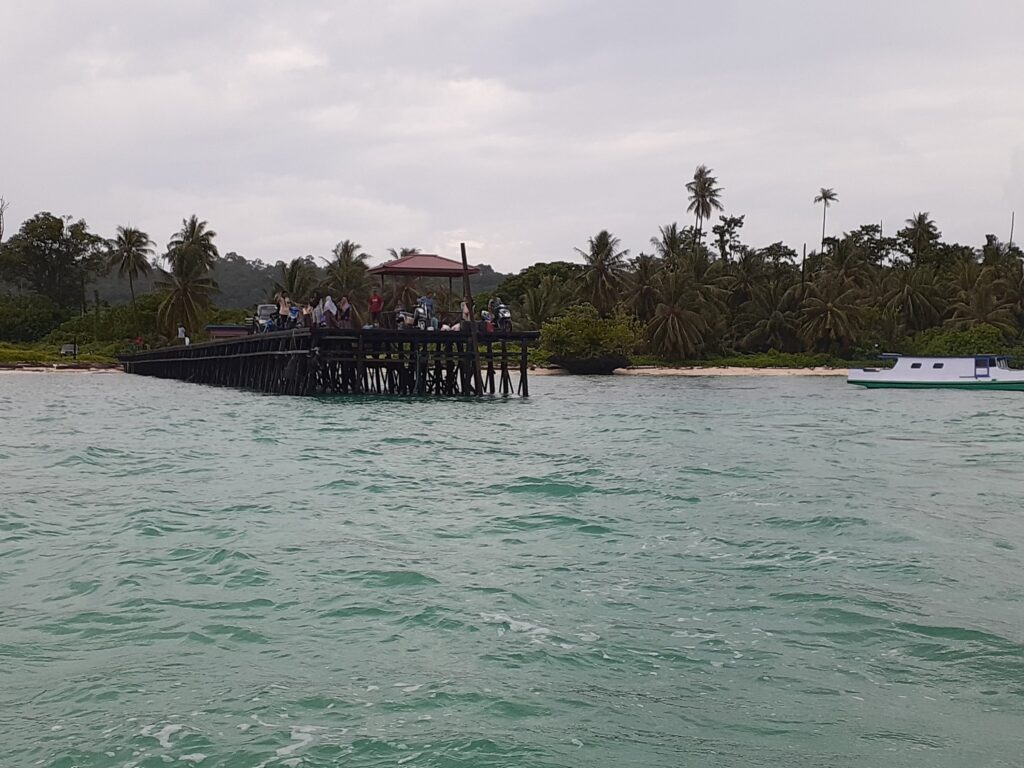 From Maratua Island, speedboats to Berau (or Tanjung Redep) run basically daily.
There are also speedboats to Tarakan via Derawan, which operate once a week. Departures from Tarakan to Maratua Island are every Friday and from Maratua to Tarakan every Sunday at 8am. We took a speedboat to Tarakan this time.
Maratua Island has several landing sites, but the speedboat to Tarakan leaves from a small landing site to the south of the airport. There is also a landing just west of the airport, but it's not the boat pier for Tarakan.
Getting to the Boat Pier for Tarakan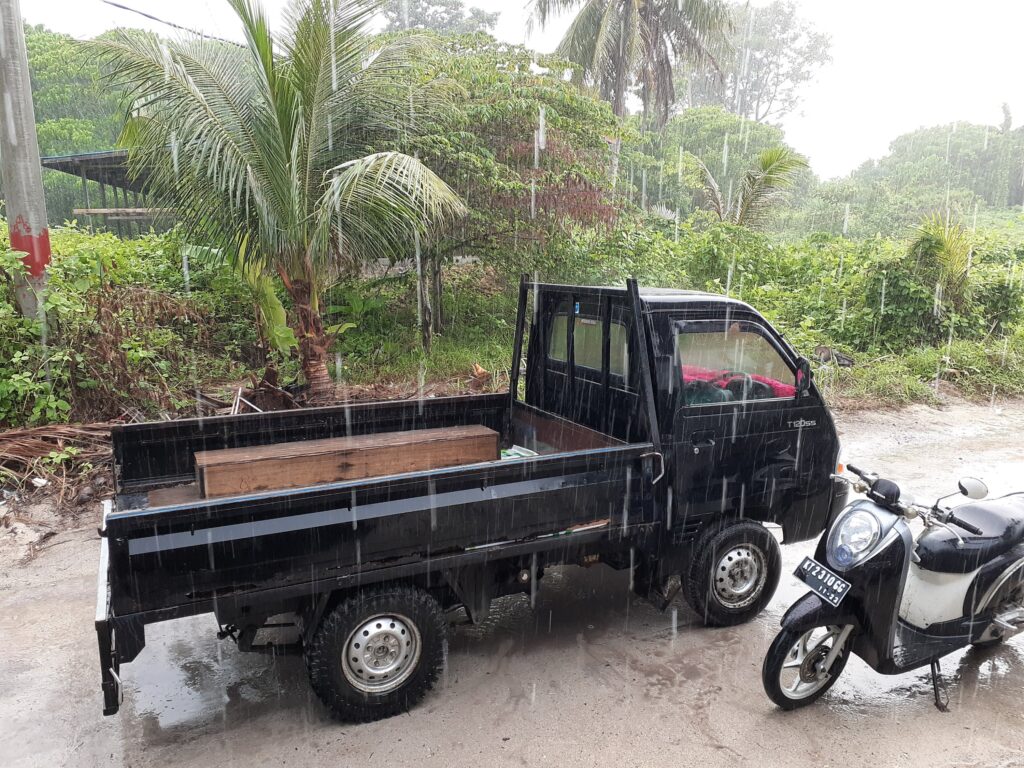 The Maratua Guesthouse where we were staying is in the northern part of the island, about 10 km from the landing stage for Tarakan. There is no specific public transport on Maratua Island, so you will either have to arrange your own transport or to ask your guesthouse to arrange it.
The boat to Tarakan is small, so we asked the guesthouse to book us seats in advance. In addition to that, we also asked the guesthouse to arrange transport to the boat landing.
However, on the day of departure, it started raining from around 7am. At that time, we were four travellers, waiting a car to bring us to the pier. There are not many cars on this island, so we assumed it might be a pick-up truck, and we were right. Of course, there was no roof.
While we were hoping that the speedboat would not leave on time because of the heavy rain, the owner of the guesthouse called the boatman and said to us that the boat would wait for our arrival and then leave.
So we got into the pick-up truck when the rain started to lighten a bit, but halfway through the journey it started raining hard again and we got soaked.
We took a boat from Maratua Island to Tarakan: departure at 8:45am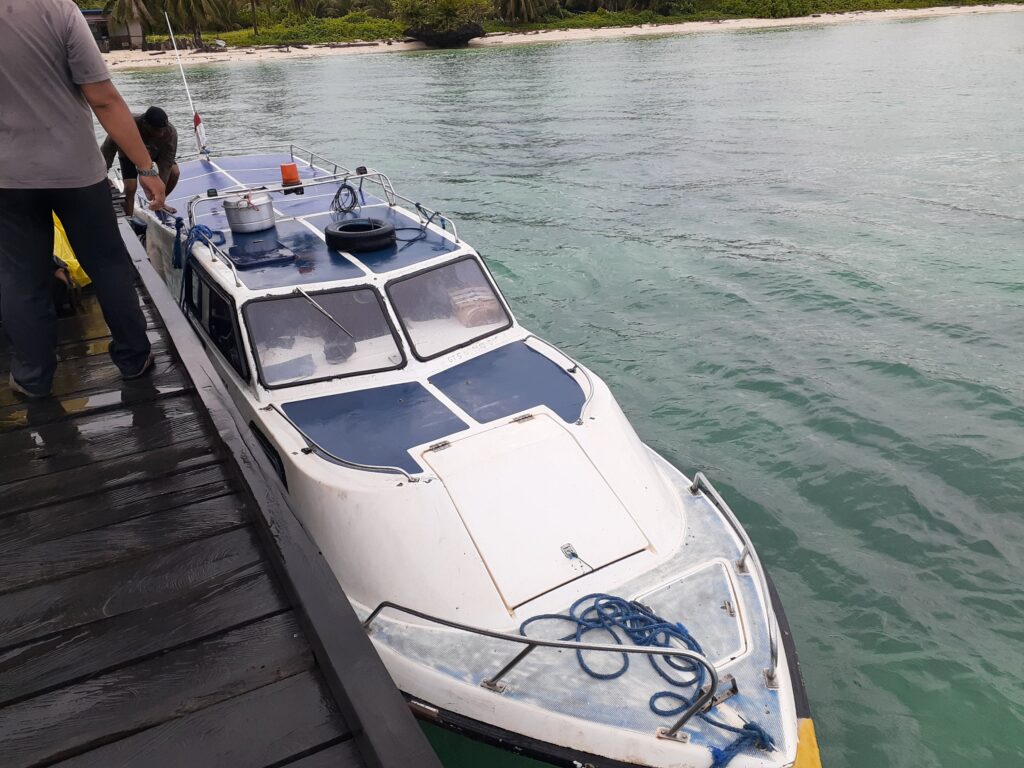 Anyway, we arrived at a house near the pier and waited for the rain to calm down. The scheduled departure time was 8am, but the boat finally left at 8.45am. Before boarding the boat, we paid the Rp 600,000 per person which is a foreigner's fare. Local fare I believe is 350k.
Our backpacks, which were placed in plastic bags for waterproofing, were fixed to the roof of the boat.
The small boat had red cloth seats and had two engines, but only one of them seemed to be running. Space for luggage on board was quite limited.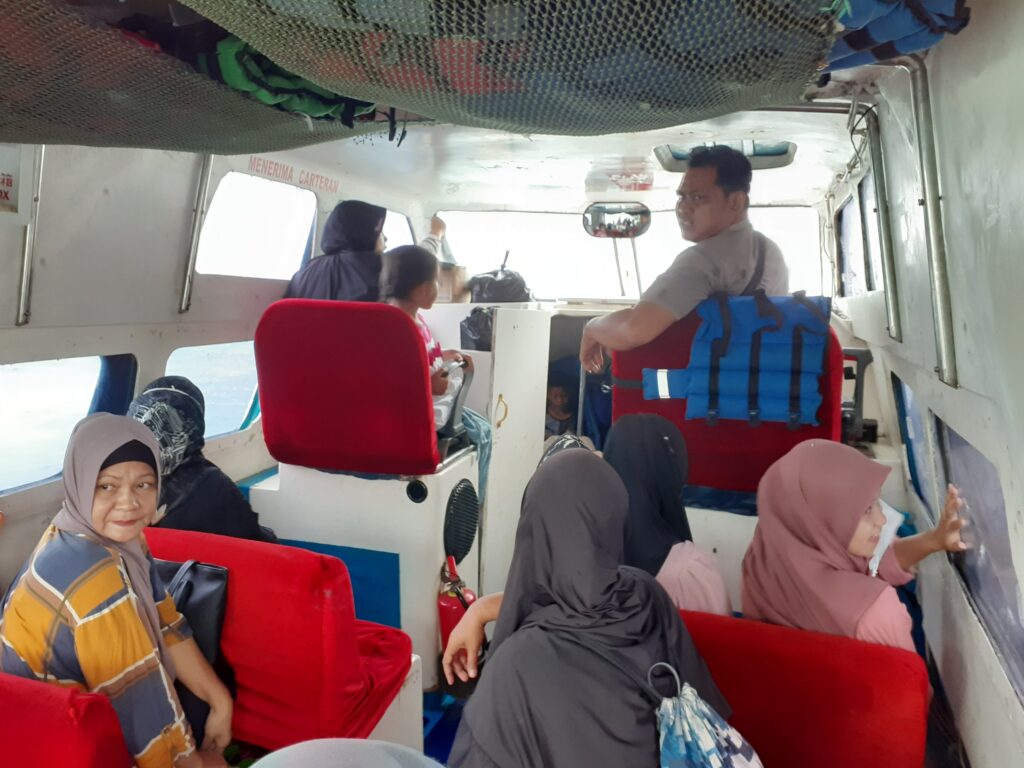 Shortly after leaving Maratua Island, the sun came out and it was hot for those of us sitting at the stern of the boat.
Arrival at Derawan: 9:48am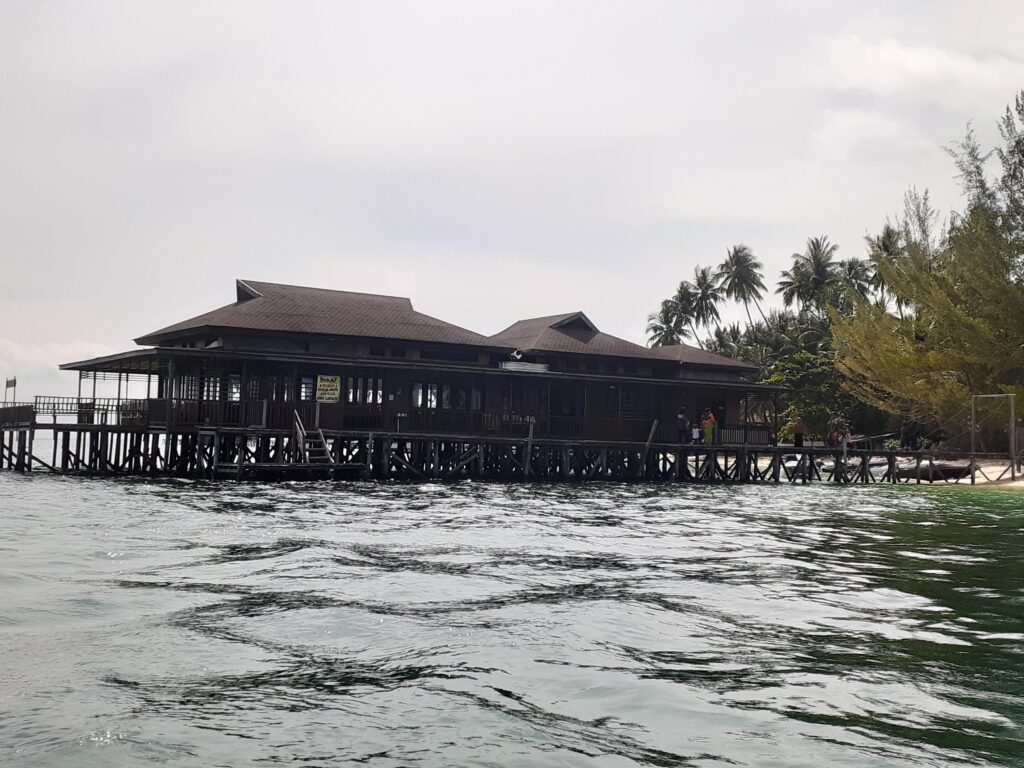 The boat from Maratua to Tarakan stopped at Derawan to load and unload passengers and luggage.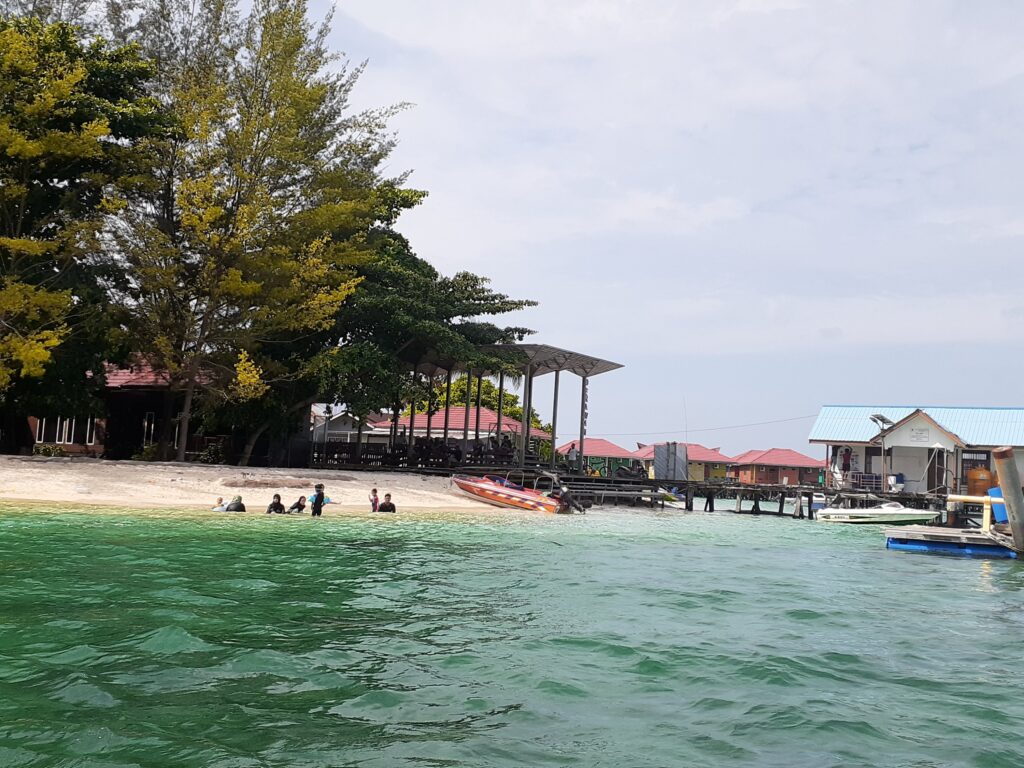 Derawan is a small island with many resorts. Many Indonesian travellers seem to spend their weekends on this island.
Some passengers travelled from Maratua and got off at Derawan, but lots more people and luggage got on board one after the other, and the boat became somewhat overloaded. There were definitely not enough life jackets for the number of people on board, but we had no choice but to wait. After anchoring for 15 minutes, the boat departed.
We ran out of petrol!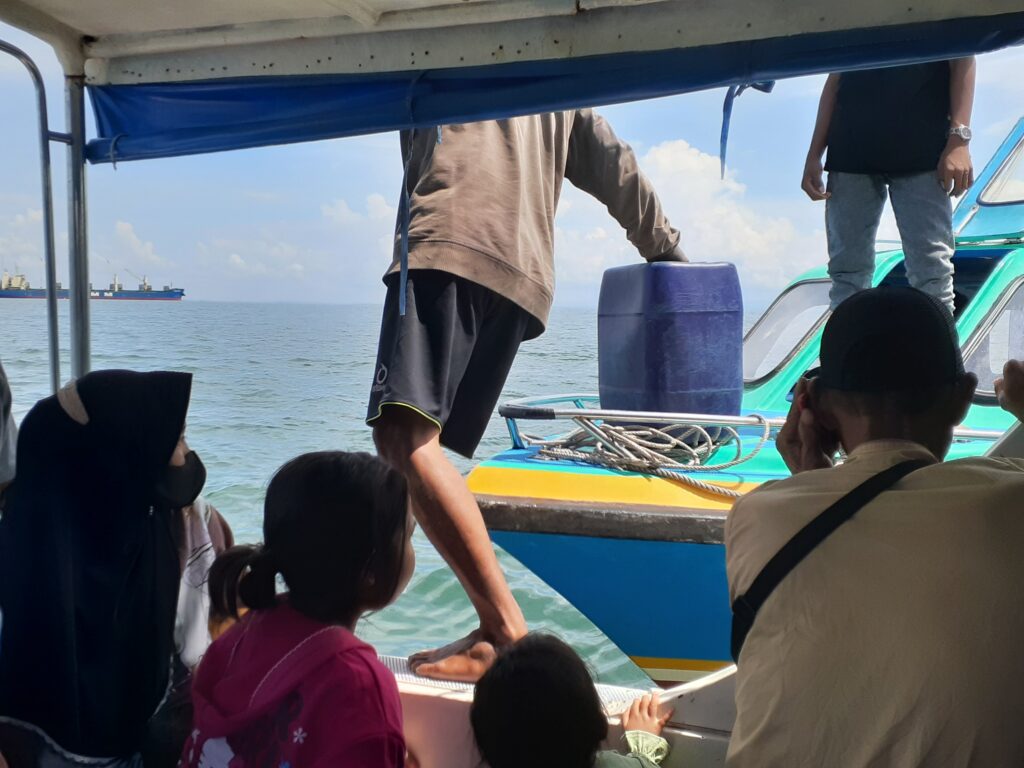 The town of Tarakan came into view and we thought were about to arrive safely. However, the boat suddenly stopped in the middle of nowhere still far from the pier.
If it was engine trouble, the young crew would have immediately started working on it, but there was no action. One of the crew and the boatman were just making calls instead, and another crew picked up a large hose from under the seat.
Unbelievably, they ran out of the petrol. When we noticed that and asked the crew, they replied "Habis (meaning finished)".
After about 30 minutes, another speedboat came to our boat to deliver two tanks of petrol. After refuelling, we finally set off again.
Arrival at Tarakan: 1:30pm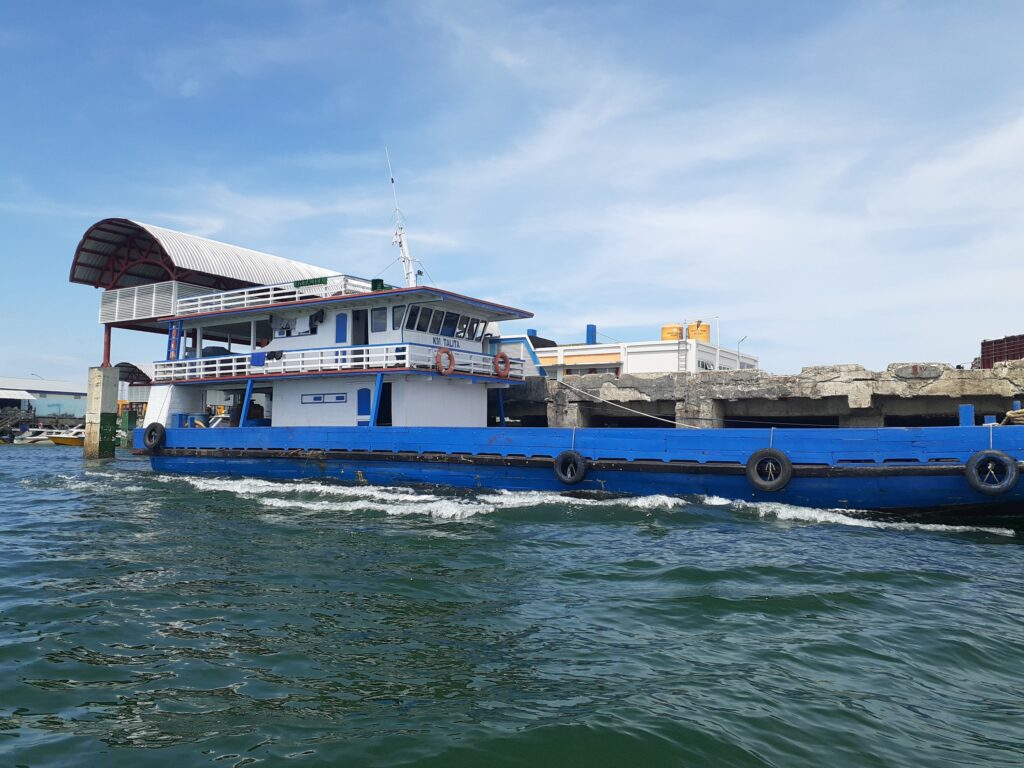 Tarakan Port is a large port where PELNI boats to Balikpapan and Sulawesi arrive and depart.
There were some problems on the way, but we managed to arrive at Tarakan safely at 1:30pm.
We then travelled on to Nunukan, a border town with Malaysia, which will be described in more detail in the next post.
Alternatively, you can go to Tarakan via Berau
We travelled directly to Tarakan by speedboat from Maratua Island, which leaves on Sundays, but there are other ways to get to Tarakan via Berau.
There seems to be a daily boat service from Maratua to Berau (Tanjung Redep). After arriving in Berau, you can go overland to Tanjung Selor. From Tanjung Selor, there seem to be frequent boats to Tarakan.
Ask the guesthouse staff or locals for more information.