We spent four nights in Tana Toraja. This is a two-part post about Tana Toraja sightseeing highlights and activities.
About Tana Toraja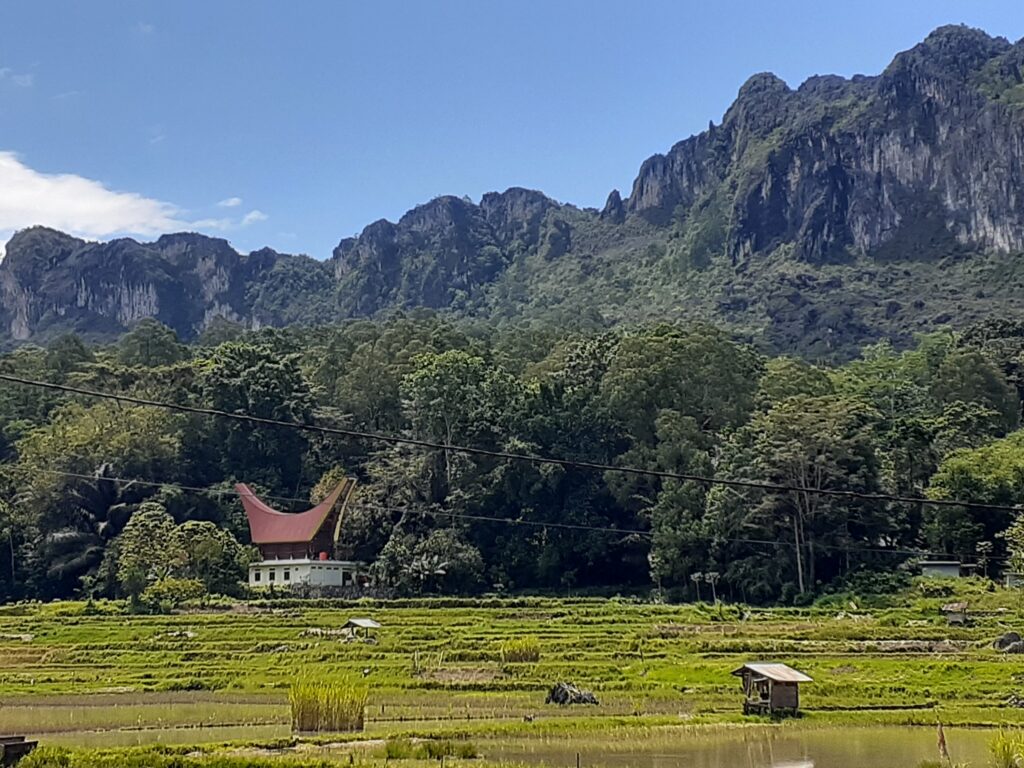 Tana Toraja is a mountainous area in central Sulawesi, Indonesia. It is dotted with towns such as Rante Pao, Makale, Lemo and other small villages. We stayed in Rante Pao, which is the centre of tourism.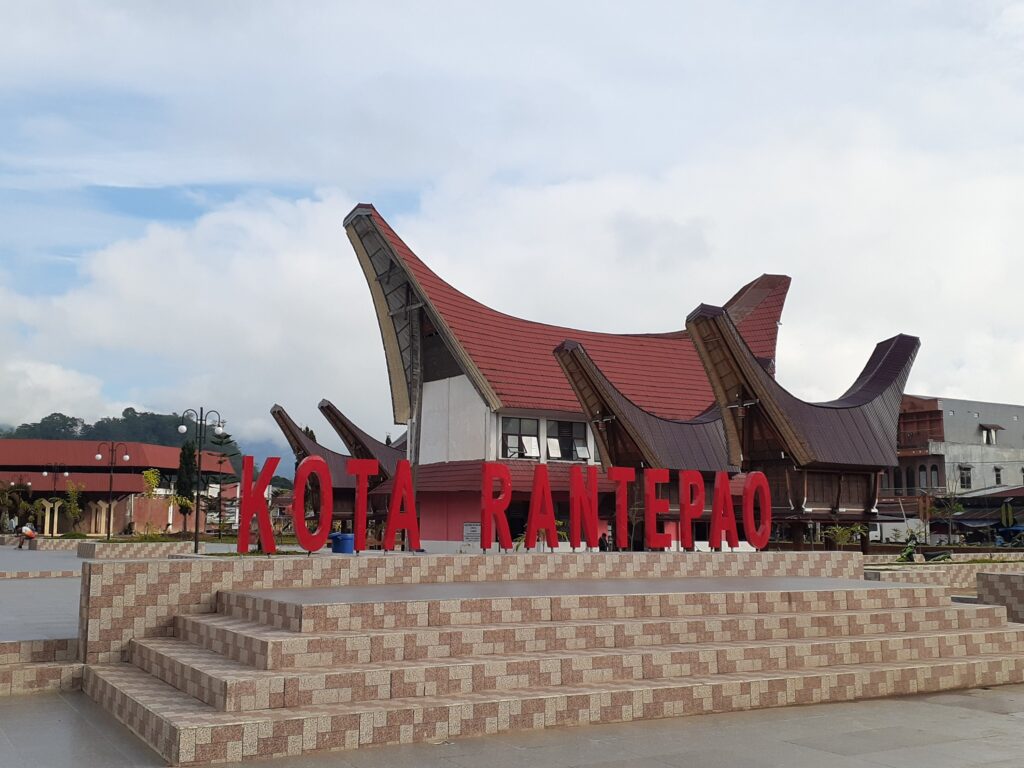 Although it is at an altitude of 1000 m, there is plenty of rainfall and rice cultivation is thriving. The terraced rice fields built in the mountains are one of the tourist attractions. Coffee is also grown and shipped as Toraja Coffee.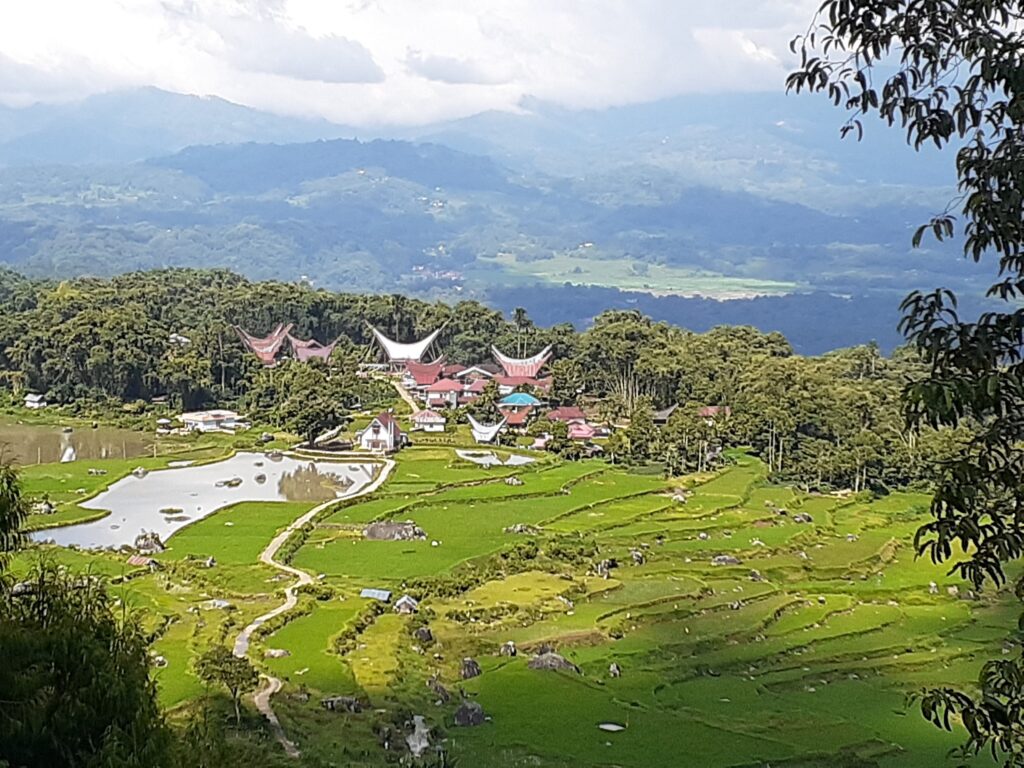 The Toraja people, who are said to have originated in Vietnam, live here and have a unique way of life. The area is home to a wealth of houses with special roofs that look like boats or buffalo horns.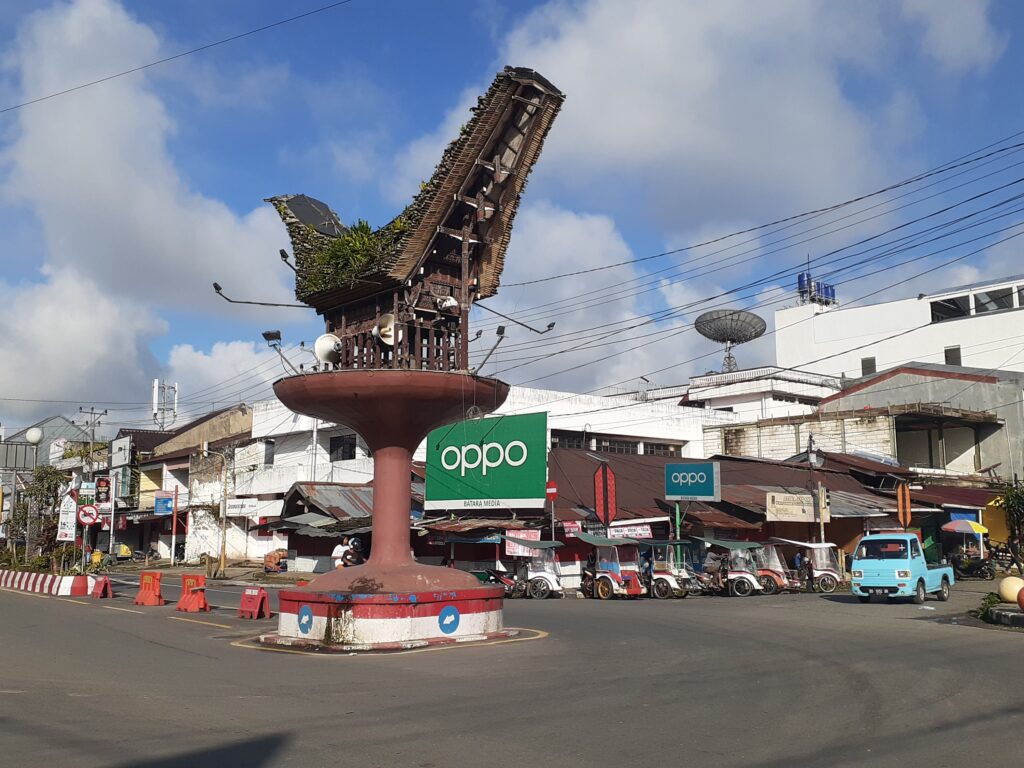 During the Middle Ages, when the European powers increased their control over Sulawesi, Tana Toraja's inaccessible mountainous location may be one of the reasons for the preservation of Toraja people's cultural customs, as it was not subject to the powers' rule until 1905. Religion is predominantly Protestant, but Muslims also live in the area.
We stayed here for four nights and used Rantepao as a base from which to explore the sights.
Tana Toraja Tourist Information Centre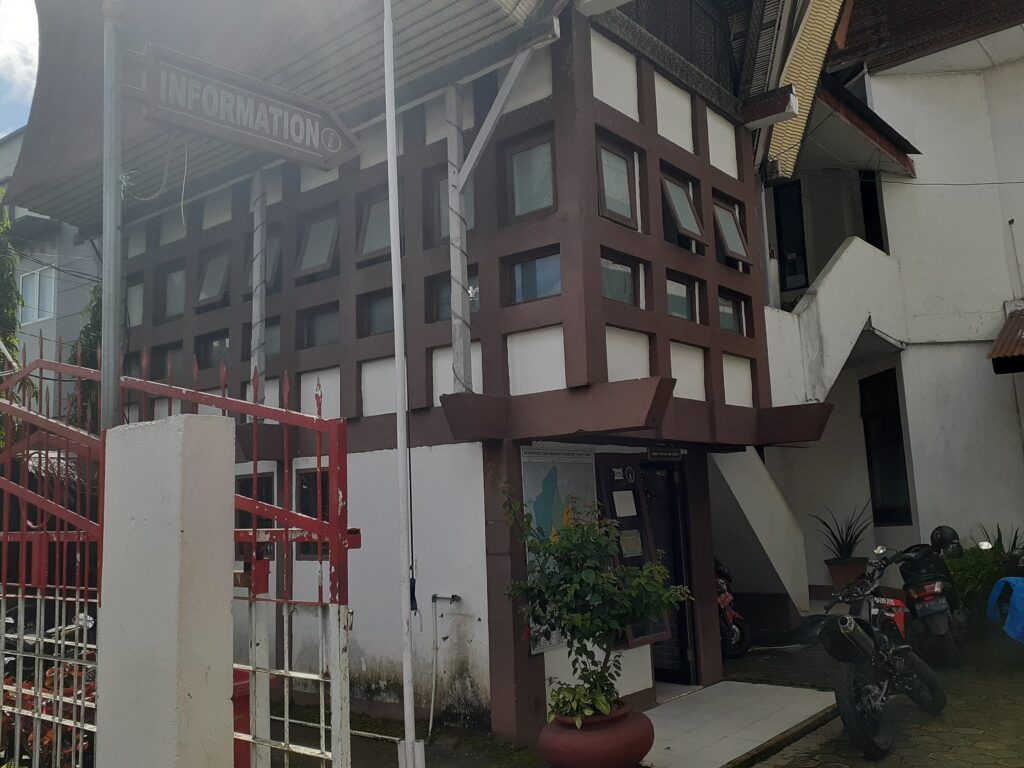 There are 'Tourist Information' signs everywhere in Tana Toraja, but when you go there, you may find it is a guesthouse or a travel agency. The official Tourist Information Centre is located in the centre of town, along the main street.
Inside, there was a whiteboard with a list of events in Tana Toraja. Among the Torajan rituals, funerals in particular are very unique, and yet they are very welcoming to visitors. So, if a funeral is held during your stay, you should definitely go and observe it.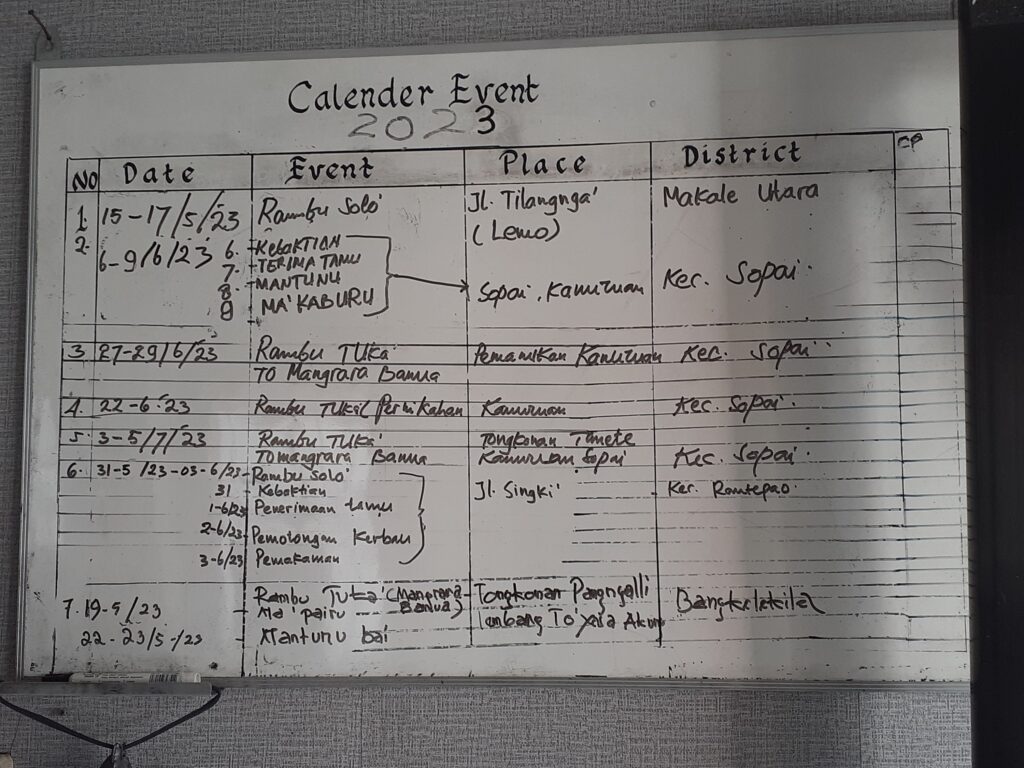 The 'Rambu Solo' in the top column of the list means funeral. Torajan funerals are usually held over three days, and the day after we visited the Tourist Information Centre was the third day.
At the tourist information centre there was a very friendly and approachable woman, but she insisted on being our tour guide (herself). She explained that even going on a funeral tour would not be possible without a tour guide. She said that a tour guide would cost Rp 500,000 for the whole day (from 9am to 5pm). We politely declined the offer as it was too extravagant for us:) Always good to get a Government salary and work privately at the same time!
Visiting a traditional funeral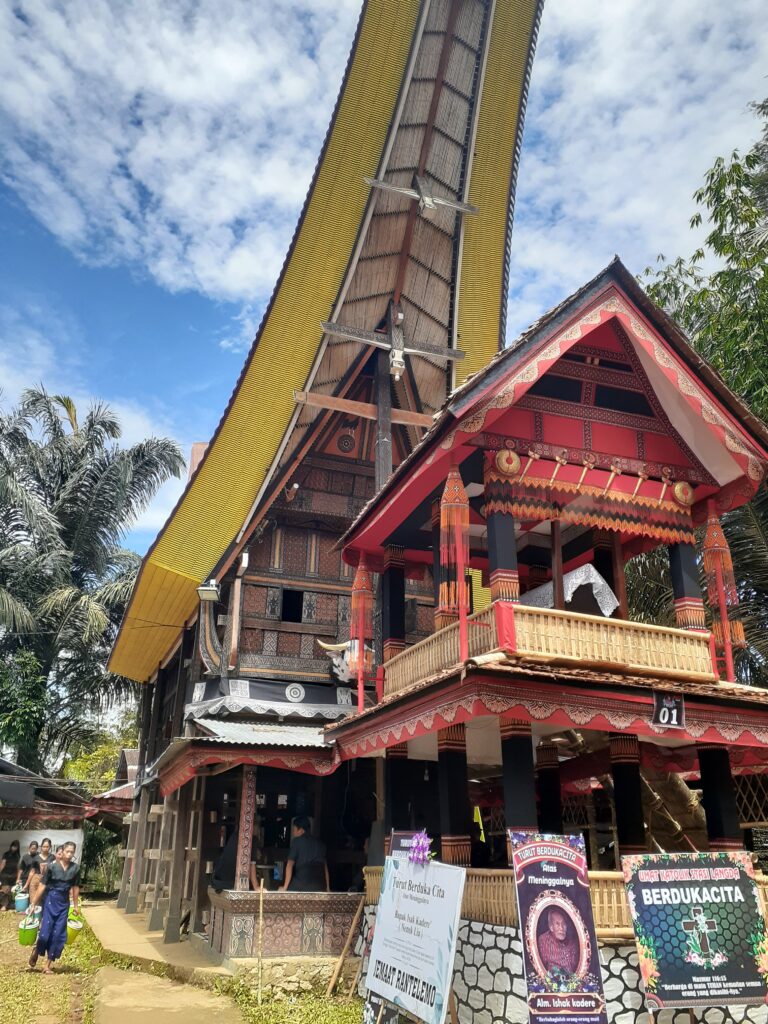 We decided not to take a tour guide, but we wanted to see a Torajan funeral so we decided to head out to the address on the events calendar.
The whiteboard sais 'Jl. Tilangnga (Tilangnga Street)', and Google Maps showed that it was on the way from Rantepao to Lemo. As funerals for people here are quite grand, we decided to go there in the hope that we would find out it by asking around.
There are many shared taxis operating on the road from Rantepao to Makale via Lemo. You can easily pick one up by standing on the roadside in the southbound lane of the main street.
At first glance, shared taxis look like ordinary private cars. If you see a car like the one in the picture below slowing down or flashing its lights in front of you, that's the one, so quickly ask for the price to get where you're going and get in.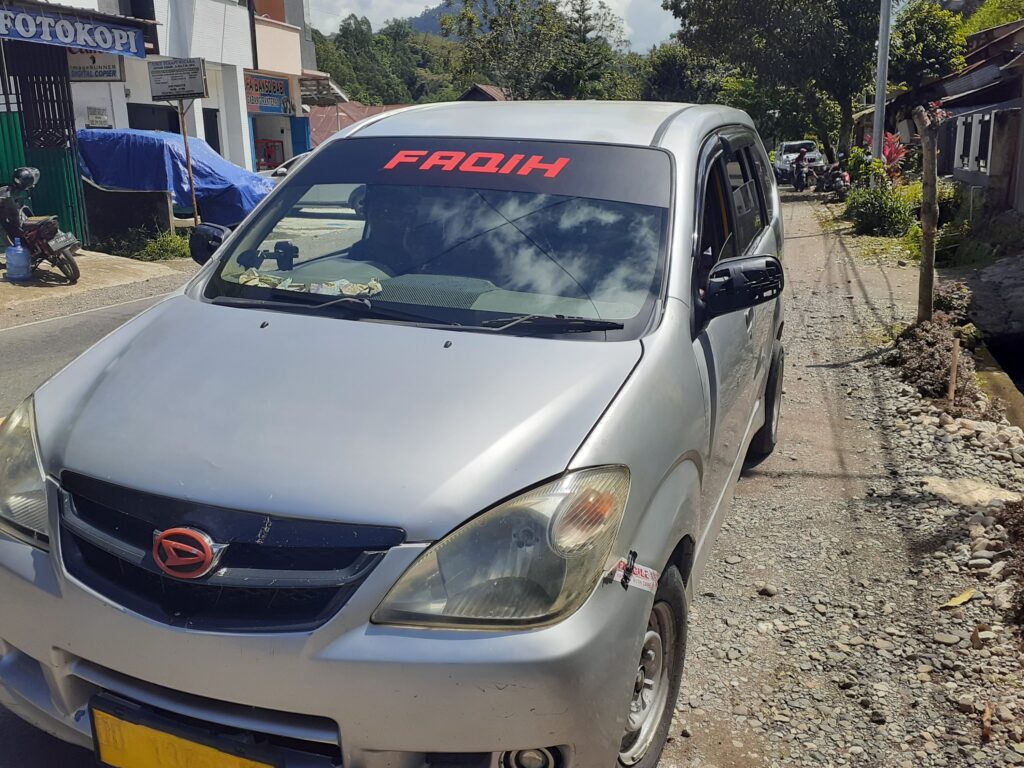 A shared taxi to the intersection just before the town of Lemo cost 7,000 rupiah per person. Incidentally, the return journey somehow cost 5,000 rupiah.
We got out of the car at the intersection and started walking down the street in question. We asked a neighbour we saw on the way "Rambu Solo?" and he told me to "go straight here and turn right when you pass the rice fields". It seems that everyone knows about the funeral, after all.
Asking several people in this way, we were able to reach the funeral site.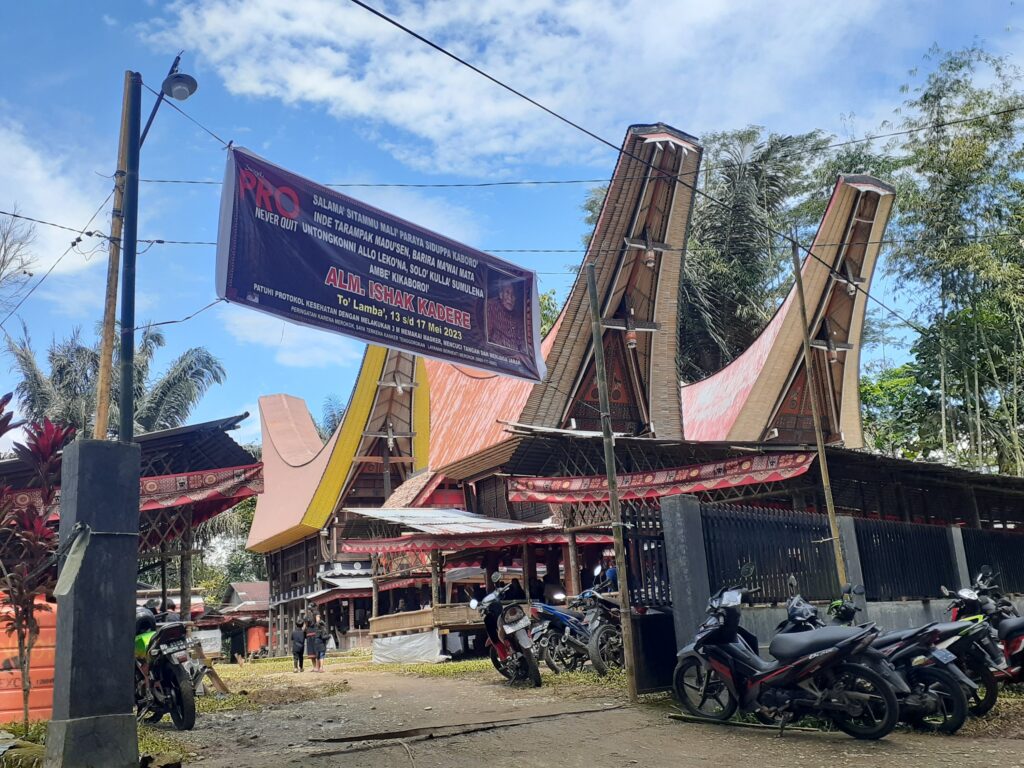 The funeral hall is set up in the centre of a building with a roof built in the Tana Toraja traditional style. Many people had already arrived and were sitting on the bamboo terraces built around the building. Everyone was dressed in black traditional clothes and I felt a little embarrassed because I wasn't dressed in black.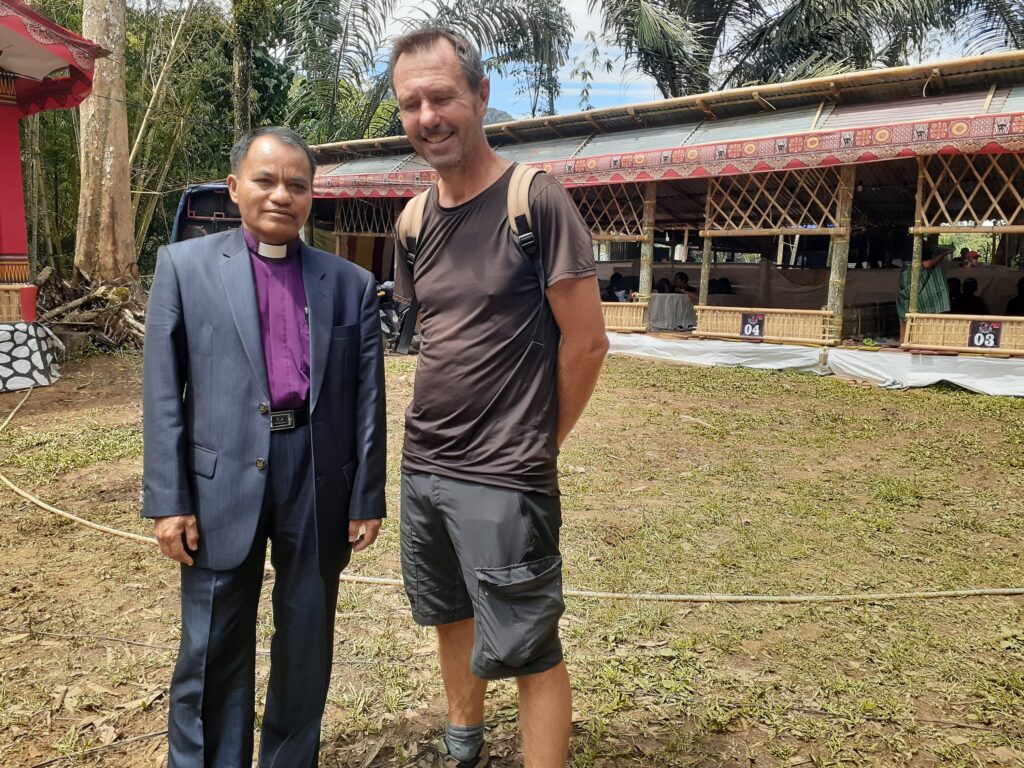 At the back, women were busy preparing food. In the centre, a coffin was in an elevated spot and an audio setting was being set up next to it. The ceremony did not appear to have started yet. Most of the attendees were dressed in traditional Indonesian costumes.
We couldn't communicate much as they only spoke Indonesian, but I got the impression that they had no problem with us observing the funeral.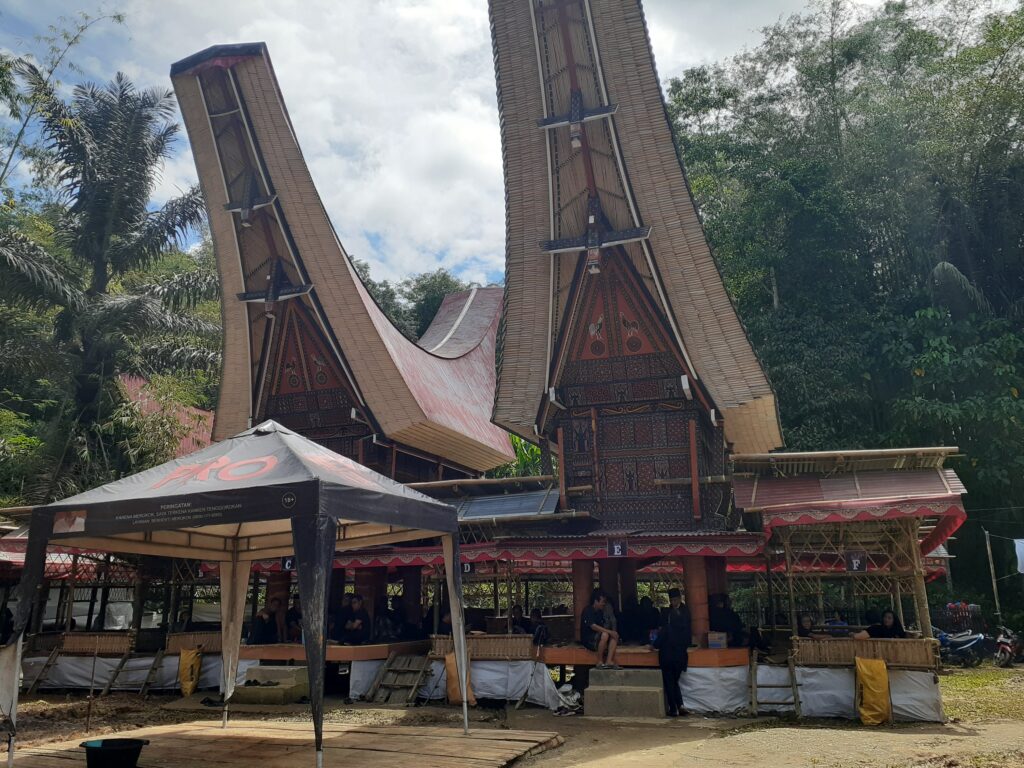 There were other foreigners besides us and it was clear that they really welcome foreign visitors. However, it still felt a bit awkward attending a funeral of someone we didn't know, and as we were walking away, we were approached by a young woman in the family seating area. She asked us if we wanted to come up, so we went over to the family table. She understood a little English, so we conversed in English and Indonesian.
After a while, the food was brought out and it was time for lunch. We were encouraged to eat with them, but we declined, saying that we had come empty-handed. She insisted and so we ate a little.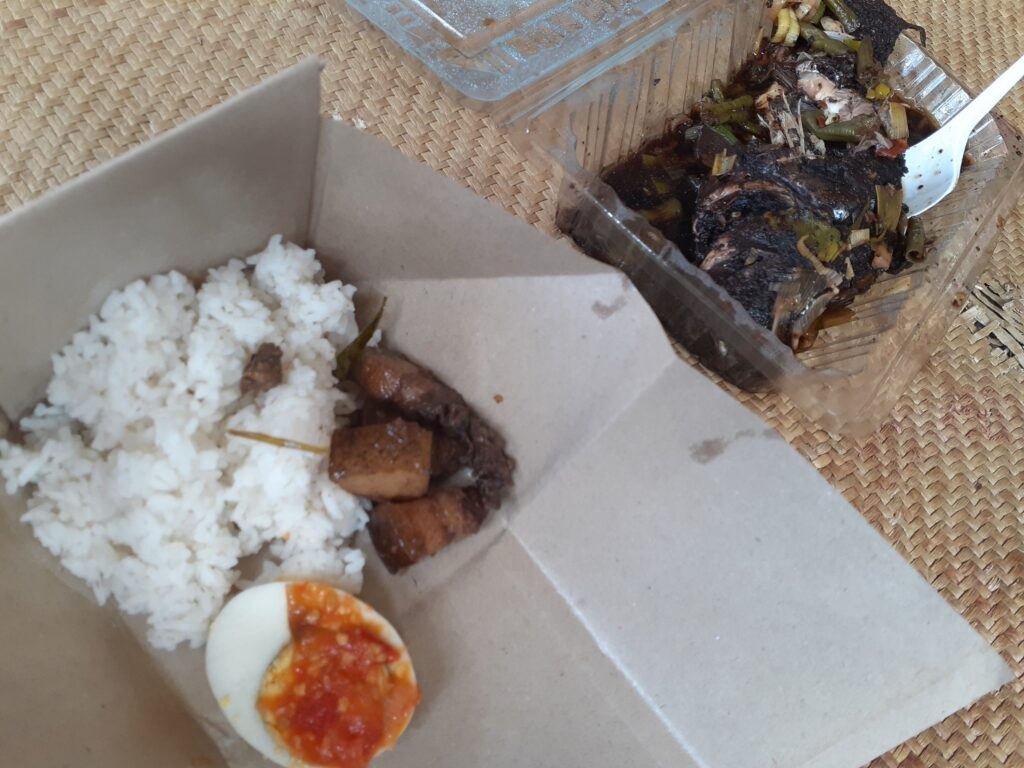 The deceased was her grandfather-in-law, but the family was not in an atmosphere of sadness, and they were chatting happily. There seems to be a unique belief among Torajans that death is not something to be grieved over.
On this final day of the funeral, which usually lasts three days, the meal was followed by hymns and speeches.
Perhaps the most spectacular is the second day, when the buffalo is slaughtered as a sacrifice. Unfortunately we were not able to observe it, but the special participation in the Torajan funeral was a valuable enough experience.
At the end of the last day, the coffin was supposed to be taken out, but as the weather was getting rough, we left the funeral home before it took place.
Kuburan Batu Lemo Cave Cemetery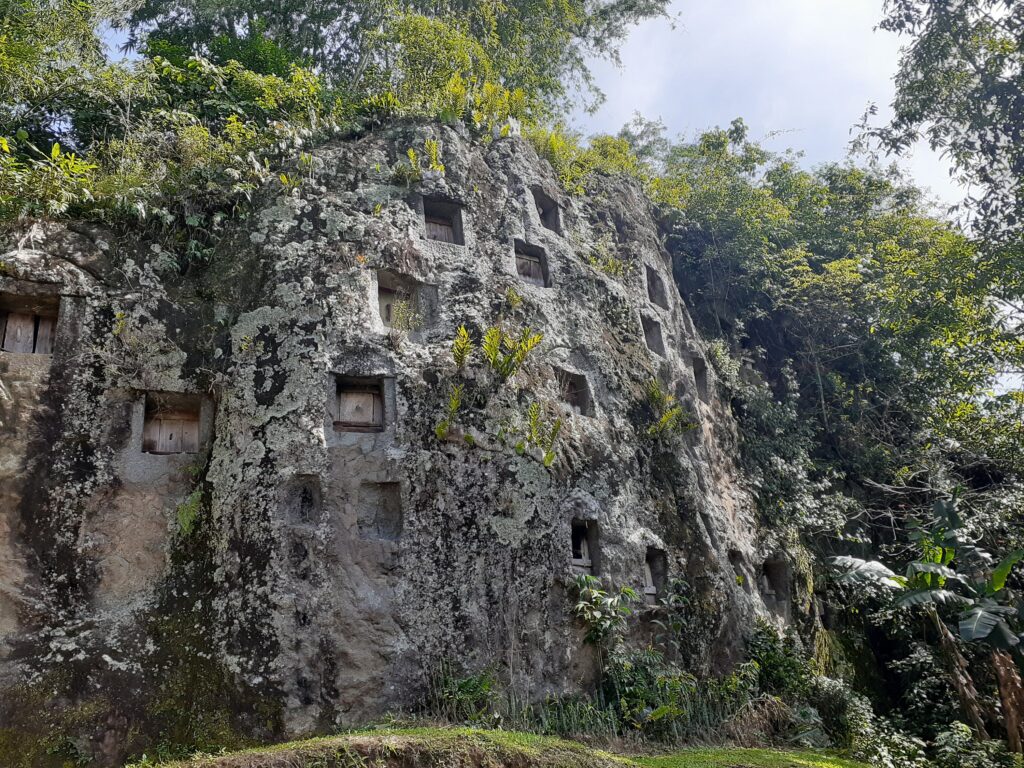 The Toraja people have a special belief in death, and their cemeteries are unique. In Tana Toraja, the dead are not often buried in the ground. Instead, they dig into cliffs to house coffins or hang them high up on the cliffs.
Cemeteries dug into the cliffs are also one of the main attractions. A well-known cemetery for tourists is the Ronda cemetery, but the Kubran cemetery to the south of it was more empty and more relaxed to visit.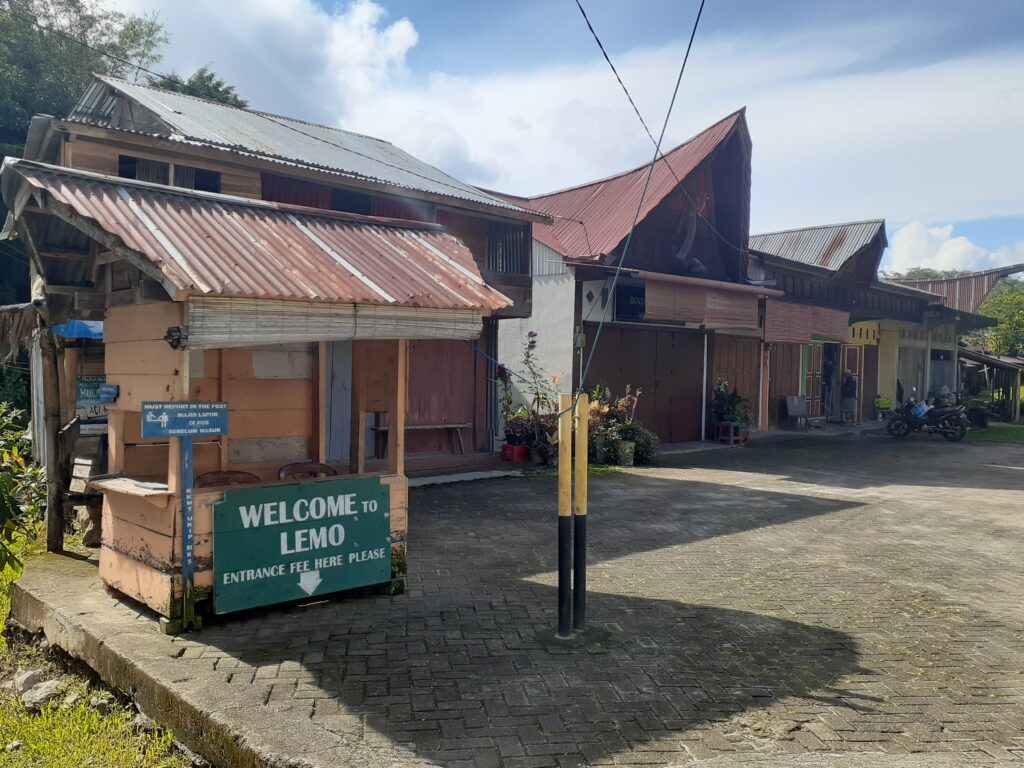 Take a shared taxi from the town of Lantepao and get off at Lemo. From there, walk east to Kuburan Batu Lemo.
The entrance fee is Rp 10,000 per person for Indonesians and Rp 20,000 for foreigners.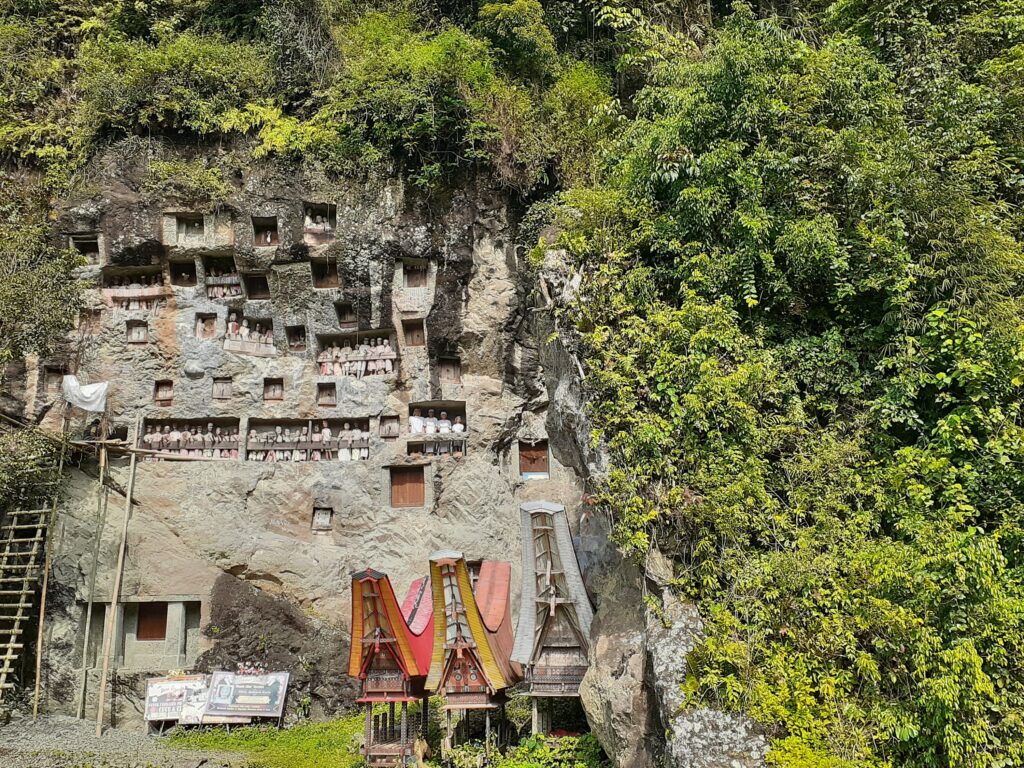 Several coffins are already housed in the precipice and decorated with dolls called tau tau.
The bamboo ladder on the left side of the photo shows that work was in progress to dig a pit for a new tomb.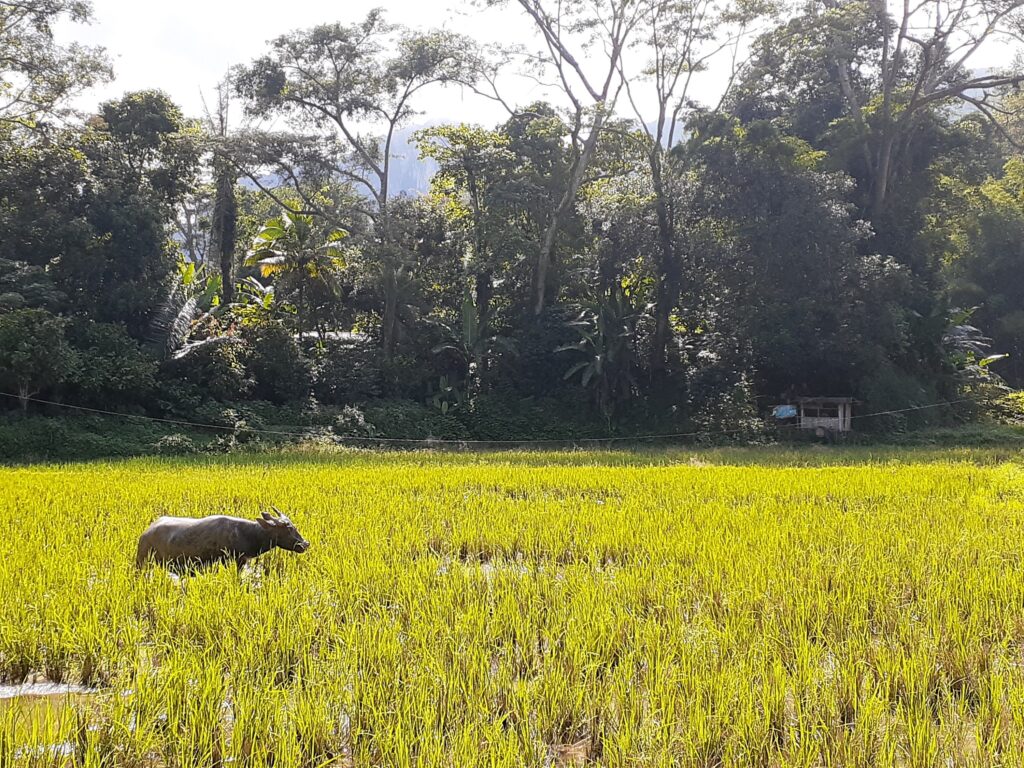 Kuburan cemetery also has a cemetery section at the back. Walk past the row of souvenir shops near the ticket office and along the rice field footpath.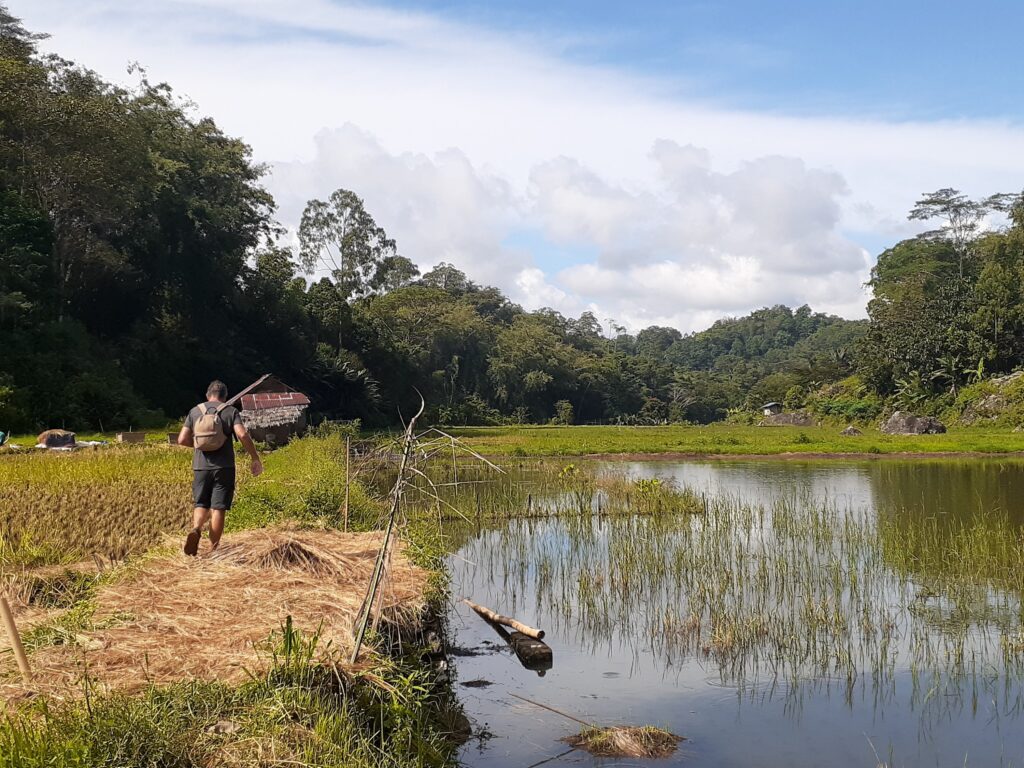 At the top of a flight of steps lined with several souvenir shops, you will find another cliff cemetery.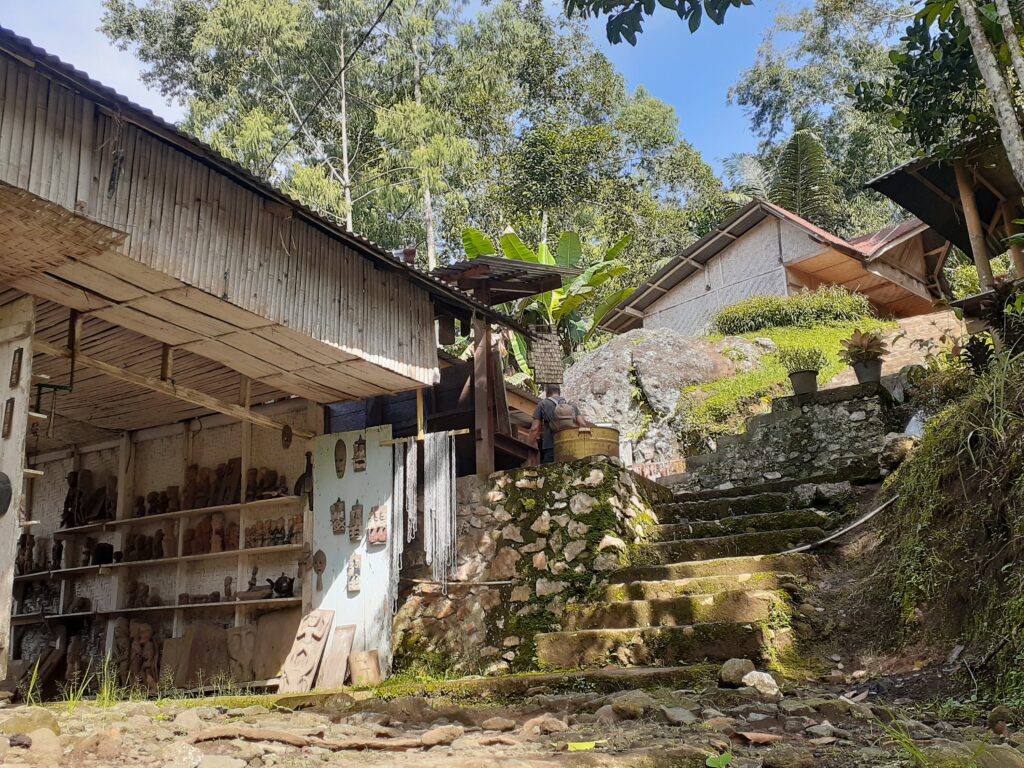 Walking along country roads in Tana Toraja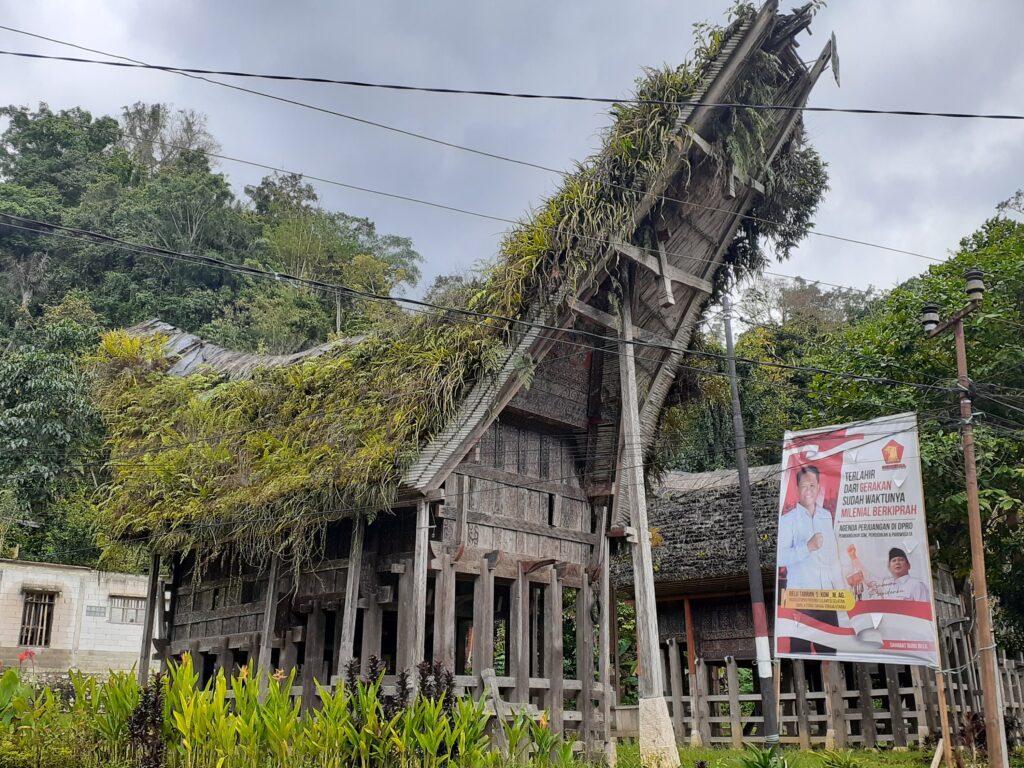 We walked along country roads from Kuburan Batu Lemo to Ke'te kesu, near Rantepao. It was about 10 km one way and took quite a long time as there are many hills. However, we were able to enjoy the scenery with traditional architectural tongkonan, which is rooted in the life of the local people.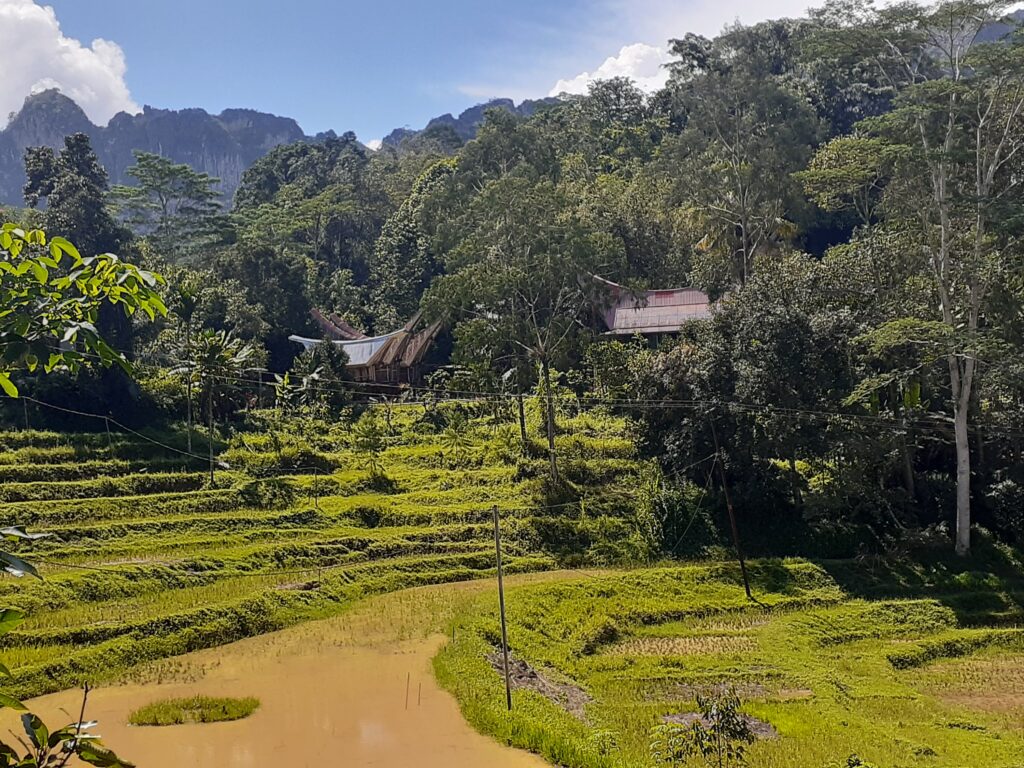 Once you take a step into the countryside, you will see rice fields and terraced paddy fields, dotted with Toraja's unique roofs.
Buildings with traditional roofs in Thana Toraja are known as 'tongkonan'. They provide living space, but the rooms themselves are small, so many families live in separate buildings next door.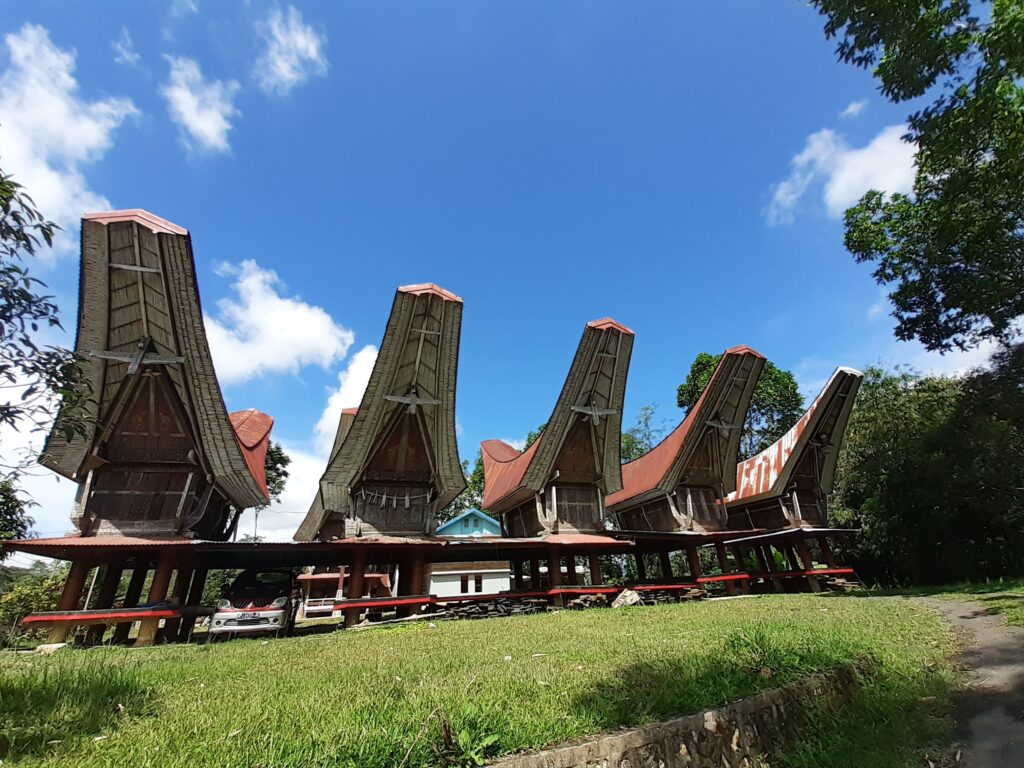 The traditional architecture of Tana Toraja is not passed down as 'heritage', but is still part of the way of life today. There is a forest of roofs that warp up towards the sky, so much so that almost every house has a tongkonan-style building.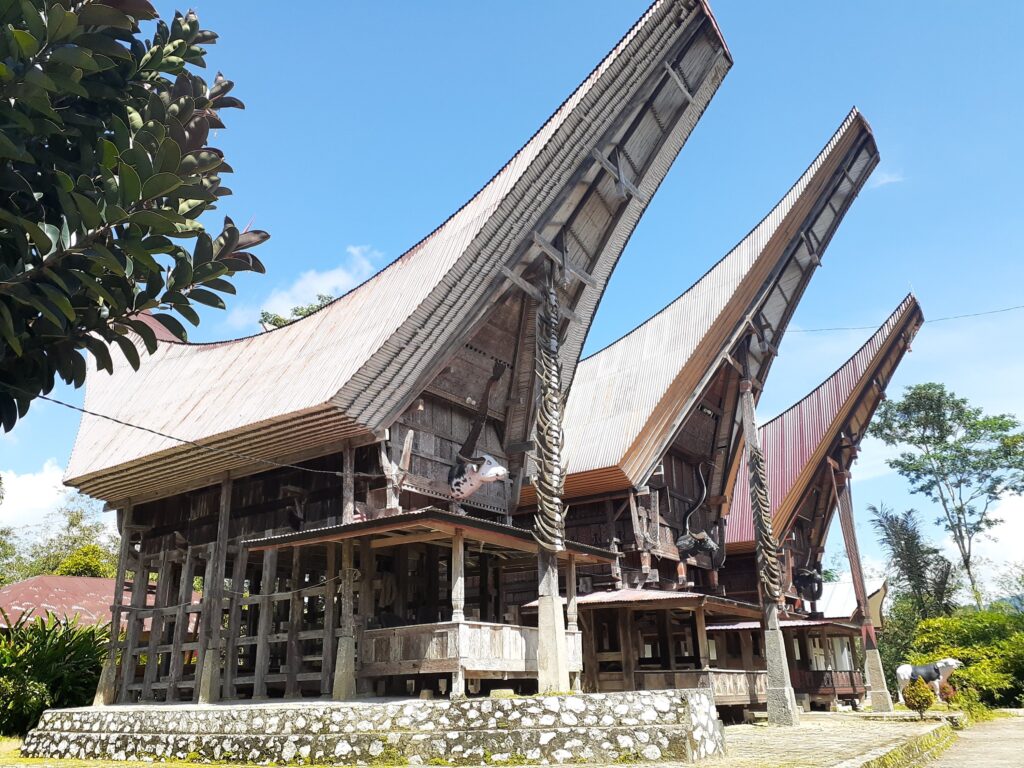 Many houses have more than one tongkonan per house, and some houses have terraces or garages on the lower part of the stilts.
Traditionally, slaughtered buffalo horns are displayed in front of the tongkonan.
A rice storehouse called an 'alang' and is relatively small conpared to a tongkonan. Many houses have more than one arang and are built opposite the tongkonan.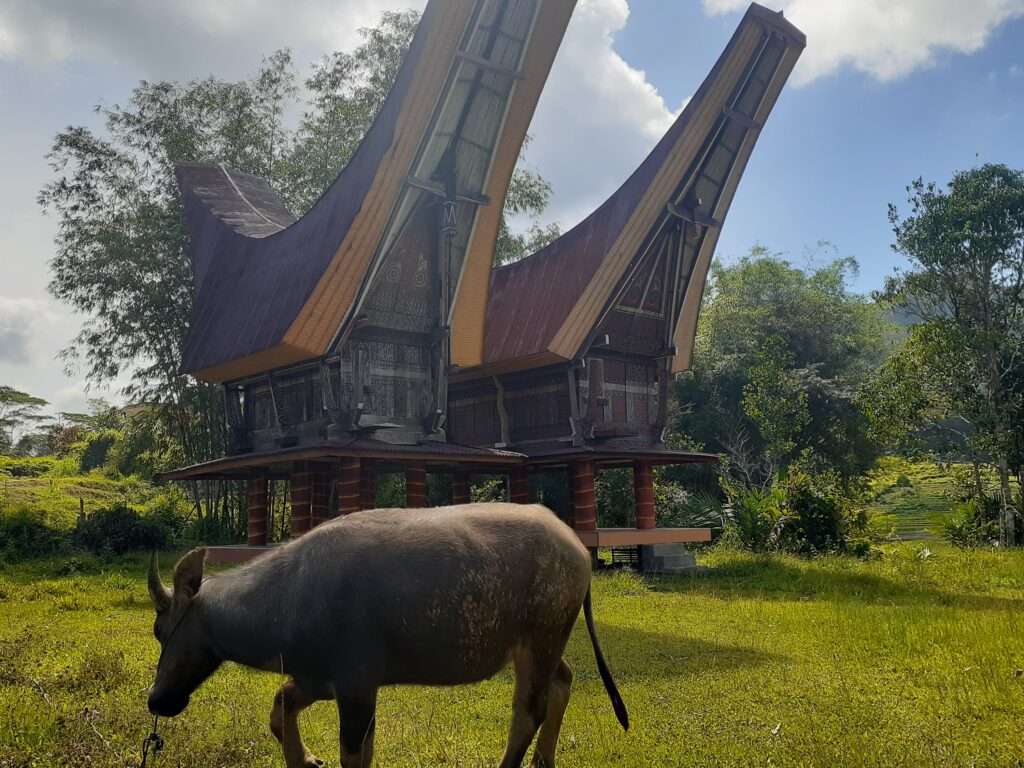 While walking around and taking photos, one notices that the tongkonan are always built towards the same direction. Usually, the tongkonan is built facing north and the arang is built facing south. The view of several tongkonan and arangs being built facing each other was quite impressive.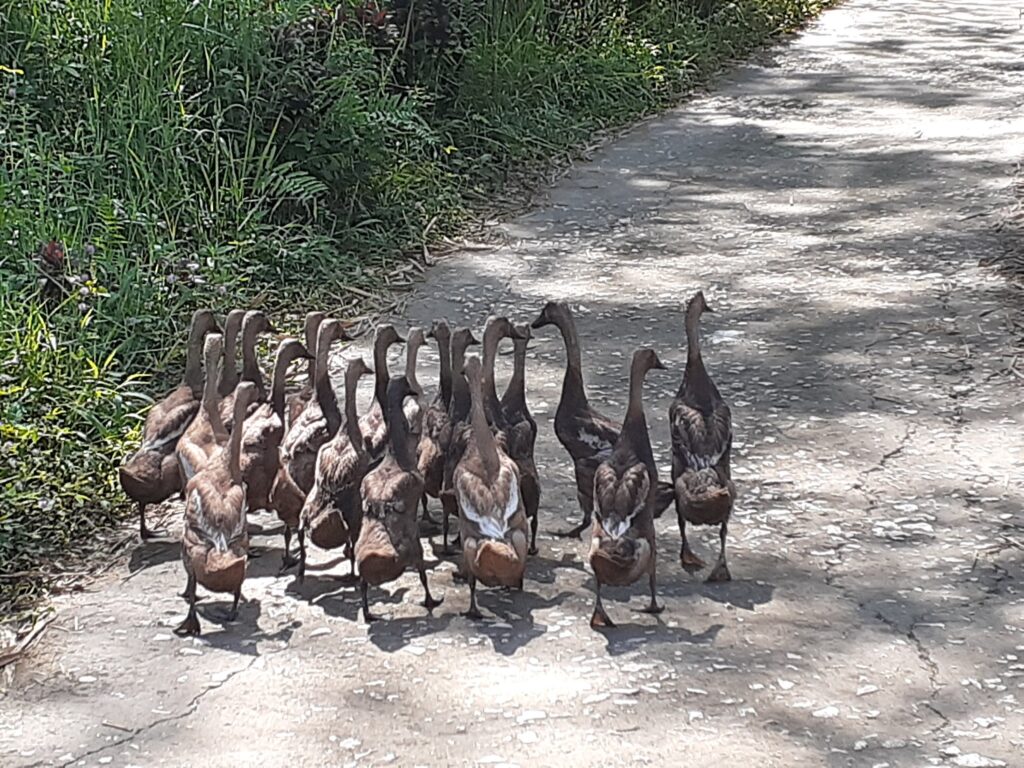 On the country roads of Tana Toraja, there were ducks as well as buffaloes and chickens. Ducks were swimming in the paddy fields before the seedlings were planted.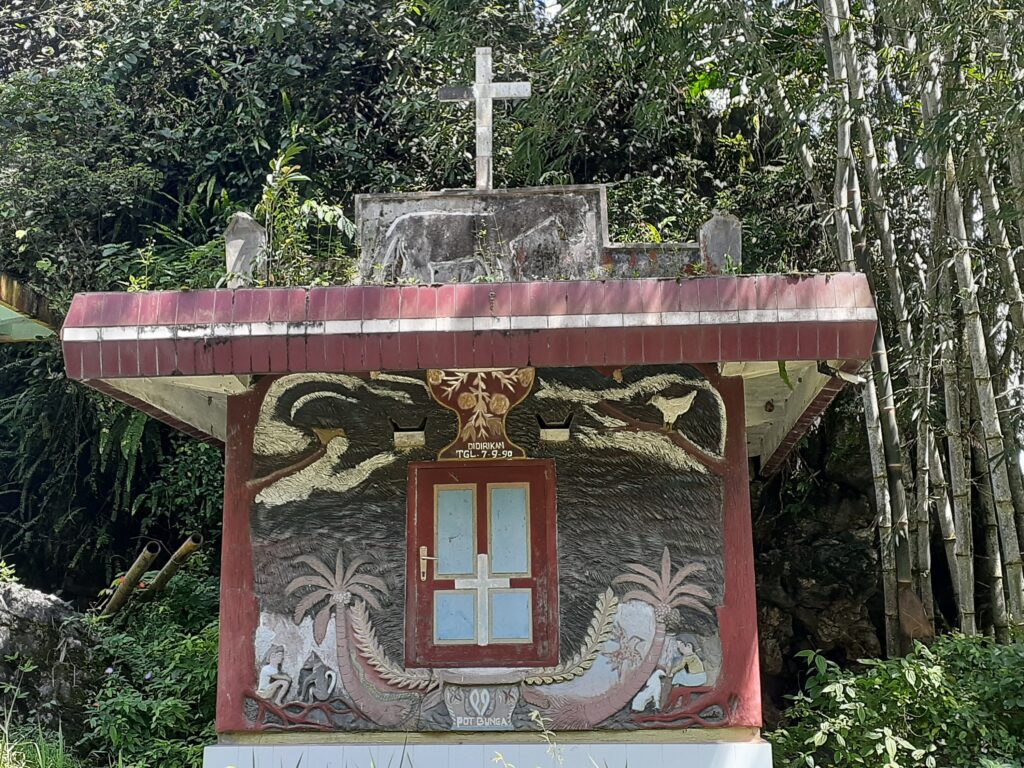 This is a grave beside a rice paddy. It has a small door and is colourfully decorated.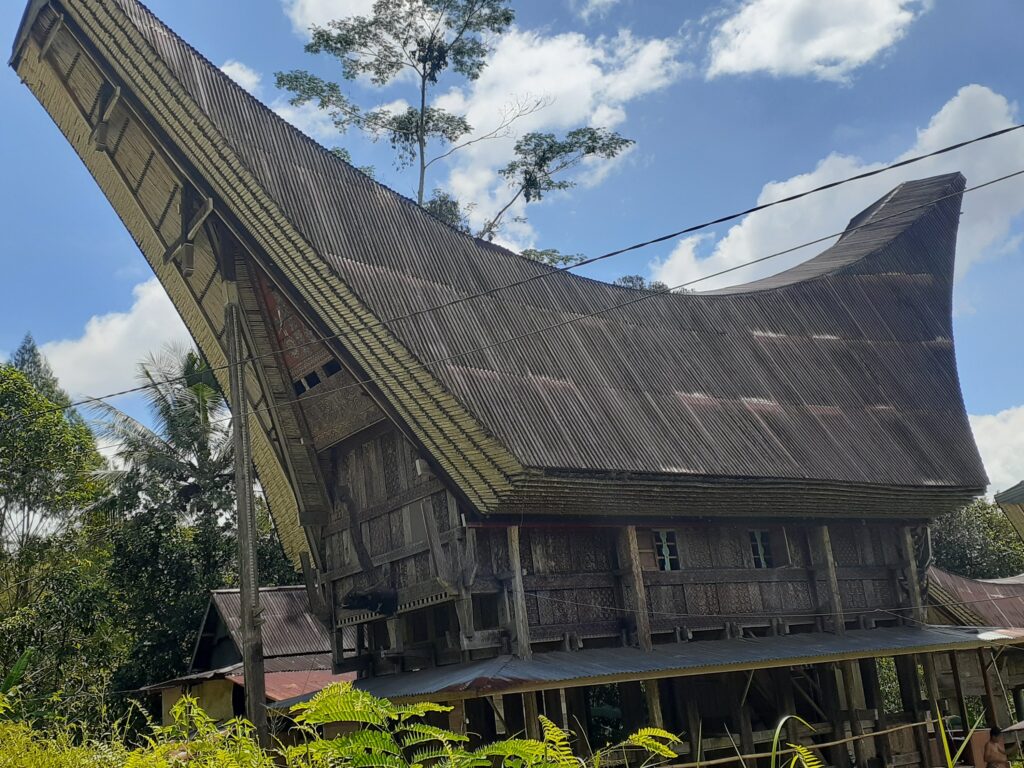 Tongkonan and Alang are built without architectural blueprints. As a result, they differ slightly from one to another and the design varies slightly from village to village.
Mini lunch break
We took a lunch break on the walk from Kuburan to Ke'te kesu. On this day, we had bought some food called Soko in the morning and brought it with us, so we had it.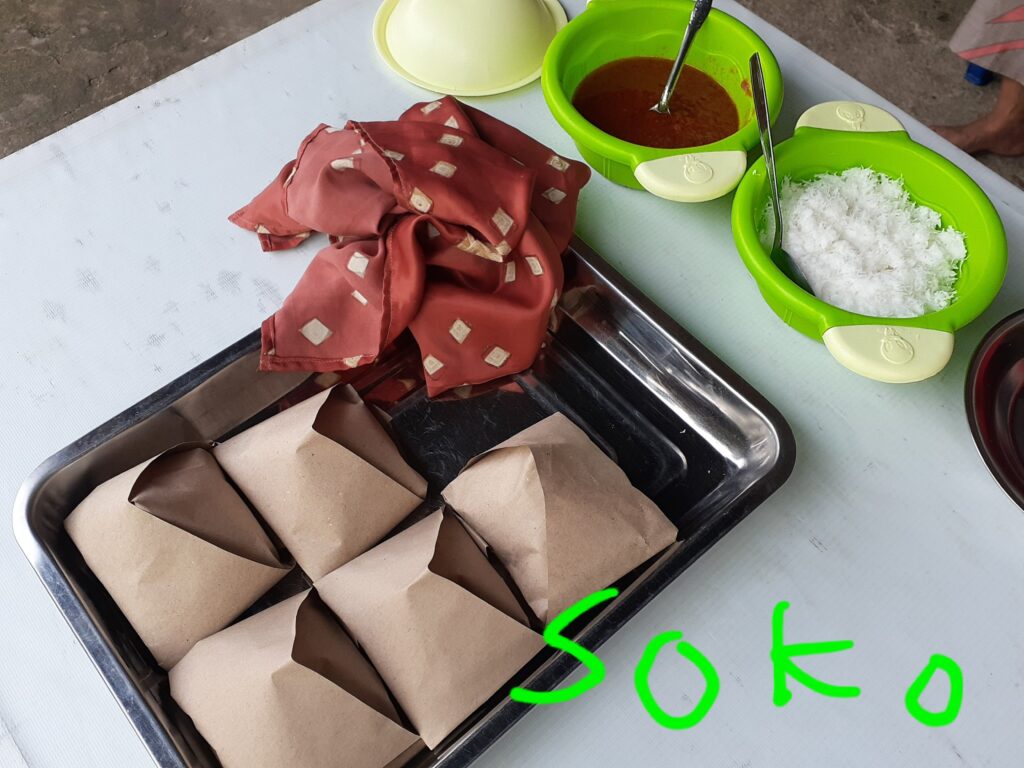 Soko is sold wrapped in paper or banana leaves. There is steamed glutinous rice inside and they add coconut flakes if you buy it.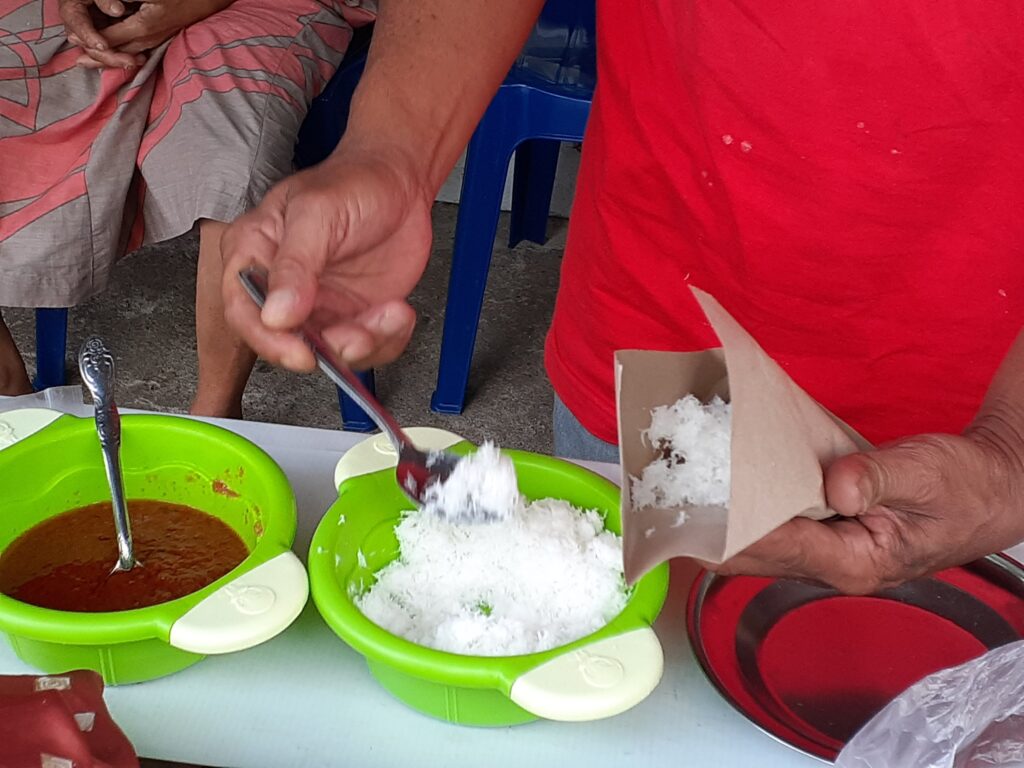 There was no added sugar, just the subtle sweetness of the coconut flakes. Sambal (chilli sauce) comes with the rice, so you can add more if you like.
Ke'te Kesu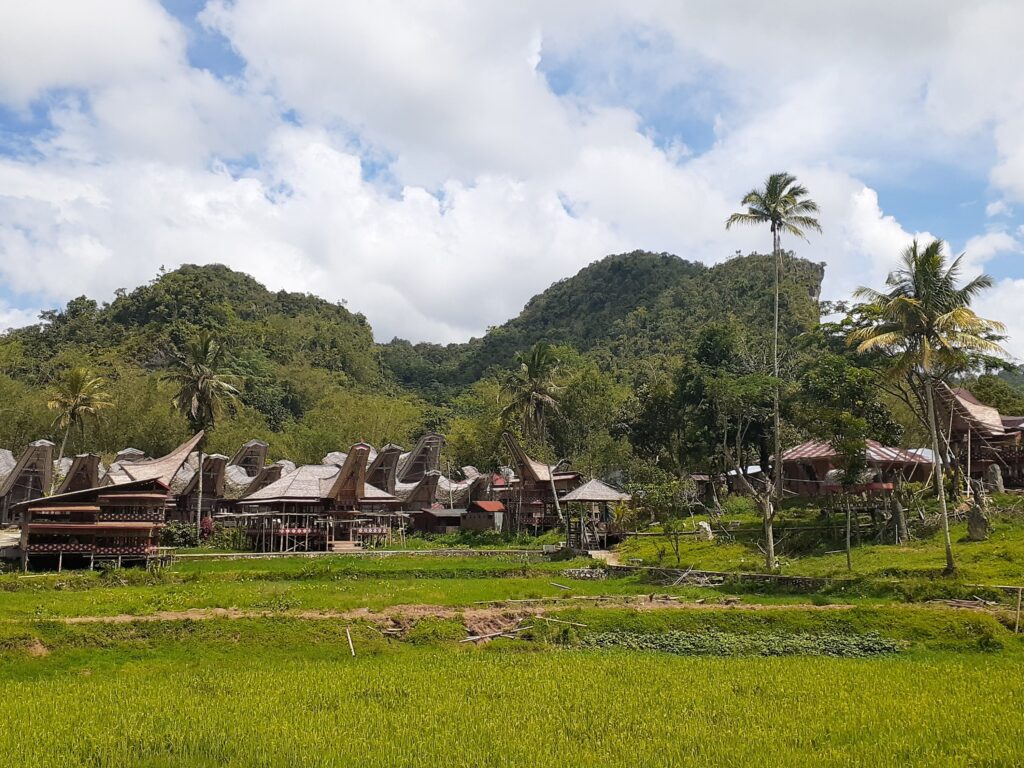 Ke'te' Kesu village is a popular spot for tourists close to Rantepao. It is a compact and convenient destination for travellers with limited time, as it combines Toraja culture, including traditional Tonkonan architecture and a cave cemetery, in a quick and easy tour.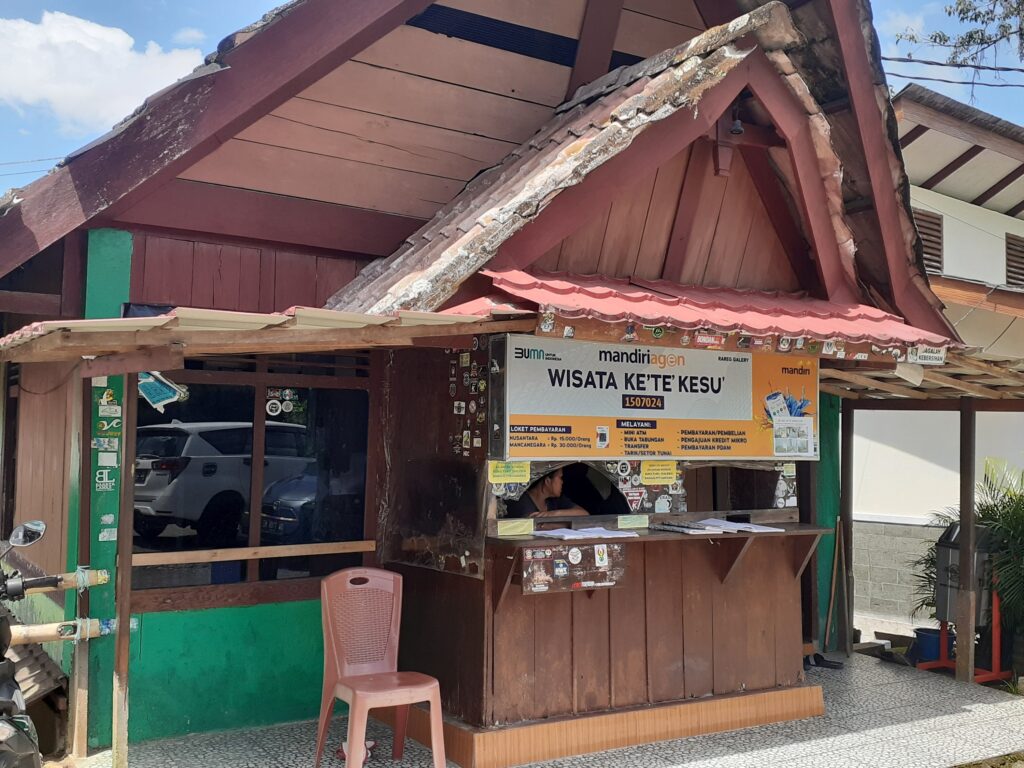 The entrance fee is Rp 15,000 per person for Indonesians and Rp 30,000 for foreigners.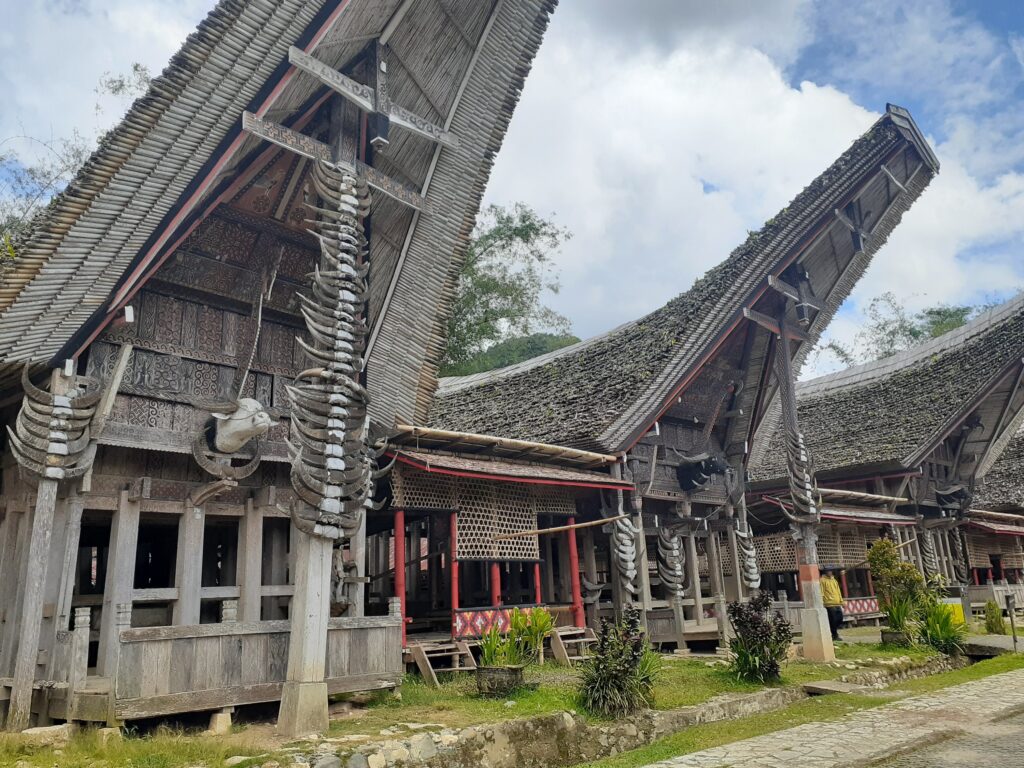 After visiting the tongkonan, walk up the stairs to the cave cemetery.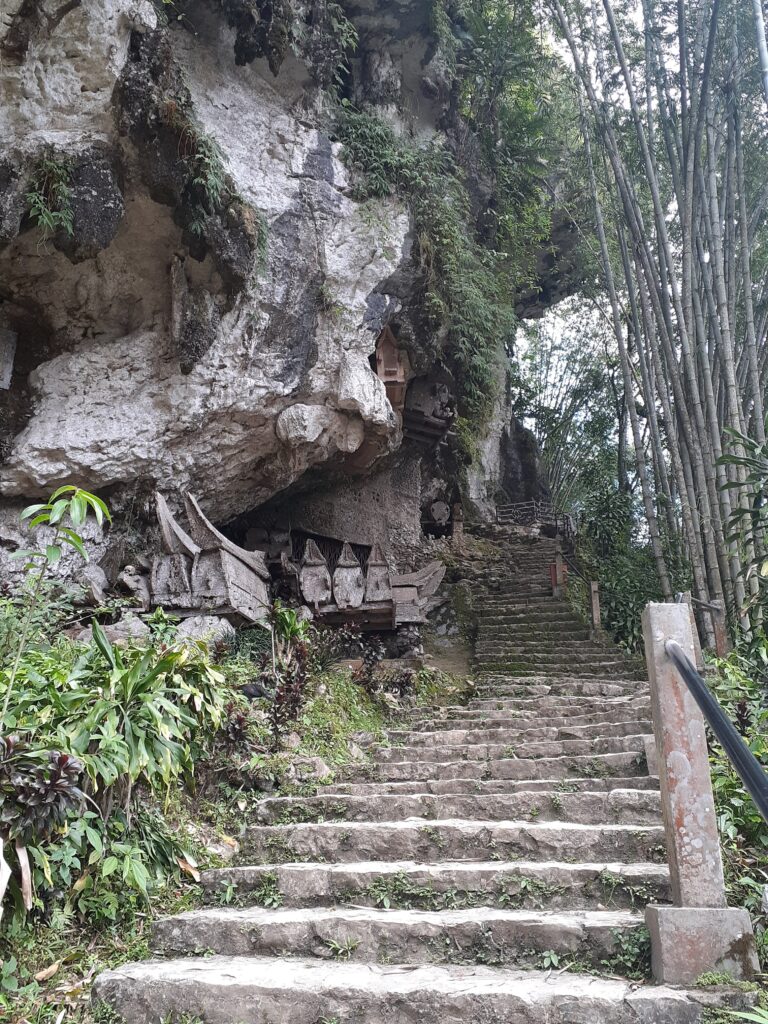 At the top of the stairs is the entrance to the cave. Bring a light to enter the caves.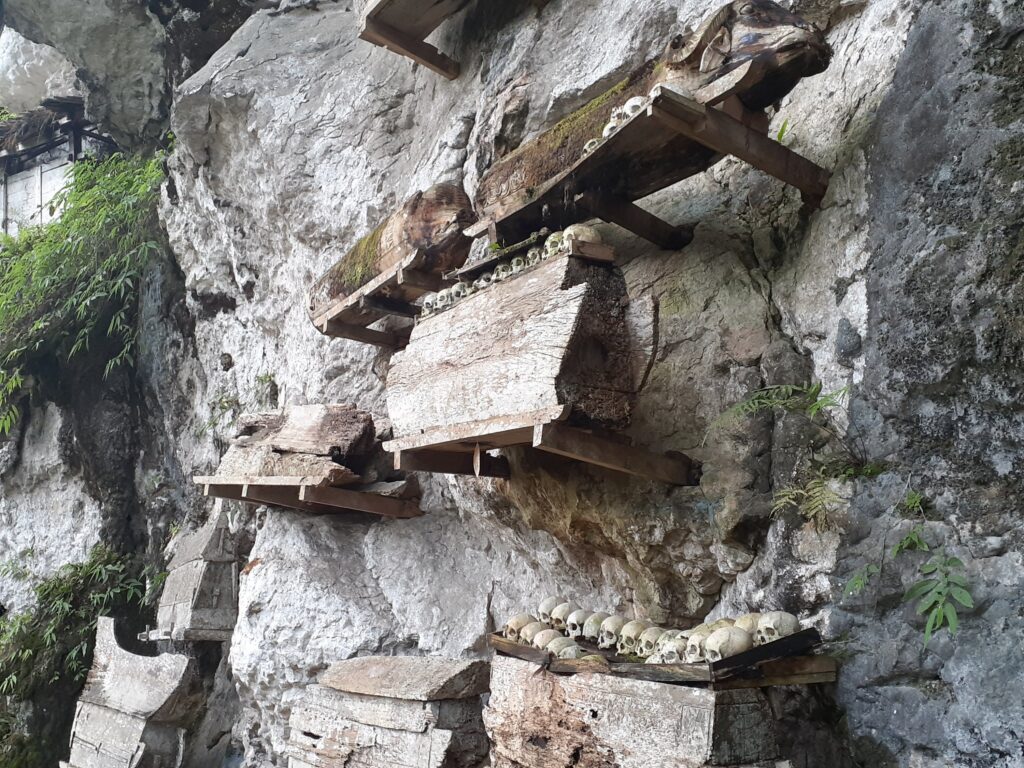 Shared minivans operate from Rante Pao town centre to Ke'te kesu, but we walked back to our guesthouse.
Incidentally, there are homestays dotted around the area. It is a bit far to get to the town centre, but convenient for those who want to visit this sute in the morning when there are fewer tourists.
Tasting local shochu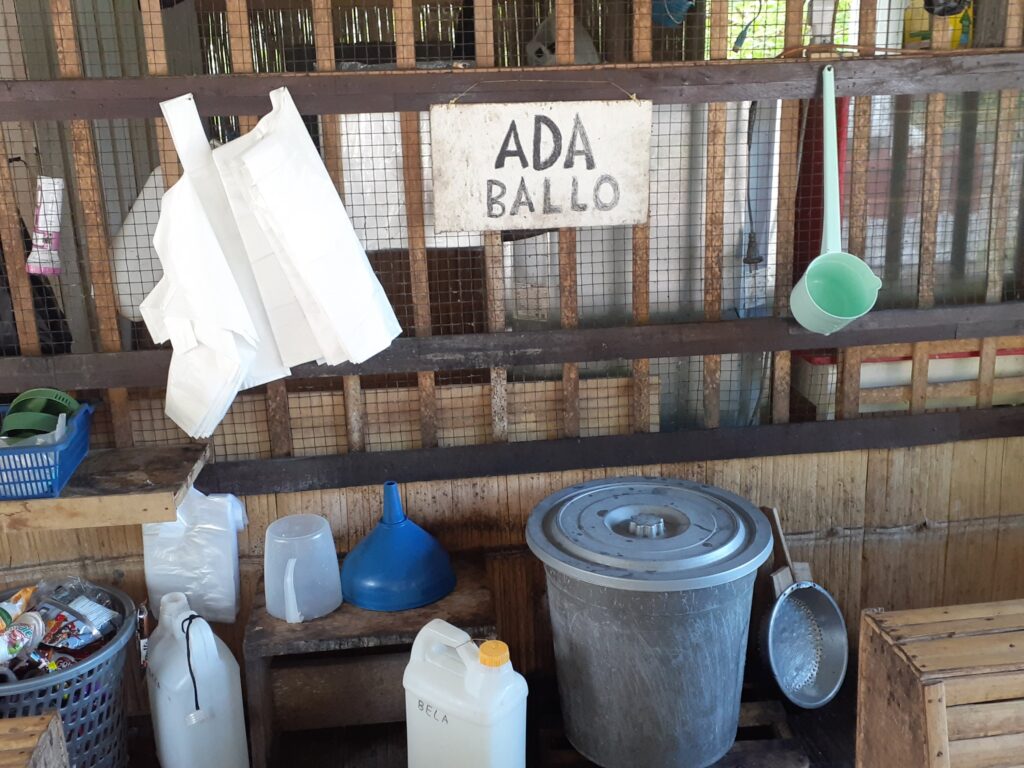 By the way, during the funeral visit, we saw a plastic tank containing a white liquid being carried into some of the attendees' seats. It was clearly an alcoholic drink, but later turned out to be a palm liquor called 'Ballo'.
On the way back from Ketiketu, we stopped at a shop with a 'Ballo available' sign.
When I spoke to them, they said, "Choba (try it)?" and palm wine was poured into my cup. Of course, I was happy to try it, but…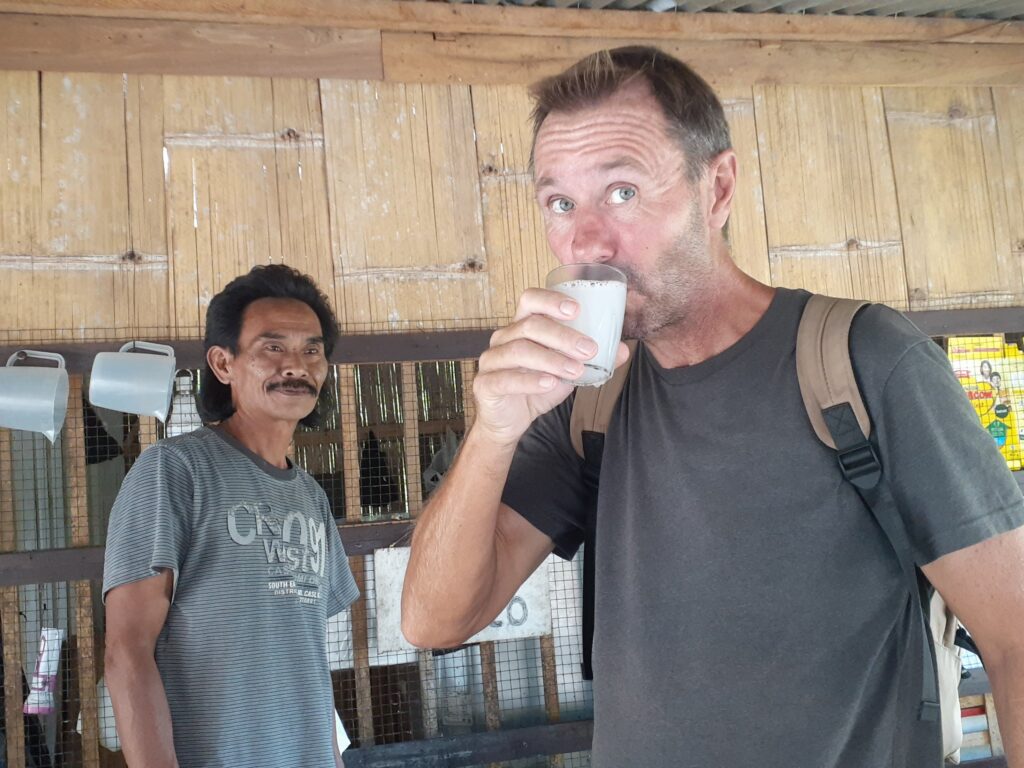 …I couldn't drink more than 'tasting', so I gave it back to the owner without being able to finish it. It had a strong acidity, which is fine, but also a very strong peculiar taste, perhaps due to the acridity of the palm. If you get used to drinking it, it may become addictive, but that day will probably never come for us.