After leaving Bunaken Island, where we stayed for twelve days, we returned to Manado on the island of Sulawesi.
From here we will head to our next destination, but before we do that, we managed to extend our Indonesian visa.
We've extended visas twice in Manado so far: in February and in June. This post was first published in February, and edited in June. The visas were separate Tourist Visas on Arrival.
Indonesian Arrival Visa and Visa Extension
When you enter Indonesia, many nationalities can get a Visa on Arrival at the airport. Arrival visas are valid for 30 days, but you can only extend this visa once.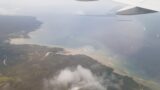 Arrival visa in Manado: Entering Indonesia
We just arrived in Manado on the island of Sulawesi, Indonesia. We used the visa on arrival process and obtained a 30-da...
The extension period is 30 days and is calculated from the date of expiry of the initial Arrival Visa. This means that you can stay in Indonesia for a maximum of 60 days.
The following items are required for a visa extension.
A passport with at least six months remaining in its validity
Visa extension fee: Rp 500,000
Air ticket or other ticket to go out of Indonesia
Normally it takes two to three working days at Manado Immigration. Some immigration offices in other cities may take even longer, so it is recommended to apply as soon as possible.
As there are only a limited number of cities with immigration offices, people like us who plan to go to the countryside or remote islands need to be especially careful.
Immigration in Manado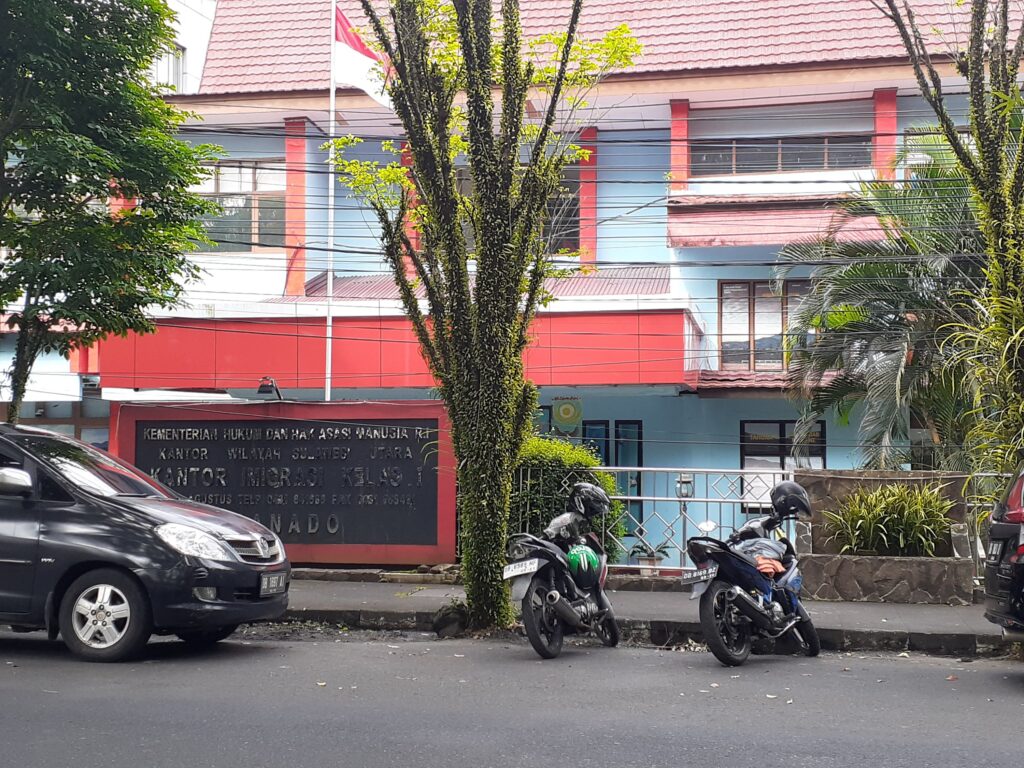 Immigration in Manado is located south of the city centre, in an area with many government facilities.
It can be reached by micro from downtown. Take a micro to 'Winangun 17 Coco' and tell the driver 'Kantor Imigrasi' and he will drop you off in front of you. The fare is Rp 6,000 per person.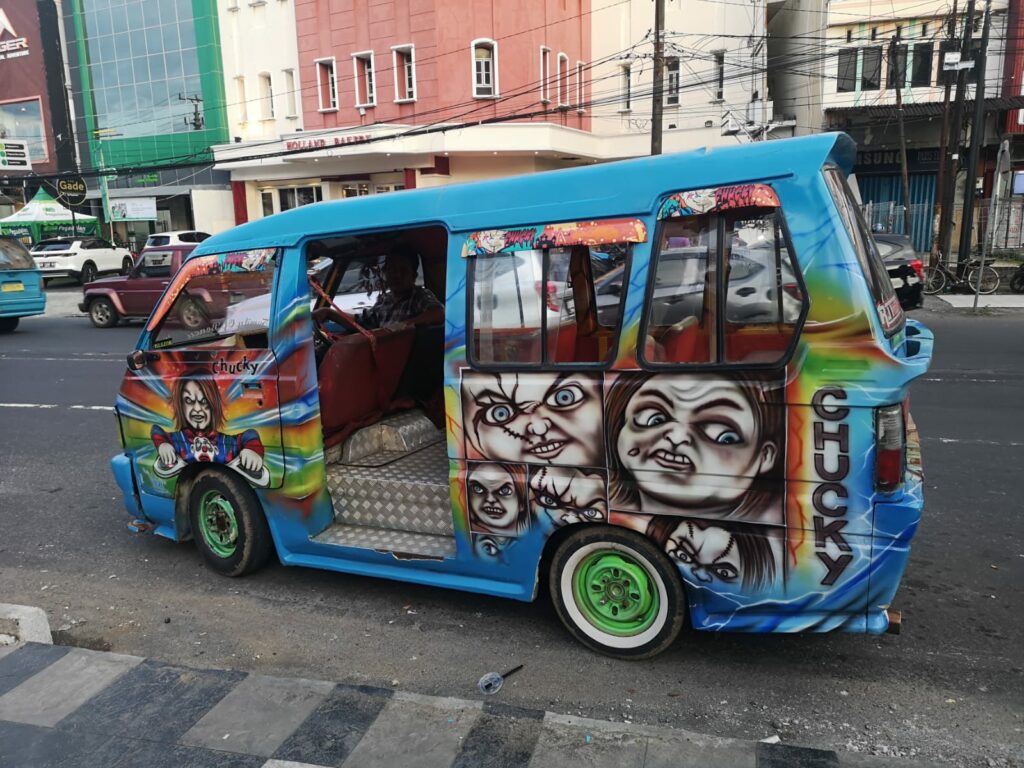 Visa extension section at Manado Immigration Office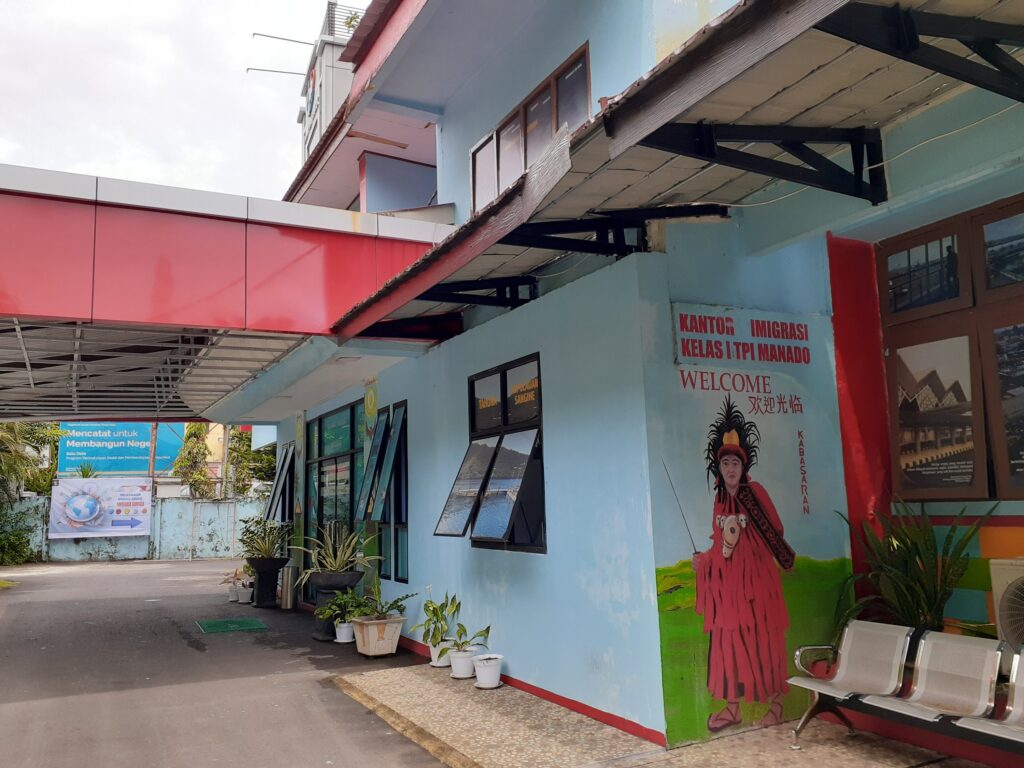 A colourful building in light blue and red, which does not look like a government building, is the Manado Immigration Office. Enter through the entrance marked 'Selamat Datang' (welcome).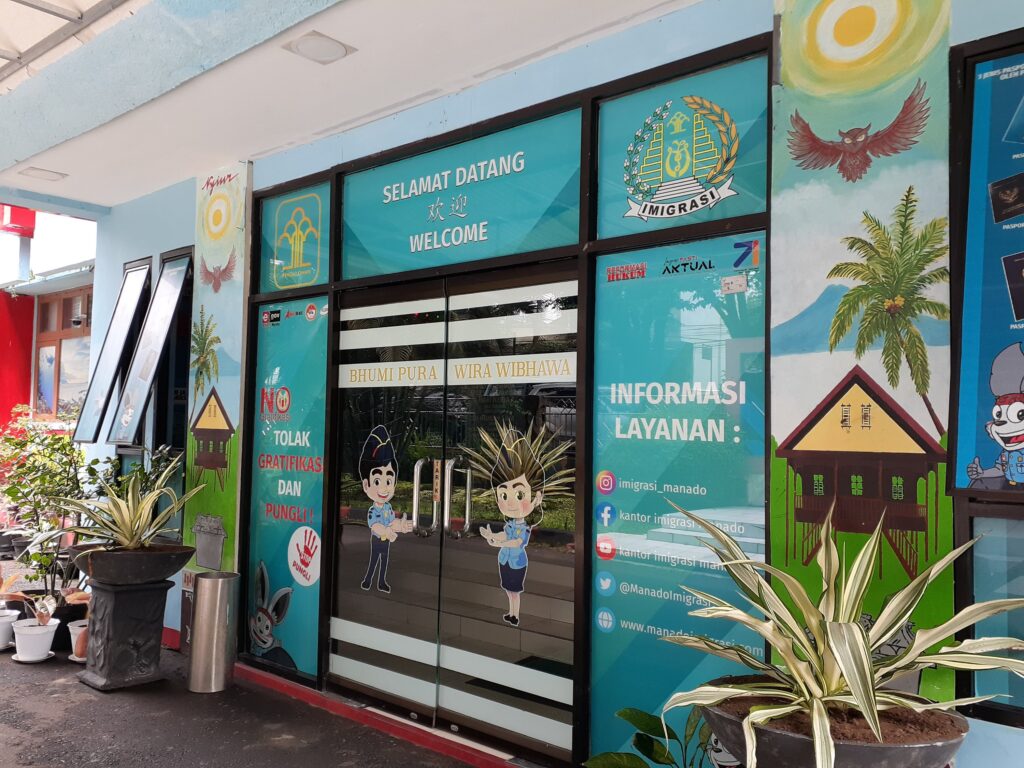 Once inside, you will find an area full of locals. The visa extension section is in a room at the back of the building.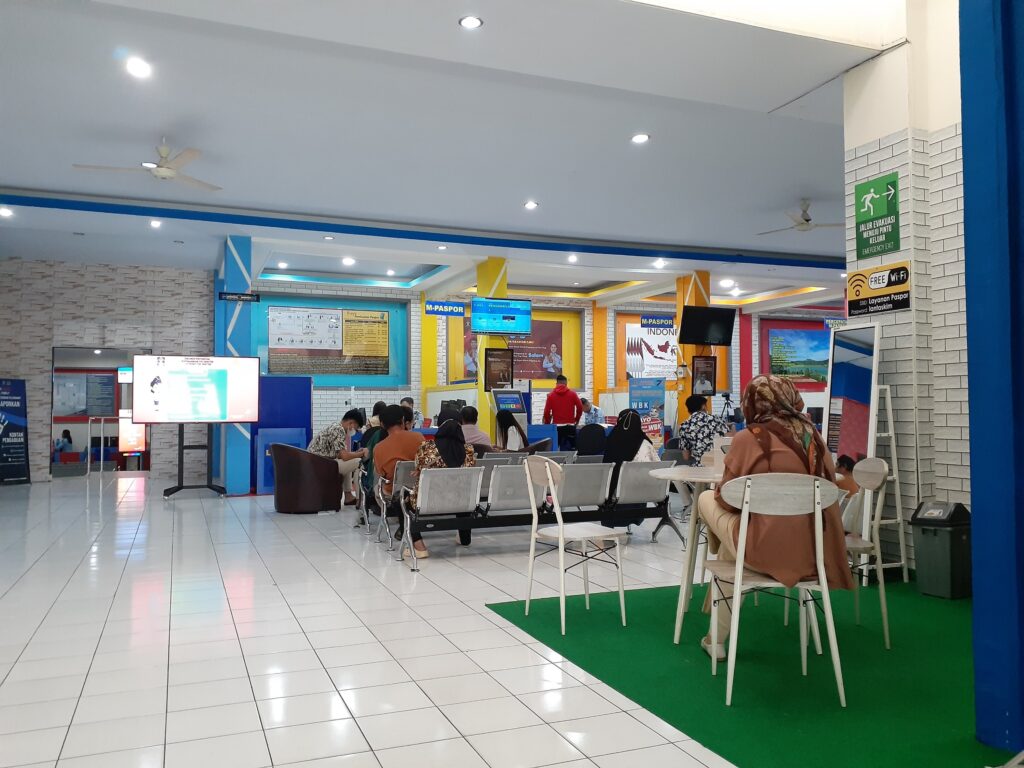 It is difficult to understand as there are few English signs, but go to the back and you will find a room lined with visa extension counters. Tell the staff there that you want to extend your visa.
How long does Indonesian visa extension take?
We were told that the normal application process would take two working days. In fact, we extended visas twice in Manado, and both times, we have been able to complete the extension process on the same day.
The first time, in particular, we wanted to travel to Ternate (Ternate) by boat the following evening, so we asked if it was possible to issue the visa on the same day. Luckily, we were able to have the visa extension process completed that day.
From what we have heard from foreign travellers we have met in Indonesia, the time required for visa extension varies from immigration office to immigration office. In some cases it took a few days. In comparison, the immigration in Manado worked quickly.
However, officially, it takes two working days to extend a visa at Manado Immigration, and we were told that it is not always possible to issue a visa on the same day every time. Please don't expect a same day extension, but it might be possible!
If you really want to get your visa extended on the same day, explain your situation and ask for advice.
How much does an Indonesian visa extension cost?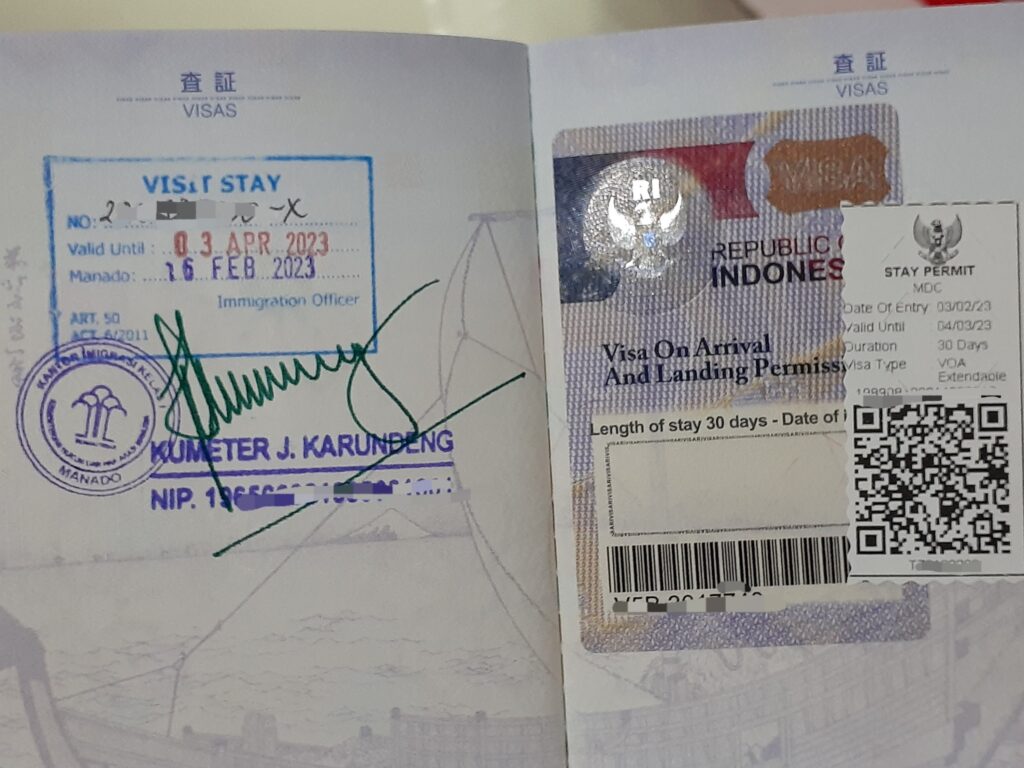 The cost for a visa extension is Rp 500 000 per person, which is paid at the bank and the application is processed with the receipt. After filling in the application form at immigration, you will be given a bank transfer form. After paying the fee at the bank with it, submit the receipt to immigration.
The nearest bank to Manado Immigration is BSG Bank, located in SAMSAT Manado in the north-west as of 2023/6.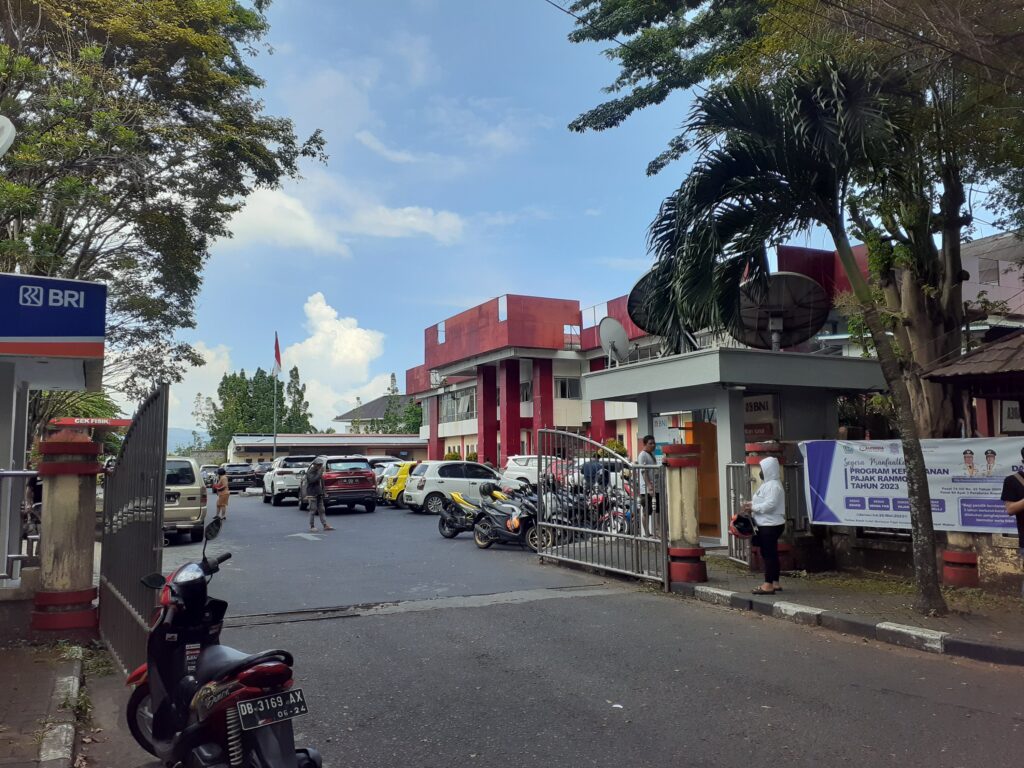 The bank is located to the left of the gate of SAMSAT Manado.
When we went there a lot people standing outside waiting.
There was a uniformed security guard standing near the entrance, so we spoke to him in Indonesian and showed him the fee payment form that we were given at the Immigration Office and waited for a while. Soon after, we were beckoned to come in and pay the fee.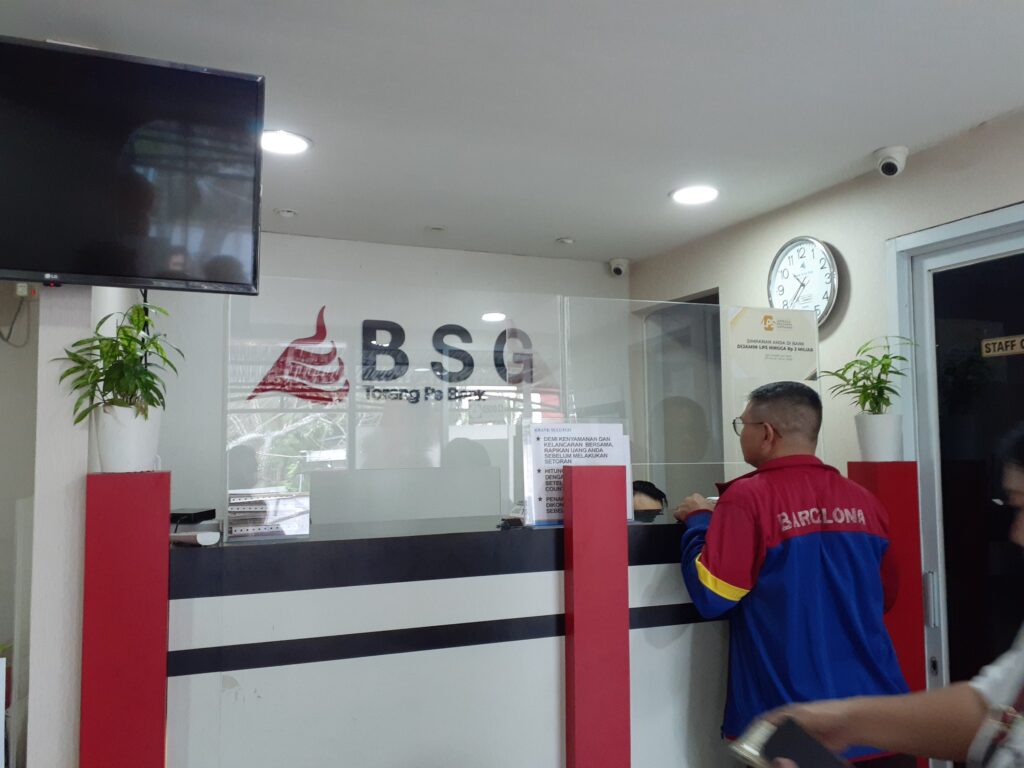 The woman at the counter spoke very good English and the payment was completed very smoothly.
Once payment is completed, you will be issued with a receipt as shown below. Take this with you back to the Immigration Office.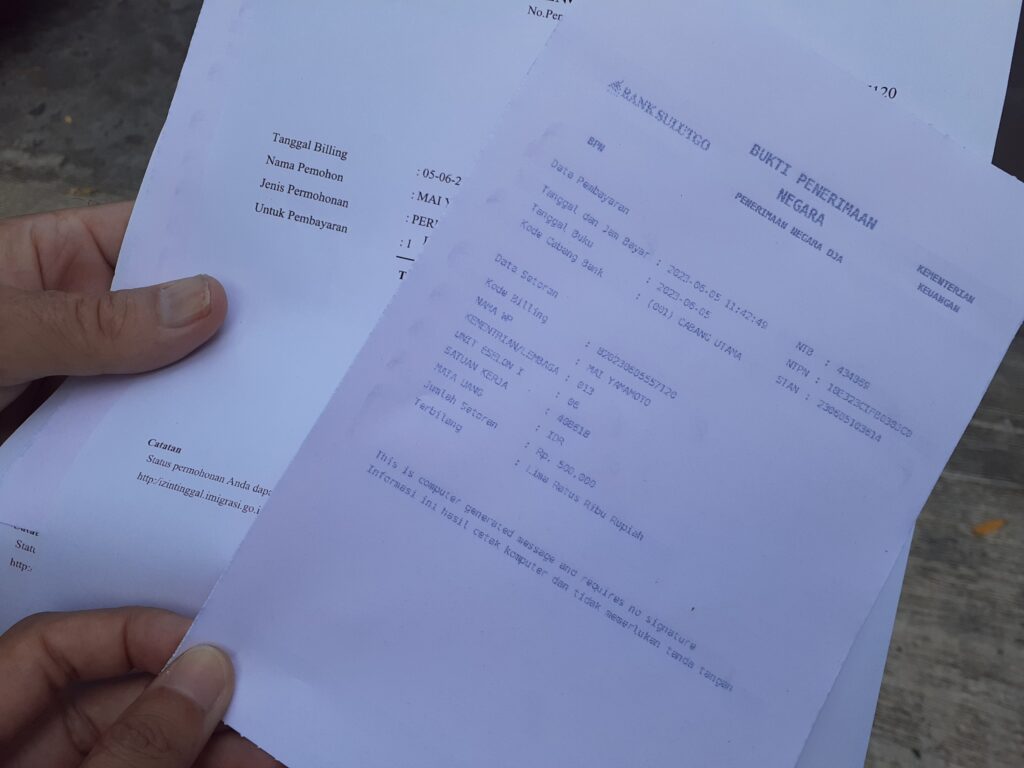 Onward tickets must be presented for Indonesian visa extension.
Submit the visa extension application form together with your passport and fee payment completion form. At this time, the departure ticket out of Indonesia must be presented.
At the time of our first visa extension, we did not have an exit ticket. But we bought our airline tickets on the spot using our frequent flyer miles, had the staff print out the email we received and applied with it.
At that time it was just before lunchtime and the official told us that they were going on a lunch break and that they would complete the procedure afterwards. We were said we could come back to collect our visa around 3pm.
Therefore, we had also lunch and returned to the hotel. Then, we got a Whatsup message from the official, saying "Your visa extension is completed. You can come to get your passport now".
We immediately went back to immigration and received our passports with the visa extension completed.
At this time, the official was preparing snacks and told us that the drinks here were also free.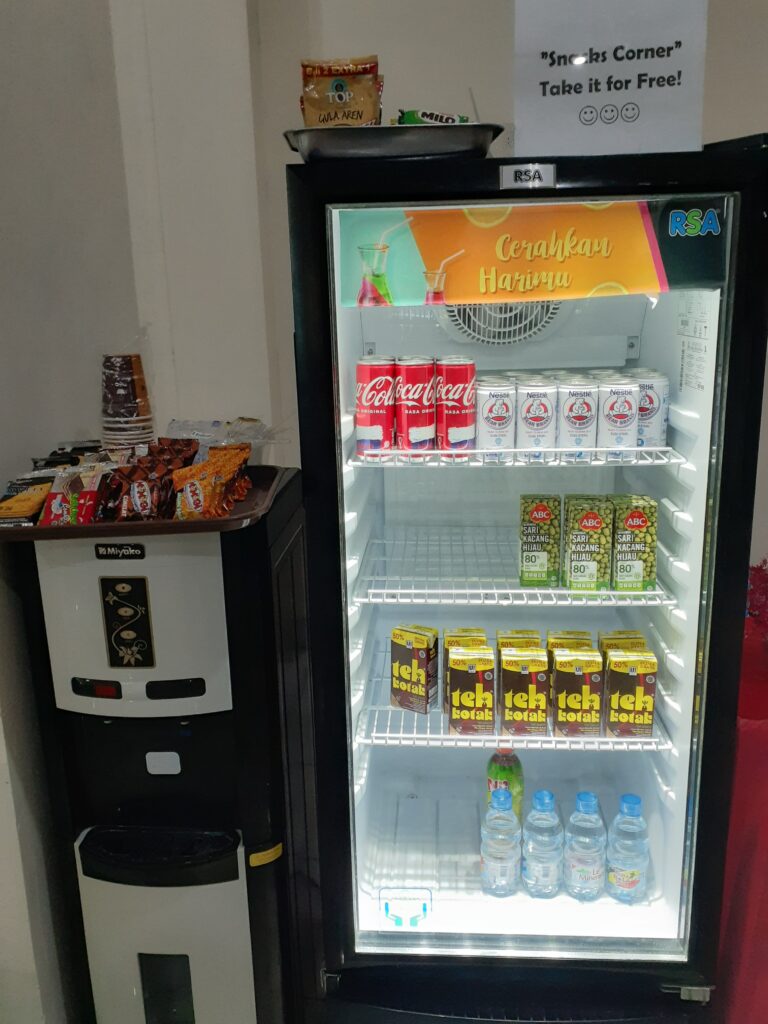 There is a fridge and water heater next to the counter, and it is indeed marked Free. We got an iced tea and a chocolate candy and had a good chat with the immigration officer in charge.
A 60-day visa before entering the country can be extended for up to 180 days
He told us that in the future, if we wanted to stay longer in Indonesia we could apply online for a 60-day visa before entering the country. A visitor visa, or something like that, I think it was called, can also be issued for tourism purposes, and this visa can be extended up to two times, meaning you can stay for up to 180 days.
It costs Rp 1,500,000 to get a 60-day visa, but it is not necessary to show a ticket out of Indonesia when you extend. This may be useful for longer stays in Indonesia in the future.