We organised a boat tour on the Mahakam River, which flows through Kalimantan Island, Indonesia, to see life on the water including lots of stilted villages land Irrawaddy dolphins.
On the previous day, we took an old bus from Samarinda to Kota Bangun, and we chartered a small boat in Kota Bangun.
Mahakam River, the largest river in Kalimantan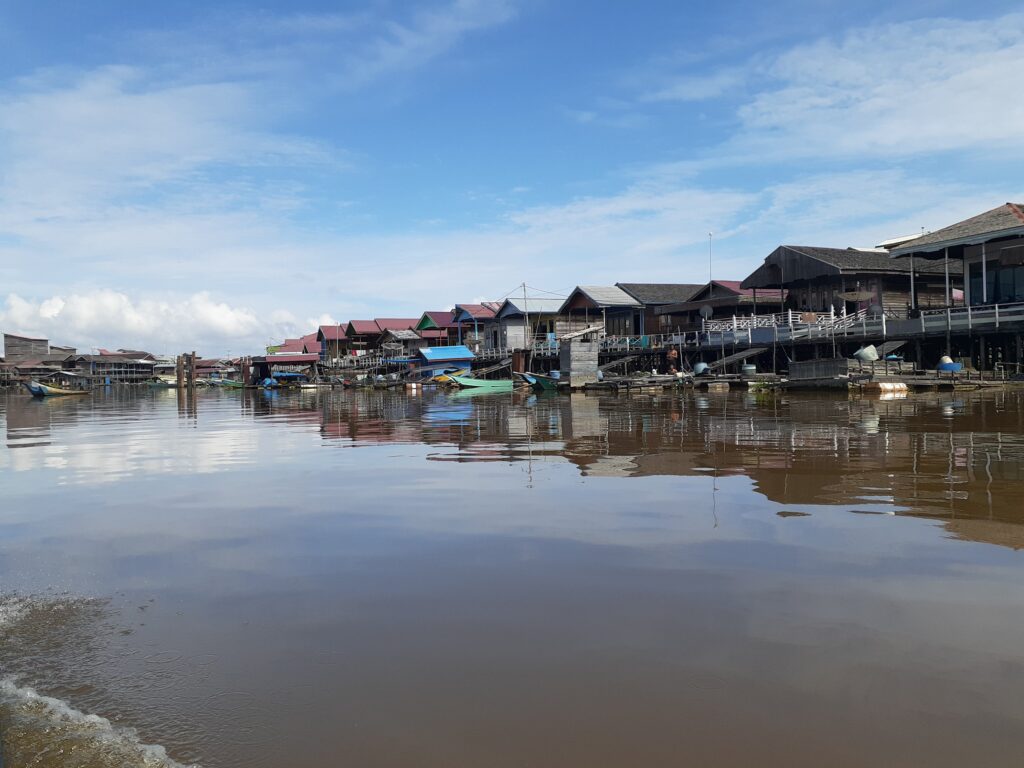 The Mahakam River goes through the eastern part of Kalimantan and is the largest river in terms of basin area on the island. The Mahakam River has long played an important role as a transport route, and villages have developed at the confluence of the rivers.
The Mahakam River upstream is inhabited by Kalimantan's indigenous people, collectively known as the Dayak.
Public boats operate daily on the Mahakam River and are an important means of transport for the local people. Public boats take you upstream till Tring when it's dry season and further in wet season. We went up to Tanjun Isuy in this tour, from where you can also visit the traditional houses of the Dayak by land.
However, public boats are only a means of transport, not a sightseeing boat. Therefore, they do not cover all the tourist attractions.
Boat tours to Irrawaddy dolphins and floating villages
The main Irrawaddy dolphin habitat is located near Kota Bangun, and the stilted villages are also accessible by boat. You can visit some of these villages by public boat, but we would recommend boat charters as the best way to see a lot of diverse things.
Long, narrow boats with engines are called 'ces' in this area. We decided to charter a ces boat for a day and explore the sights around Kota Bangun.
It would be possible to arrange a ces boat charter at your guesthouse, but as you can probably guess, you are more likely to get a better rate if you negotiate directly with the boatman. It's also better not to have an intermediary because there is less chance of misunderstanding, especially if you speak limited Indonesian, as we do.
So in the morning I went to the boat pier in Kota Bangun. I met a boatman who was hanging around at the port and negotiated with him.
Our tour included;
Muaramuntai village – station where public boats stop
Jantur village – a village not shown on the map
Tanjung Isuy – village of Dayak. Lunch
Return to Muaramuntai, where we could have stayed and the tour ends.
The plan was to leave Kota Bangun at 9am and arrive at Muaramuntai at 3pm for the final point of the tour. The price was initially quoted at Rp 1,800,000 per boat, but after negotiations it was reduced to Rp 1,600,000.
At the time of the tour negotiations, we did not know that Irrawaddy dolphins could be seen in this area and I did not write it in the list above. If you charter a boat as a sightseeing trip, the dolphin viewing spot must be included. When you negotiate, please make sure that the dolphin viewing is included.
Luckily, our boatman knew the English word 'dolphin'. In Indonesian, it is called 'Lumba Lumba'.
The price is per boat, so the more people join the tour, the cheaper the price per person will be. We had another Canadian tourist who we met on the bus from Samarinda to Kota Bangun on the previous day, also wated to join us. So three of us shared the cost of the boat charter. The boat can definitely seat six.
Boat tour departure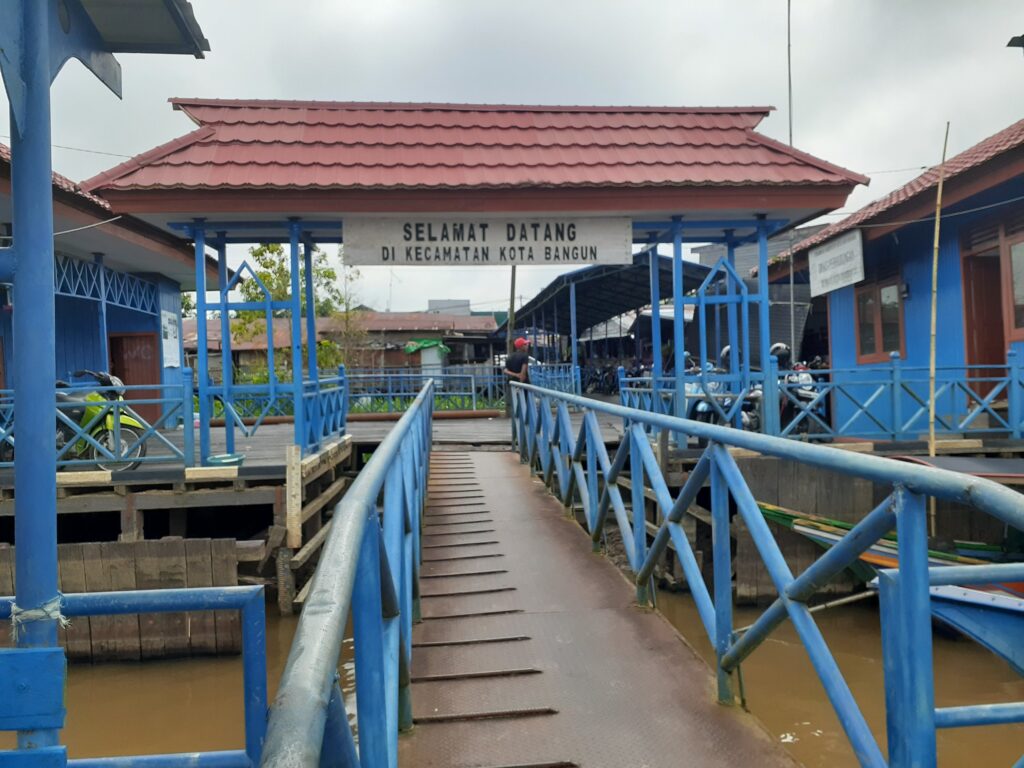 After negotiations were concluded, we checked out of the guesthouse and headed for the boat landing. The boat tour departs from Kota Bangun boat landing.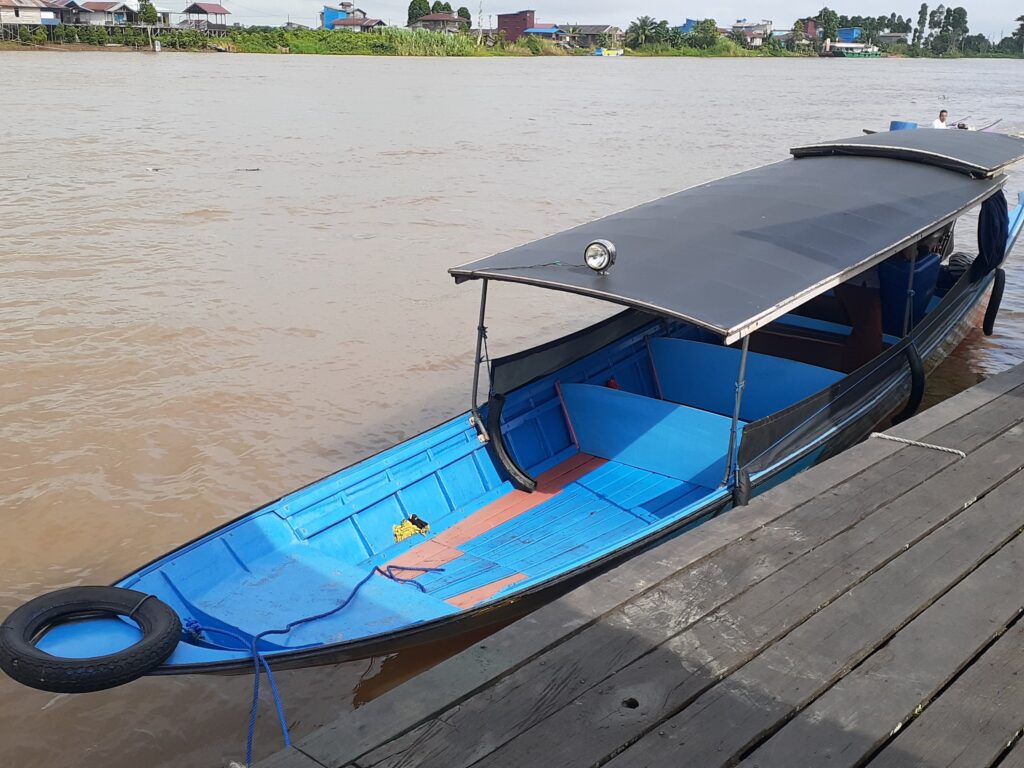 The ces boat we chartered was bigger and nicer than we had initially imagined. There was plenty of room for the three of us and our luggage.
The boatman was called Mr Saipul. His mobile number is +6281253071574, but he doesn't seem to have a smartphone, so I don't think WhatsUp works with him. He does not speak English so you'll need to practice your Bahasa Indonesia skills!
We paid half of the charter price before departure. With that in hand, Mr Saipul went to the other side of the river to buy petrol…
Would he really come back? We were worried for an instant, but we knew to trust him. Kota Bangan is a small place! While we were waiting for him, a large coal tanker passed by.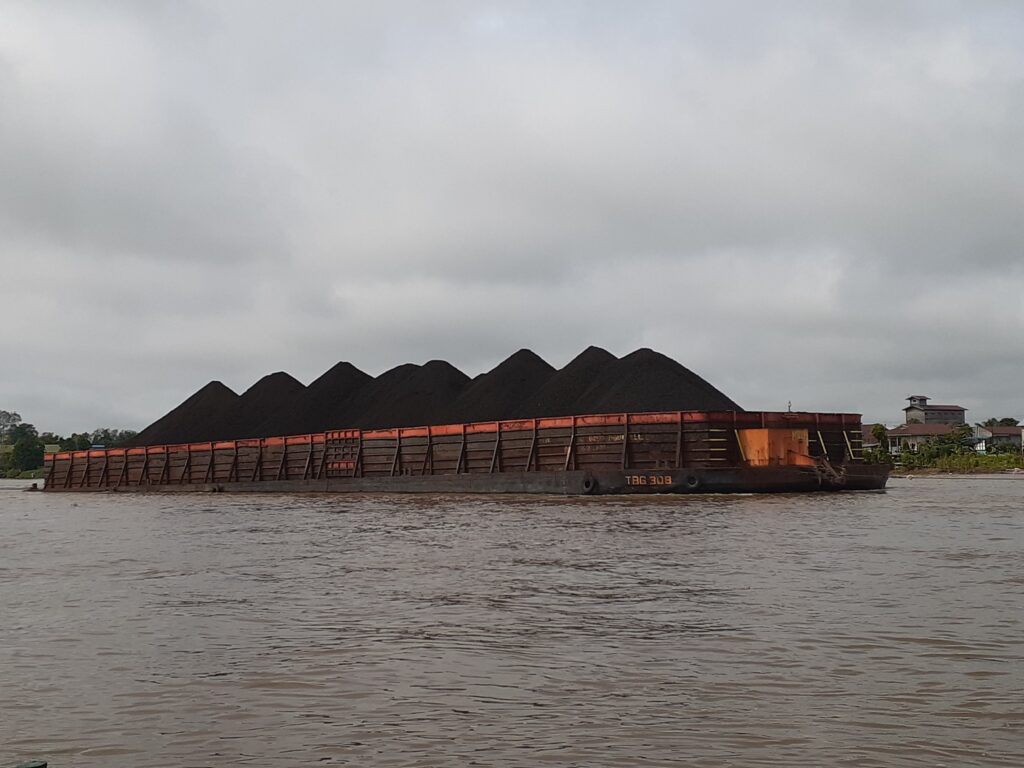 Oil and coal are important resources on Kalimantan Island. The Mahakam River is particularly busy with coal carriers. The sheer size of these vessels was overwhelming. Coal carriers cannot move by themselves, so they are towed by tugs. If you stand on the banks of the Mahakam River, you will often see boats literally mountain-piled with coal heading downstream and empty tankers heading upstream.
While we were taking photos of the coal tankers and the boat pier, Mr Saipul returned. There was one Indonesian man on board. We had a faint hope that he might be joining our boat tour, but it was too much of an optimistic idea. He gave Mr Saipul Rp 20,000 and got off the boat. Obviously, no one gets a free ride on the boat. Mr Saipul made a little money by taking passengers who wanted to cross the river while coming back to pick us up.
Now it was time to start our tour!
Irrawaddy dolphin watching on the Mahakam River
We boarded the ces boat and the boat sped off . At this point, we thought we were going up the Mahakam River towards the first stilted village, Muaramuntai, but contrary to our expectations, the ces boat was heading downstream. Just as we realised that we were apparently not going up the river, but across the lake to Muaramuntai, Mr Saipul shouted, "Dolphin!"
As we strained our eyes, we saw a sleek, dark body appear and sink into the water. These were Irrawaddy dolphins, which live in the rivers. We had taken a tour of Irrawaddy dolphins in Cambodia, but had not expected to see them here. It was a pleasant surprise.
Only one? No, there were three – Mr Saipul stops the engine and waited patiently for the dolphins to appear. Our boat seemed to be surrounded by a lot of Irrawaddy dolphins, and they flashed their beautiful bodies in all directions as if teasing us, then disappeared into the water.
It is difficult to capture them in photographs, but Mai took a video.
Lake Semayang (Danau Semayang) and the Melintang Village
After the Irrawaddy dolphin viewing spot, the boat continued to Lake Semayang. The triangular-shaped Semayang Lake is connected to the smaller Melintang Lake, and between of two lakes, there is the stilted village, Melintang.
From Melintang village, we followed a small water channel to Muaramuntai village. This route is not shown on Google Maps.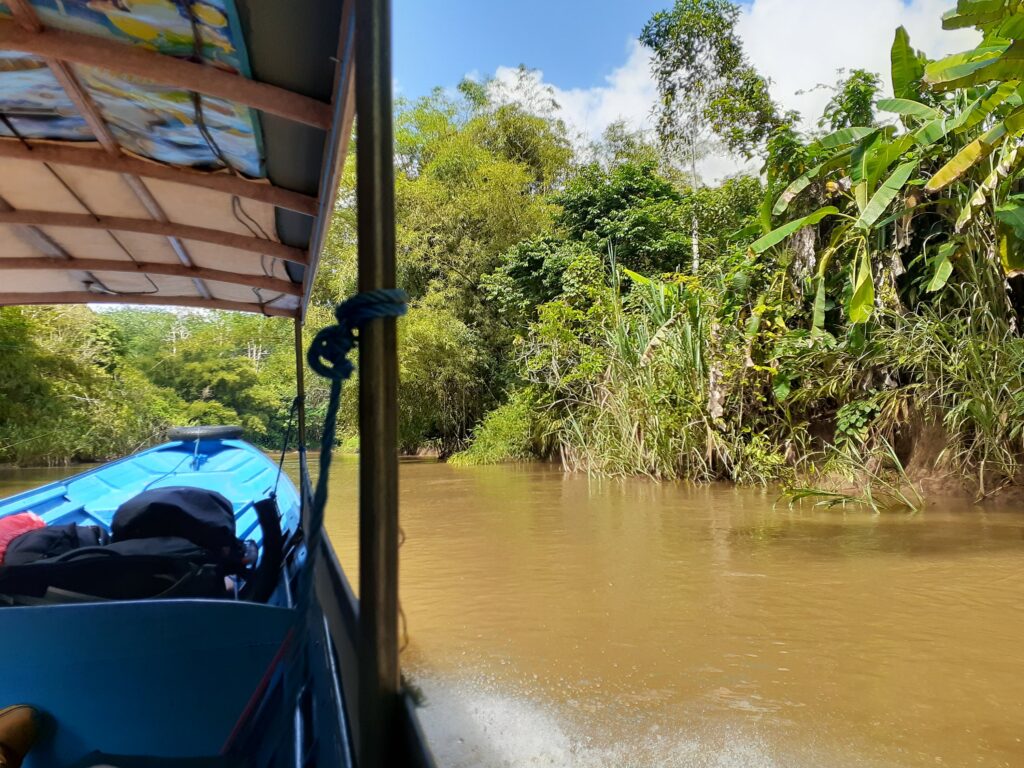 Muaramuntai stilted village above the water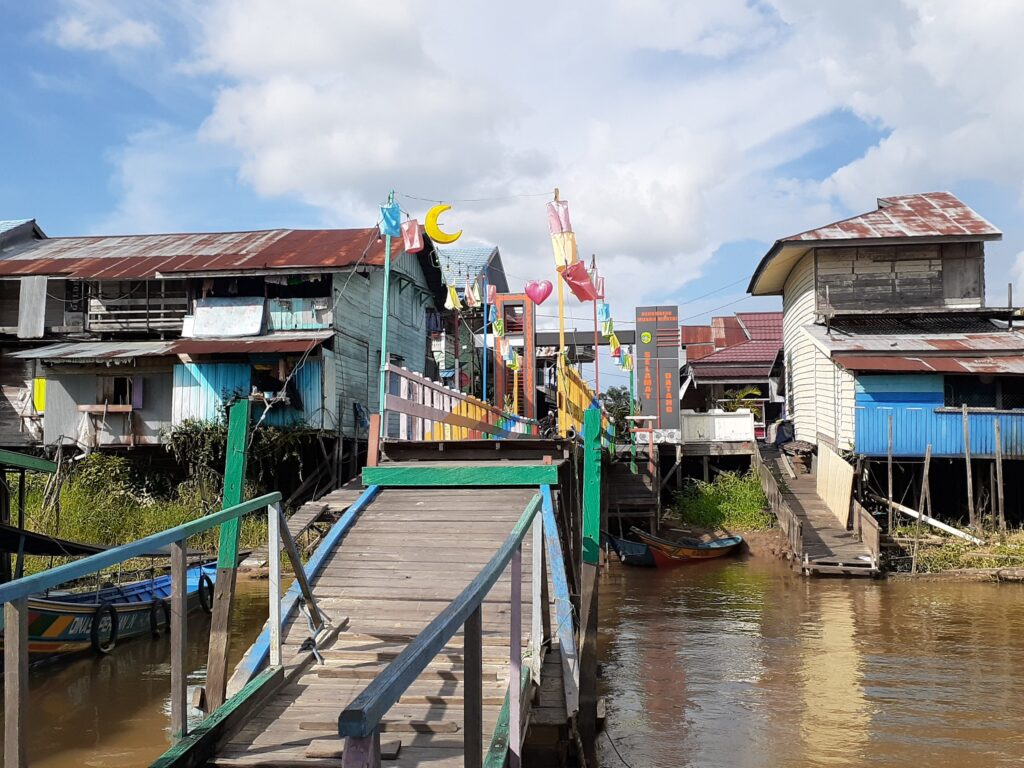 A small boat ride through the banana and bamboo vegetation brings you to Muaramuntai village. We did not disembark here, but simply viewed the stilted village from the boat.
As we had planned to stay overnight in Muara Muntai (actually we changed our plans and went back to Kota Bangun), we planned to take our time to explore the village later. Here we took photos from the boat and hurried on to the next village, Jantur.
Unmapped village of Jantur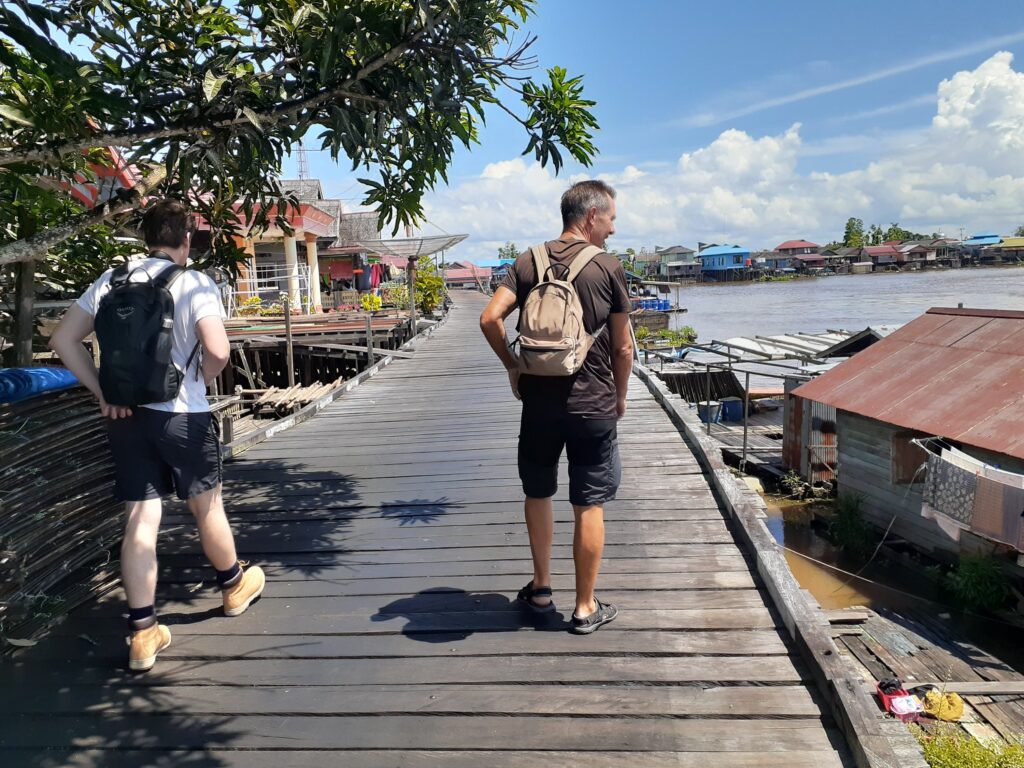 After Muaramuntai, the next stop was Jantur. The name 'Jantur', as it appears on Google Maps, describes the whole area. The village's centre is near the Mesjid Jamiyatut Taqwa mosque, and the waterway to it is not shown on the map (although it is on maps.me).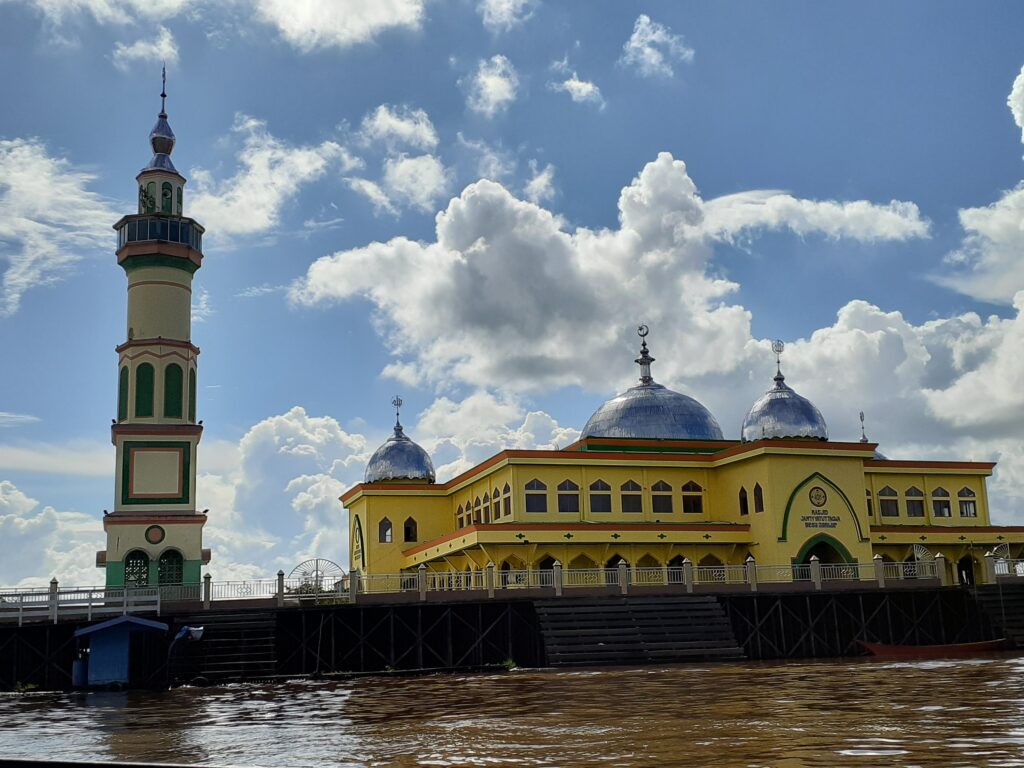 Jantur village is built on the water and houses are built along long boardwalks . The stilted passages are wide enough for vehicles to drive on and are solid and sturdy. There were not many cars on the road, but motorbikes came and went frequently.
There were many shops selling snacks and coffee in Jantur, but no restaurants. Lunch had to wait until our next destination, Tanjung Isuy.
Tanjun Isuy, a village where Dayak live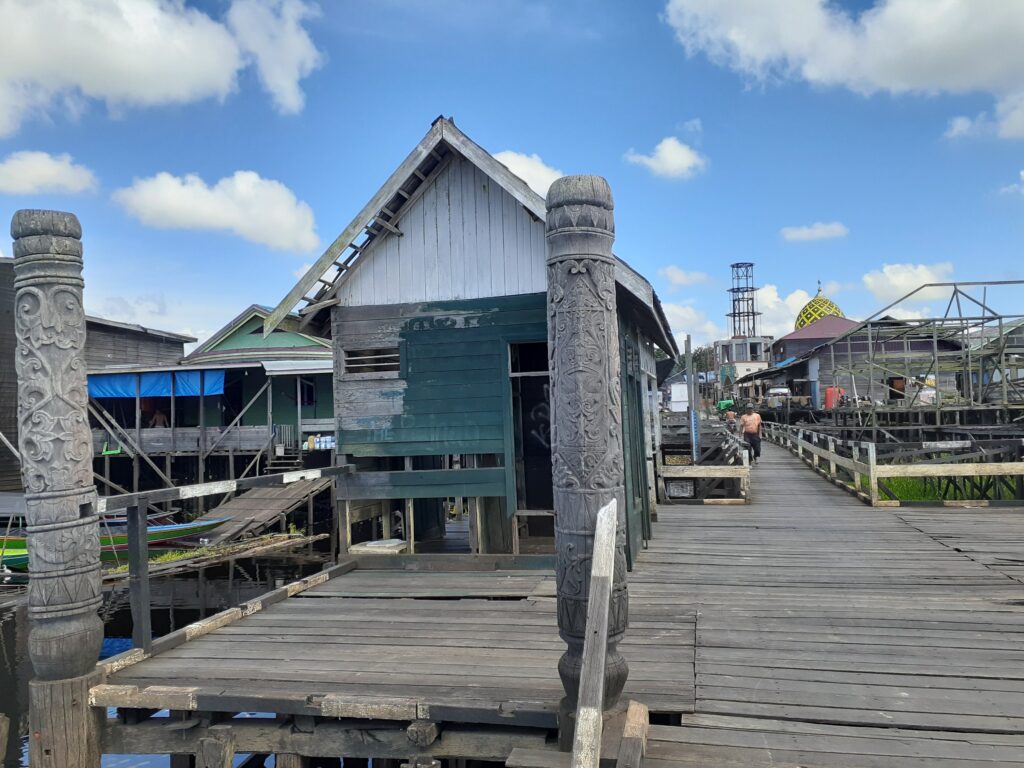 Tanjun Isuy is the first Dayak village on the way up the Mahakam River. The village of Mancong, 30 minutes overland from here, is said to have traditional Dayak houses that can be visited. It was a shame that we couldn't visit it this time as we did not have enough time. Instead, we visited the Rumah Adat, a traditional community centre in Tanjung Isuy village.
After getting off the landing stage and eating fried noodles at the restaurant on the right-hand corner, turn right at that corner. After a short walk, turn left at the following road sign.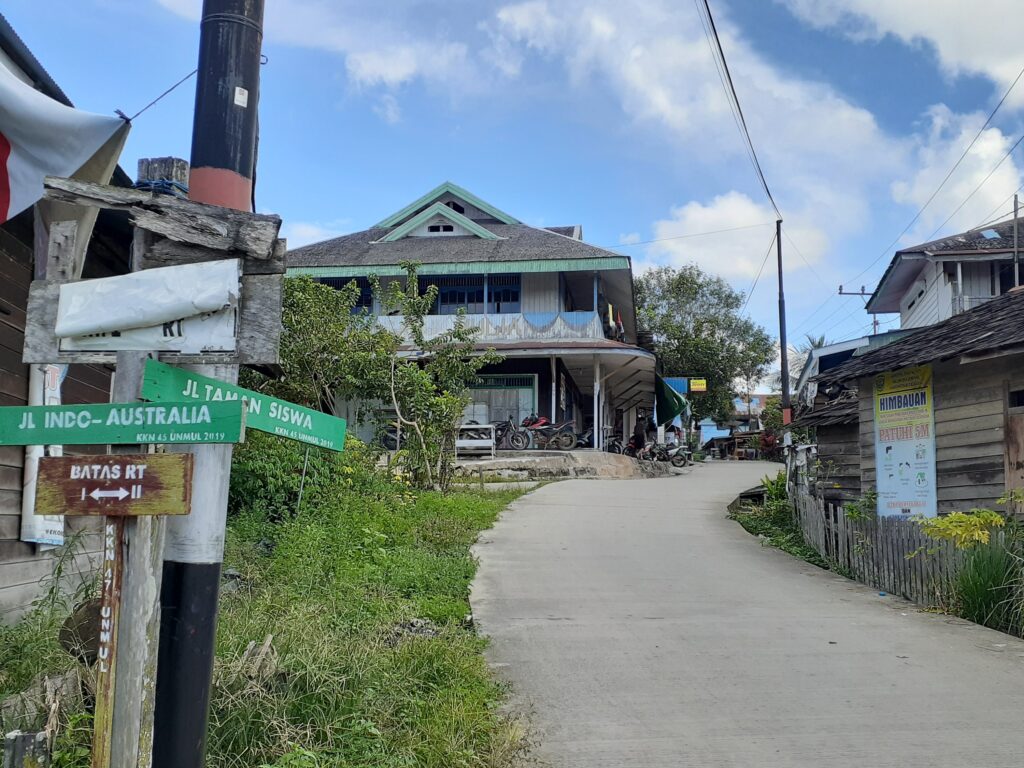 Rumah Adat is on the left hand side, after a little further up the hill.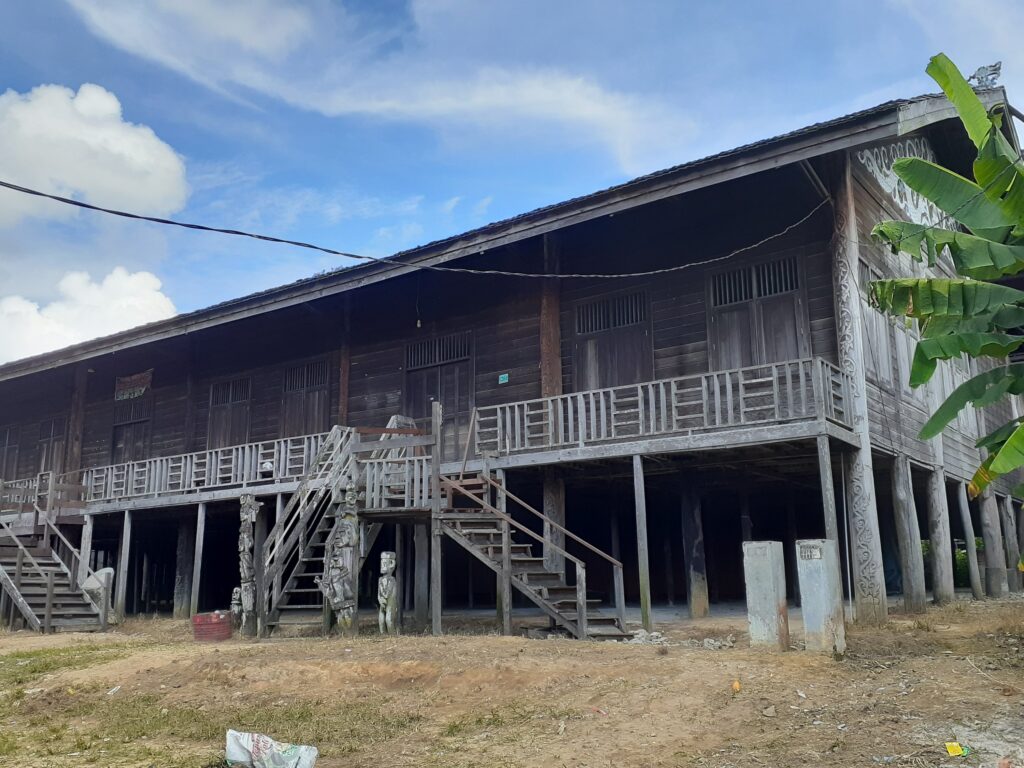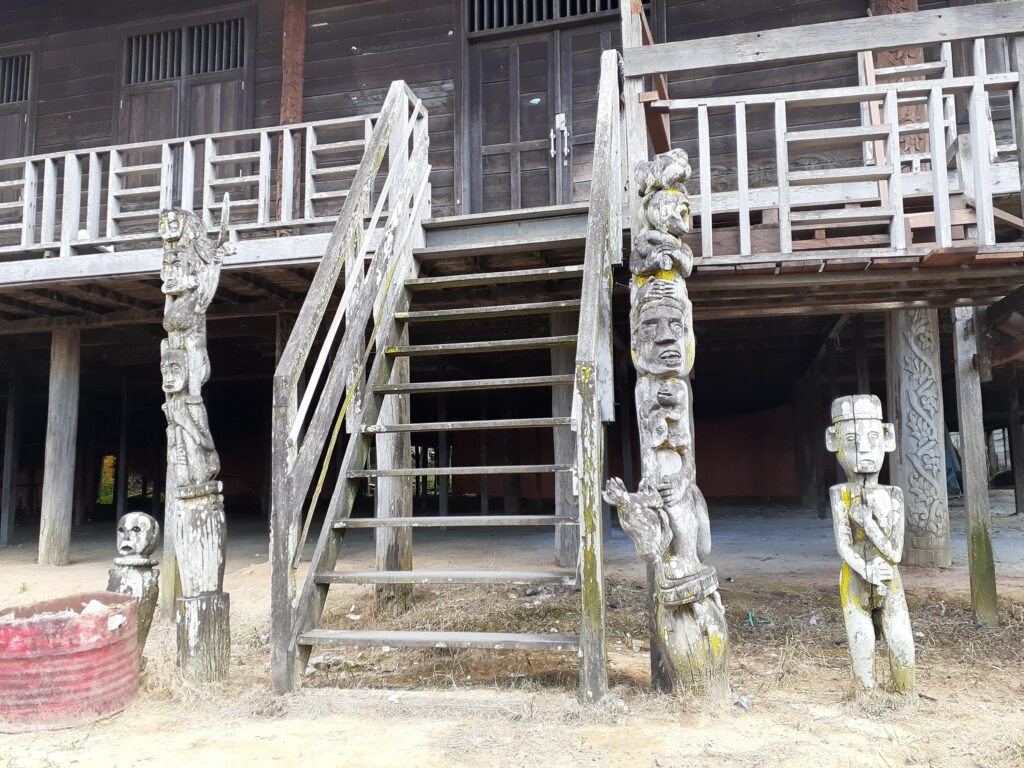 The building is on wooden stilts. At the entrance was a totem pole with animal motifs. A similar totem pole-like pillar was also erected at the Tanjung Isuy boat pier. It is a symbol of the Dayak.
Return to Muaramuntai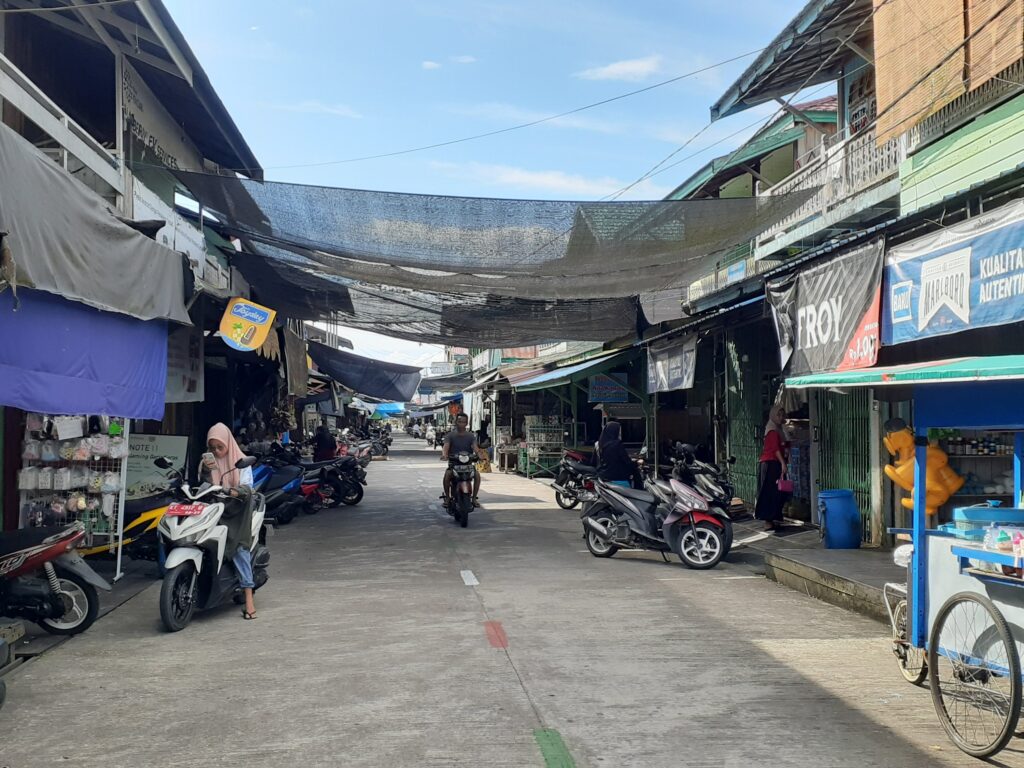 From Tanjung Isuy, we returned to Muara Muntai all the way back the way we came.
From here, you can take a public boat upstream or downstream to Samarinda, as the public boat (Kapal Biasa) stops at Muaramuntai.
There are at least two guesthouses in this village, where it is possible to stay overnight. Alternatively, public boats to the upper reaches of the river leave Muaramuntai between 6pm and 7pm, so it is also possible to go directly upstream without staying overnight in the village.
After some discussion, we decided not to stay in Muaramuntai, but to return with Mr Saipul to Kota Bangun. We said goodbye to Alex, the Canadian who joined the boat tour with us.
Arrival at Kota Bangun: end of tour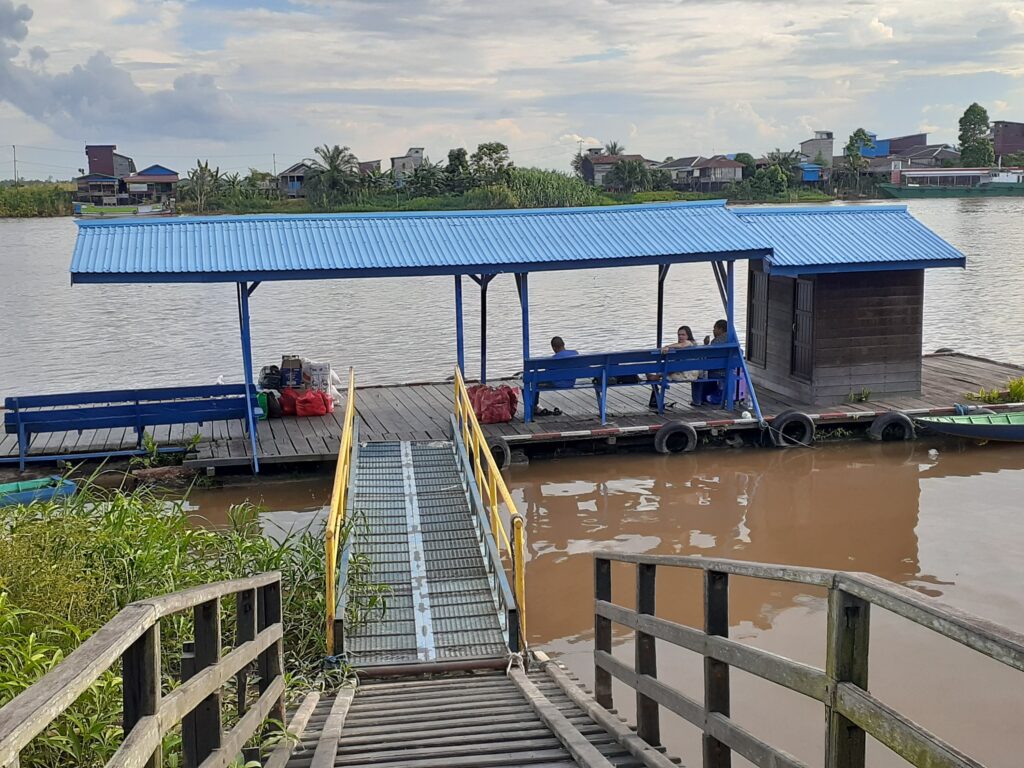 From Muaramuntai, it took about one hour to return to Kota Bangun. We were told that we had to pay extra to get to Kota Bangun because the original tour was to Muaramuntai. The first quote was Rp 100,000 per person, but we bargained it down to Rp 150,000 for two people. Bit of a joke really.
We travelled at speed to Kota Bangun and disembarked at the public boat landing. We paid half of the boat charter fee plus the additional fee to return to Kotabangun and our boat tour ended.
That's all about today's tour. The tour price was not cheap for us as budget tourists, but we thoroughly enjoyed the tour. It was really reasonable value as we used a lot of fuel to see all the things we did.