We stayed in the Philippines for about three weeks. Here is a summary of the food situation in and around Negros and Cebu islands.
Rice is the staple food, vegetarian food is not easy
The staple food in the Philippines is rice which is served everywhere. We saw standard rice sold at the market for 60 pesos/kg which is not cheap for locals.
Noodles are also one of the national dishes. Called 'Pancit' and is either fried noodles, baked beef noodles or a mixture of both.
Bakeries are also common in Filipino towns so bread and pastries are also easy to find. Fairly cheap too.
Meat is generally chicken, pork or beef. The majority of the population are Christians and there are basically no restrictions on food or alcohol in most of the country. (Mindanao is a big different in some places). Fish and seafood are also common in this island nation.
We found it somewhat difficult to find vegetable dishes when eating out during our trip. We did eat lots of stir-fried bitter melon, Chinese cabbage and beans with small amounts of meat and eggs, but they are not sold everywhere. Outside of tourist restaurants, it is not easy to find vegetarian food.
Town canteens: ready-made meals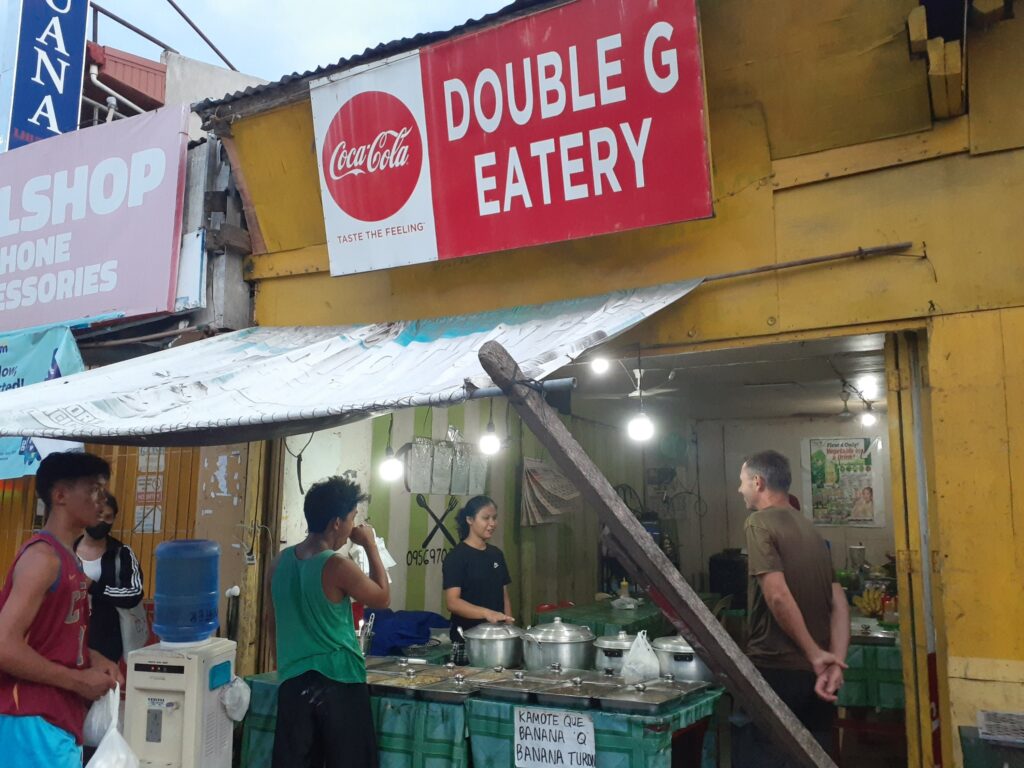 During our travels in the Philippines, we often visited eateries that had ready-made meals in pots and containers on the shop shelves. Meat dishes normally cost 50-70 pesos per person, vegetable dishes 25-35 pesos, pancit 25-30 pesos and rice 10-15 pesos. Once we had a horse mackerel of about 15 cm, which cost 35 pesos per fish. Seafood seems slightly more expensive.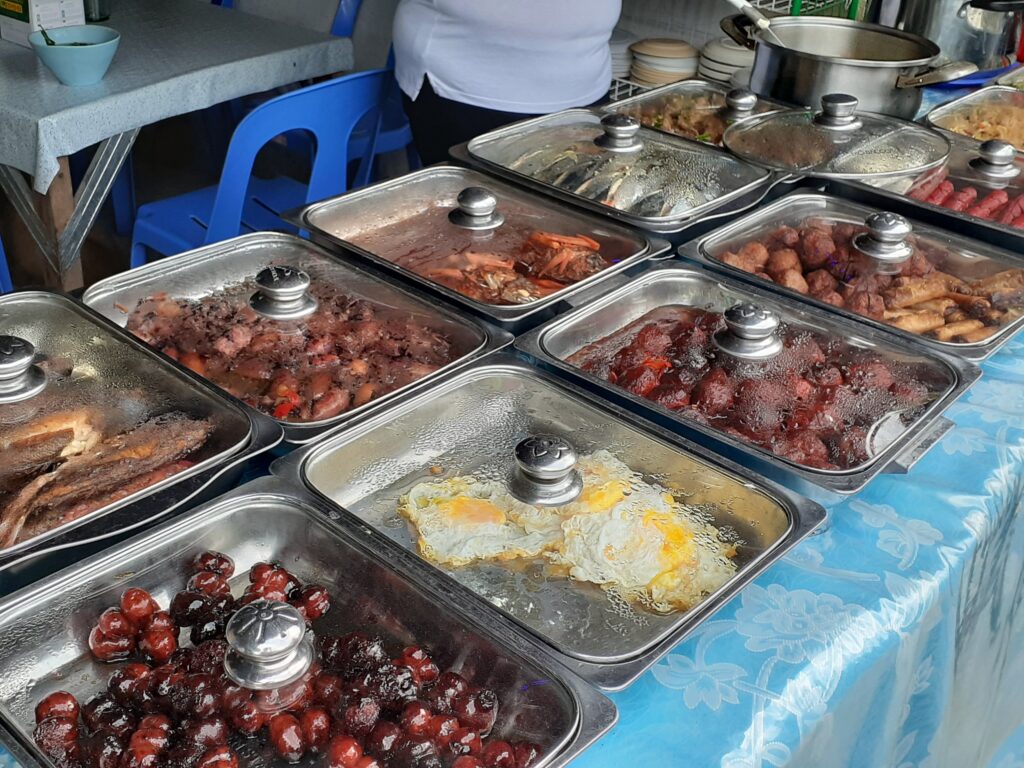 Many shops had soups, including fish soup, mung bean soup and vegetable soup. It is usually about 30-35 pesos per bowl.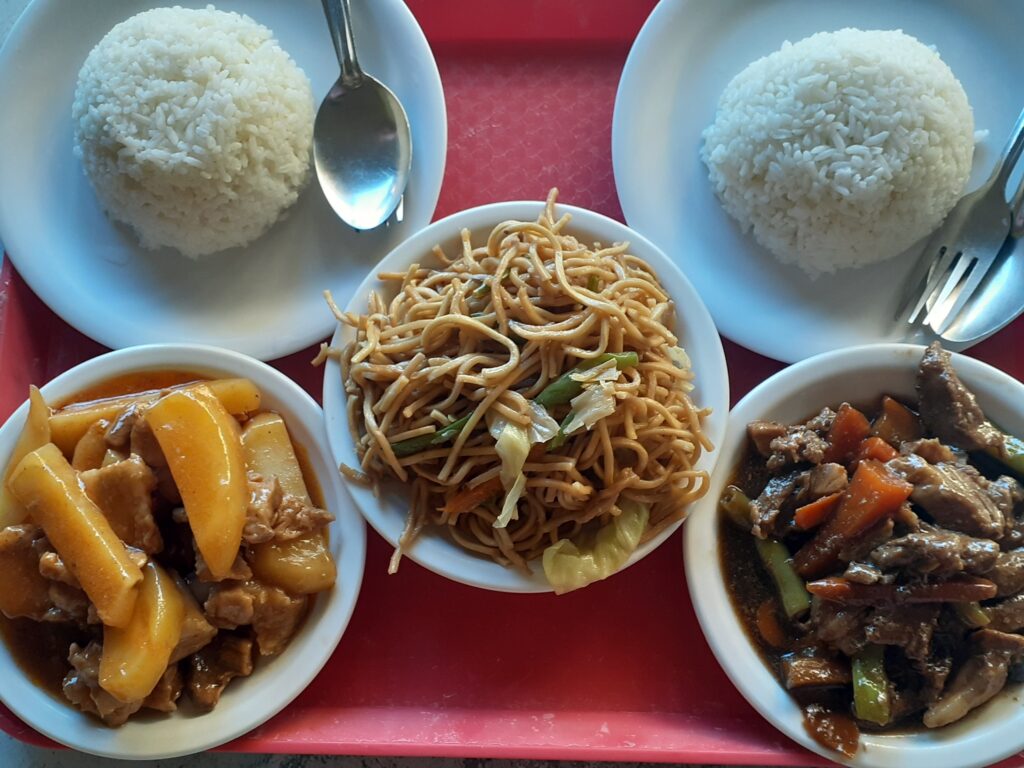 It's easy to point at the side dish you want and order it. It is best to check the price first before ordering because occasionally you might get a little overcharged.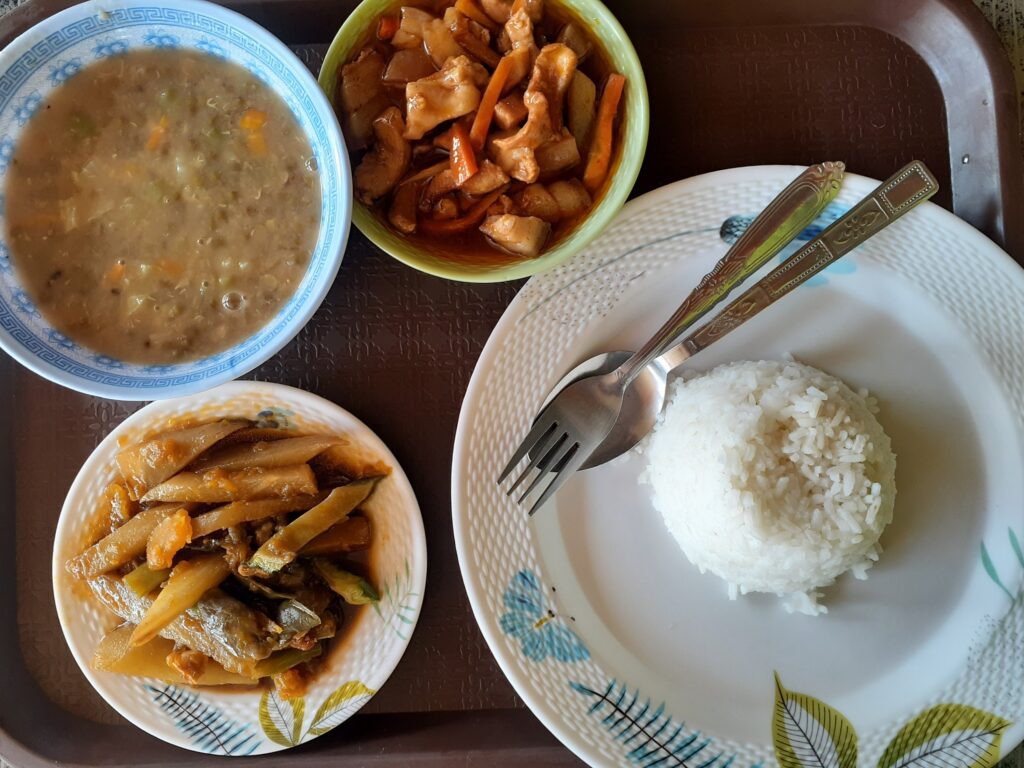 This type of restaurant ends when the food is sold out, so it is recommended to visit early for breakfast, lunch or dinner.
Bakery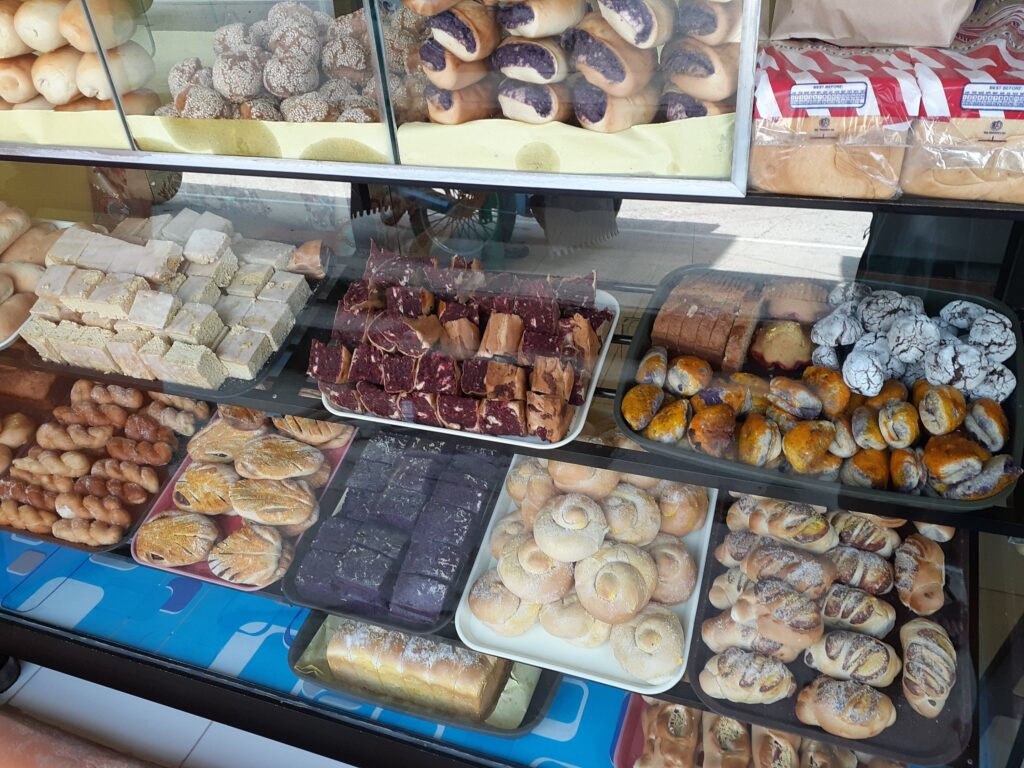 Bakeries are a great way to help keep food costs down. A variety of pastries and breads are sold in neat rows. Most cost 5 pesos each, with smaller ones costing 3 pesos and some specialities costing 15 pesos.
There are lots of places where you can buy bread and pastries and we often bought them for breakfast or lunch. There is nearly always a bakery in the market or other parts of town. Most bread is fresh and sweet, but normally not too sweet.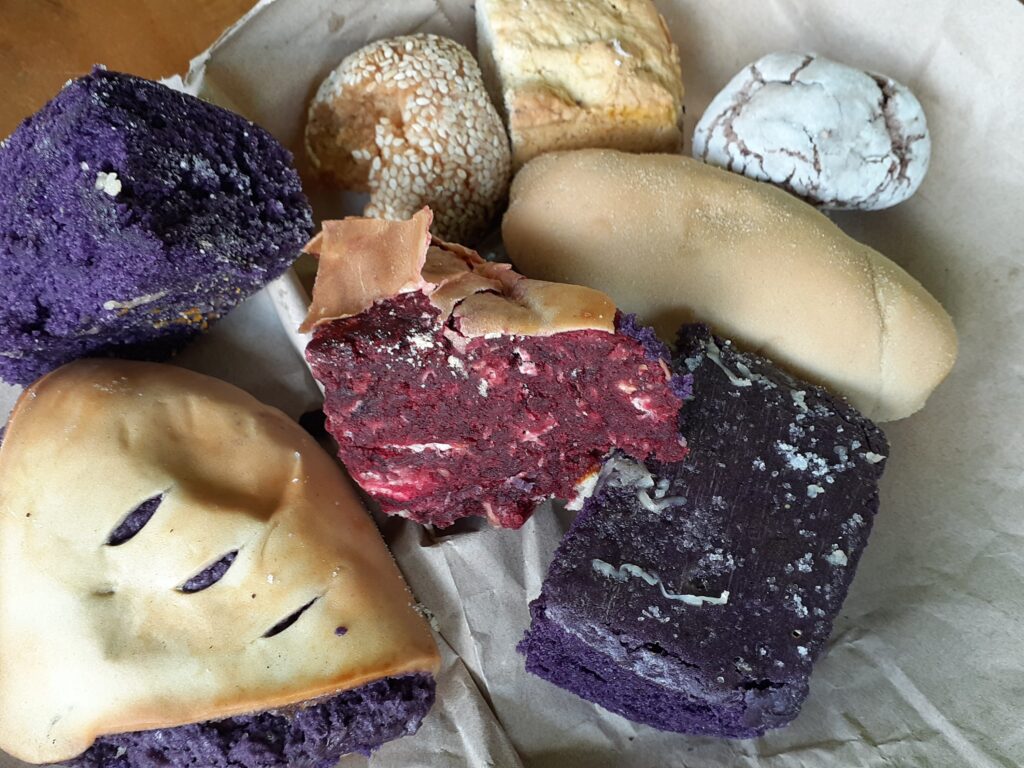 Purple pastries are often sold with purple paste woven into them, or purple cakes, as in the image above. These are purple sweet potatoes and were described locally as 'ube'. It has a slight natural sweetness and is delicious, so give it a try. The colour is quite vivid, but it is a natural colour. Very tasty.
Filipino instant food 'Silog'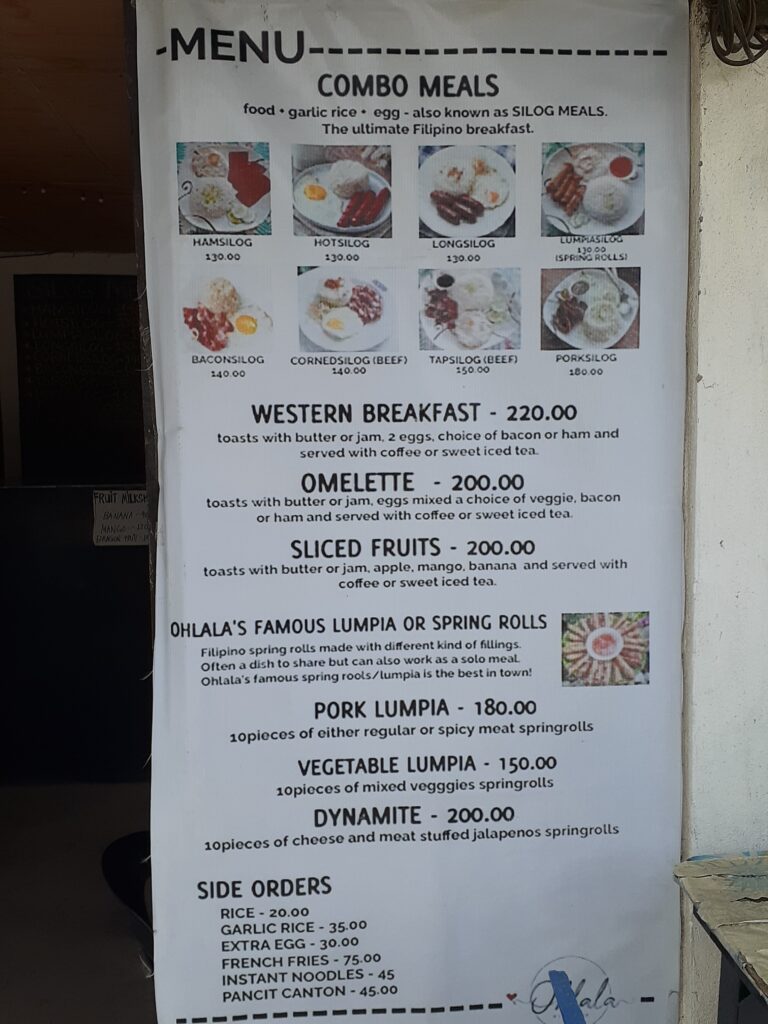 Silog is commonly seen on the menu of restaurants when travelling in the Philippines. It is treated as instant food, or fast food, and is relatively fast from the time you order it to the time it comes out (this implies that other dishes are slow in coming out).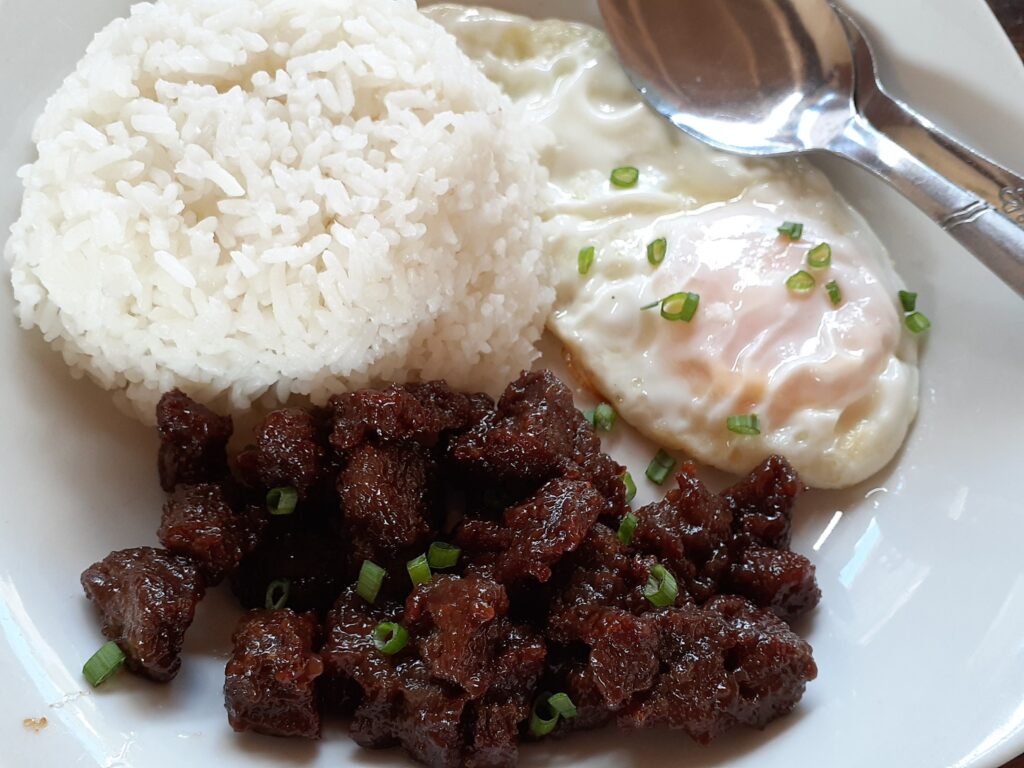 The overall definition of a tapsilog we ate is that a tapsilog is a simple main meat dish served with rice and egg rolls, with small pieces of spring onion sprinkled on top.
There are several different types of silog, varying depending on what the main meat dish is. The taps silog above is beef sautéed in a sweet and salty sauce.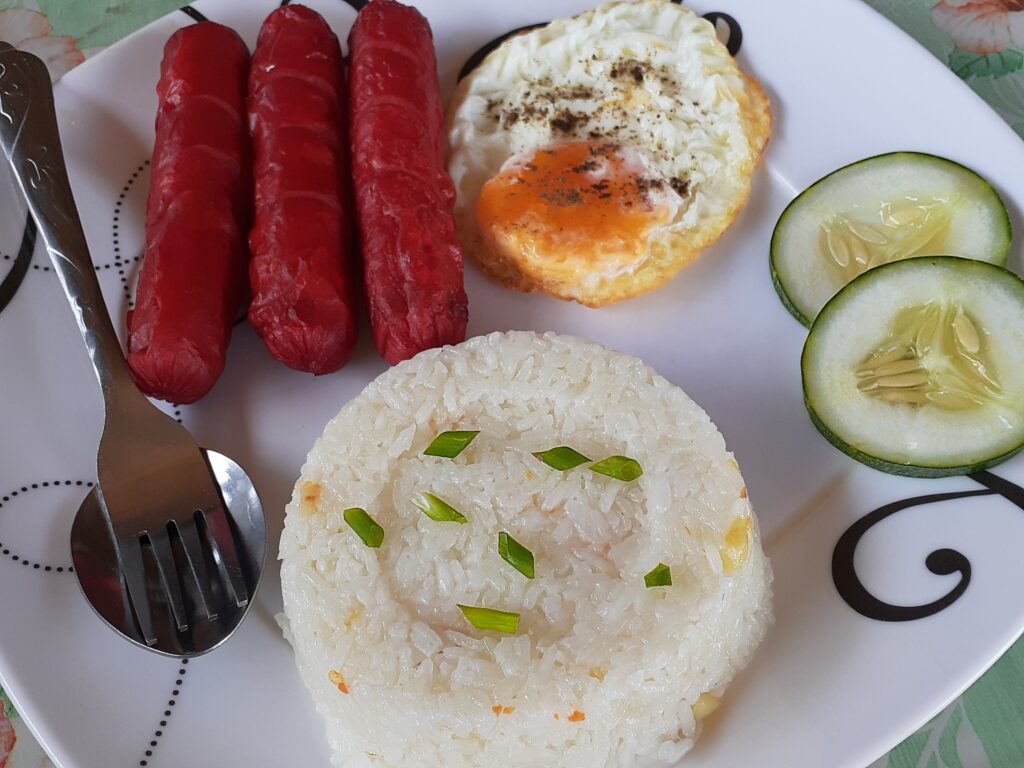 Hot dogs, or sausages, are called hot silogs.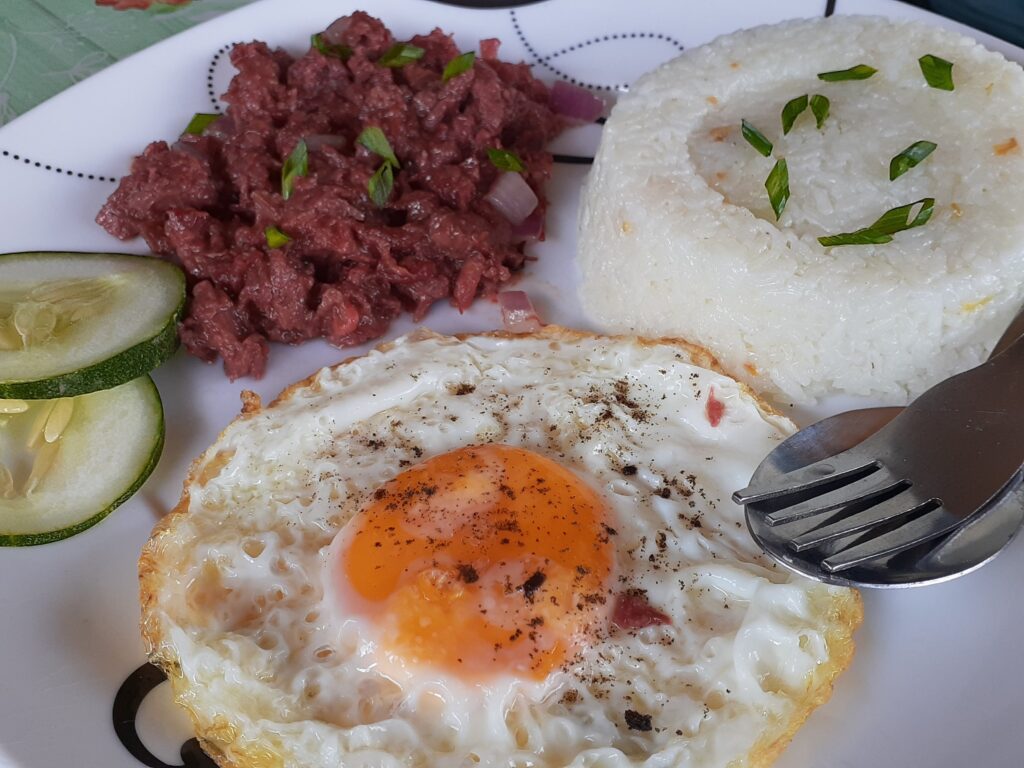 Corned silogs were fried corned beef.
The usual price of silog is around 75-100 pesos, but in tourist areas it is sold at more than double the price.
Other dishes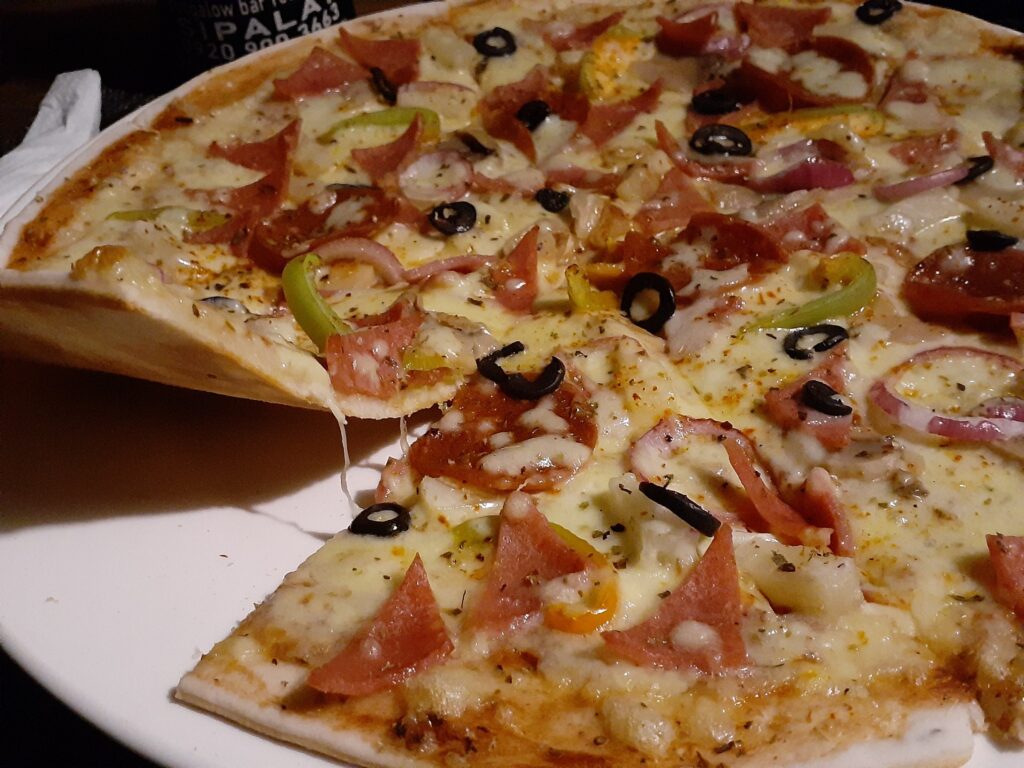 People of many different nationalities live in the Philippines, and many foreign residents are involved in the tourism industry. This may explain the high level of international cuisine.
Apart from Filipino food, the only other food we ate was pizza, which we had at the guesthouse restaurant and it was very good. However, it took over an hour to order.
There are also Italian, Thai and Japanese restaurants. Prices are reasonably high (200-400 pesos or more) and as we didn't try them we can't comment on the quality.
Beer in the Philippines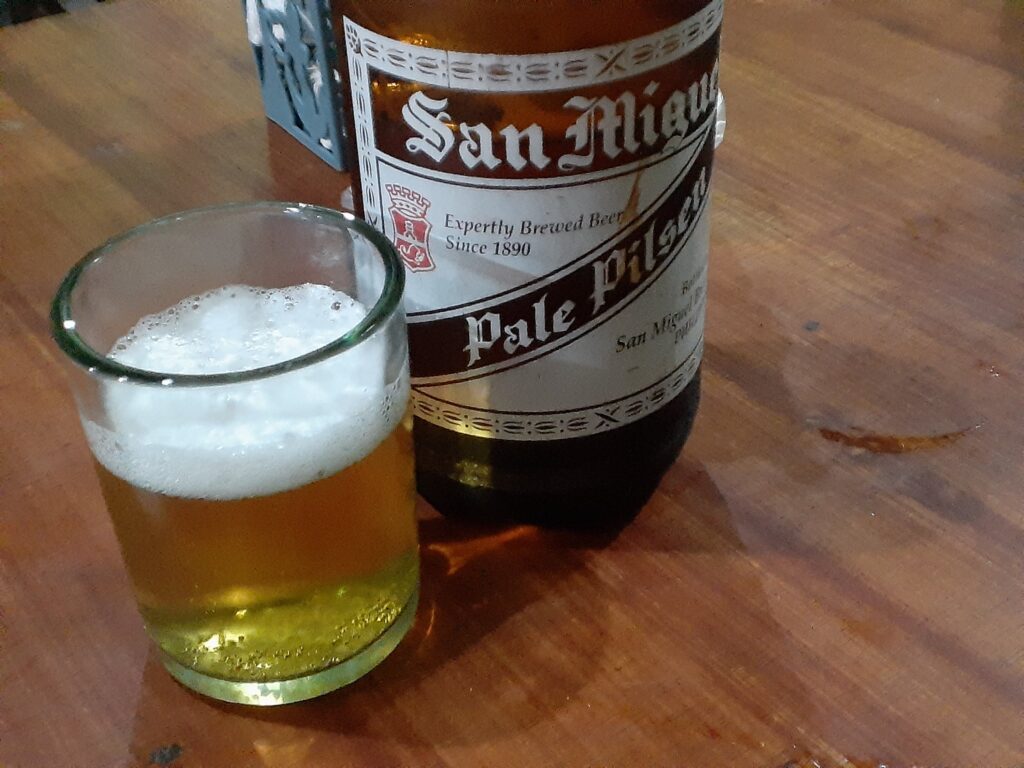 San Miguel beer is the most popular beer in the Philippines. When purchased from city shops, the typical price was 45 pesos for a small bottle and 120 pesos for a large (1 litre) bottle. Bottles may be charged a deposit of 10 pesos. The 10 pesos is returned when the empty bottle is returned to the shop.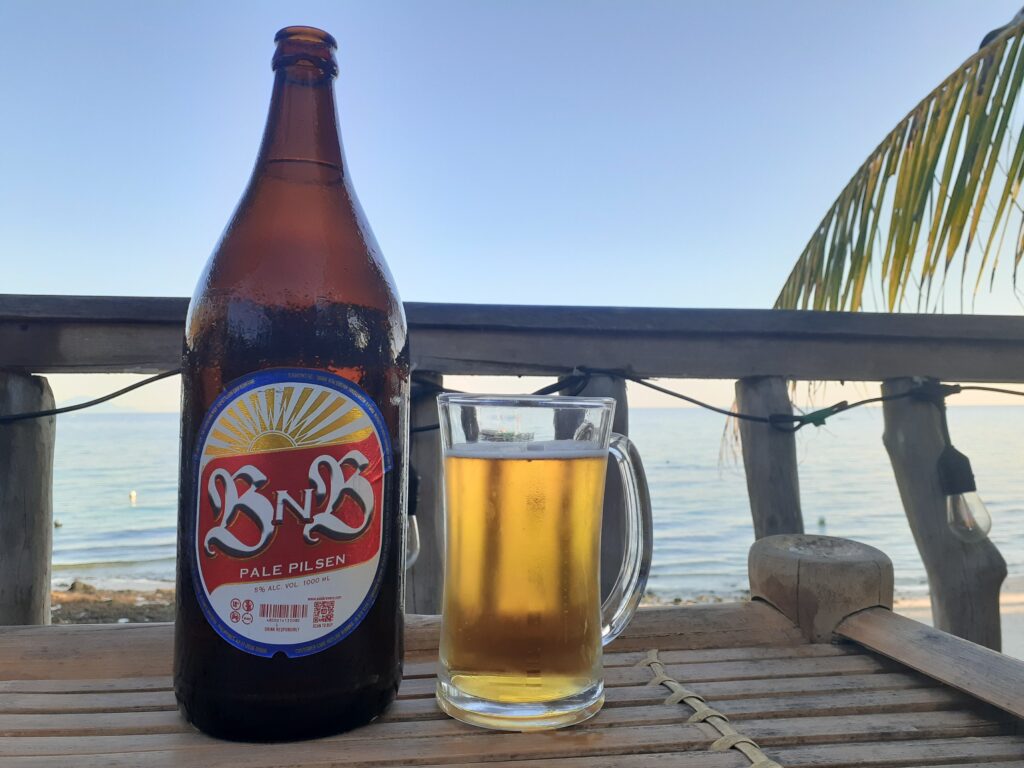 This is another beer we drank at the guesthouse on Bohol Island; it was 150 pesos for a 1-litre bottle, which I thought was reasonable for a guesthouse. It tasted light and was well chilled.
Red Horse is another beer widely available. It's a similar price to San Miguel, but 6.9% instead of 5%.