Bacolod is located in the northern part of Negros Occidental, Philippines, and is the largest city on the island. It has a population of approximately 600,000 (2020). It is also the capital of the province of Negros Occidental.
Yesterday, we came from Tokyo to Bacolod via Manila. We arrived late, so we couldn't do any sightseeing last night, but there are not many things to see in Bacolod to begin with.
Today, we had some errands to do right after entering the Philippines, so we did some quick sightseeing in Bacolod in between.
San Sebastian Cathedral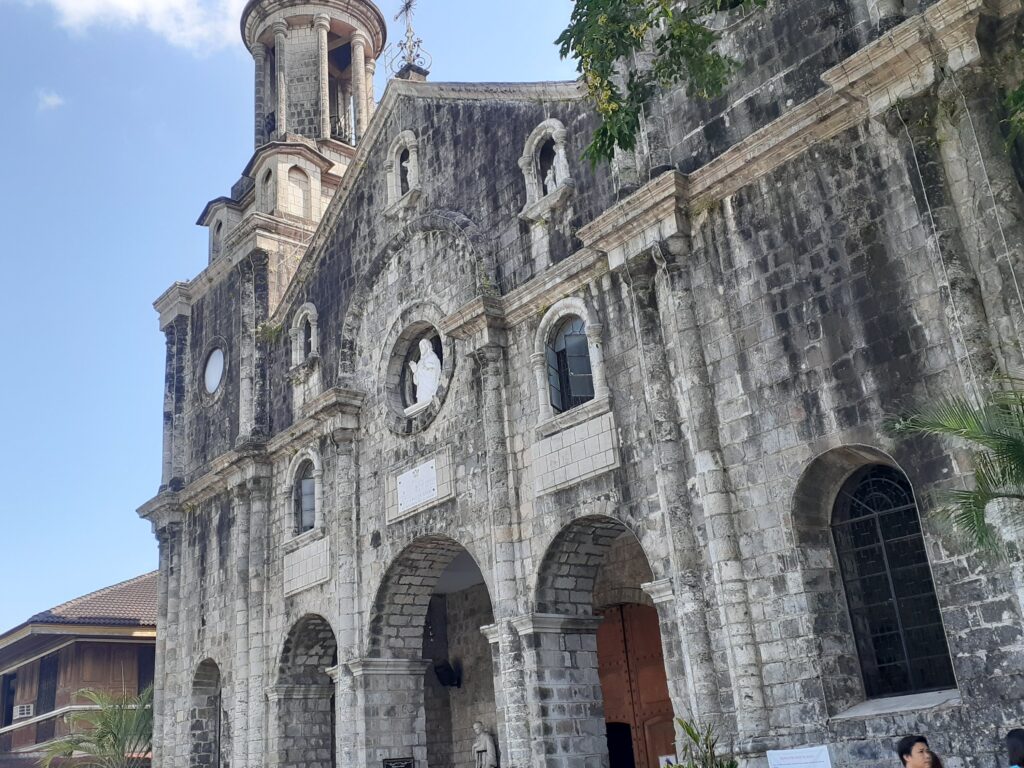 A catholic church built in the late 19th century. It is located in the city centre of Bacolod, with a park across the road. It is a busy area with a school next door, so there is always a crowd.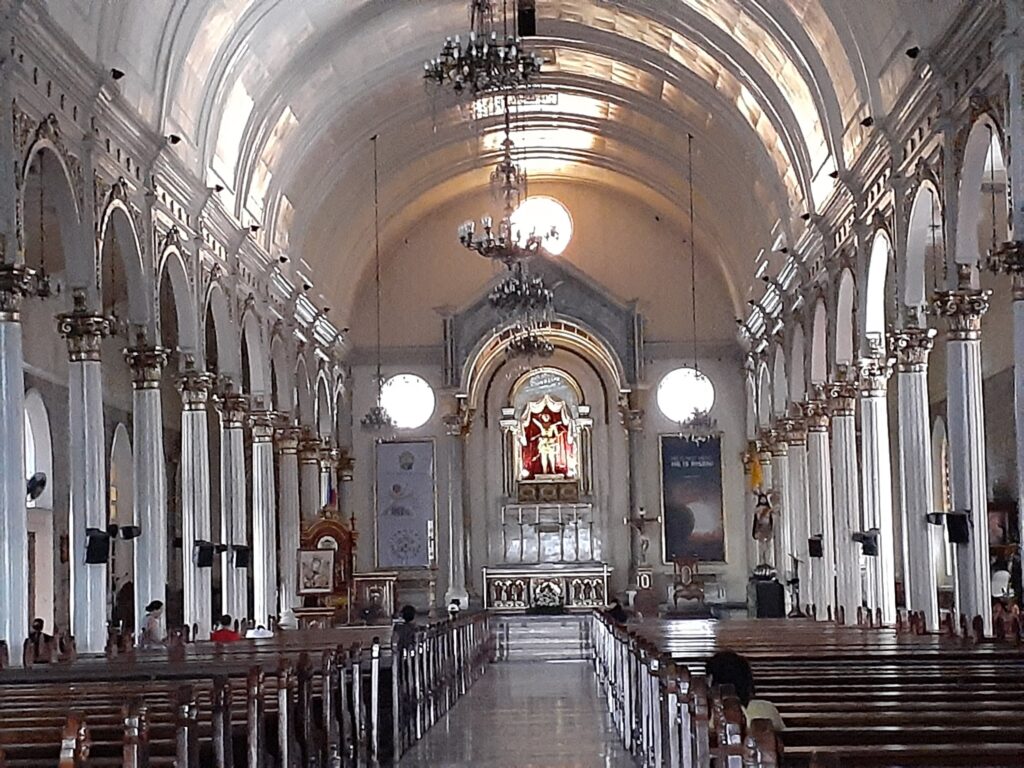 The church is spacious and well maintained. There are many Christians in the Philippines to begin with, and although it was a Wednesday afternoon, several people had come to pray.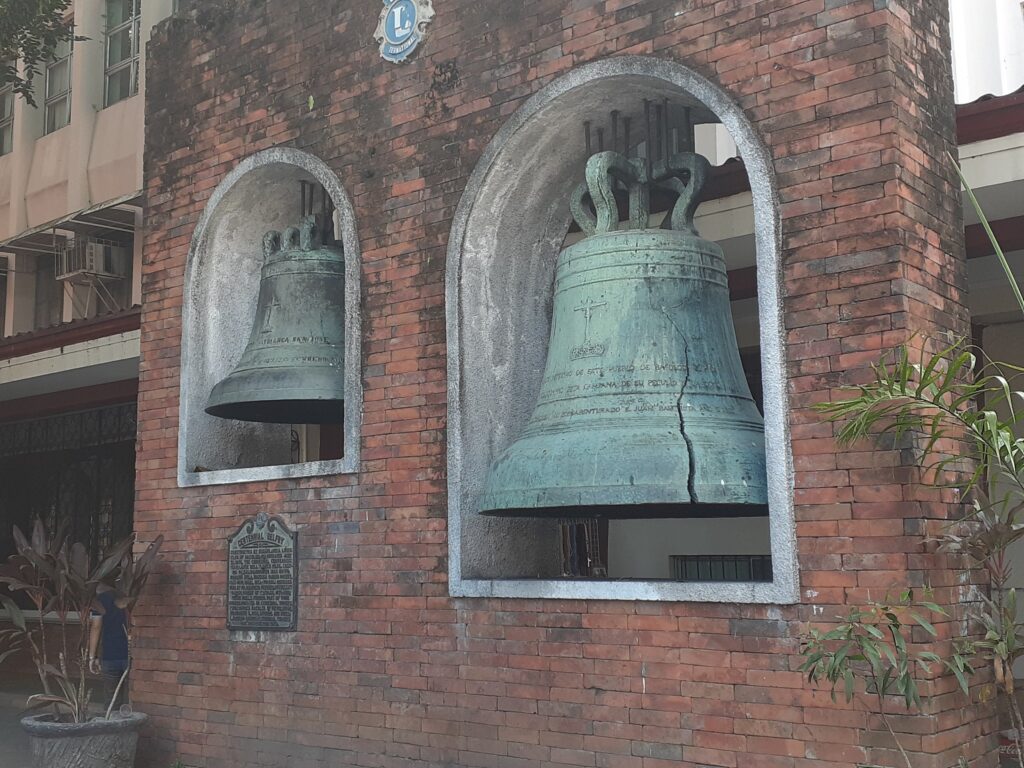 A bell is placed near the entrance.
Bacolod Public Square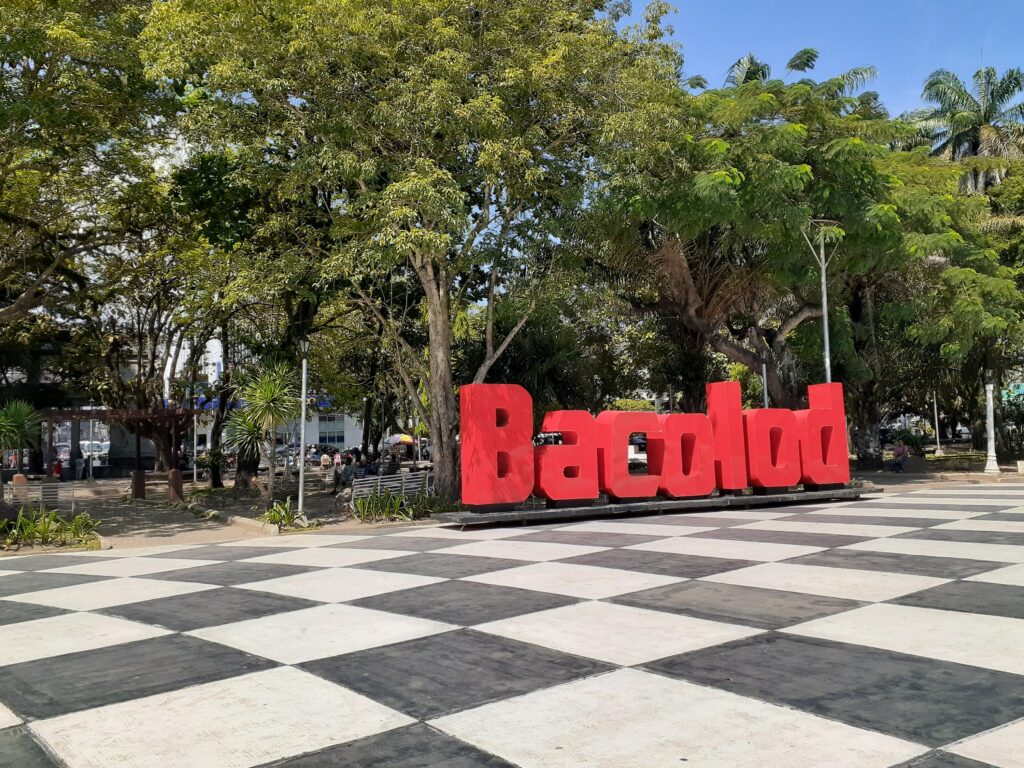 This park is opposite San Sebastian Cathedral. The floor is decorated with black and white patterns. A photo spot was provided in the centre.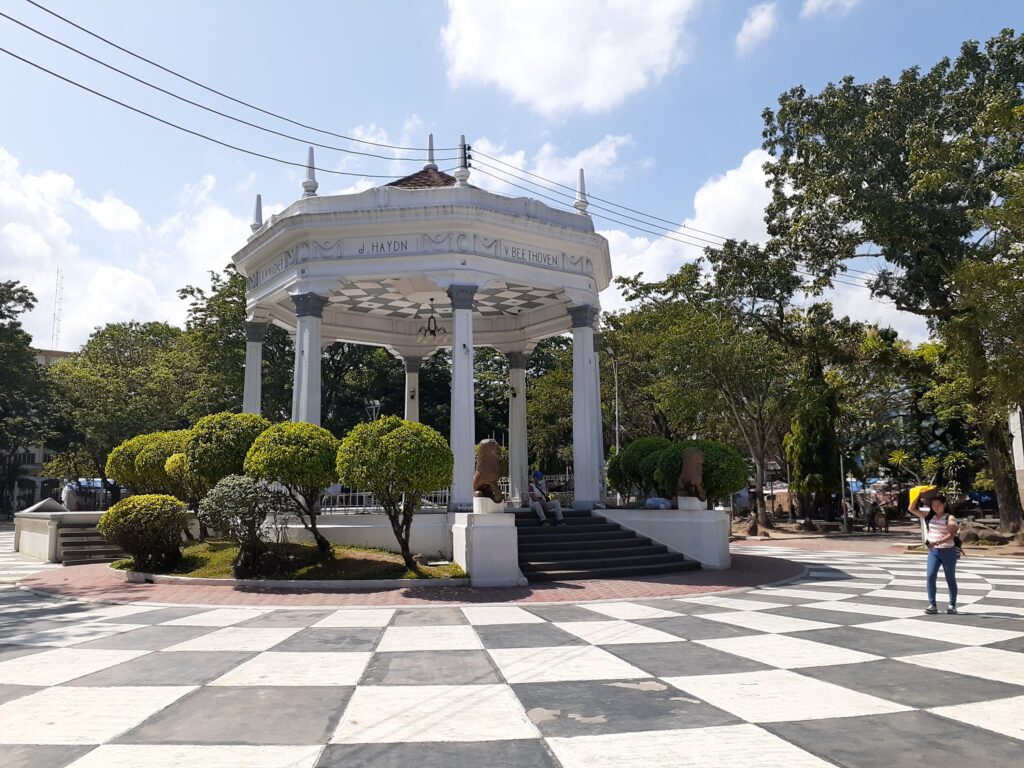 In the centre of the park is a partially covered stage. The names of musicians are inscribed on the roof, and musical performances may well be held there.
Tourist information centre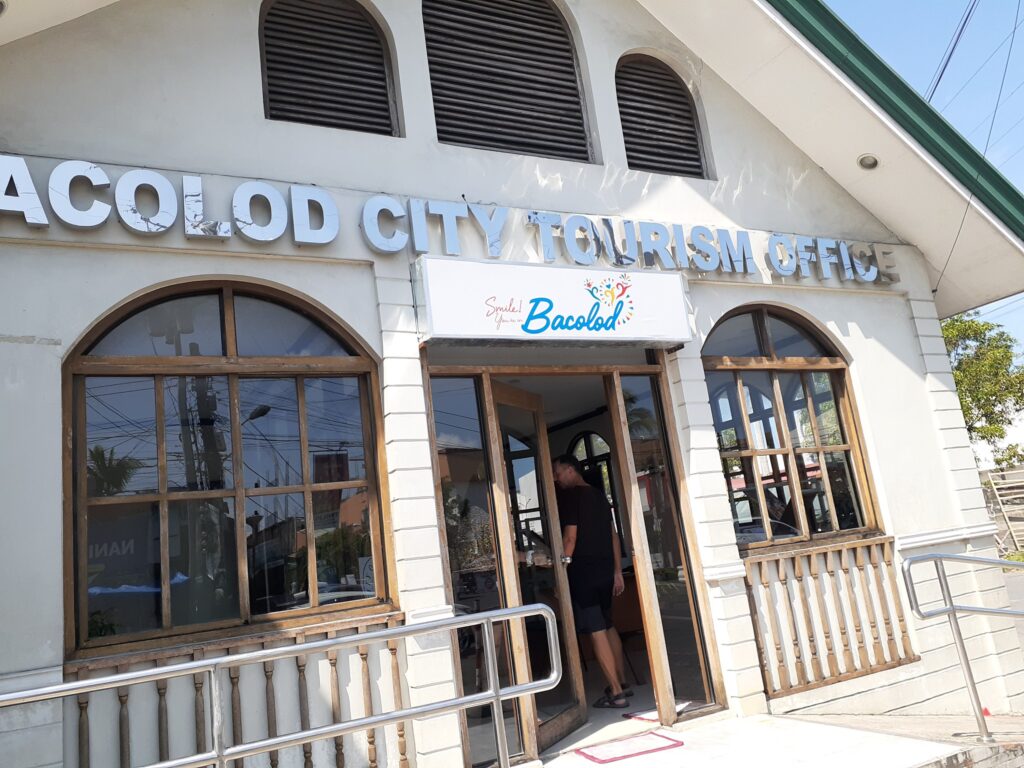 The lady inside spoke very good English and was very polite and helpful.
Pope John Paul II Tower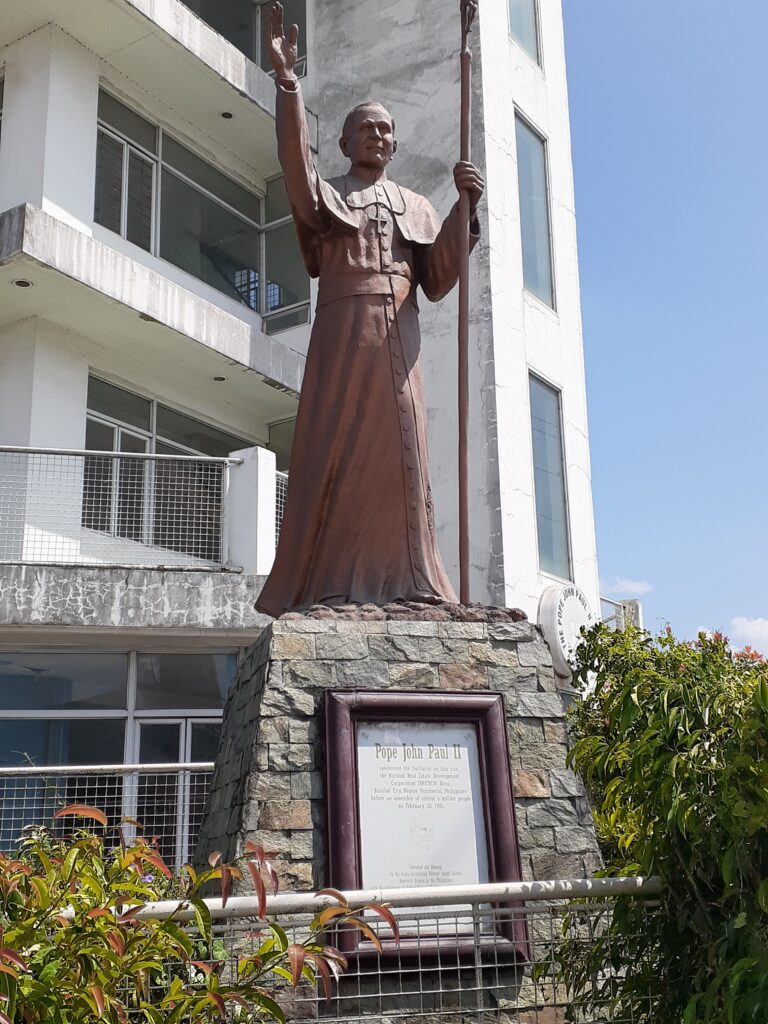 The late Pope John Paul II visited Bacolod City on 20 February 1981. The tower was built to commemorate this event. 7 storeys high, it is possible to climb to the top. The view from the top is reputed to be spectacular, but we have not been up there.
Baywalk Recreation Park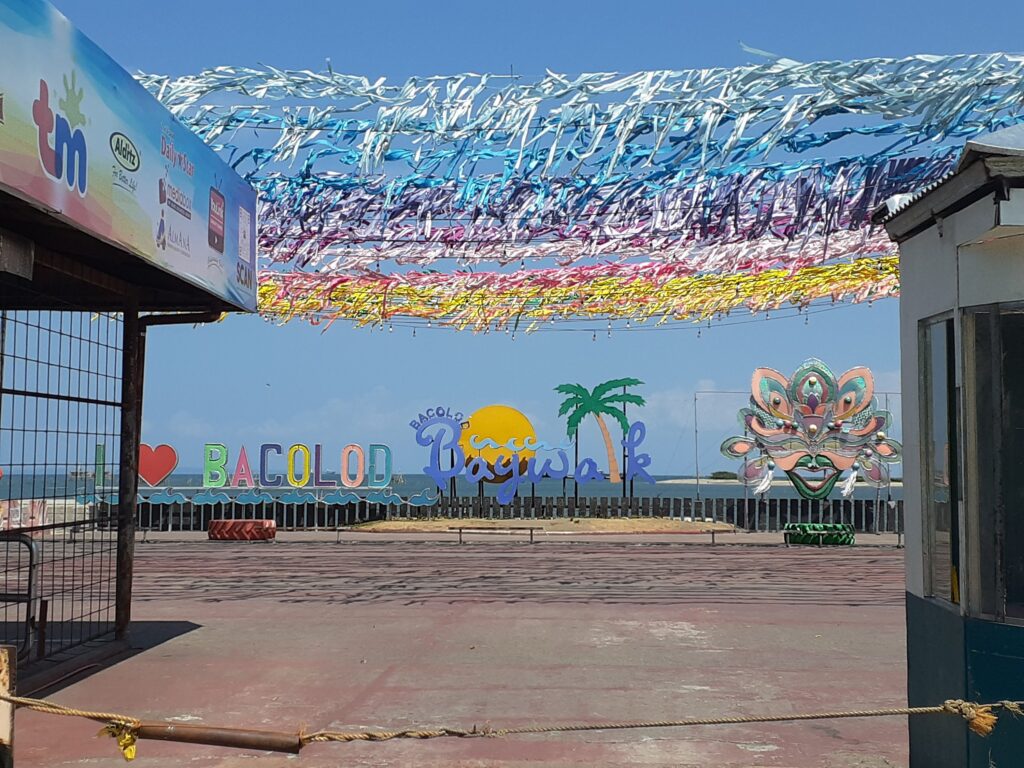 From the Tourist Information Centre, head towards the coast and you will reach a shopping mall called SM City Bacolod. Walking further towards the coast is the Baywalk Recreation Park.
There seemed to be various facilities inside, but it was closed at that time. It is said to open at 1pm. Entrance fees are 30 pesos for adults and 20 pesos for children.
There are also attractions in the suburbs of Bacolod
There are not many places to see in Bacolod City, so a day is enough to get around. On the outskirts of Bacolod, in the Silay area near the airport, there are still some European-style buildings that have become tourist attractions.
We had planned to visit there, but ran out of time as we wandered around the city looking for the best ATMs and to buy a SIM card and load it
If you are in Bacolod and have time to spare, do your research and head out.
What to eat in Bacolod?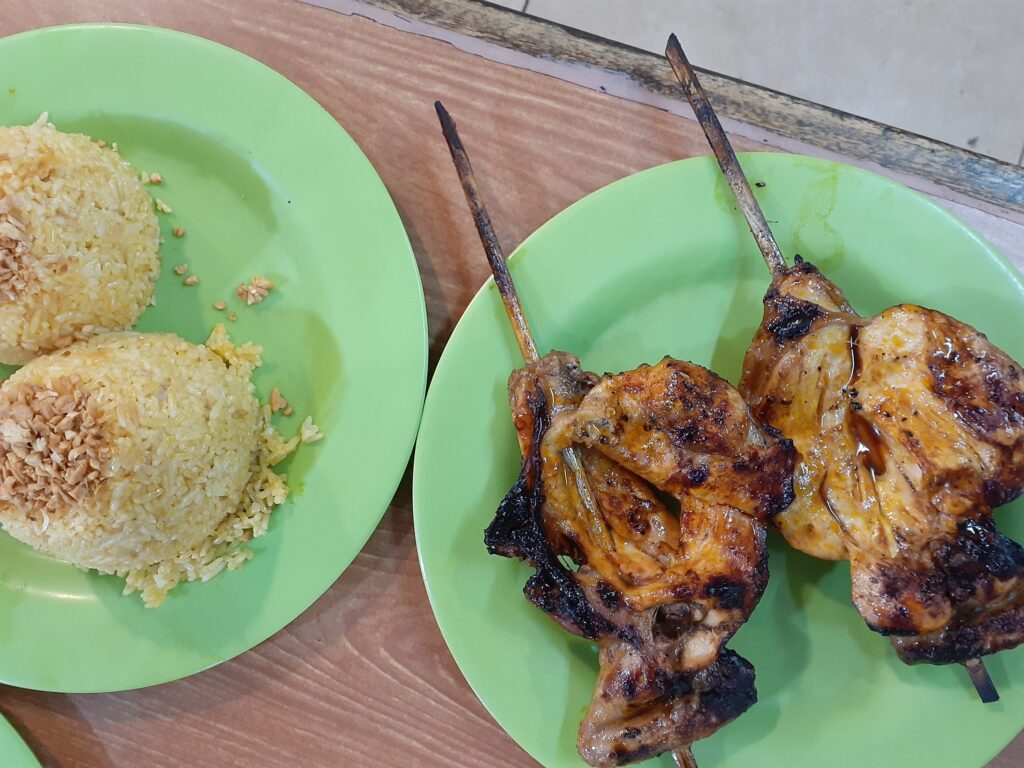 Bacolod's speciality is BBQ chicken. Chicken BBQ signs are everywhere in town.
Near SM City, there is a section (Manokan Country) where all the chicken BBQ restaurants are located, and we went to one that had a good reputation.
In essence, it is grilled chicken, but the sauce is delicious and the chicken is juicy. It was served with garlic rice. The meat was a choice of breast or thigh, both for 105 pesos per person and garlic rice for 38 pesos. It was served with San Miguel beer.
When walking the streets of Bacolod, you will see restaurants that sell prepared foods. It is convenient because you can point at what you want to eat and order it. Prices vary depending on the delicacies, but vegetable-based dishes start at around 30 pesos, while meat dishes cost between 50 and 70 pesos.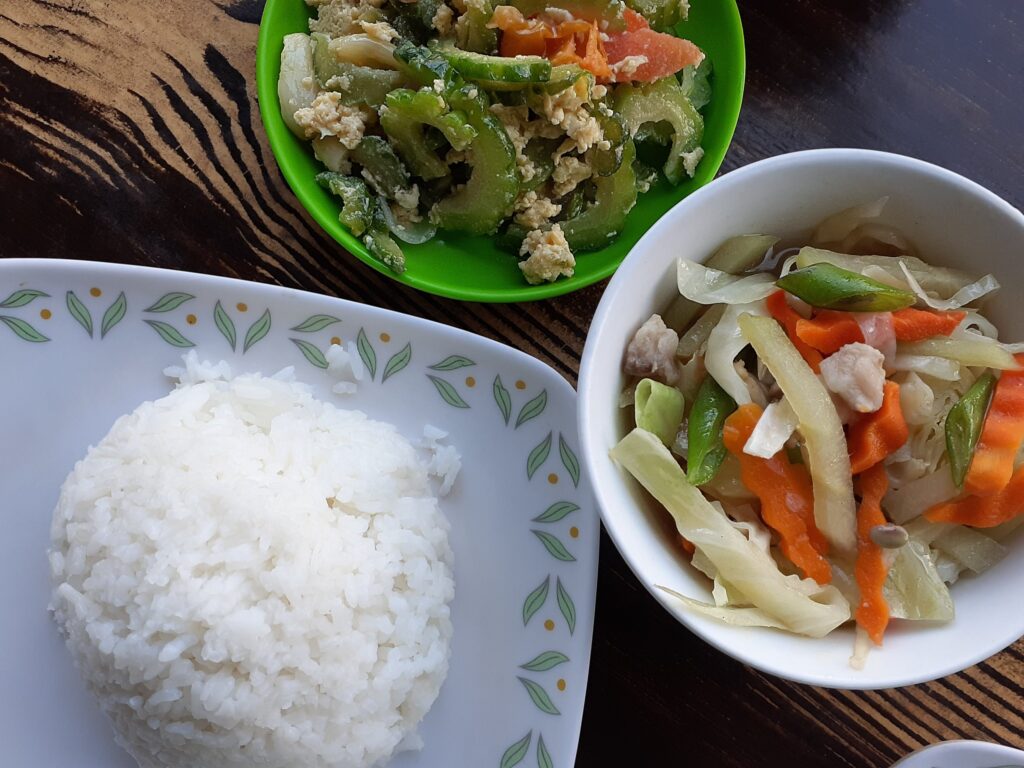 Eating at barbecue shops all the time can lead to a lack of vegetables, so restaurants like this are very useful. The green vegetable in the top centre of the photo above is bitter gourd.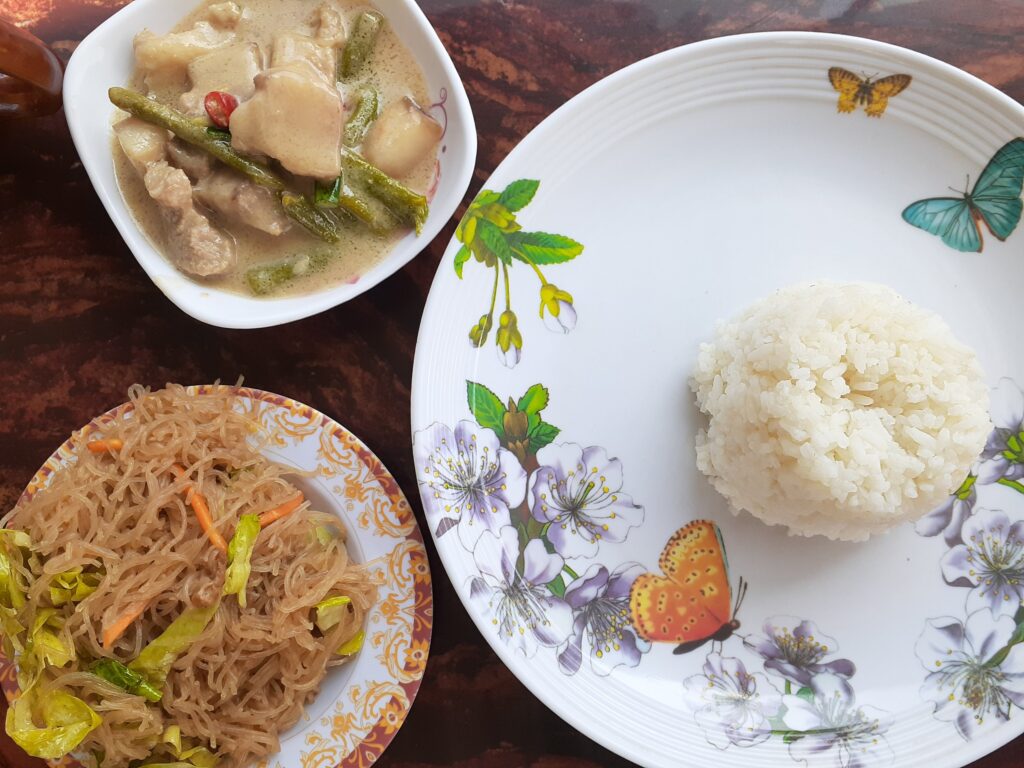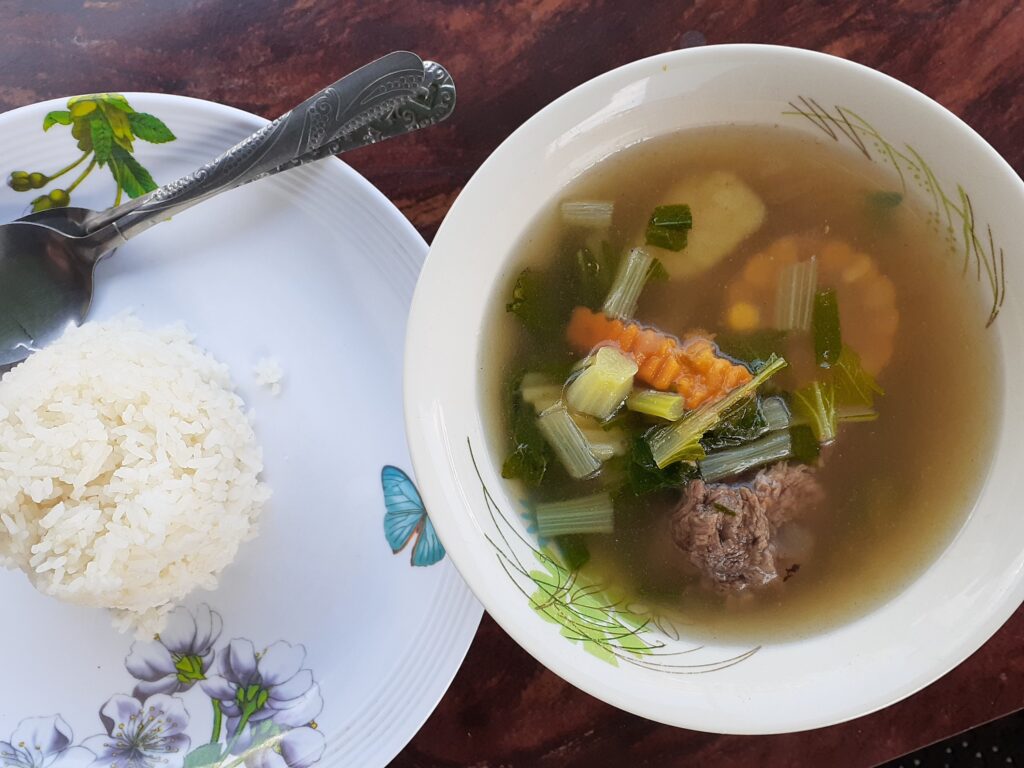 The quality of the rice is so-so, but we are just grateful to be able to eat white rice.
In any small restaurant, there will be someone who understands basic English, so it's easy to order and ask about prices.