Sipalay is considered a beautiful destination in Negros Occidental. Well  Sugar Beach near to Sipalay is
Sugar Beach in Sipalay is a white sand beach on the west coast of Negros Occidental. We decided to go there by bus or minivan from Bacolod.
Getting from Bacolod to Sipalay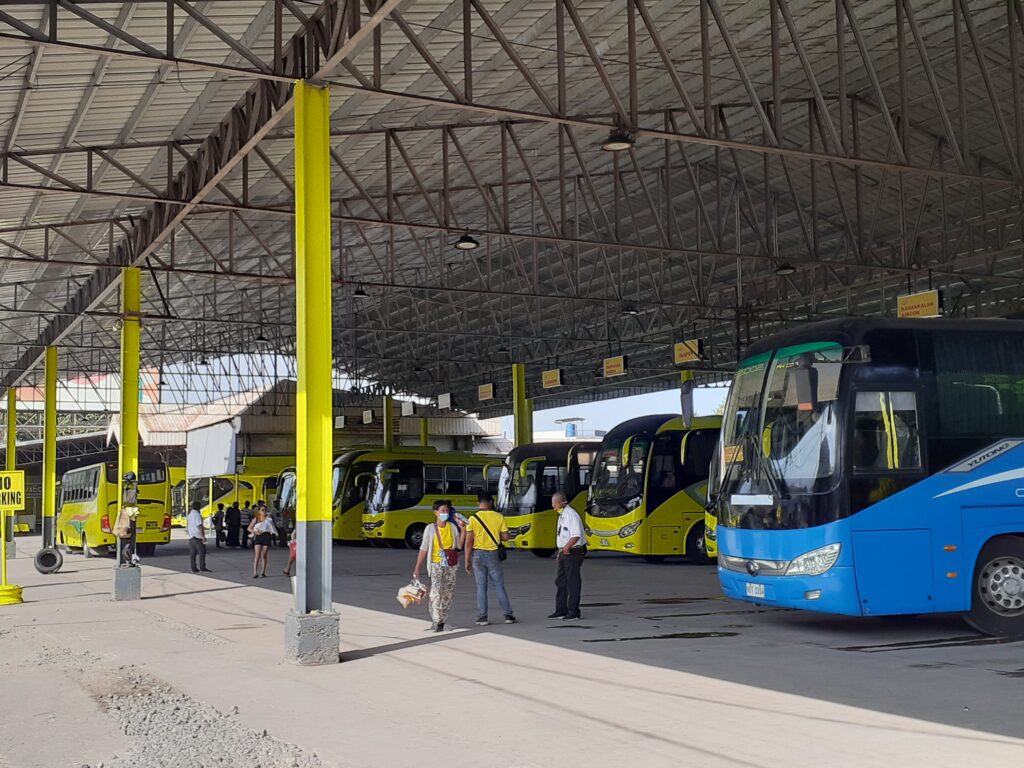 First, we needed to travel from Bacolod to Sipalay. There are buses and minibuses minibuses and whilst they seem to be a little faster the seats are smaller and less comfortable. Both of them leave from the South Bus Terminal or nearby, so we headed to the South Bus Terminal.
When we arrived at the South Bus Terminal, there were many buses parked there, and there was a sign for an air-conditioned bus to Sipalay, but no buses were parked there. I asked someone nearby and was told that I could take a bus to Hinoba-An and get off at Sipalay. The bus to Hinoba-An was parked next to us and would be leaving in 10 minutes.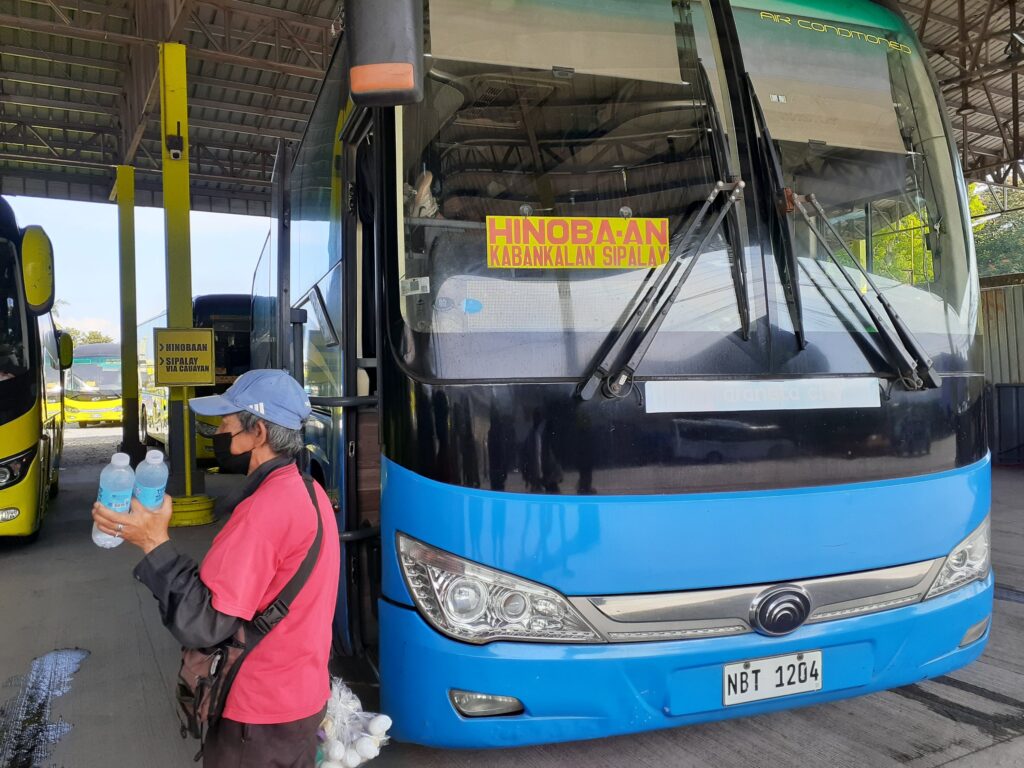 So we decided to take this bus. The fare to Sipalay was 400 pesos per person and is paid to the conductor on board.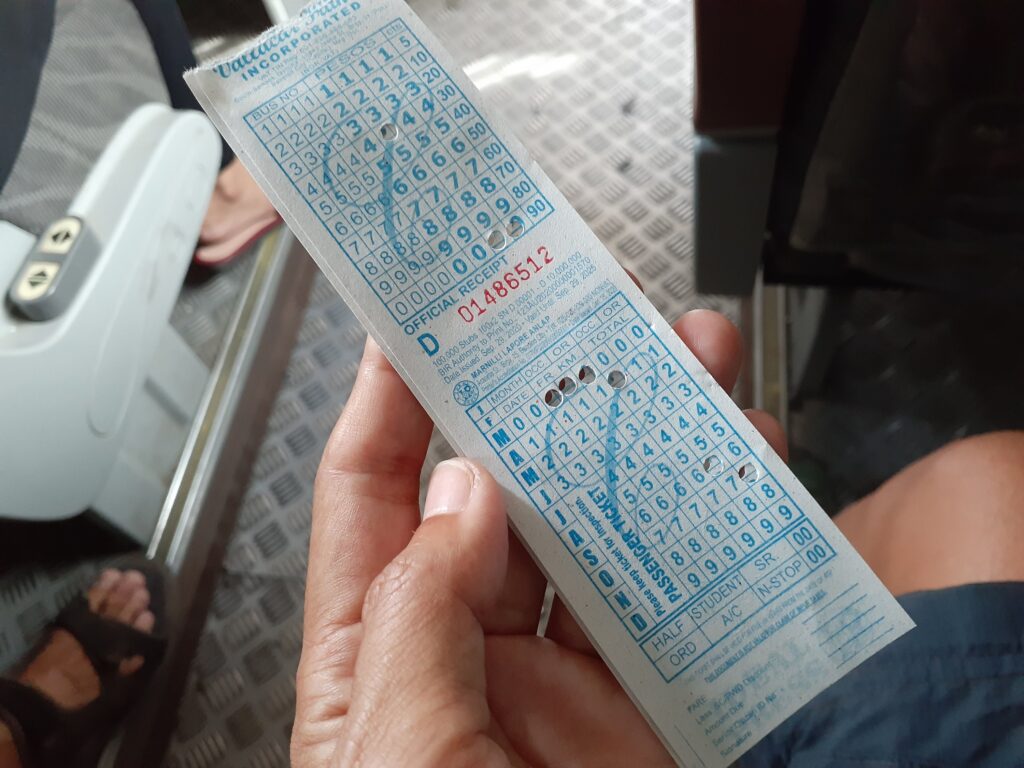 To get to Sugar Beach, get off at Gil Montilla market, just before the town of Sipalay. Tell the conductor this when you buy your ticket.
Bus journey from Bacolod to Sipalay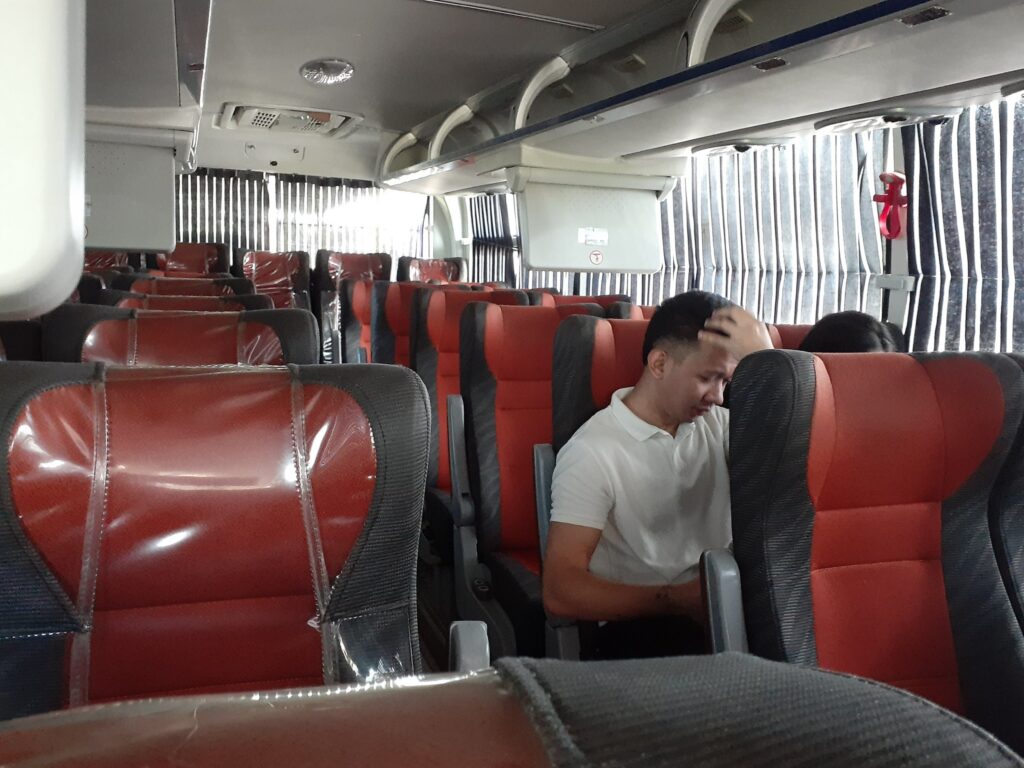 The bus had four seats to a rows and was well air-conditioned. The bus was not full, so we were able to sit comfortably with our backpacks on the seats next to us.
As the driver said, 10 minutes after boarding the bus, it departed at around 8.30 am. You buy your bus ticket on board. The distance from Bacolod to Sipalay is approximately 160 km.
It is not that far, but anyway it takes longer than expected in the Philippines, no matter what you do.
The buses pick up and drop off passengers along the way, and the frequency of these stops is extraordinary. There were even areas where the bus stopped every few metres
Even though the pace is slow it could worse….yes we got a puncture.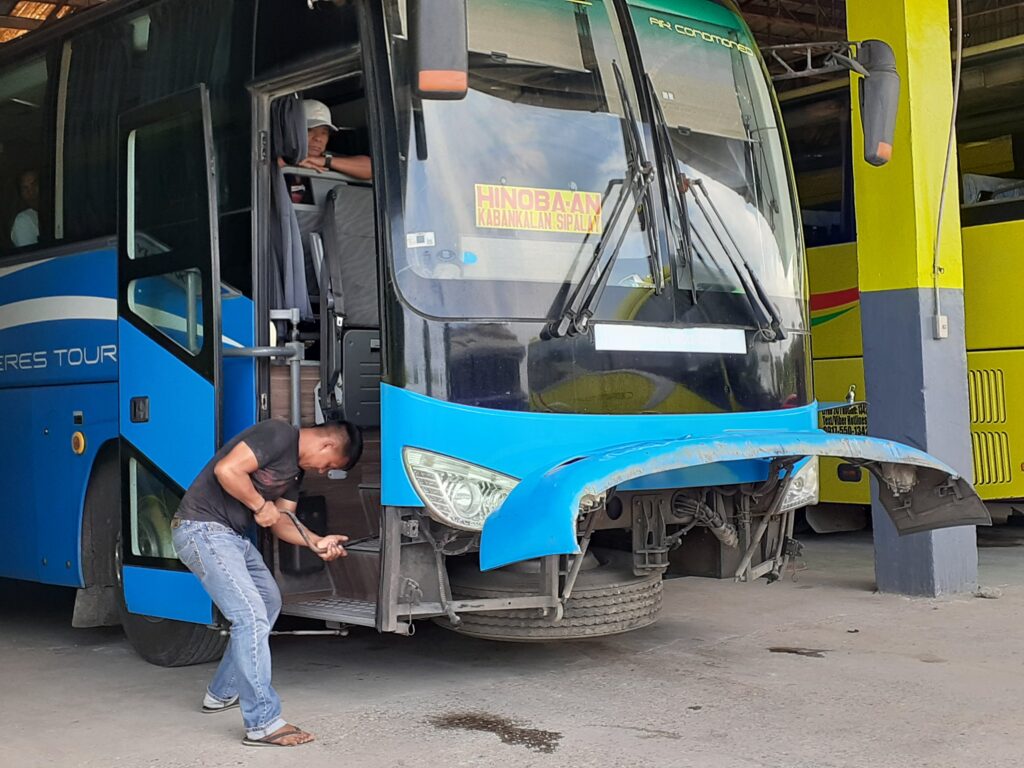 Because of this, we had to stop for about an hour. During that time, we went to the toilet, bought some food and waited for the repairs to be finished.
Finally, the bus started again. The scenery around us became more and more rural. The bus runs along the coast until Sipalay, so if you sit on the right seat facing the direction of travel, you can enjoy the view of the sea side, and if you sit on the left, you can enjoy the countryside.
Sipalay to Sugar Beach by pedicap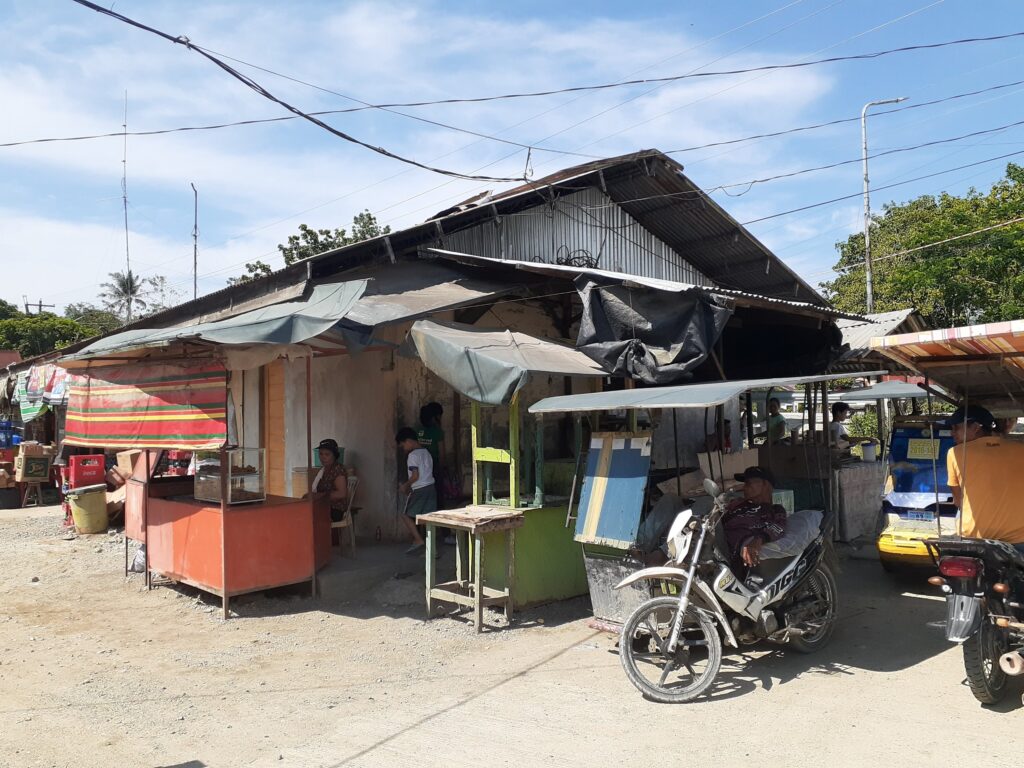 It was around 2.30pm when we got off the bus at Gil Montilla Market. From here, we took a local transport called a pedicap to Sugar Beach.
Before that, we had lunch. The bus journey took longer than expected and we only had three small cupcake-like things for lunch. We decided to eat at a spot in the market.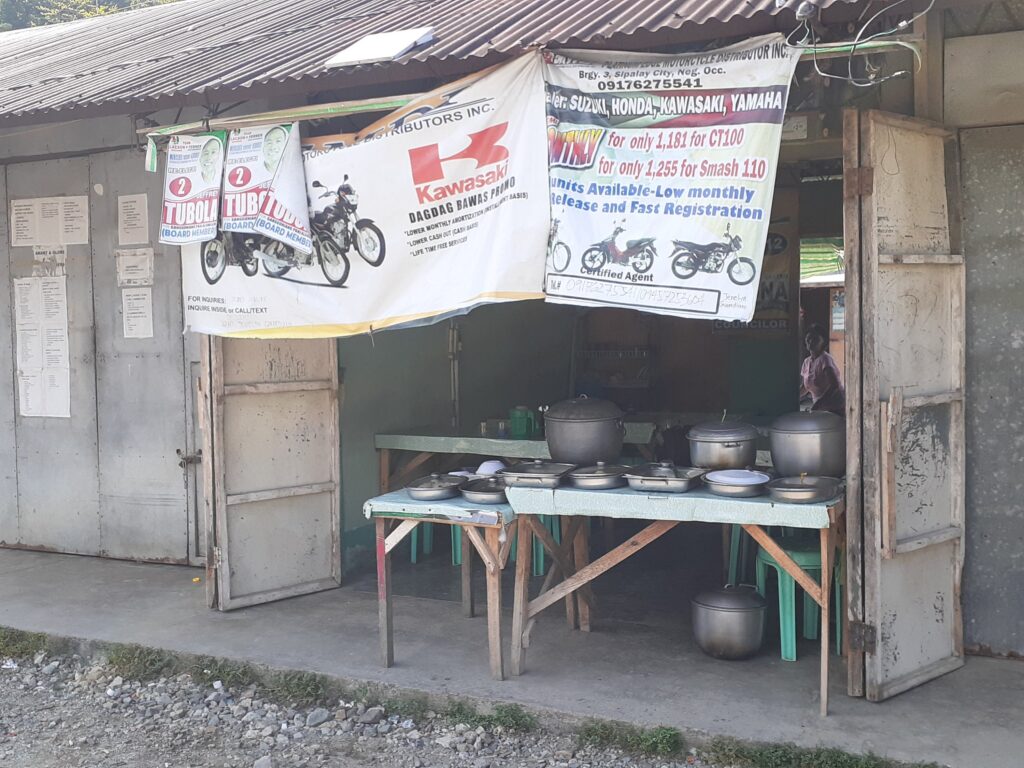 It is a small market but there were a few eateries and we asked about the prices at one of them, but we had the impression that they were a bit inflated. Like the restaurant we ate at in Bacolod, it is a type of restaurant that sells a number of prepared dishes in the shop, but the meat dishes would cost 80 pesos, which is more expensive than in Bacolod city. We felt like we were going to be being ripped off, so we asked at another restaurant and found that vegetable dishes were 15 pesos and pork dishes were 40 pesos, so we ate there.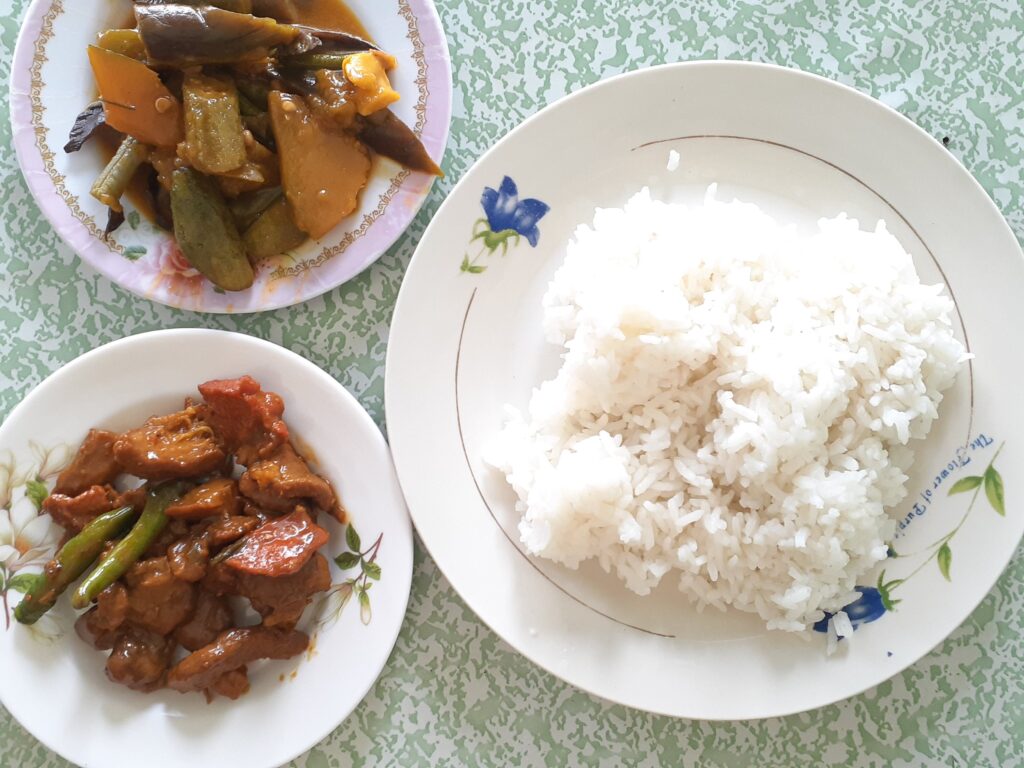 Next, we went into a small shop to buy biscuits and bottled drinking water as emergency rations. After buying what we wanted, we asked the shopkeeper how much it would cost to get to Sugar Beach by pedicab. A boy of about junior high school age then told us that it would be about 20 or 25 pesos per person. The hotel owner we had booked with told us it would be around 80 to 100 pesos for two people, but it turns out that this is a foreigner's fare.
They further helped us negotiate with the driver to get us to Sugar Beach for 50 pesos for two people.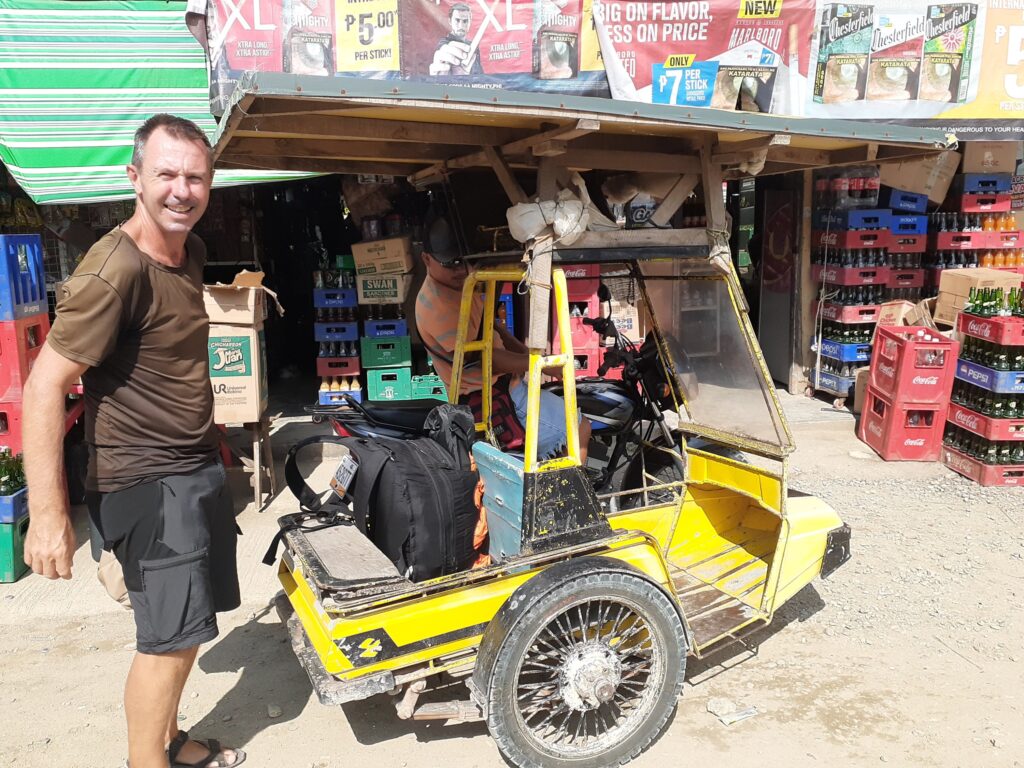 A pedicap is a local taxi with a two-wheeled cargo bed. Luggage can be stored behind the seats.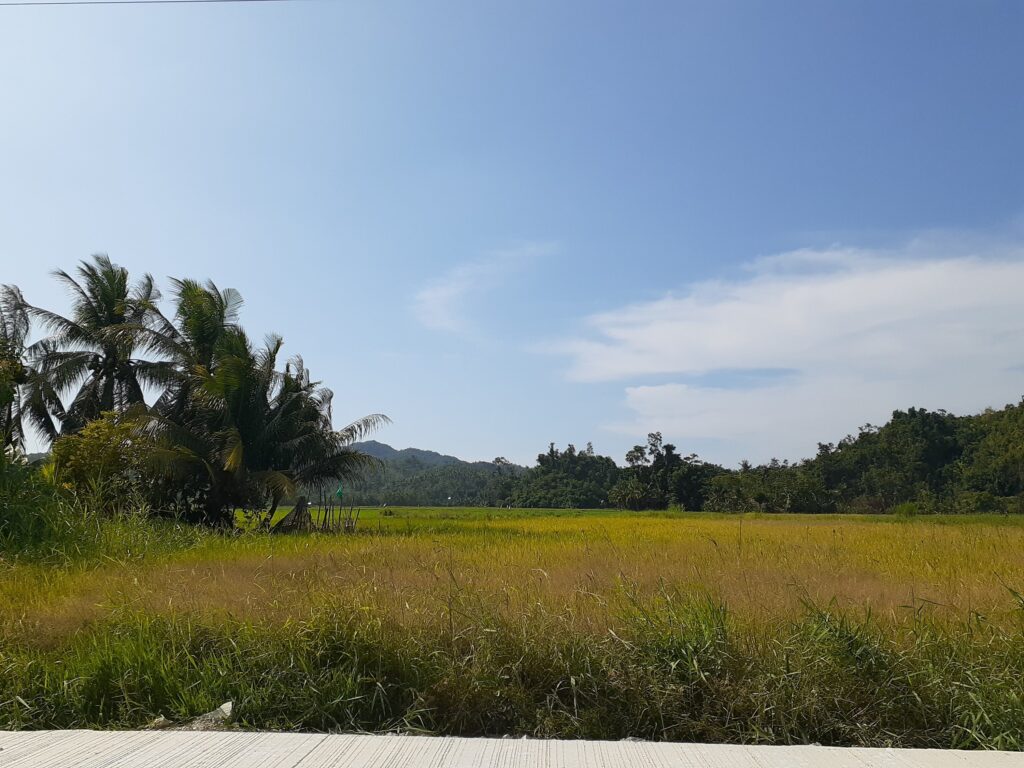 We boarded the pedicap after giving the name of our hotel in Sugar Beach. It took about 15 minutes to reach our destination.
However, when we arrived in front of the hotel to pay the pedicab driver, the driver started to tell us that it was 75 pesos each – 150 for two people. I chided him lightly, saying no, no, the proprietress of that restaurant said 25 pesos per person, and paid him 50 pesos. He seemed a little disappointed, but left without further insistence. He was just trying it on. Fair enough.
How is the Sugar Beach?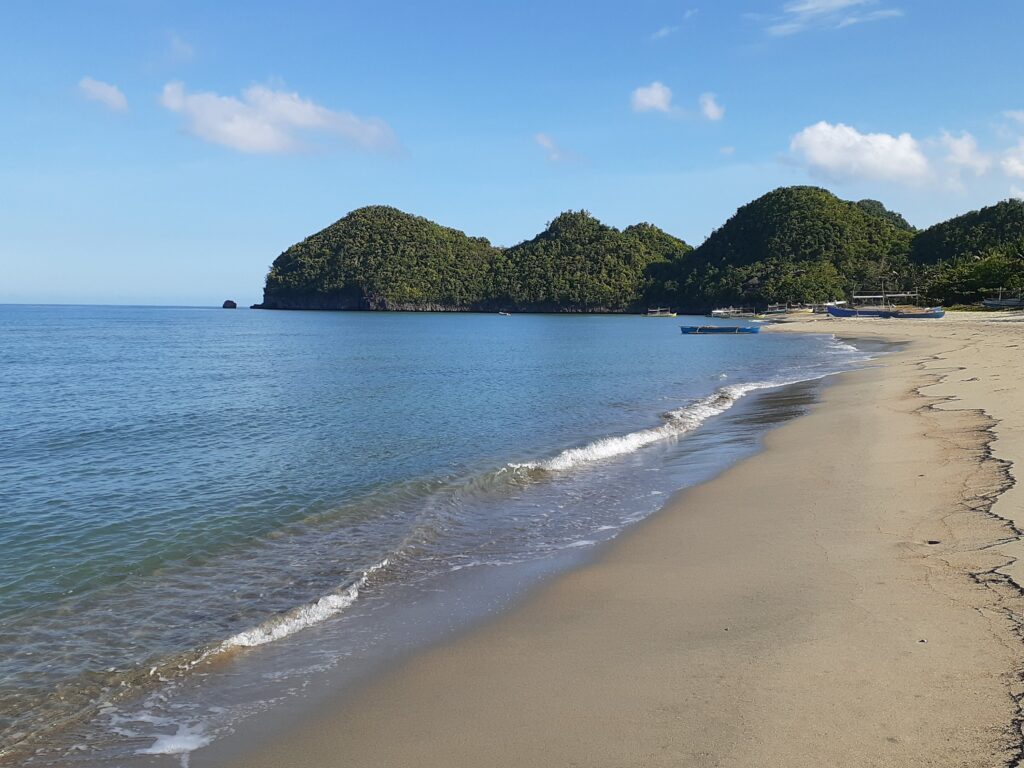 Sugar Beach is a resort with a 1.5 km stretch of white sand beach. Access is a little complicated, so despite being a great beach, not many people visit.
It was a hidden spot as a quiet beach resort, especially until not so long ago, as it had to be accessed by boat. However, thanks to a recently completed concrete bridge, access is now possible without boats.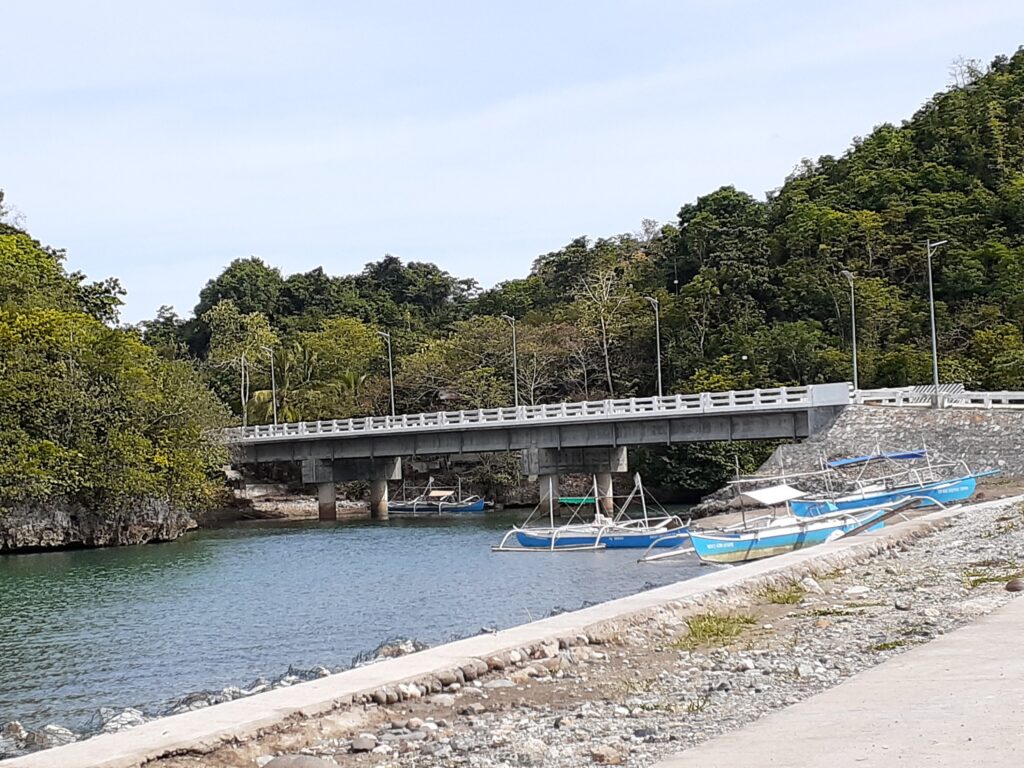 This small bridge will change the future of tourism and the lives of people in the surrounding area. Further road widening works are also underway.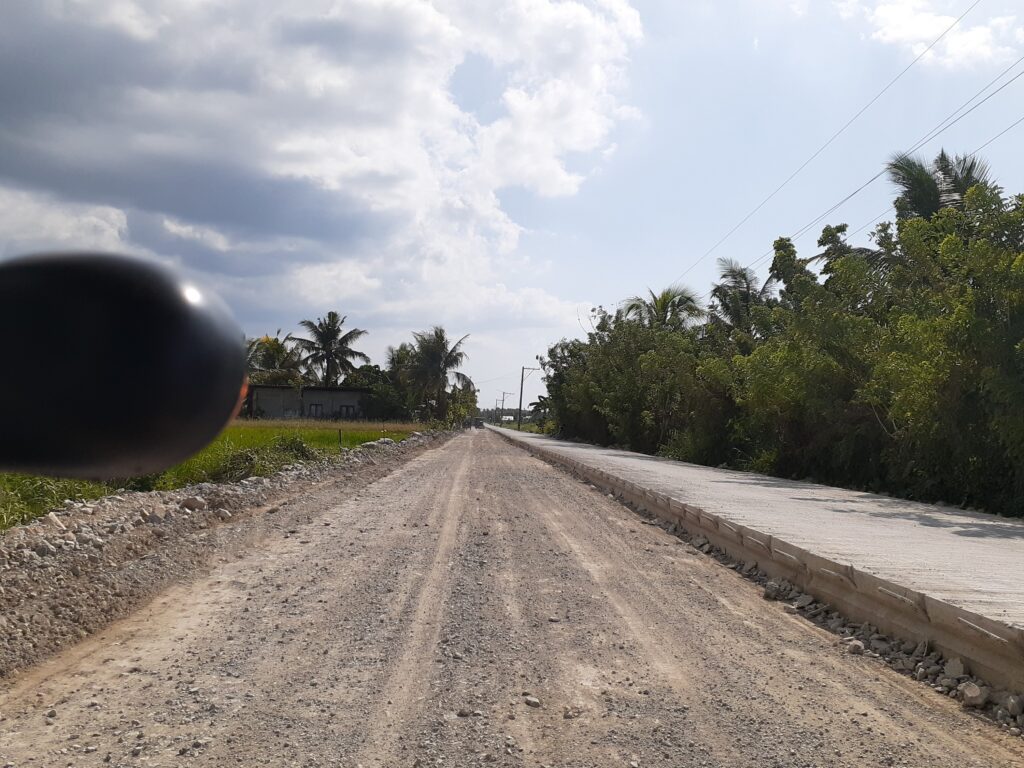 A concrete road is currently under construction, as shown in the image above. When completed, it is expected to attract even more tourists.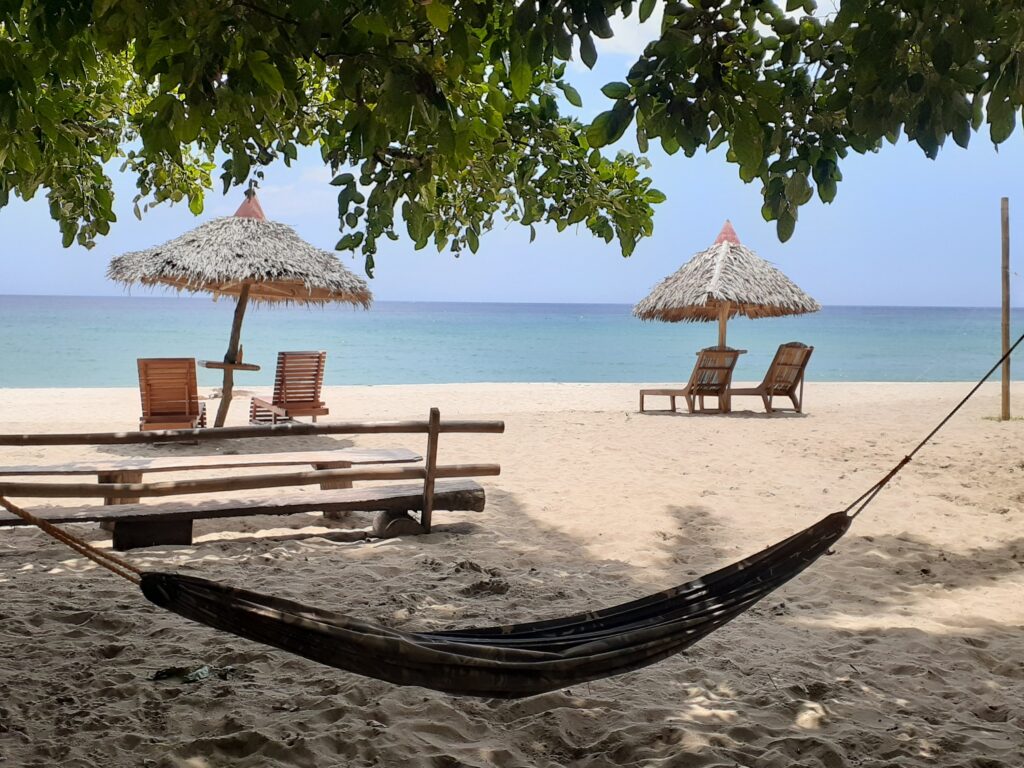 Sugar Beach has several accommodation options, a dive shop and one shop cum restaurant. Some land is under construction and will no doubt expand as a tourist destination.
The beach itself is beautiful, a shallow inlet. However, the food is quite touristy and expensive, although accommodation prices are not that expensive. The resort we stayed at also has nice rooms, but the food in the attached restaurant is overpriced and there is a charge for coffee and drinking water, so in total it is not that cheap. The price you pay to be at the beach.
As the area becomes more touristy, there may be more reasonably priced shops and accommodation.