After four nights in Bohol, we decided to leave the island.
Yesterday, we spontaneously bought a ticket to Indonesia via Kuala Lumpur, departing from Cebu, so we are heading to Cebu from here.
We have a few days before our flight, so we will go to Moalboal, a seaside town that is said to be one of the best places in Cebu to see sardines!
About Moalboal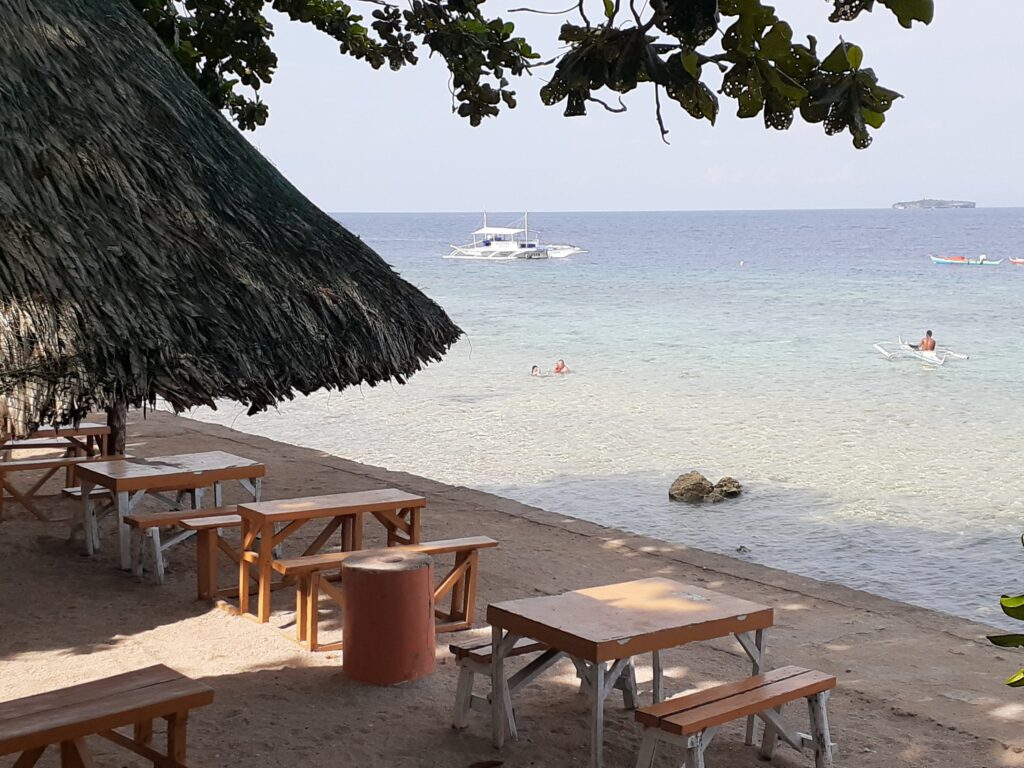 Moalboal is a municipality on the west coast of Cebu. It has a population of about 37,000 (2020). It is known for its beaches as well as diving and snorkelling spots. It is a relatively inexpensive town on the island of Cebu.
To get to Moalboal from Bohol, you might be able to take a ferry from the port of Loon, north-west of Bohol, to Argao, Cebu, and then take a bus westwards, although the status of the ferry between Loon and Argao was hard to find out about since Covid. Therefore, we decided to take the ferry from Tagbilaran to Cebu and from there a Bus to Moalboal, although it is a longer distance.
Anda Beach to Guindulman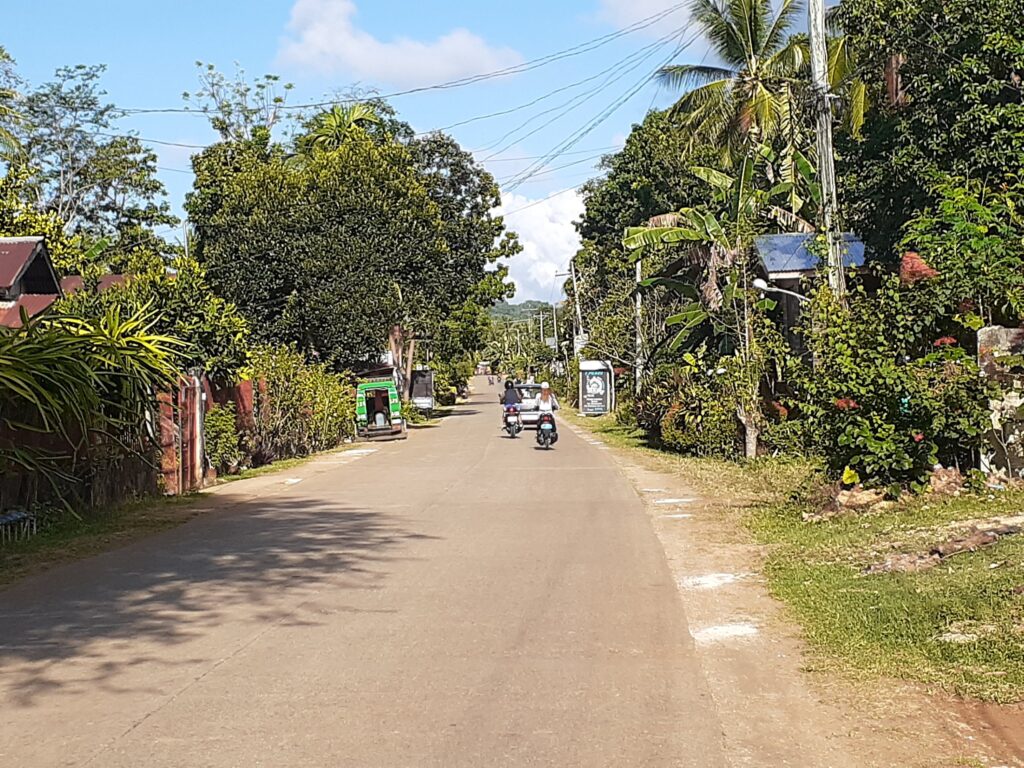 From the guesthouse where we were staying, we went out to Anda's main street to wait for our ride. The time at this point was 6.30am.
Anda town centre is about 4km east of the main street, from where there are buses and minivans to Tagbilaran via Jagna. So if you time it right, you should be able to catch one of those buses at Main Street, but there are not many and the wait is likely to be long.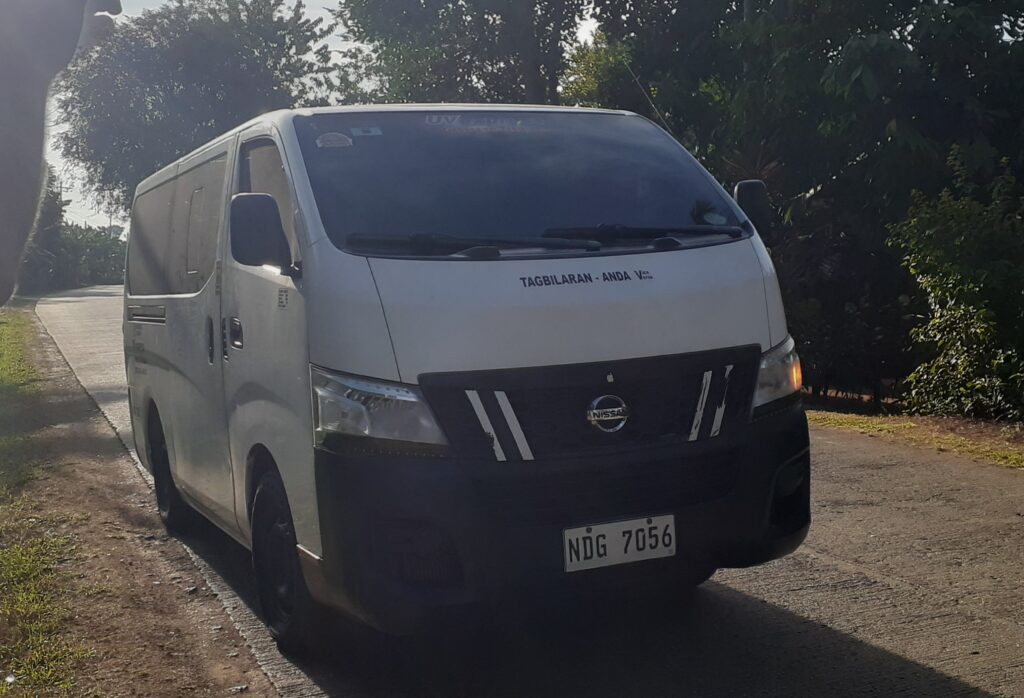 While we were waiting, one minivan to Tagbilaran stopped. But we were told that only one seat was available; the second minivan was full and would not stop. Apparently it is difficult to pick up a minivan at this location. As we didn't know what time the big bus would come, we decided to take a tuk-tuk to the nearest town.
By the way, the fare to Tagbilaran by minivan is 200 pesos per person.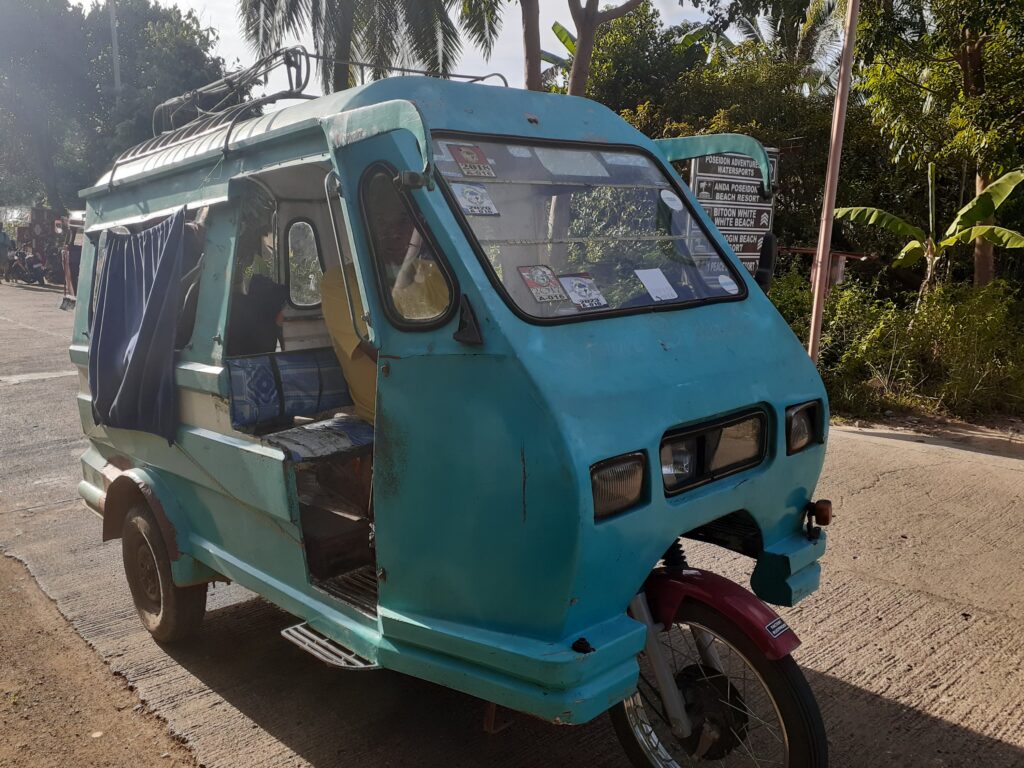 The nearest town towards Tagbilaran is Guindulman. We decided to take a tuk-tuk to the bus station in Guindulman. The ride is by shared tuk-tuk and cost us 50 pesos per person.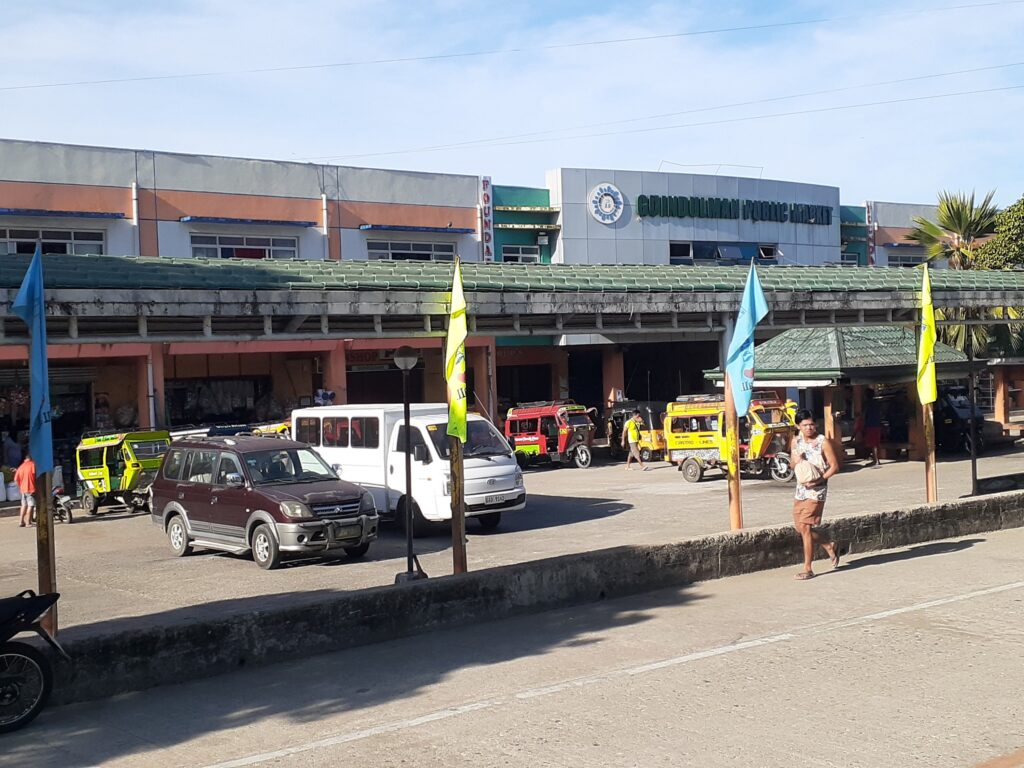 Guindolman bus station is located in front of the market. When we arrived in front of Guindolman Market at 7.15am, about 15 minutes by tuk-tuk, the bus to Tagbilaran was already parked.
Guindolman to Tagbilaran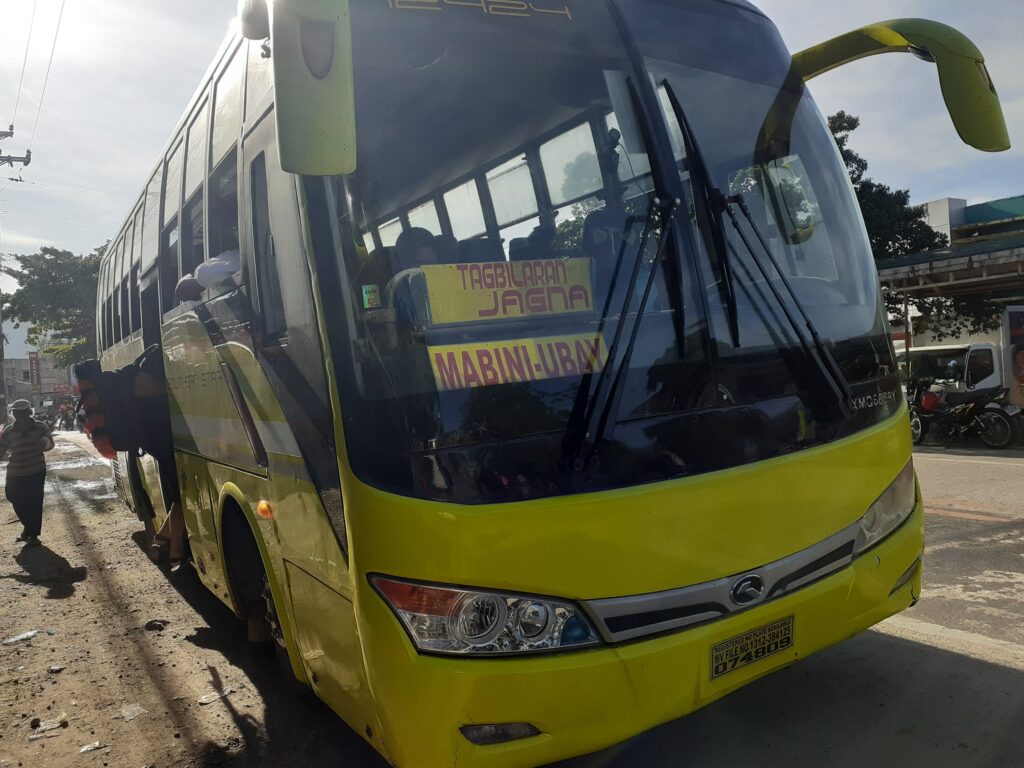 The journey from Guindolman to Tagbilaran is about 85 km, but it takes a while as buses often stop. The bus fare was 160 pesos per person. The bus departed from in front of Guindolman Market at 7:20 am.
From Guindolman to Tagbilaran, the bus runs along the coast. Sit on the seat on the left side if you want to enjoy the view of the coast.
The bus was never full and we were able to sit relatively comfortably until arrival at Tagbilaran. Tagbilaran arrived at Dao Bus Terminal at around 9.30am. The journey took two hours. We got off in front of a shopping mall and took a tuk-tuk to the ferry terminal. The tuk-tuk fare was 30 pesos per person.
Purchase of ferry tickets from Tagbilaran to Cebu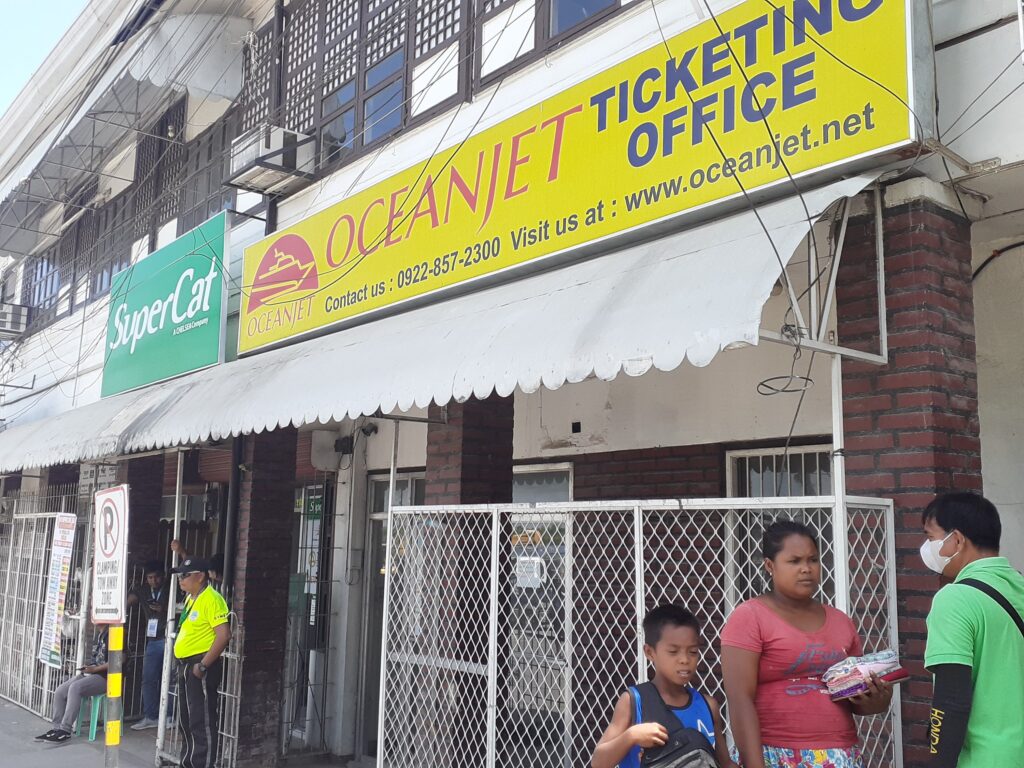 We purchased tickets at the Ocean Jet ticket office near the port of Tagbilaran. Ocean Jet operates a high-speed ferry service and the journey to Cebu takes approximately 2 hours. The fare is 800 pesos per person. The ferry departs from Tagbilaran at 10:40am. They run several daily ferries.
We used Ocean Jet as there was not much time between ticket purchase and boarding, but there are also non-high-speed ferries from other ferry companies. They take longer but cost half the price, so budget travellers should check them out.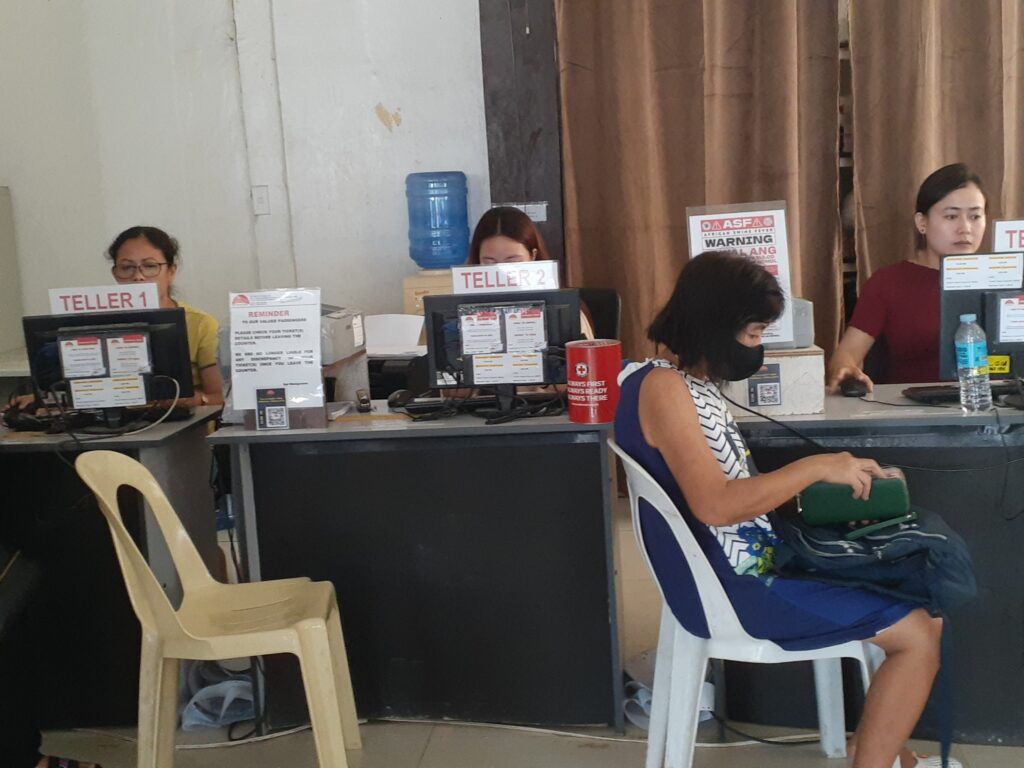 When we entered the office, there were a few people queuing to buy tickets for the 10:40am departure to Cebu. Payment is cash only.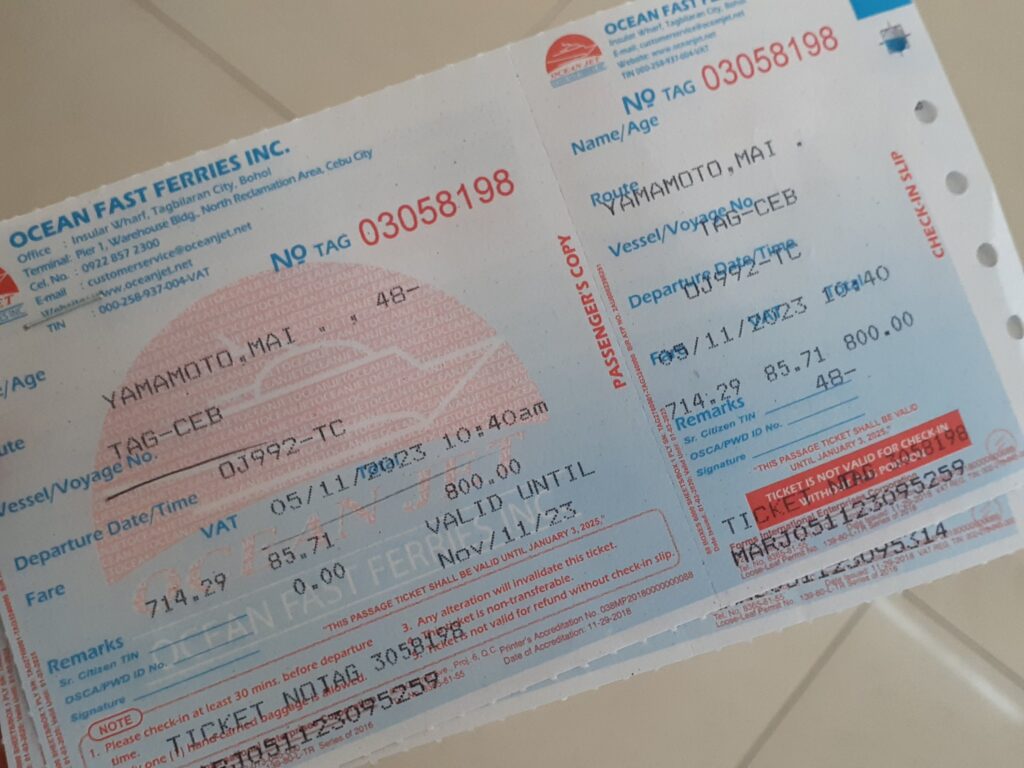 Present your passport when purchasing a ticket. Your name will be printed on the ticket.
Check in at the ferry to Cebu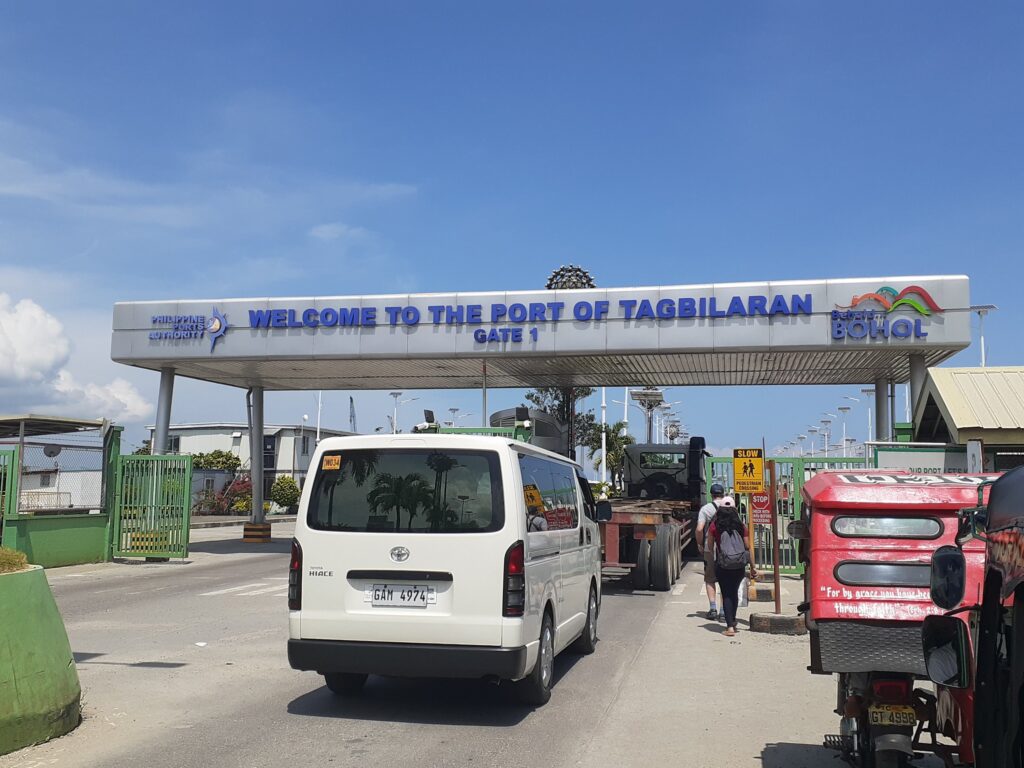 Try to arrive at the port 30 minutes before departure. A short walk through the port gate will take you to the passenger check-in area.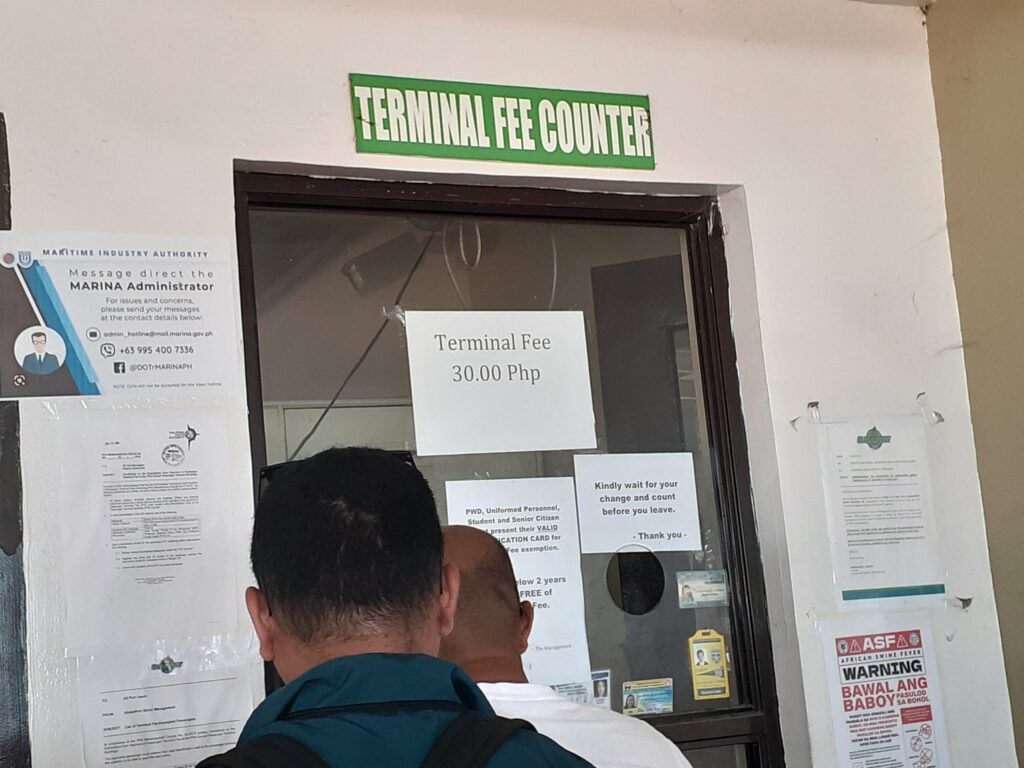 Pay 30 pesos per person at the port fee payment booth. The receipt is stapled to your ticket.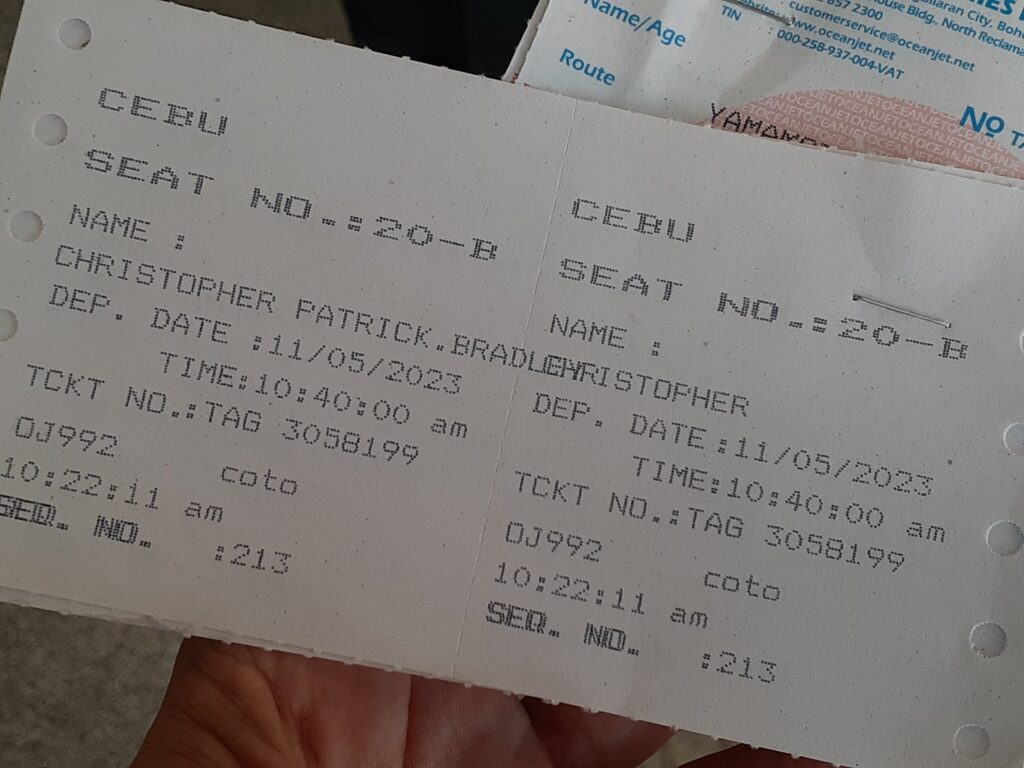 Next to the port fee payment booth is a seat number issuing counter where you can present your ticket and receive a seat number. The seat number will be stapled to your ticket.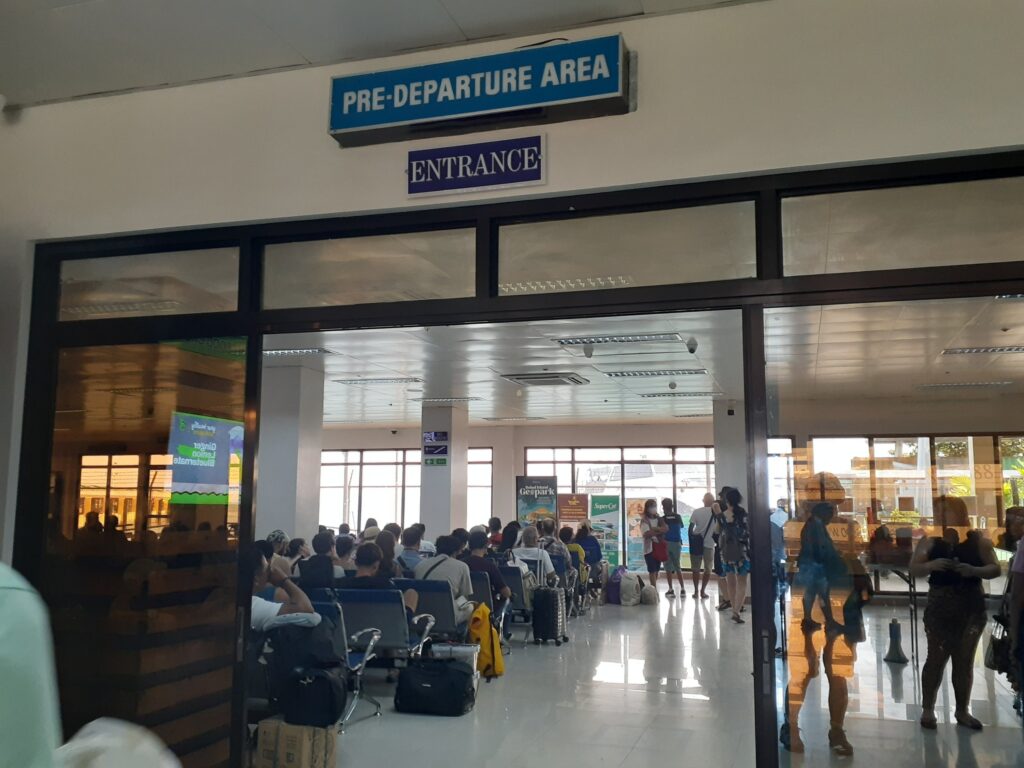 After paying the port fee and receiving your seat number, enter the terminal waiting room. Present your ticket to gain entry.
Board the fast ferry to Cebu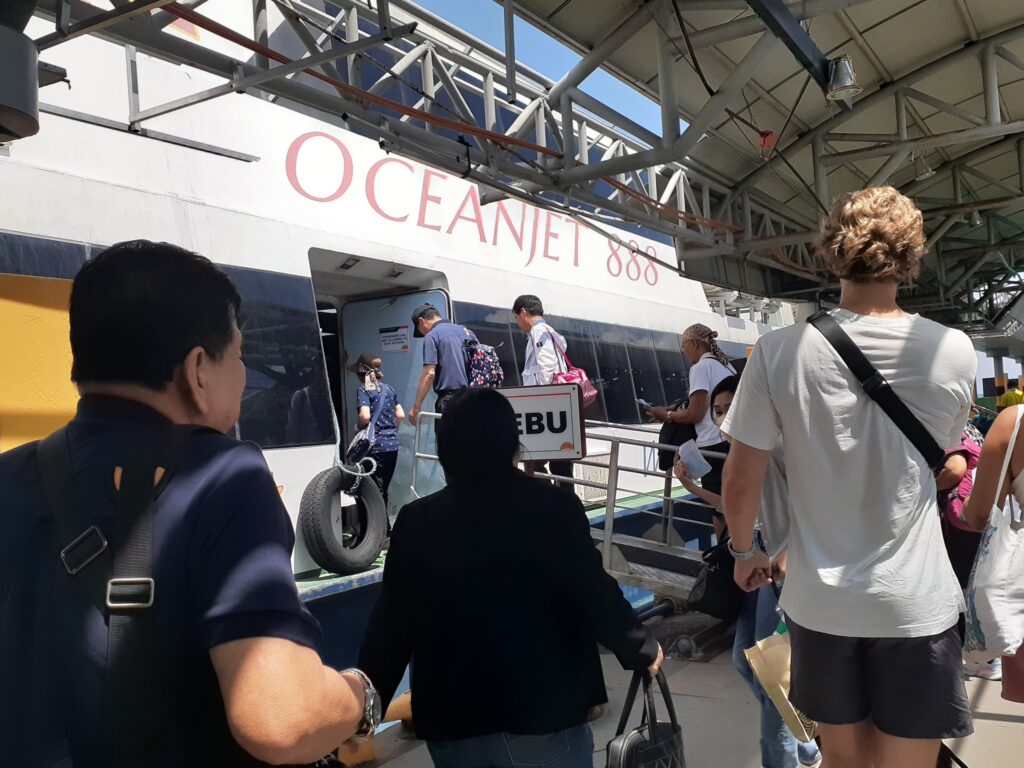 After waiting for a while in the waiting room, an announcement was made and boarding began. The ship did not start at Tagbilaran, but probably came from Siquijor. We waited for the passengers ahead of us to disembark and then boarded the boat.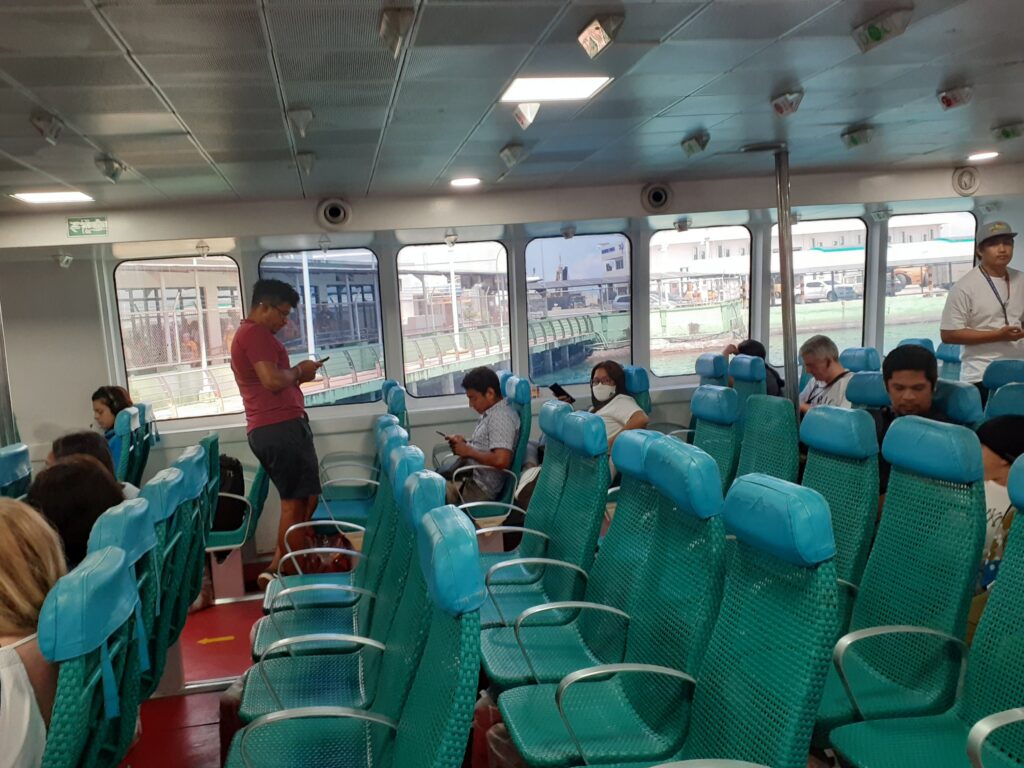 The ship is lined with green seats. Take your seat according to your seat number.
The scheduled departure time was 10:40 am, but the ship was a little late, leaving the port at 10:52 am. The cabin is comfortable and air-conditioned.
Arrival at Cebu port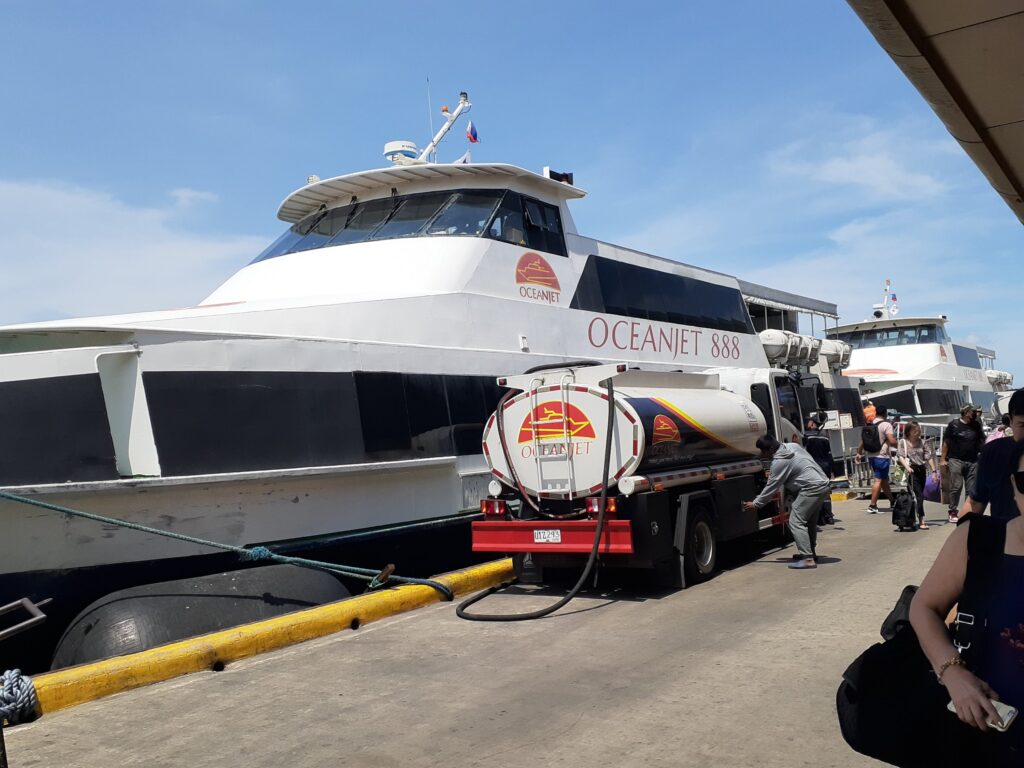 The ferry arrived at Cebu Port at almost 1pm. There are several docks at Cebu Port, but the ferry arrived at Cebu Pier 1 on the west side. From here, we walked 2kms to the South Bus Terminal.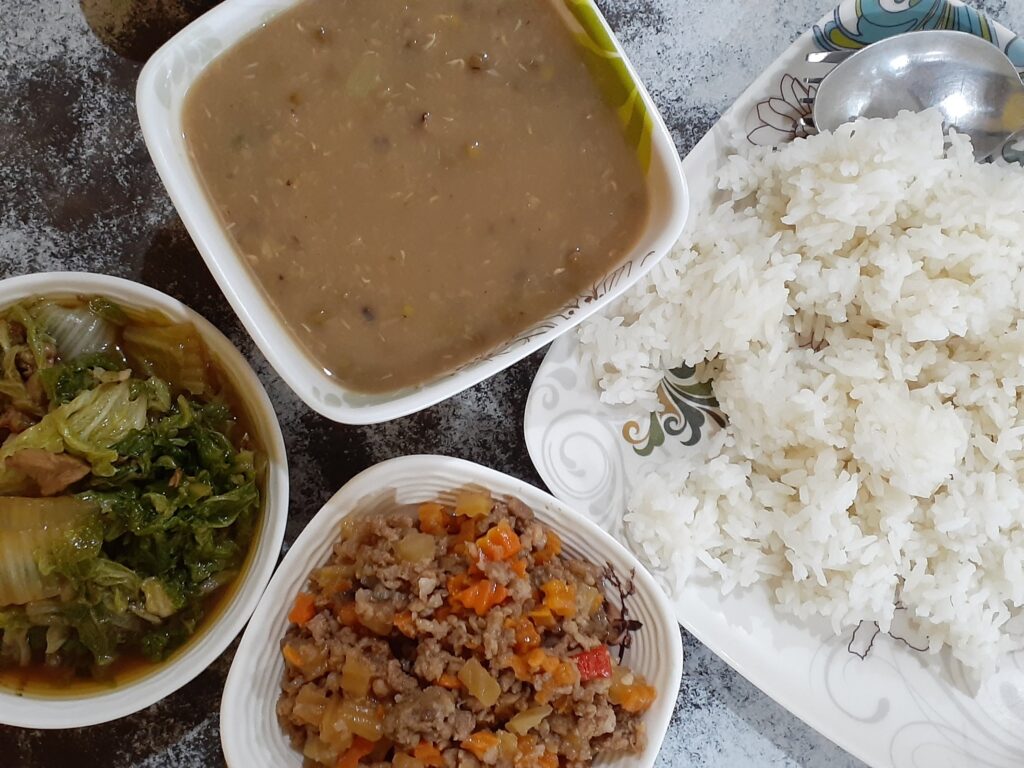 Just before the bus terminal, we stopped at a small diner for lunch. It was the usual pot food (where you choose and order ready-made food), and at 120 pesos for three side dishes and three servings of rice (Chris ate two servings), it was cheap.
Bus from Cebu to Moalboal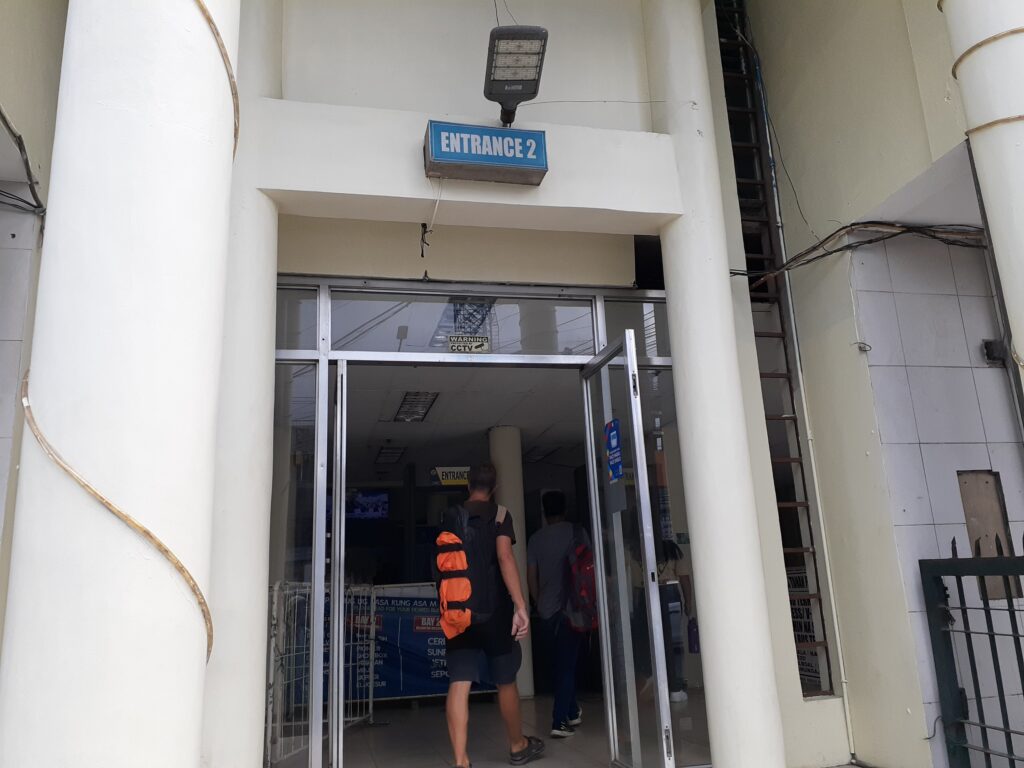 Buses to Moalboal leave from the Cebu South Bus Terminal. Walk through the entrance and you will find the ticket office.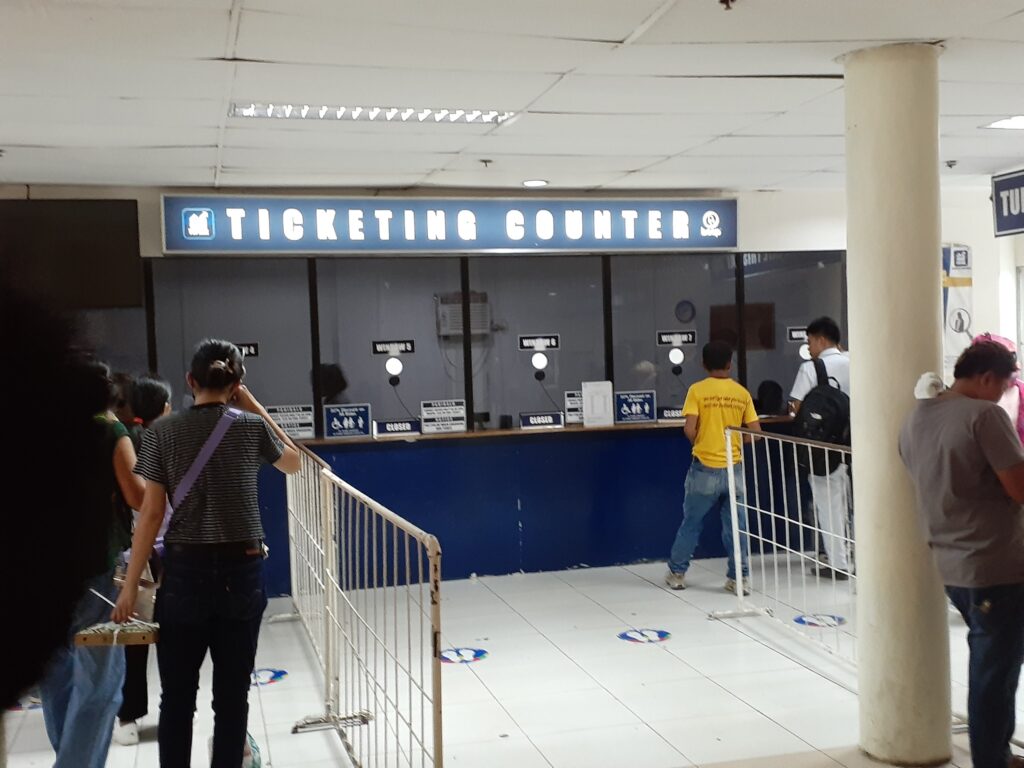 Tell the ticket seller where you are going and buy a bus ticket. The distance to Moalboal is 86 km and the air con bus fare was 209 pesos per person.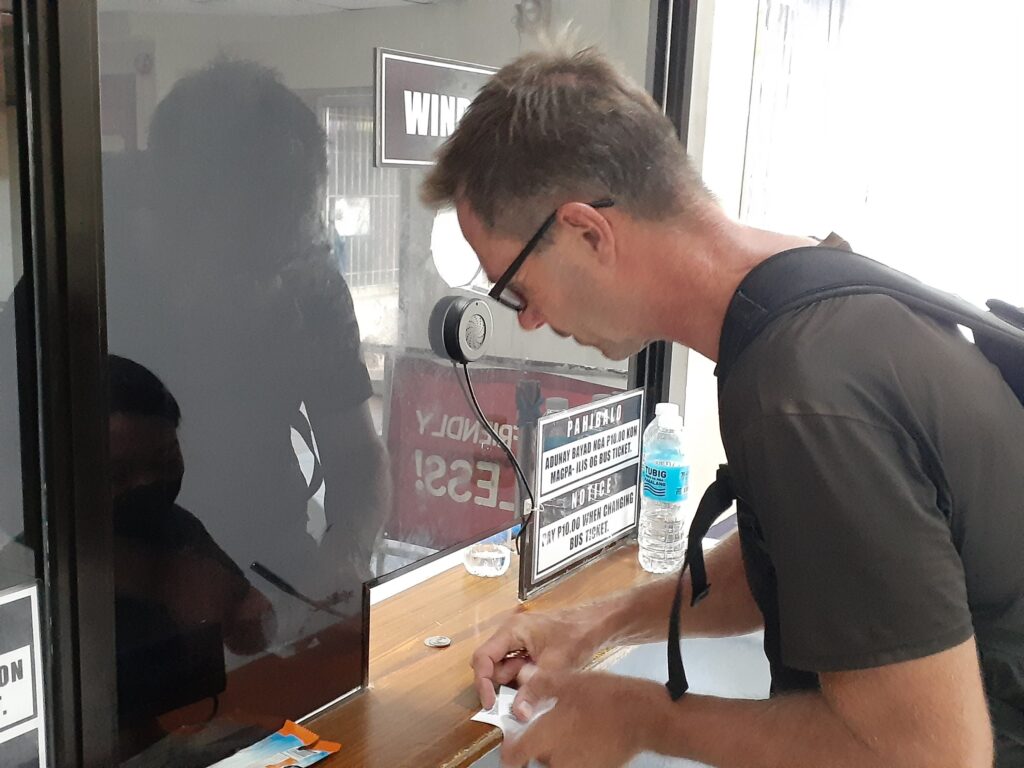 The bus stop is number 6. Go to the area marked 'Door 6' and you will find a desk where you can scan your ticket and wait.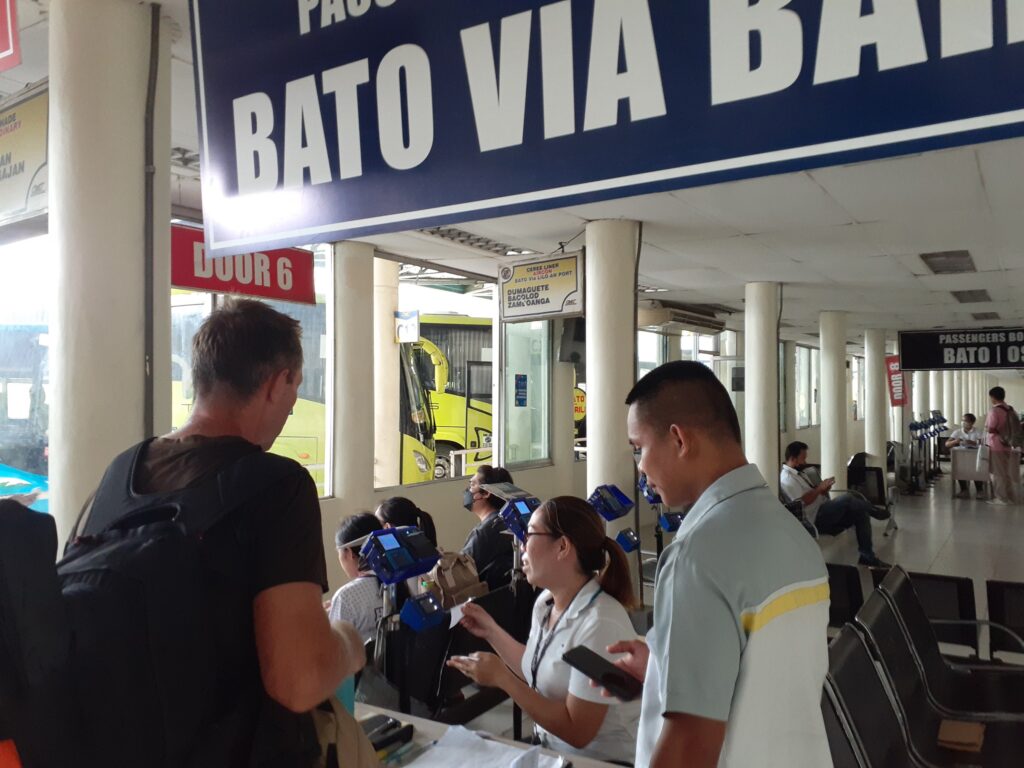 The ticket was returned with the bus number written on it.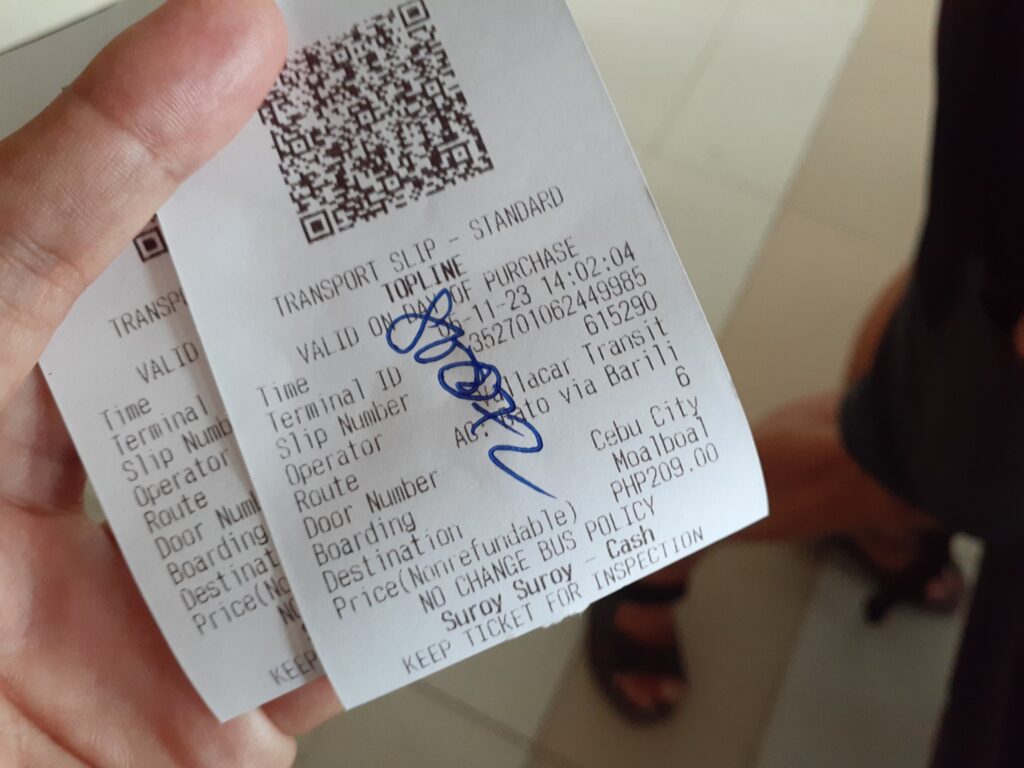 After a few minutes of waiting, a voice said 'boarding' and we boarded the bus.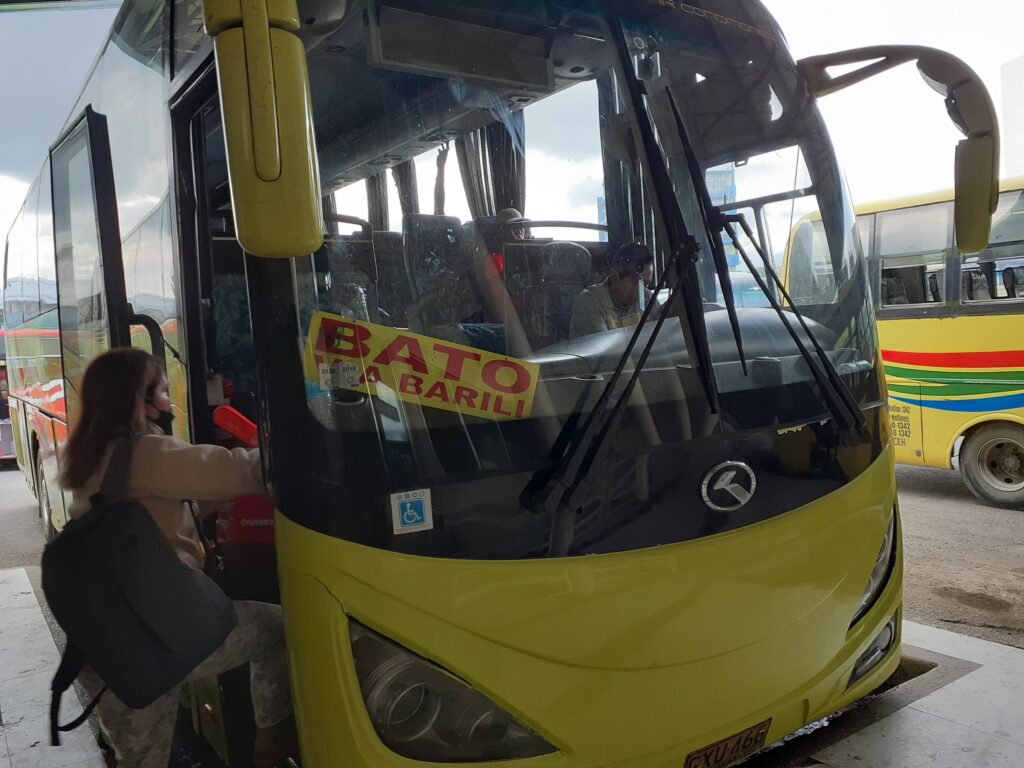 The bus left Cebu at 2.30pm without being full. The bus is comfortable and air-conditioned.
Arrival in Moalboal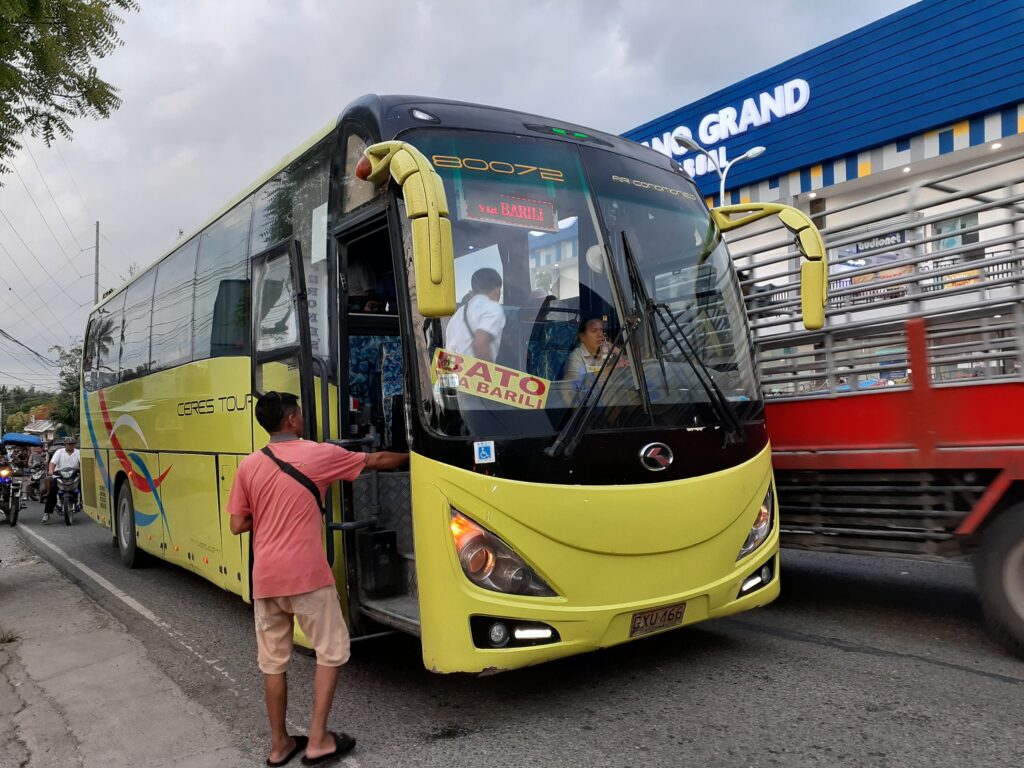 The distance travelled is 86 km, but the journey takes longer than the distance due to busy roads in many places. There was also a 10-minute toilet break on the way. We arrived in Moalboal at 5:40pm. The train alighted in front of the Gaisano Grand Mall Moalboal.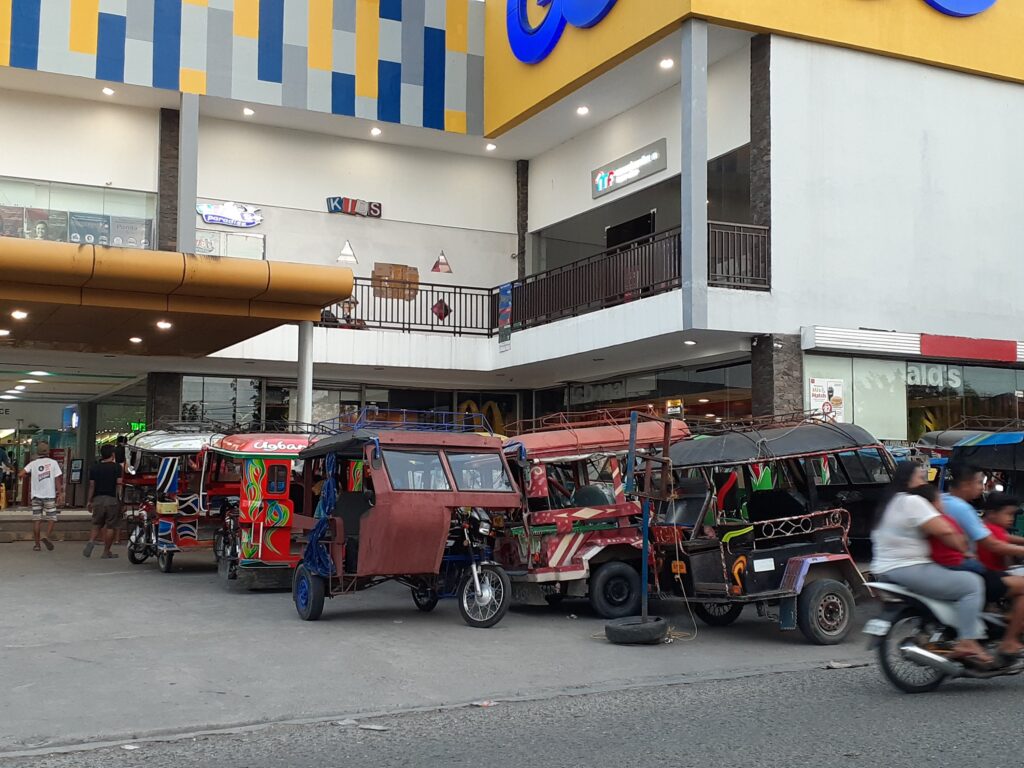 From there, you can transfer to your guesthouse on the beach. It was only a little over 3 km away and you can walk, but at that time we were tired from the early morning journey, so we decided to take a tricycle.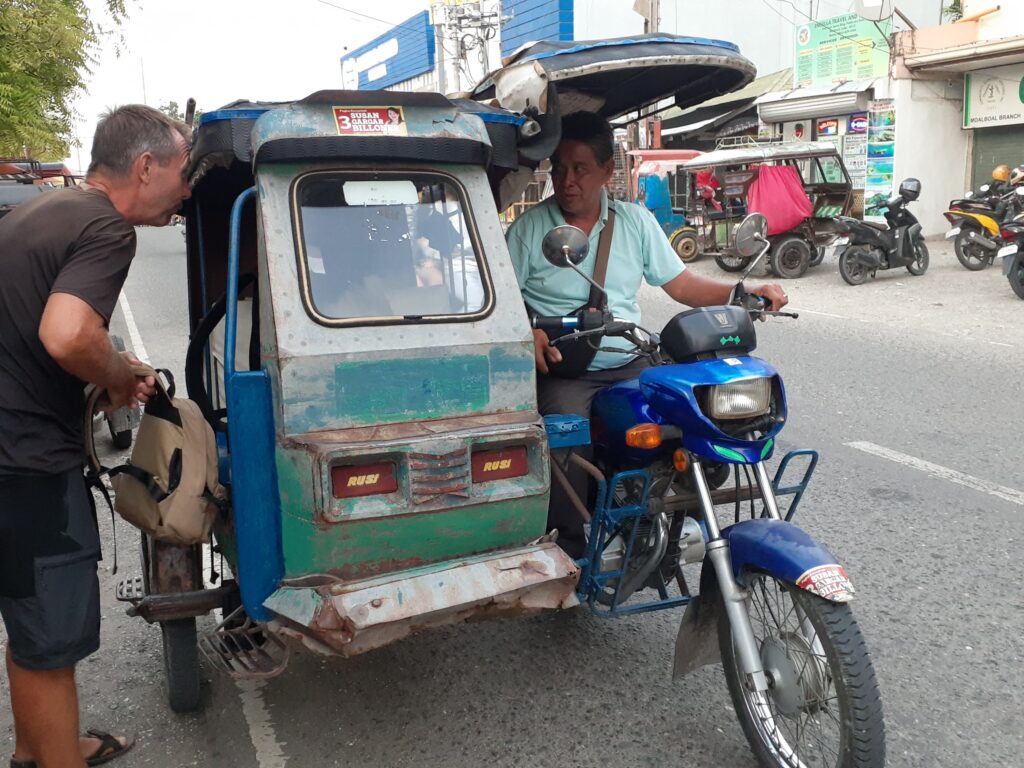 There was a shared tuk-tuk in front of the shopping mall, and I was told it would cost 50 pesos per person, but it was going to take a while for all the passengers to gather. (Or pay 250 for a charter:) So we walked a bit and took a tricycle. We were able to get to the guesthouse for 40 pesos per person.