Finally, the day to leave Japan as Golden Week approached and prices would soar.
On Tuesday, 25 April 2023, we flew from Tokyo Haneda Airport to the Philippines with ANA, then transferred to Manila Airport and travelled to Bacolod with Cebu Pacific.
Preparing to enter the Philippines
Currently, as British and Japanese nationals we can enter the Philippines without a visa for a period of 30 days for tourism purposes. The conditions are that you have a passport with a remaining period of at least six months and a return ticket or a ticket out of the Philippines. You should also have travel insurance.
But apart from that, as a measure to prevent the spread of corona infection, you have to complete the form 'eTravel', which includes questions about vaccinations, etc. This must be completed and submitted online within 72 hours counting backwards from the time of arrival in the Philippines.
Follow the guidance and complete the required information. Prepare your passport and airline tickets, including proof of vaccination if you have it, before registering online.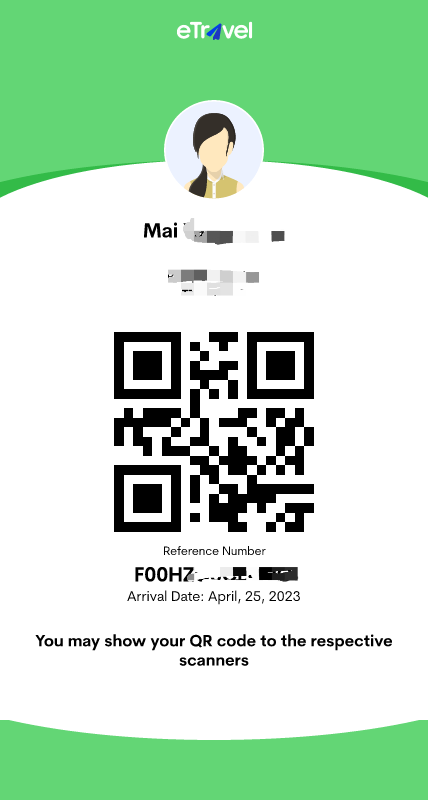 A QR code will be issued once everything has been entered and submitted. This is necessary for smooth entry into the Philippines and should be completed before departure.
From Haneda Airport to Manila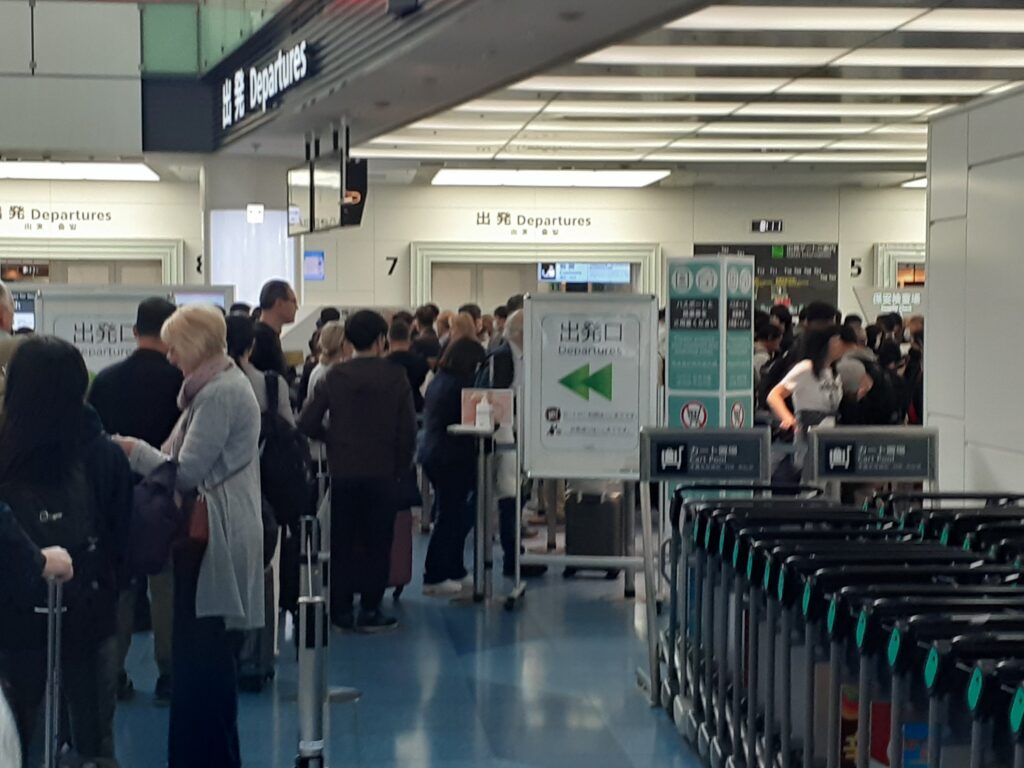 We took the flight NH869 departing Haneda Airport at 9:45am for Manila, Philippines. Japan was just about to celebrate Golden Week, and although it was Tuesday 25th, the crowds had already started to build up.
We had already checked in online, received our boarding pass QR code and we had no checked baggage. So when we arrived at the airport, we thought we could just go through the security check and departure formalities and then go to the boarding gate. We headed to the airport with plenty of time to spare, but there was a long queue in front of the departure checkpoint entrance which was a pain.
After completing security checks and departure formalities, we arrived at the gate. Boarding took place almost on time. A bus took us to the aircraft.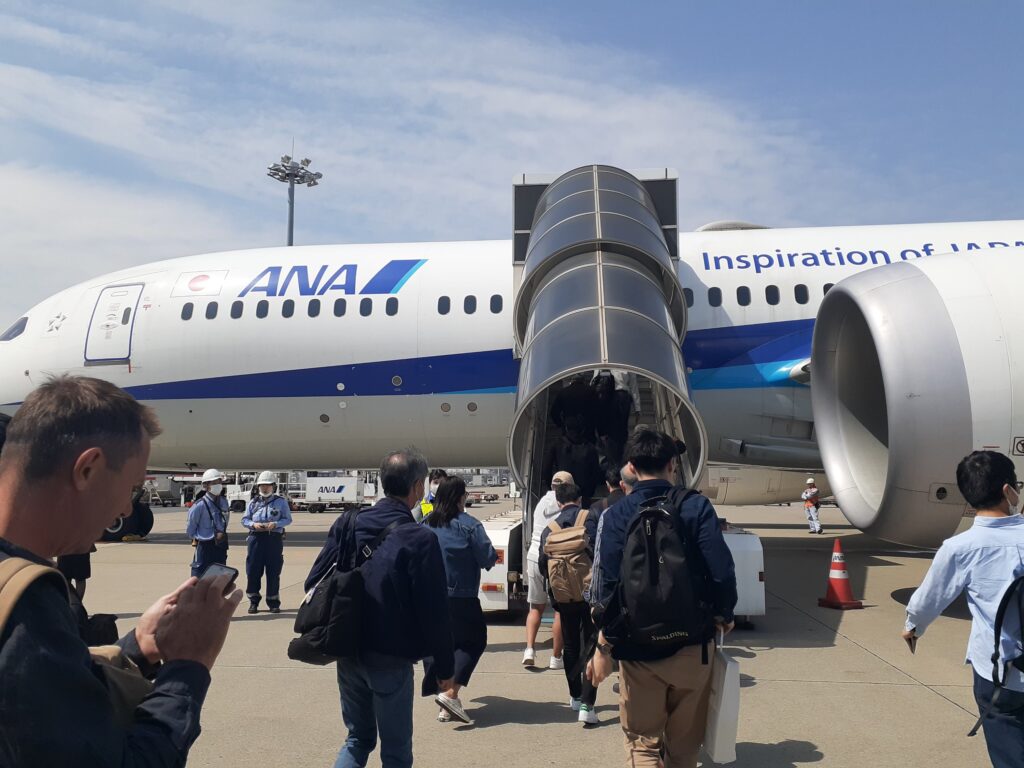 Having only flown LCCs the last few times, ANA had a lot of leg space even in economy class. It didn't feel to cramped even if the cabin was almost full.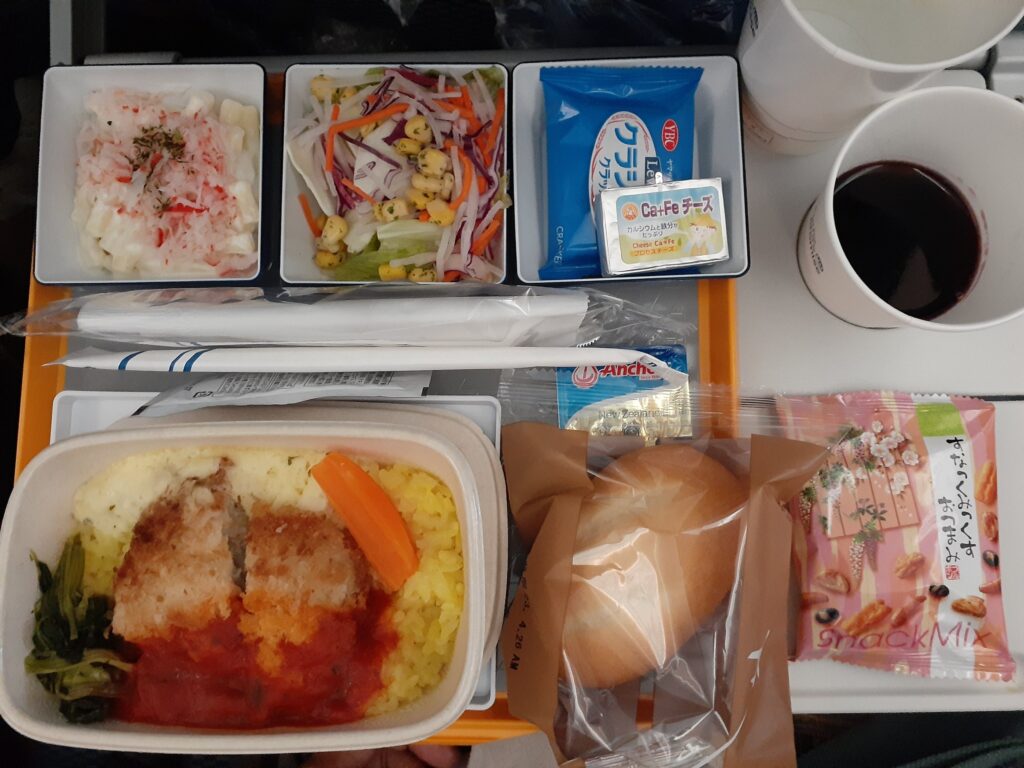 The in-flight meals on Japanese airlines are beautiful and impressive. It tasted delicious and I enjoyed some sake with it. Mai had red(photo).
The flight to Manila was often delayed, but this time it also took off a little late and landed late. Even so, there were no major delays, which was acceptable.
Transfer to Cebu Pacific domestic flight at Manila Airport
The flight departed from Haneda at 9.45am, slightly behind schedule, and arrived in Manila at around 1.50pm local time.
Our final destination was Bacolod, Negros Occidental, where we had to change to a domestic flight in Manila.
Manila Airport is said to be one of the worst in the world and very time-consuming to move between terminals. For this reason, it is not recommended to transfer between different terminals, even if the flight also arrives at or departs from Manila Airport.
As the ANA flight arrived at Terminal 3 of Manila Airport, we booked a domestic flight with Cebu Pacific Air departing from the same Terminal 3. Cebu Pacific operates several daily flights from Manila to Bacolod, and as the ANA flight was likely to arrive late, I had purchased flight 5J489, departing Manila at 4:35pm, to allow for a change at Manila Airport.
Furthermore, Cebu Pacific allows online check-in seven days before take-off time, so we had checked in online too. However, it was strange that even though we had checked in, we could not get boarding passes, and there was no way to print them. It seems that a QR code is issued, but the 'print' button does not appear, and the 'check boarding pass' button does not work when you log in to the website.
When I checked online, I found that Cebu Pacific Air requires you to print your boarding pass from a special printing machine at the airport, even if you have checked in online.
There were a lot of uncertainties, but the ANA flight arrived in Manila without much delay, so I was able to relax. After disembarking from the aircraft and walking for a while, there is a booth where you can scan the eTravel QR code. If you are able to scan the QR code here, the next step is immigration.
The immigration checkpoint is divided into 'Filipinos' and 'foreigners', so you queue up for the 'foreigners' side. There was quite a long queue when we were there, but we didn't have to wait long. At immigration, we were asked about the number of days we planned to stay and whether we had a return (outgoing) ticket.
After immigration, those with checked baggage received their baggage and went to customs. If you have nothing to declare, proceed towards the green sign. That completes the immigration procedure. Now go through the exit and up to the domestic flight departure level 3 for domestic flight transfers.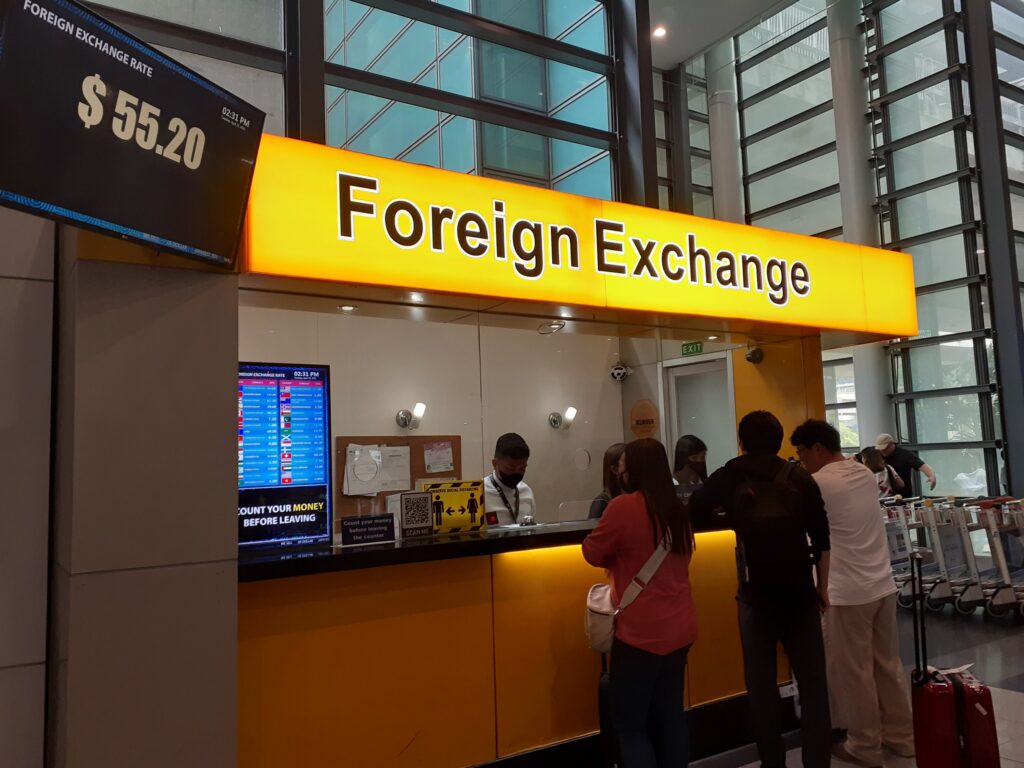 Before that, we decided to exchange some Philippine pesos here, as we didn't have any at all. There are many banks lined up just outside the exit. We thought the rate at the airport was high, so we decided to exchange only 5,000 Japanese yen (actually, the rate at this time was better than the exchange shop in Bacolod town). I went to several banks in the queue and exchanged money at the one with the best exchange rate.
We then went up to the third floor to find the Cebu Pacific check-in counter. I noticed a Cebu Pacific machine as soon as I got to the third floor, but was told that this machine only prints out tags for checked baggage. I was told to go to the opposite booth to print my boarding pass after online check-in.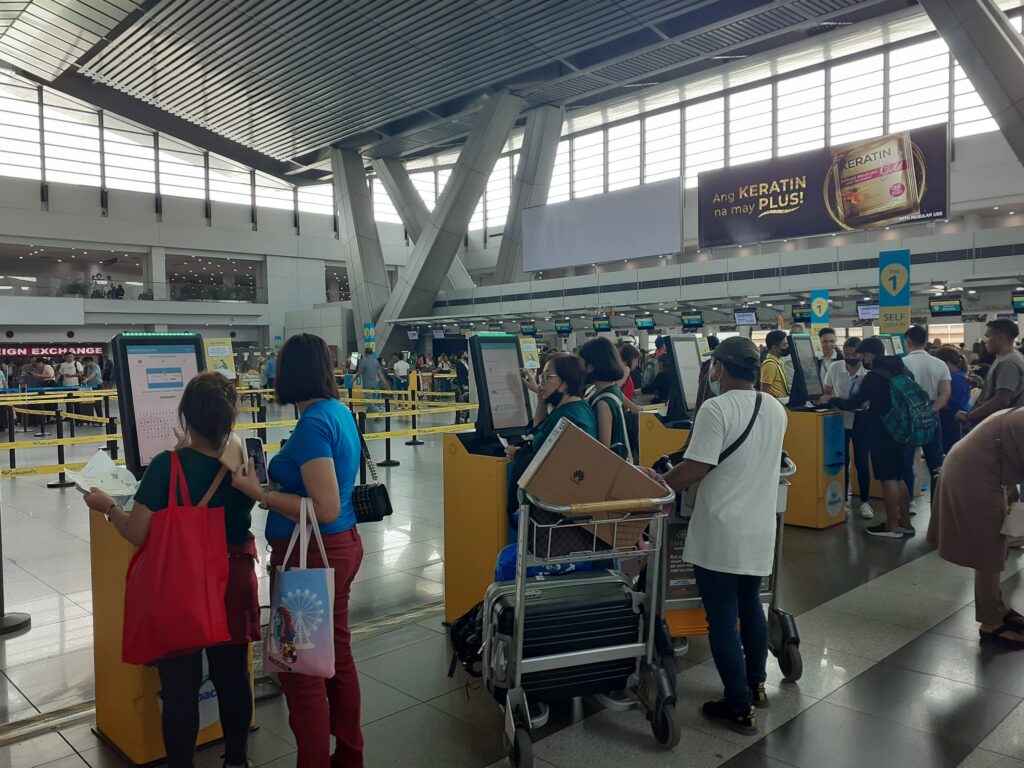 We went around row E where the counters were lined up and went to the other side, where we found a row of self check-in machines. This allowed us to print our boarding passes, which we then took with us to the security check.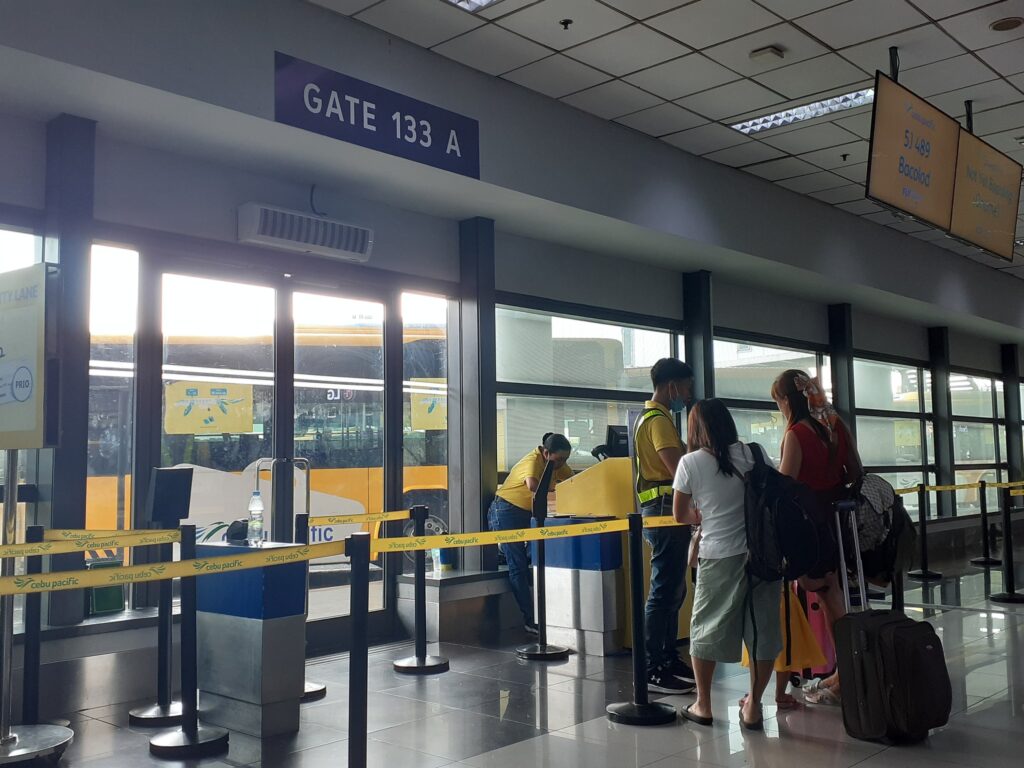 The security check was not very busy and we went through relatively smoothly. Check the boarding gate on the notice board and follow it to the boarding gate.
I mentioned earlier that I had arranged this domestic flight with plenty of time to change planes at Manila airport. Everything went better than expected and we were still on time for another earlier flight (at 3:35pm), so we asked if we could be put on an earlier flight, but they refused, saying it was full… we had no choice but to sit and wait.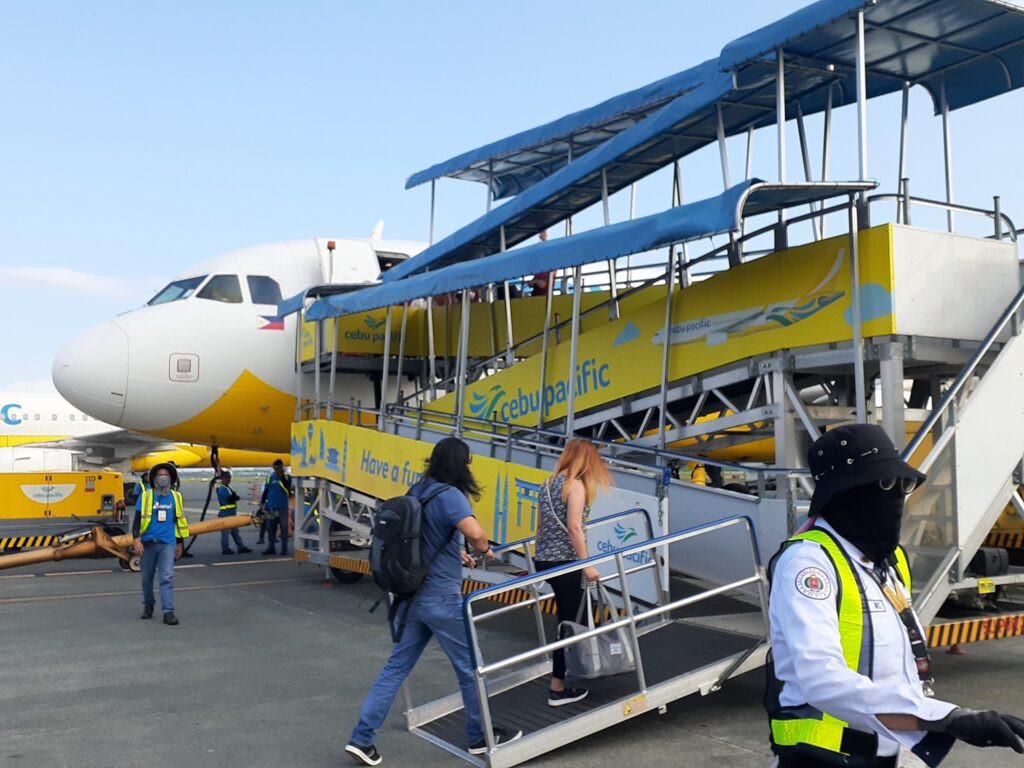 Eventually it was time to board our flight, and again we were bussed to the aircraft. We left Manila at 4:35pm and were scheduled to arrive in Bacolod at 6:05pm. We arrived almost on time.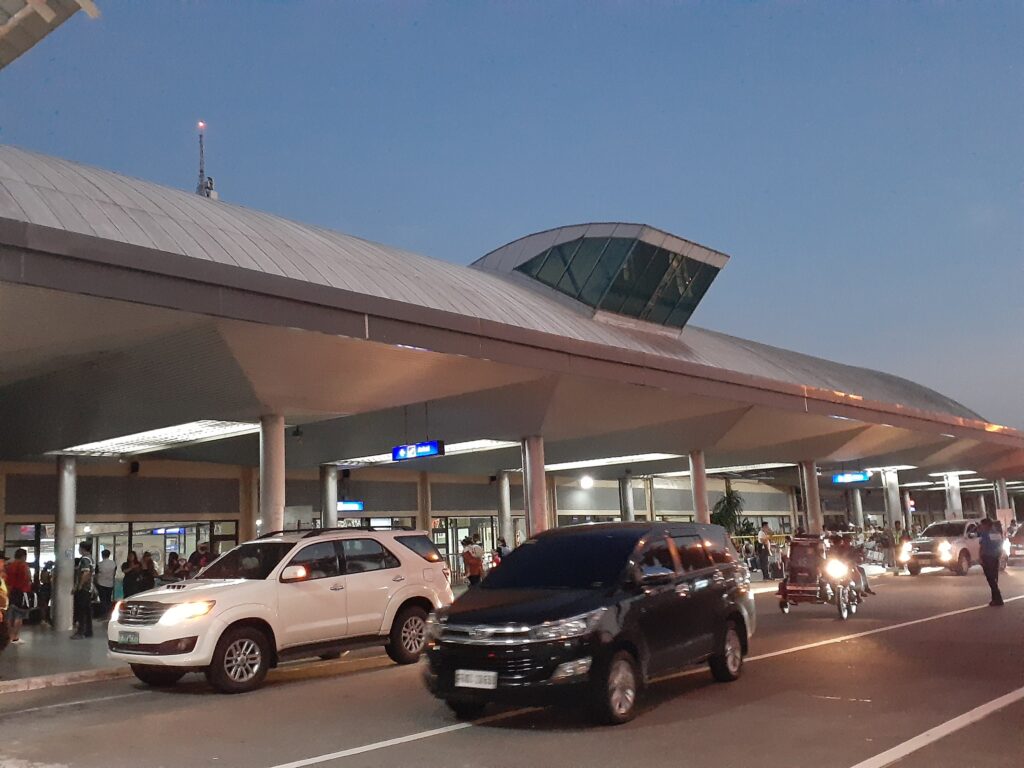 It was already dusk when we left Bacolod Airport. The airport is nearly 20 km from Bacolod city, so transportation is required.
Getting from Bacolod Airport to the city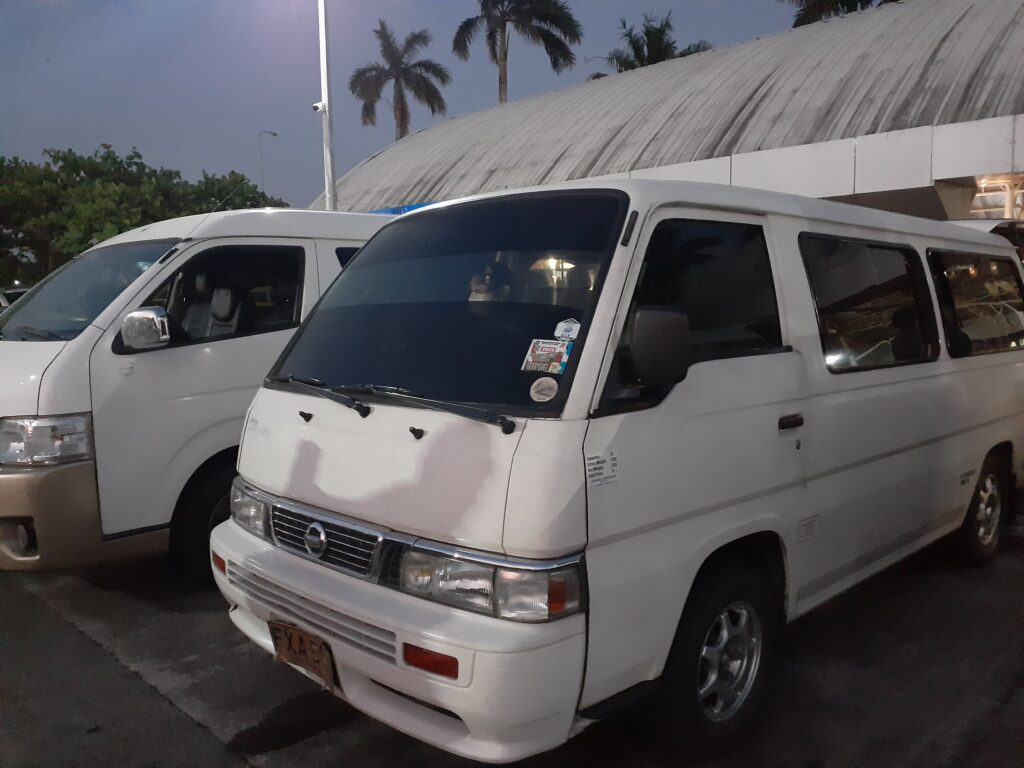 There are three ways to travel from Bacolod Airport to the city.
Taxi
Shared-ride minivan
Jeepneys
Jeepneys are local transport vehicles that operate on set routes. They are the cheapest, but we did not use them this time as they are difficult to use for travellers visiting the city for the first time, as you need to change jeepneys en route to get from the airport to the city centre.
Taxis and shared minivans can be found outside the airport building and across the pedestrian crossing.
Taxis have a fixed price to the city centre (taxis from the airport do not use a meter), and according to information we received some time ago, the price was 500 pesos per taxi, but when we asked the driver this time, he said the cheapest price was 700 pesos.
The shared minivan was 200 pesos per person (it was 150 pesos a few years ago, but the price had gone up), so we decided to take this one. It is a shared taxi with other passengers, but you tell the driver where you are going and he will drop you off where you want to go. We also told the driver the name of the hotel we had booked and he was able to drop us off there. It takes longer than a normal taxi because the driver stops at the places where the passengers want to get off in order.
This got us safely to Bacolod city centre. It was a long day.