We crossed the border from Paksan, Laos, to Bueng Kan, Thailand. The Paksan-Bueng Kan border crossing is a minor route and were are no foreigners other than us. But it is a surprisingly convenient border crossing between Laos and Thailand.
This article introduces the border crossing from Laos to Thailand, the route from Parksan to Bueng Khan.
Why Paksan-Bueng Kan as a border crossing from Laos to Thailand?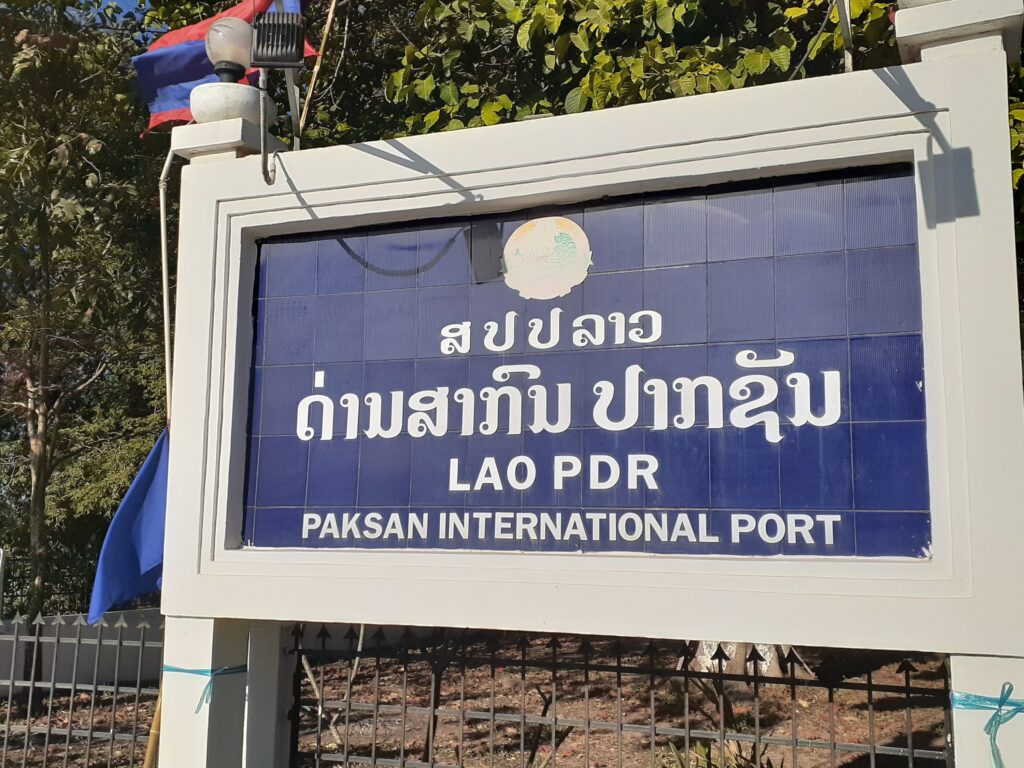 There are several border crossing points from Laos to Thailand. The most famous is probably the route from Vientiane to Nong Khai via Udon Thani. This route is also used by many backpackers, but you can also cross the border into Thailand from the town of Paksan, not far from Vientiane.
We travelled to Paksan by bus from Phonsavan aiming to cross the border into Thailand.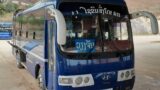 From Phonsavan to Paksan: Sleepy Bus Trip with Double Beds
WestayedtwonightsinPhonsavantoseethePlainofJars.WethentravelledtothetownofPaksan,whereweplannedtocrosstheborderintoThail...
The bus we took from Phonsavan was actually bound for Vientiane, although we got off on the way at Paksan.
However, in our case, we thought that getting off at Paksan would save time, money and would be more interesting than than Vientiane – Nong Khai. Furthermore, from Bueng Kan, buses to Nong Khai leave every 30 minutes and the journey takes two hours. So, rather than going all the way to Vientiane and crossing the border, we chose the route from Paksan to enter Thailand.
What kind of town is Paksan?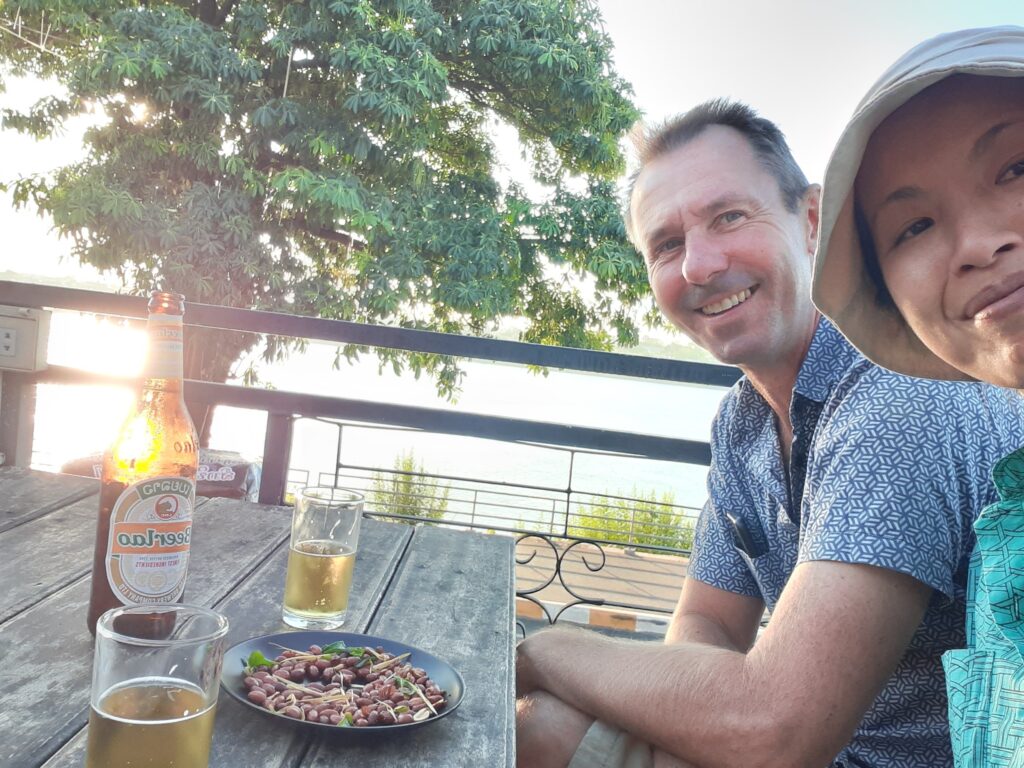 Paksan is a small town in Bolkhamxay Province in western Laos. It borders Thailand on the Mekong River.
The town of Paksan itself does not have any special tourist attractions. However, it is likely that Thais come across the border to visit. Bars and restaurants with river views were lined up along the Mekong River.
If you cross the border into Thailand from Paksan, the town on the Thai side is Bueng Kan.
Accommodation in Paksan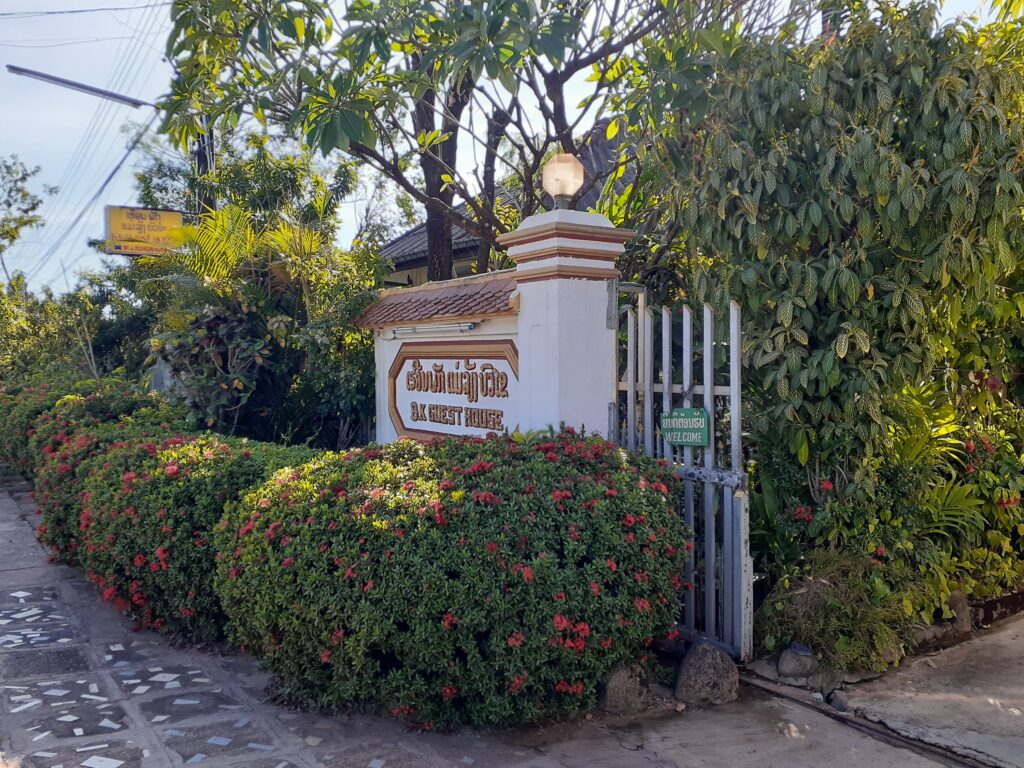 Not many foreign tourists visit Paksan. We stayed at a place called BK Guest House. A double room costs as little as 70,000 kips. A detailed review can be found on Google Maps.
Border crossing from Paksan to Bueng Kan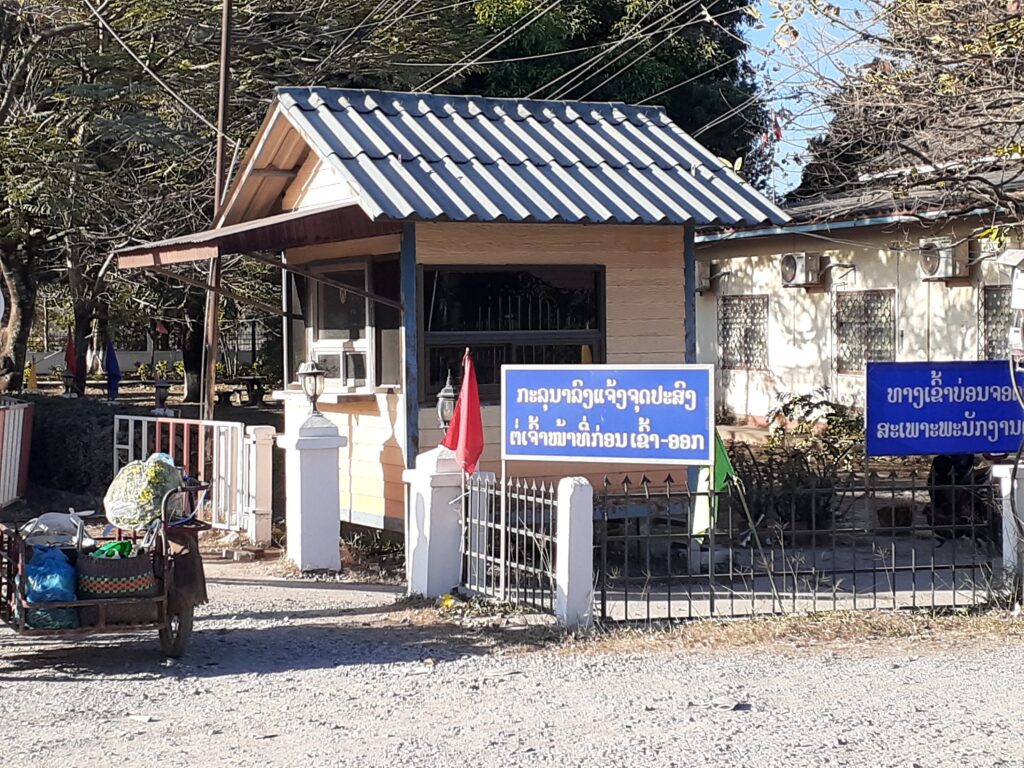 The border crossing from Paksan, Laos to Bueng Kan, Thailand is by boat across the Mekong River. Not far from the town of Paksan is the 'Thai-Laos Fifth Friendship Bridge', but the bridge is still under construction and has not been completed.
Ferries and passenger boats operate from the ferry terminal in Paksan. There is an Immigration office right next to the ferry terminal, where you can complete Lao departure formalities, cross the border by boat and complete Thai entry formalities at the immigration office on the Thai side.
Laos Immigration in Paksan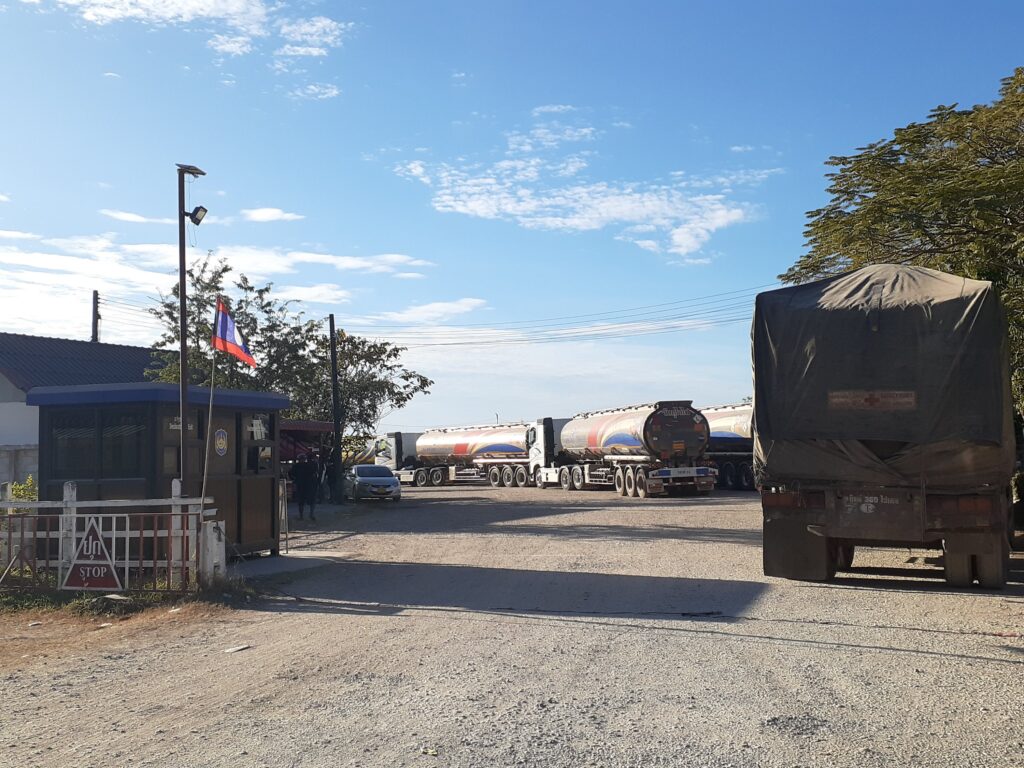 We went to the ferry terminal at Paksan at around 8 am. The ferry terminal is immediately recognisable as there were already many lorries parked there. Lots of petrol tankers?!
The building next to it is Immigration. We went through the Lao departure formalities there first.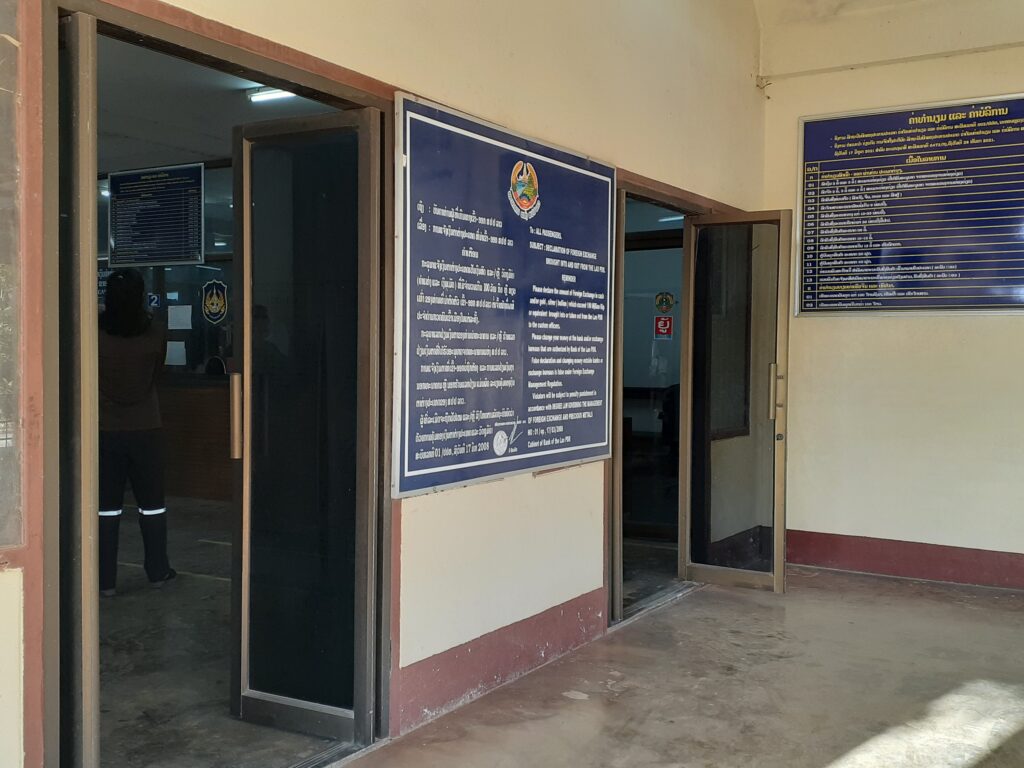 There is no English signage at the entrance to Immigration, but once inside there are two counters, 'Departure' and 'Arrival'. Once there, submit your passport and the departure card you received when entering Laos.
Not many foreigners use this crossing and the departure procedure took some time. After submitting our passports, we saw Immigration officers checking various documents and making phone calls. Probably, they are checking whether we can leave the country with our passports(UK and Japanese) or not and whether we can enter the Thai side of the border.
We were afraid that the boat might leave while we were waiting for the departure formalities to be completed, but it seemed that the boat would leave as soon as all the passengers had arrived, so there was no need to be impatient.
Border crossing by boat from Paksan to Bueng Kan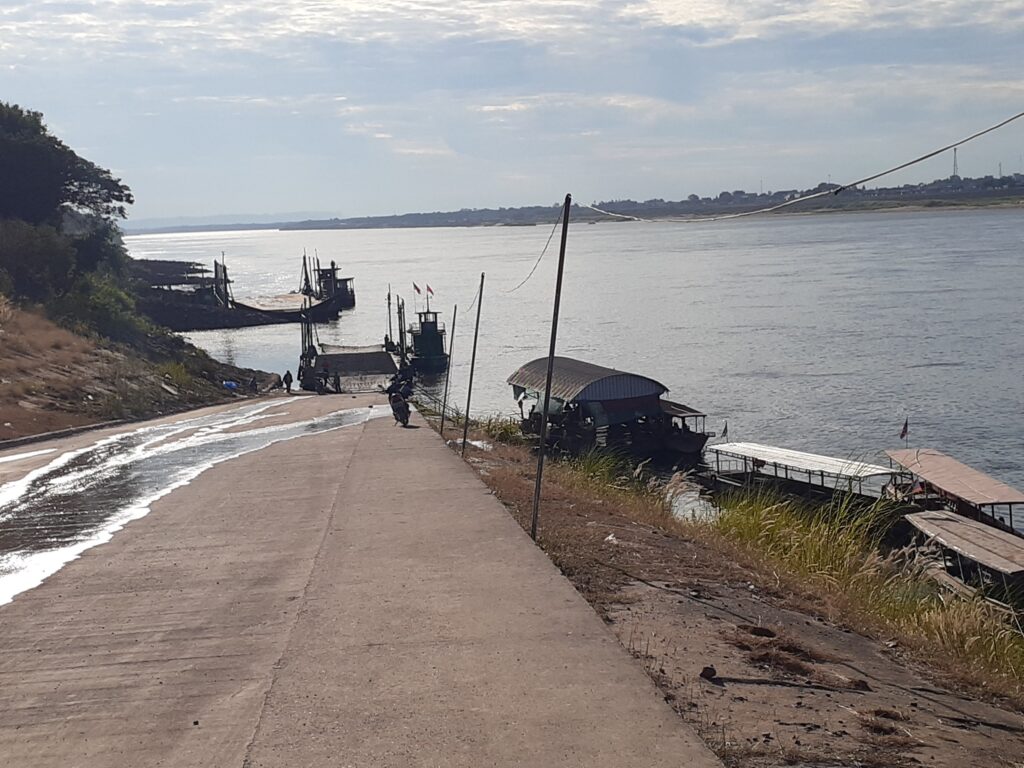 After a few minutes of waiting, the departure formalities were completed and our stamped passports were handed back. We then headed for the boat dock.
Ahead of us was the ferry port, where the lorries were just about to board. We went down to the boat ramp in front of it and boarded the boat.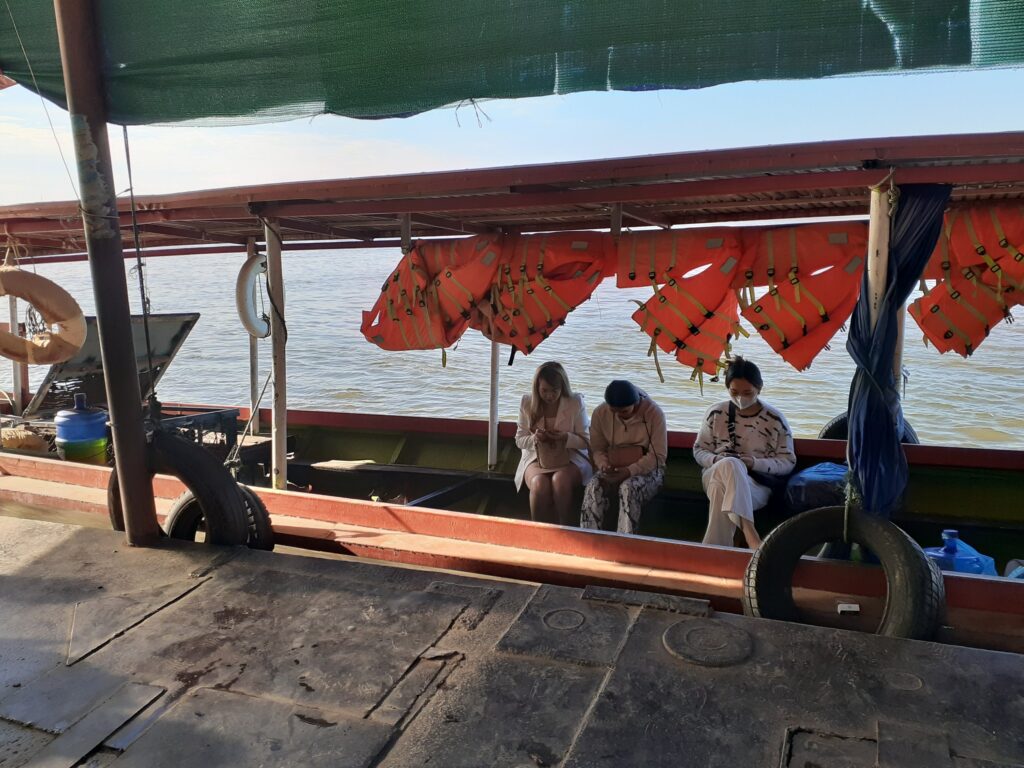 The boat was already in the landing area, with some passengers and luggage on board. There is also a uniformed official there who asks to see your passport. Once your passport has been checked, you buy a boarding ticket at the desk next to it. The boat ride to Bueng Kan costs 25,000 kips per person.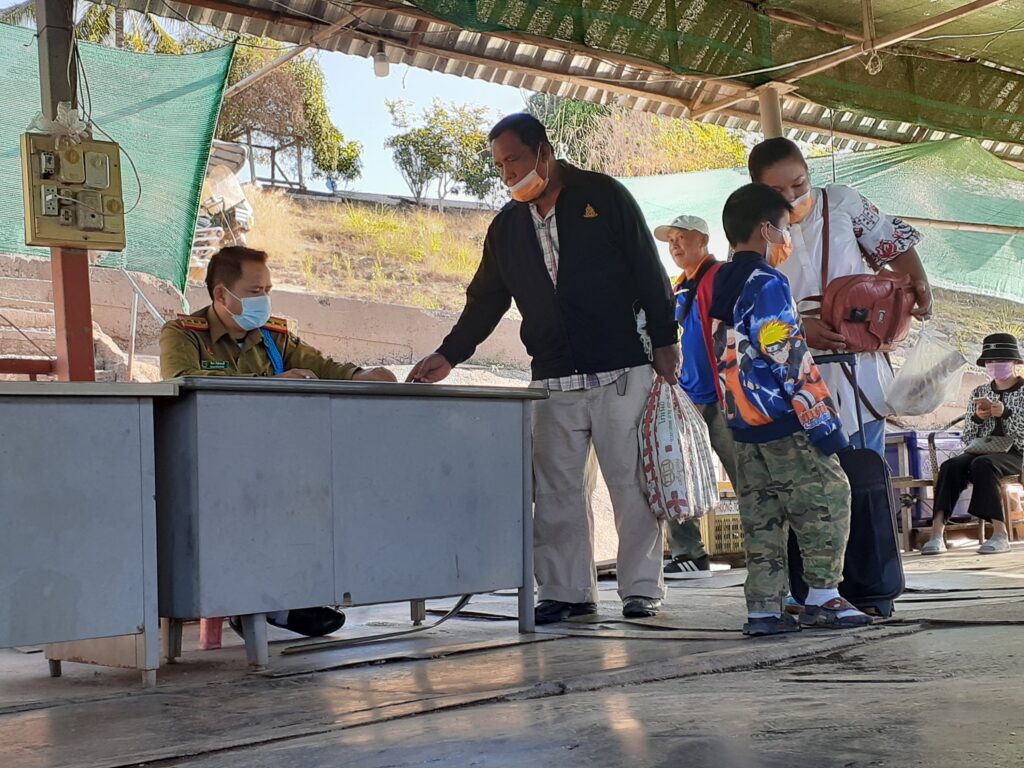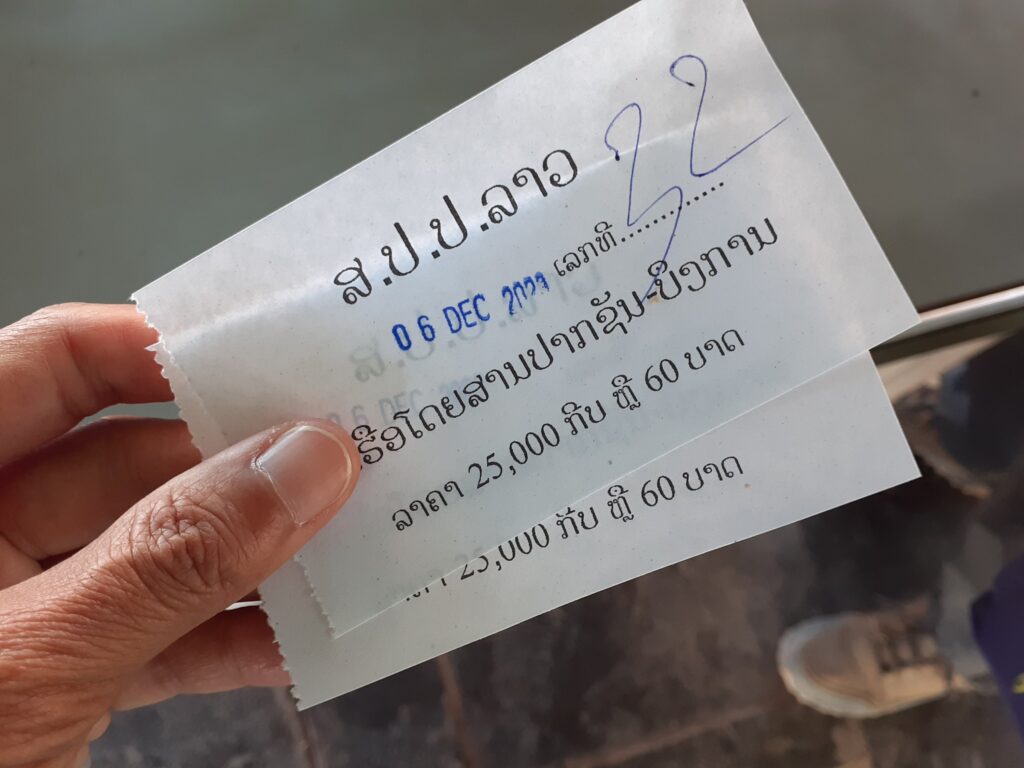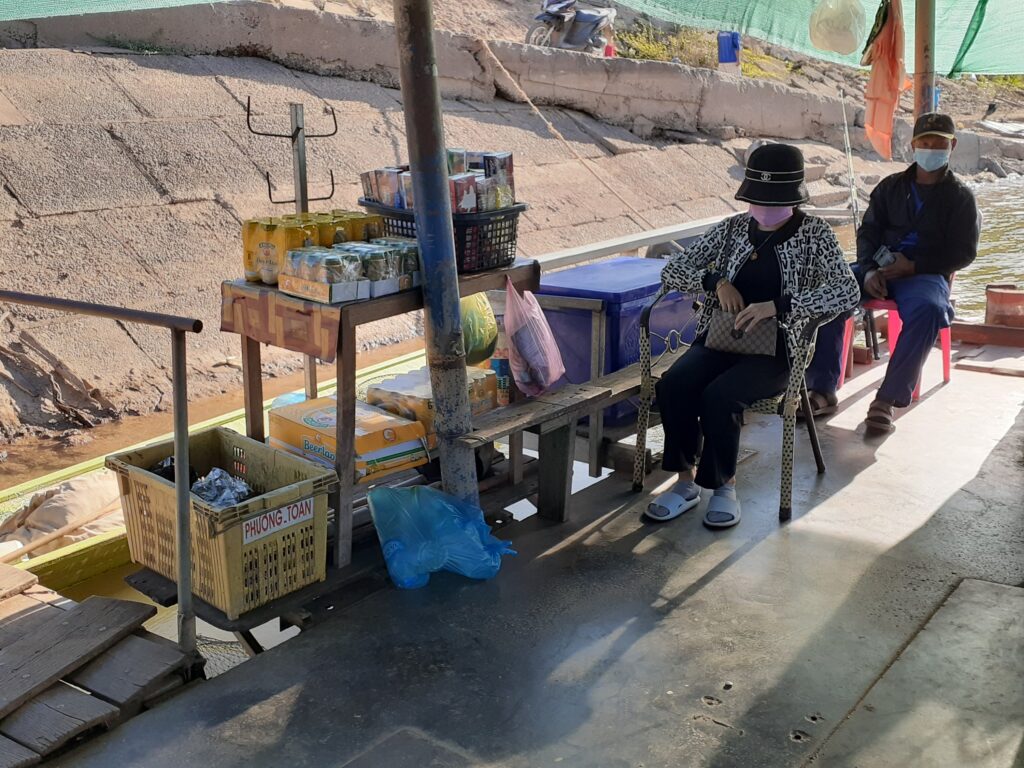 On the same landing, there is a booth selling beer lao and cigarettes. It is a good idea to use up any surplus Lao kips here. We bought six cans of Lao beer, although it was a tiny bit more pricey than in the shops. Much cheaper than Thailand though!
There are no foreigners on the boats, just Lao people going to Thailand to sell vegetables and fish, and Lao people out shopping. We waited for a while and until the boat was full. Finally, it was time to say goodbye to Laos.
Foreign currency exchange with other passengers on the boat
I bought beer at the landing but still had some Lao kip on hand. The person sitting next to me happened to be a trader who sells Lao foodstuffs to Thailand, so I was able to negotiate and get her to exchange my last kip for Thai baht.
We took a video of the situation as well…
Thai immigration in Bueng Kan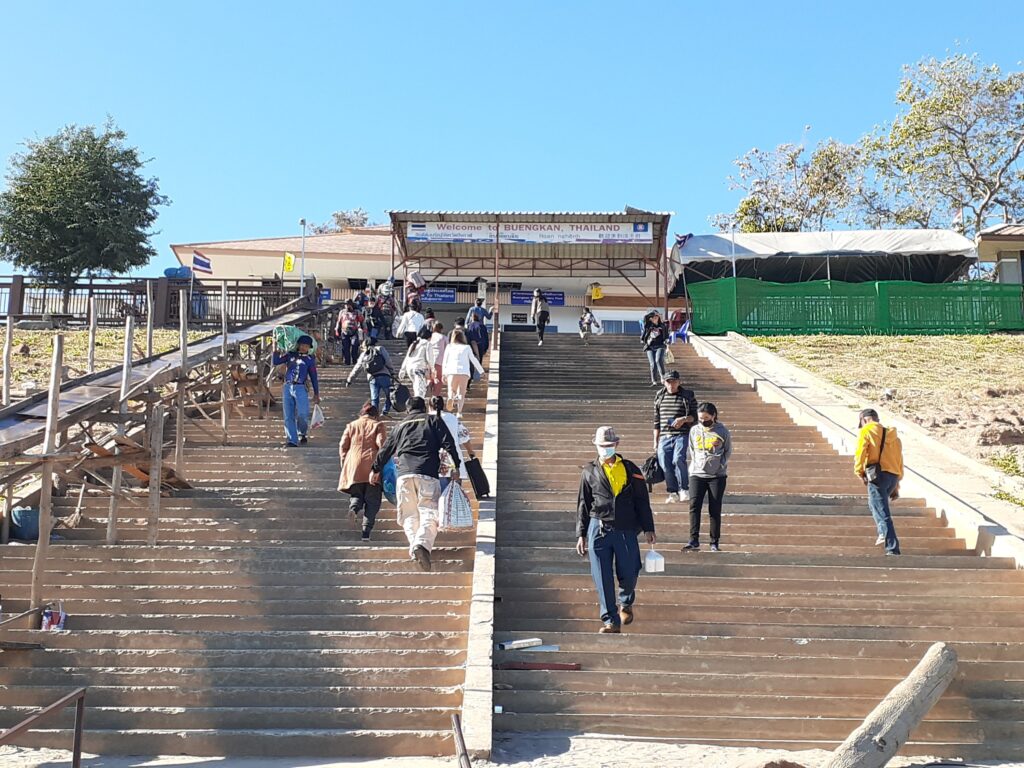 I think we were on the boat for about 15 minutes. You climb up some steps when you get off the boat in Thailand and complete the Thai immigration formalities.
At the time we entered Thailand, it seemed that wearing masks in the building was mandatory and we were instructed to put them on before entering the Immigration office.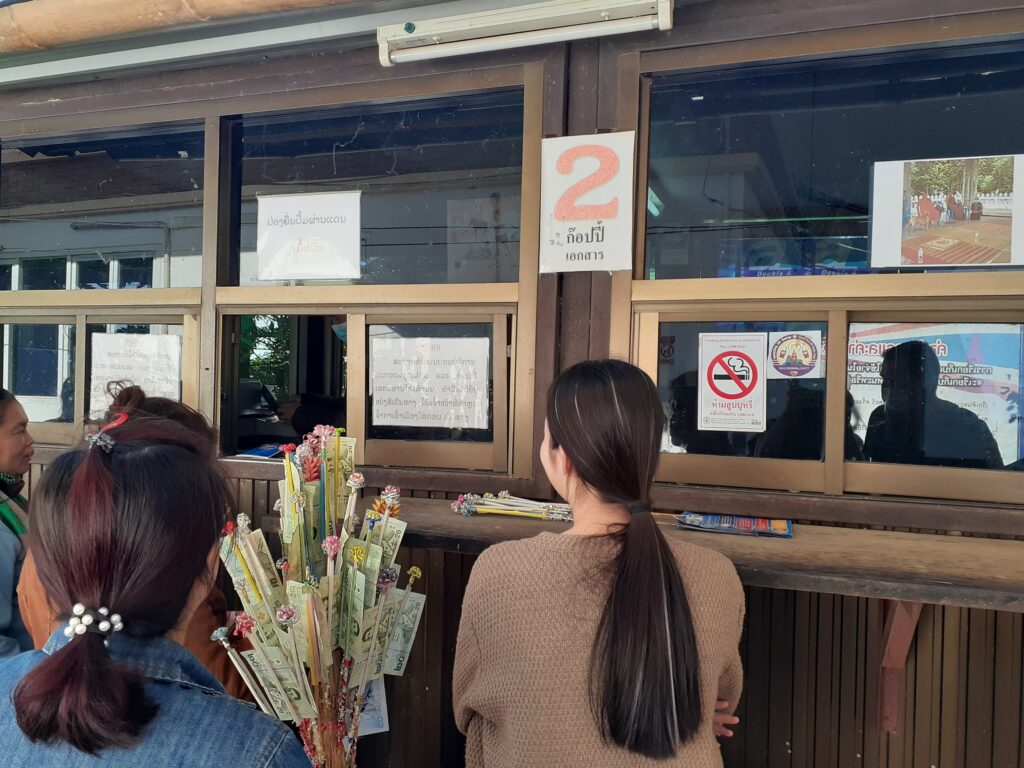 I signed the card and took it and our passports to the next Immigration desk to complete the entry formalities.
Once you have presented your passport and entry card at the 'Arrival' counter, you will be fingerprinted and photographed. After having our entry stamped and our passports returned, there was a brief luggage inspection by customs officials.
It seemed unusual for foreigners like us to pass through this Immigration as well and my malaria prophylaxis and other items were photographed. We were also photographed as the officials checked our luggage.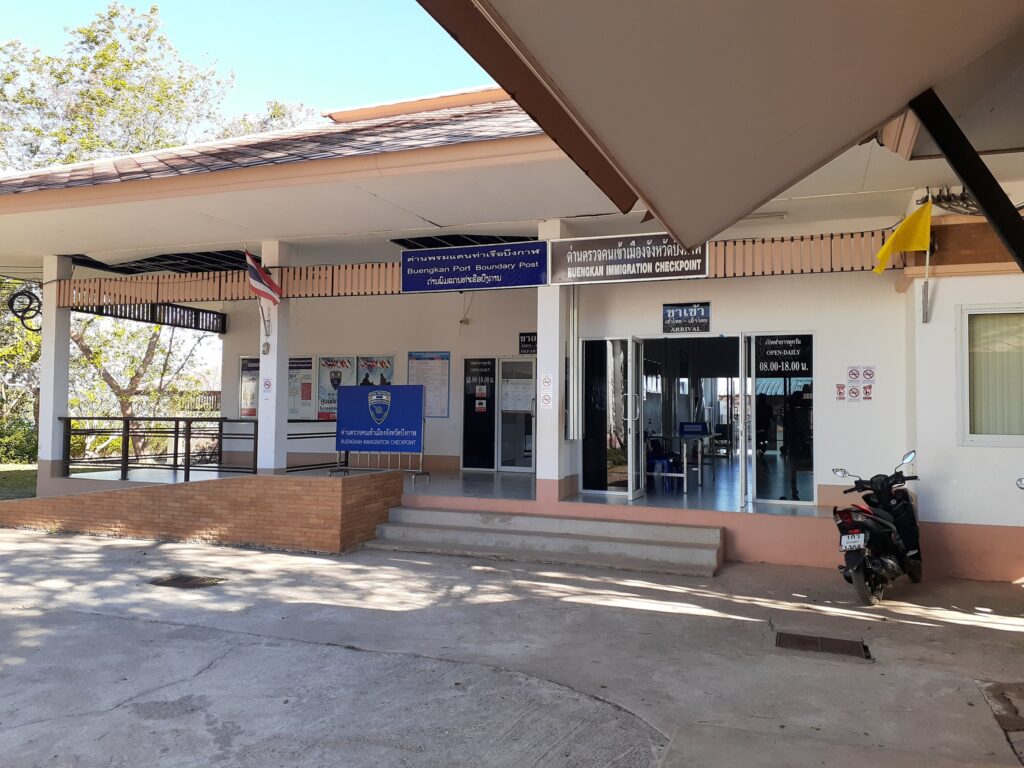 Transfer from Immigration to Bueng Kan town centre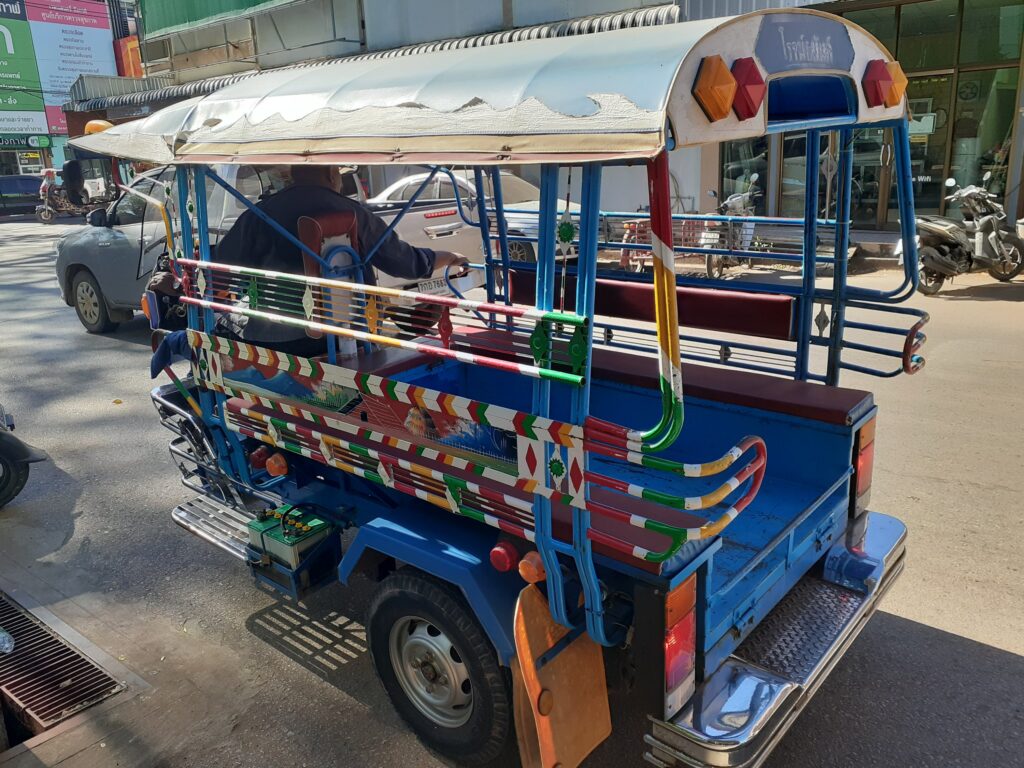 Immigration in Bueng Kan is not far from the town centre. The guesthouse we had planned to stay at was about 4 km away. A good walk.
A number of tuk-tuks were parked outside the Immigration and approached us. I asked how much it would cost to get to the guesthouse in the centre of town, and they initially quoted 150 baht for two people before saying 100. As we didn't have 100 baht in cash on hand, we decided to walk towards the town centre for now.
As we were walking, a tuk-tuk with two other guests passed by. They said they would take us to the town centre for 25 baht per person, so we decided to take advantage of this. I think it took us less than 10 minutes to get to Bueng Khan town.
We were dropped off in the town centre of Bueng Khan and walked from there to find a guesthouse.
Accommodation in Bueng Kan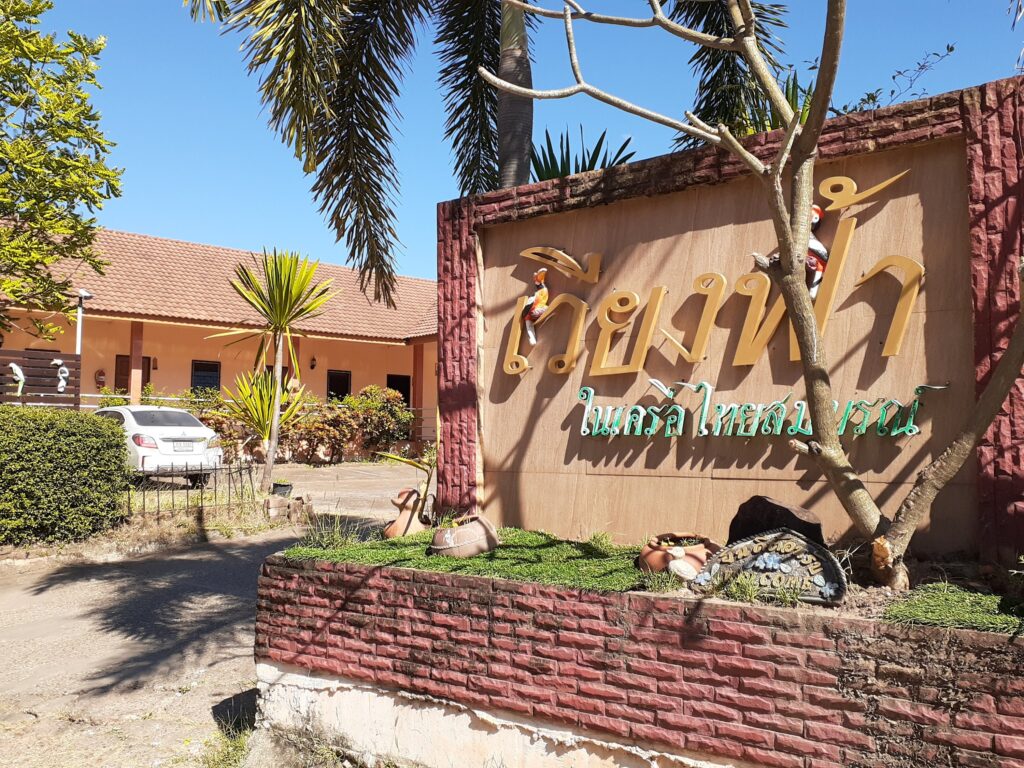 We stayed at the Viengfa Hotel in Bueng Kan. The cheap fan-only rooms were not available and we had to settle for an air-conditioned room, which still cost only 400 baht. See Google Maps for detailed reviews and images.