We flew from Cebu, Philippines, to Kuala Lumpur with AirAsia. Stayed overnight and the following day flew from Kuala Lumpur to Makassar, Indonesia.
For the flight to Makassar, I had to go to the check-in counter as online check-in was not working for me. No problems for Mai!
Preparing for the Indonesian arrival visa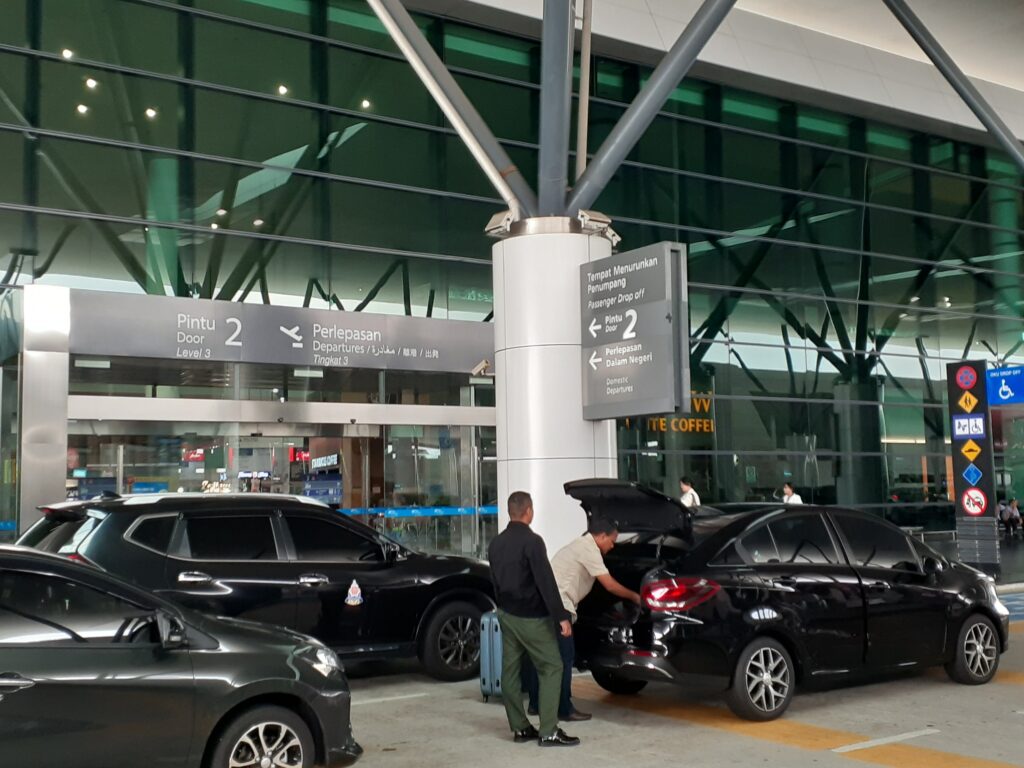 Before that, we went to the money exchange where we had exchanged our foreign currency for Malaysian ringgit the day before, to have our US dollar notes exchanged for smaller denominations.
Indonesian visas are supposed to be available online for a 60-day tourist visa, but it takes four working days from application to issuance. As we had decided to enter Indonesia last minute we did not have enough time. So we decided to get a 30-day validity Arrival Visa at Makassar Airport.
The Indonesian Arrival Visa costs USD 35 or Rp 500,000, paid in cash.
We only had a USD 100 note on hand, which meant that after paying the USD 70 visa fee for two people, the change would probably be returned in Indonesian rupiah. The foreign currency exchange rate at the visa counter is horrendously poor, so we would prefer to pay exactly USD 70 in cash if possible. So I asked the money changer at Kuala Lumpur airport if I could get break a US$100 note into smaller ones.
In addition, to obtain an Indonesian Arrival Visa, you must have a ticket out of Indonesia. However, we had not purchased an exit ticket at that time. When we had previously entered the country from Manado, we had been able to obtain a visa without a return ticket, so we had assumed that there would be no problem this time either, although we did have a back up plan! Unfortunately, this time it was not so smooth and the story is described below.
Check-in and document verification for flights to Makassar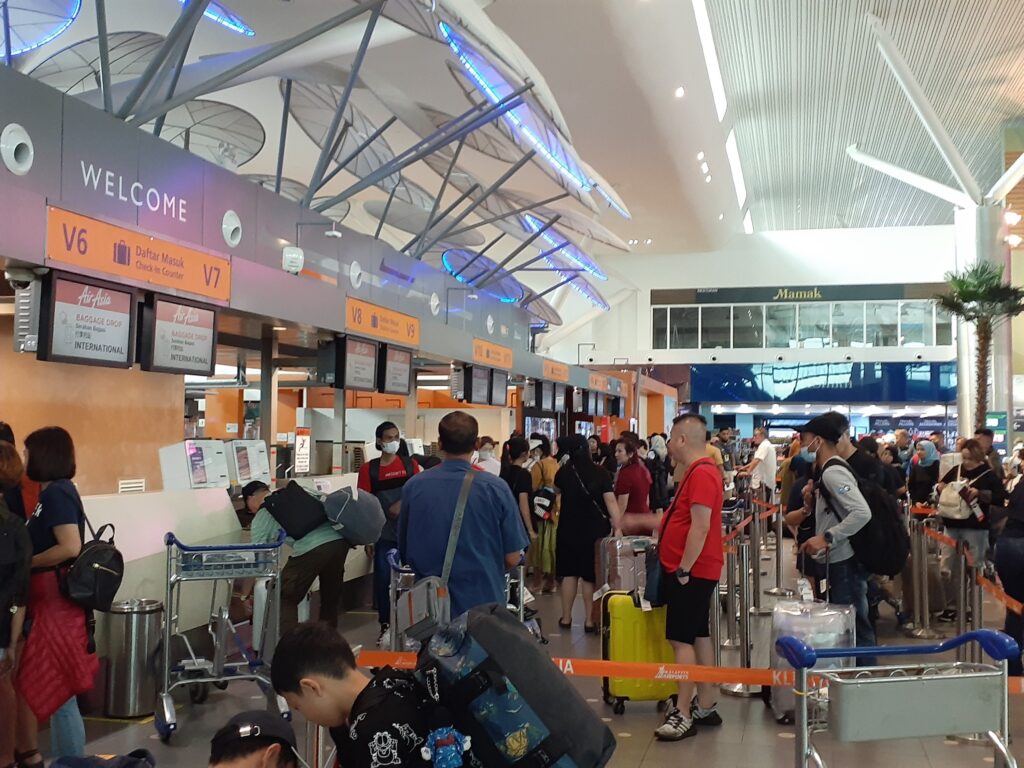 The AirAsia counter was very busy and clearly understaffed. There was a counter called document verification, so I checked in there and received my boarding pass.
There was no size and weight check for carry-on luggage. I was not asked about my departure ticket from Indonesia, but my vaccination certificate was checked.
We had a quick bite to eat before immigration and security checks and then headed to the departure section.
After completing departure formalities at passport control, there was a luggage scan. Here, luggage is only lightly scanned and the full-scale security check takes place near the boarding gate.
Boarding the plane to Makassar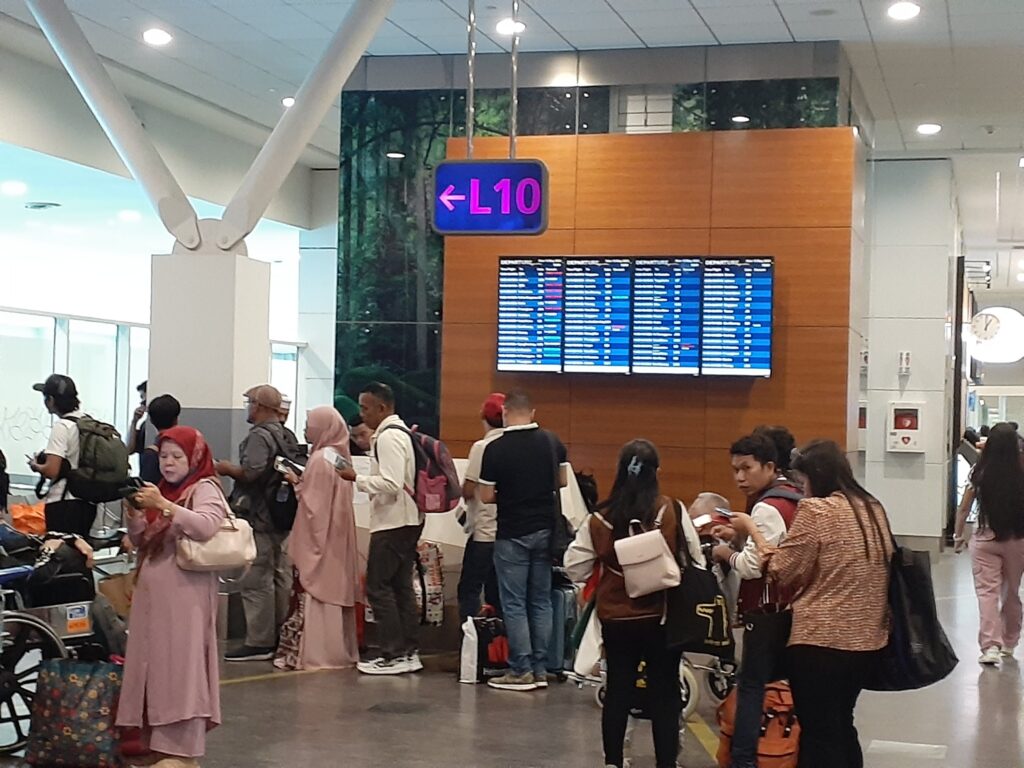 Boarding had already started when we arrived at the boarding gate. We had our passports and boarding passes checked and boarded. Again, there was no baggage weight check.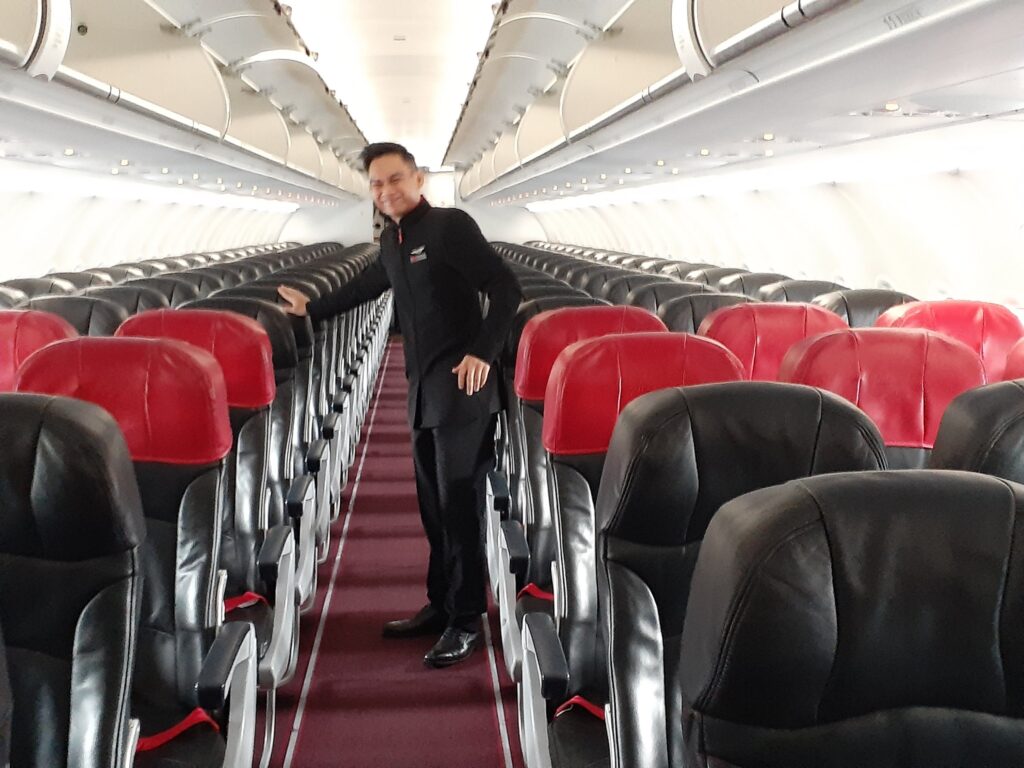 When we boarded the plane, a friendly cabin attendant guided us to our seats. Excellent service. The plane to Makassar was quite empty, but thanks to this we didn't feel cramped.
A short time after take-off, Indonesian customs declaration forms were distributed.
Filling in the Indonesian customs declaration form on board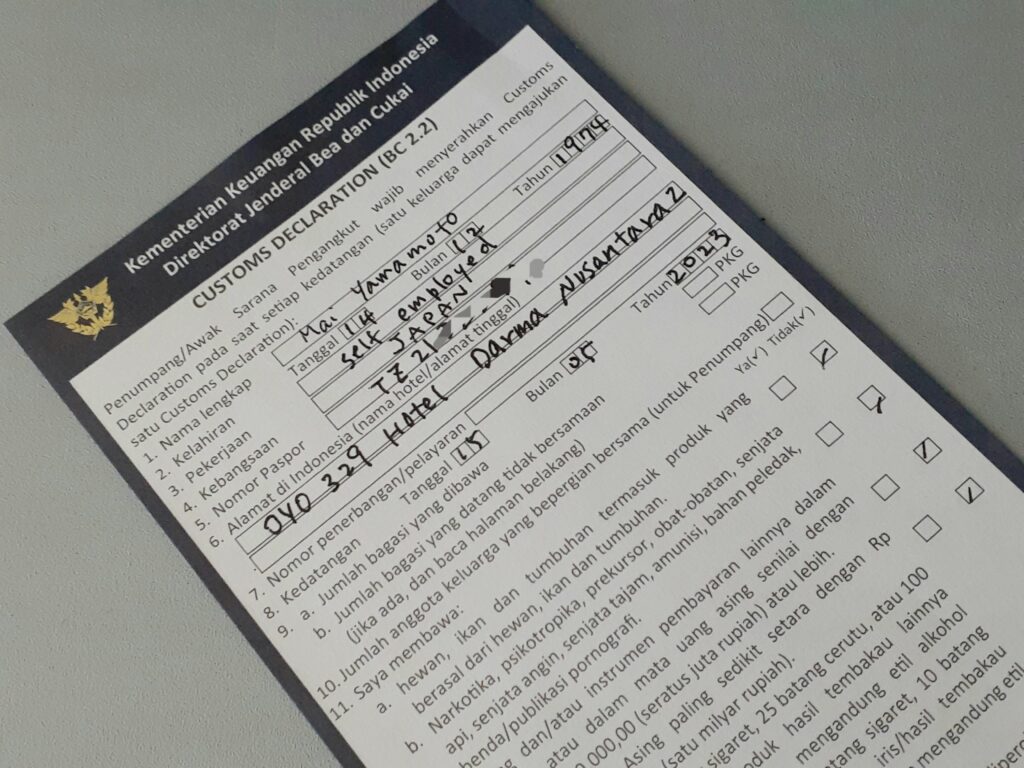 The Indonesian Customs Declaration Form is partially online, but at present it can only be processed online at Jakarta and Denpasar Airport. If you are entering the country from Makassar, you will need to complete the form by hand. Customs declaration forms were handed out on board the aircraft, but only in Indonesian and no English version is available.
Arrival in Makassar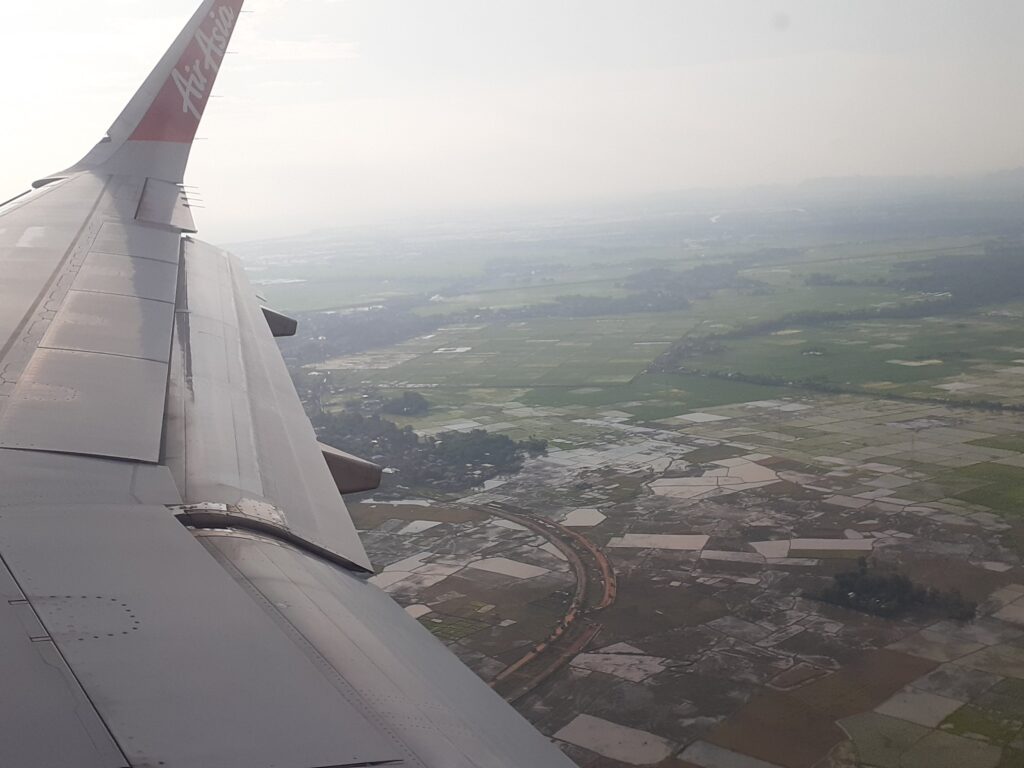 Our scheduled arrival in Makassar was after 5pm, but we landed half an hour early.
On arrival, we had to submit our vaccination certificates and complete immigration formalities, but this time it was not as smooth as we had hoped.
Indonesian Arrival Visa: the case of Makassar Airport
After disembarking from the plane and proceeding towards the arrival gate sign, you will find immigration. We had to obtain an Arrival Visa, but before we could do that we were asked to provide proof of vaccination documents. We presented our passports and vaccination certificates at a small booth on the left side of the immigration area.
We then proceeded to immigration, where we were instructed by the immigration officer to pay the visa fee. There is a BNI Bank counter next to the quarantine booth, where we paid USD 35 per person for the visa. The receipt is returned in your passport, so be careful not to lose it.
You will then return to the immigration officer's booth. Here is where the problem arose. We did not have a ticket out of Indonesia and we were told that we would not be issued an Arrival Visa.
The last time we entered the country from Manado, we were let through reluctantly even though we did not have an exit ticket, but this does not seem to be the case here.
I tried explaining everything to them, but they insisted that they could not issue me a visa unless we showed them out departure ticket. The supervisor of the inspector came out and refused to budge no matter what I said, saying that that was the rule.
I decided that I had no choice but to get a ticket anyway, even if it was just for 'show', and decided to book a cancellable ticket on the spot using my frequent flyer miles. Makassar Airport does not have free WIFI, but when I said that I wanted to buy my ticket online, he connected my phone to the internet.
There were other people waiting in another room at immigration because they did not enter the country smoothly besides us, so we were searching for airline tickets to choose the best one while the supervisor of the examiner was occupied with them.
Arrival visas are issued for 30 days, but we wanted to extend our visa after entry for up to 60 days, as we had done before. When we explained this to the officer in charge, we were told that the plane departure ticket could be for up to 60 days instead of 30 days. Since we would need an exit ticket for the visa extension anyway, this meant that we could buy a ticket for the date of entry, i.e. within 60 days of this date.
Due to a slow internet connection and an error in the mileage plan app, it took quite a while, but I found a ticket with no cancellation fee if I cancelled within 24 hours of booking, showed the booking confirmation to the inspector and finally an Arrival Visa was issued.
Finally, we managed to safely enter Indonesia.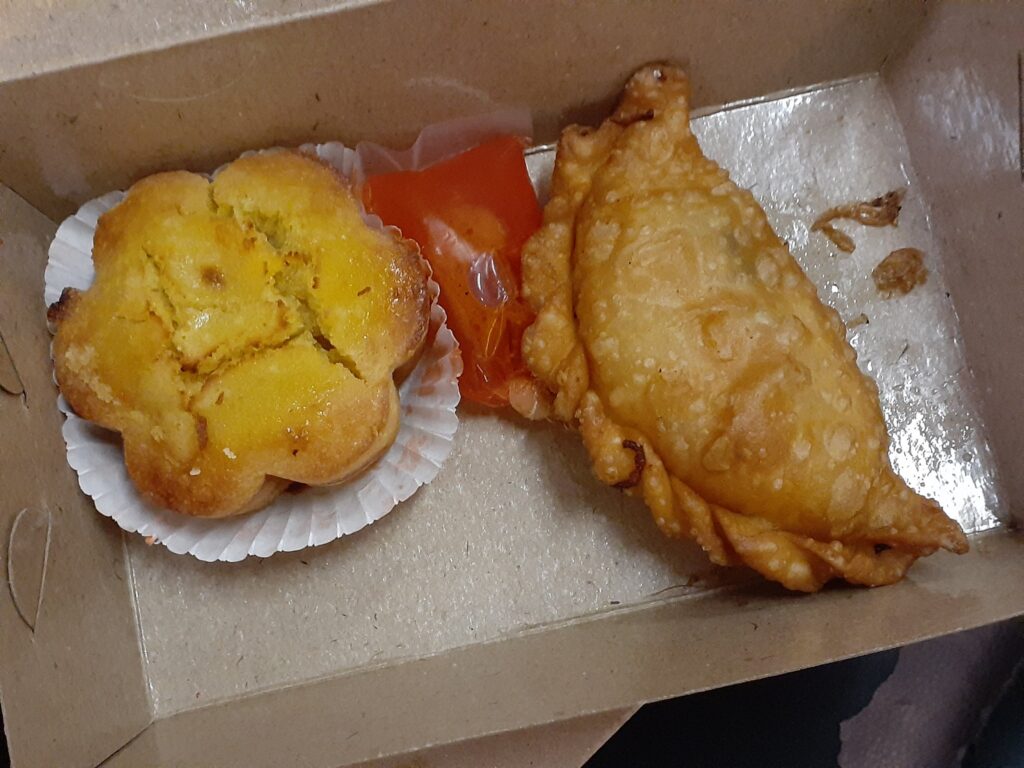 So after being aggressive towards us the Immigration Chief gave us cakes and fried snacks as we were leaving. He was only doing his job!
They must have felt sorry for us because it took us a long time to find our airline tickets. In the end, the snacks we received became part of our dinner.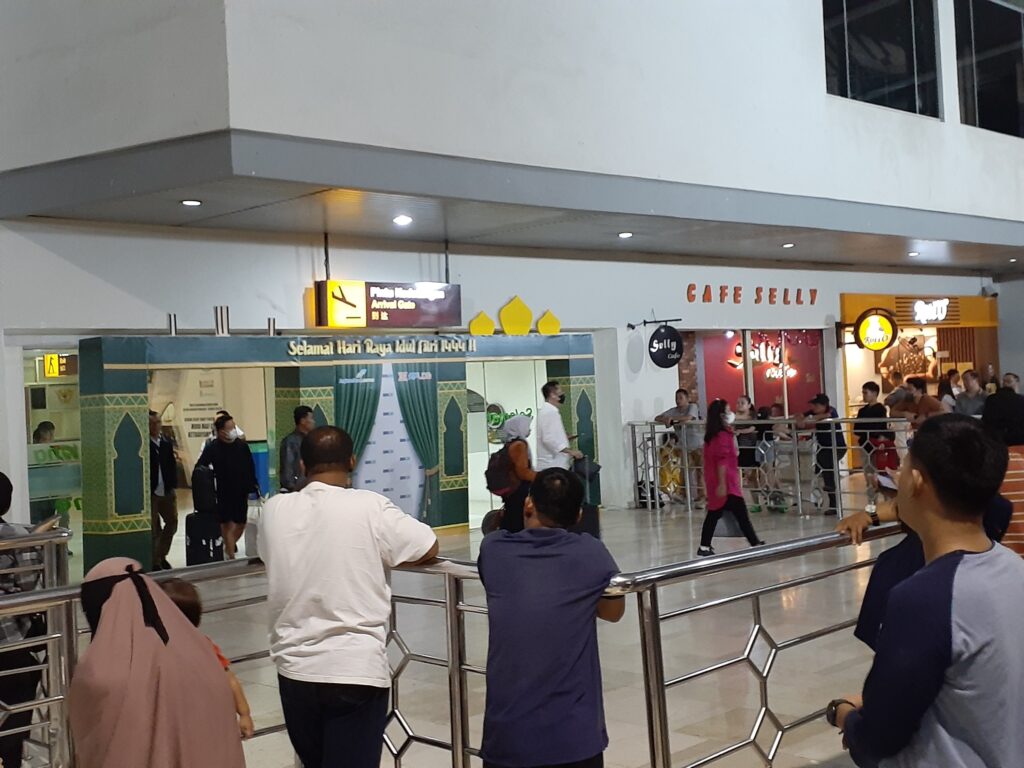 We ideally wanted to take the night bus to our next destination, Tana Toraja. However, we decided at this point to stay the night in Makassar, as we had unexpectedly wasted a lot of time at immigration.
Foreign currency exchange and ATMs at Makassar Airport
In any case, we had to obtain Indonesian Rupiah. There were no foreign currency exchange offices at Makassar Airport, but there are several ATMs, especially near the departure gates, where there is an 'ATM Center' section. International cards are accepted, but we were unable to withdraw any cash. It is one difficulty after another!
Makassar is the largest city on the island of Sulawesi, so there are plenty of banks and ATMs in the city, but we had to get there.
Fortunately, we had some rupiah left over from the last time we left Indonesia and had just enough cash to take a Grab taxi.
Getting from Makassar Airport to the city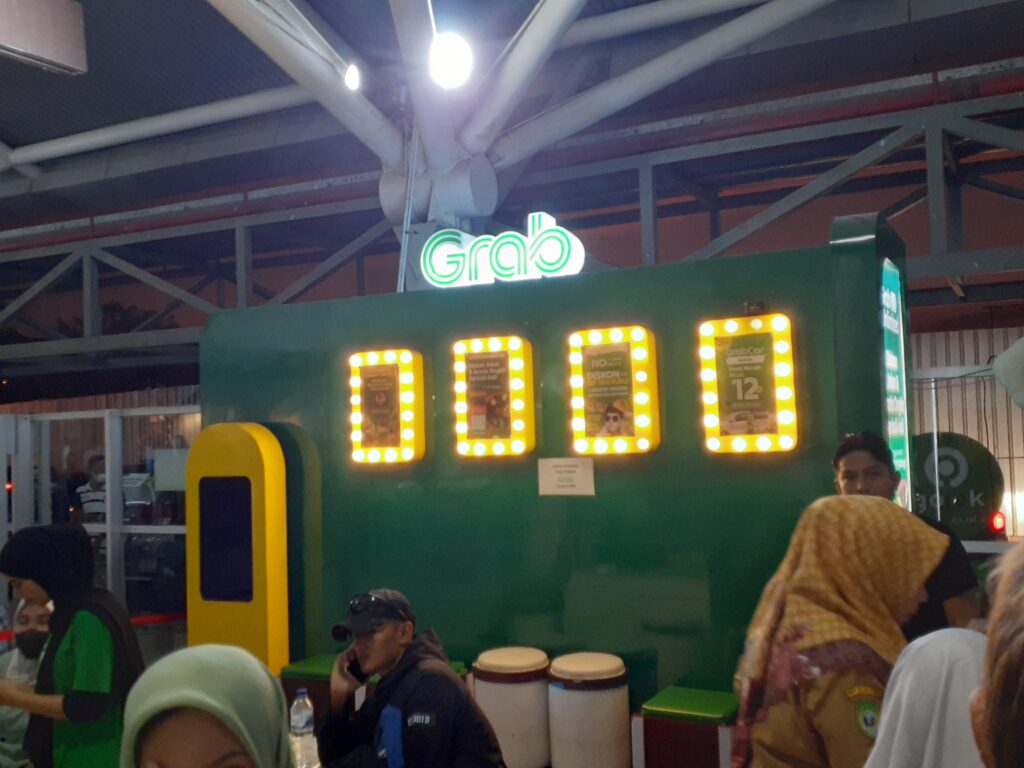 There is no free wifi at Makassar Airport and at this point we had no mobile internet. However, there was a Grab taxi booth outside the arrival gate and its staff called a Grab taxi for us instead.
We intended to stay at Hotel Daya, near the bus terminal where the buses to Thanatraja leave from, and the Grab taxi fare to get there was R134,000.
And lucky for us, when we arrived at the hotel, we found a BNI Bank right next to it! It's a great location, just perfect for us.
After checking in to our double room at Hotel Daya (R250,000 per night), we were able to withdraw Indonesian Rupiah in cash at the BNI Bank next door – the BNI Bank ATM has a maximum withdrawal limit of R2,000,000 (R100,000 note).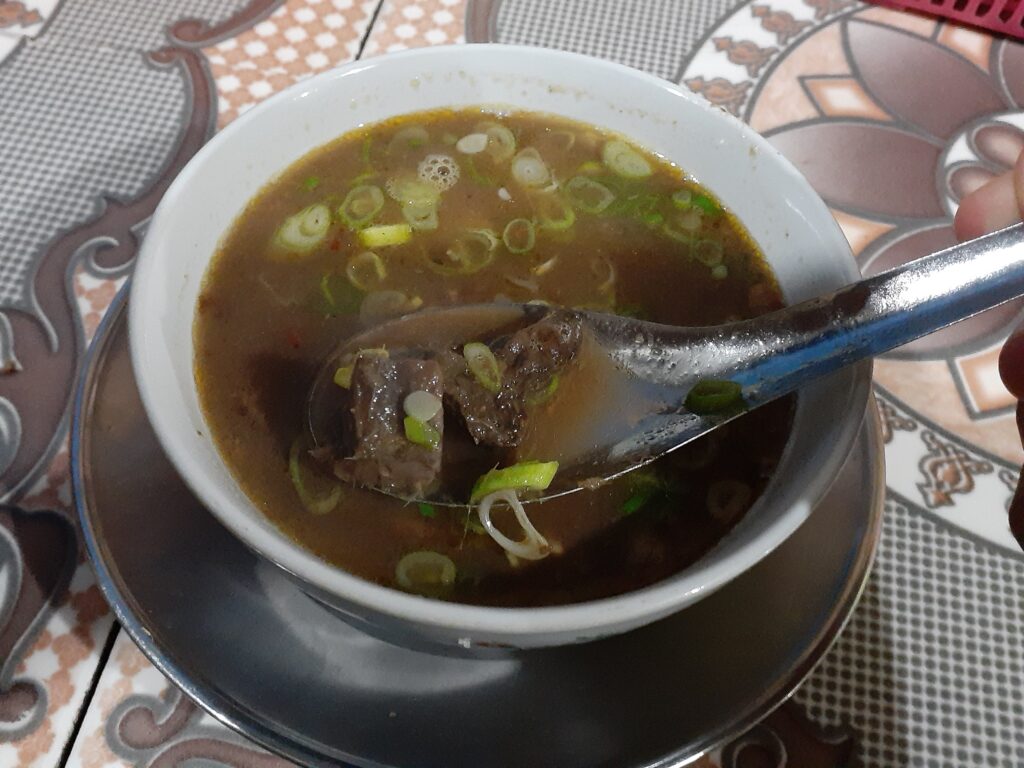 The hotel wifi was speedy enough, and I was able to quickly cancel my departure ticket booked at immigration. We had dinner of Makassar's speciality, Coto, a beef soup, and cakes and fried pastries as souvenirs, and went to bed for the day. It was a long day…