We crossed the border from Turkey to Bulgaria at Kapıkule checkpoint. This is a major border crossing between Turkey and the EU countries. I thought it would be easy, but in fact it was not as smooth as we had expected.
From the Turkish border city of Edirne, we travelled through the Kapıkule border checkpoint and went to Plovdiv in Bulgaria.
Border crossing from Edirne to Bulgaria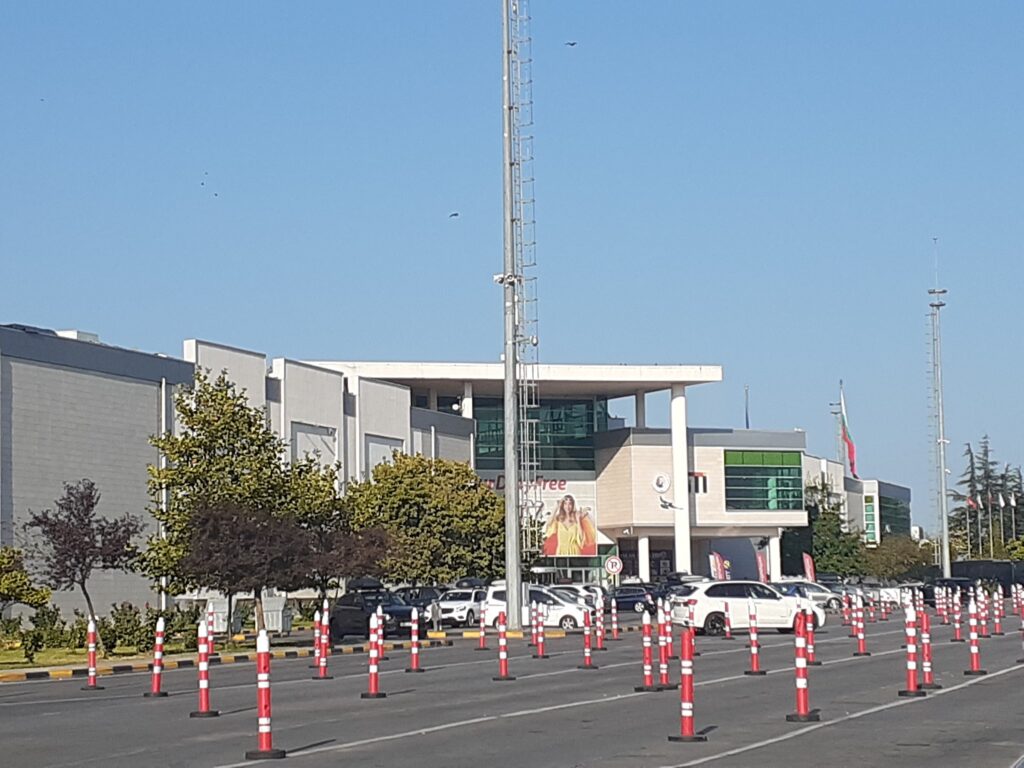 The border crossing from Turkey to Bulgaria that we passed through this time was the Kapıkule border point, which can be accessed from Edirne, Turkey. As the border lying between Turkey and the EU countries, it is a major traffic border crossing.
We crossed the border on Saturday 26 August, which was the last weekend of the summer holidays. We decided to leave the city of Edirne as early in the morning as possible, as it was expected to be very busy with people returning from holiday.
As will be explained in more detail later, the border crossing here must be done by vehicle. It is not possible to cross the border on foot. However, we innocently tried to cross the border on foot, but due to the kindness of a stranger we were able to do so successfully.
What was unexpectedly difficult was that the wifi suddenly went down at the hotel in Edirne where we stayed the day before. This was a part of reason that we did not do enough research on the internet beforehand. Well, it is highly likely that we would have done the same, even if we had known that it was not a straightforward border crossing…
From Edirne city to the Kapıkule border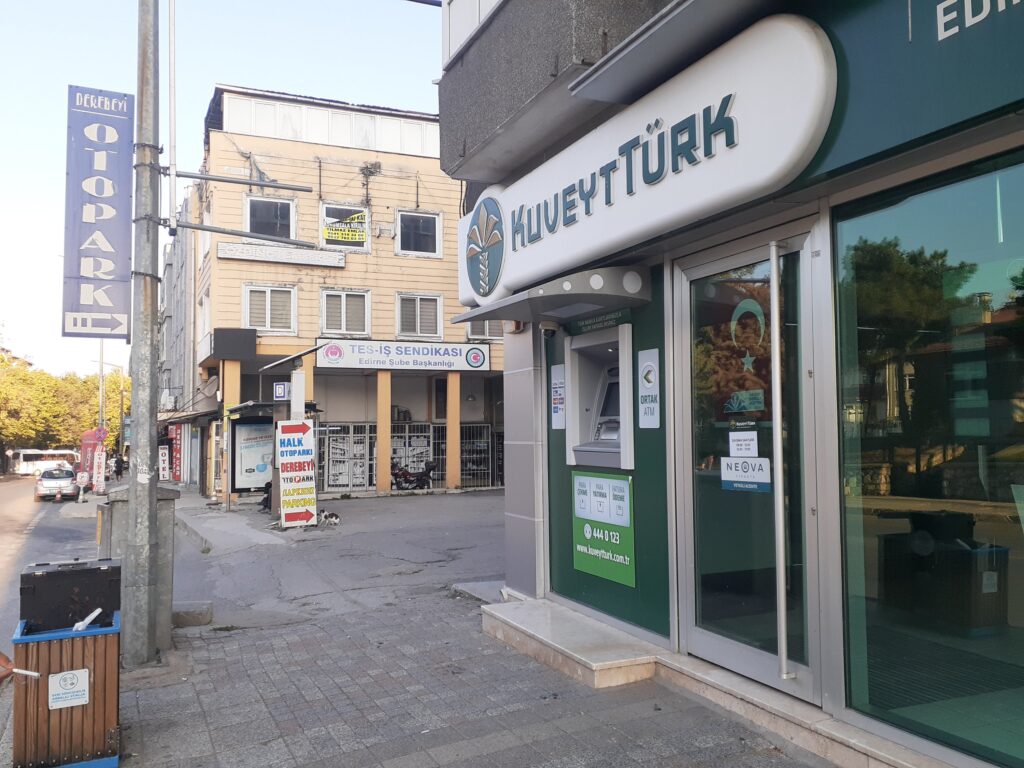 The day before, we came all the way to Edirne from Assos, as we had decided to cross the border into Bulgaria from the Kapıkule checkpoint.
It is about 20 km from Edirne town centre to the Kapıkule border checkpoint. We were told that there are frequent minibuses to the border point, but we didn't know how frequent they were.
The minibus stop for the border crossing is on Atatürk Street, which runs east-west through Edirne, and we decided to wait at the stop near the hotel where we were staying. The minibus stop for Kapıkule is shown on Map.me.
We were told that the minibus to the border stops in front of the Kuveyt Türk bank near Dolmuş and the city bus station, so we decided to wait there. There was a stand selling simit (Turkish doughnut-shaped bread covered with a large amount of sesame seeds) by the pharmacy right next to it, where we bought some simit.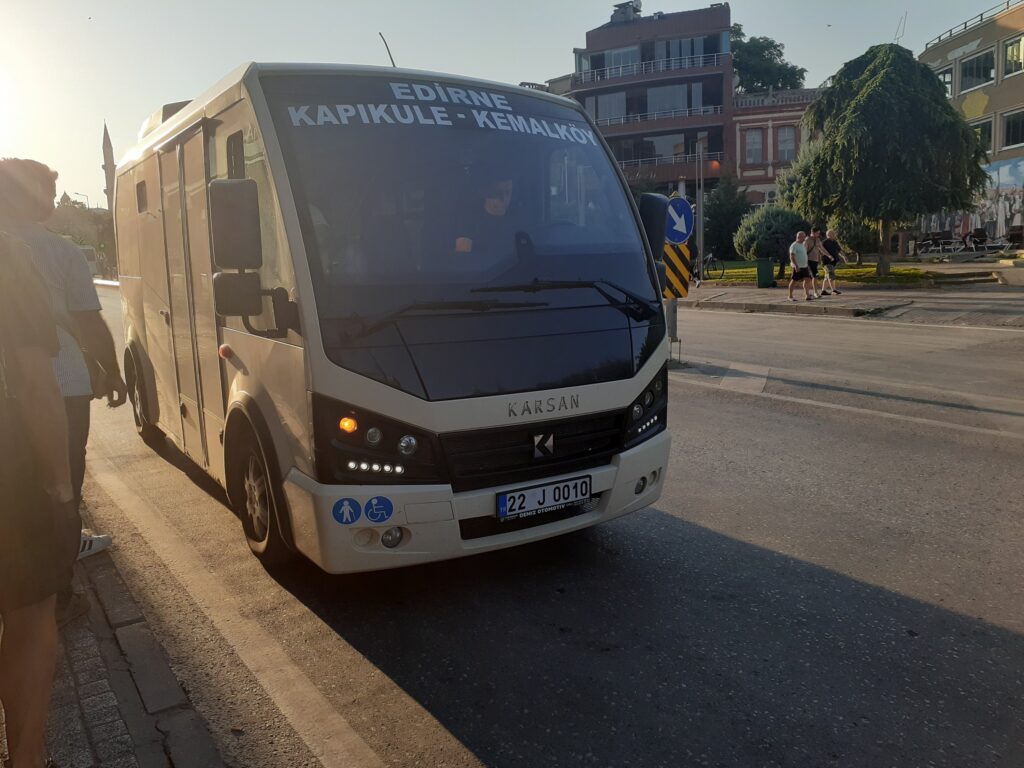 After a short wait, the minibus to Kapıkule arrived. The time was 7:40 am. The fare to the border is 25 TL per person. It took about 20 minutes to reach the border. We got off right in front of the border.
Departure from Turkey at the Kapıkule border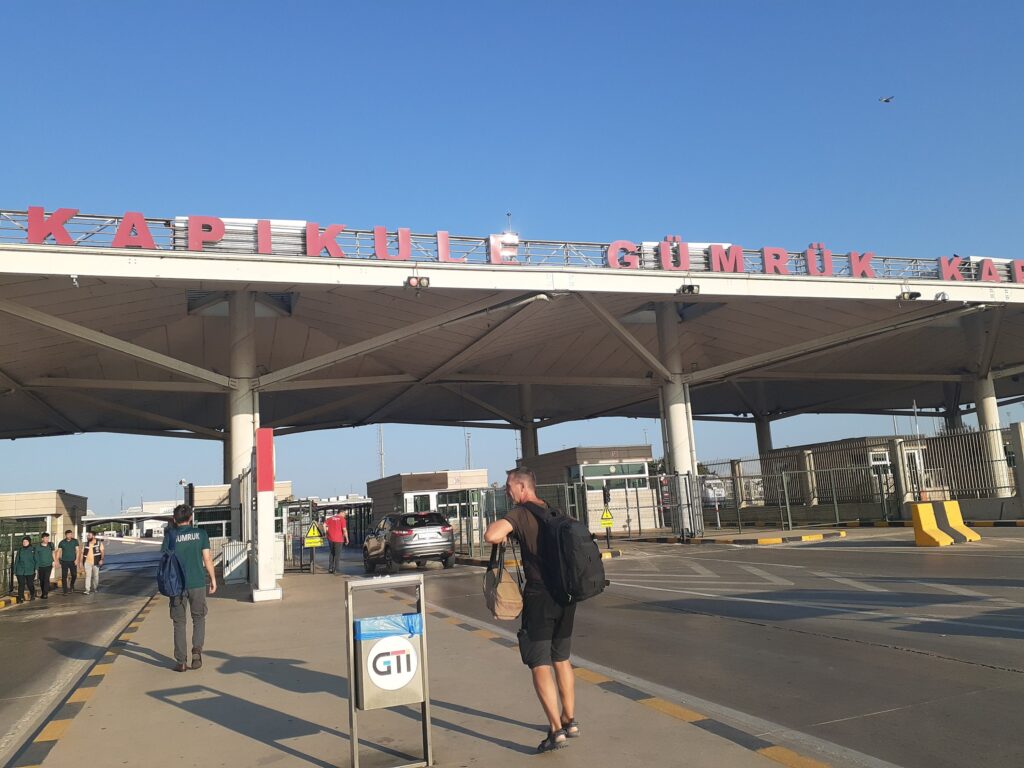 Here was where the problem arose. When we tried to walk towards passport control, we were stopped by officials. They said that only vehicles could pass through from here onwards. This means that people cannot walk through.
The border was only a few metres away, but we couldn't proceed from there. We had no choice but to hitchhike at the border entrance.
Traffic was heavy and the vehicle lane was a narrow corridor, so we stopped almost every car that passed and asked them to give us a few metres ride. However, because it was a sensitive border crossing, we were refused at every turn. Well, we understood very much why they didn't want give a lift to strange foreigners; not knowing who they are, where they are from or what they are carrying. Nevertheless, we definitely had to get someone to let us in the car.
We avoided cars fully loaded with Turkish families on their way back from the summer holidays, with children filling the back seats, and negotiated with cars that seemed to have space available.
A Turkish man driving a passenger car with Austrian plates kindly stopped and gave us a lift to passport control. After explaining that we could not walk across and that we only needed a lift to the passport control a few metres away, he finally agreed.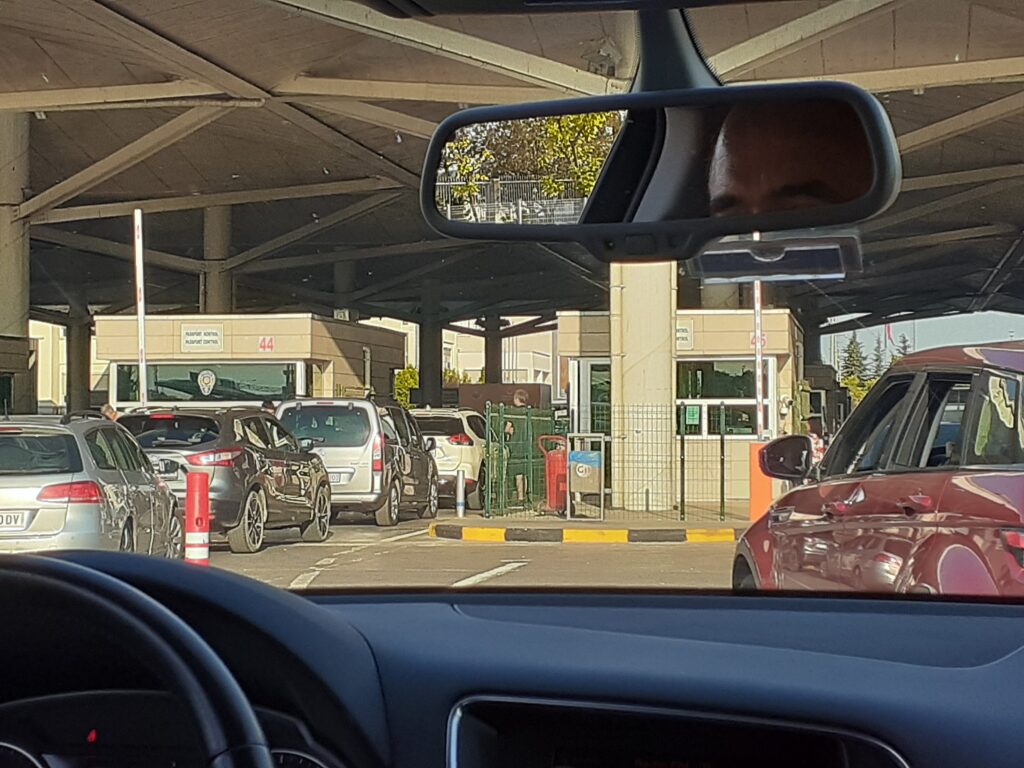 There are several vehicle lanes at passport control. The driver who picked up the two of us put the car in a relatively empty lane. Within a few minutes it was our turn, we got out of the car and presented our passports to the inspector. A photo was taken with a camera attached to the booth and we were given an exit stamp. It was very smooth, no questions asked.
Trouble at Turkish customs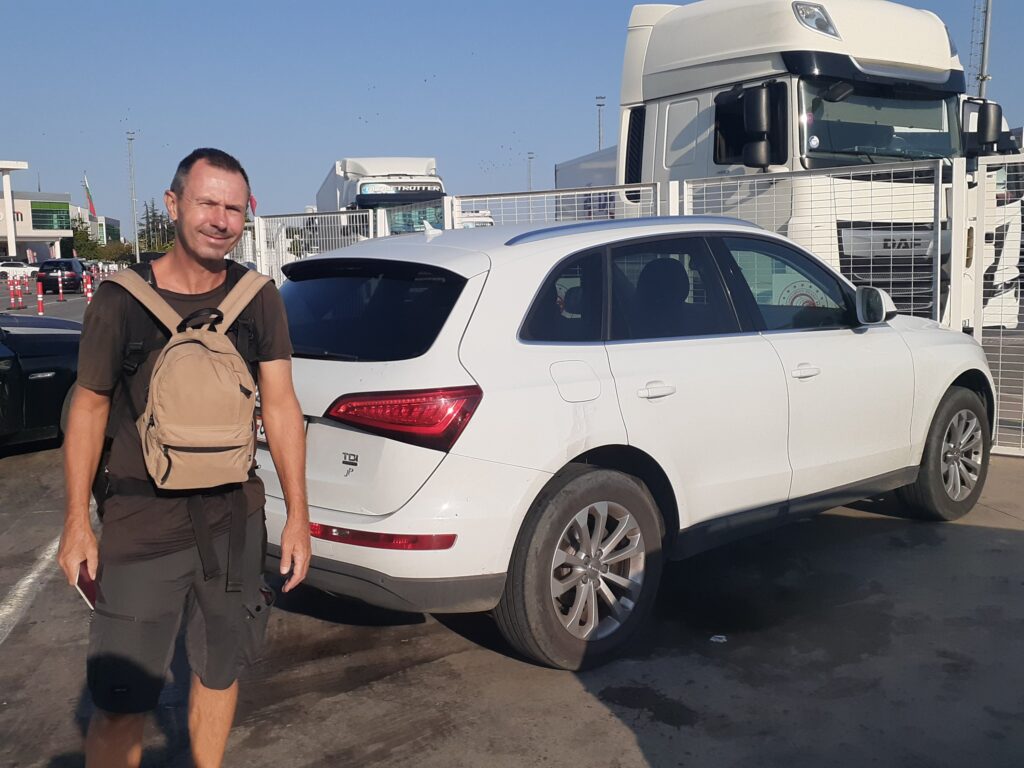 After passport control, we went through customs, where we had another problem. Not for us, but for the Turkish man who gave us a lift.
We had to go through customs with the car as well, but maybe there was a problem with his personal belongings, or maybe he didn't have his documents properly prepared… Anyway, he had to go through the prescribed section with the documents, he parked the car on the shoulder of the customs road, told us he would be back in about 10 minutes, and he went into the building.
Ten minutes, he said, but after more than an hour, he still hadn't come back. There was no reason for us to be stranded here, so we could have walked away to the Bulgarian side of Immigration, but we were not sure if there were buses, taxis or other transport options beyond the border crossing on foot. Optimistically, we had been hoping that the Turkish guy could us give a lift after the Immigration into Bulgaria, maybe even get a lift to Plovdiv. At the same time, we didn't want to waste our time here though. It was hard to make a decision whether we should leave him or not.
After an hour of waiting like this, we finally saw him coming out of the building. He seemed to have noticed us standing by the car, waiting for him and raised his hand to show us. However, he now walked across in front of passport control and went into the customs building on the Turkish entry side. With a slight hope we waited for another 30 minutes.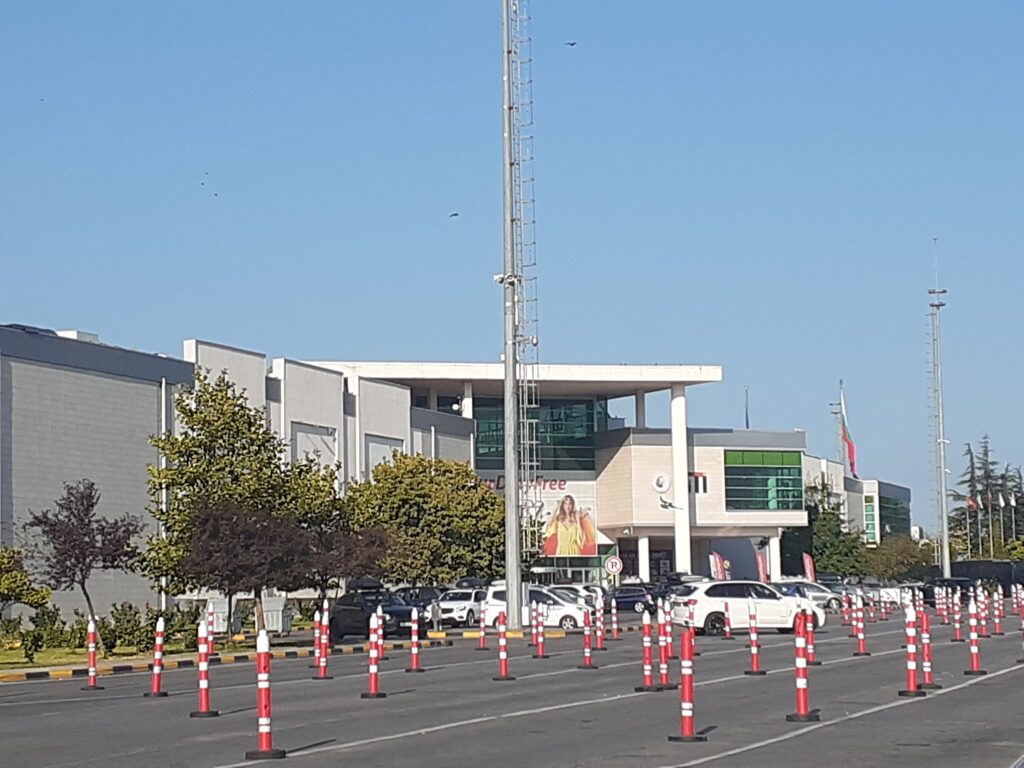 In the meantime, I exchanged our remaining Turkish lira for Bulgarian levs in the duty-free shop building between the borders, but we felt that we couldn't wait any longer. Feeling sorry about him, the poor driver, we left his car to head to Bulgaria.
Entering Bulgaria at the Bulgarian immigration
We passed the building with the duty-free shop and walked to the Bulgarian border. Off course, the passport control on this side was for vehicles only as well, but we walked to the booth with officers and got stamped on our passports although they were surprised to see us and asked "(did you come by) walking?" And we said, "yes, we walked".
After the passport control, we went through the customs where we didn't have any problems but we had an question to ask to the officer; "It there any transport such as Mashrutka or bus to the town?" Because from there, in our sights, we could only see a beautifully paved motorway and a deserted field; no shops, no buildings, no taxis, no people. We were simply told that there was no transport. He said that the nearest town was about 15 km away, but there was no public transport and we had to walk there if we didn't have a car.
Alright, then, we just had to hitchhike again. There was only one exit from Bulgarian immigration and there were great numbers of cars lined up. We tried to stop every single car passing through to look for another kind person who could give us a lift. In the worst case scenario, the Turkish guy who had a trouble at customs earlier – and whose name we didn't have enough time to ask – would eventually come out and could take us further.
Since this is the border between Turkey and Europe, cars with European plates were passing by one after another. German, Austrian, and German again, after we were refused by a few cars, we started thinking that this might take for a while, but everything could be possible unless you give it up. The one who stopped for us again was a Turkish driver with his Bulgarian girlfriend.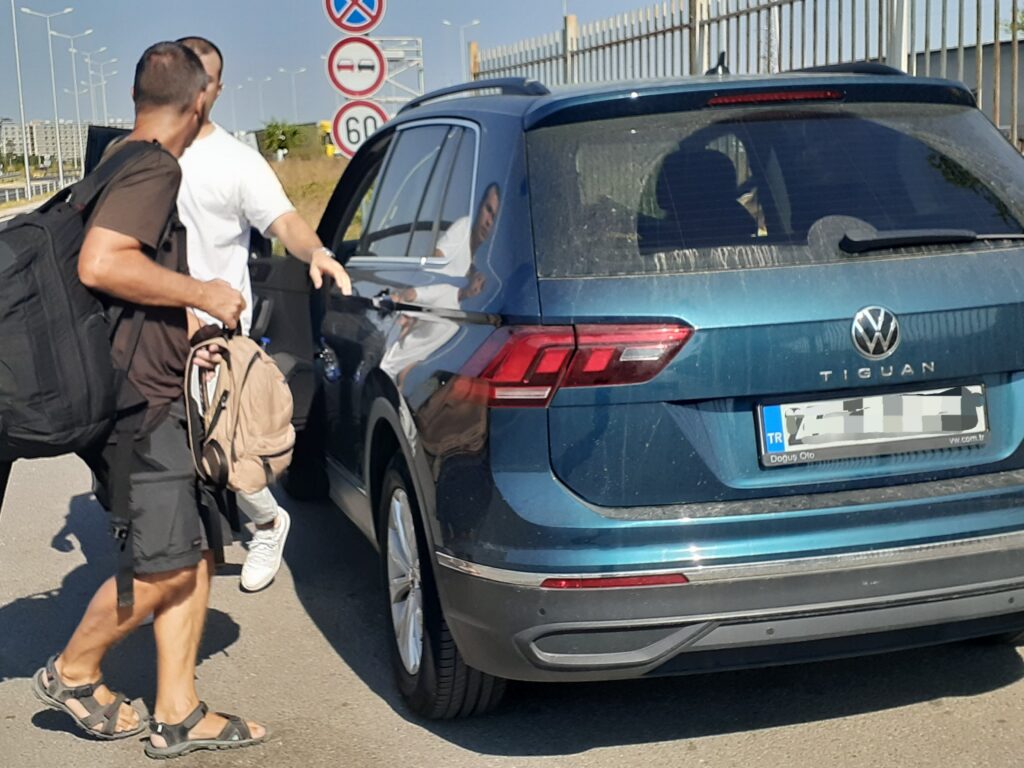 They were a young couple, a Turkish man, Ali, and a Bulgarian woman, Rina. Ali is a pilot for a major airline and had just returned from Narita two days earlier. And Rena is now studying for a master's degree in finance at a postgraduate school.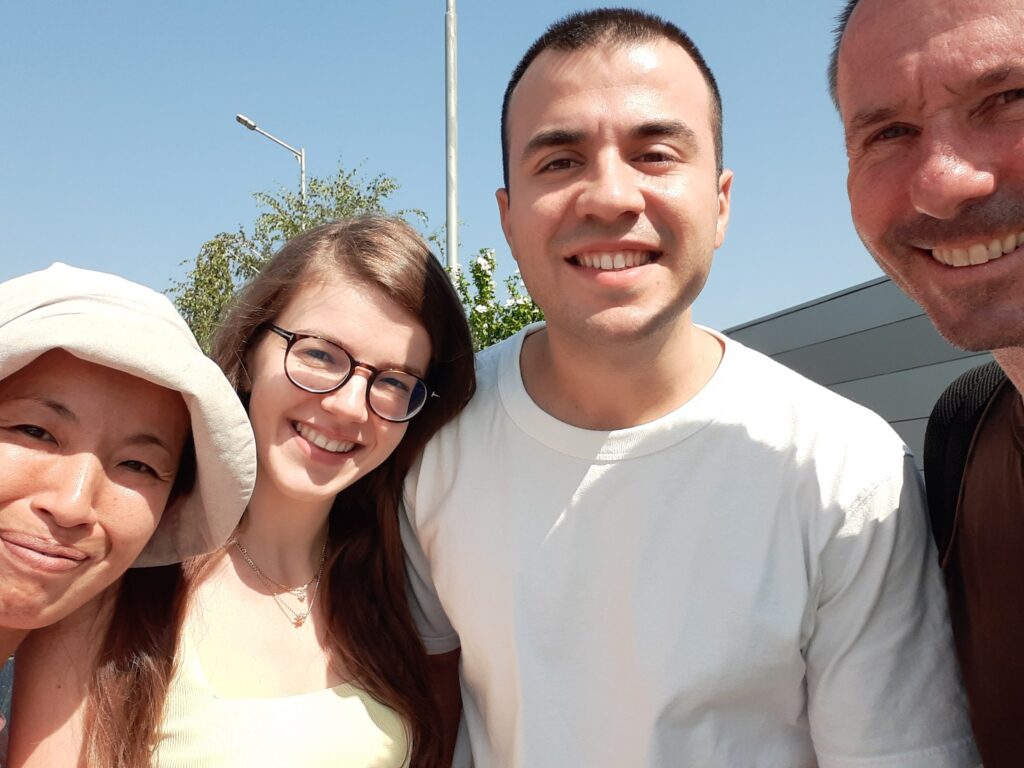 Ali, who has visited Japan many times, praised Japan, saying that "I love Japan", "Japanese people are very kind" and "sushi is delicious", which made me think that this must have been some kind of fate. We said that Turkish people were always so nice that everytime they helped us, just like this time. We were treated to a Bulgarian espresso on the way and given snacks as souvenirs, before arriving at our destination in Plovdiv.
Arrival in Plovdiv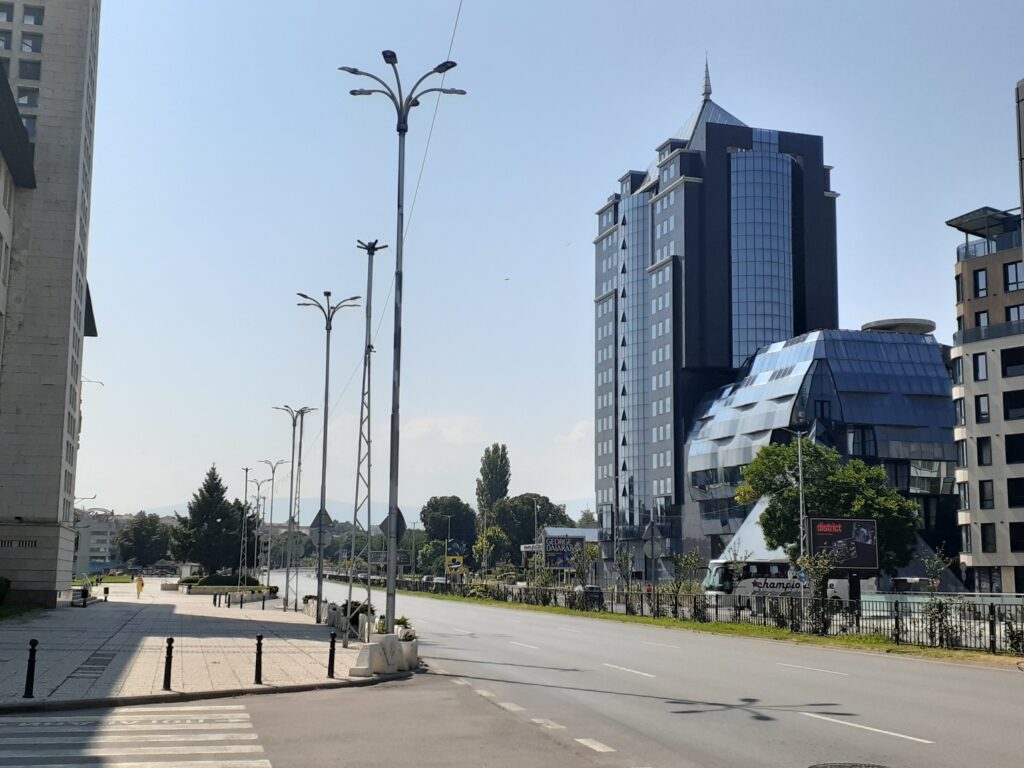 They were not planning to come to the city of Plovdiv in the first place, but to go to a village nearby. They very kindly went out of their way to drop us off at a place close to Plovdiv city centre off the motorway.
It was probably the most dramatic and memorable border crossing experience we had on this trip. Thanks to the two Turkish guys and Bulgarian lady who put us in the car, we were able to enter Bulgaria safely.
Turkish people helped us until the last stage of leaving the Turkish border. We felt sad and it was a shame to leave Turkey, but we need to move on. We have one month to go before returning to the UK and Canada via Bulgaria and Romania.