We arrived in the Philippines yesterday and promptly got a SIM card this morning.
I think the WiFi situation in the Philippines will not be too bad, but it is still convenient to be able to connect to the internet while on the move, for research, hotel reservations, etc. We decided to buy a SIM card because we thought it would result in a more efficient journey.
SIM cards in the Philippines are available from two major companies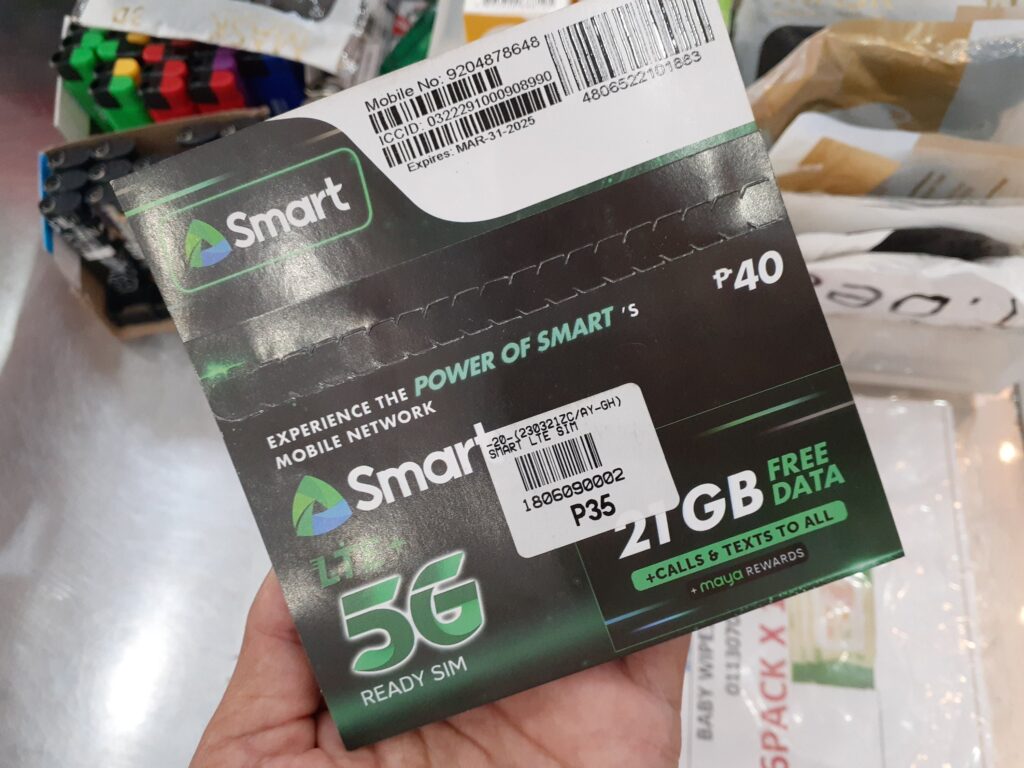 There are two major SIM card companies in the Philippines, Smart and Globe. Opinions differ as to which is better, but in our case, Smart was the only SIM card sold in the supermarket we found on our way to the city after breakfast, so we decided to try Smart's SIM.
We are in Bacolod and were actually planning to buy a Globe SIM card as we had information that Globe has better connectivity in this vicinity. SIM cards in the Philippines are sold at kiosks and convenience stores in addition to SIM company offices, but based on my experience so far, I thought I would feel more comfortable at an official office, so I initially planned to go to the office. However, both Smart and Globe have their offices in shopping malls, and many malls only open at 10am.
We had just arrived from Japan and I guess there was a time difference, but we woke up early this morning and had finished breakfast by about 8am. So we were walking around the city, thinking about what to do until 10am, when the supermarket opposite us was just opening its doors.
I went in and asked about it, and was told that they sell Smart SIM cards. And it was cheap, at 35 pesos (less than 100 yen). So I bought it, thinking that if it didn't work, I could just buy another Globe SIM card.
Registering a SIM card in the Philippines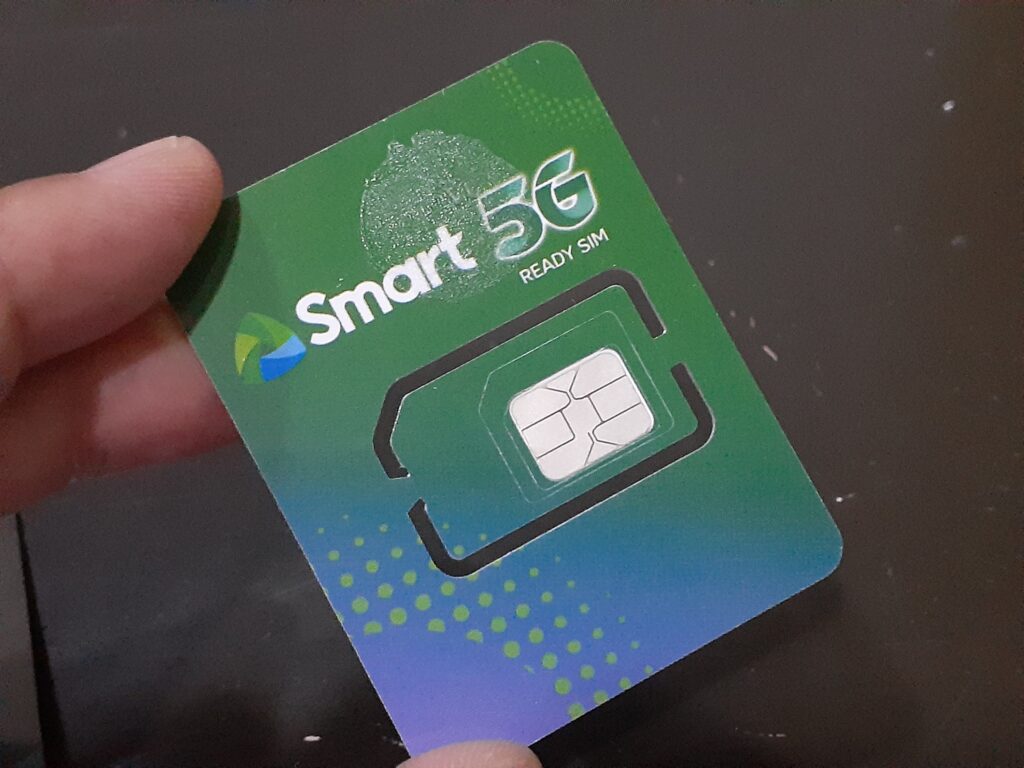 In the Philippines, it is now compulsory to register your SIM card with your ID card when you buy it. However, more than half of SIM card holders are not yet registered, and it seems that today (26 April 2023), the day we got our SIM, is the final deadline for registration. This means that SIM cards that are not registered today by linking the SIM card you have to your identity card will become invalid from tomorrow onwards. This made me nervous that the SIM card companies' offices would be flooded with registrations today, but even if not, the SIM companies' offices always seem to be busy.
Now, the SIM card we bought had instructions on the package (in English) on how to register and activate it. According to the instructions, after attaching the SIM card to your phone, you open the Smart registration screen on your phone and go through the registration process. In our case, we will register using a Japanese passport.
We used the hotel wifi to complete the registration process, which was very slow and frustrating. You also need to upload photos of your documents and yourself, which takes longer than expected. It is recommended to do this when you have more time to spare.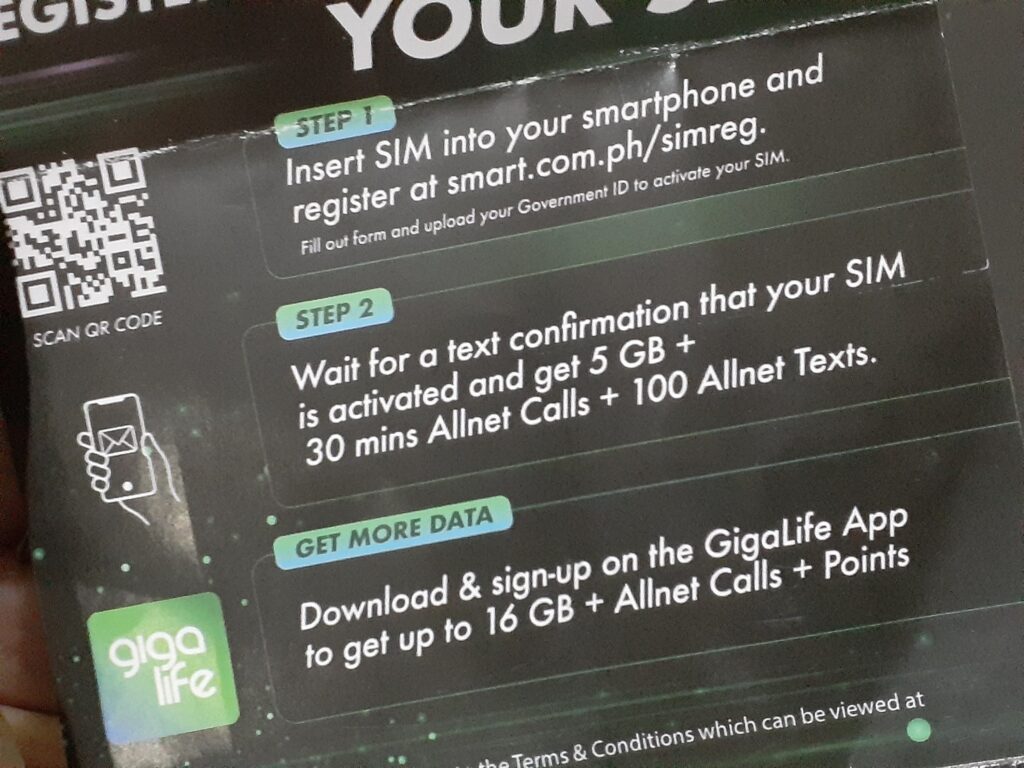 If you successfully register, you will see a screen like the one below.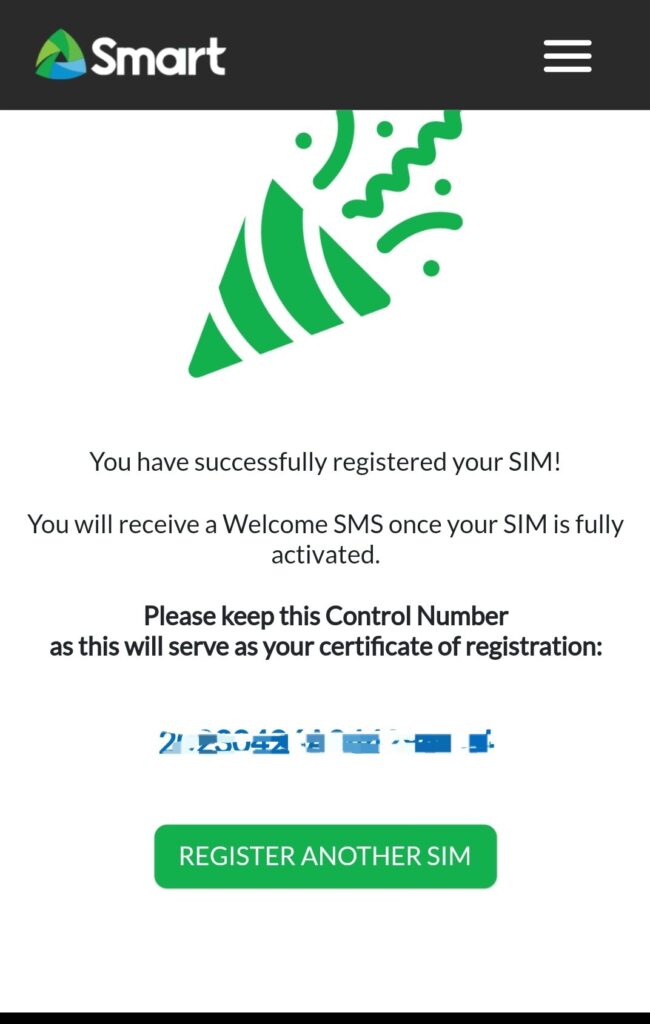 After a short wait after this screen is displayed, you will receive a message by SMS that your SIM card has been activated. Registration and activation is now complete.
Install the application GigaLife
The SIM card is now registered and activated and you can use your Philippine phone number. Moreover, the Smart SIM card is now ready to use 5 GB of data for three days. Furthermore, if we install the GigaLife app, we can get up to 16 GB of data transmission for free.
Open the app and Sign in with your phone number (displayed on the plastic part where the SIM card you bought was inserted) and a password to log in to the app. Then click on the Check Usage button displayed in Home.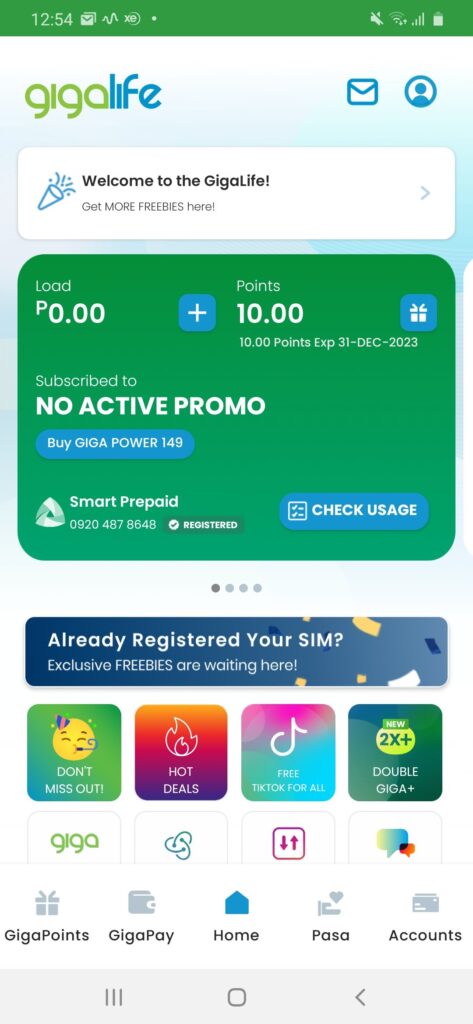 You can then check how many GB of data allowance you have left on your phone by clicking on 'check usage'.
In our case, I can see that we have a total of 7GB of free data allowance added. However, you will see that it expires in three days, after 29 April.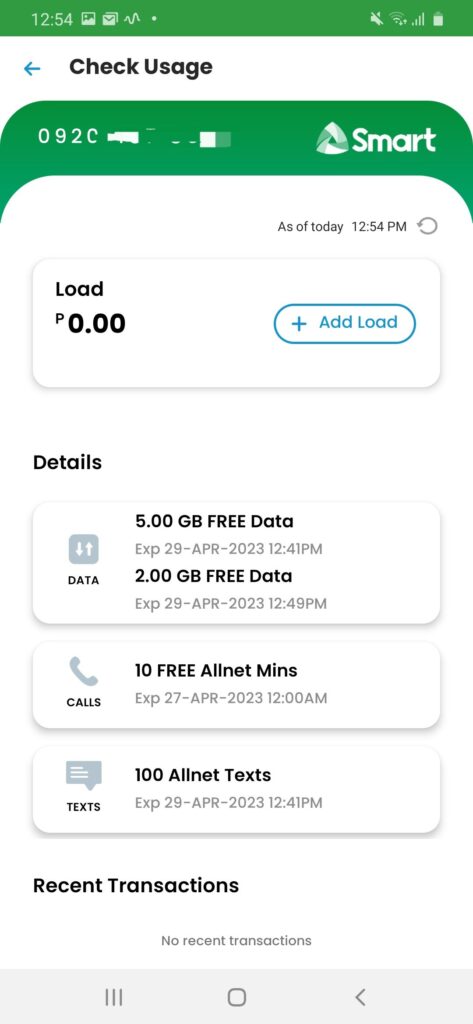 It is nice to have 7GB, but the expiry date is too short. Our flight from the Philippines to Singapore is in 29 days, so three days is not enough at all.
We had to buy additional data. Incidentally, in the Philippines, purchasing additional data is called 'loading'.
Adding data
In addition to shops such as Smart and Globe, you can also add data capacity at shops that sell mobile phones.
After buying the SIM card at the supermarket in the morning, we had a bit of time to explore the city and do some shopping, so we returned to the hotel and finished the registration and activation process around noon.
As I mentioned earlier, Smart and Globe shops are located in shopping malls. The shopping malls open at 10am, so there is plenty of time for them to be open in the afternoon. We headed to the nearby shopping mall, SM City, to make arrangements there.
There is a Smart shop in there, but when we went there, as expected, there were a lot of people waiting and it looked like it would take more than an hour. So, we asked a shopkeeper who was standing around and he took us to a shop that sold data.
We forgot to take a photo, but the shop sells mobile phone accessories and is located on the second floor. We told the salesperson that we wanted to buy the plan we had seen on the GigaLife app, a 24 GB package valid for 30 days for 299 pesos, and she quickly processed our request. In no time at all, we had 24GB of data charged, which we could immediately see on the app. We paid 299 pesos and were done. I'm glad I didn't have to stand in line at the other shop to be honest!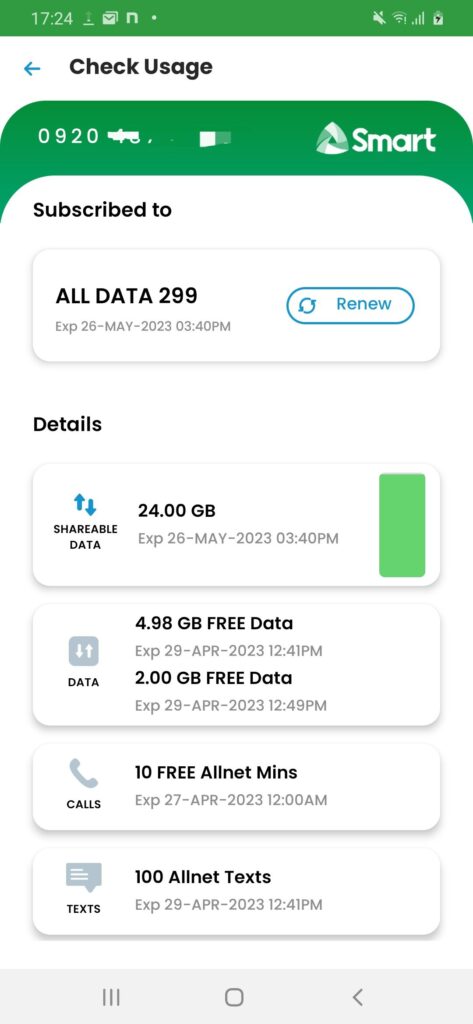 In fact, the Smart's internet connection speed is still a bit sluggish, but it's not unusable. We also tried tethering, and it worked as usual without any problems.
We are planning to go to other islands as well as Negros Occidental, so it is unknown how much the speed will change there, but we will just have to wait and see.