From Bunaken Island we returned to Manado and then on to Ternate.
It is possible to fly to Ternate, but we decided to take the PELNI boat from Bitung.
PELNI boat from Sulawesi to Ternate
Ternate is a city on the island of Ternate in the Maluku Islands and is the largest city in North Maluku. The population is approximately 200,000 (2011). PELNI boats depart from and arrive at the port of Ahmadu Yani, 2 km from the city centre.
PELNI boats to Ternate do not leave from Manado, but from Bitung.
Bitung is a town in northern Sulawesi. It is about 50 km from Manado. It has a population of approximately 190 000 (in 2012).
There are frequent buses from Manado to Bitung from the Paal Dua bus stop, which take 1-5 to two hours and cost Rp 20,000 per person.
Getting PELNI boat tickets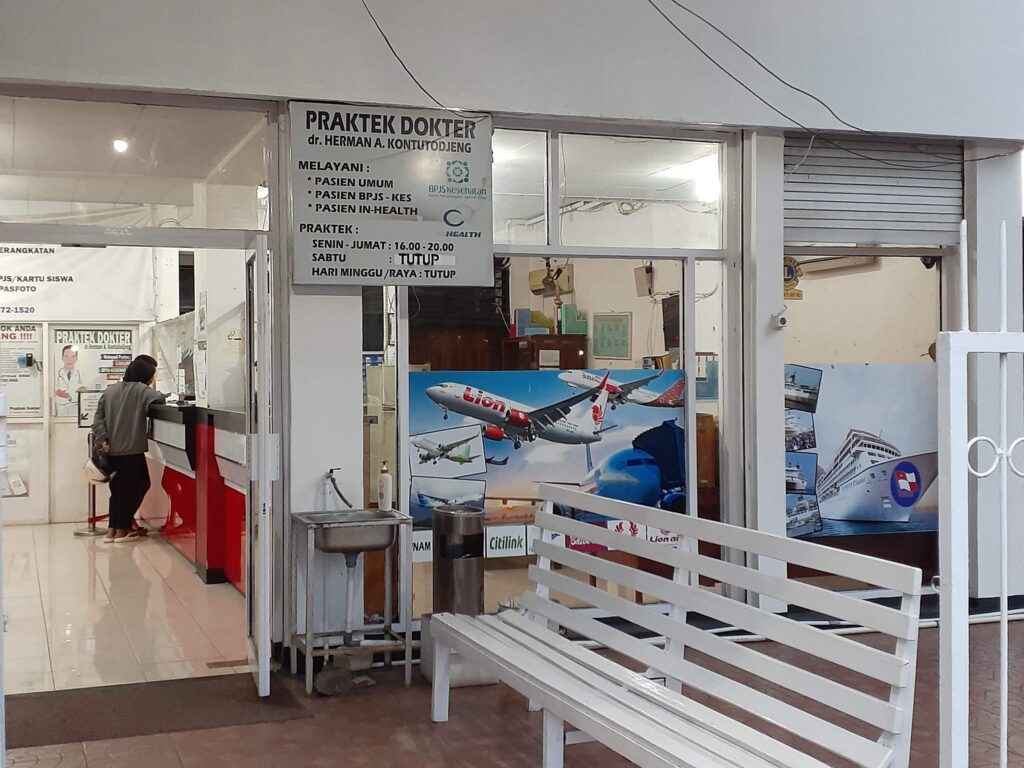 There is a PELNI office (Kantor PELNI Manado) (possibly only a travel agent) in Manado, but we were told that tickets for the boat from Bitung to Ternate cannot be purchased here.
The ship schedule, which is presented monthly, can be found here.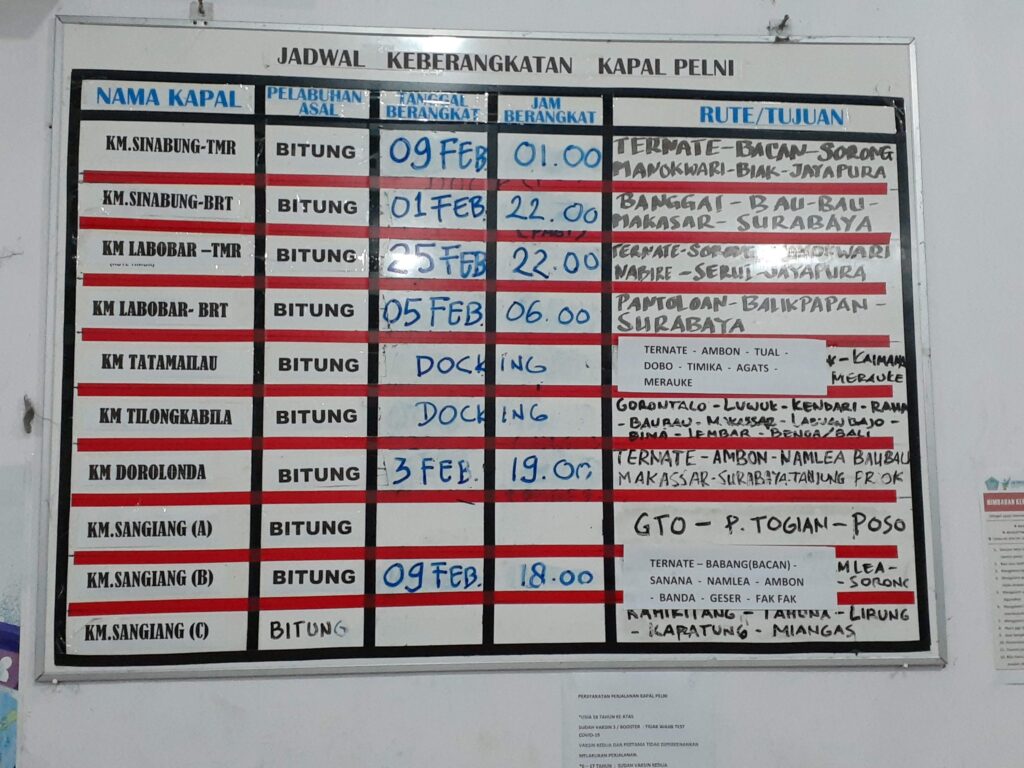 We wanted to go from Bitung to Ternate on the boat leaving at 7pm on 17 February.
In order to board the PELNI boat, we needed to arrive at the port two hours before departure time. Furthermore, we were told to go to the PELNI office in Bitung on the same day to buy our tickets by 3pm at the latest, as ship tickets are sold up to four hours in advance.
Transfer from Manado to Bitung
Buses leave from Manado to Bitung from the Paal Dua bus stop. A micro runs from downtown Manado to the bus stop, with a small sign in the front window saying 'Paal 2'.
We took a micro from Zero Point in Manado to the bus stop.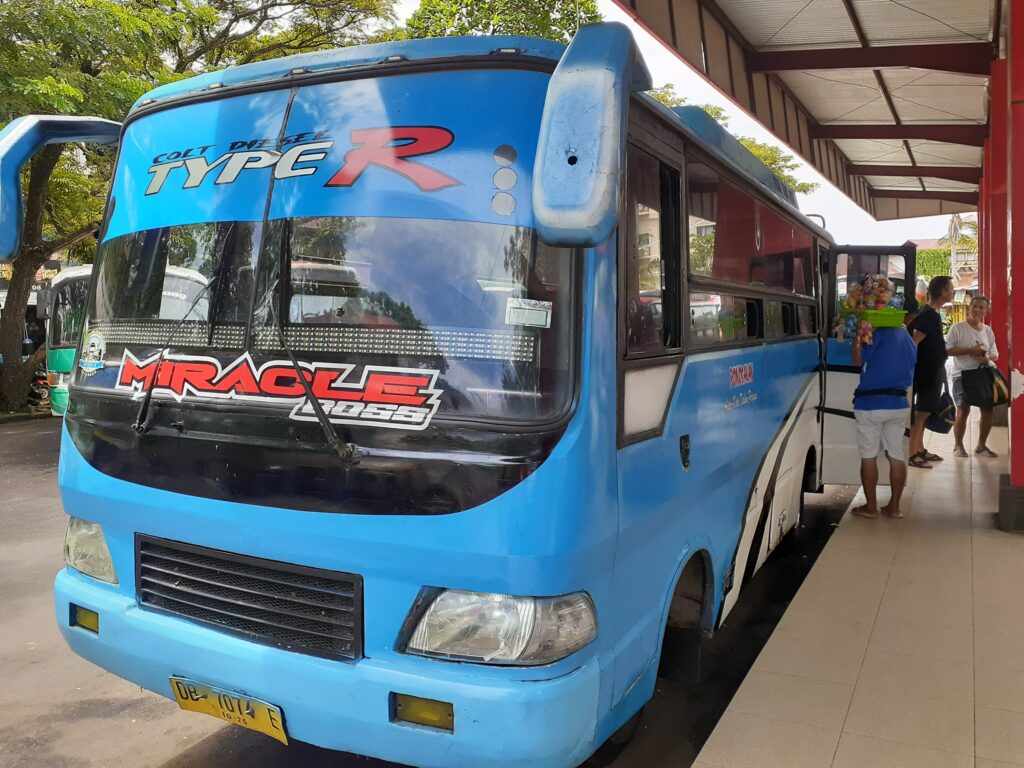 When we arrived at the bus stop, the bus to Bitung was waiting to leave when they were full of passengers.
The fare from Manado to Bitung is Rp 20 000 per seat. If luggage occupies a seat, you have to pay for it as well.
It was lunchtime and so it took a while for the bus to fill up with passengers. While we were waiting, we learnt that the couple sitting in front of us and the Indonesian man next to us were also going from Bitung to Ternate on the PELNI boat.
In the meantime, the bus left Manado. It goes straight to Bitung, but did not use the toll road so it took us more than one hour to get to the Terminal in Bitung.
Buying a ticket at the PELNI ship office in Bitung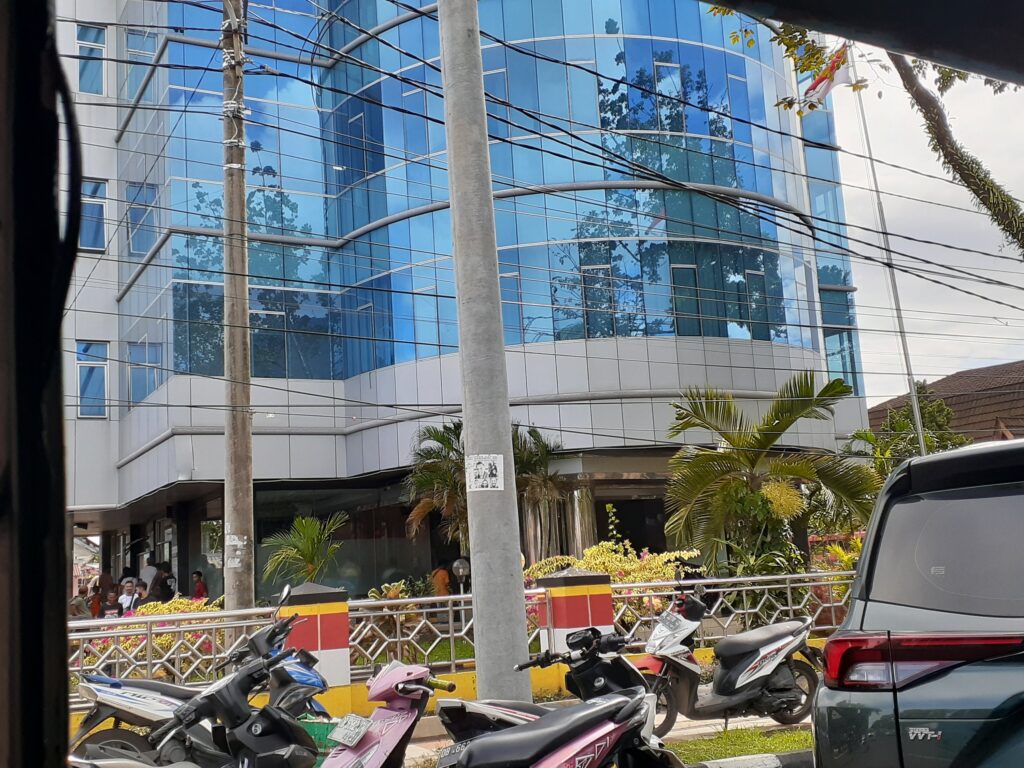 The bus arrives at the bus terminal in Bitung (Terminal Tipe A Tangkoko Kota Bitung). From here, you must first go to the office to buy a ticket for the PELNI boat, and then head to the port.
The Perni boat office in Bitung is about 10 km from the bus terminal and 1.5 km from the port.
We met an Indonesian on the bus who was going to Ternate, and together we chartered a micro to take us to the PELNI boat office and then to the port.
We arrived at the PELNI boat office in Bitung, but there was a lot of people and so it took a long time to buy our tickets.
You need your passport to buy a ticket. There were already several people in line and it took at least half an hour before it was our turn.
Payment is only by credit card issued by an Indonesian bank, and cash does not seem to be accepted. An Indonesian who went with us paid for ours with his credit card, and we later gave him cash to settle the bill.
The PELNI from Bitung to Ternate is economy class only and costs Rp 183,000 per person.
Once you have paid, you are handed a piece of paper with a QR code printed on it.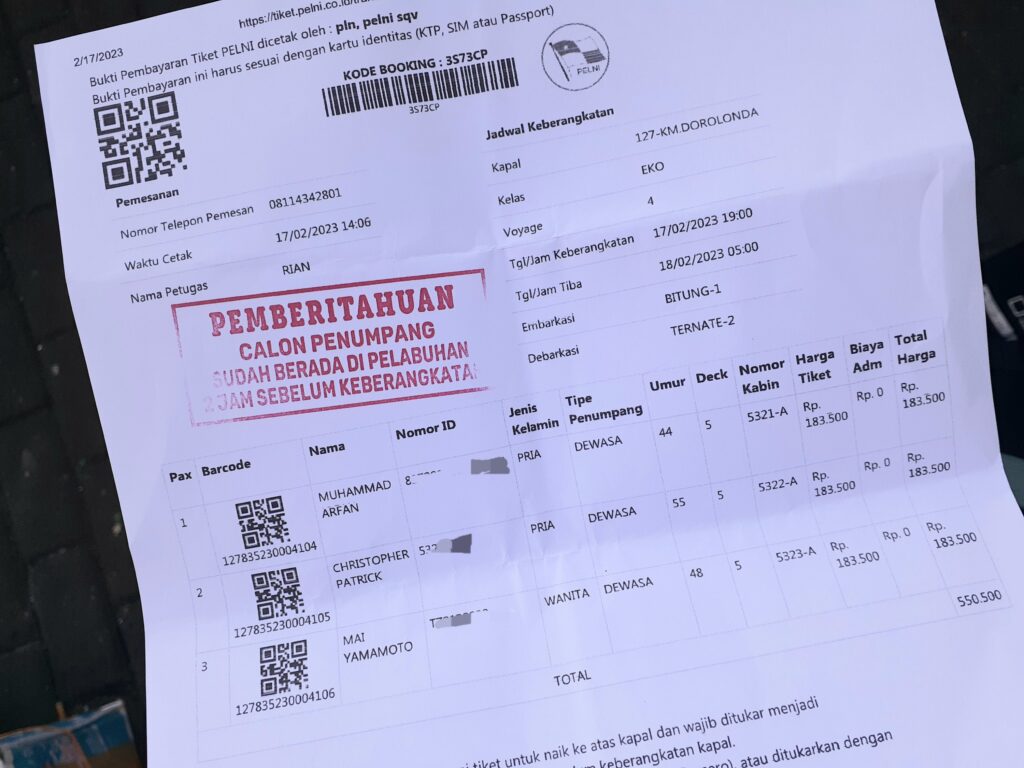 We were told to take this to the port and have the tickets printed there.
Boarding ticket issued at the port of Bitung for Ternate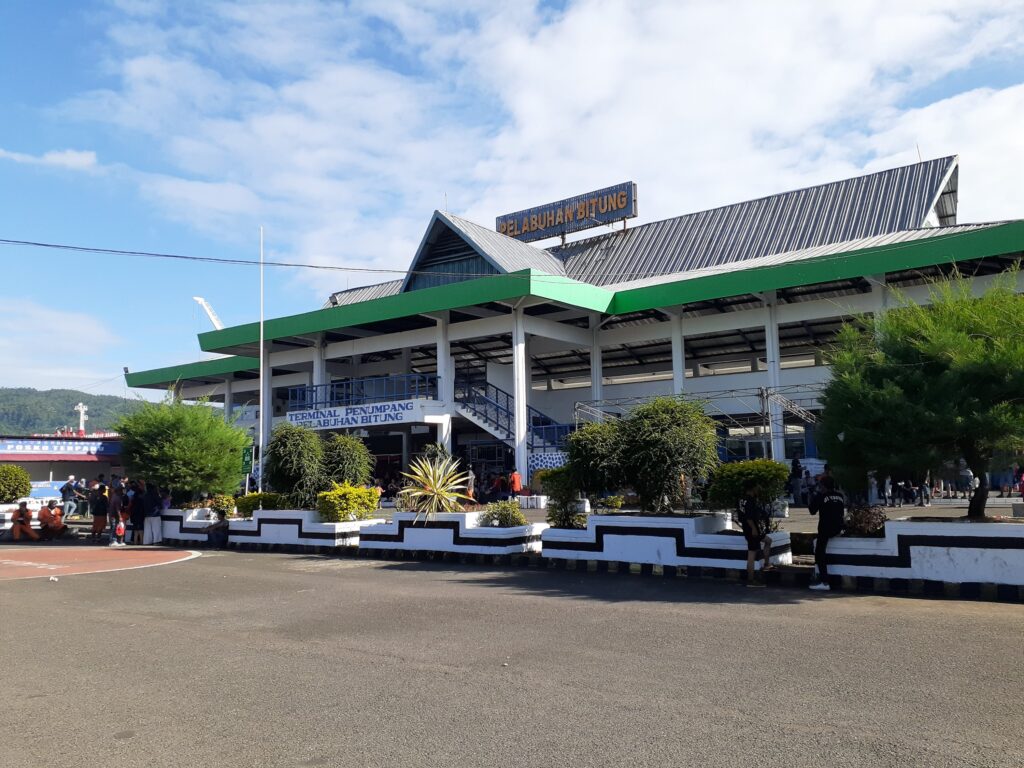 PELNI boats to Ternate leave from the port of Ahmadu Yani in Bitung. After purchasing our tickets we went to the port by micro.
The ticket printing machine is located in the right hand side of the building, as you face it. Many people were already queuing, but the printing machine was covered and not yet ready for use.

At around 4pm, the cover was removed by a staff member. At first there was a lot of mucking about, as if they didn't know how to use it or it was faulty, but finally the queue started to move forward. It was our turn and we were able to get our tickets printed without incident.
Boarding starts two hours before departure, i.e. at 5pm, so we had to wait a bit. While we were waiting, we got some food and water for the night.
Boarding the PELNI boat for Ternate at the port of Bitung
Shortly after 5pm, we finally boarded the boat. The orange uniforms are worn by porters, who first board the ship with people's luggage.
We entered through the passenger entrance with our tickets and passports. Walking on, we come to a small window where our boarding tickets were stamped.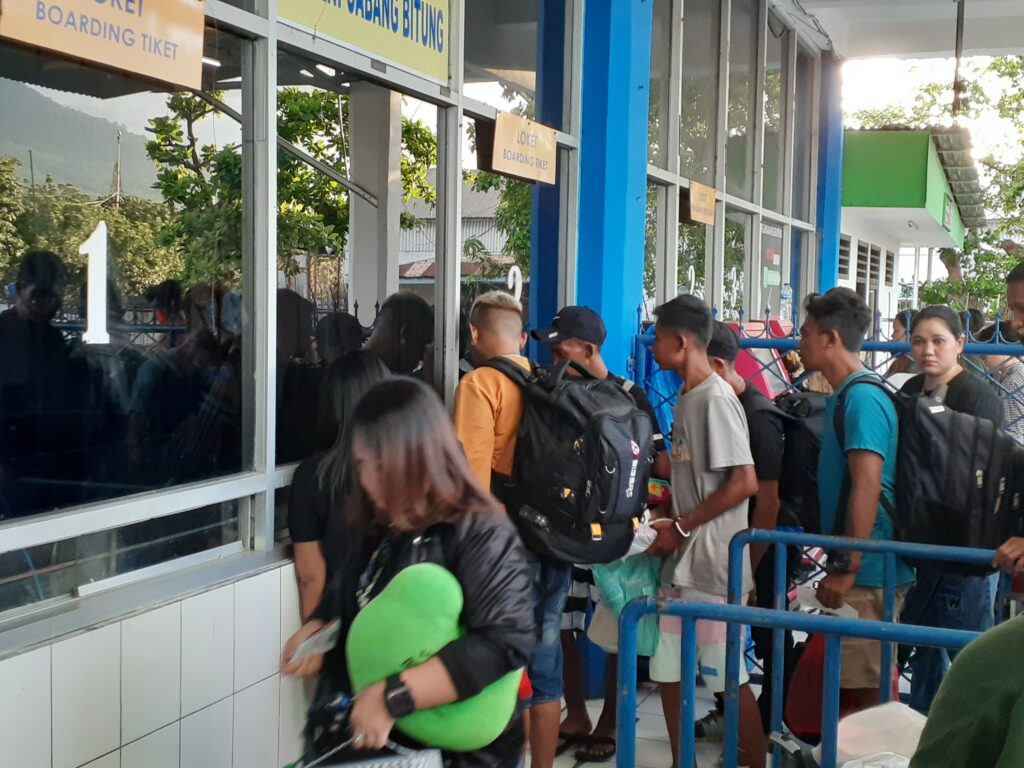 A little further on, staff checked our boarding ticket again, so we presented it together with your passport. We could now finally enter the boarding area.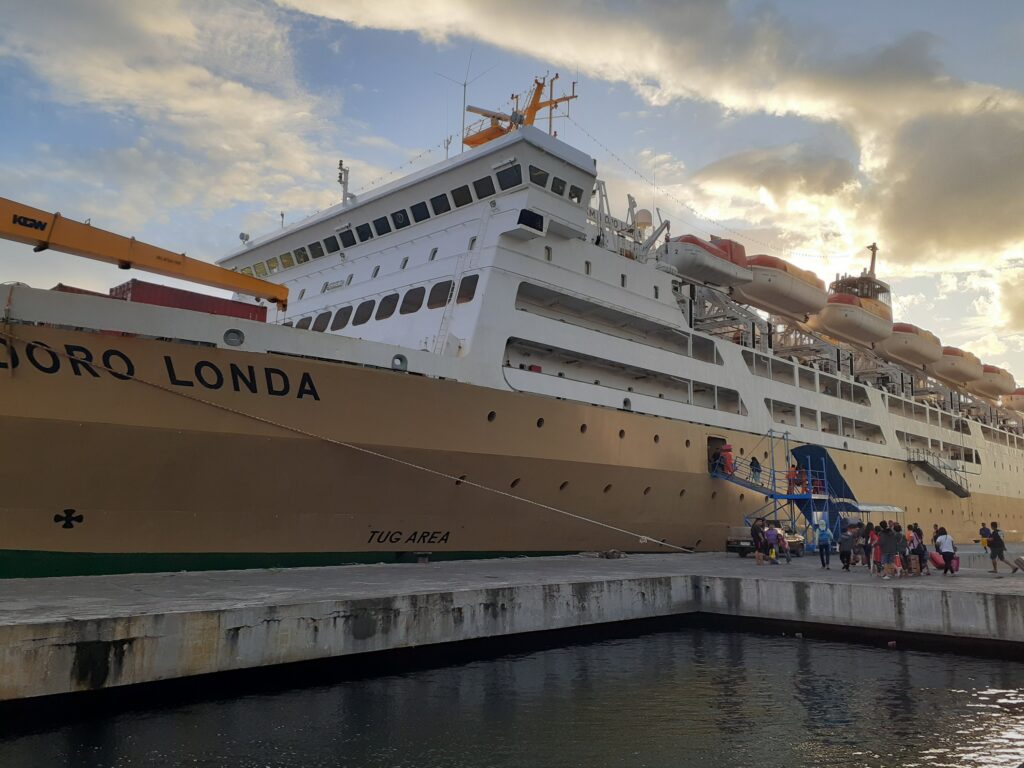 Our PELNI ship, the Doro Linda, was a big one! We took some photos and boarded. We had to show our boarding ticket on the stairs at the boarding gate and then went up.
At the entrance to the ship, we were welcomed by the crew.
Economy class cabins were huge dormitories. We wanted a private room, if possible, so at this point we asked the uniformed crew if they had any cabins available.
One guy said yes and asked us to follow him. We were taken up several flights of stairs to the Clinic and where the nursing crew's private cabins were lined up.
He showed us his room and we negotiated the price down from 500,000 IDR to 250,000 IDR and was given the key. The cabin had two beds, a shower and toilet.
Arrival in Ternate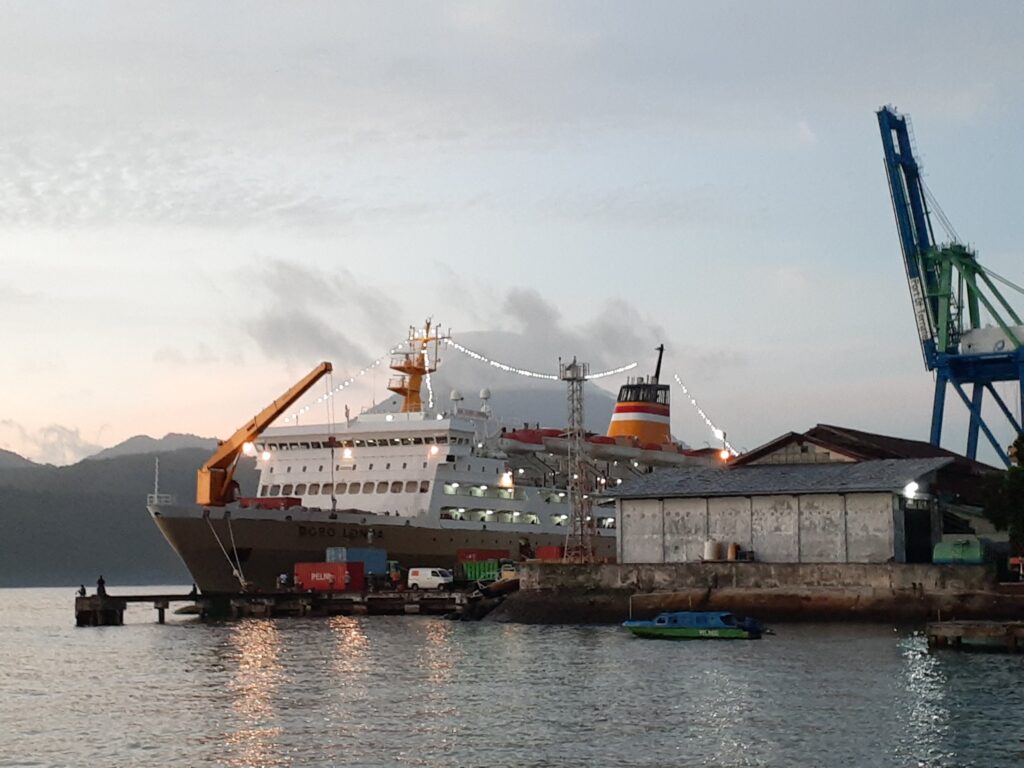 Departure was a little after the scheduled time when we left the port of Bitung. We were hungry, so we bought cup noodles from the ship's shop. We were also able to get hot water. The noodles came with a fold out plastic fork.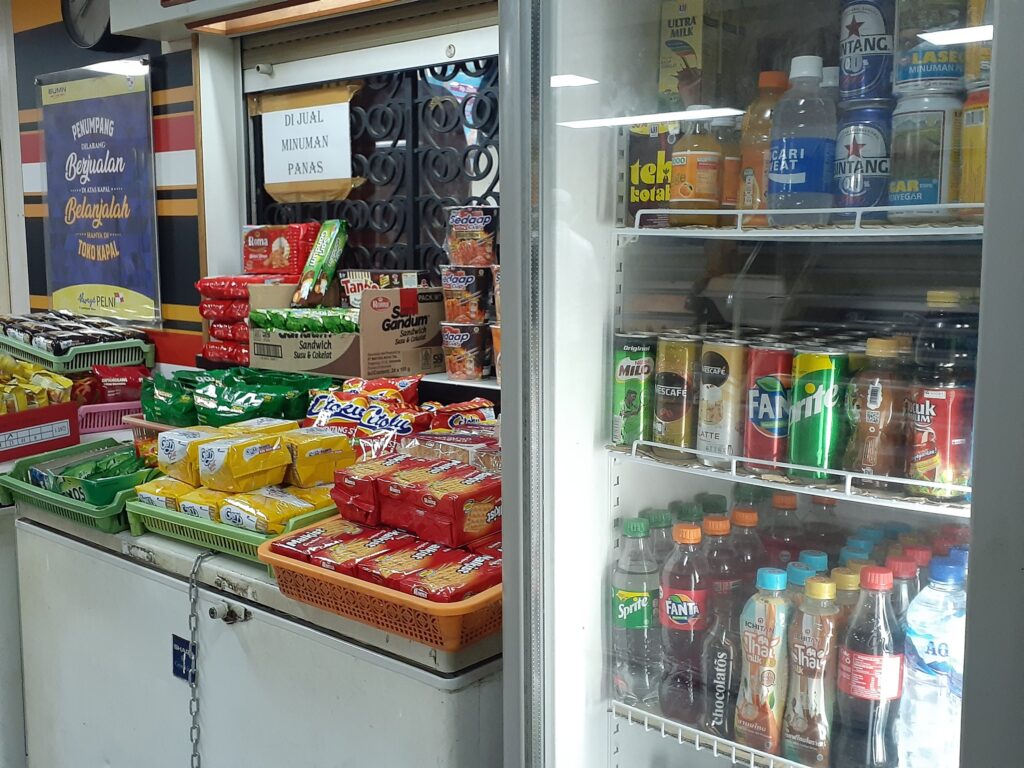 Cup noodles were a flat rate of Rp 20,000 from all the vendors who were roaming around the ship selling noodles, sweets and drinks.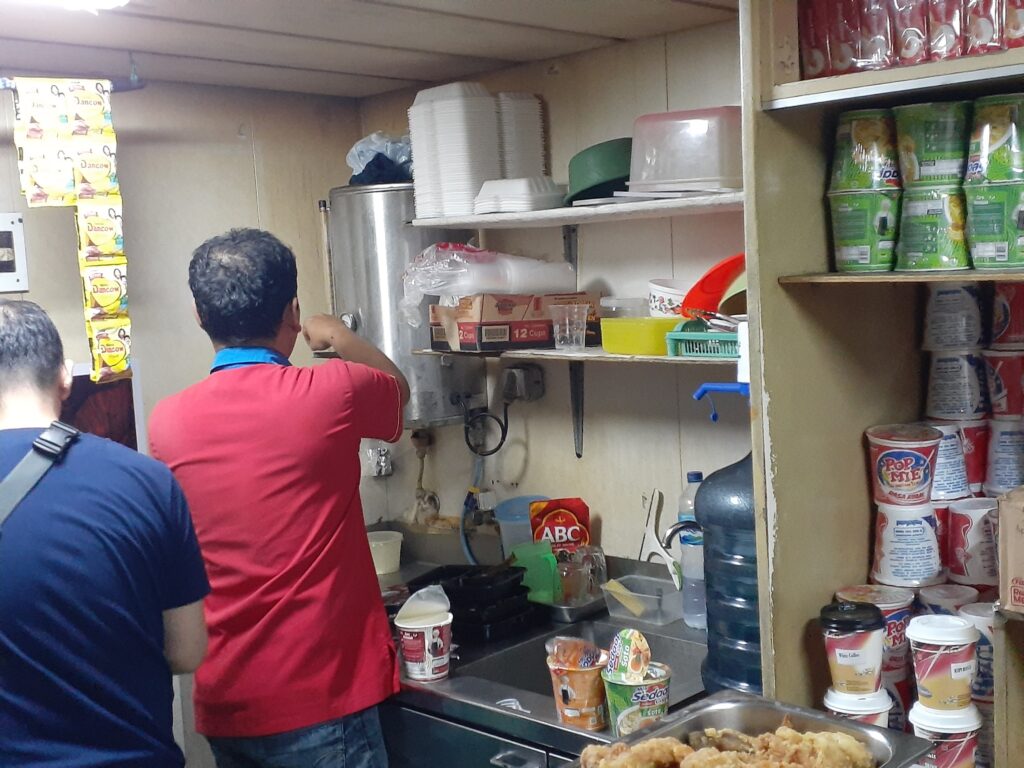 After dinner, we went to bed early. The journey was a little bit rough in parts, but as it was a private room, we were able to sleep without worrying about being disturbed by other passengers. The air conditioning worked too well and it was a bit cold during the night as we didn't have blankets.
The journey from Bitung to Ternate took 10 hours. In the morning, around the time we arrived in Ternate, we were woken by a knock on the door from one of the crew.
There is a one-hour time difference between Sulawesi and Ternate. Arrival time was 6:00 am local time it was still dark outside.
The ship departs for Ambon after Ternate, so the boarding of passengers from Ternate had already started as we got off.
We disembarked the ship through the exit for disembarking passengers, although porters and some passengers were coming up as we were going down! After arriving in Ternate, we waited for the sun to come up, had some breakfast before heading to our guesthouse.