After one night in Dumaguete, we crossed to Siquijor Island.
Siquijor Island is well known not only as a snorkelling and diving spot, but also for its 'witchcraft', a blend of Christianity and indigenous religion.
The following is a summary of the transfer from Dumaguete to Siquijor Island.
About Siquijor Island
Siquijor Island is a small island in the south-east of Negros Occidental, surrounded by mangroves and coral reefs.
The island is about 80 km around and has a population of about 80 000 (2000). The island is called Siquijor, as is the capital.
The main industry is tourism, which attracts visitors from the Philippines and overseas. Apart from snorkelling and diving spots, the island is also famous for its black magic.
Getting from Dumaguete to Siquijor Island
Travel from Dumaguete to Siquijor Island is by boat. Several ferry companies operate, with varying prices and speeds.
Ocean Jet is the most expensive, at 350 pesos per person and the journey takes only 50 minutes.
Other companies include Montenegro and Aleson, which take about 1.5 hours but are cheaper at around 200 pesos per person.
Ferry times vary according to the operating company. Some companies stop selling tickets an hour before departure. It is recommended to make arrangements as soon as you have decided on the boat you want to take.
Quick sightseeing in Dumaguete
The morning after our stay in Dumaguete, we decided to move to Siquijor Island and went to buy ferry tickets.
Before that, we went for a quick sightseeing tour of Dumaguete city. I snapped some photos of the sights on the way to the port.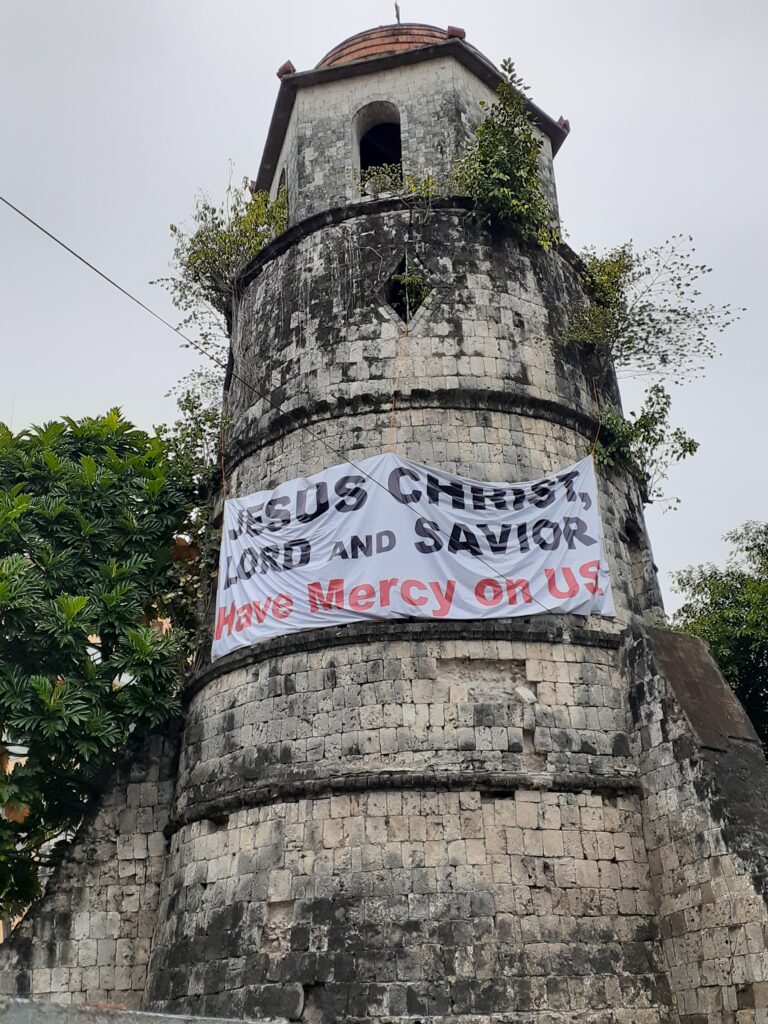 The orange domed roof is visible from a distance. The bell tower is made of coral stone.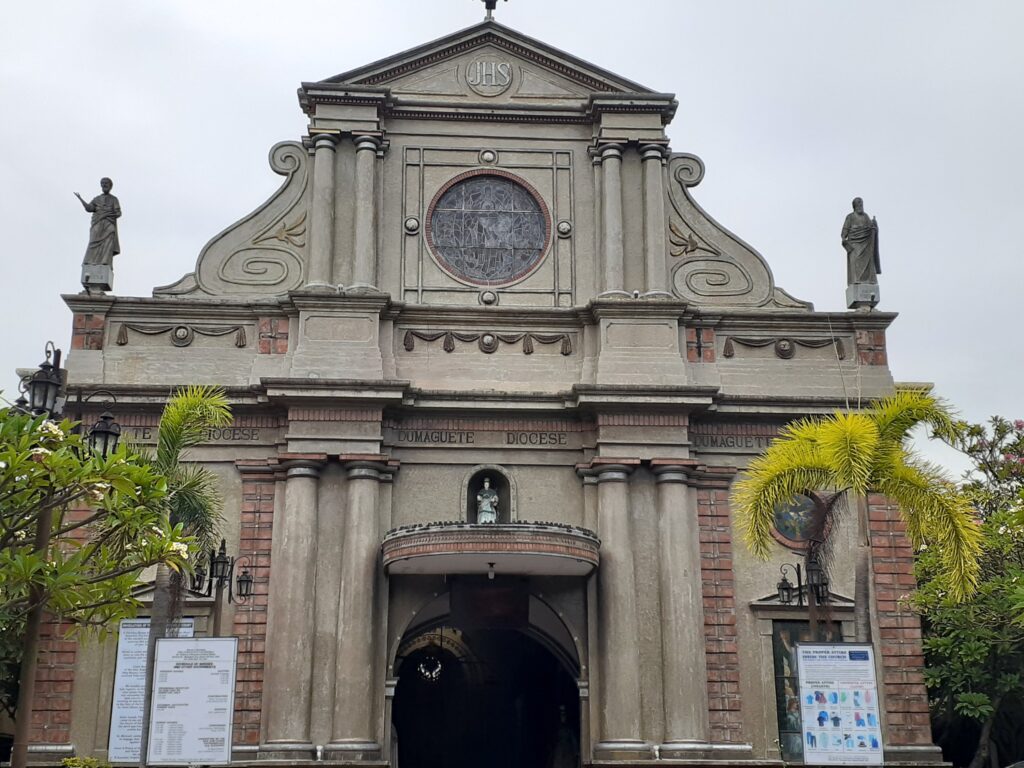 The most conspicuous cathedral, built in 1776, is the oldest stone church in Negros Occidental.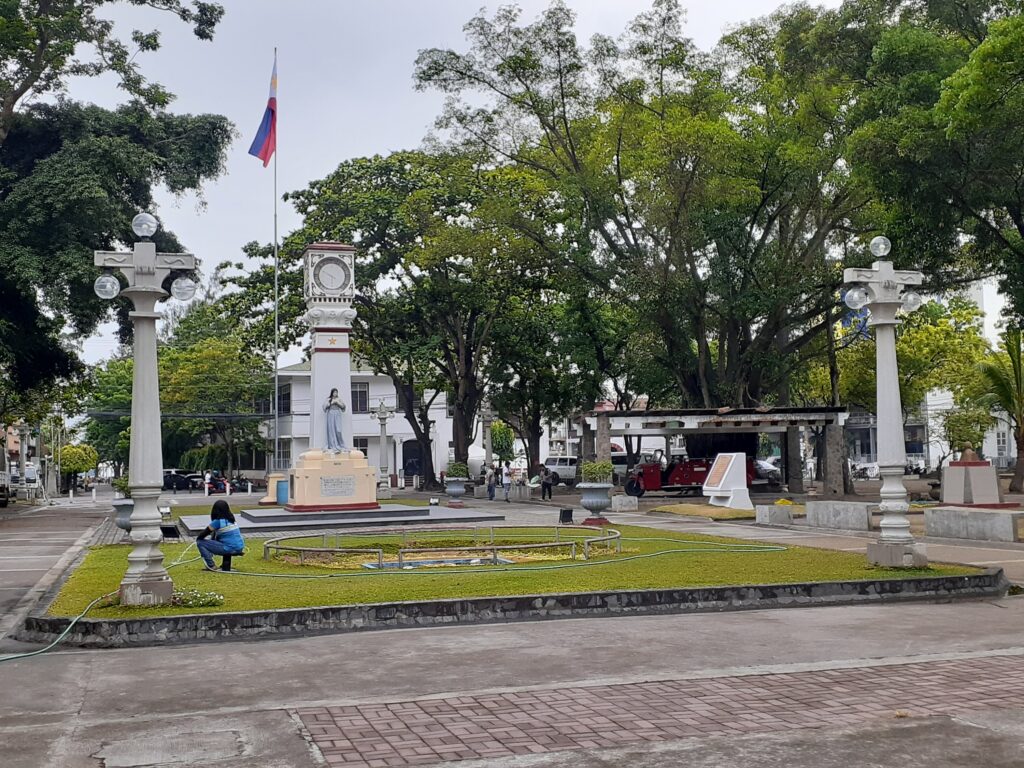 A place of relaxation for the locals. In the evening, groups of people were dancing and seemed to be enjoying themselves.
From the park, head east and continue north along the seafront road to the harbour. Ferry company ticket offices line the road to the harbour, where you can buy tickets.
Buying a ferry ticket to Siquijor Island
We checked the ferry schedule and found that there were two ferries leaving at 10am. Montenegro and Aleson, but we were told that Montenegro's 10am boat was cancelled that day. We went to the Aleson booth 20 metres away and found several people waiting in line.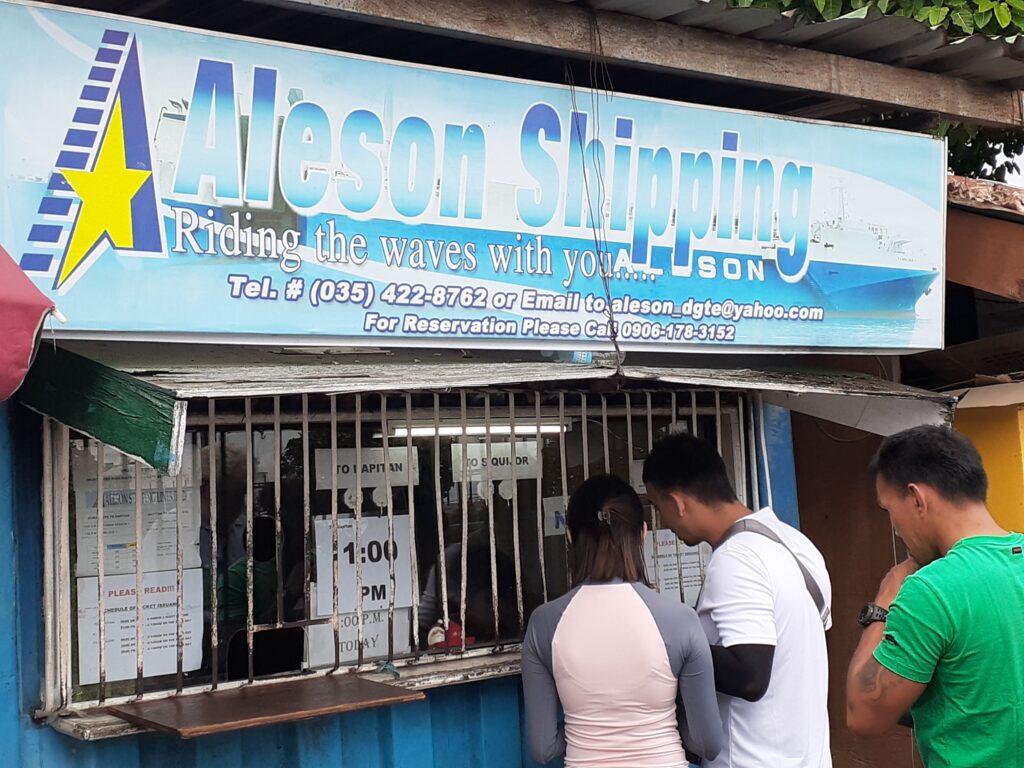 After waiting for about five minutes, we told them where we were going and the time of the ferry and bought a ticket. We were asked to show our passports(or other ID).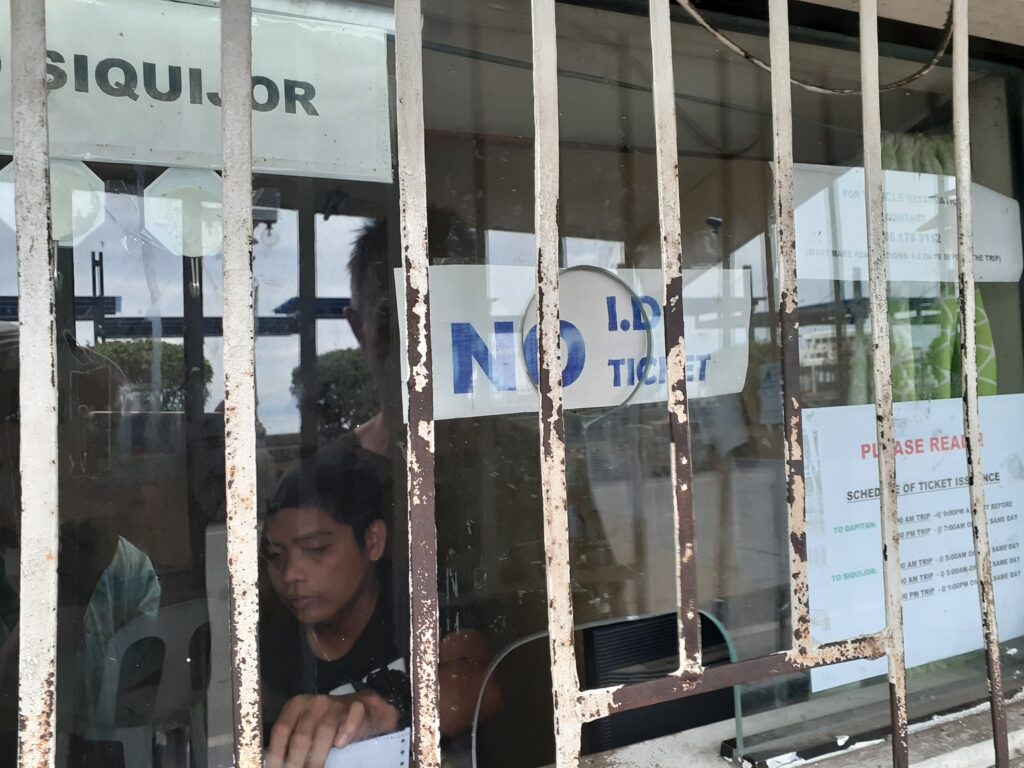 The 10am departure to Siquijor Island cost 200 pesos per person.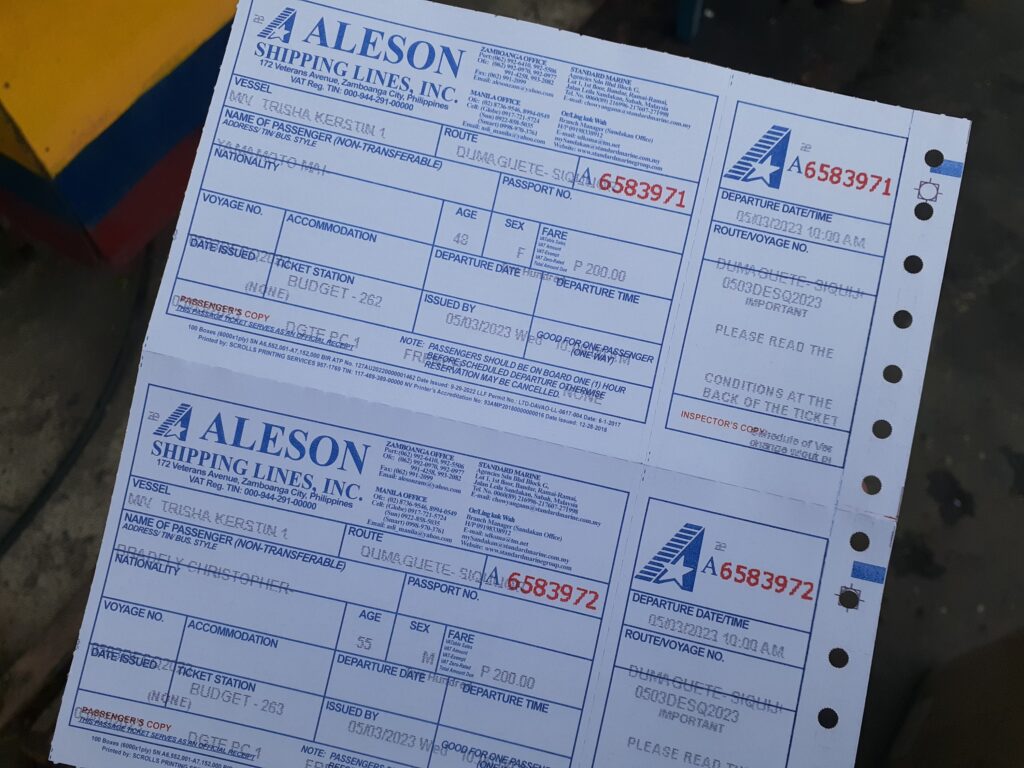 Your name is printed on the ticket. We were told to check in at the port 30 minutes before departure, i.e. at 9.30 am.
Breakfast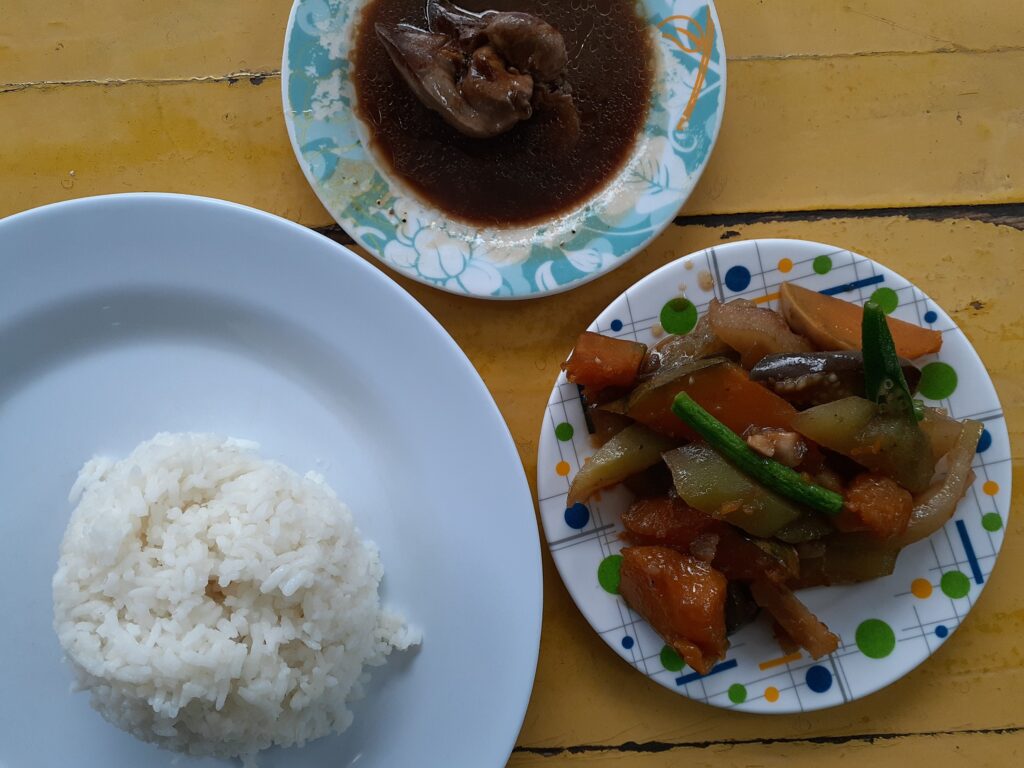 We hadn't had breakfast yet that day, so we stopped at a small canteen on the way back from buying our tickets.
There was a line of pre-cooked side dishes, which you can order by pointing. Vegetable-based side dishes start at 25 pesos per plate and meat dishes from 30 pesos, which is quite reasonable.
Check in at Dumaguete Port
After breakfast, we returned to the hotel to pack and check out. From there, we walked again to Dumaguete Port.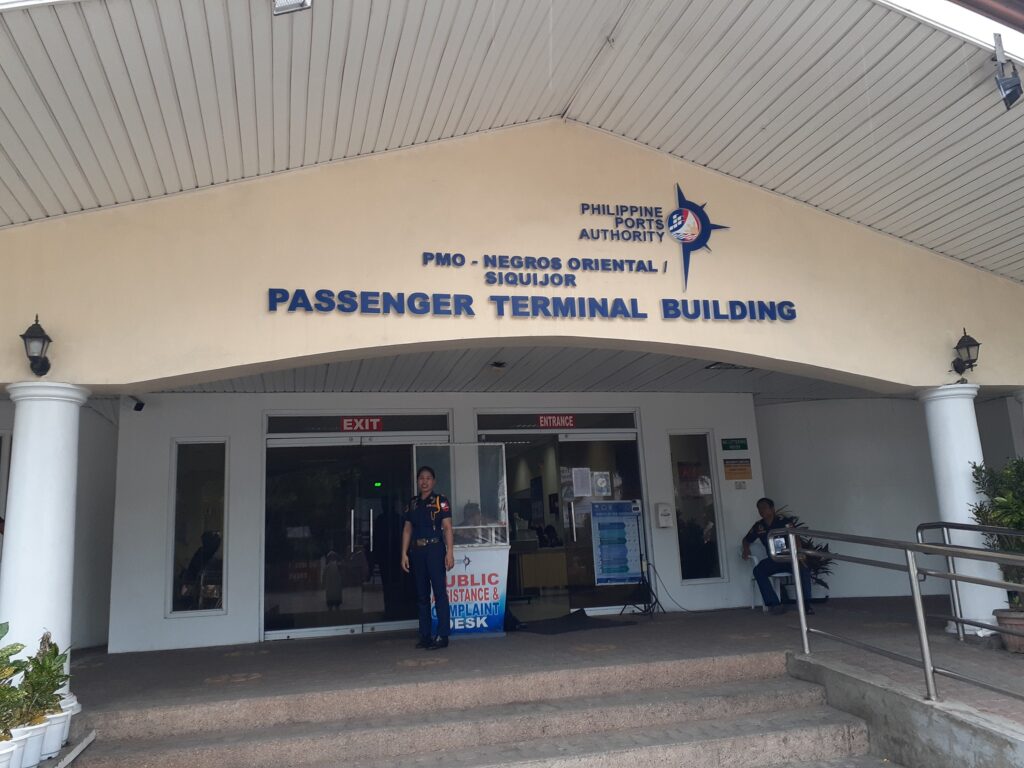 At the entrance to the Dumaguete Port grounds, we showed the security guard the tickets we had purchased and entered.
After a short walk through the gate, you will see a building on your right. Passengers embark from here.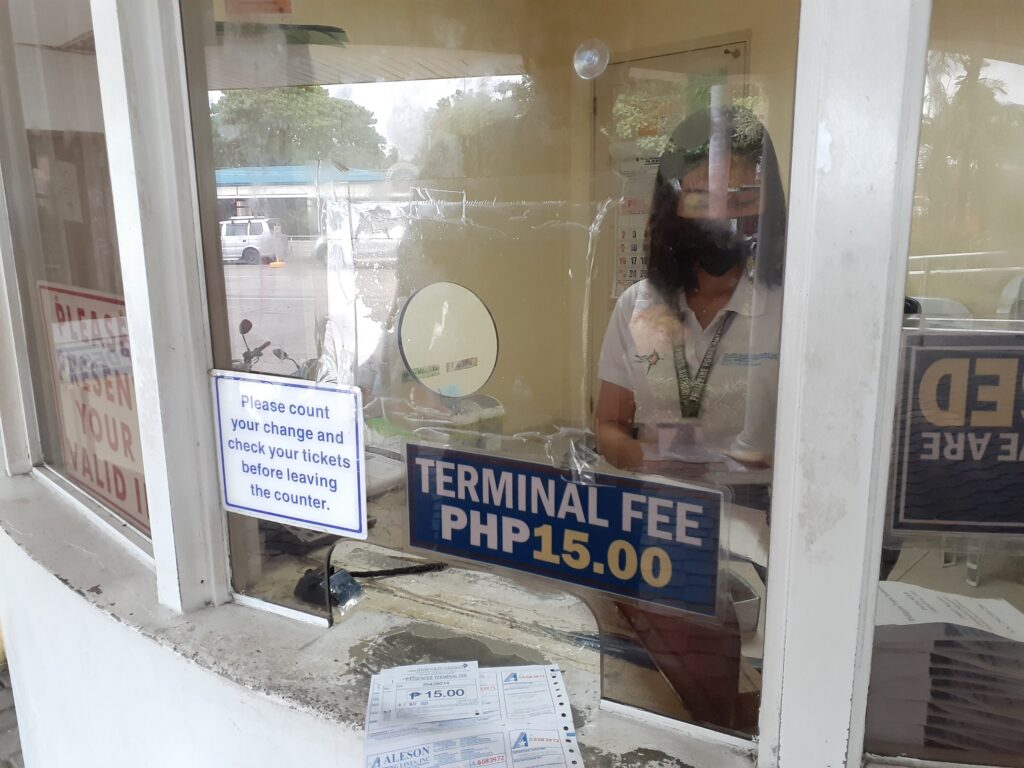 There is a booth for the Dumaguete Port fee on the left side of the entrance, where you pay 15 pesos per person.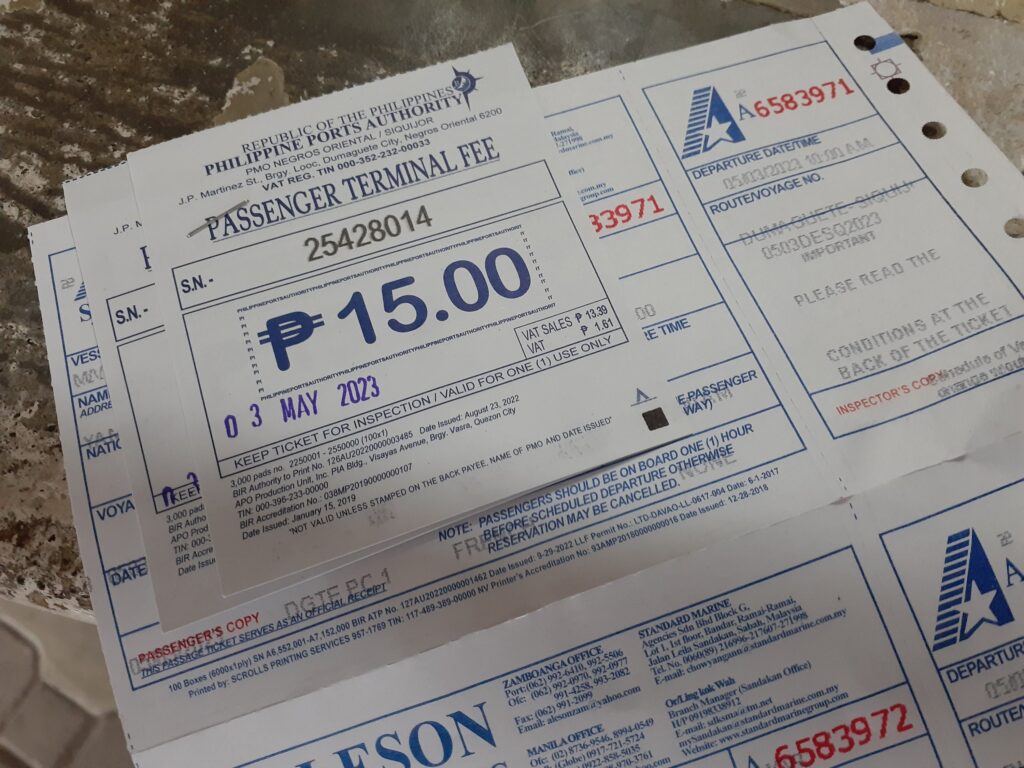 When you pay the port fee, a receipt for the fee is attached to your ferry ticket. Take this with you into the building.
At the entrance, present your ticket with the receipt and scan your luggage with an X-ray. Once inside, you will find a waiting room, but by this time it was already 9.30am and boarding had started.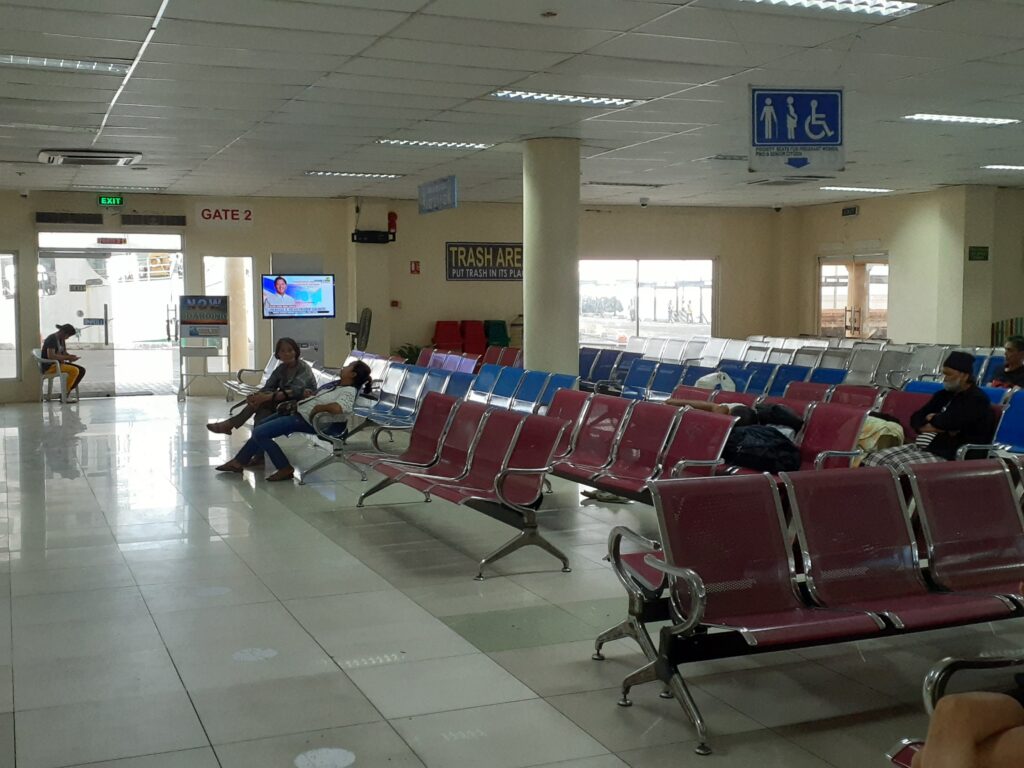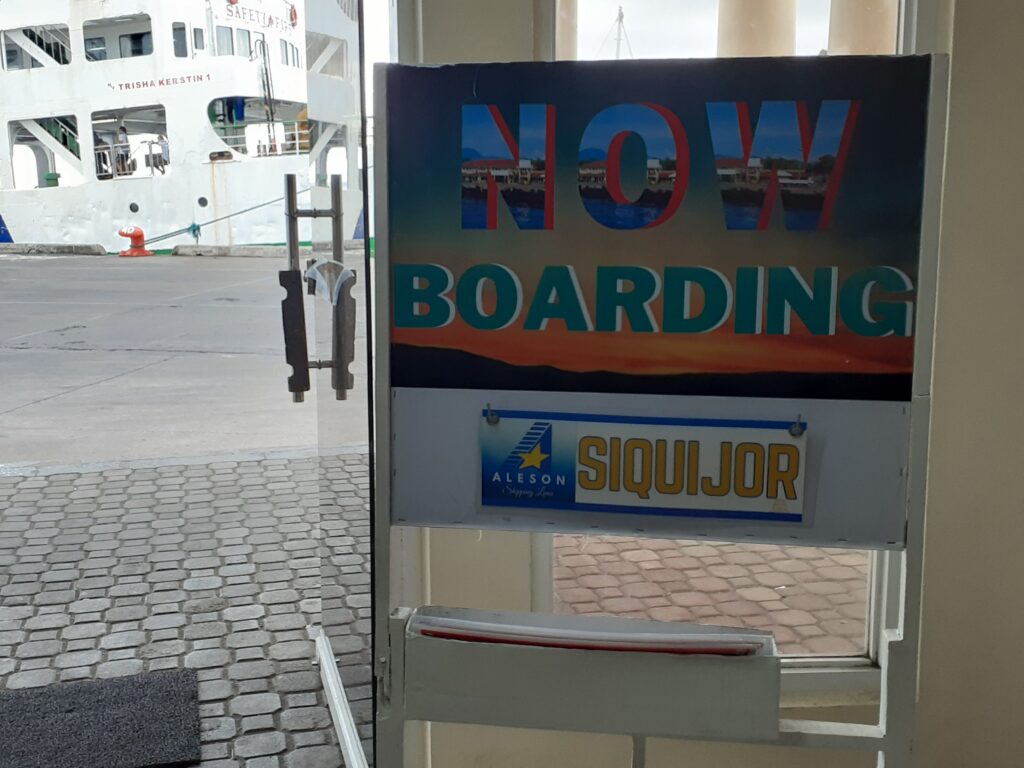 Present your ticket again at the boarding gate and walk on board.
Boarding the ferry from Dumaguete to Siquijor Island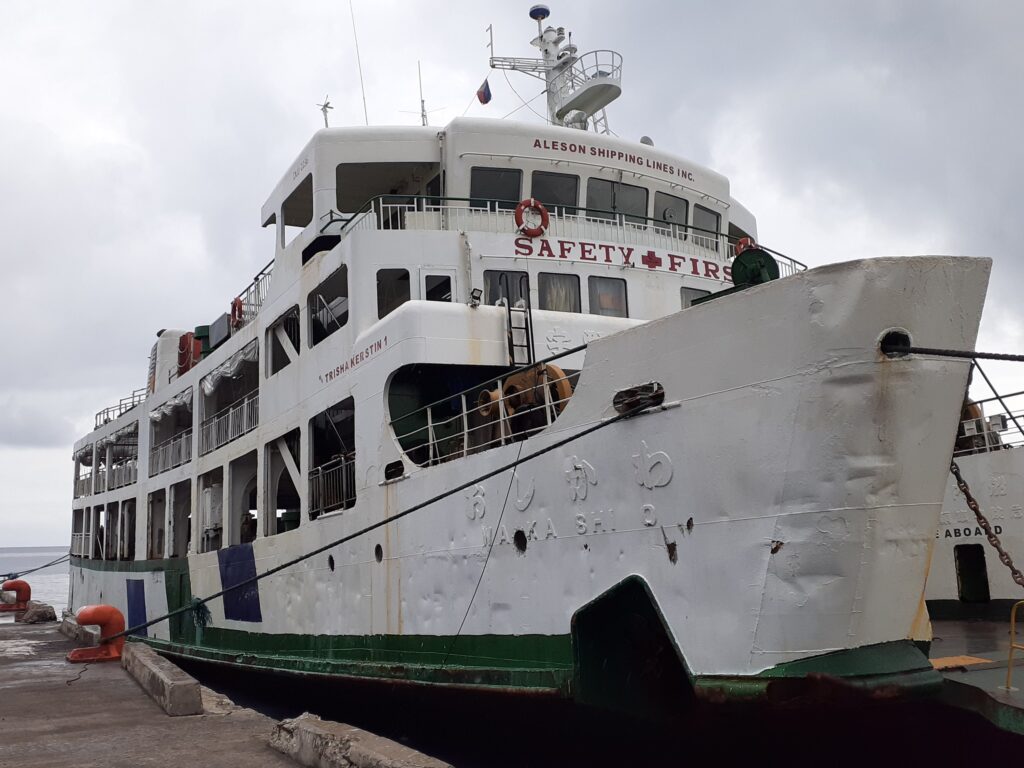 The Japanese name "Wakashio" is still faintly visible, indicating that it was a ship from Japan.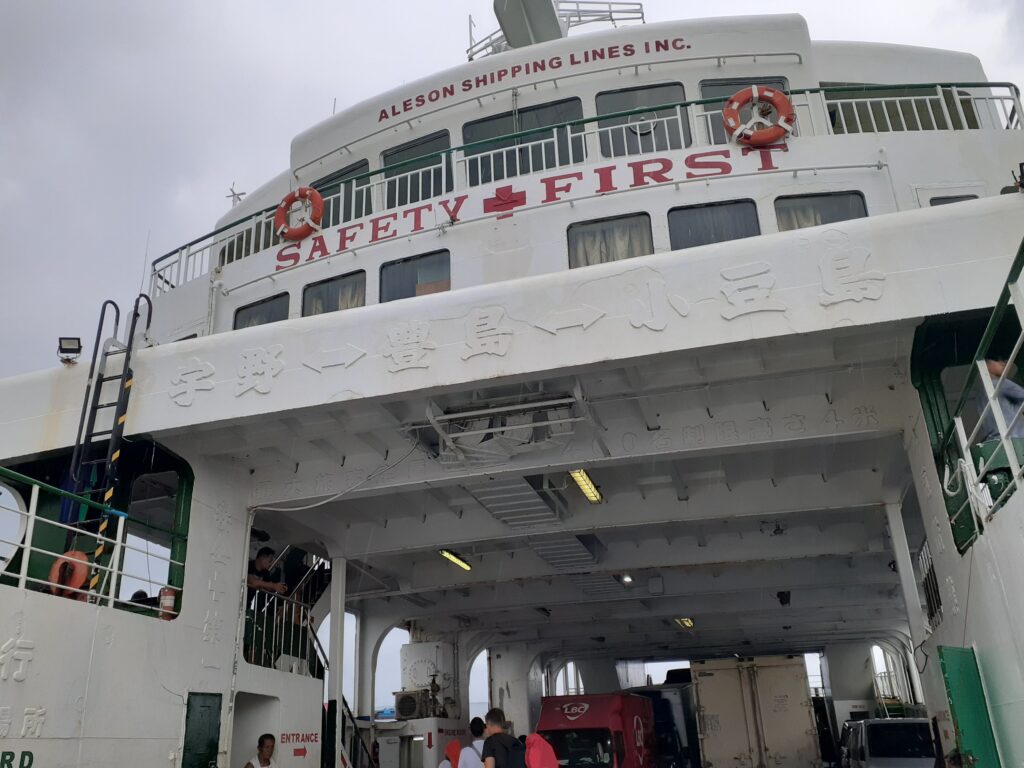 There was some Japanese written on the ship, and it looks like the ferry used to operate between Uno Port in Tamano, Okayama Prefecture, and Shodoshima Island.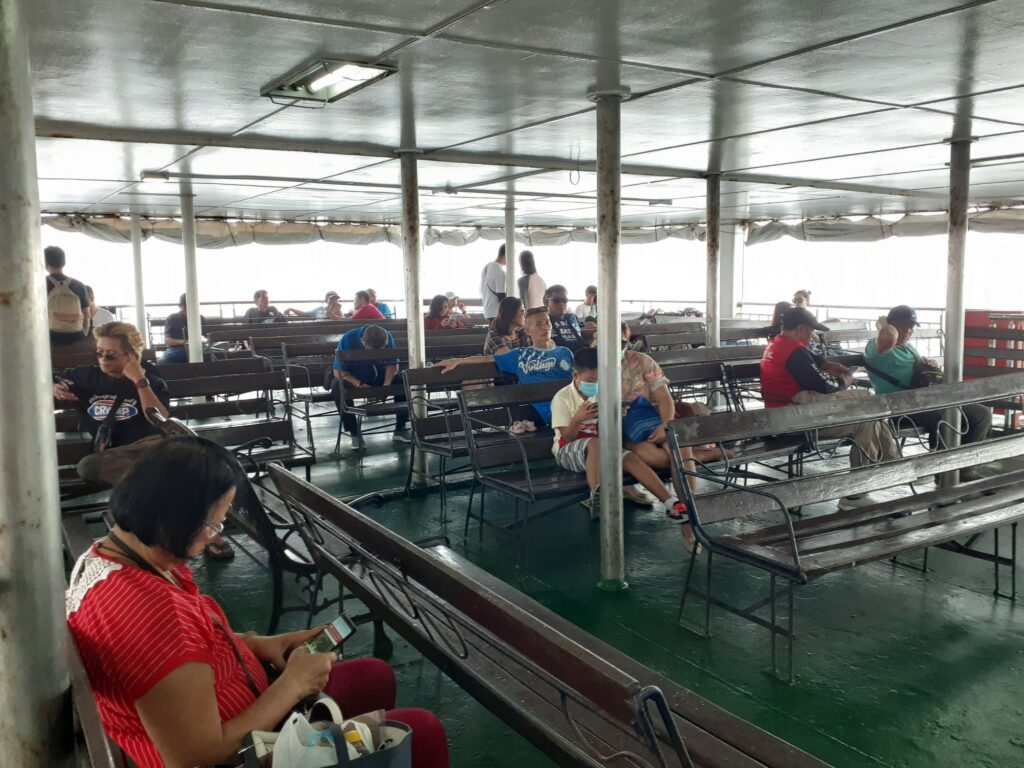 Once on board, there are indoor and outdoor seating areas where you can sit freely. At this time, it was a weekday and the boat was not full; some people were lying on benches and sleeping.
The scheduled departure time was 10:00 am, but the boat departed a little later, at around 10:15 am. The sea was calm, but the sky was overcast and there was light rain.
Arrival at Siquijor Island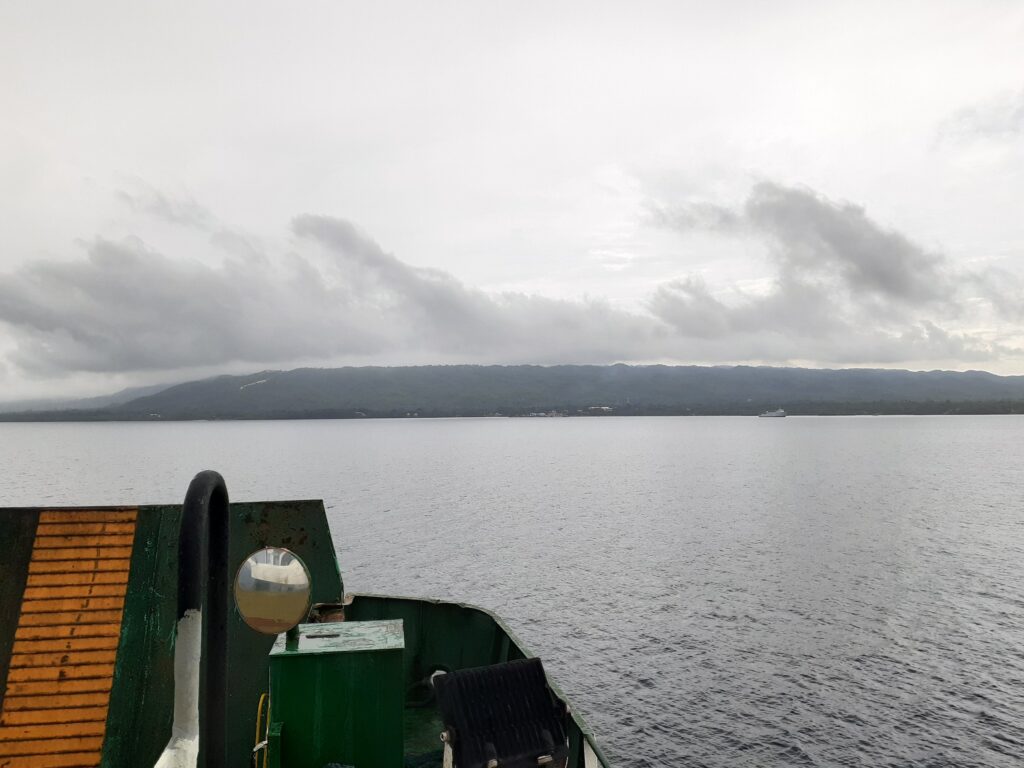 As we approached Siquijor Island, the sky became brighter.
The ferry left Dumaguete at 10.15 am and arrived at Siquijor Island at 11.50 am. The journey took about one and a half hours. Smooth trip on a boat not really designed for open water:)
We rented a motorcycle from a motorbike rental shop near the port where we arrived and headed to the guesthouse we had booked.