We had a four night stay on Siquijor Island, an island southeast of Negros Occidental, Philippines. It was a chilled place with some snorkeling and touring the island by moped.
Siquijor Island is a small island, 80 km around and is surrounded by coral reefs. It's a popular snorkelling and diving spot.
Arrival at Siquijor Island: transfer from the landing stage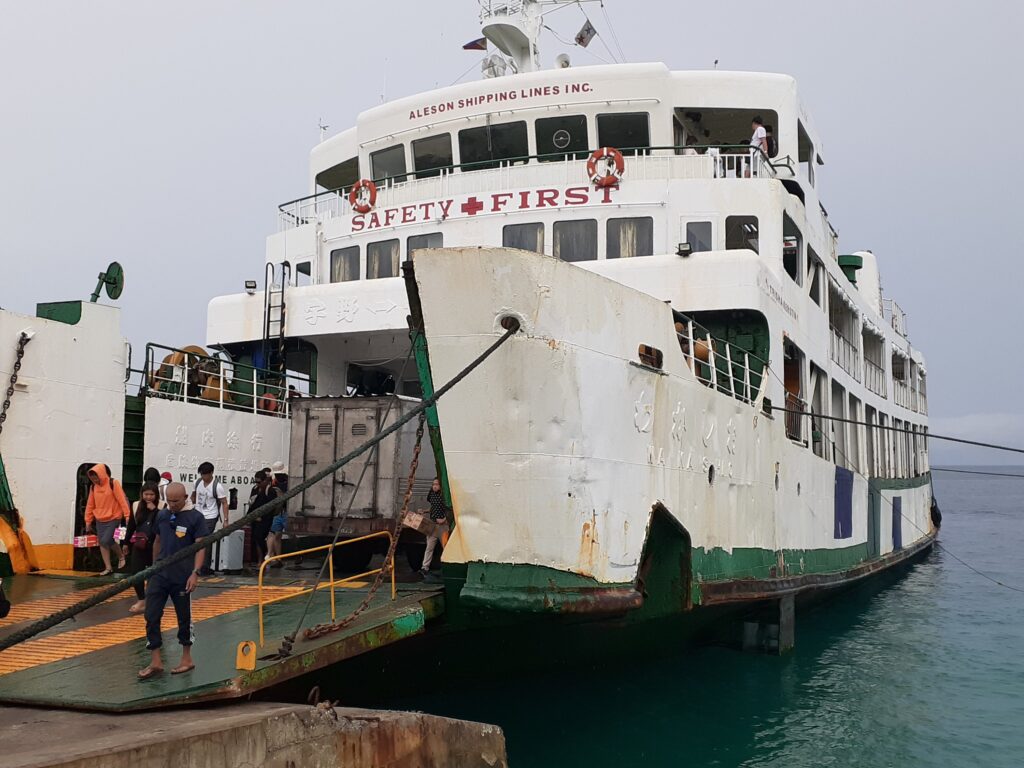 We took the ferry from Dumaguete to Siquijor.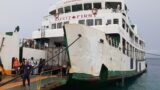 Boat Trip from Dumaguete to Siquijor Island
After one night in Dumaguete, we crossed to Siquijor Island. Siquijor Island is well known not only as a snorkelling and...
It was lunchtime when we arrived at the Siquijor Island landing stage, so we first had lunch at a nearby restaurant before going to rent a motorcycle.
Our guesthouse for the night was already booked, but it was too far away from the landing site to walk. We could have taken a jeepney or arranged a tricycle, but we were planning to rent a motorbike on the island anyway. So we decided to rent one near the landing as soon as we arrived.
Incidentally, many guesthouses on Siquijor Island offer a motorbike rental service. It may be cheaper to rent a bike at a guesthouse or similar than at a shop near the landing stage.
Some guesthouses may be able to arrange transport to and from the landing site, so ask when you make your booking. They may also charge you for the transfer as well.
Siquijor Bell Tower and Church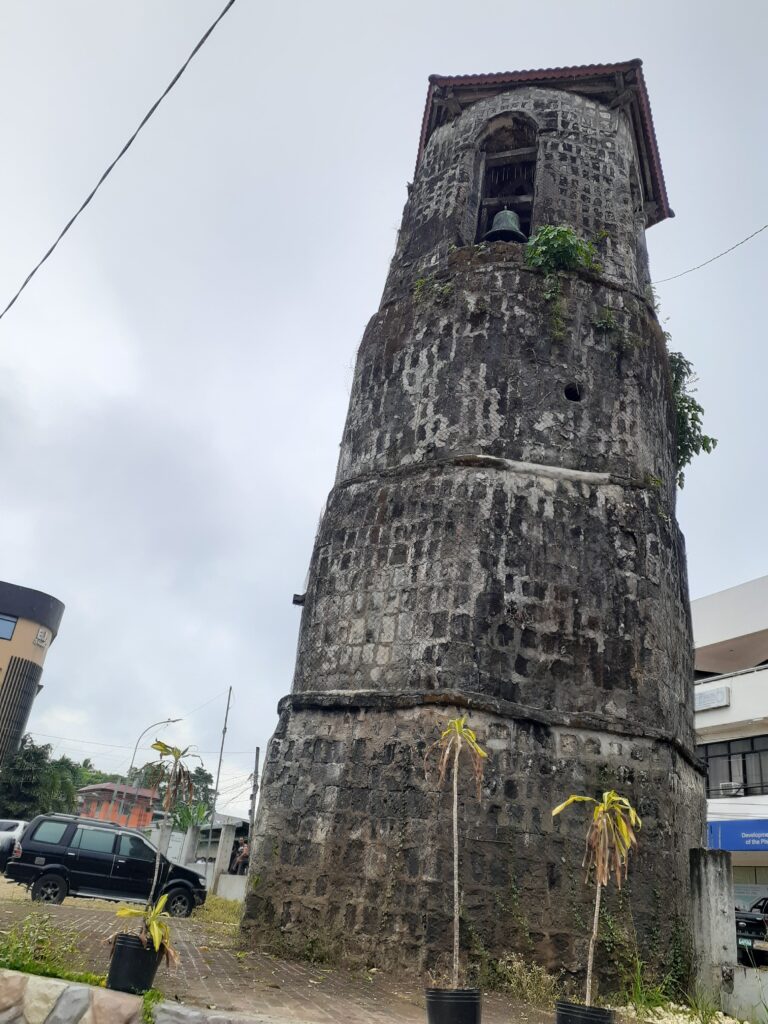 Before renting a bike, we stopped at a tourist attraction near the landing, Siquijor Church and Bell Tower. They are located close to where the ferry lands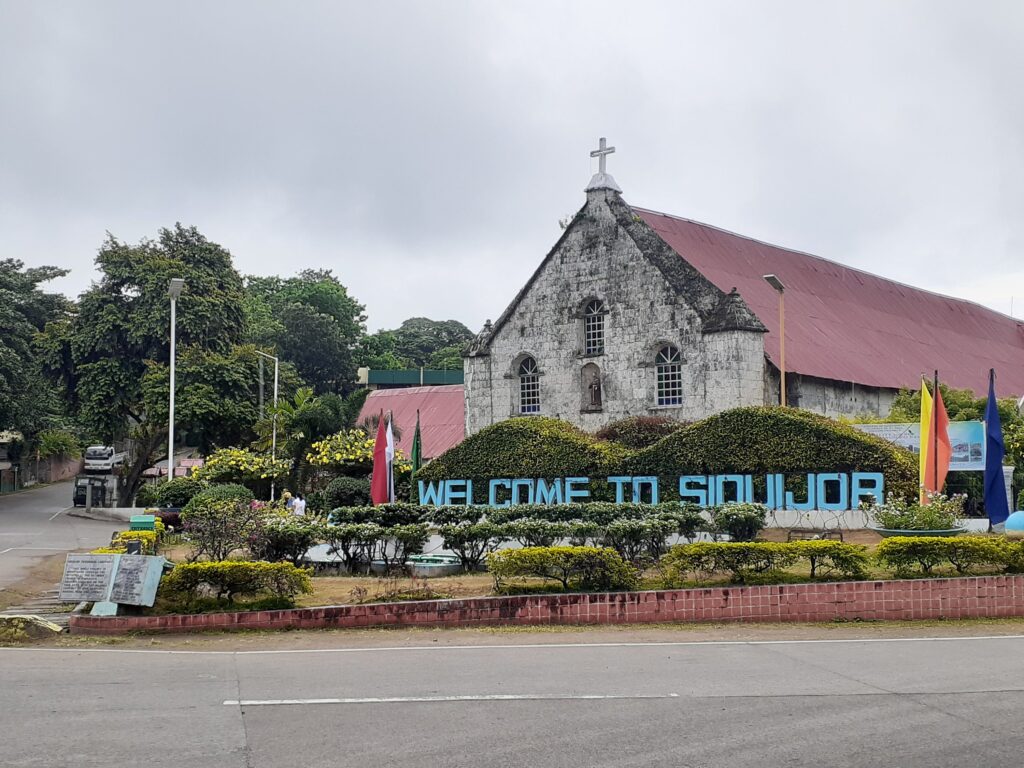 A short distance from Siquijor Hall Church is the bell tower and the convent. Built in 1783, it is the oldest church, monastery and bell tower on Siquijor Island.
Motorbikes for hire
We hired our motorbikes from PLS MOTORBIKE RENTAL, opposite the church in front of the Siquijor boat landing.
We were told that the price would be 400 pesos per day (24 hours) for an automatic vehicle, and 350 pesos per day if we wanted to use it for more than three days. We took two days and if we wanted to extend we could simply call or WhatsApp.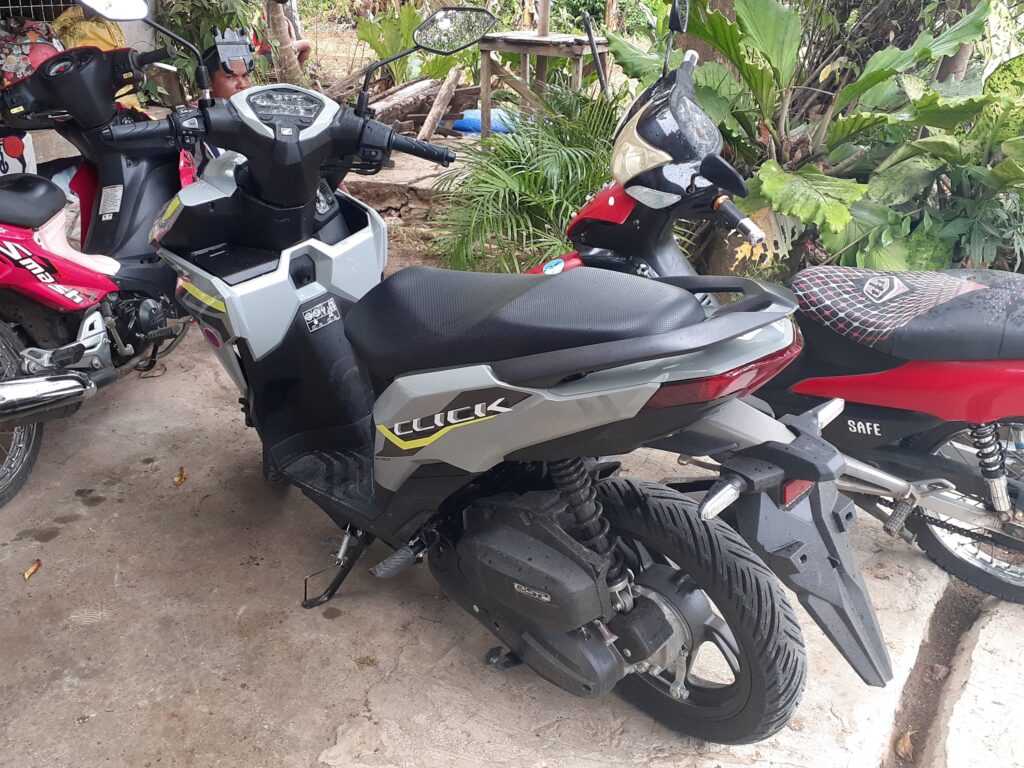 The bike was new, just three months old. You need to sign a contract and leave your ID as a deposit. I left my Québec driving licence.
We had to refuel first when we rented the bike, as there was very little petrol in it. The guesthouse we booked for the day was close to the Tubod Marine Sanctuary, so we refuelled on the way there.
Driving a scooter with two backpacks and two adults on board is not an easy task, but we managed to get to the guesthouse.
Snorkelling at Tubod Marine Sanctuary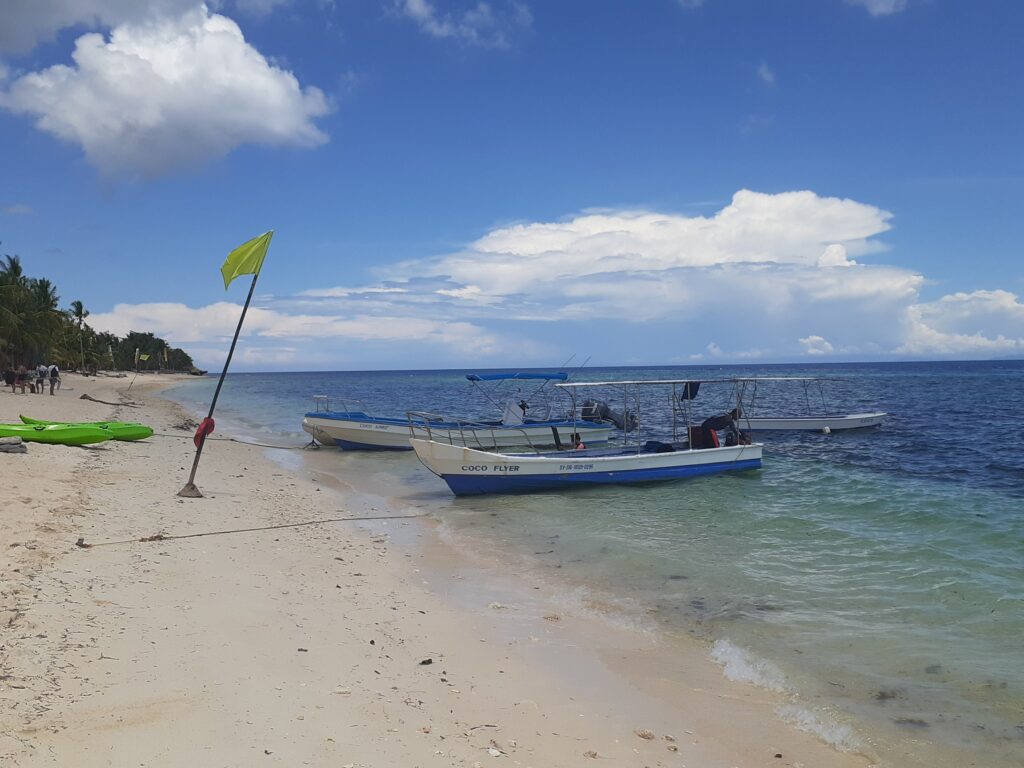 The Tubod Marine Sanctuary is considered one of the best snorkelling spots on the beaches of Siquijor Island. The sanctuary is a protected area, so there is an entrance fee of 100 pesos per person per day.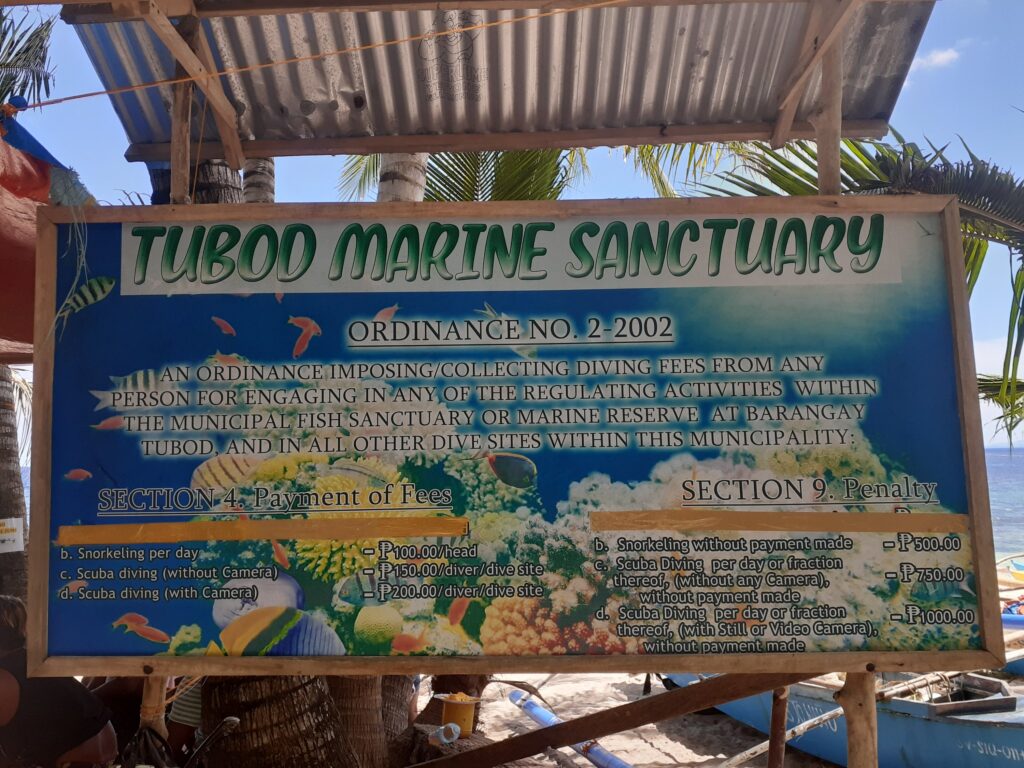 The Marine Sanctuary is a protected area, so luckily the coral reefs were beautiful and there were also many fish. Fishing is prohibited in the protected area, so you don't have to worry about fishermen and their boats.
You can snorkel as many times as you like for 100 pesos a day. However, it is not recommended when the tide is low as the water level is too low and you risk injuring yourself on the coral reef.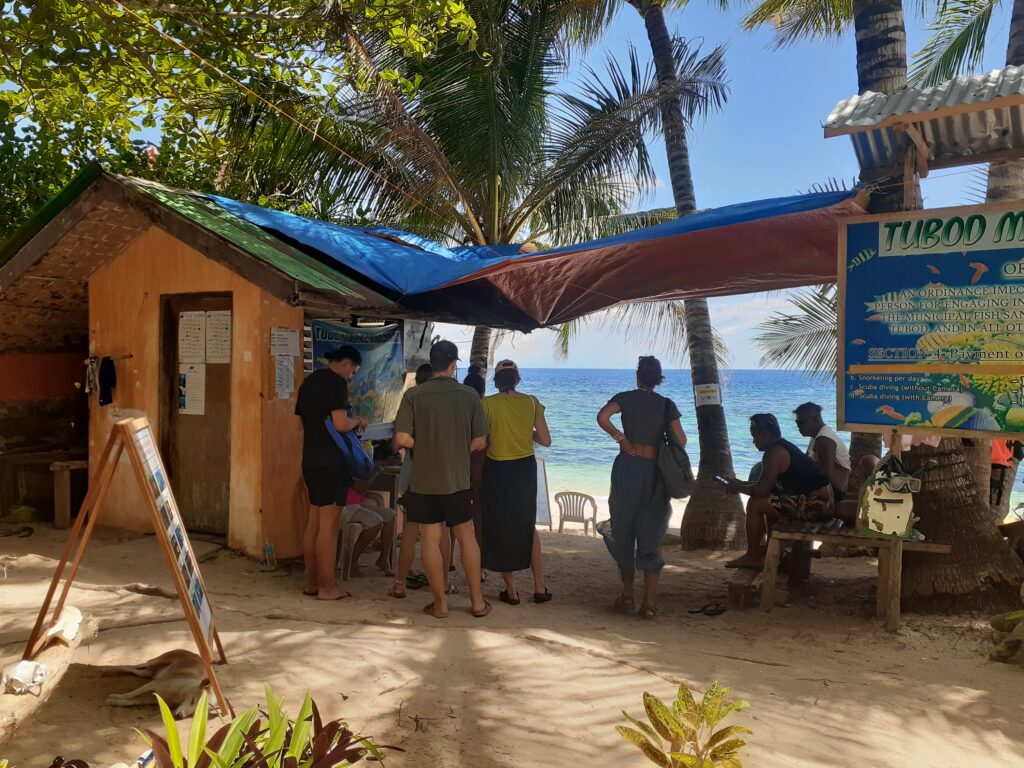 There are several snorkelling spots on Siquijor Island, but at low tide, the water level is too low to swim in most places.
At this time, the full moon was coming up and the water level was high at high tide with the high tide time at around 10-11am.
Moreover, on Siquijor Island, the timing of the hotel reservations was not good and we could not stay in the same accommodation for consecutive nights, so we had to change accommodation every day. It was tricky because the best time to swim was right around check-out time, but we had no choice.
Around the island by motorbike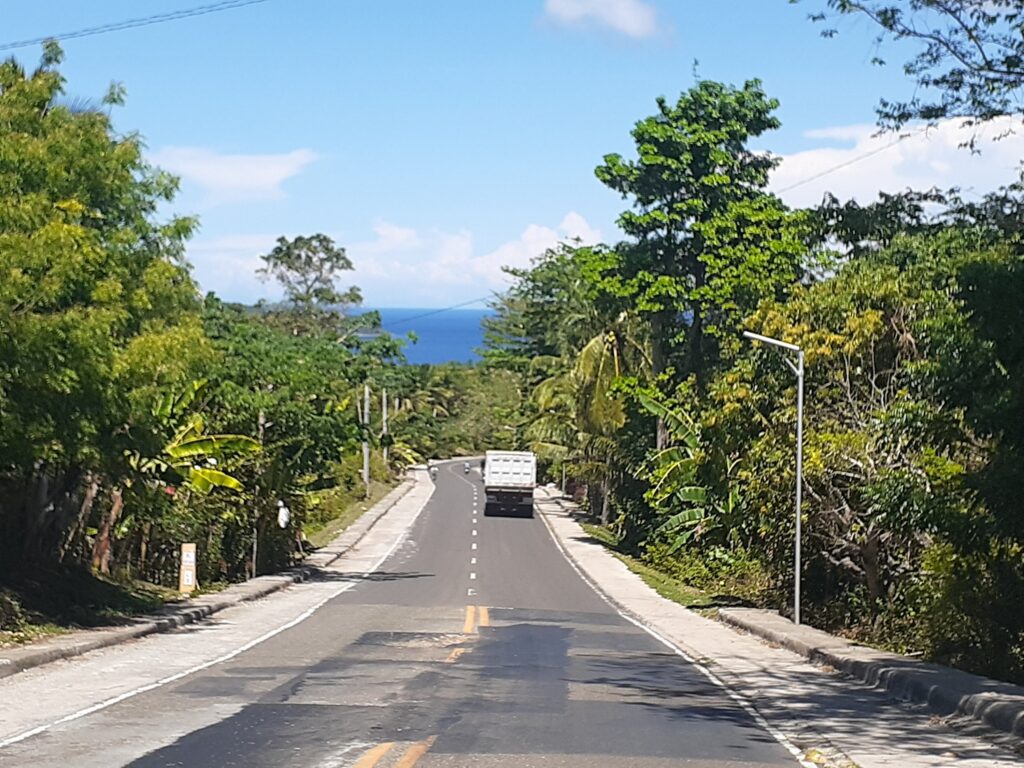 Siquijor Island is a small island, about 80 km in a circle. As we had rented a motorbike, we decided to go around the island by motorbike to see the sights.
As of May 2023, there was road construction work going on all over the island, but basically the roads are smooth and paved with concrete or asphalt.
Traffic is slightly heavier during the morning and evening rush hours, but at other times of the day traffic is very light.
We went round in an anti-clockwise direction from the San Juan area where we were staying.
Old Enchanted Balete Tree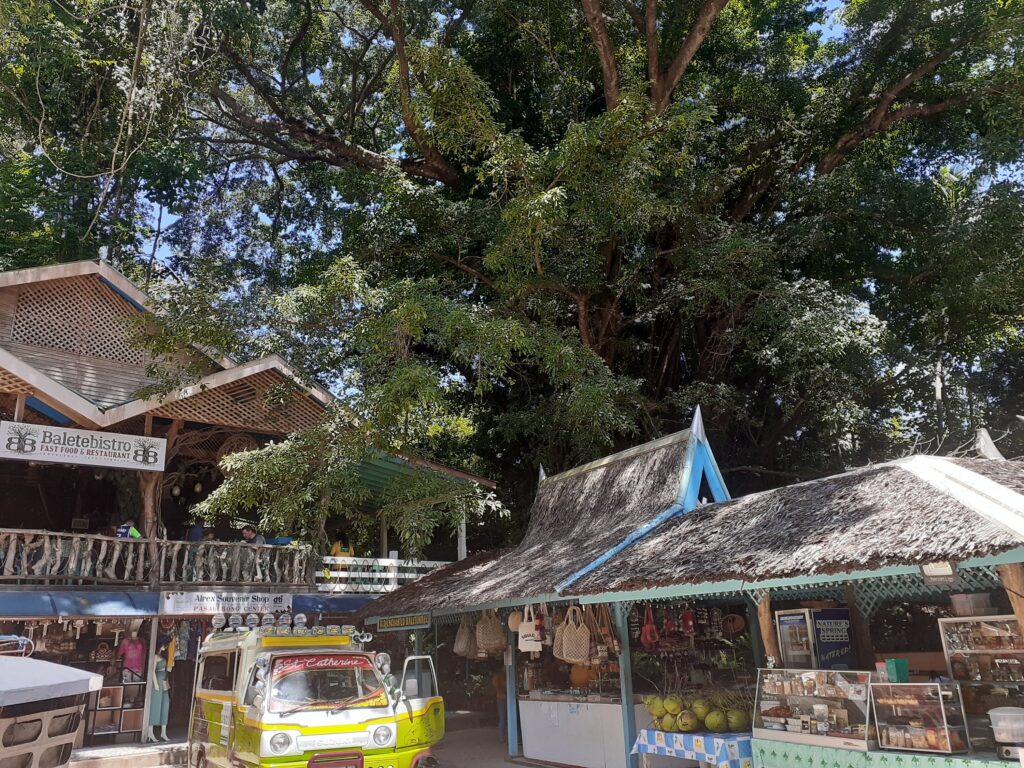 You can doctor fish under a 400-year-old tree. Doctor fish means that fish eat the dead skin off your feet. All you have to do is dip your feet in a puddle full of fish.
There was an entrance fee of 20 pesos per person, so we just took photos from the outside and walked through. You could see the tree from the outside and we didn't need our feet tickling by small fish.
Located on the north side of Lazi Beach.
Lazi church and monastery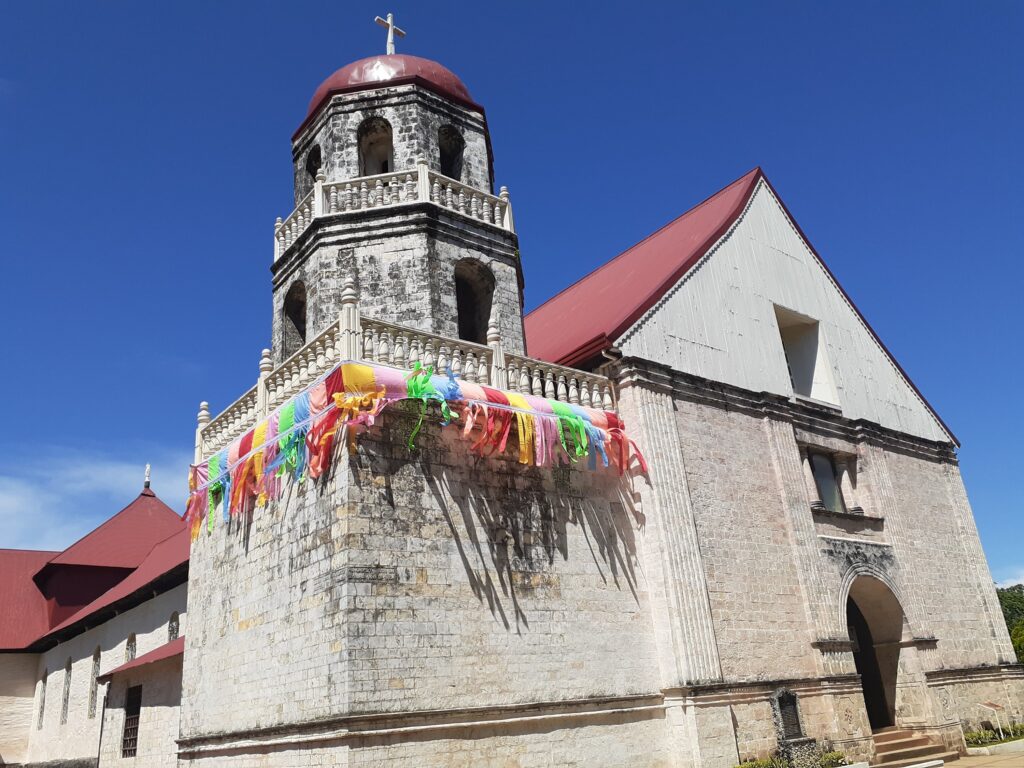 San Isidro Labrador Church, also known as Lazi Church, is a Roman Catholic church. It has a beautiful orange domed roof.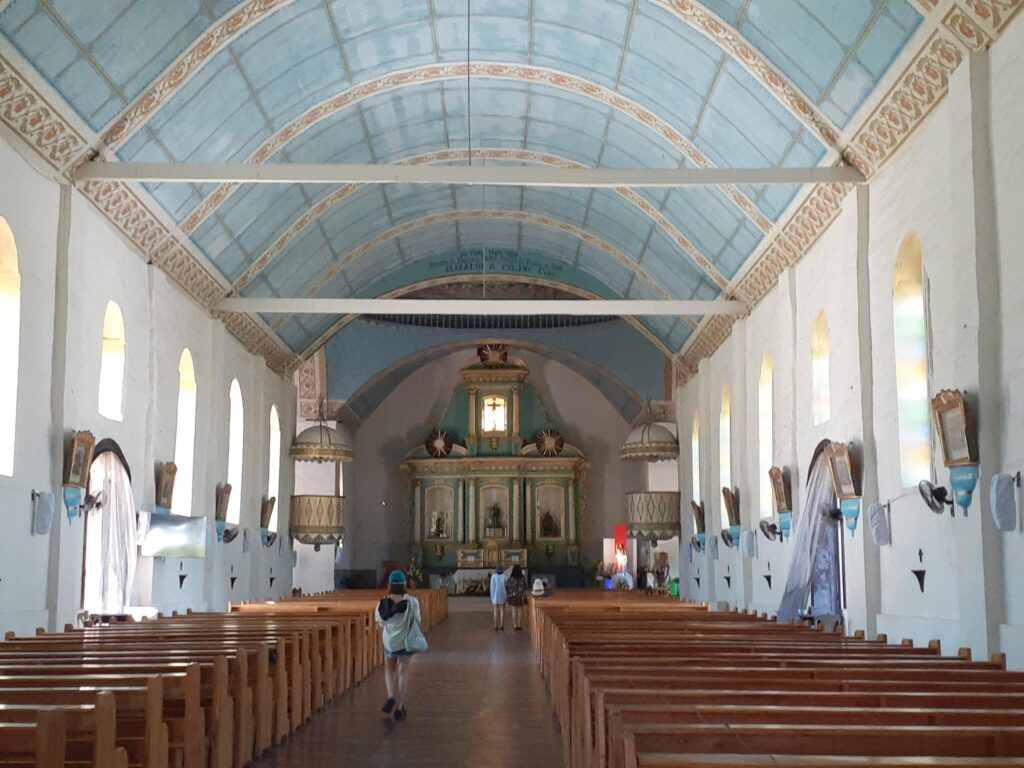 The inside of the church is designed in chic light blue and white.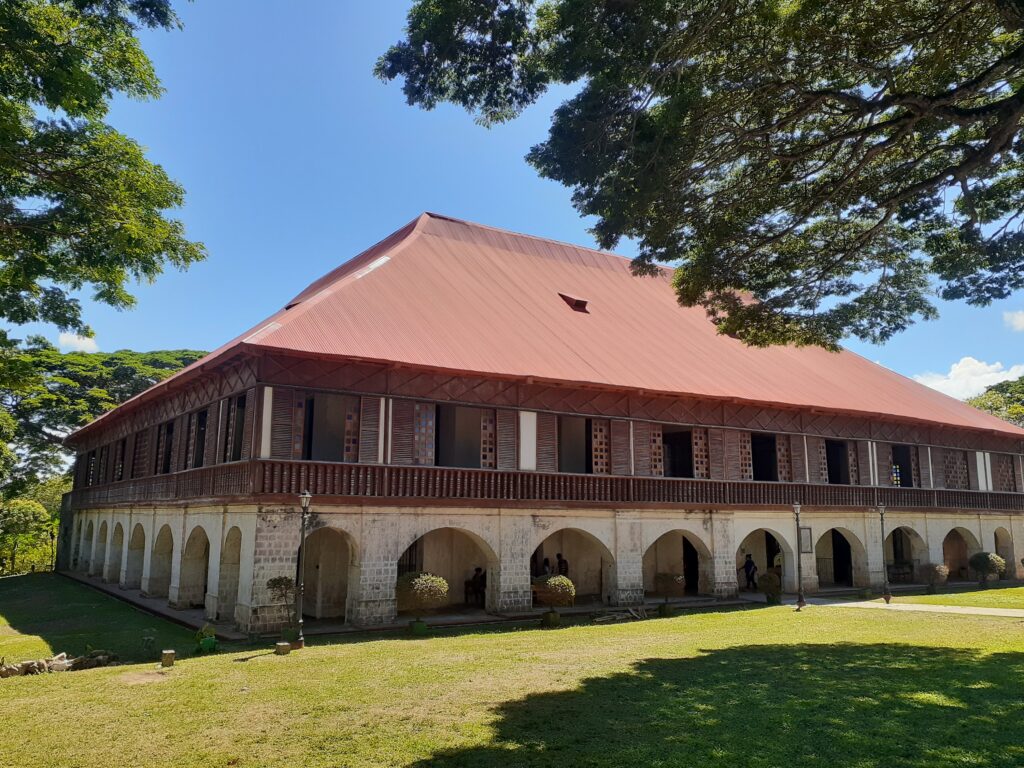 Across the road is a large monastery, partly a museum, which is open to the public. Admission is 20 pesos per person.
Our Lady of Divine Providence Church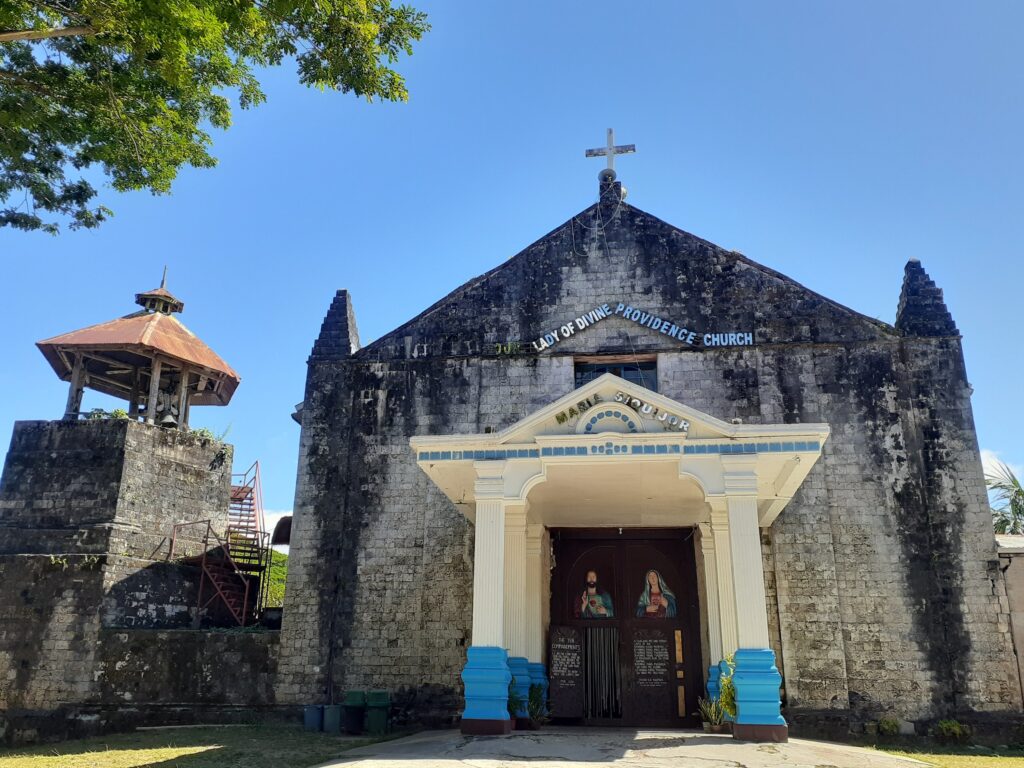 Built in 1887, this stone Roman Catholic church is located in the María neighbourhood. It has a distinctive hexagonal bell tower and is a national historic monument.
The wooden door at the front displays the Ten Commandments. The age-old stone walls are inset with colourful window panes in a stained-glass style.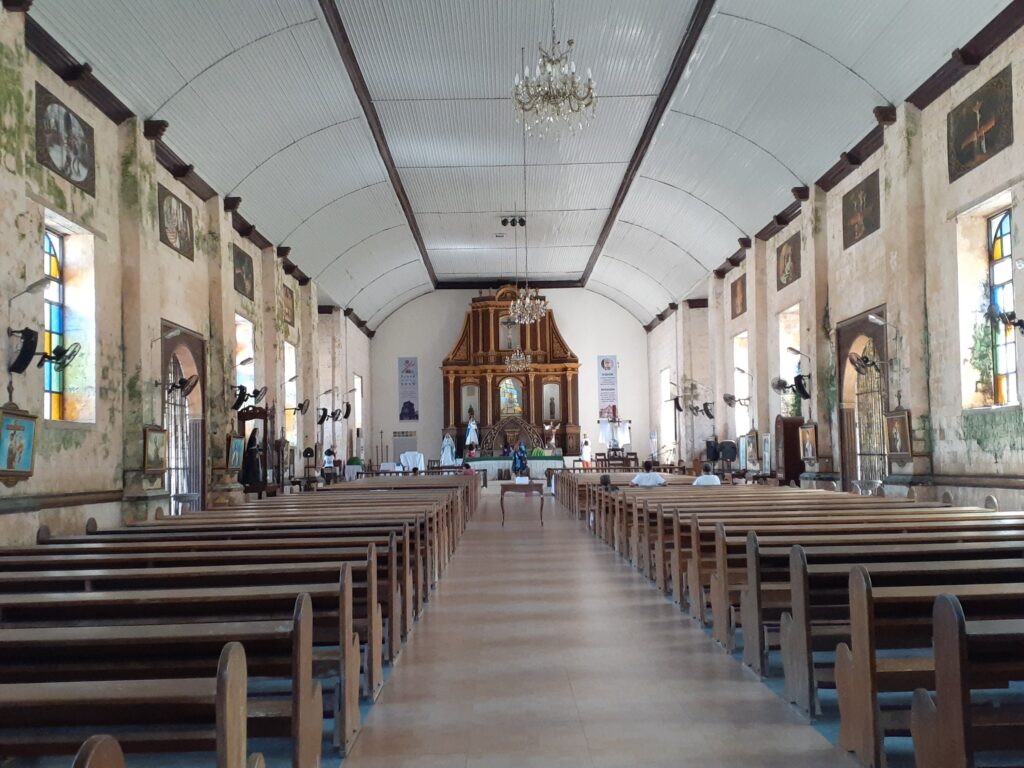 Portraits of important people hang low on the walls, which were touched by local people.
Salagdoong Beach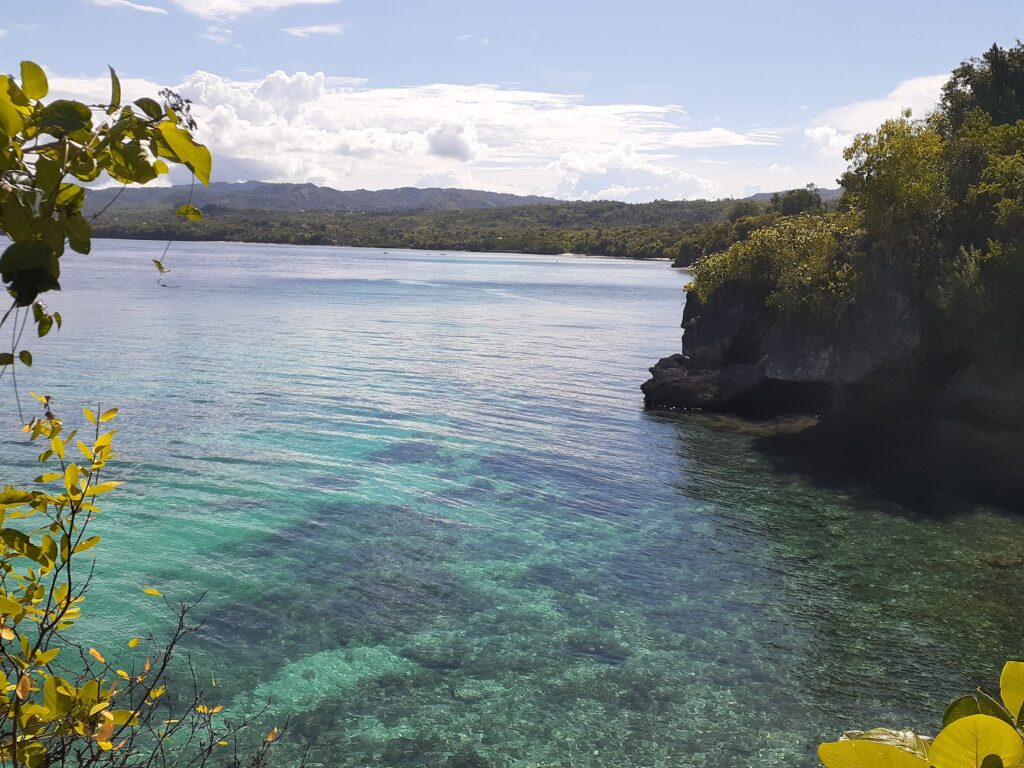 Salagdoong Beach is located in the eastern part of Siquijor Island. It is considered one of the best beaches on the island.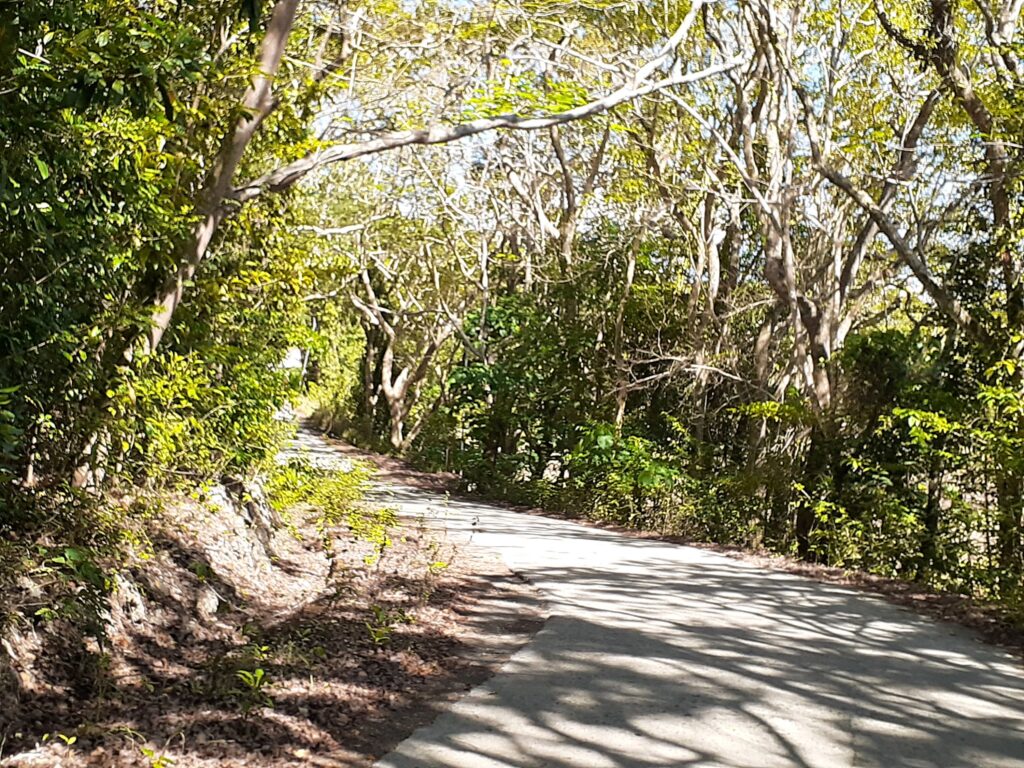 It is located on a side road off the main street that circles the island. It's famous for cliff-jump diving, with two diving boards available, one high and one low.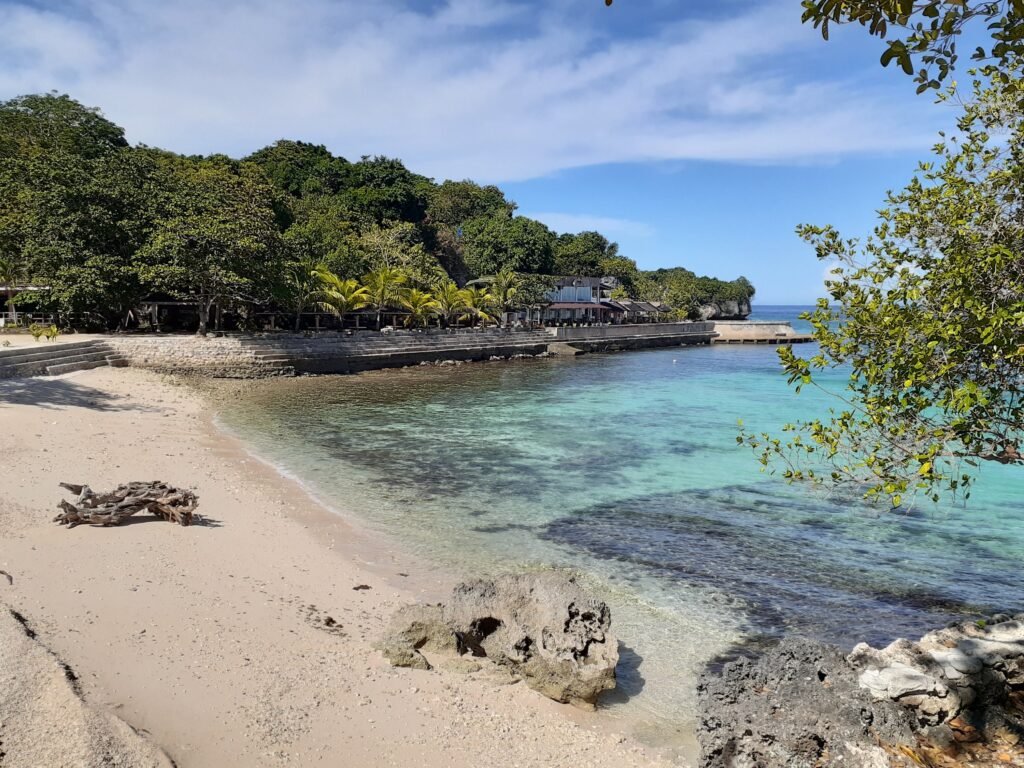 The beach itself is not very large, being a small inlet.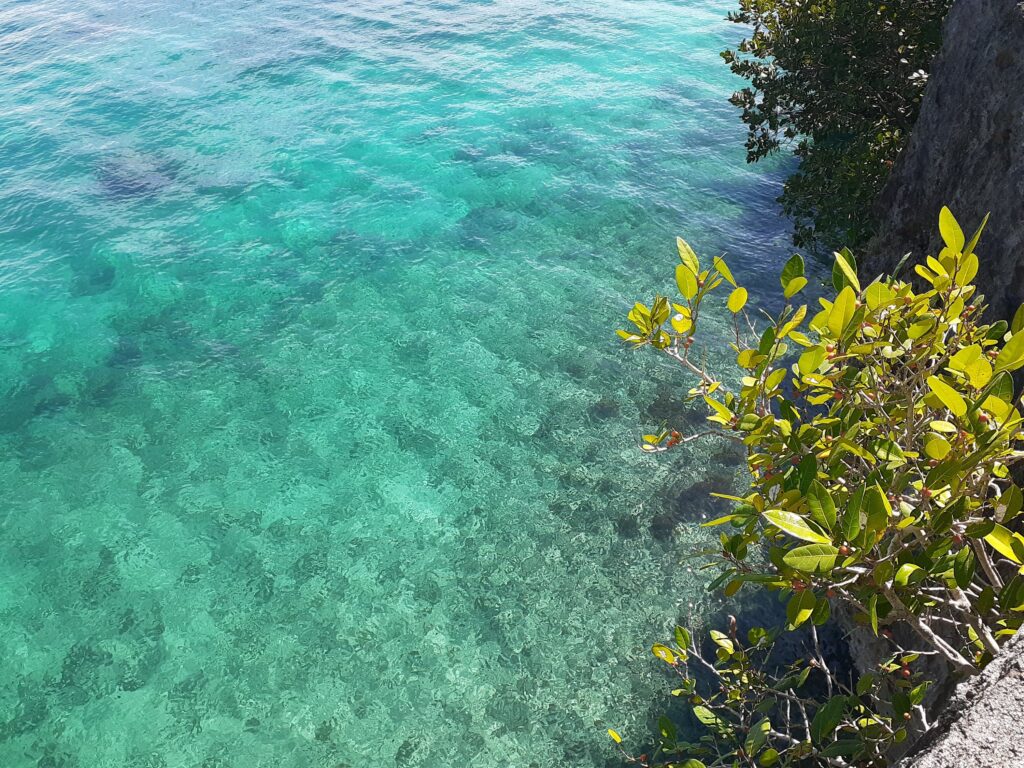 The colour of the sea is muuuuuch more beautiful in the clear water. If it is open, snorkelling is said to be enjoyable.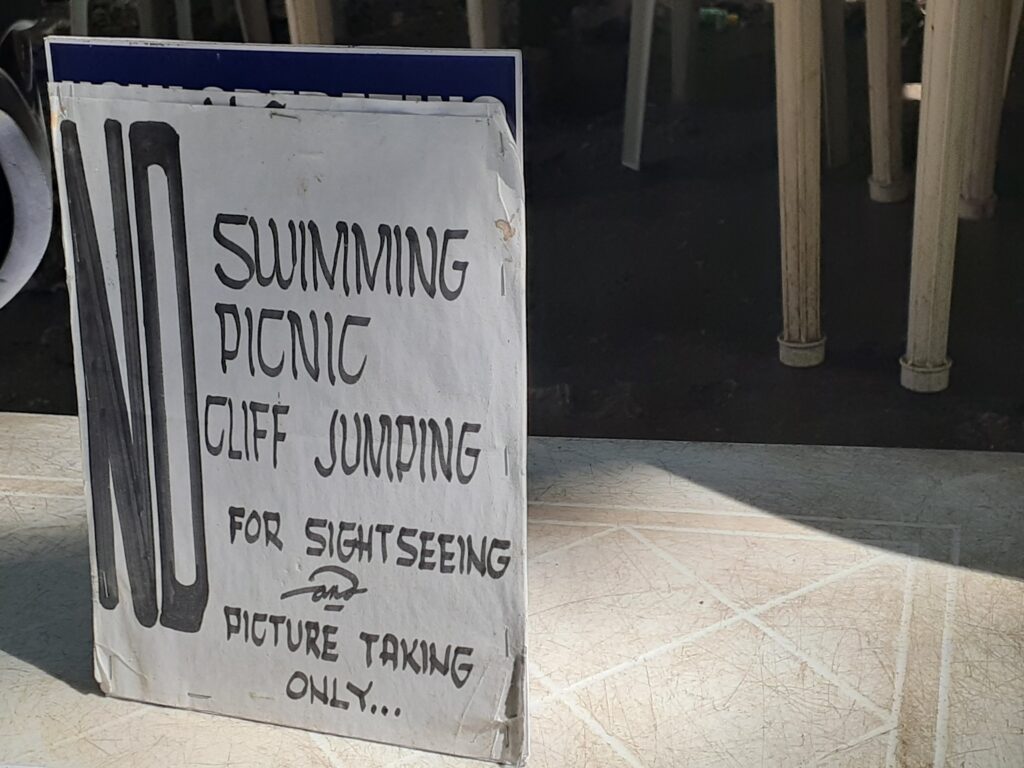 Unfortunately, it was temporarily closed at the time. Swimming, snorkelling, picnicking and diving are prohibited. You cannot go into the sea, but you can walk on the beach and take photos.
Despite the temporary closure, there were many tourists visiting on a weekday.
Tulapos Marine Sanctuary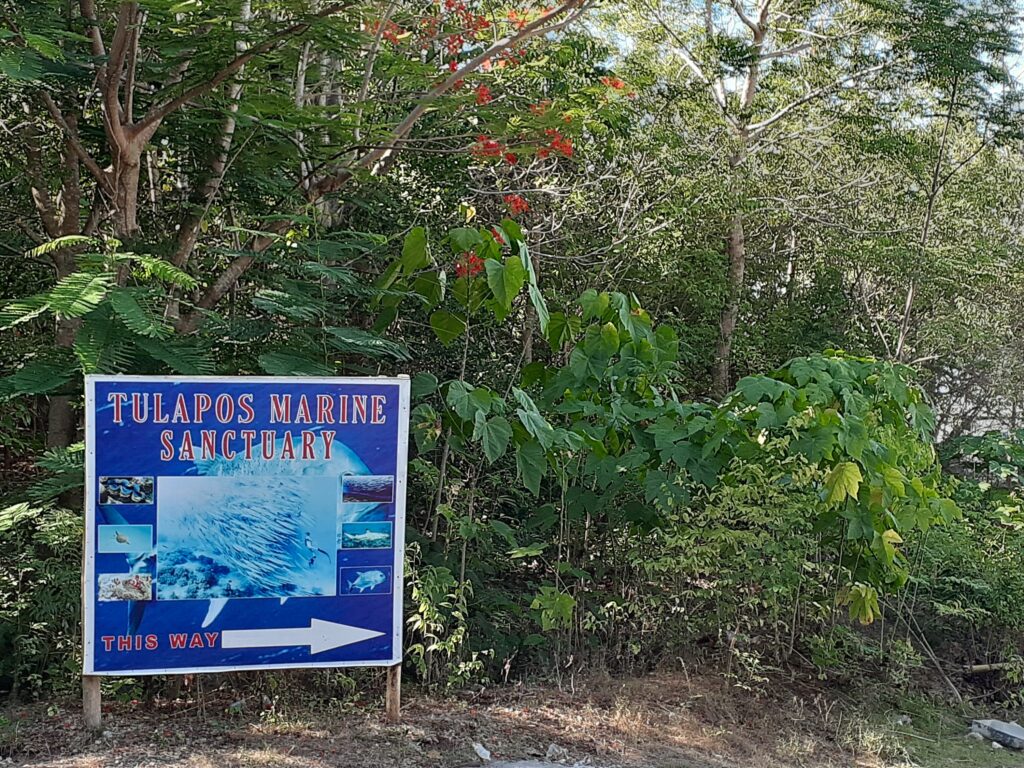 This is a no-take zone in the north-east of Siquijor Island. Mangroves seem to grow well on the east side of the island, and this beach also has mangroves submerged in sea water up to the roots at high tide.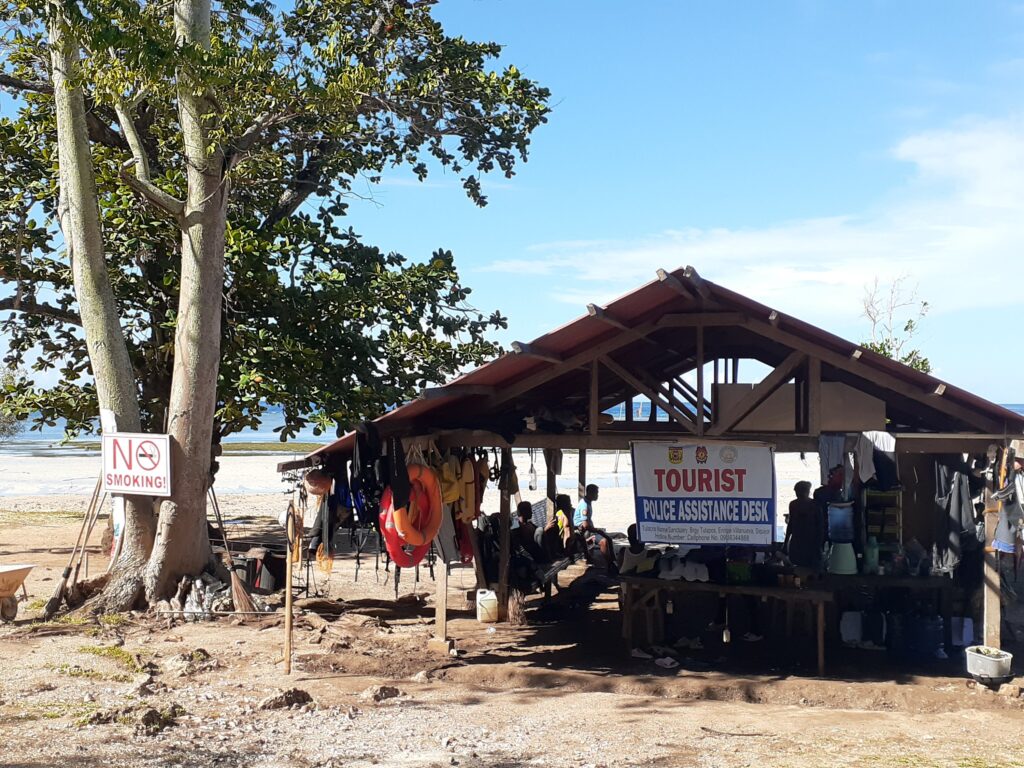 This is a no-take zone and snorkellers must pay an entrance fee and a guide fee.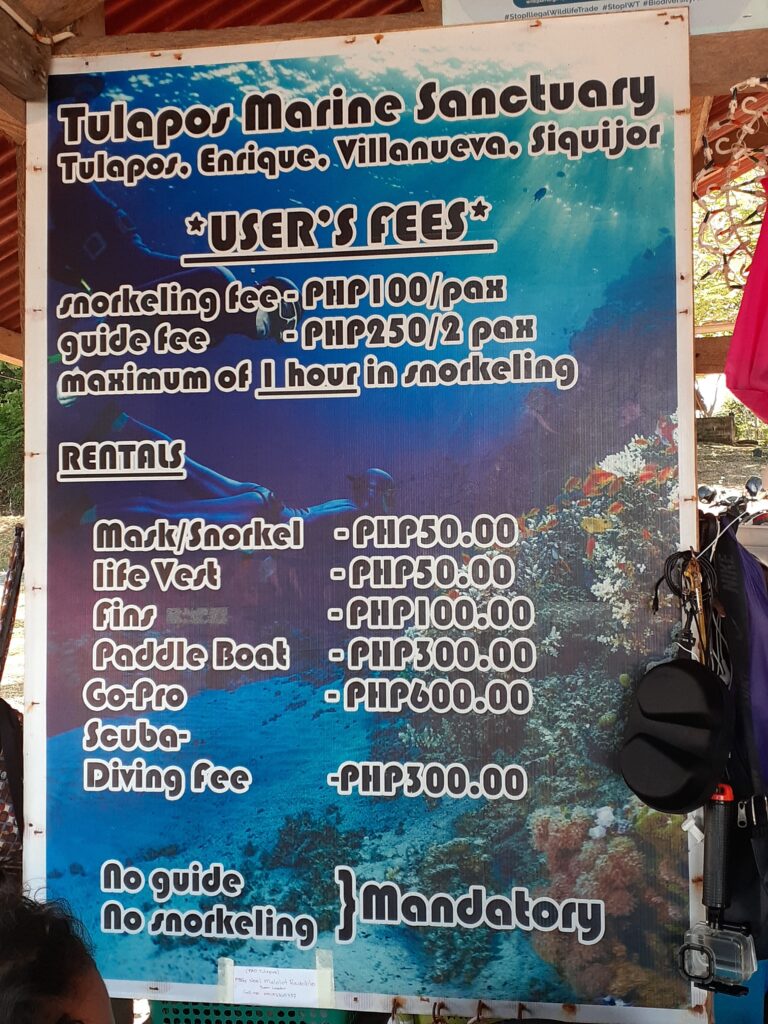 100 pesos per snorkelling person plus 250 pesos to hire a guide. The maximum snorkelling time is one hour. Other necessary items can be hired if you pay.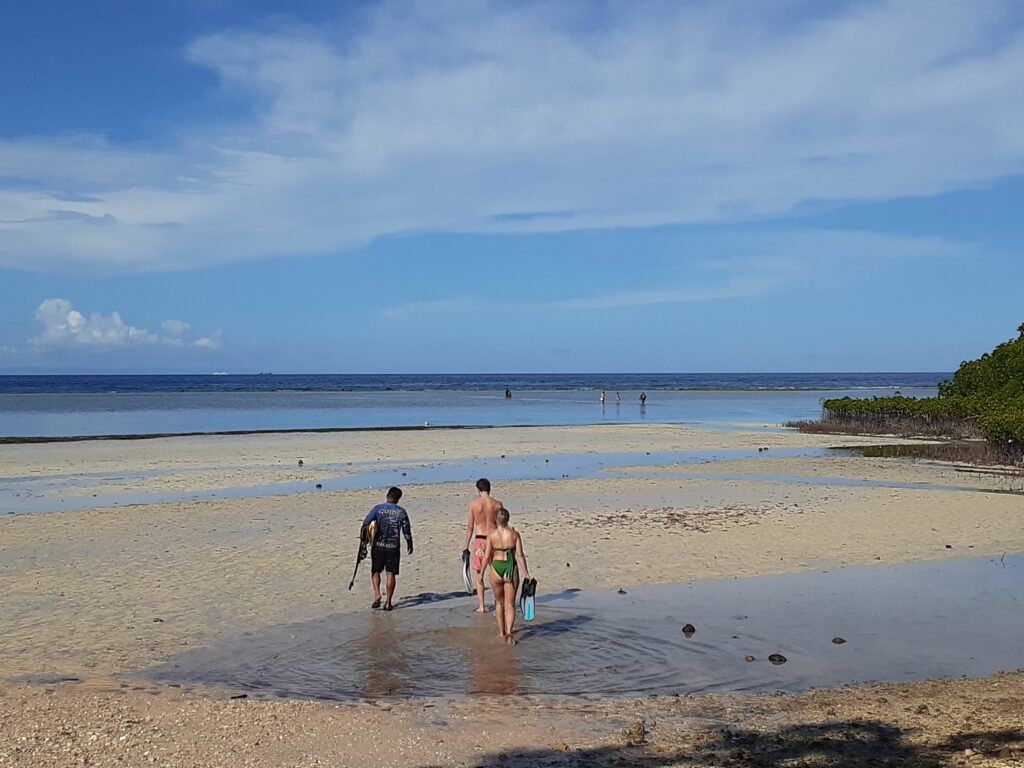 When we visited, the tide was low and one had to walk to the snorkelling spot offshore. At high tide you can swim to it.
We didn't snorkel, but we saw a few Western tourists snorkelling.
Mt. Bandilaan National Park Observation Tower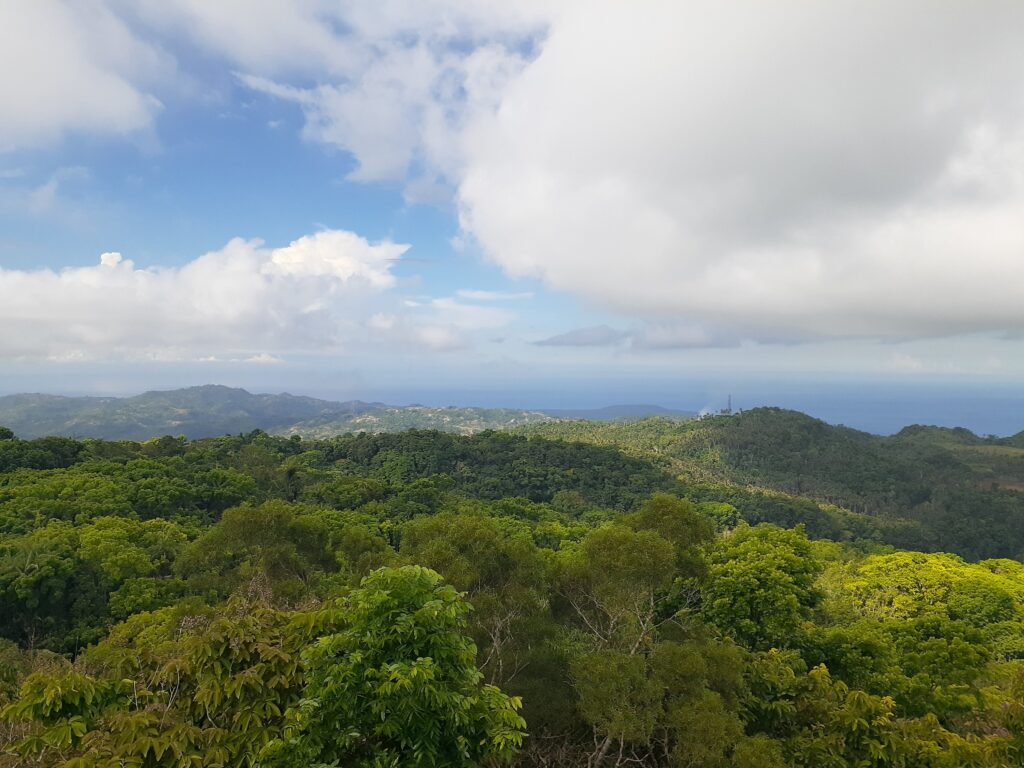 The area around Mt Bandilaan, in the middle of Sikihole Island, is a forest reserve and national park. The Observation Tower is located on the highest peak on the island, 557 m above sea level.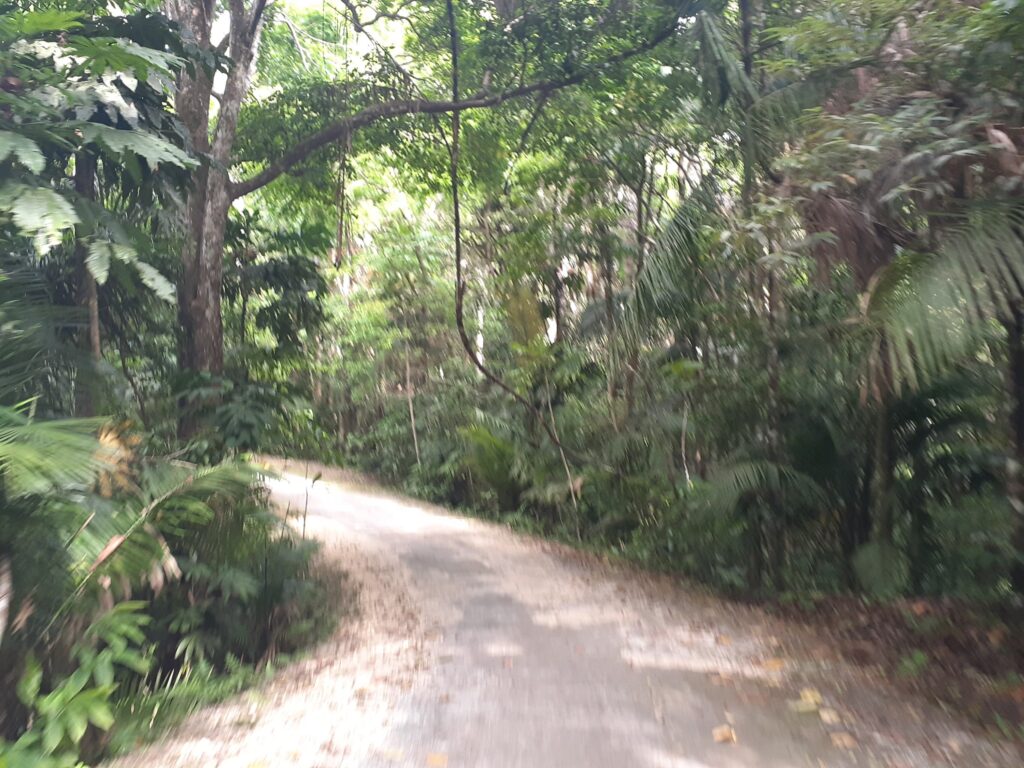 It is located inland from the main street around the island, up a steep gradient on a path surrounded by jungle.
There are settlements and villages along the way to reach the park, offering rustic scenery. The drive along the jungle road is also quite exhilarating.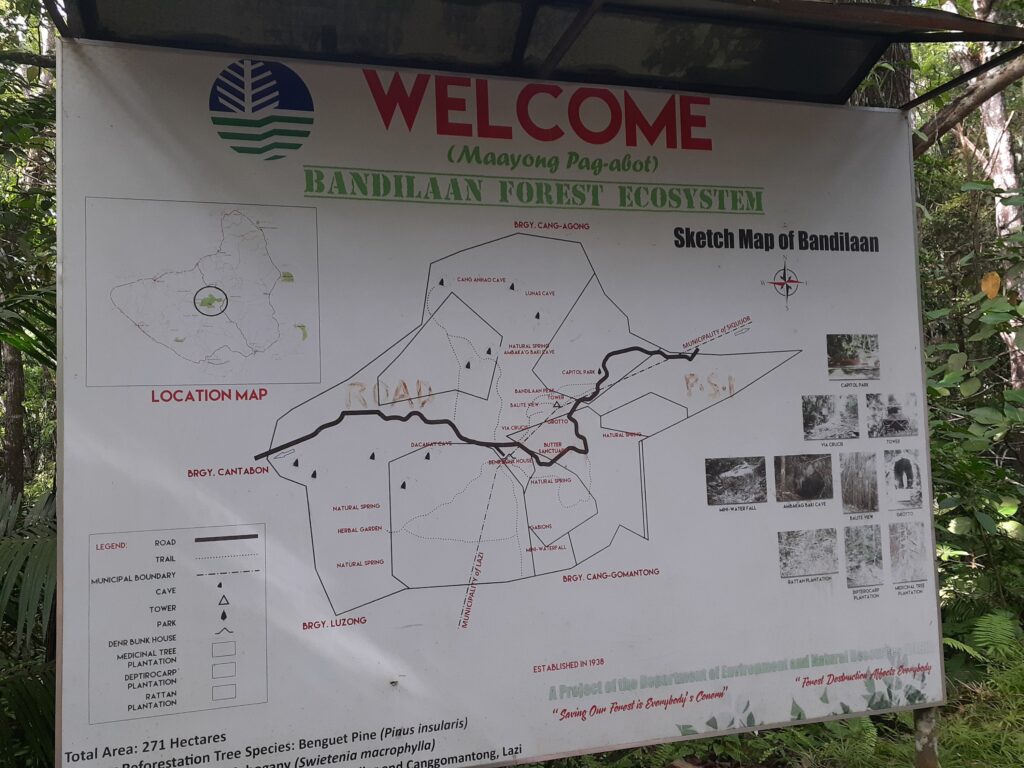 There are several facilities and attractions in the park, we visited the Observation Tower which was free to visit.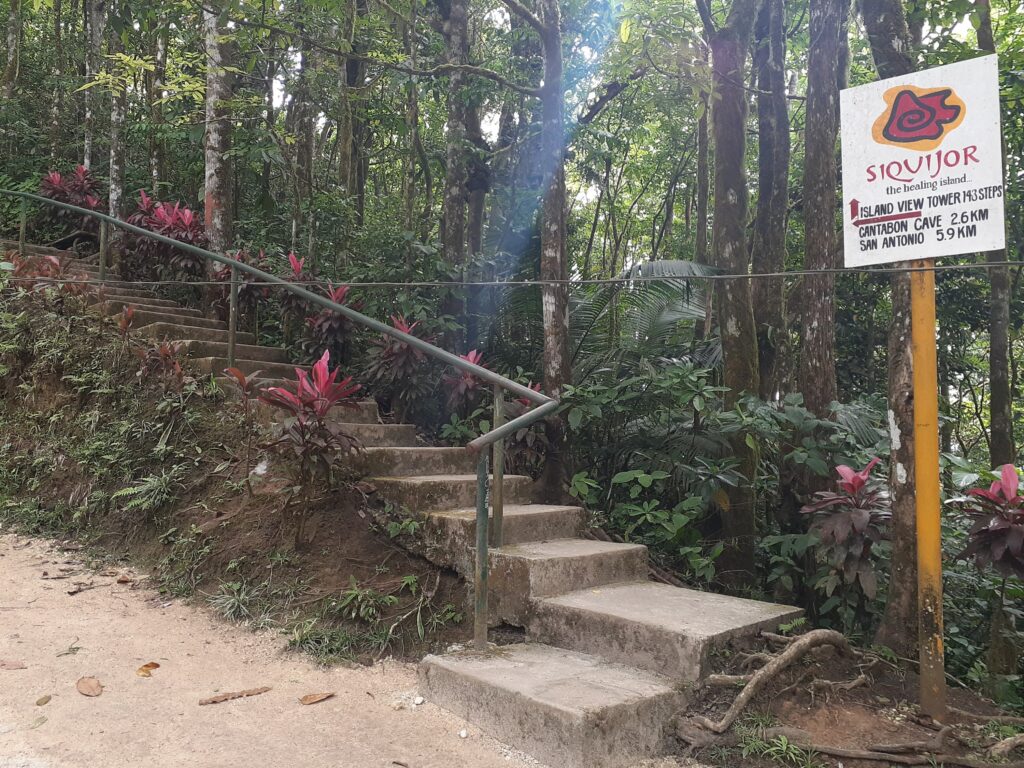 There are 143 steps to the Observation Tower which are concrete and well-maintained and very easy to walk.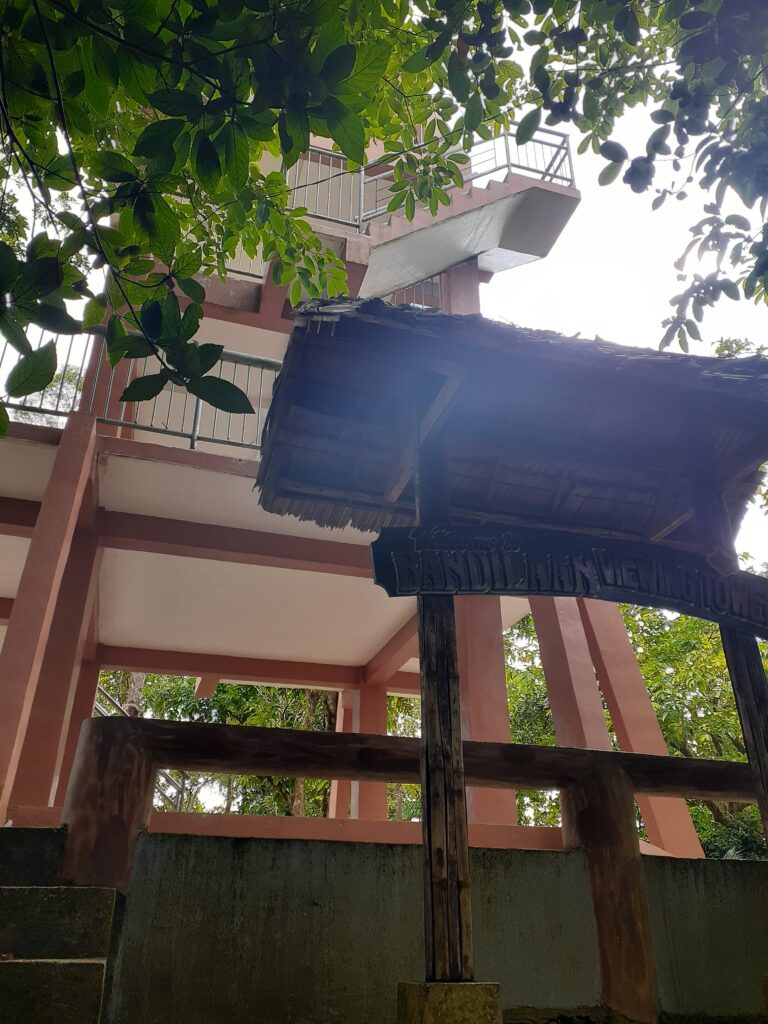 The Observation Tower is 15 metres high and offers 360-degree views from there.
Paliton Beach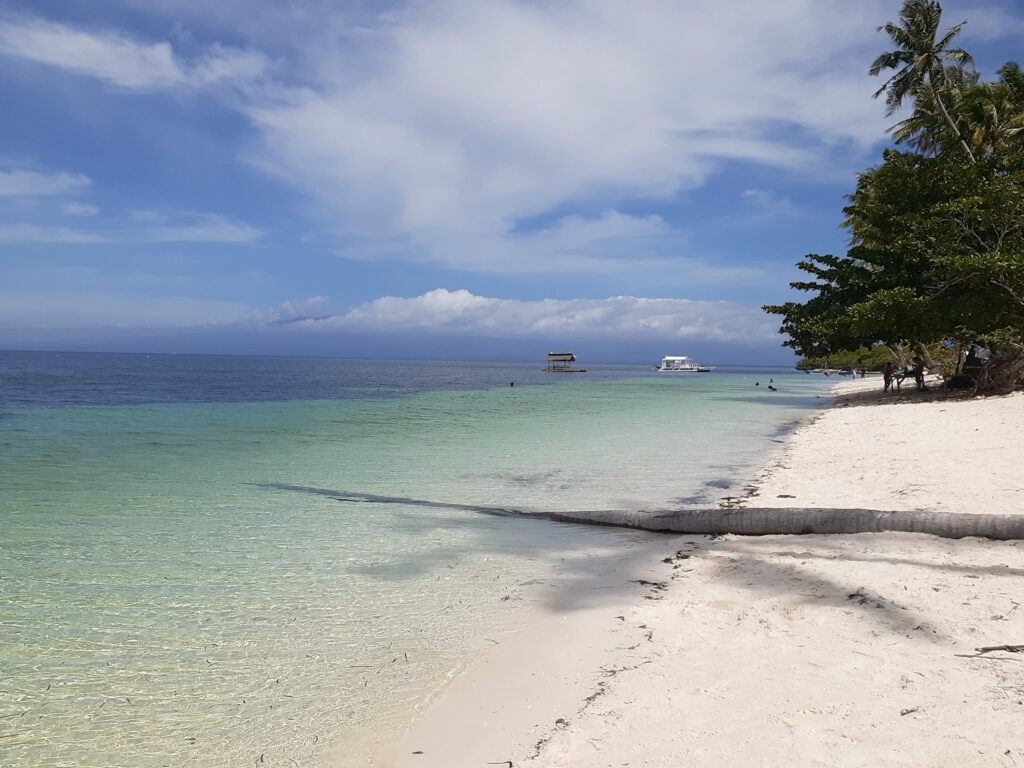 Paliton Beach is another famous beach on Siquijor Island.
It is a white sand beach with a beautiful adjacent beach. Entrance fee is 20 pesos per person. It is not suitable for snorkelling, but offers clear water and sandy beaches for sunbathing. On weekends, the beach is busy with Filipino tourists and there are many stalls.
Paliton Beach is especially known for its beautiful sunsets and will get crowded around sunset.