Termez borders Afghanistan. Stone Age sites have been excavated in the area, making it a fascinating city for those interested in archaeology!
We spent two nights in Termez sightseeing and visiting attractions in and around Termez.
Archaeological Museum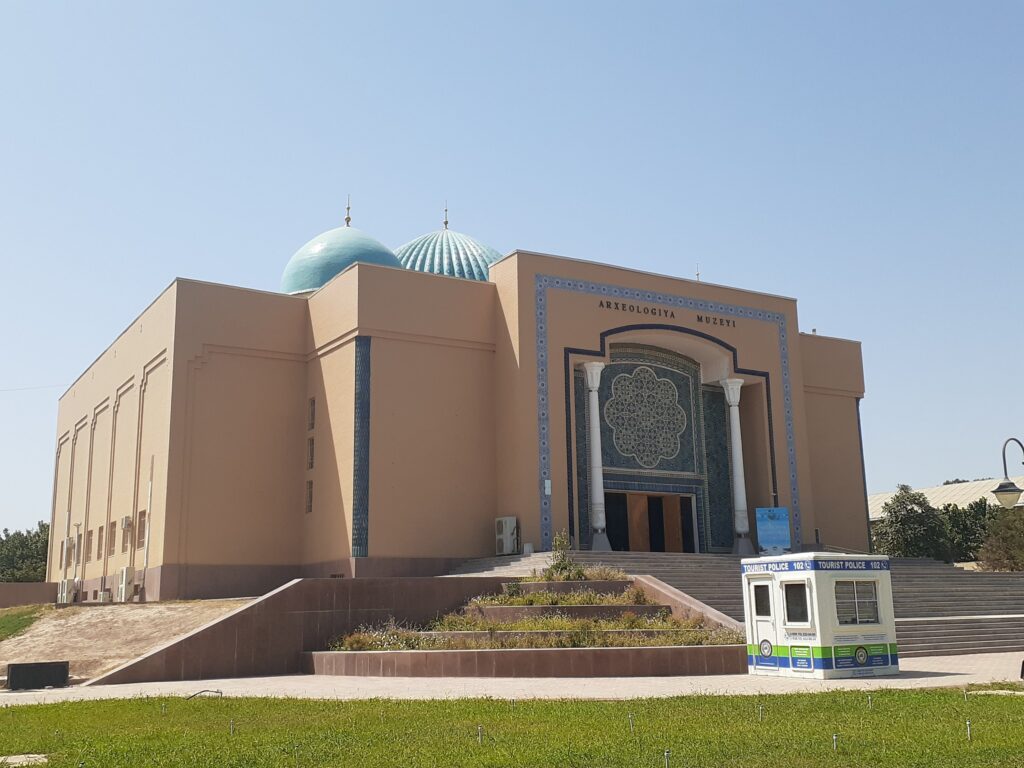 The museum was built by Uzbekistan's first president, Islam Karimov. The entrance fee for foreigners is 25,000 som per person. Photography is extra.
Remains dating back 100,000 years have been excavated from the mountains in the area, and many artefacts, especially from the Bronze Age and later, were found. The museum displays archaeological material dating from the Stone Age and can be visited with or without the help of a guide who is an expert in archaeology and history (guide fee extra).
Before the arrival of the Arabs in the 7th century and the spread of Islam, Buddhism flourished in the area. For this reason, Buddhist artefacts are also on display.
You can go from the town of Termez to visit the surrounding archaeological sites, but before you do so, you may want to review the ancient history of mankind in this museum for a better understanding.
Kirk Kiz Fortress
This fortress is located approximately 3 km from the town centre of Termez. Work was underway to cover the original building. Unfortunately, in a few months' time, no trace of the original fortress will remain and it will be completely covered with new mud walls.
Charter a taxi for half a day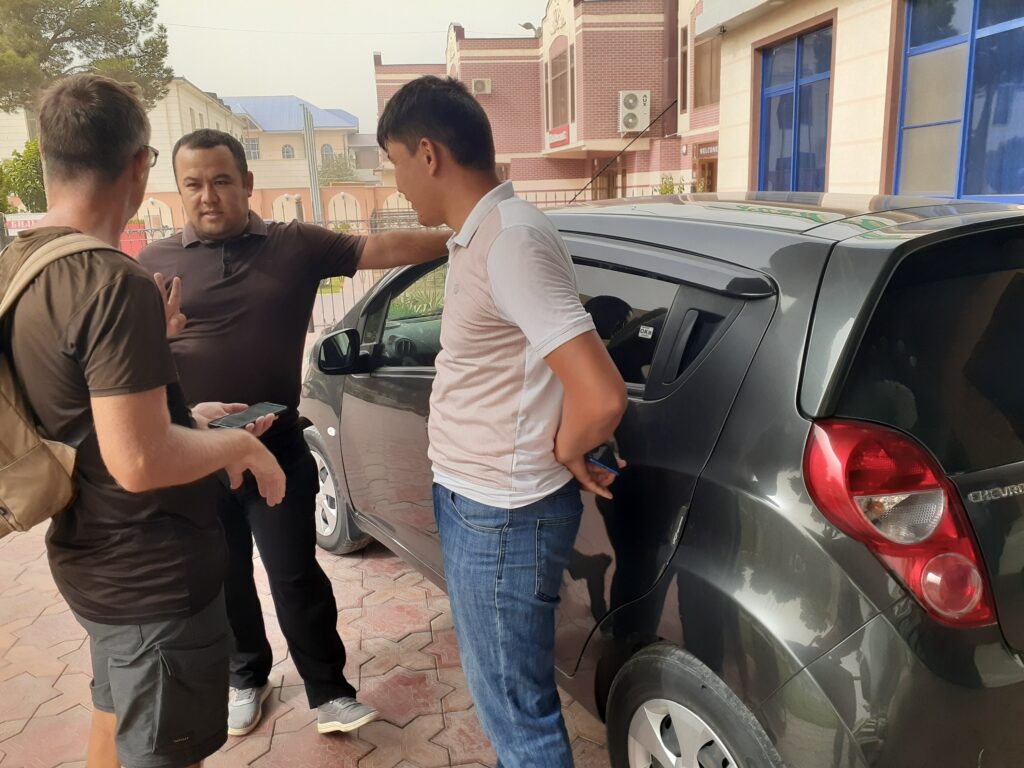 The sights around Termez are a bit out of town. To get around efficiently, we recommend chartering a taxi. We asked our hotel to arrange a half-day car charter. They found the driver and we negotiated the price with the driver by indicating the places we wanted to visit.
We negotiated a price of 175,000 som for a half-day charter to visit five spots north-west of Termez. It was a pretty good deal and you would definitely pay much more if the driver spoke English. After we agreed a price we quickly boarded the taxi and set off. Below are some of the places we visited on our half-day charter.
Kampyr-Tepe
On the map it is marked as Aleksandriya Na Okse. It is one of the oldest ancient ruins in Uzbekistan, located about 30 km from the city of Termez.
Fayaz-Tepa
Remains of a Buddhist temple. The modern dome contains the original stupa.
We were walking around the ruins when a man suddenly appeared and asked us to buy tickets. The entrance fee was 30,000 som per person. This man unlocked the dome and we were able to enter. I'm pretty sure he was thd official gatekeeper and ticket collector!
Kara Tepe is close by, but we did not visit it as it is close to the Afghan border and is guarded by the military. The gate keeper told us the military used drones to check in things around there
Buddhist Stupa Zurmala
In the village of Zurmala, this Buddhist stupa suddenly rises out of the cotton fields. Renovation seems to be underway here too, and unfortunately the original atmosphere will probably be lost.
Al Hakim At-Termizi Mausoleum
Entrance fee for foreigners: 20,000 som per person. As a holy place, it is visited by many Muslims. There is also a museum on the premises.
There is a small cave into which one can descend. There were several people praying in the cave as well.
Accomodation in Termez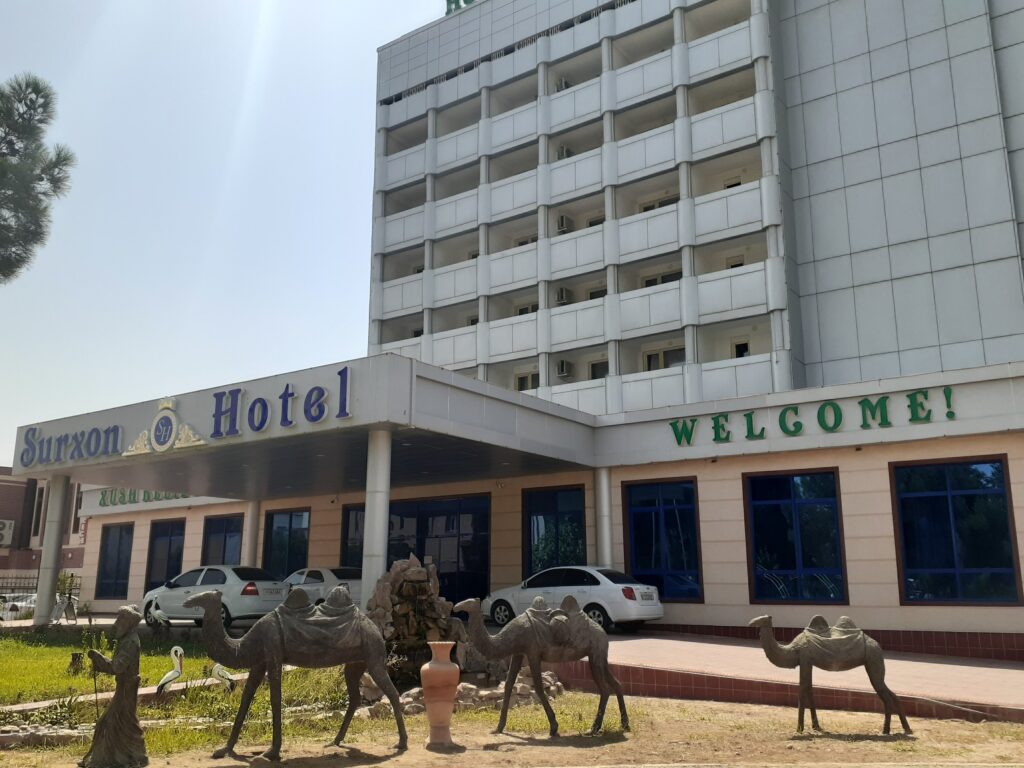 We stayed at the Surkhan Hotel (Gostinitsa "Surkhan") in Termez. It looks like a government hotel that is also used by Uzbekistan Airways crews, but it is not cheap. Standard double rooms are 500,000 som per night for foreigners, but we negotiated to 400,000 som. For a detailed review and photos, see Google Maps.
Food in Termez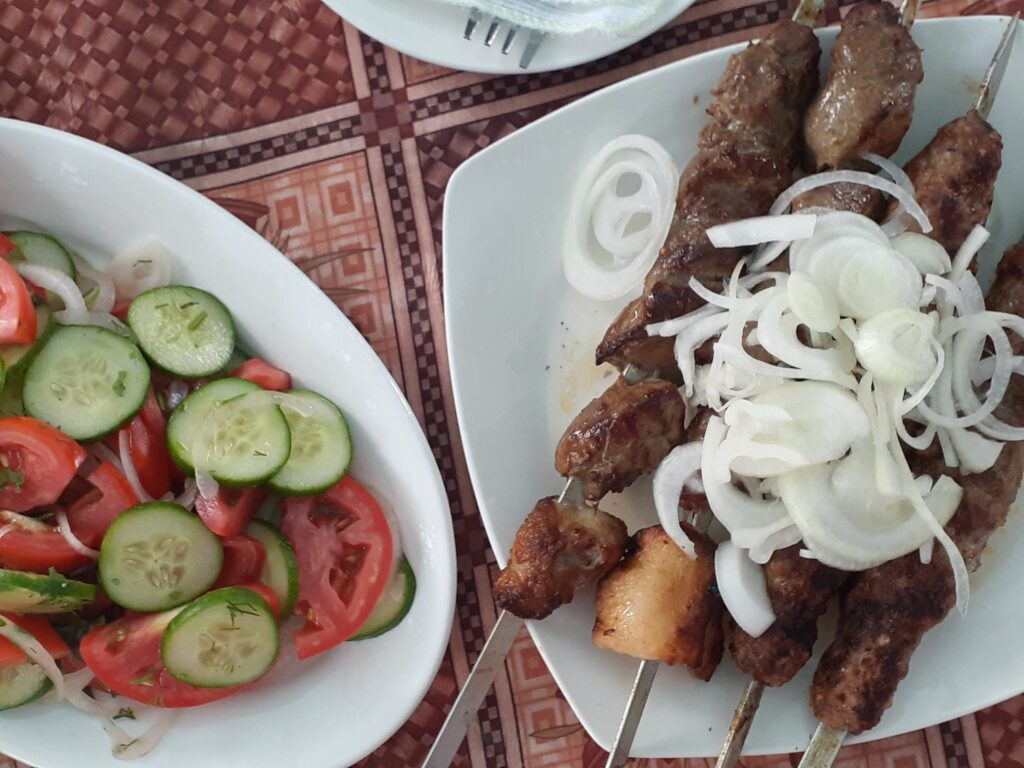 We enjoyed dinner at Behrus Milliy Taomlari. The speciality in Termez and much of Uzbekistan is grilled lamb cooked in a Tandir oven. There are several tandir restaurants along the road south of the Archaeological Museum, a short walk west of the museum, and this is one of them.
Tandir (160,000 som/kg) was recommended to us and we were allowed to taste it, but the grilled skewers (Shashlik/12,000-18,000 som) looked nice too, so we ordered those. We also had a fresh vegetable salad. Cold draught beer was 8,000 Soms.