Khiva is an historic city whose foundations were laid in the 1st century AD. Its old town, Ichan Kala, was inscribed as a UNESCO World Heritage Site in 1990.
The highlights of Khiva are concentrated in and around the old town. We spent three nights in Khiva this time and have compiled a list of its sights and attractions.
Buy tickets to visit the Old Town of Khiva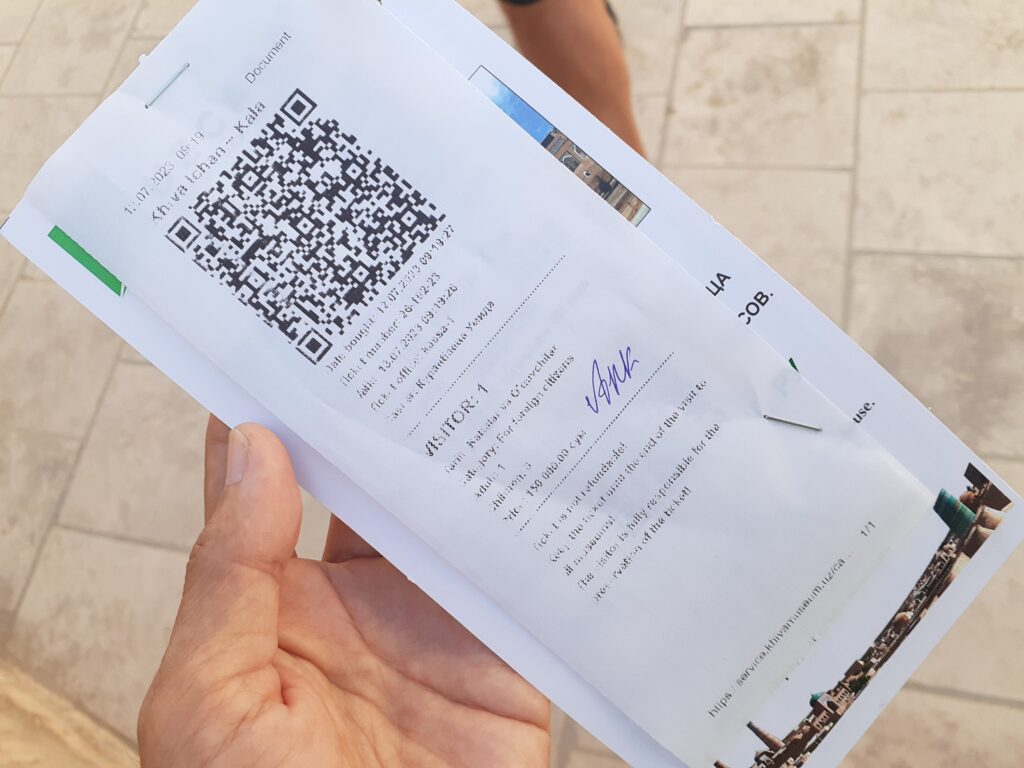 There are many things to see and do in Khiva Old Town, and there are tickets available which provides access to multiple spots, which we bought.
We stayed at a hotel in the Old City of Khiva, but as we arrived in the evening, the hotel staff told us that the ticket office was closed and we could go to buy the tickets the next morning. We went to the ticket office around 9am the next morning and bought two-day passes as told. We paid by credit card.
The QR code is printed on the front and a map is drawn on the back. The map was very not good though, so we used Google Maps for sightseeing.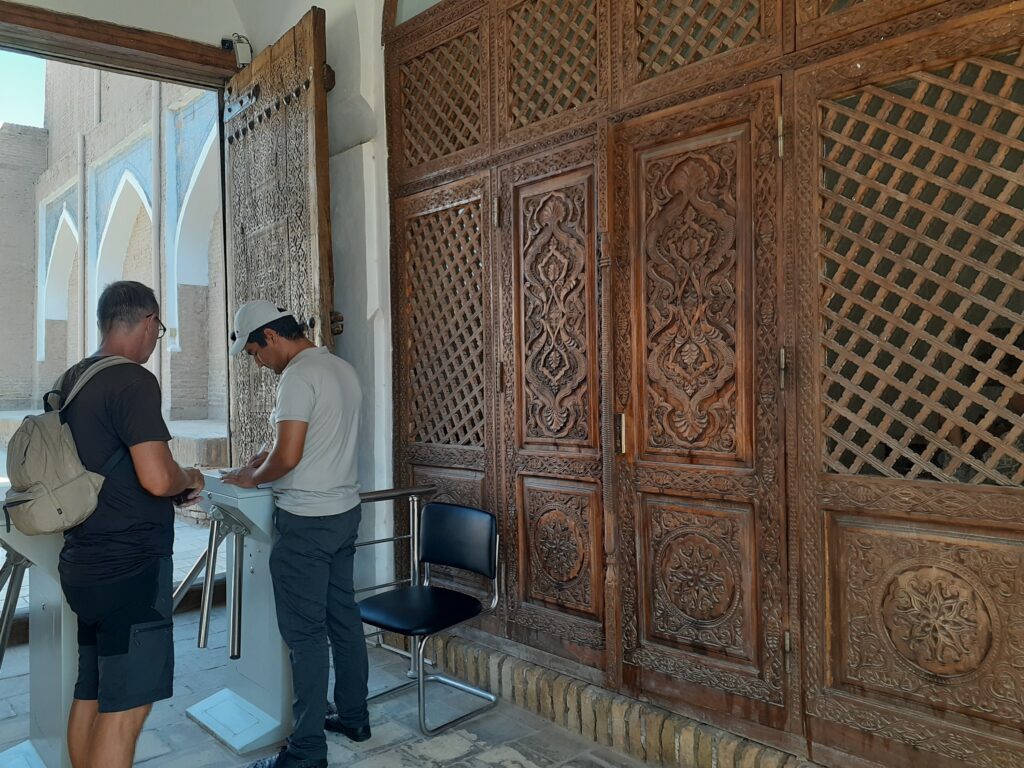 The ticket office my not be easy to find. We were told that the ticket office was located near the West Gate, but we bought our tickets at the ticket office next to the Kuhna Ark palace. It was a bit difficult to find, as there were no signs or anything, but the wooden door on the right hand side of the image above was the ticket office.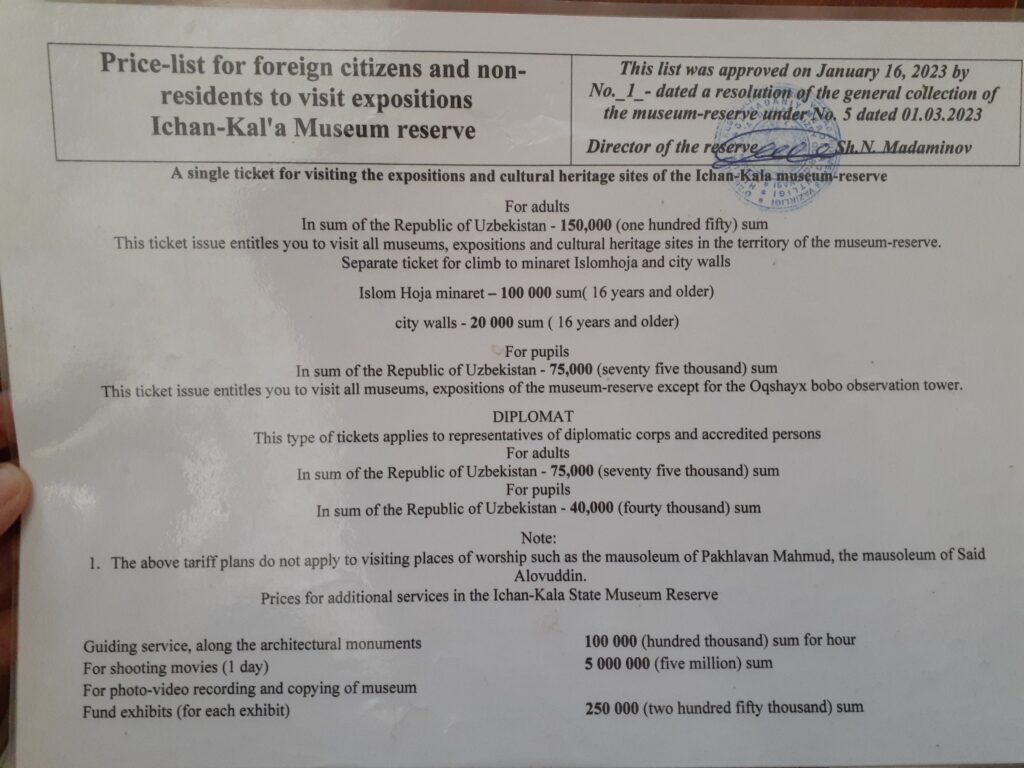 The ticket was 150,000 som per person and valid for two days. However, we were told that we would have to buy extra tickets for some minarets and city walls. There are also other sights that you can't enter with this ticket (extra charge).
Anyway, we bought two-day tickets and we used them to the fullest. Here are some of the places we visited in Ichan Kala, the old town of Khiva. Note that all of the following are places you can enter with the two-day pass. We have not visited any places that charge an additional fee.
Tosh Hovli Palace
This palace was completed in 1841 by Allakuli Khan. It was built as an opulent palace to replace the First Palace, the Kuhna Ark.
It consists of a harem, throne room and drawing room, with walls covered in blue tiles, exquisitely carved wooden columns and colourfully painted ceilings.
There are two entrances and several interconnecting courtyards with small rooms. The many sections combine like a maze, so take your time to explore.
Kohna Ark Palace (Kohna Ark Saroyi)
Built in the 12th century and extended by the Khan in the 17th century. The former watchtower offers a panoramic view of the city of Ichan Kala. Known as a sunset spot, it is crowded with travellers, especially at dusk.
Although it is a palace, it appears to have been a complex that included not only the ruler's residence but also a mint, mosque, prison and barracks.
Juma Mosque (Juma Masjid)
First built in the 10th century and later rebuilt in the 18th century. It is a one-storey mosque with beautiful reliefs on the neatly lined wooden pillars. The minaret is 42 metres high.
Muhammad Amin Inaq Madrasah
This madrasah (school for Islamic teachings) was built by Mohammed Amin Inaq in 1785. It is now a museum.
The rooms are well maintained and the exhibits are meticulously explained. An English-language video was available to watch, which depicted things very well.
Dost Alam Madrasasi
This is a relatively new madrasa, built at the end of the 20th century. It is rectangular in shape and has minarets at the corners. Unlike traditional madrasas, one of the classrooms in this madrasa served as a winter mosque. This madrasa has no tile decoration and gives a modest impression. At present, woodcarving workshops are held there, which the video shows.
It was explained to us by a young male staff member, but he didn't ask us to buy any crafts after this. Nice spot.
Qutlug Murod Inoq Madrasah
Built between 1804 and 1814, this two-storey madrasah has 81 dwellings, a small study and a mosque. There was a well (cistern) in its yard.
Qozi Kalon Madrasah (Qozi Kalon Madrasah)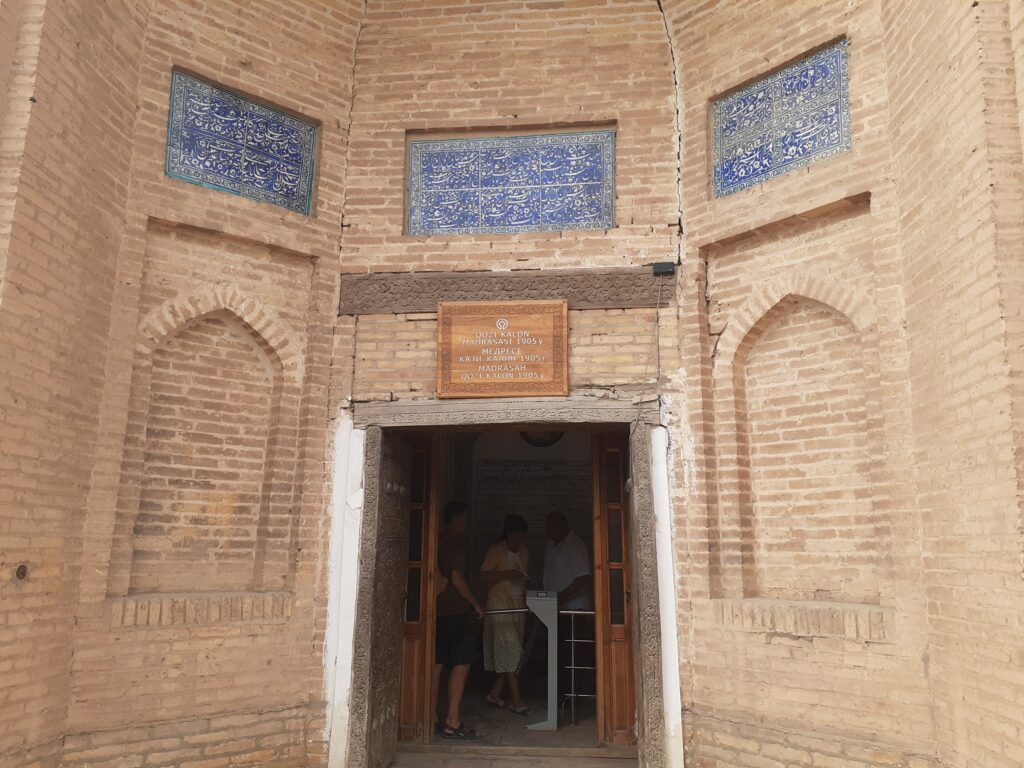 This madrasah was built in 1905. It is now a museum of musical instruments and music, presenting ancient and modern Khorezm musicians. A DVD of traditional Khorezm music was shown.
Mohammed Rakhim Khan Madrassah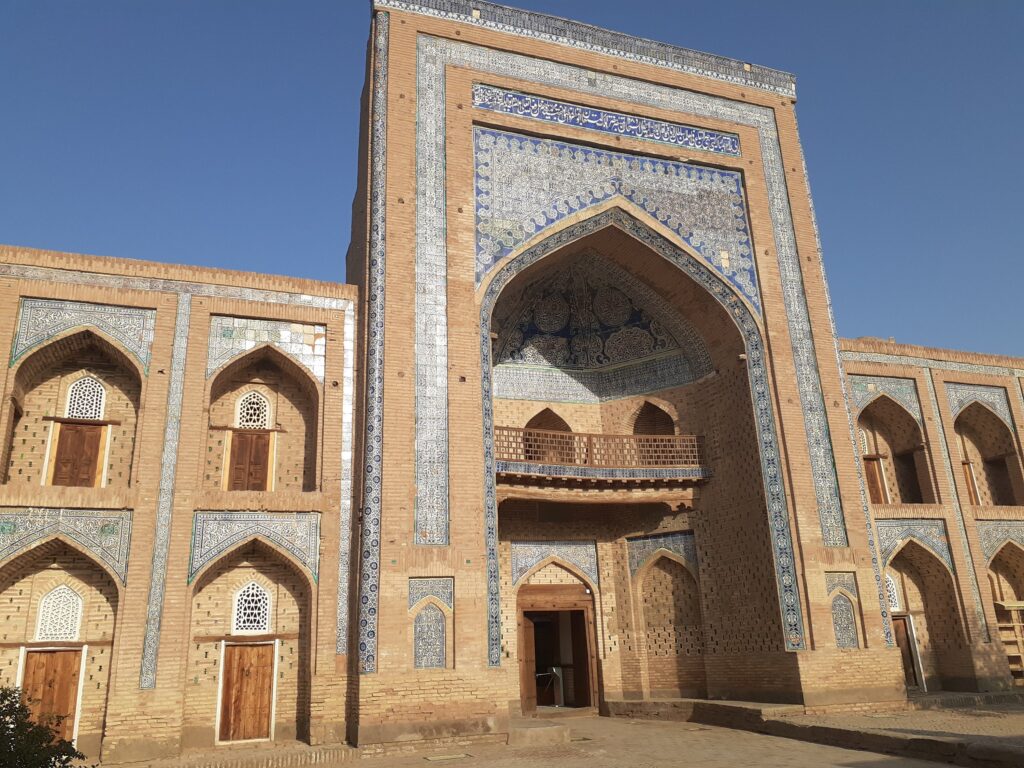 One of the largest madrassahs in Khiva, built in 1876. It currently functions as a museum.
Matpana Baya Madrassah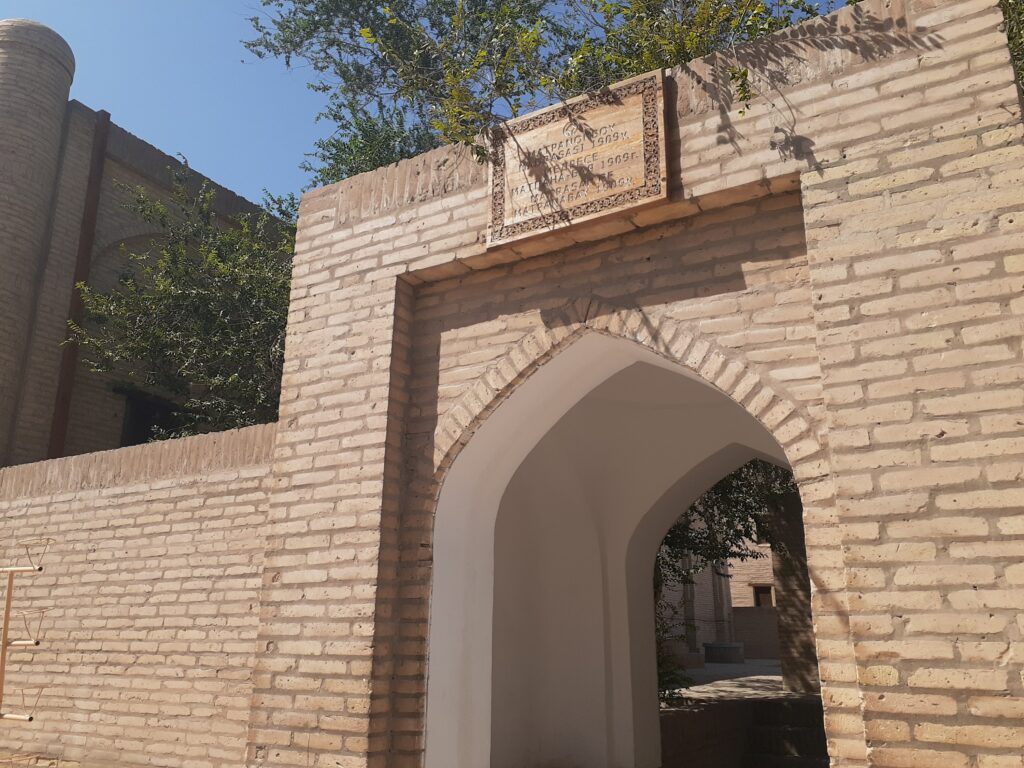 A small madrassah. Inside there is an exhibition on calligraphy, but to be honest, there doesn't seem to be anything special to see.
Stay in the old town of Hiva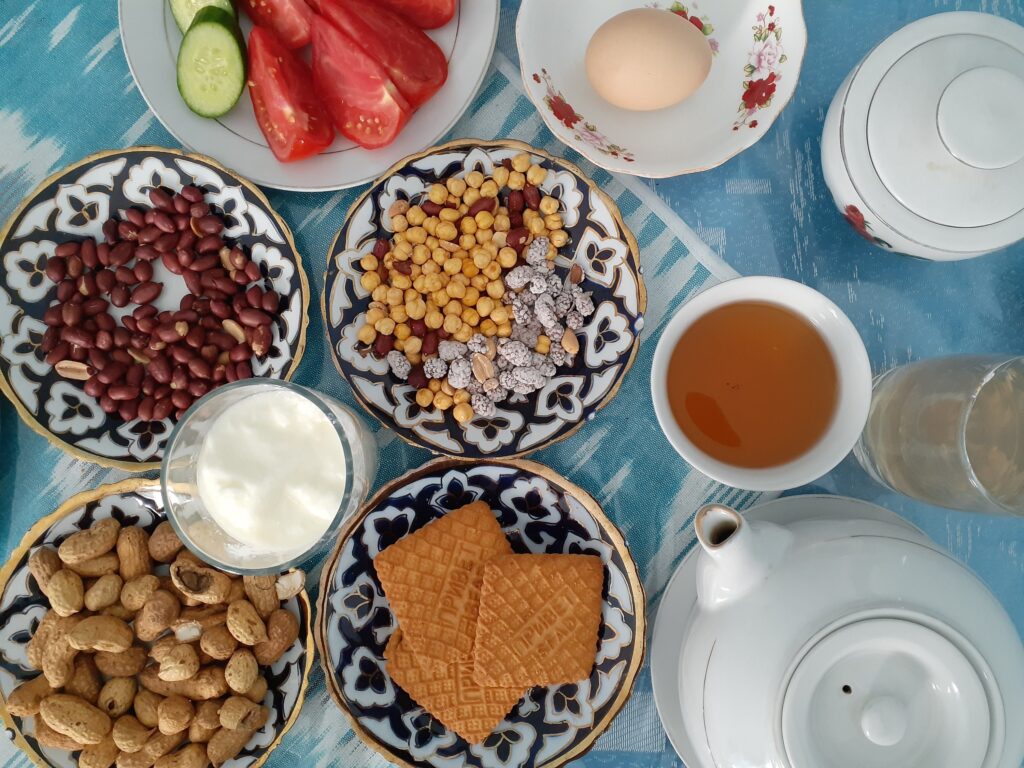 The sights of Khiva are concentrated in and around the old town of Ichan Kala. There is plenty of accommodation and restaurants in this area. We stayed at the Islamabek Hotel in the Old Town and had a great time.
It cost USD 28 per day, including breakfast and accommodation registration. Further reviews can be found on Google Maps.