As part of Tana Toraja Sightseeing and Highlights, Part 2, we share the cave cemetery and country road drive.
Motorcycle rental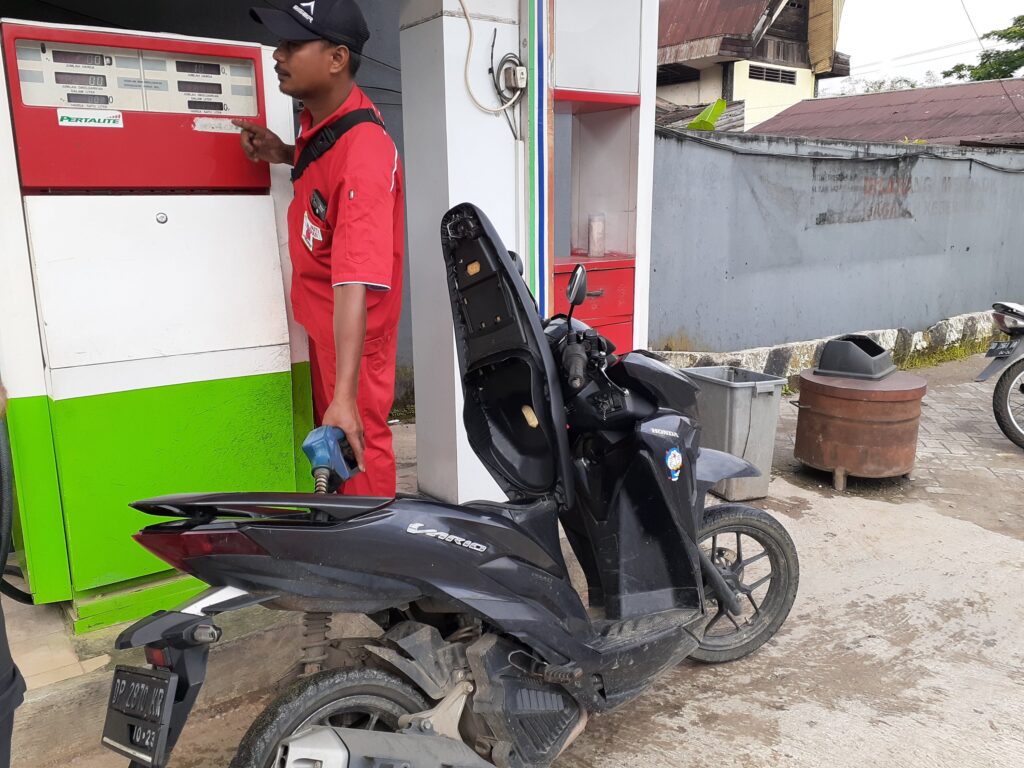 We spent four nights in Tana Toraja to enjoy the sights and rented a motorcycle for one day.
Motorcycle rental is available at guesthouses and rental shops, some of which charge Rp 100,000 per day, but the guesthouse where we stayed was a little more expensive, charging Rp 120,000 per day.
There is a lot to see and do in Tana Toraja which covers a large, hilly, area, so using a motorcycle is a convenient way to get around. However, people here drive in a special way and the roads are narrow, so care should be taken. We saw several foreign travellers with bandages on their arms and legs in the guesthouse where we stayed in Tana Toraja. Also, the roads are in poor condition in some places and the slopes are steep. Drive slowly!
Driving in Tana Toraja has many disadvantages, but even so, having a motorcycle has the advantage of allowing you to visit nearby villages at your leisure.
When renting a motorcycle, we were not asked to show an international driving licence, just cash!
Suaya, a criff cemetery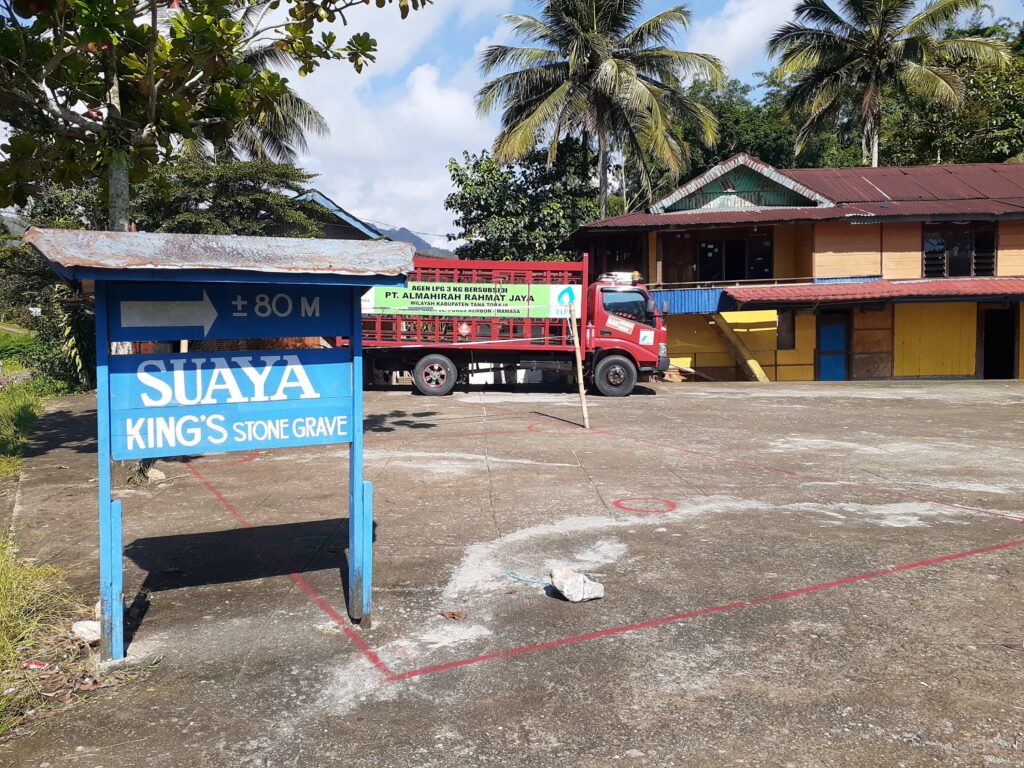 The first stop on the motorbike was the Suaya cemetery, east of Makale. A cliff cemetery similar to the Kubulan cemetery can be visited.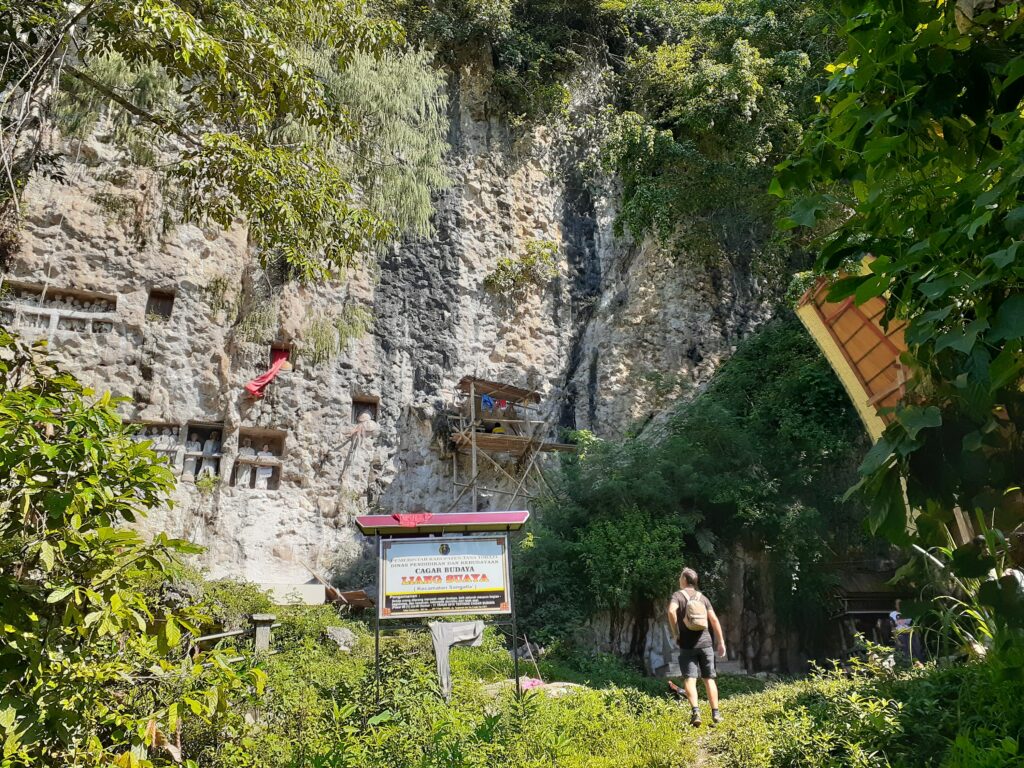 There were no other tourists, probably because it is far from Rantepao. There was no one at the ticket office, so we went straight in, but on our way out we were stopped by someone who looked like a staff member and made us pay the entrance fee. The entrance fee is Rp 20,000 for foreigners and Rp 10,000 for Indonesians.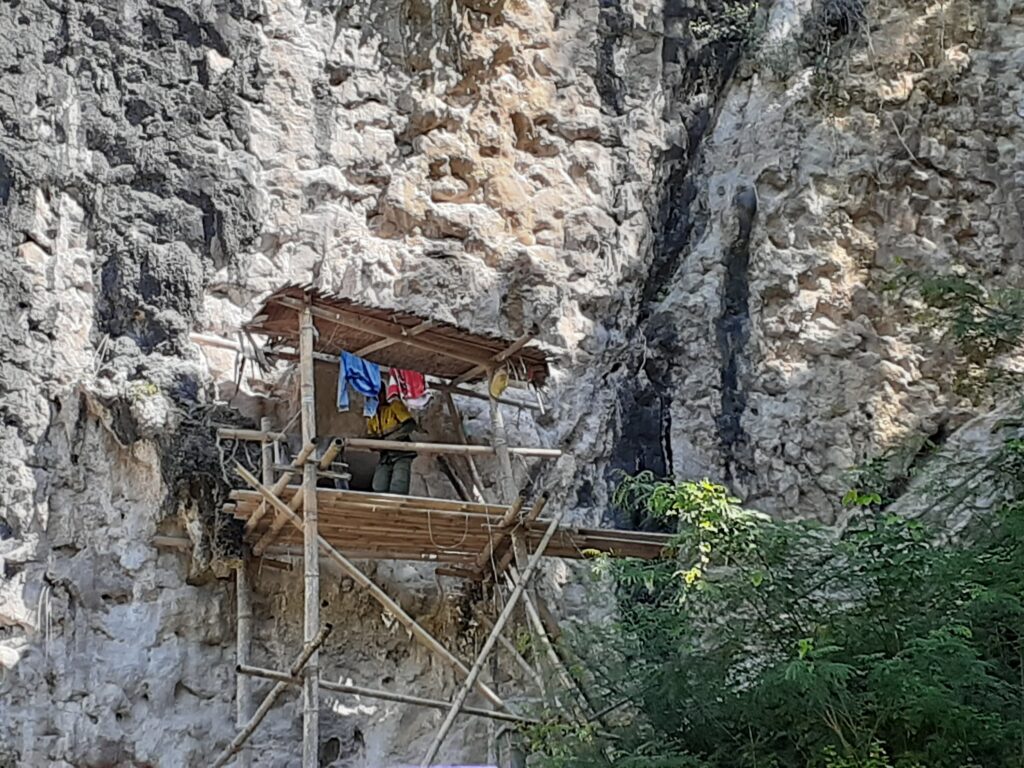 There was a man digging new graves on the cliff, and he was working on it.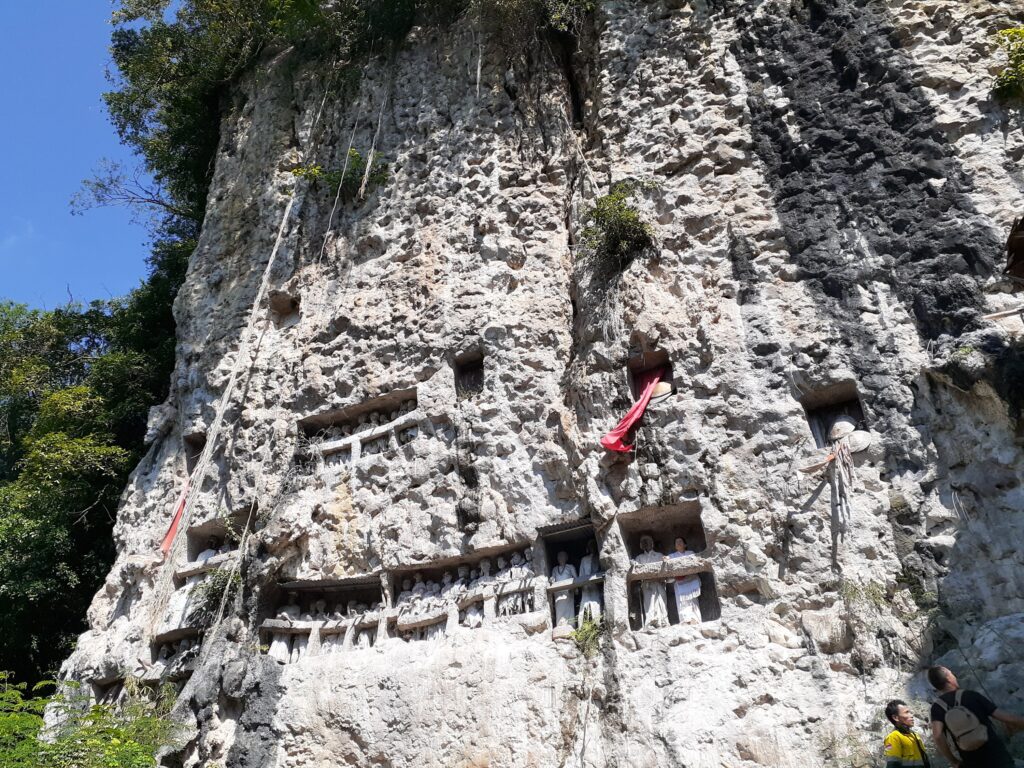 In the Toraja cemetery, wooden figures called tau tau are placed. Here, too, we could see the tau tau lined up in rows.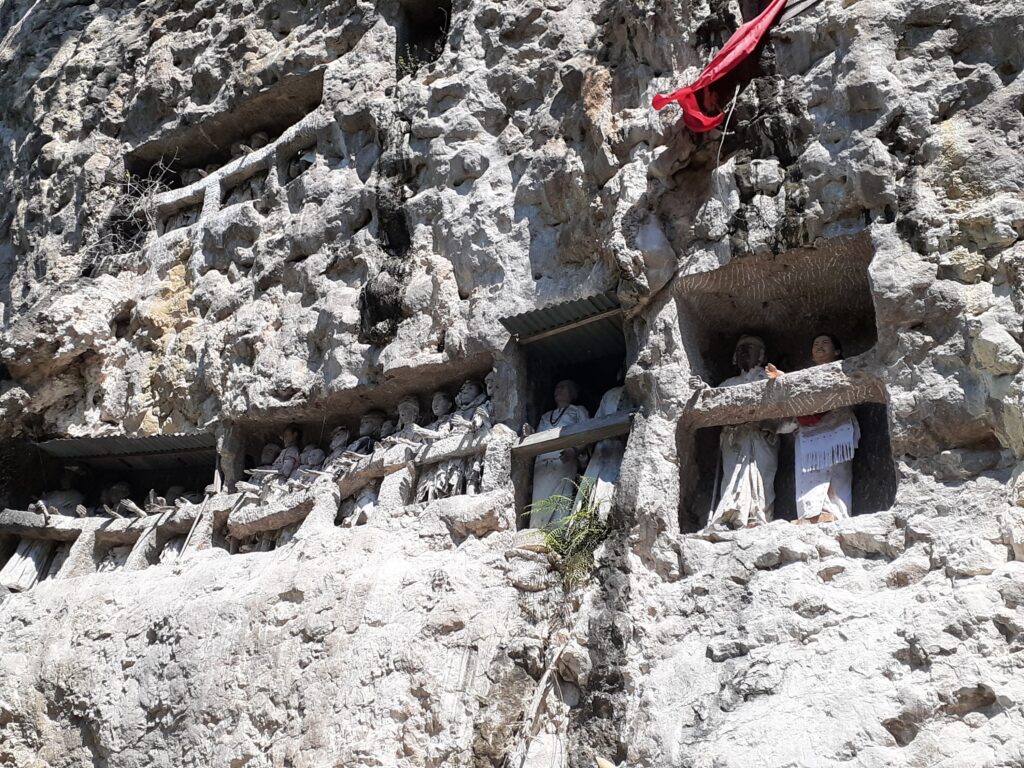 Beside the cemetery, a blacksmith was at work.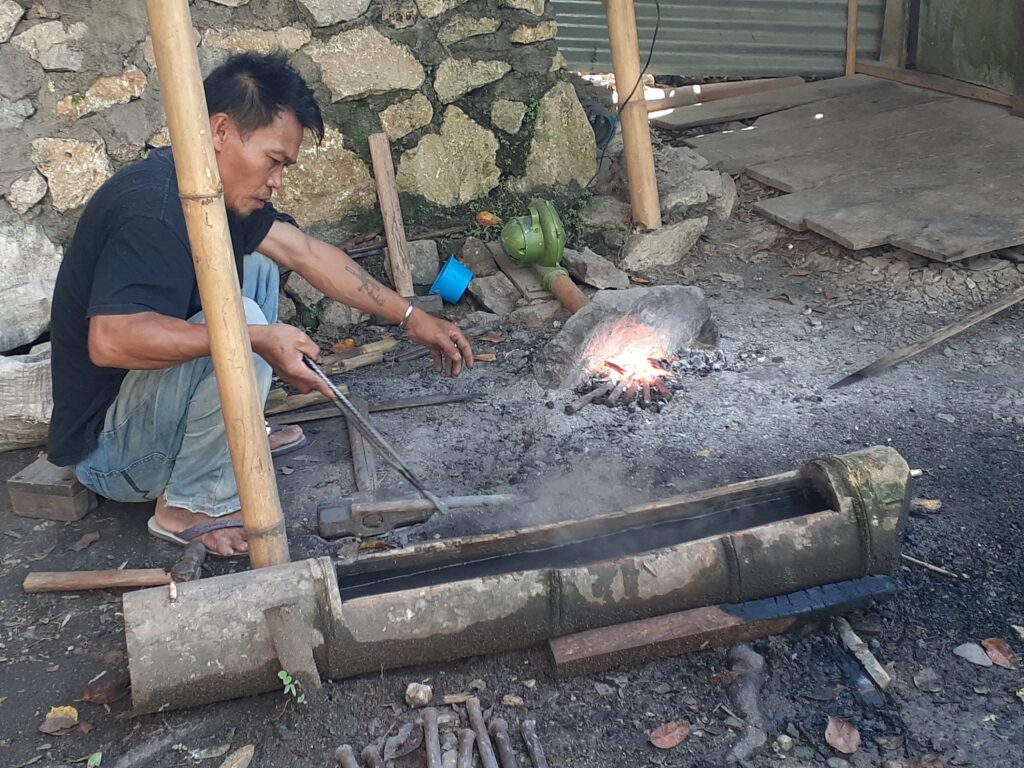 Next to the Suaya cemetery, we visited the nearby Tampang Alo cemetery.
Cave cemetery Tampang Allo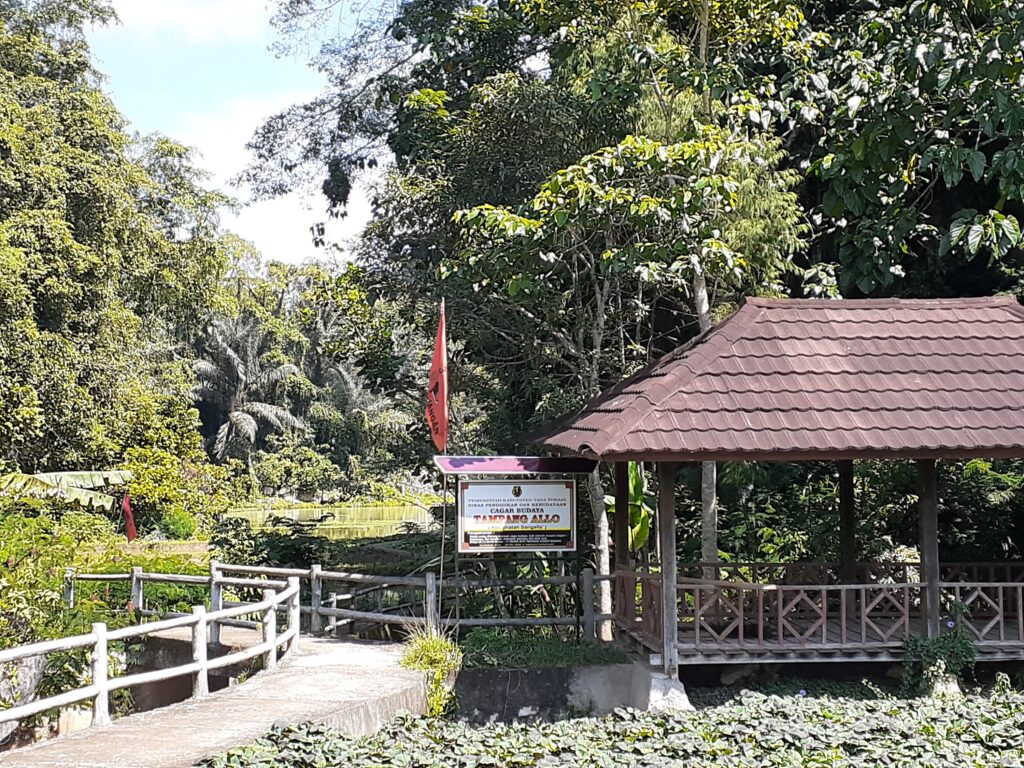 The most popular cave cemetery for tourists is the Londa Cemetery, but it has a lot of visitors and the entrance fee is not cheap, so we visited Tampang Allo, which is a little further away from Rantepao.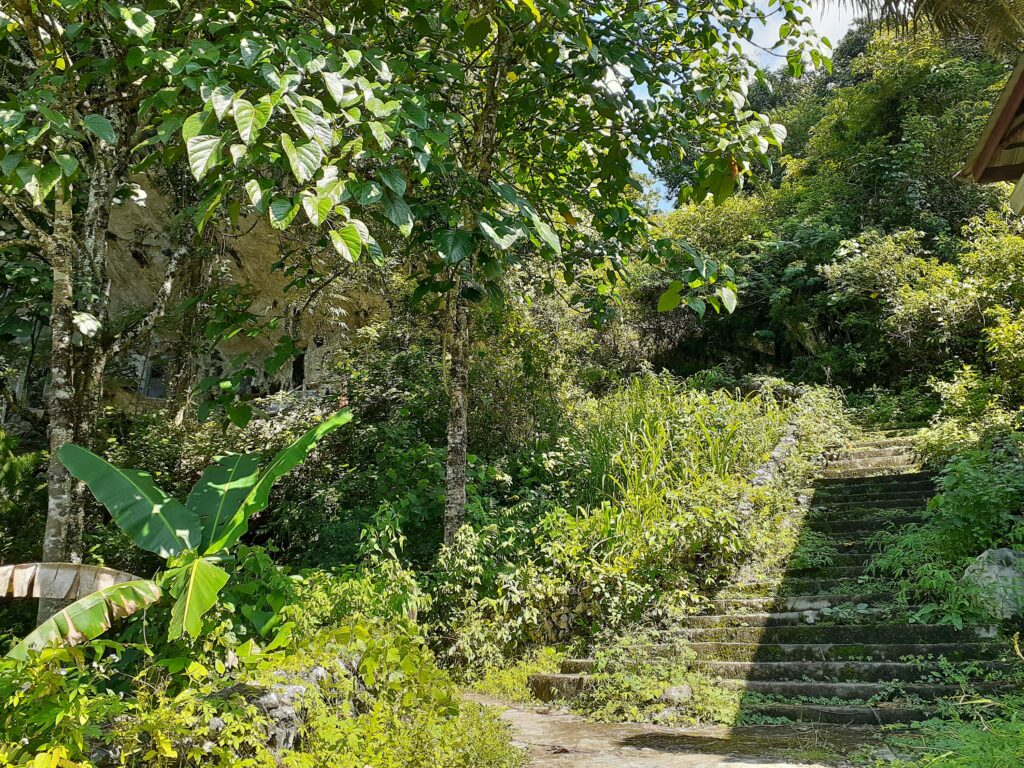 It's quiet here too, with no other travellers besides us. When we parked our bikes, a woman came out from a nearby shop and collected the entrance fee. Rp 30,000 for foreigners and Rp 15,000 for Indonesians.
From there, down a slope, there are stairs that lead to the entrance of the cave cemetery.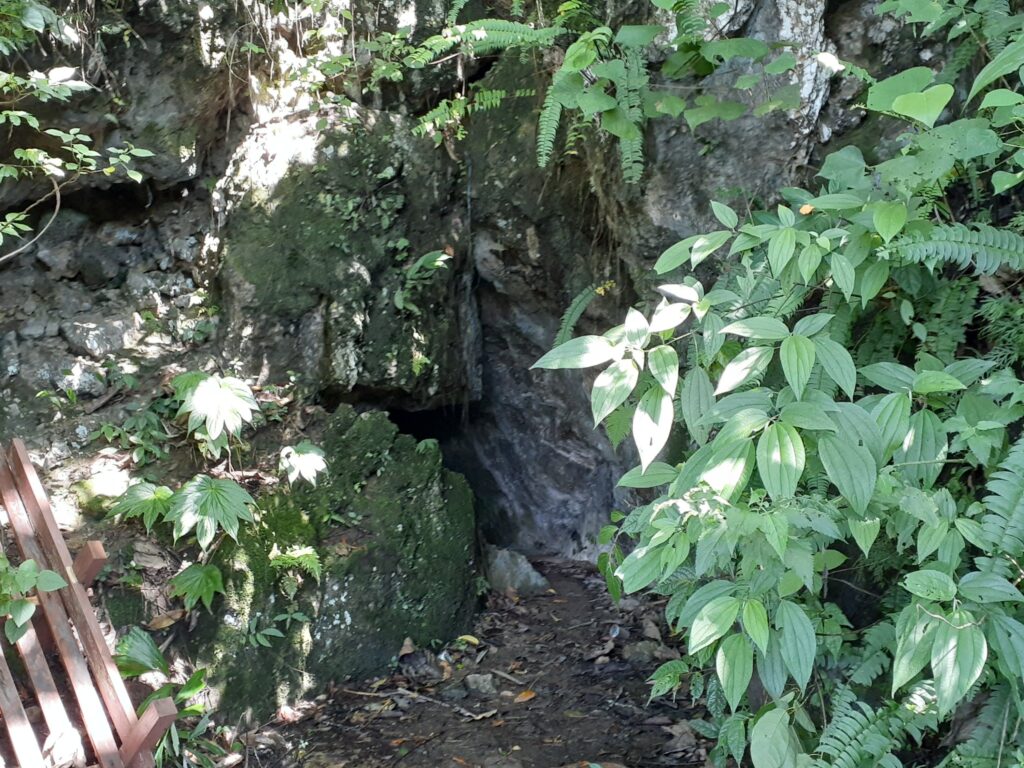 The wooden coffins look quite old. The human bones are exposed intact, as in the Toraja cemetery we have seen so far.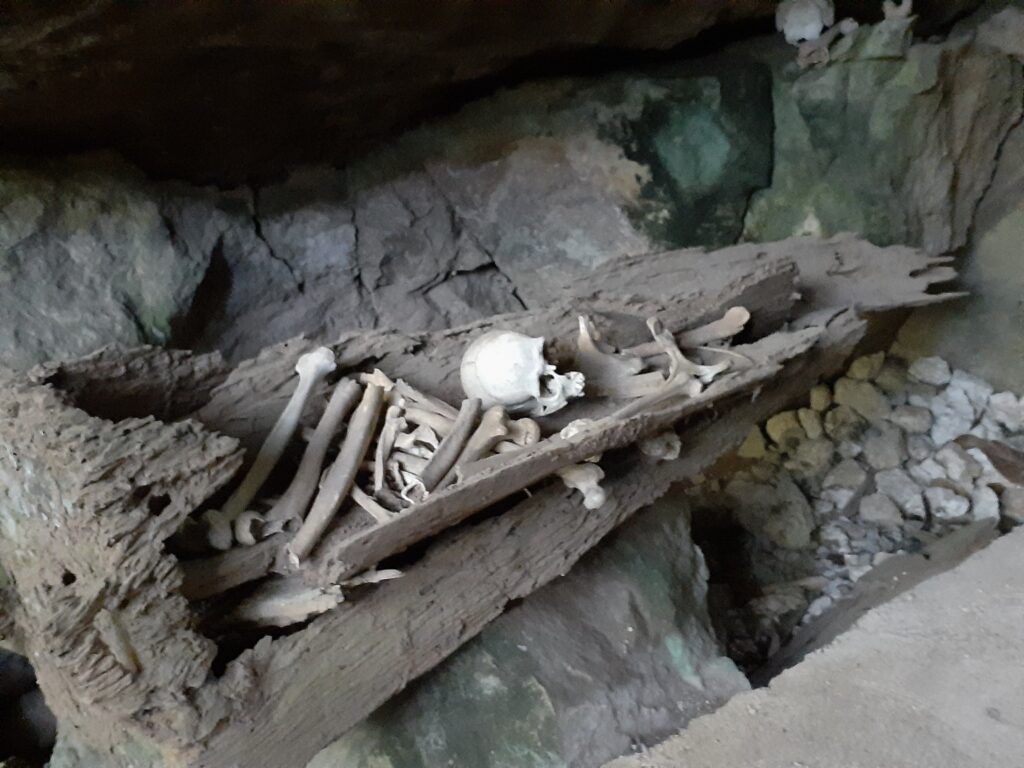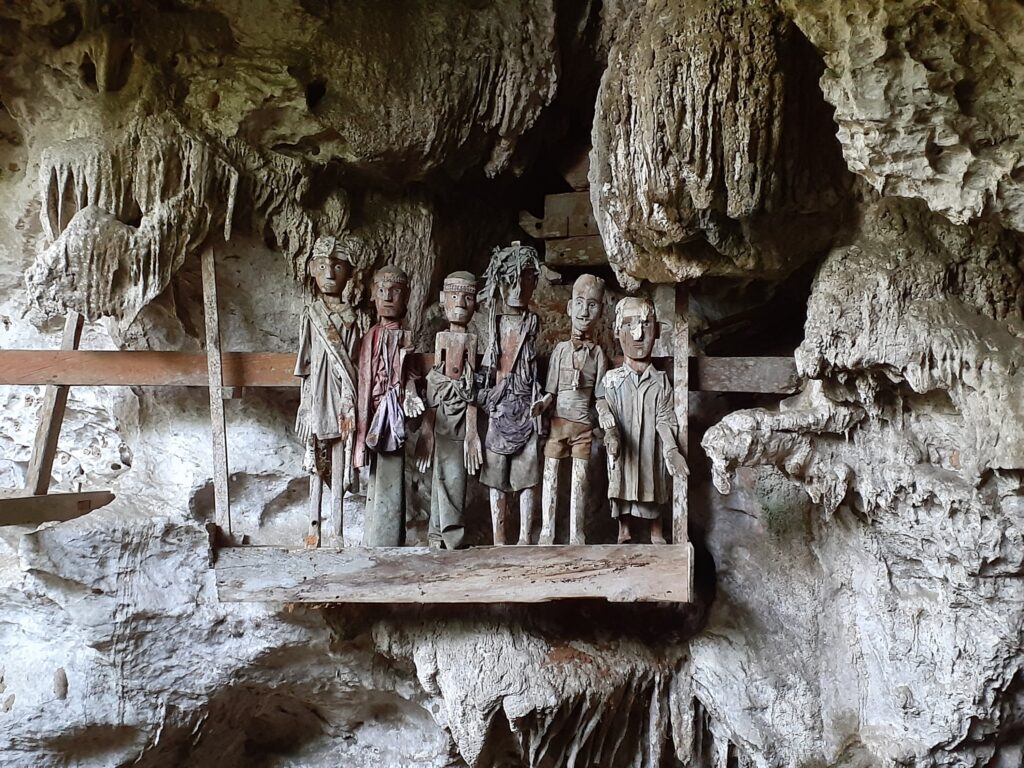 Touring the country roads of Tana Toraja: the most beautiful tongkonan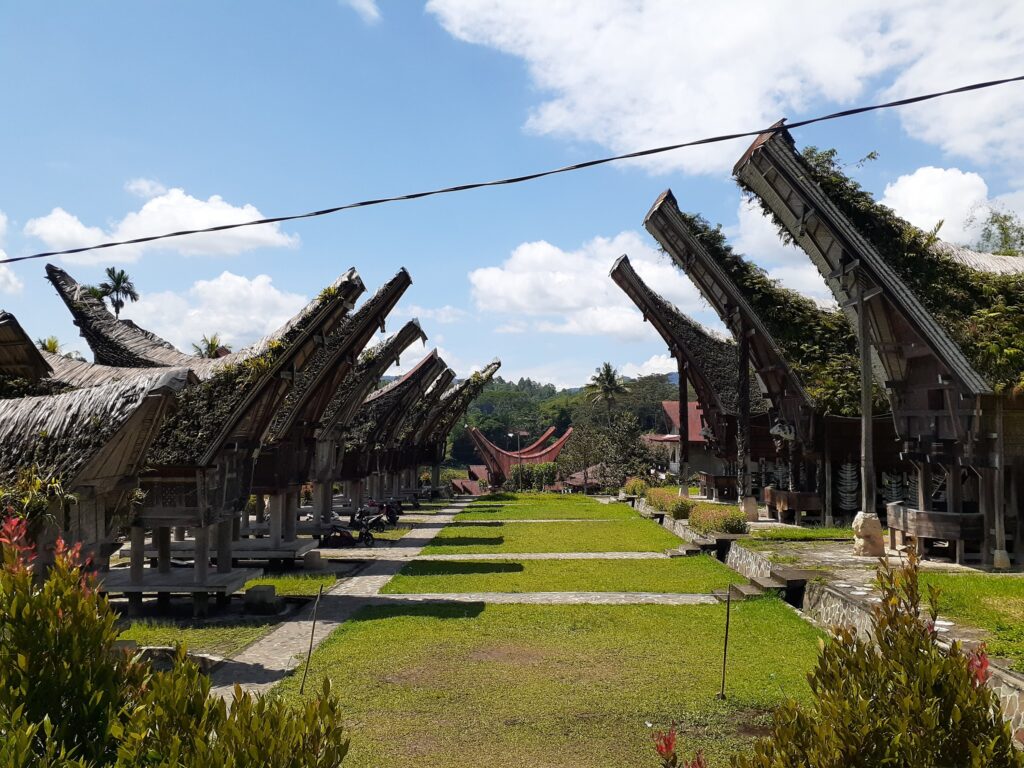 We rode our bike along country roads from the outskirts of Makale to a viewpoint in the northern part of Rantepao. Some of the roads on the way were in bad condition and not paved, but the views of the tongkonan dotted amongst the rice terraces were spectacular.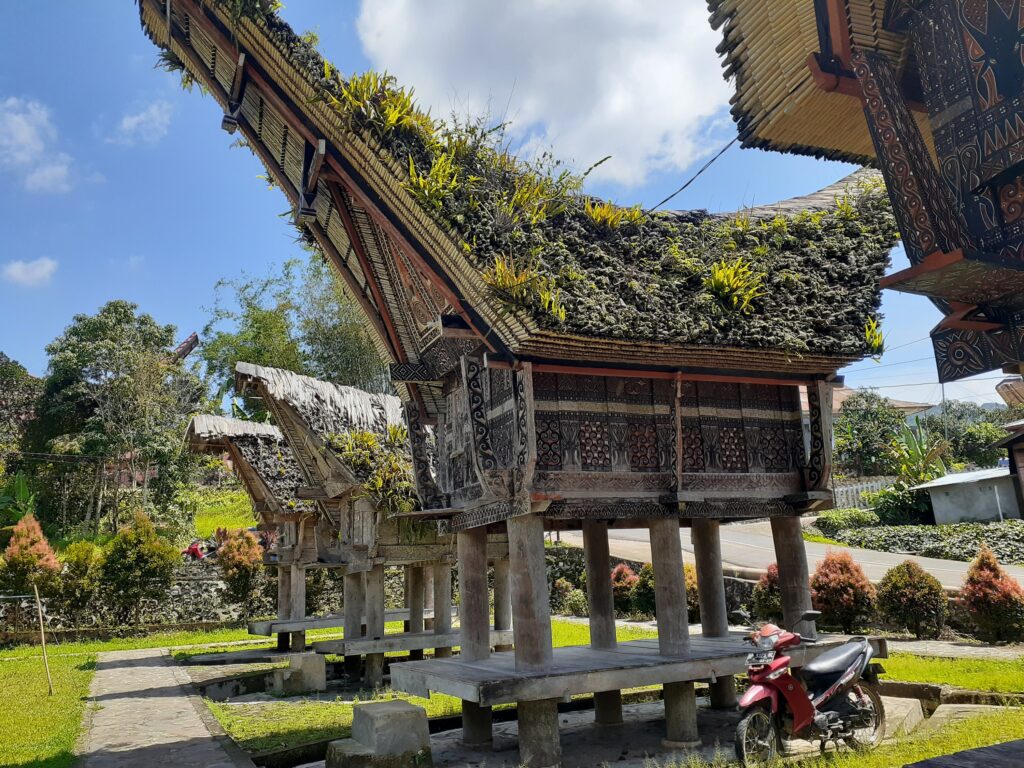 We happened to stop at a square with a particularly beautiful row of tongkonan, which was marked on the map as Tongkonan Karuaya.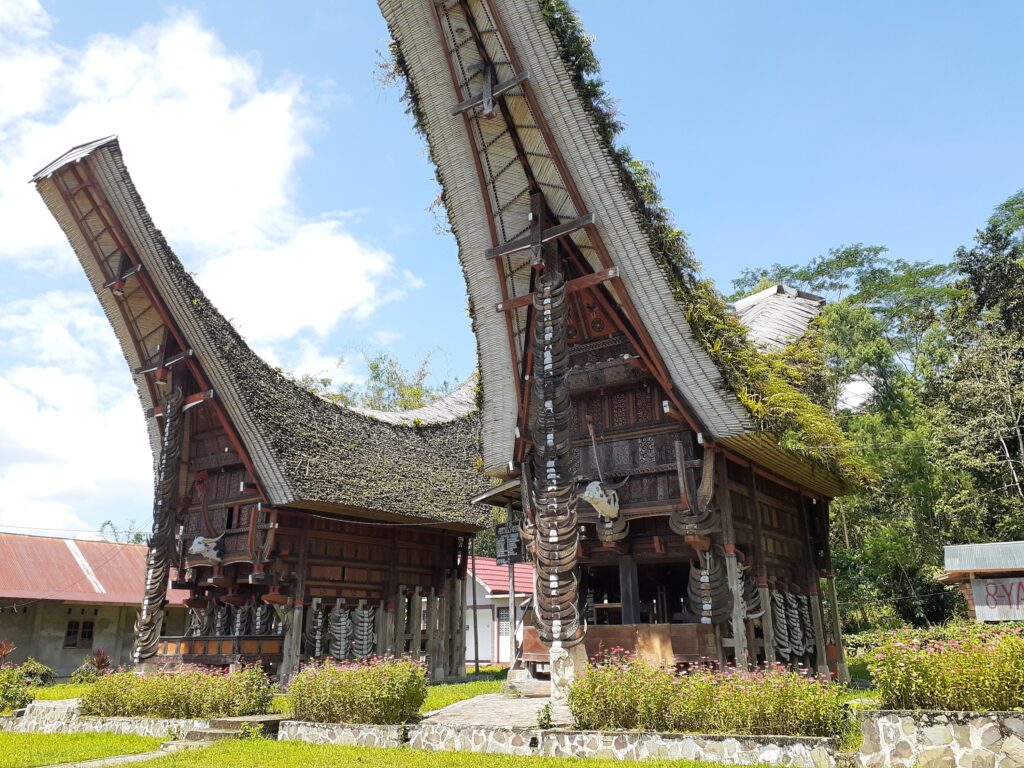 Today, tongkonan are mainly made of tin roofs, but the tongkonan here have traditional bamboo roofs. The plants growing on them are visually very attractive).
This was the most beautiful tongkonan we saw during our stay in Tana Toraja.
Bakso for lunch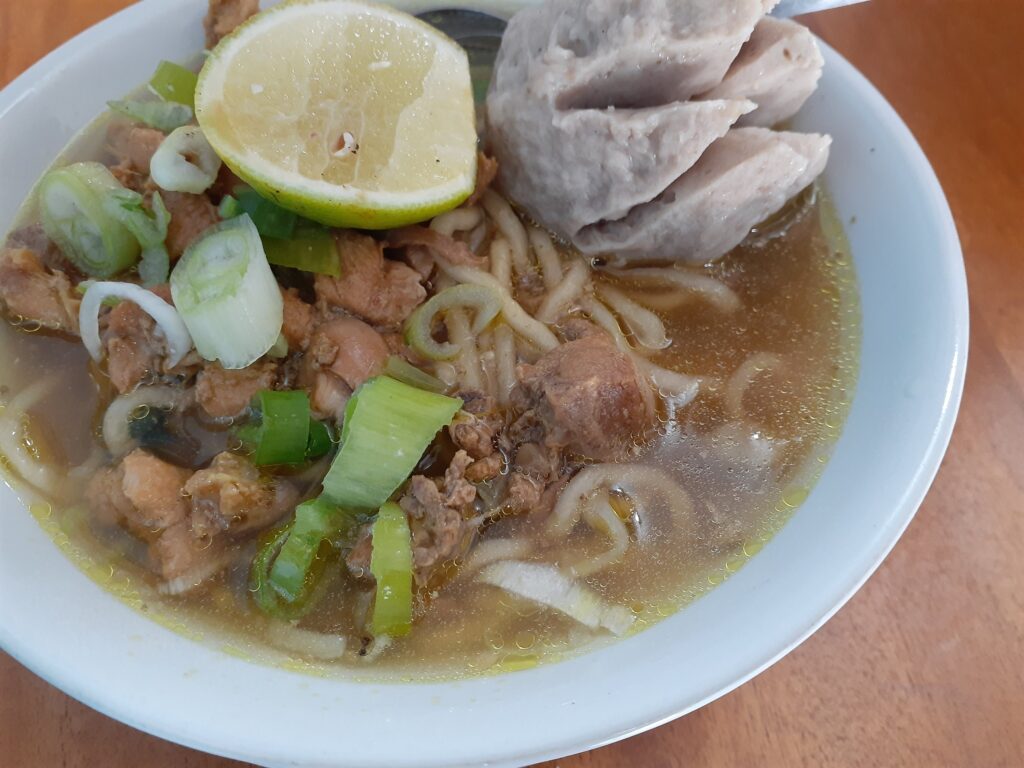 Before heading north to Rantepao, we had lunch. Indonesian-style ramen, bakso. Unfortunately the portions were small, but the broth and fresh noodles were delicious.
After lunch we went up to the viewpoint.
Batutumonga viewpoint, north of Rantepao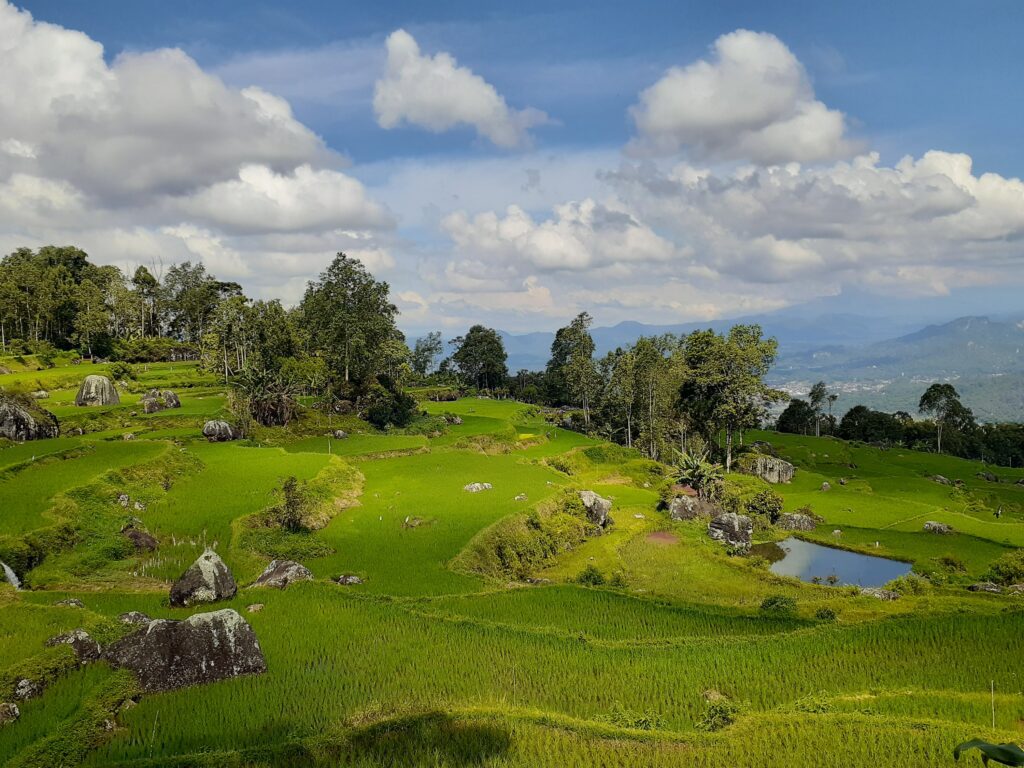 Motorbike up the mountain north of Rantepao. The road was narrow and steep, so there were a few near-misses, but the view from the viewpoint and the scenery along the way is breathtakingly beautiful.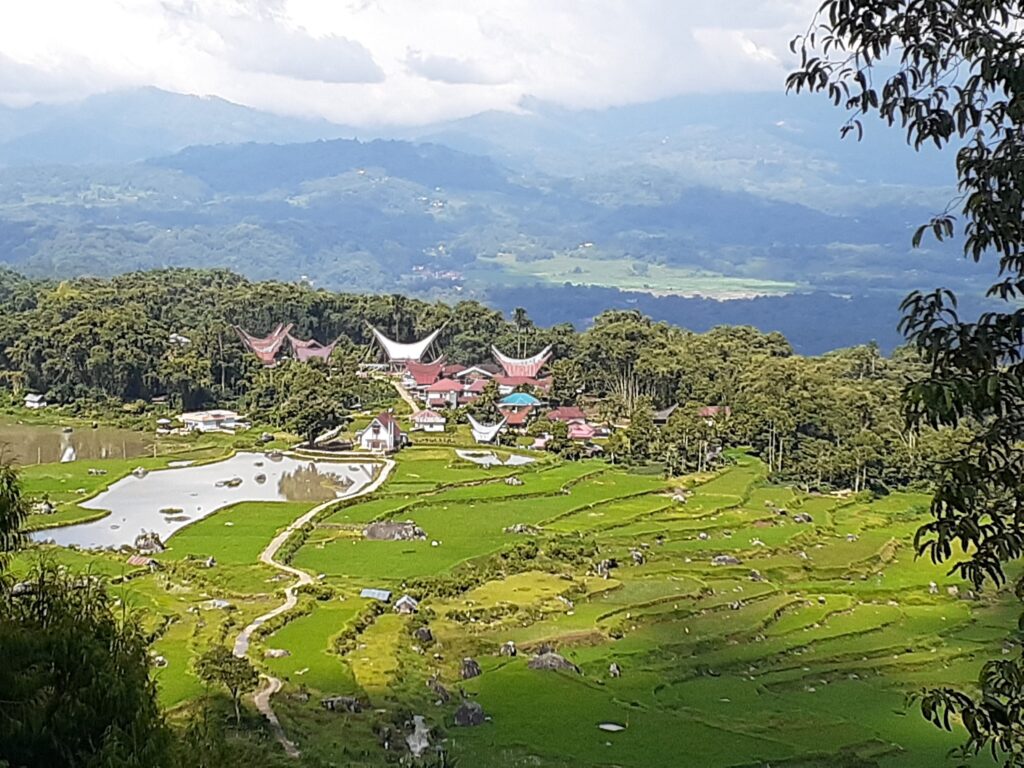 Batutumonga view is not really a viewpoint more a coffee shop, but the scenery was beautiful.
From Tanah Toraja to Togian Island
The following is a list of tourist attractions and activities in Tana Toraja. There are many more sights to see, so a longer stay in Tana Toraja would be well worth it.
After four nights we continued on to our next destination, the Togean Islands.