After a week in Raja Ampat, we decided to go to the Banda Islands via Ambon.
It is possible to fly from Sorong to Ambon, but it is a bit expensive, so we decided to go by PELNI boat, as we had time to spare.
Public boat from Raja Ampat to Sorong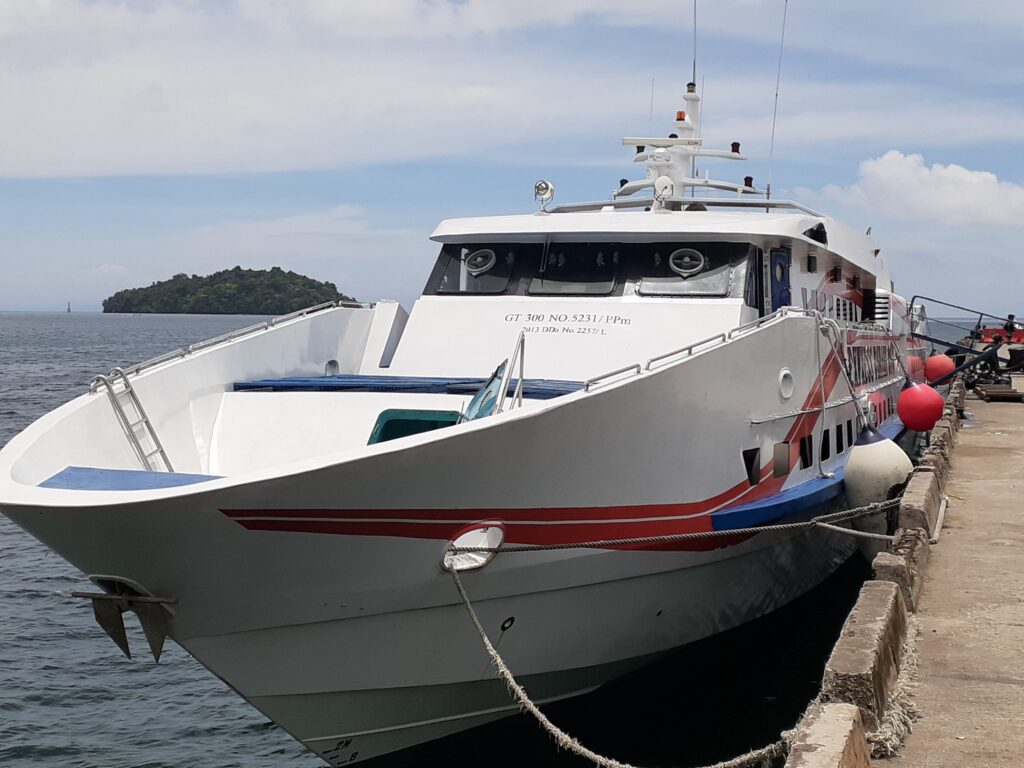 We stayed on Pulau Kri in Raja Ampat. It is an hour's boat ride from Kri to Waisai.  We were lucky to hitch a ride with an Italian tour group who were staying in the guesthouse next door.  Nice boat!
Chartering a boat at our accommodation would have cost Rp 500,000 so hitching saved us a bit if money.  We did give 200,000 for the local boat guys to say thanks.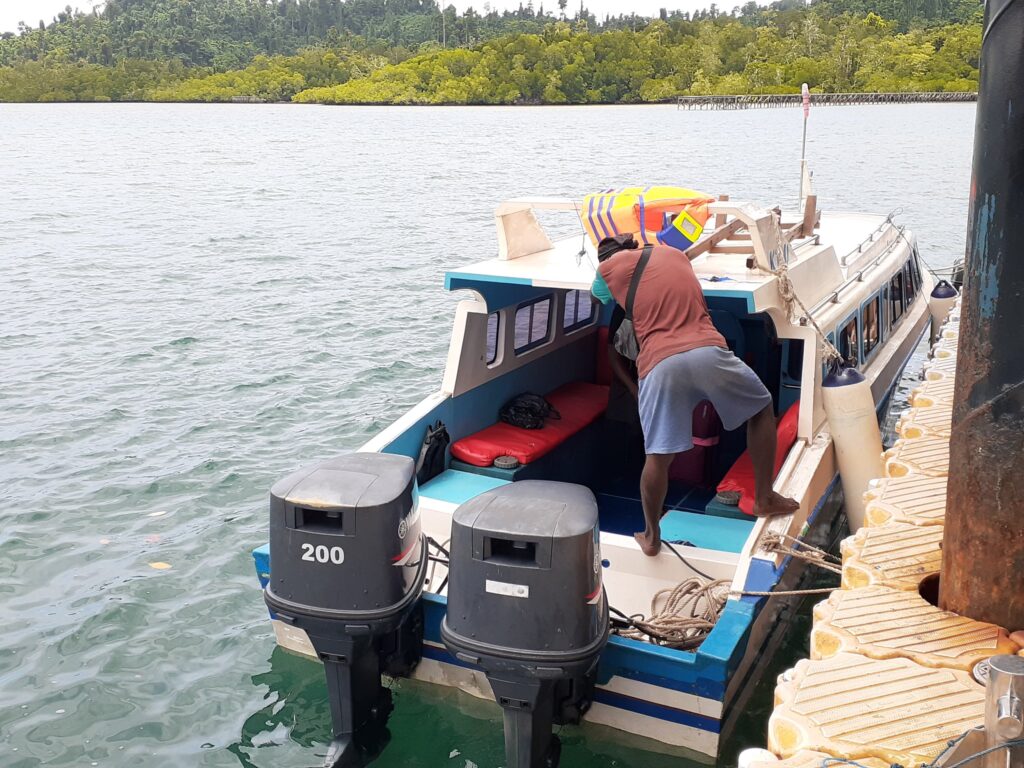 The boat left Kri at 11.30am with two big engines and took us to Waisai in 25 minutes. Half the time of a local longboat.
Public boats operate from Waisai to Sorong at 9am and 2pm normally. Economy class costs Rp 125,000 per person.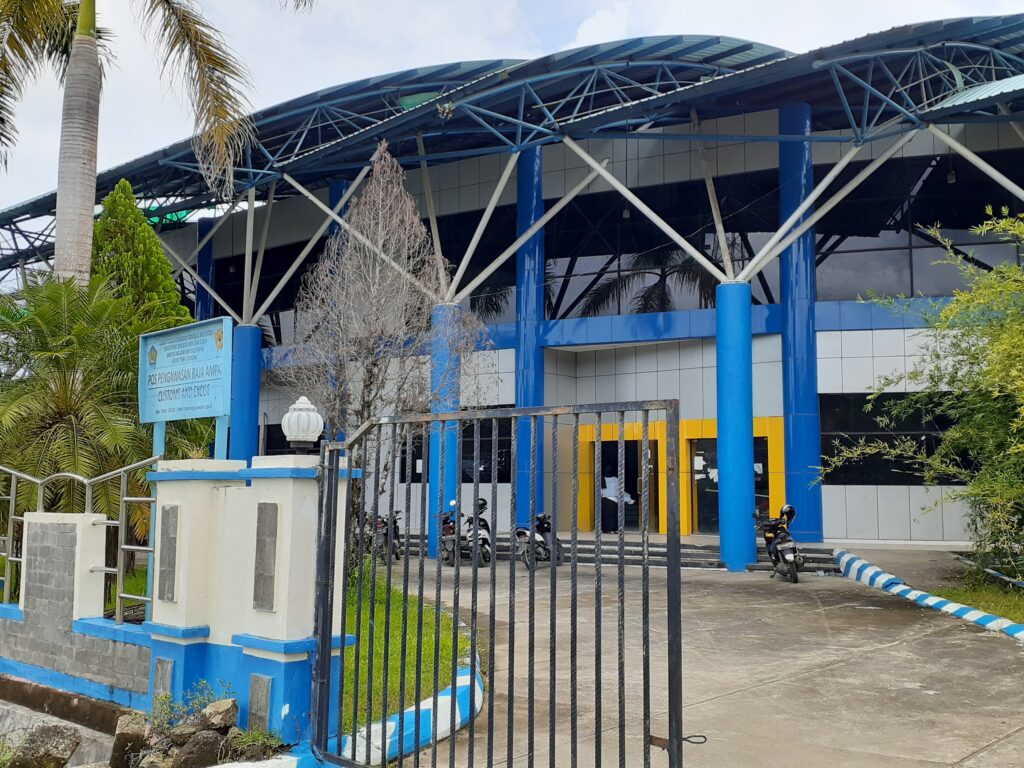 The public boat ride to Sorong takes about 2 hours. We arrived at Pelabuhan rakyat port in Sorong.
From here we took a taxi to our hotel; we checked the price on the Grab app and negotiated that price with the taxi driver.
PELNI boat ticket arrangements in Sorong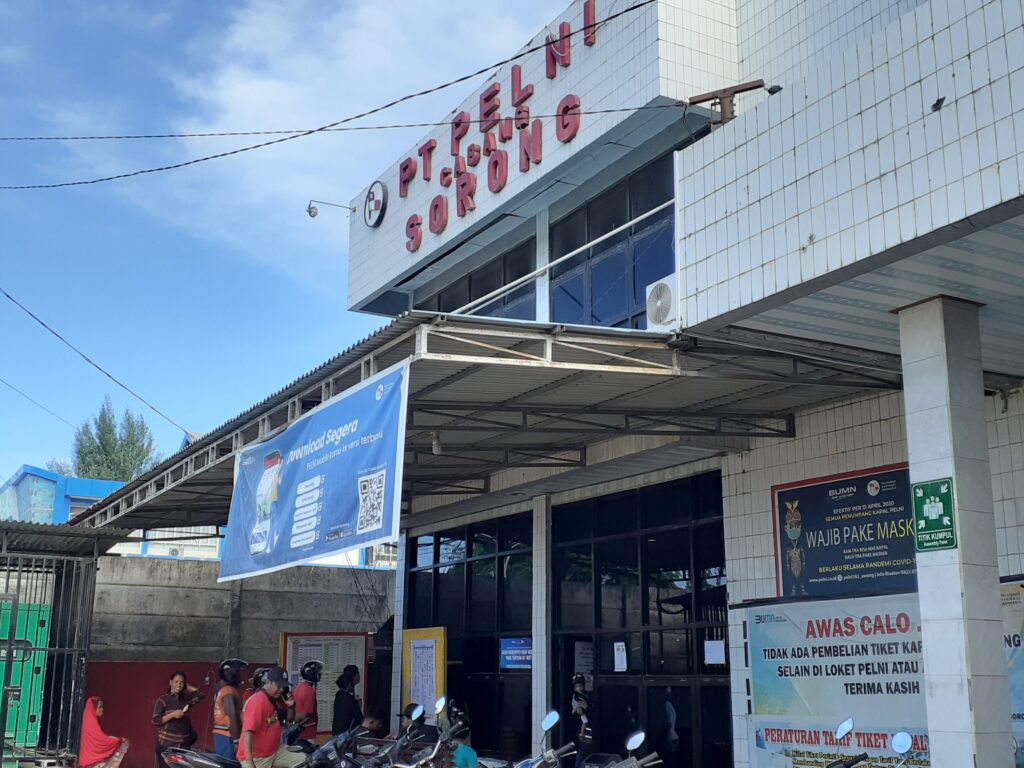 We stayed overnight in Sorong the day we arrived from Kri because the next day, 7 March, there was a PELNI boat to Ambon leaving at 6pm.
The next morning, i.e. the day of embarkation, we bought a ticket at the Perni boat ticket office.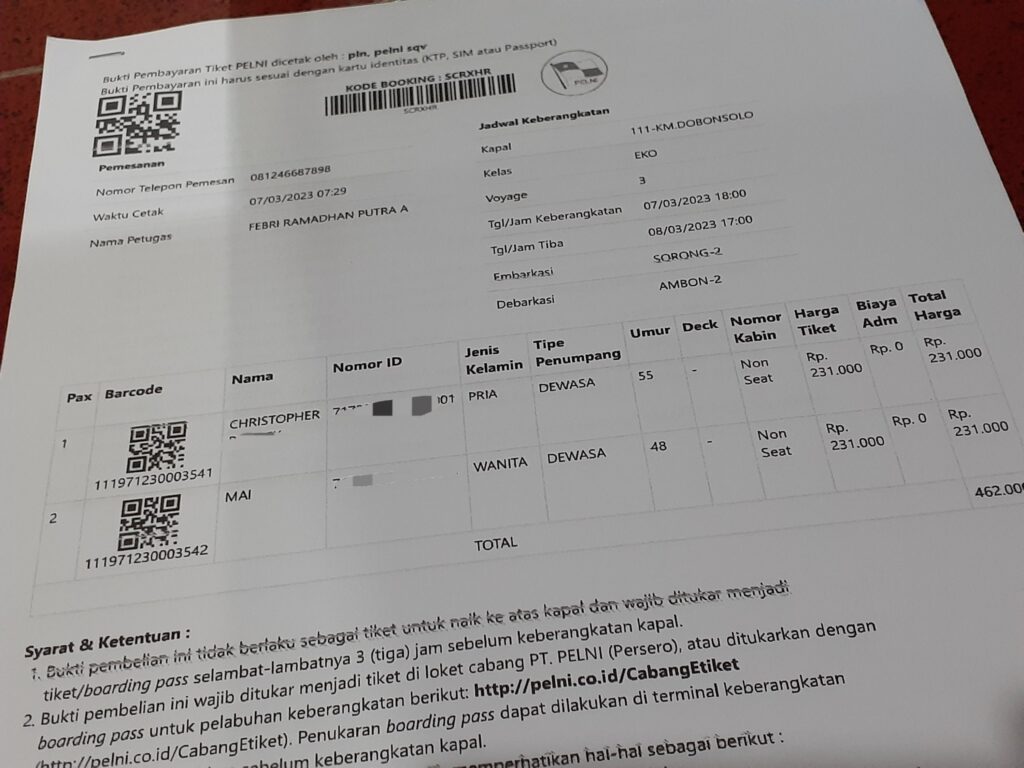 From Sorong to Ambon costs Rp 231 000 per person. The ship seemed to be full because we could only get 'No Seat' tickets.
It is 23 hours from Sorong to Ambon, so it was going to be hard without a bed. However, when we boarded we negotiated with the crew to get a cabin.
We also bought tickets in Economy class from Ambon to Banda Neira for Rp 110 000 per person. We would spend the night of arrival in Ambon and then take the onward boat.
Boarding the DOBONSOLO from Sorong to Ambon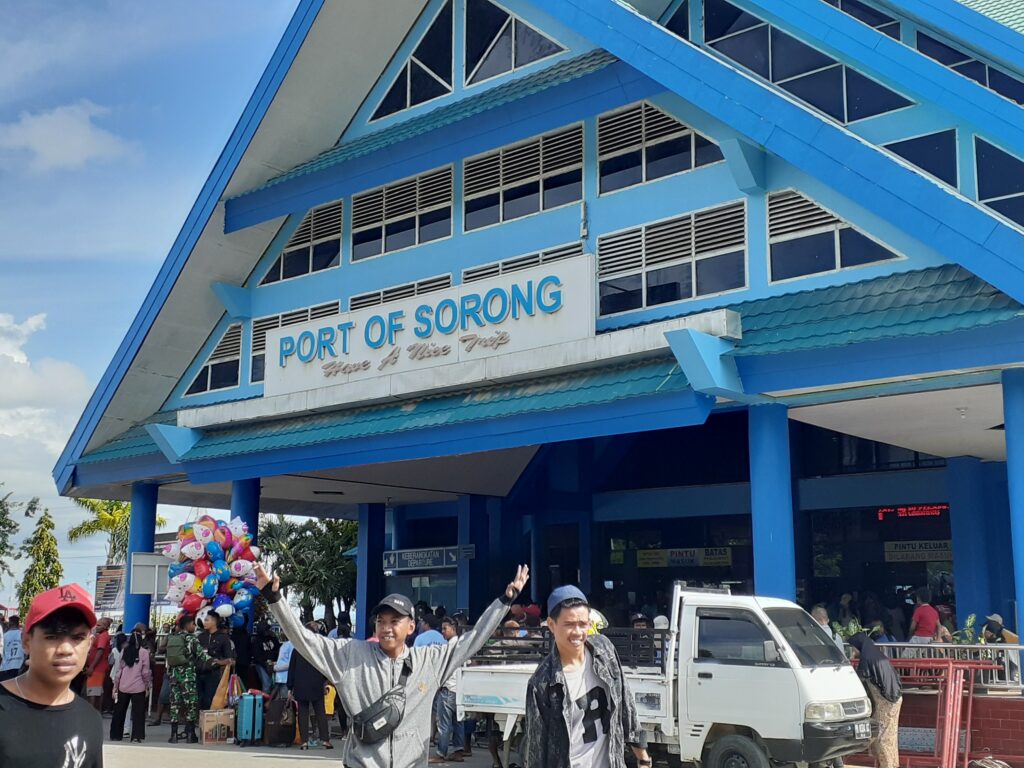 The DOBONSOLO was built in 1993. She is a huge passenger ship, 146 m long, 23 m wide and 41.5 m high. Despite her size, she does not have a large passenger capacity – only 1,974. No wonder there were 'No Seats' left for us!
The PELNI ships depart from Pelabuhan Sorong, not from the port from which the Waisai-Sorong public boat leaves.
When we bought the ticket, we were told to go to the port at 3pm and on arrival at 3:15 the boat was already in port and boarding had started.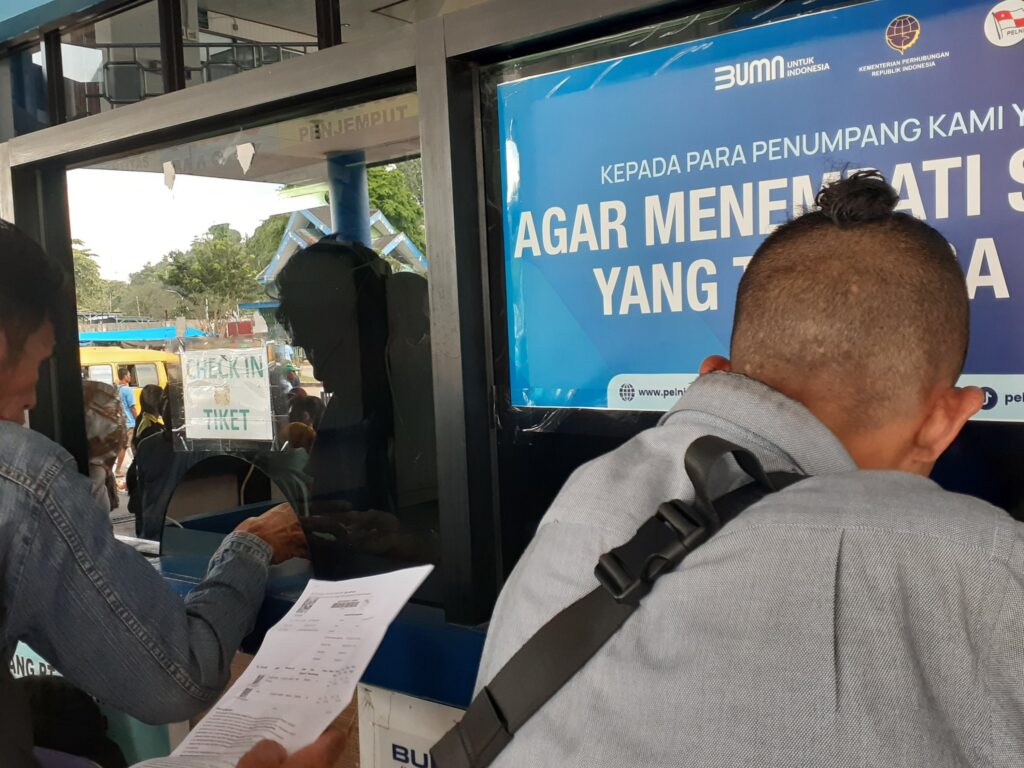 There is a check-in counter near the entrance to the Sorong port building where you can print out your boarding ticket. With the boarding ticket, we went inside and boarded the ship.
When we boarded the boat, the landing area was already overflowing with passengers. They were all camped out on mattresses and cardboard. The economy class beds were more than full and passengers were squeezed into every corridor.
We have spent the night on the outside deck of the ship before, but would prefer to lie down in bed rather than on the floor if possible.
After boarding, we promptly sought out a uniformed crew member and asked, "Ada cabin (Ada cabin: do you have a cabin)?" I have never been told 'Tidak ada (No)' on a PELNI ship when I have asked this question.
The uniformed crew member on this occasion said "Ada (Yes)" and urged us to follow him. Once up the stairs he handed us over to another crew member, who then took us further up to the 6th deck where we were met by a white uniformed crew member.
The white-uniformed crew member went to the back to get the keys and then took us to an area marked First Class and assigned us to that cabin.
This time it was a first class cabin, not a crew cabin, but a guest cabin. The inside is captured on video.
The crew in white said 700,000 rupiah per room, but we negotiated and got it for 500,000 rupiah. It was a twin room with hot shower, toilet and desk.
The air conditioning worked well at night, as it always does when we stay in cabins on PELNI boats. There are no blankets, so it is advisable to bring long sleeves etc.
Arrival in Ambon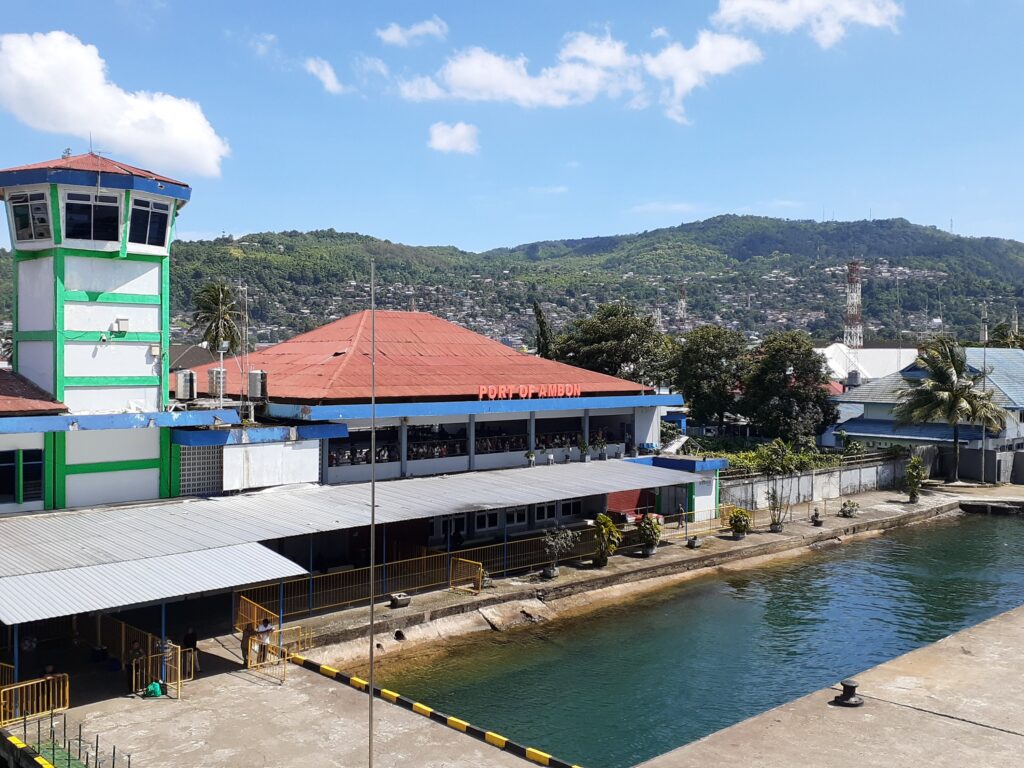 The journey from Sorong to Ambon takes 23 hours and there is no time difference between Sorong and Ambon. The estimated time of arrival was 5pm the following day, the 8th of August, but we actually arrived earlier than planned, at around 3pm.
We stayed overnight in Ambon and took a boat to Banda Neira the next day.
Ambon is one of the largest cities in eastern Indonesia and the capital of Maluku Province. Its population was 310,000 in 2012. As it is a large city, we did some shopping for necessities before heading to the Banda countryside.
When we bought our tickets, we were scheduled to leave at 6pm on the 9th and arrive in Banda Neira at 8am the next morning. however, when we went to the Perni boat ticket office in Ambon on the same day to check, we were told that the boat had been delayed and would leave at 10pm.
So we killed time until about 6pm, the boarding time, and went to the port of Ambon.
Boarding the ship PANGRANGO for Banda Neira at Ambon port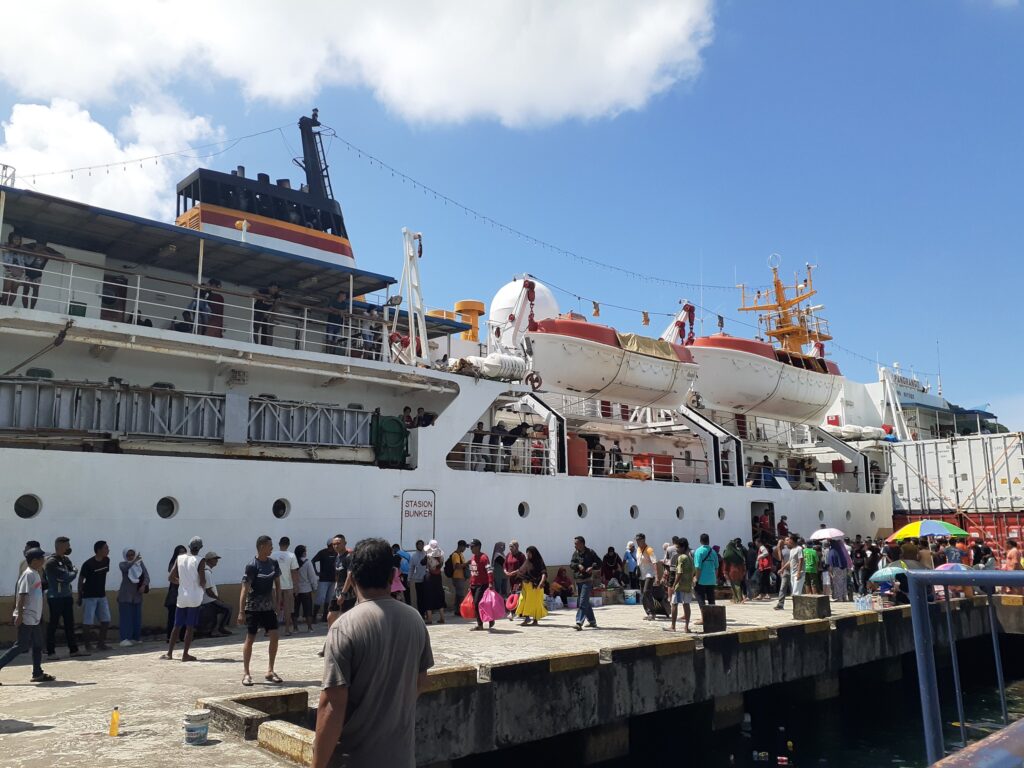 We arrived at Ambon Port at around 6pm. It was already full of people and luggage. We were told that entry would start at 8am and had to wait another 30 minutes.
There was a boarding ticket printer on the left side of the building towards the entrance, and at around 6.30pm the cover was removed and the tickets were ready for use. The paper with the barcode and QR code given to you when you bought your ticket is scanned and your boarding ticket is printed.
Although you have obtained your boarding ticket, you are told that you are not yet allowed to enter the building and wait again.
The PANGRANGO is a passenger ship built in 1995, 74 m long and 8.5 m wide, smaller than previous Perni ships. Passenger capacity is 496.
When you get on board, there are people as well as luggage crammed everywhere. We contacted several crew members to try to get a cabin on this ship as well. However, the crew members who arrange cabins are also very bullish, as the ship's capacity is small and there seem to be many passengers who want to get a cabin.
On the ship from Bitung to Ternate, a nurse's room cost us Rp 250 000. From Ternate to Sorong we paid Rp 450 000 for an electrician's room. From Sorong to Ambon it was Rp 500,000 in a regular first class cabin, not a crew member's room.
It is not a good deal compared to that, but this time we paid 500,000 rupiah for a four-bed room in a regular second class cabin. Even so, I think we were lucky to get a room because the ship was overflowing with people and cargo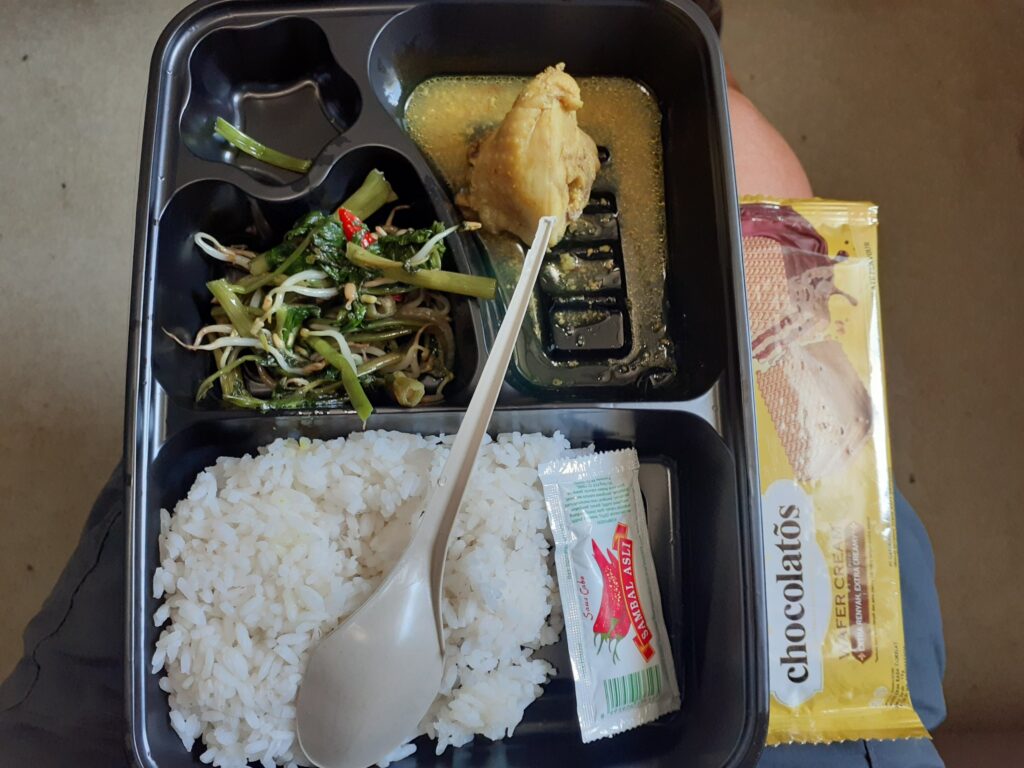 Arrival in Bandaneira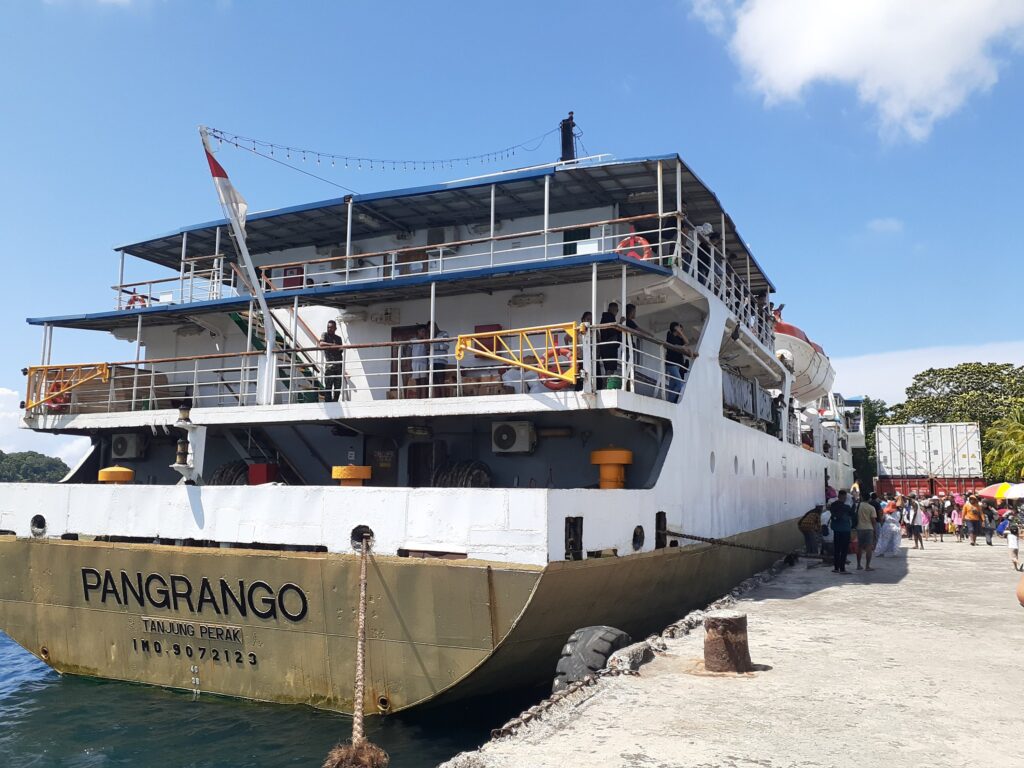 Due to delays, the ship, which was due to leave at 10pm, was further delayed and left at midnight. Arrival in Banda Neira the next day was at 2pm.
After leaving Banda Neira, the ship continued its journey further south to Saumlakki.