After our stay in Ternate, our next destination was Raja Ampat. Raja Ampat is world famous for diving and snorkelling.
There are various ways to get to Raja Ampat, usually via Sorong.
We decided to take the PELNI boat from Ternate to Sorong and then take a public boat to Raja Ampat.
How we bought PELNI boat tickets from Ternate to Sorong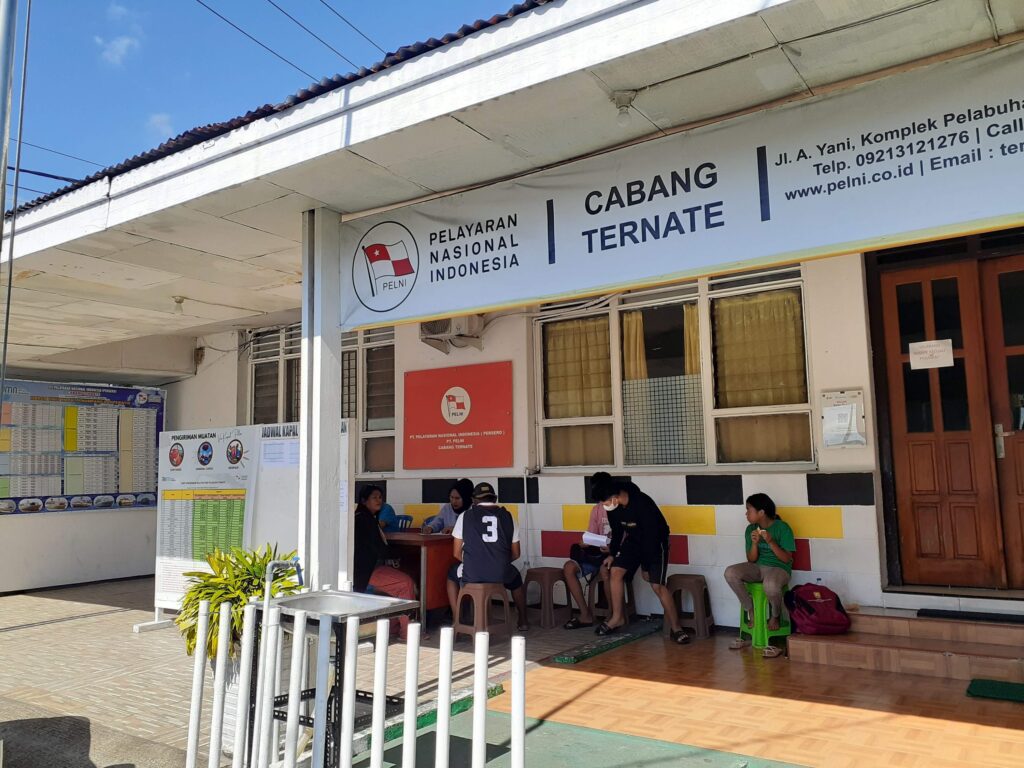 Sorong is a city in Southwest Papua Province with a population of approximately 220,000 (2014). As well as being the gateway to Raja Ampat, it is a logistics hub for oil, natural gas and other commodities in eastern Indonesia
Most people fly to Sorong, but we decided to take the PELNI boat from Ternate.
The PELNI boat schedule is announced about one month in advance and can be found at ticket offices.
According to the schedule, the PELNI boat from Ternate to Sorong would leave on Sunday, 26 February at 9am.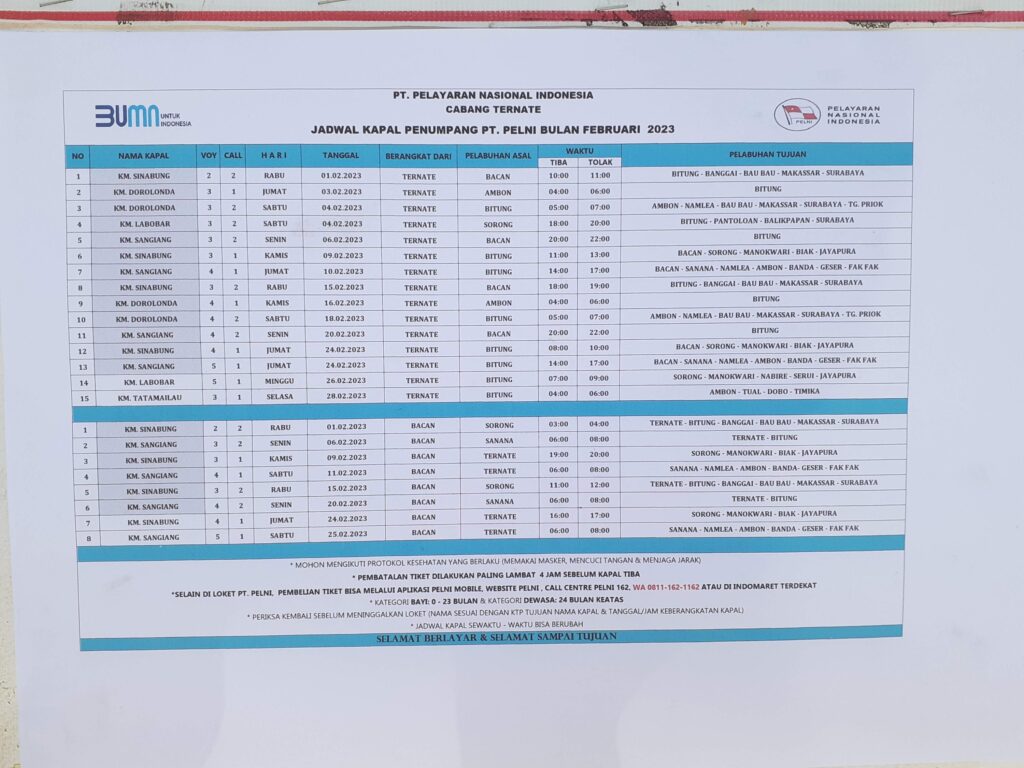 Our boat was the Labobar coming from Bitung with a journey time to Sorong of 20 hours.
We went to the ticket office the day before and purchased our boarding tickets.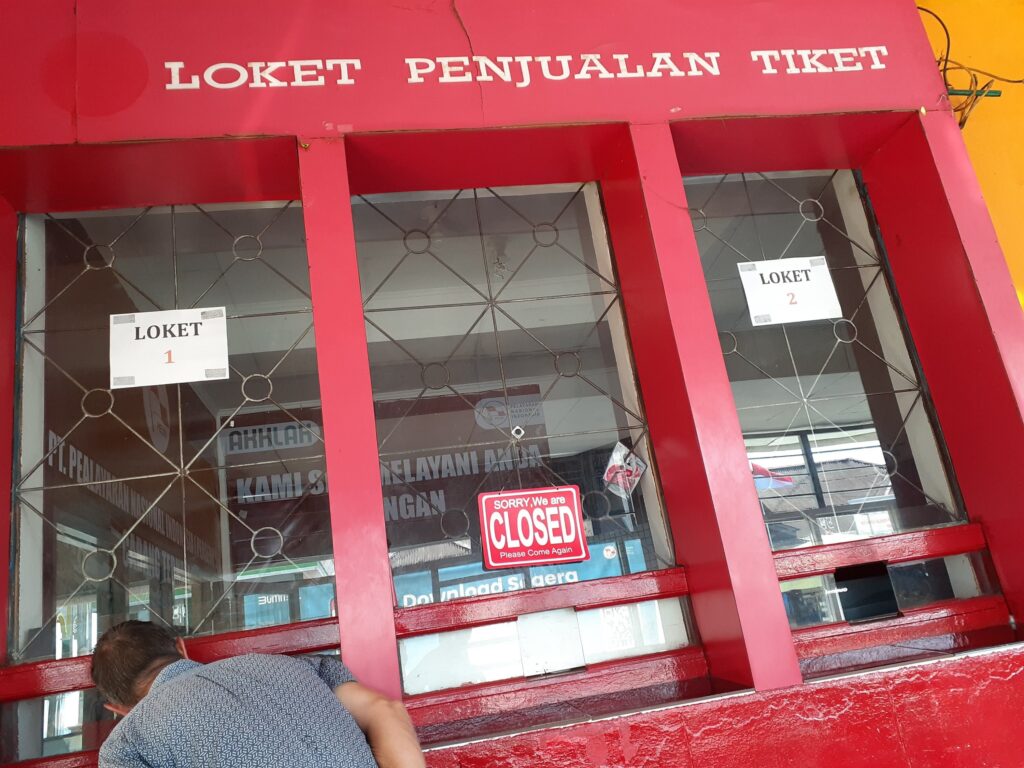 There were a few other buyers queuing at the ticket counter. You get a form from the desk in front of the counter to fill in. You apply with the form, your passport and the boarding ticket price.
The last time I bought a ticket for the PELNI boat in Bitung, I could not pay in cash.
The woman in charge at this time happened to have studied Japanese at school and asked Mai to practise her Japanese. So we had the added bonus of providing her with some rudimentary Japanese conversation practice.
After we had paid we received a piece of paper with a barcode and our personal details on it. They told us that we should take this with us to board the next day.
We left the ticket office after being told that boarding would start two hours before departure.
Boarding the PELNI boat in Ternate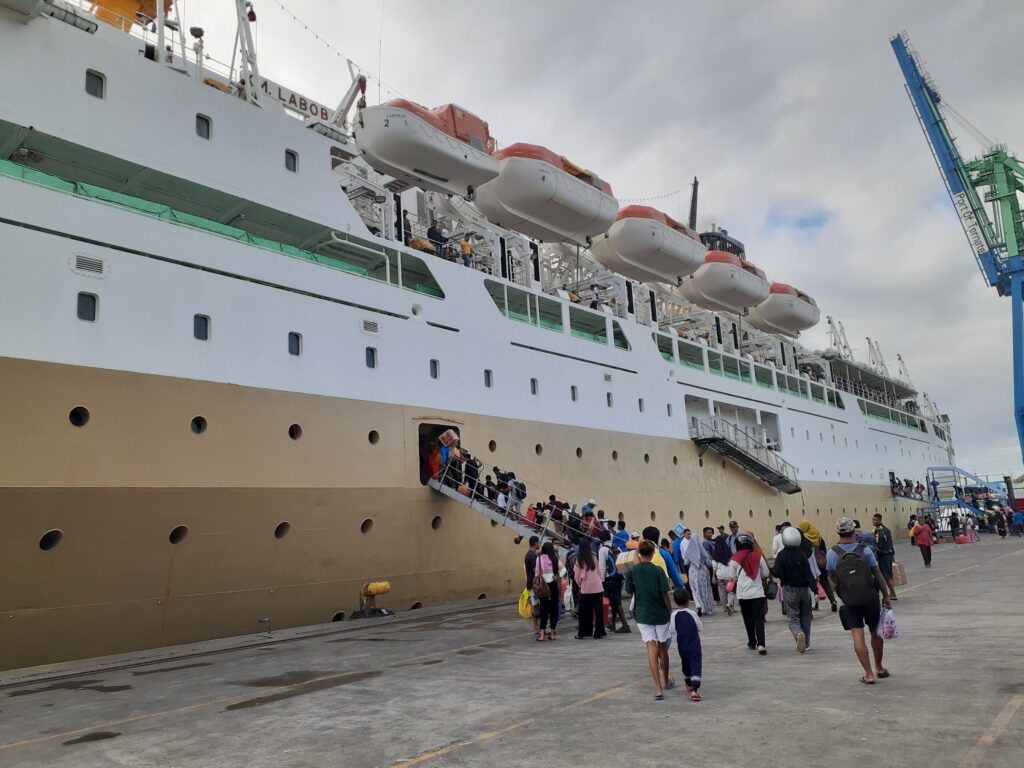 The boat to Sorong was due to depart at 9am, so we went to the port at 7.30am because boarding should start two hours before departure.
But at that time, the boat that was supposed to come from Bitung had not yet arrived. When we asked at the ticket office, we were told that it was delayed by one hour.
We decided to have breakfast and return to the port later. The boat seemed to have arrived before 8am and boarding had started when we returned to the port.
The departure time was also delayed and we finally left Ternate at nearly 11am. This time, the boat journey would take about 20 hours.
Negotiating with the crew to secure a cabin
After embarkation, we sat at a table on the top deck for a few hours, but in the evening we negotiated with the crew and got a cabin. The details are captured in the video.
Thanks to this, we had a good night's sleep! Just before we reached Ternate, there was an on-board announcement and were woken up.
Arrival in Sorong
We arrived in Sorong the next morning at around 5am. It is a large port. Sunrise that day was at 6:24 am and it was still dark when we arrived.
We then spent some time in the waiting room at the port as we wanted to take the 9am public boat (Express) to Waisai.
Public boat to Raja Ampat (Waisai)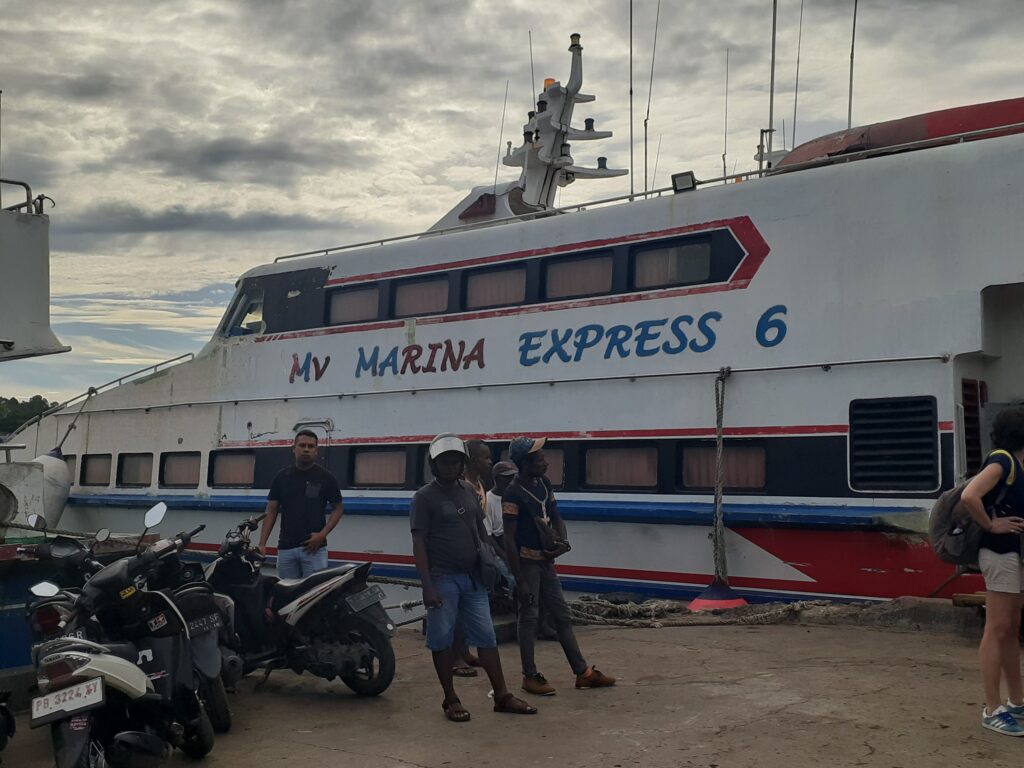 Public boats to Raja Ampat leave from Pelabuhan Rakyat, not the port where the PELNI boats arrive. We walked the 3-4 Kms to the port.
We took the 9am Express boat to Waisai. Buy tickets at the ticket office (Rp 125,000 per person/economy class) and board the boat according to the seat numbers on your ticket.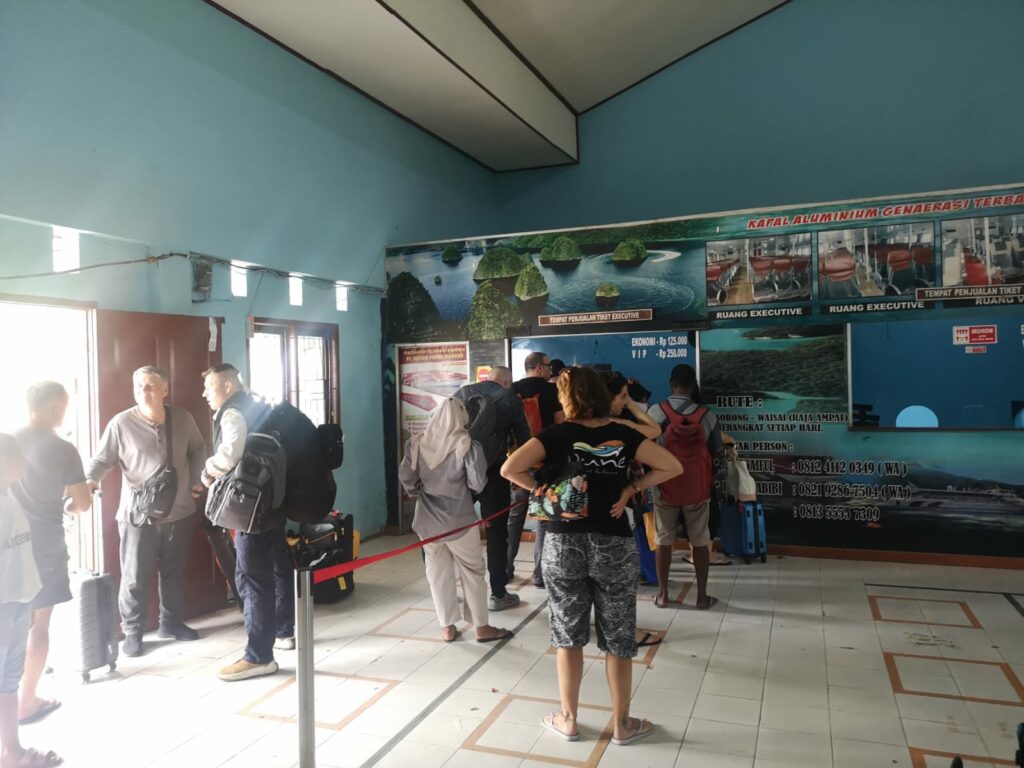 The boat departed more or less on time. The ride is not very comfortable, to be honest because there is nowhere to put your luggage. We didn't have much, unlike many others
They were playing the film Titanic on the boat, so we spent some time watching it. We arrived in Waisai at almost 11.30am.
Transfer from Waisai to the boat that picked us up at the guesthouse.
There are many islands in Raja Ampat. We contacted a guesthouse on Kri Island, which is said to be one of the most popular, and asked them to pick us up from Waisai. It was about an hour away from Waisai and cost Rp 500,000 for two people.
When you arrive at Waisai, you have to pay Rp 700,000 as an entry fee (Marine Park Entry) to enter Raja Ampat and a further Rp 300,000 if you want to dive.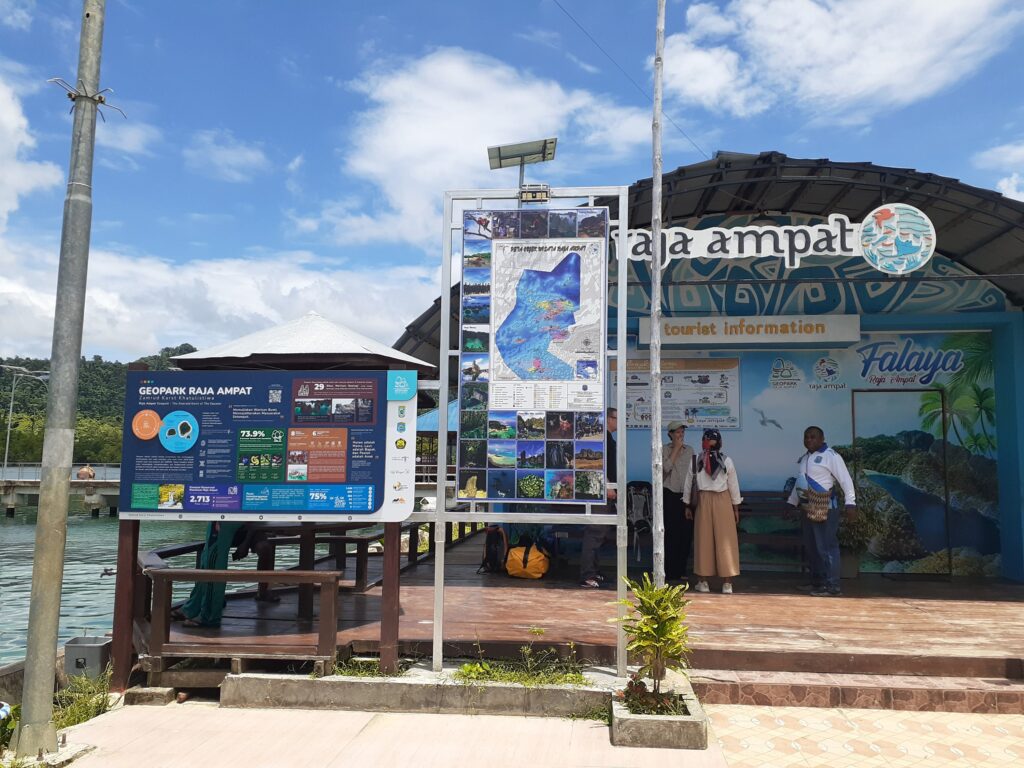 However, when we went to pay the entry fee, the office was closed. It is likely that you will have to pay on your return.
Also, the 300,000 rupiah person needs to pay at an office a little further away from the landing, but when we said we didn't dive, just snorkelled, we were told we didn't have to pay. All this time we were talking to the official Indonesian Government employee.
Opposite the Tourist Information, there is a small landing stage where boats leave for the various islands of Raja Ampat. We took a boat from this landing to Kri, where the guesthouse was located.
Arrival at Koh Kri, Raja Ampat
After about an hour by boat, we finally arrived at our final destination, the Delvin Homestay guesthouse.
Three meals are included and unlimited snorkelling begins each day. You will stay in a water bungalow, although toilets and showers will be shared. Check out our Google Maps post for detailed reviews and pictures!