Whilst Tobelo is the second largest town in North Moluccas after Ternate, but there is not much public transport going there.
The only way to get there using public transport is by taking a shared taxi or chartering a taxi. Petrol prices mean transport is quite expensive.
Getting to the transport Terminal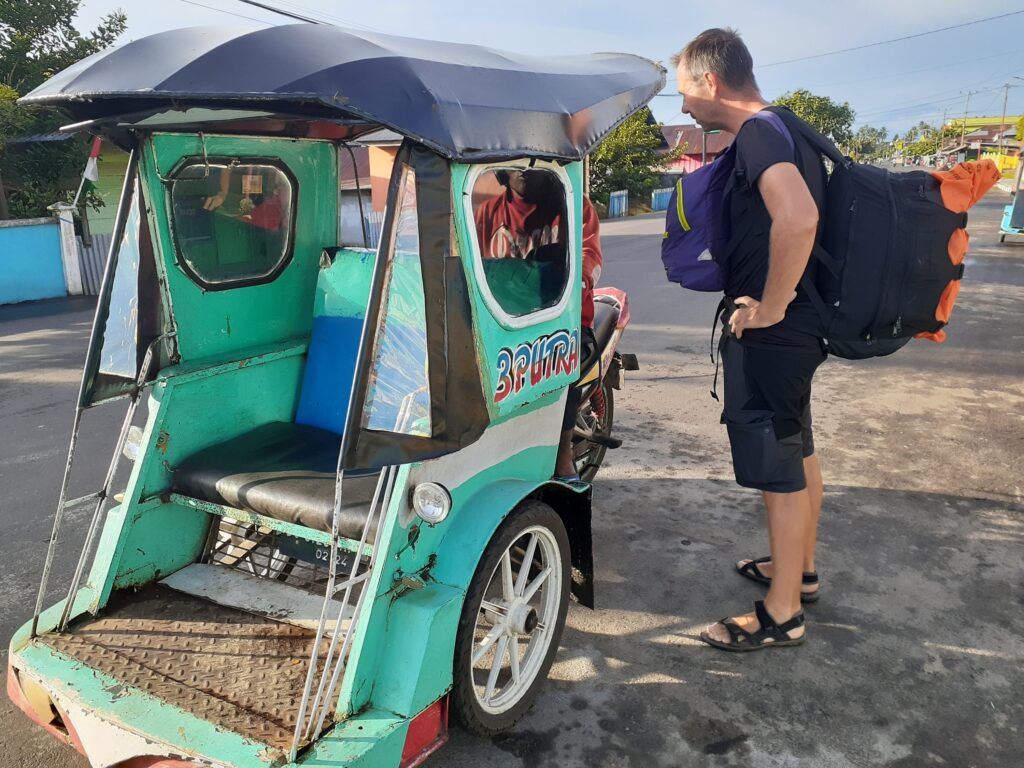 We stayed at losmen Fitrah (cheap hotel) and took a bentor (becak motor) motorbike taxi to the Terminal. The driver initially wanted 10,000 IDR each, but we settled on 10,000 IDR for the two of us for the five minute journey.
Jailolo Terminal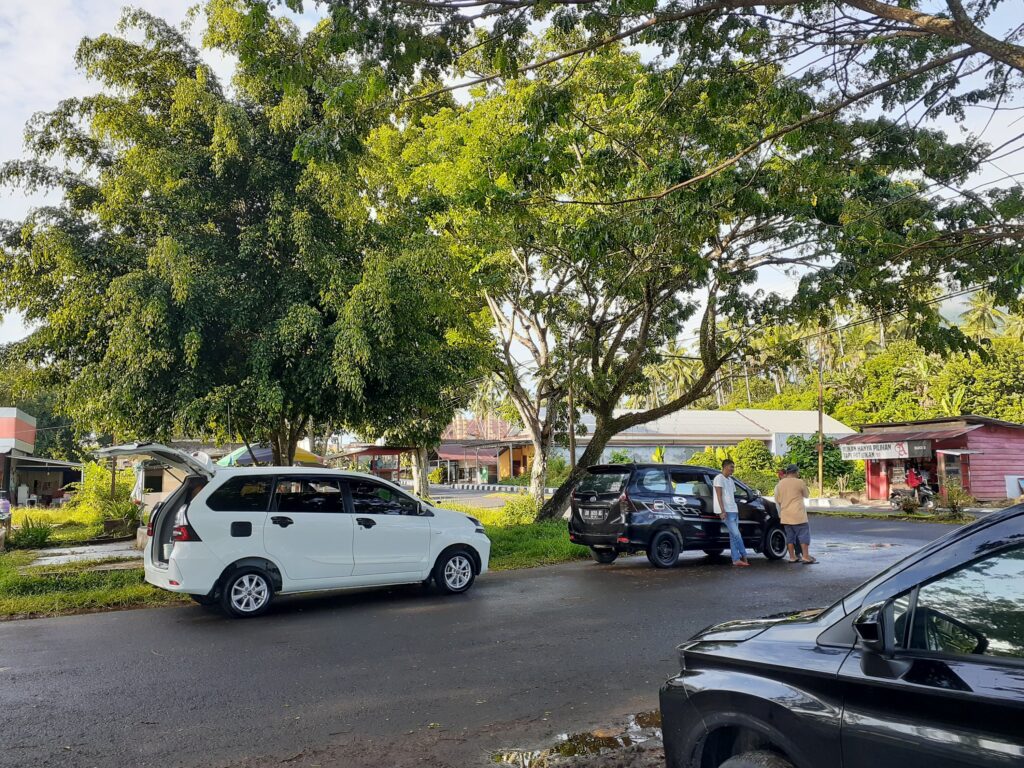 The Terminal is simply a collection of cars underneath some trees, by a field and rumah adat.
There were a few cars when we arrived, but no passengers at all. Cars go to Tobelo or to Weda via Sofifi.
We discussed the price with a driver. The costs would be 700k for a charter, 750k for three persons or 800k for four.
We waited for one and a half hours before another passenger came and then we set off.
The journey from Jailolo to Tobelo
For the first hour we wound up and down small mountains which were heavily forested in parts and in other parts lined with coconut plantations. We often had great views of the ocean in the distance.
After an hour we arrived at Sidangoli and the other passenger disembarked. There was a big looking ferry departing from there.
Lunch stop
We continued on for an hour or so before stopping for lunch at a small restaurant overlooking the sea.
There was a choice of cooked fish and vegetables, along with rice, which was unlimited.
We had two different types of fish in sauces and they were both delicious. The meal cost 70k for the two of us.
Arrival and finding a room in Tobelo
Stepi our driver continued on for another two and a half hours after lunch. It was a beautiful journey as we flanked the sea most of the way and the road was in good condition.
It took us five hours in total to get from Jailolo to Tobelo, including a 20 minute stop for lunch.
We were driven to a losmen which I had bookmarked, but unfortunately it was fully booked. Stepi took us to three other places which were either full or really not very nice.
We finally arrived at the Elizabeth Hotel which was in the process of being renovated. The owner wanted 400k for a room including breakfast, but we finally agreed on 250k for a room with no hot water, but AC and a simple breakfast of coffee and cakes.