After three nights in Kokand, we went to Margilan to visit some silk 'factories'.
It was an easy trip using a Yandex taxi, which we use a lot in Uzbekistan, but there were some happenings on the way, including an accident. Unfortunately, car accidents are a daily occurrence in Uzbekistan.
This section also touches on the driving conditions in Uzbekistan.
Getting from Kokand to Margilan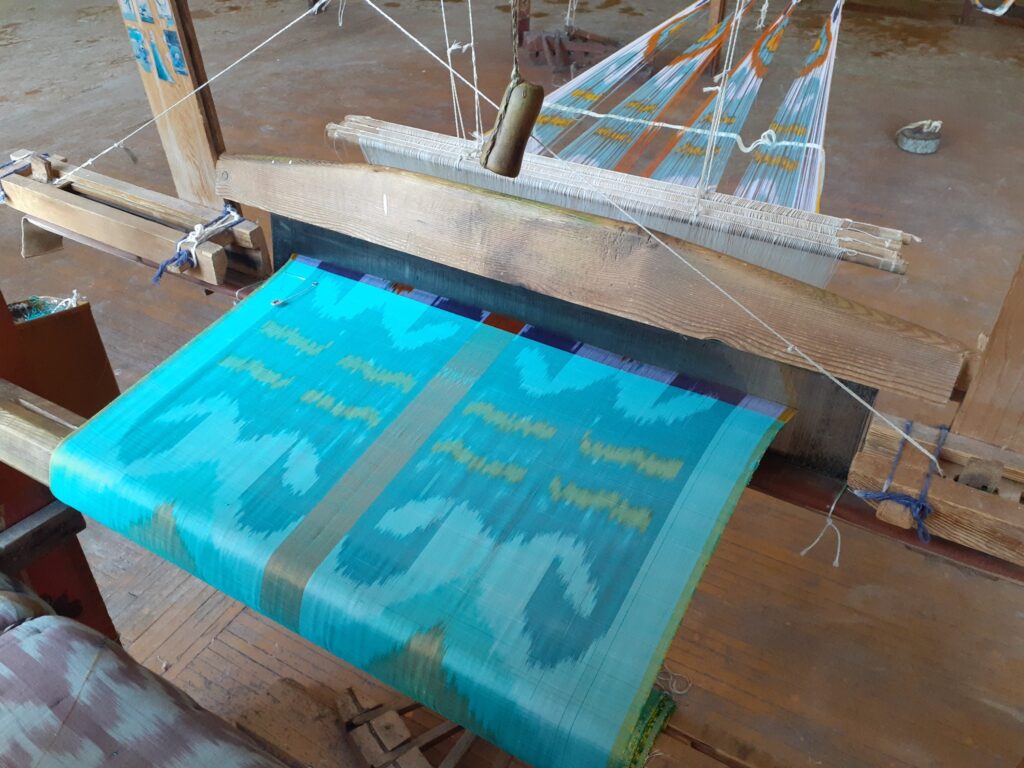 The distance from Kokand town centre to Margilan is approximately 75 km. Shared taxis are available to Margilan, but the boarding point is at Kokand Central Bus Station (Üçköprik Oto İstasyonu), a short distance from the city centre.
According to the locals, the price of a shared taxi from Üçköprik Oto İstasyonu to Margilan is 40,000-50,000 Soms per person. However, if you are staying in the city centre, as we did, it will cost a bit more to get to the shared taxi stand. It is not an impossible distance to walk, but it is a tough distance to walk with luggage. A taxi ride to Üçköprik Oto İstasyonu will probably cost around 10,000 soms.
On the other hand, when we checked with Yandex, which has been very useful during our travels in Uzbekistan, it showed 149,500 Soms from our hotel in Kokand to Margilan, depending on the time of day. Moreover, you can be dropped off at the hotel where you plan to stay in Margilan. This is slightly more expensive than using a shared taxi, but it is more comfortable and convenient .So we decided to take a Yandex taxi all the way to Margilan.
Yandex taxi dispatch app for easy transfers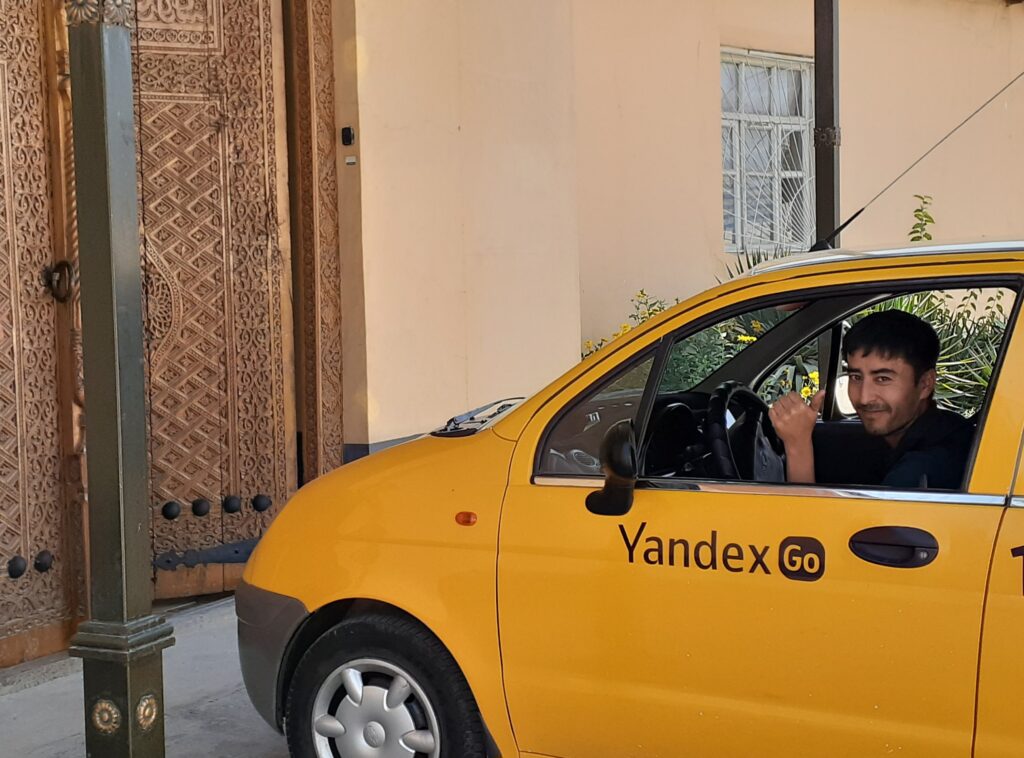 YandexGo is a Russian-based car-dispatch app. Grab is strong in South-East Asia, but Grab is not available in Russia and Central Asia. YandexGo is not available in some small towns in Uzbekistan, but it is very useful in larger cities. We always used Yandex during our trip to Uzbekistan in areas covered by Yandex. Yandex is also useful when negotiating prices with other taxi drivers, as it shows the exact price of a taxi from one point to another.
In big cities such as Tashkent, there are other taxi-dispatch apps besides Yandex, and some locals say that other apps are cheaper. However, we used Yandex exclusively in Uzbekistan because it was by far the easiest to use.
The advantages for foreign travellers are huge, such as not having to negotiate the fare like a regular taxi and not having to explain where to get off, and the service quality of Yandex drivers is usually high because, like Grab, it is equipped with a rating system. Anyway, it is a very reliable tool for travellers who do not know the land and do not speak the local language. Moreover, Yandex taxis in Uzbekistan are cheap – a 10km ride costs between 10,000 and 20,000 som. You should definitely make full use of them.
Additionally, there is a sister app called Yandex Maps, which seems to be easier to use than Google Maps for travel information in Tashkent.
How to use YandexGo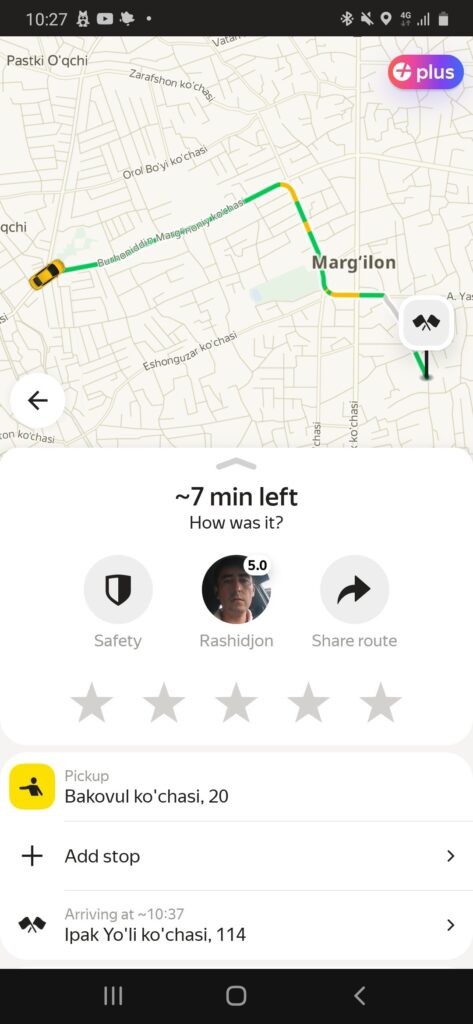 YandexGo is easy to use and can be started immediately after installing it on your smartphone and setting up the initial settings. Select the point of origin and then enter the destination (in the reverse order of Grab). The taxi fare is then displayed, and if you are happy with the fare, press the Request button.
In very rare cases, there may be no driver nearby when you press the request button, or if there are, it's possible no one will respond. But most of the time, unless you are in a very remote area, you can find a Yandex taxi.
Accident on the road from Kohkand to Margilan
It was around 8:45 am when we boarded a Yandex taxi in front of our hotel in Kohkand.
The car drove smoothly on a nicely paved asphalt road. The journey to Margilan takes about 1.5 hours. On the way, as we were approaching an area of vineyards, there was an accident in front of us. In fact it was almost a head on with us.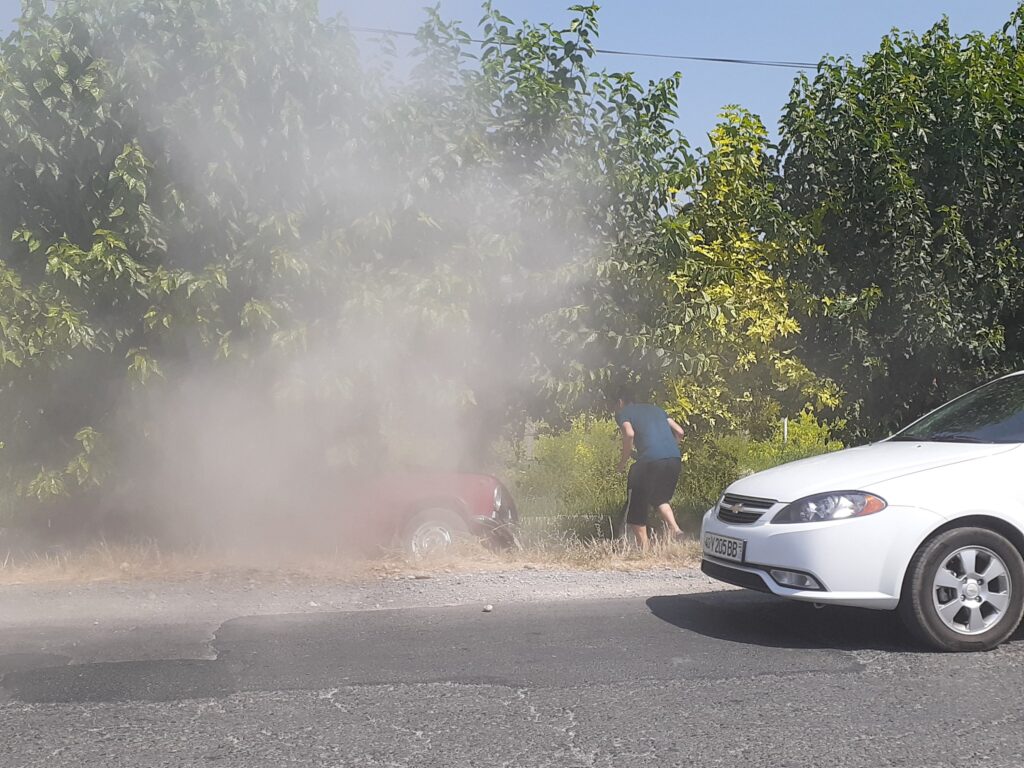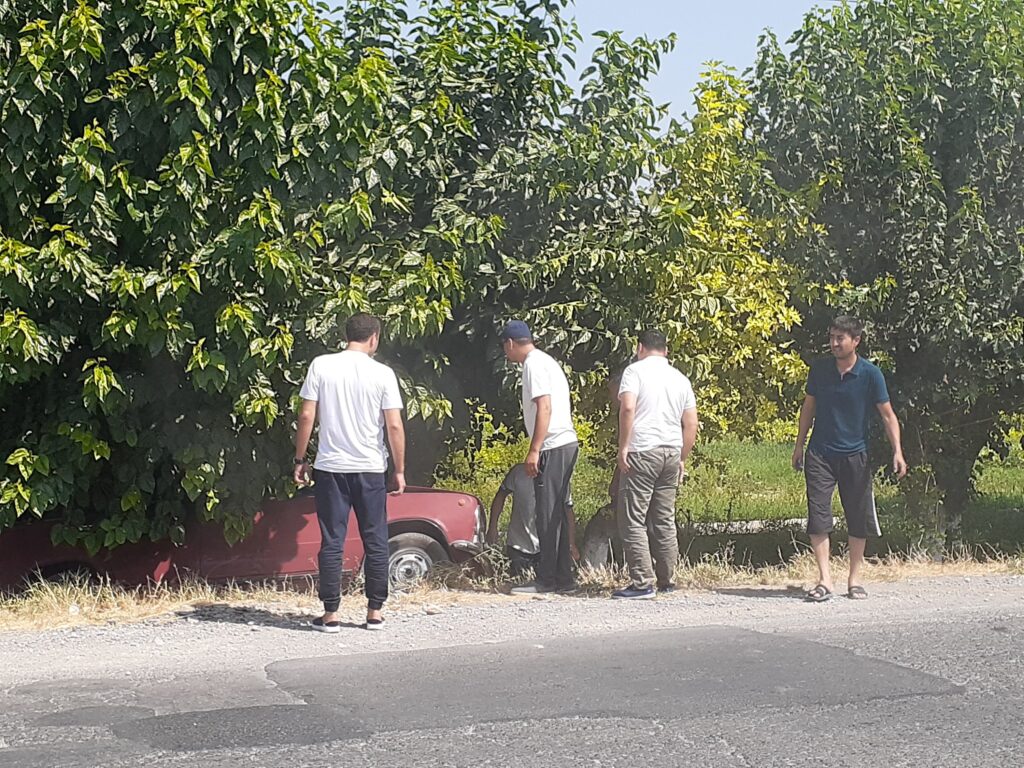 The accident involved three cars with a red Lada attempted to overtake a car which was already overtaking another car. The road was only one lane each way and when the red car saw us oncoming it swerved on to the gravel in front of us, lost control and swerved to the other side if the road and ploughed into a tree. Luckily our driver saw what was happening and braked otherwise we would have been hit by the red Lada.
The accident happened in front of our eyes as if in slow motion, and our driver calmly slowed the car down and pulled over to the side of the road. Smoke was billowing out of the crashed car, and our driver ran over to the car, while we were worried that the methane gas might explode. Other passing cars also stopped to check inside the crashed car and quickly lifted the bonnet to see if the methane was leaking out. I believe it's quite explosive!
Our driver is the one in the blue shirt in the image above. After a while he came back to the car and did something like 'it looks okay, let's go' and started the car engine.
Driving in Uzbekistan is not safe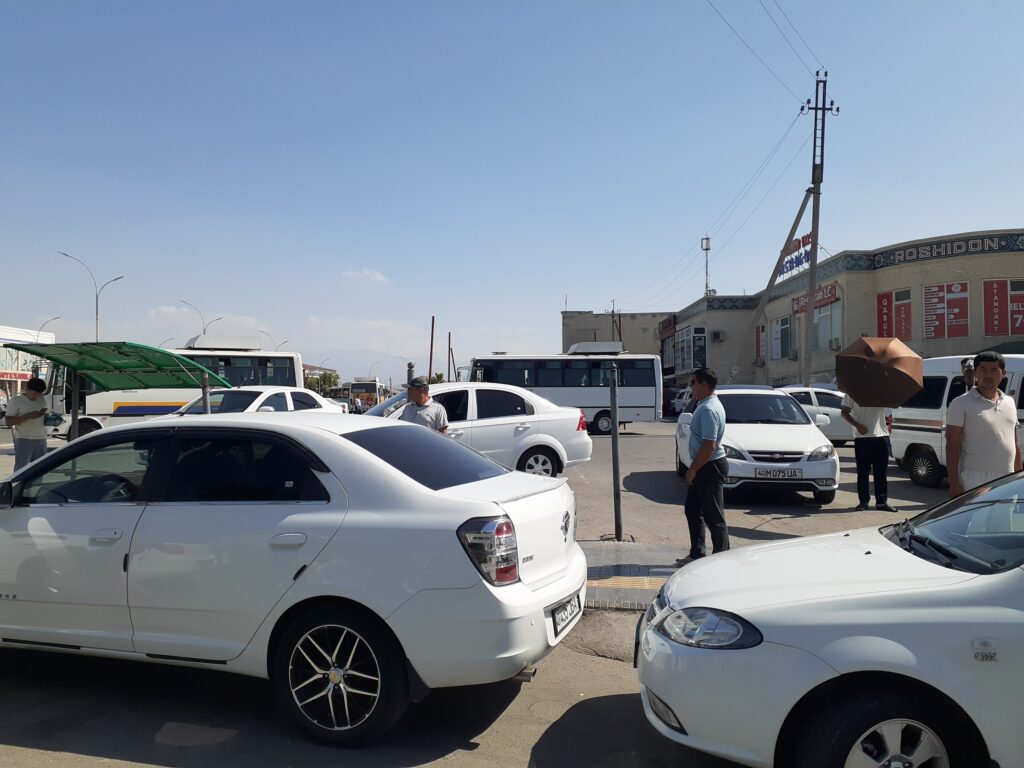 Cars are an important means of transport in Uzbekistan. In some places the road conditions are a little poor, but generally the roads are well maintained. Most cars are methane vehicles and motorcycles are almost never seen. Incidentally, the overwhelming majority of passenger cars in Uzbekistan are white Chevrolets and made in Uzbekistan.
I have to say that drivers in Uzbekistan are some of the worst compared to other countries we have travelled in. The aggressive overtaking and the spirit of not giving way to others seem to be the cause of many accidents. Driving in Tajikistan is similar, maybe even the whole of Central Asia. In any case, the acciden rate is very high. Overall security is very good in Uzbekistan, but it is better to be prepared for a low level of safety on the roads.
Arriving in Margilan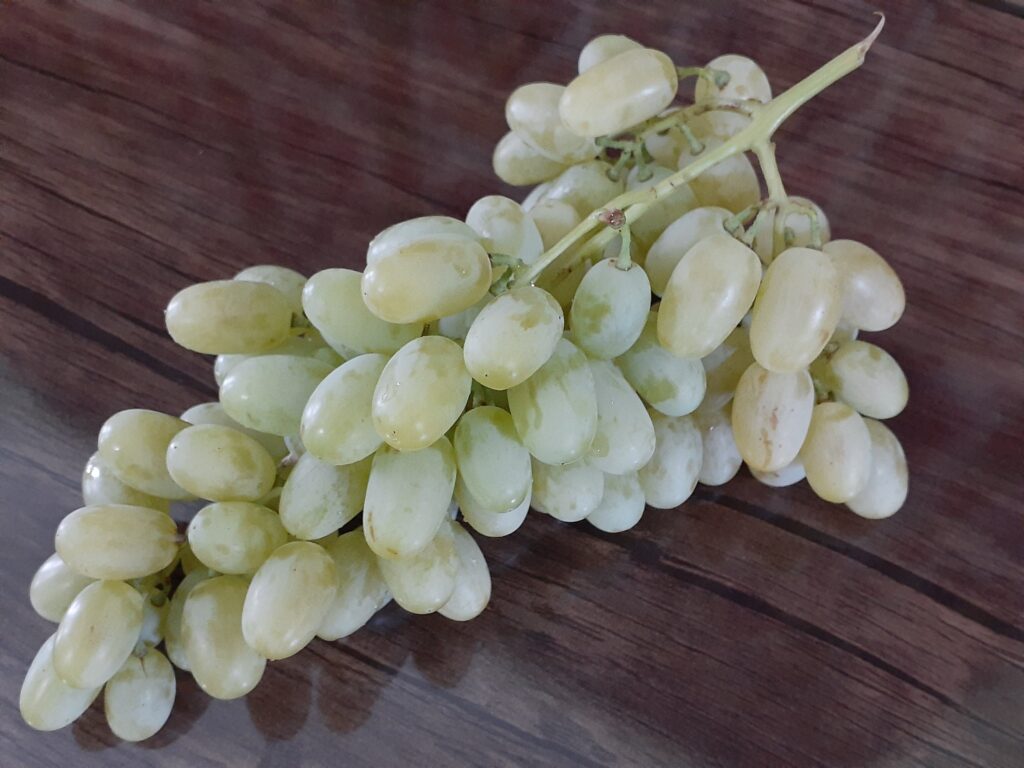 I think we have been very lucky having good drivers almost every time, and so were we this time. When our driver got near to Margilan, there was a row of houses with grapes growing in profusion by the side of the road. The driver saw a local woman, stopped the car and had a chat with her. When he returned, he was carrying freshly picked grapes for us. A good example of the kindness of people here.
We were dropped off in front of the hotel in Margilan at 10:30am. We stopped for methane and the accident along the way, but we were able to get to our destination in 1 hour 45 minutes. It was a very comfortable journey.