After staying on Una Una Island in the Togean Islands, we travelled to Gorontalo on the north coast.
Getting to Gorontalo from the Una Una Island
On Una Una Island, we stayed at Sanctum. The village centre is 2.8 km from there and there is a public boat landing.
The public boat schedule is said to change frequently, but at the time of our visit, the boat to Ampana left every Tuesday at 7am. The boat to Ampana costs Rp 100,000 per person and there is one service per week, while the boat to Wakai is more frequent and costs Rp 50,000 per person. The journey to Ampana takes about 4 hours.
Public boats normally run from Ampana to Gorontalo. However, at this time the service was suspended because it was just under maintenance; it will be restarted from mid-June 2023.
The lack of boat service between Ampana and Gorontalo gives travellers lots of troubles.
After returning from the Togean Islands to Ampana, you can go east of there to Pagimana, where you can catch a night boat to Gorontalo. A chartered car from Ampana to Pagimana costs Rp 500,000-700,000. The boats from Pagimana to Gorontalo leave at 8pm on Sundays, Wednesdays and Fridays.
We therefore had the option of taking a public boat from Una Una Island to Ampana on Tuesday, staying overnight near Ampana, then taking a chartered car to Pagimana the next day and taking the Wednesday night boat to Gorontalo. However, we decided to take a chartered boat with a British-Finnish couple from Una Una Island to Marisa on the north coast.
Charter boat from Una Una to Marisa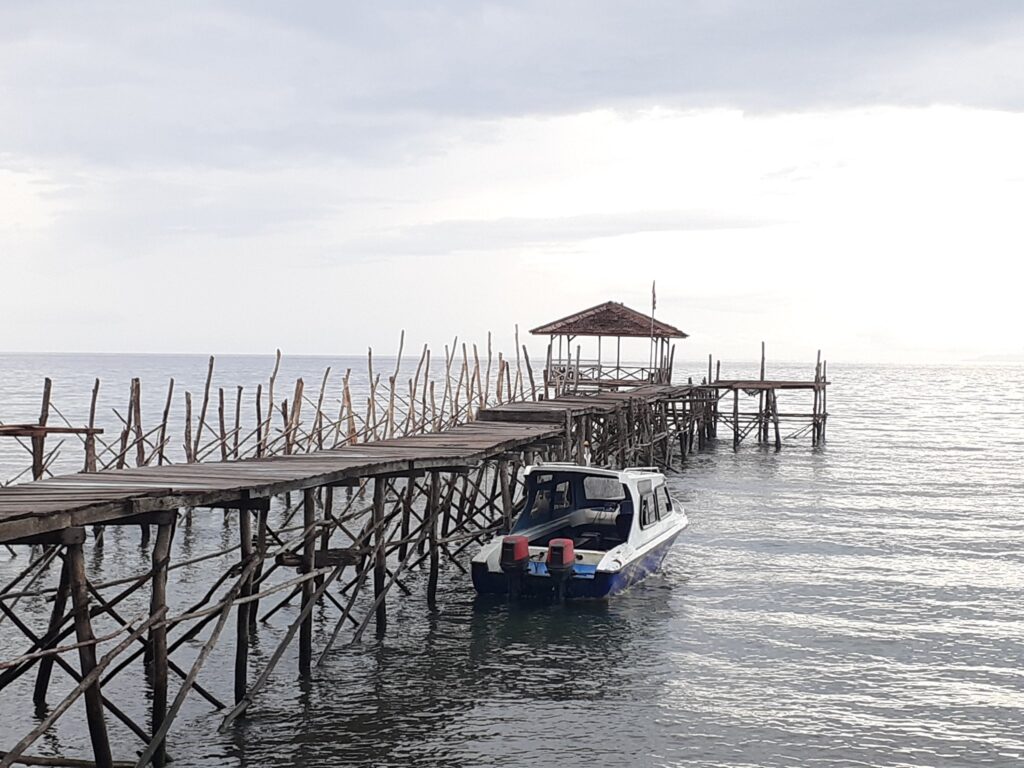 Una Una Island is halfway between Ampana and Marisa. It is approximately 80 km to Ampana in the south and 74 km to Marisa in the north. The sea in the direction of Marisa is relatively choppy, so it is not safe for smaller boats. However, the Sanctum where we stayed did not own a speedboat, so we contacted the neighbouring Pristine Paradise Dive Resort.
Pristine Paradise has a small speedboat and they said they could take us to Marisa for Rp 4,000,000. Since there are four of us, that means Rp 1,000,000 per person, which is a bit expensive, but the overall price is not much different if we go to Gorontalo via Ampana and Pagimana. Therefore, we decided to charter a speedboat.
We agreed on a 7:30am departure. The distance from Marisa to Gorontalo is about 160 km, so if we could arrange a car from Marisa, we would be able to reach Gorontalo that day.
Departure from Una Una Island to Marisa: 8:00 am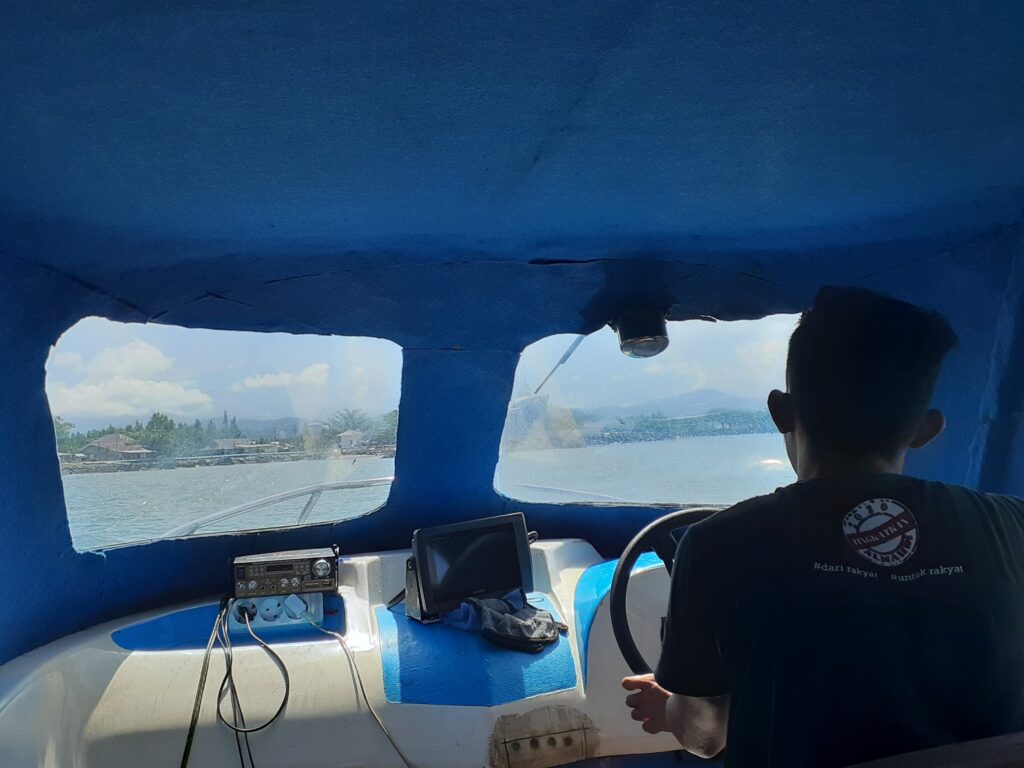 When we went to Pristine Paradise at 7.30am, the boat was already standing by at the jetty.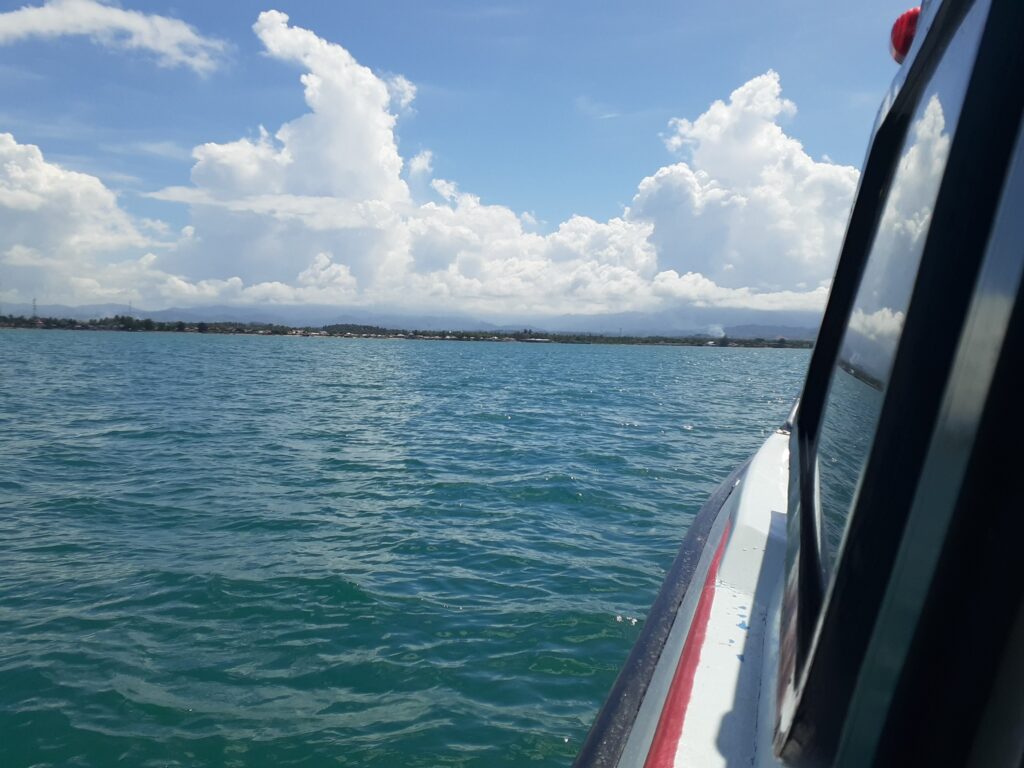 There was a thunderstorm before dawn that day, but by the time we left the weather had calmed down. Even so, the sea to Marisa was still choppy due to the easterly winds, and the fast boat skipped through it. This meant that the boat was up and down for two hours, and our bottoms were bouncing on the seats every time we rode the waves.
We left Pristine Paradise on Una Una Island just before 8am and arrived in Marisa just after 10am. Although it was only two hours away, when we finally arrived in Marisa we were all very happy.
Charter a car from Marisa to Gorontalo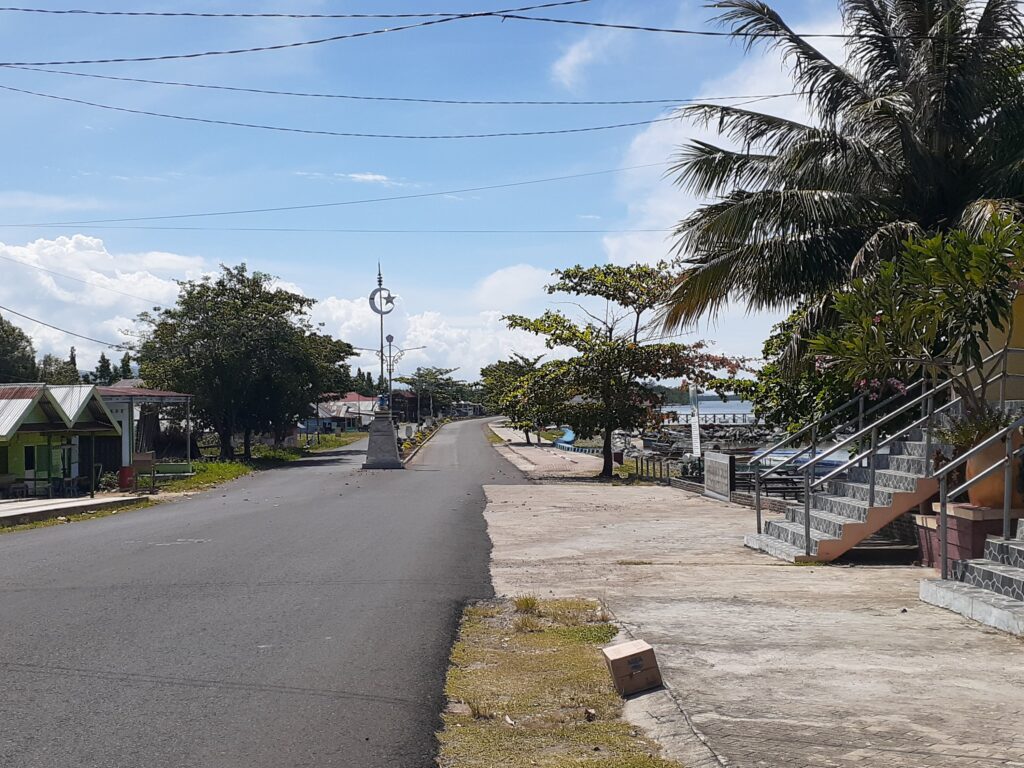 Marisa's boat pier is small but neat and tidy. A few restaurants and cafés line the seafront. They may be crowded with domestic tourists at weekends, but on a weekday they were very quiet.
While we were having iced tea at one of them, an Indonesian on a motorbike appeared. Apparently, the owner of Pristine Paradise had contacted him, and he arranged for us to charter a car to Gorontalo. The negotiated fee was Rp 550,000 per car to Gorontalo.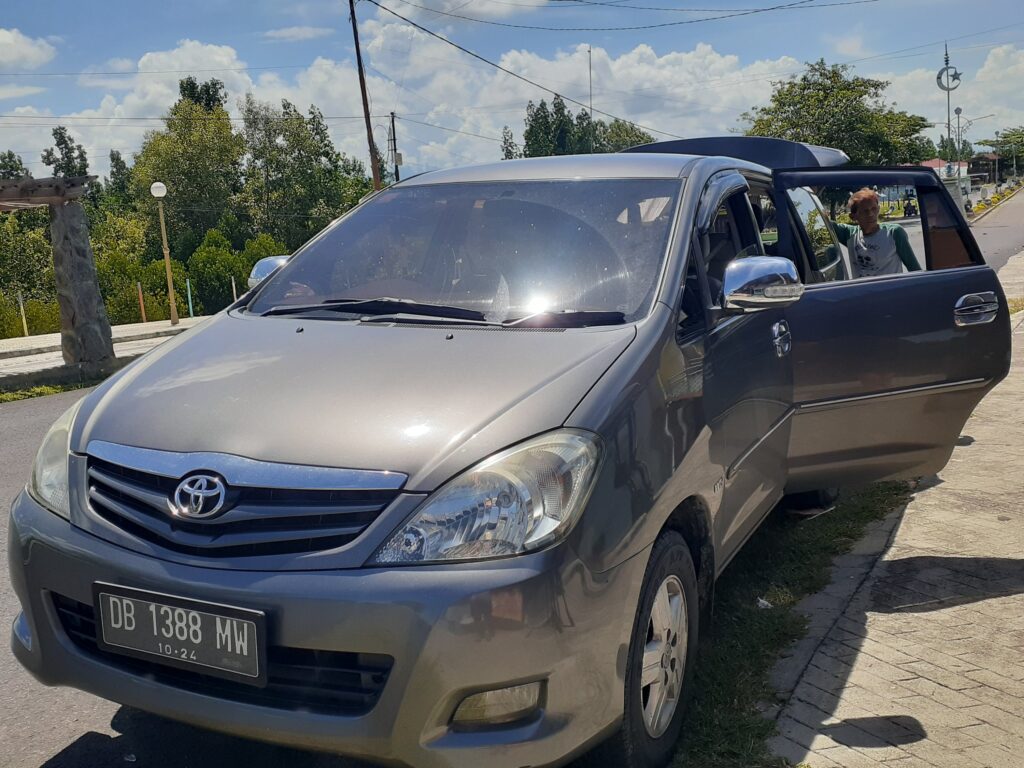 After drinking iced tea and going to the toilet, we were ready to go. It was just before 11am.
We stopped at a fruit shop on the way. We bought salak for Rp 15,000/kg and a small bunch of bananas for Rp 5,000. After that, we drove all the way to Gorontalo.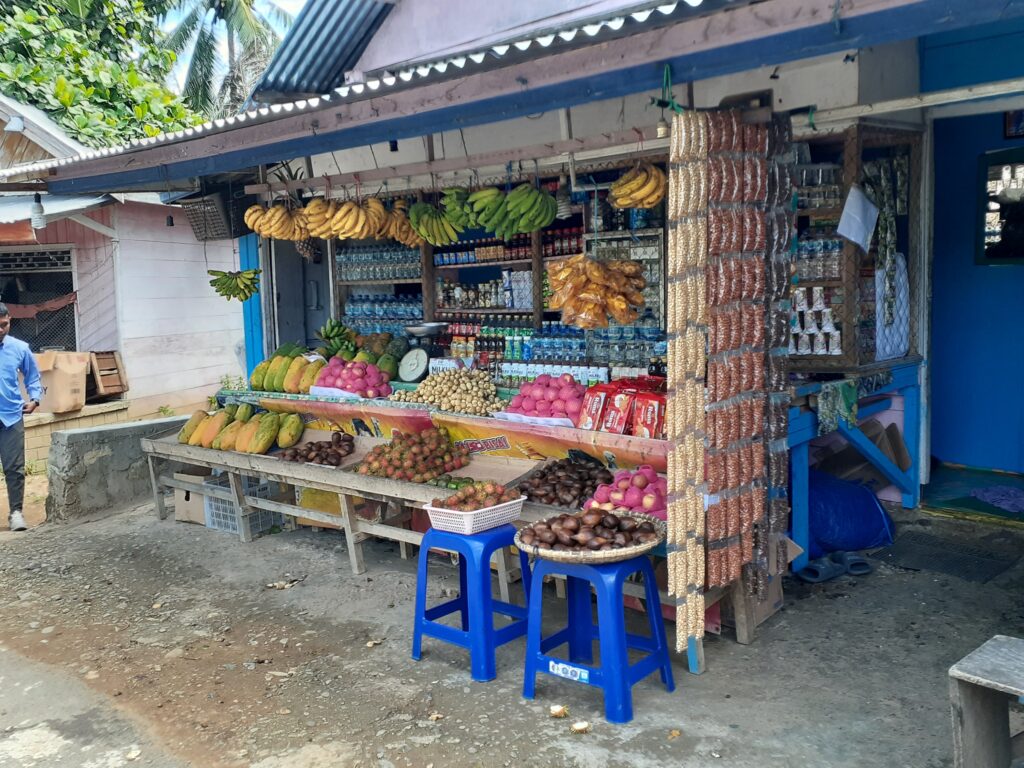 In fact, when we were about to leave the town of Marisa, they stopped at a restaurant, but we were not hungry at 11am and didn't eat. So we drove all the way to Gorontalo without a meal break.
Arrival at hotel in Gorontalo: 2:40pm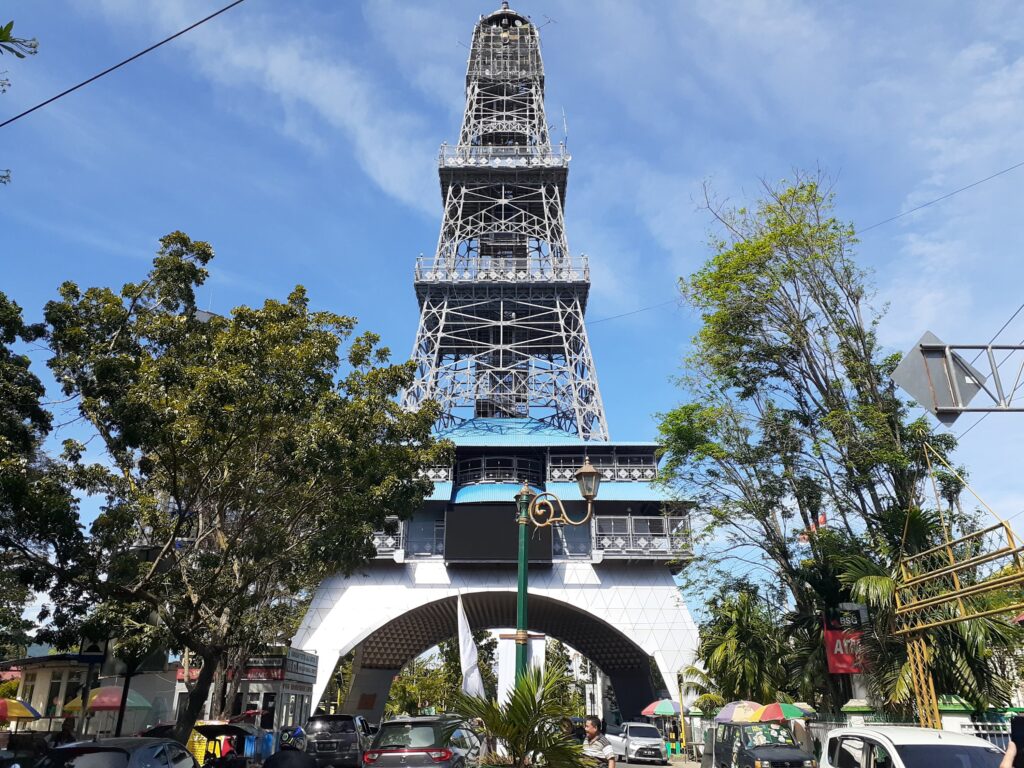 We left Marisa just before 11am and arrived at the landmark Limboto Tower in Gorontalo at 2pm.
We arrived at the New Melati Hotel, where we intended to stay, at around 2:40pm. However, we could not agree on the room rate and had to go to another hotel.
The car was chartered and stayed with us until we found a hotel. After this we decided to stay at another hotel and the next morning we went snorkelling to see whale sharks.