We joined a day trip snorkelling boat tour from Semporna.
There are many companies offering diving and snorkelling tours in Semporna and we took one of the cheaper tours.
However, while on the tour an unusual incident happened.
Diving and snorkelling spots from Semporna
The Malaysian island of Borneo is home to Sipadan, a world-famous diving and snorkelling spot. It is not possible to stay there, but diving boat tours are available from nearby islands and the town, Semporna.
However, a permit is required to dive or snorkel in Sipadan, and it is not straightforward for anyone to go there for a quick snorkelling trip.
We did not plan to snorkel in Sipadan this time either, but instead visited some of the small islands nearby. We took a day tour from the town of Semporna and snorkelled on three islands; Timba-Timba, Mataking and Pom-Pom.
One Day snorkelling boat tour from Semporna
Semporna is the gateway to Sipadan and other islands in this area. There are many dive centres which organise day boat tours to nearby islands.
The tours and prices vary from shop to shop. After visiting and comparing several tour operators, we decided to take a day snorkelling boat tour with Halo Halo Semporna Travel.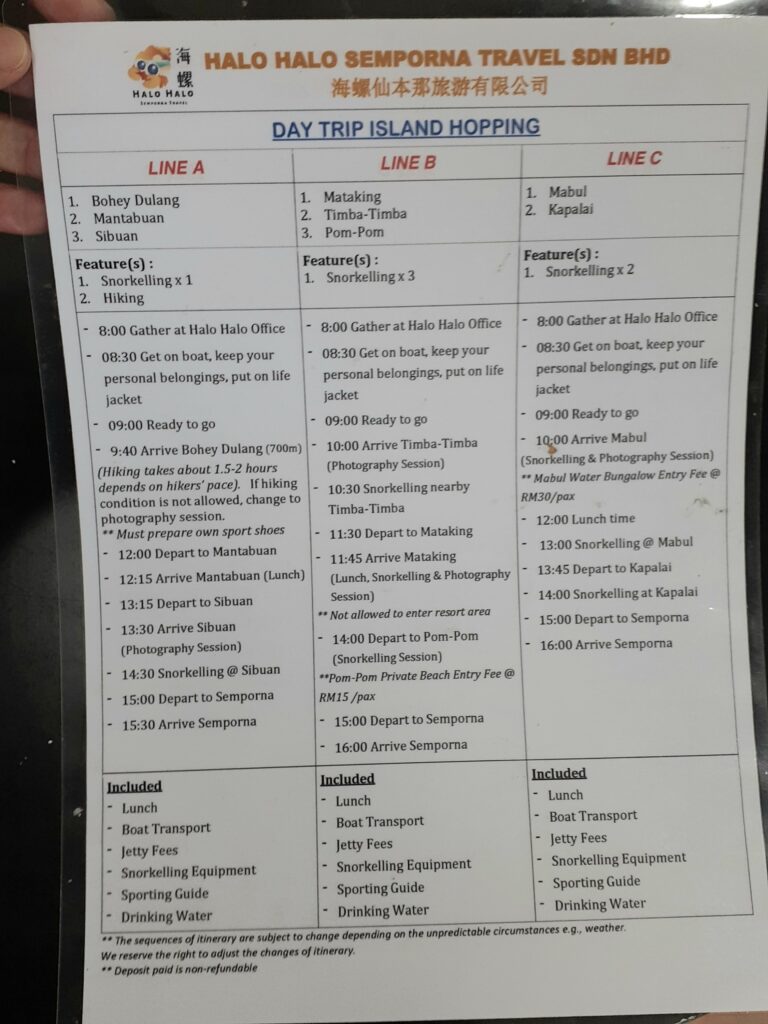 On the menu above, we were told that A cost RM200 per person, while B and C cost RM100. We chose B. We had seen the exact same tour offered for between 140 and 200 ringgit so it's worth shopping around!
The tour was from 9am and finished at 4pm, visiting three islands and three snorkelling spots. The price includs lunch and snorkelling equipment rental.
The Halo Halo Travel office was opposite the hotel where we were staying and where we signed up for the next day's tour.
The next morning, we were told to wait at the waterfront area where there were a number of restaurants and that the boatman would pick us up at 8.45am.
Departure of day snorkelling boat tour from Semporna: 9:00 am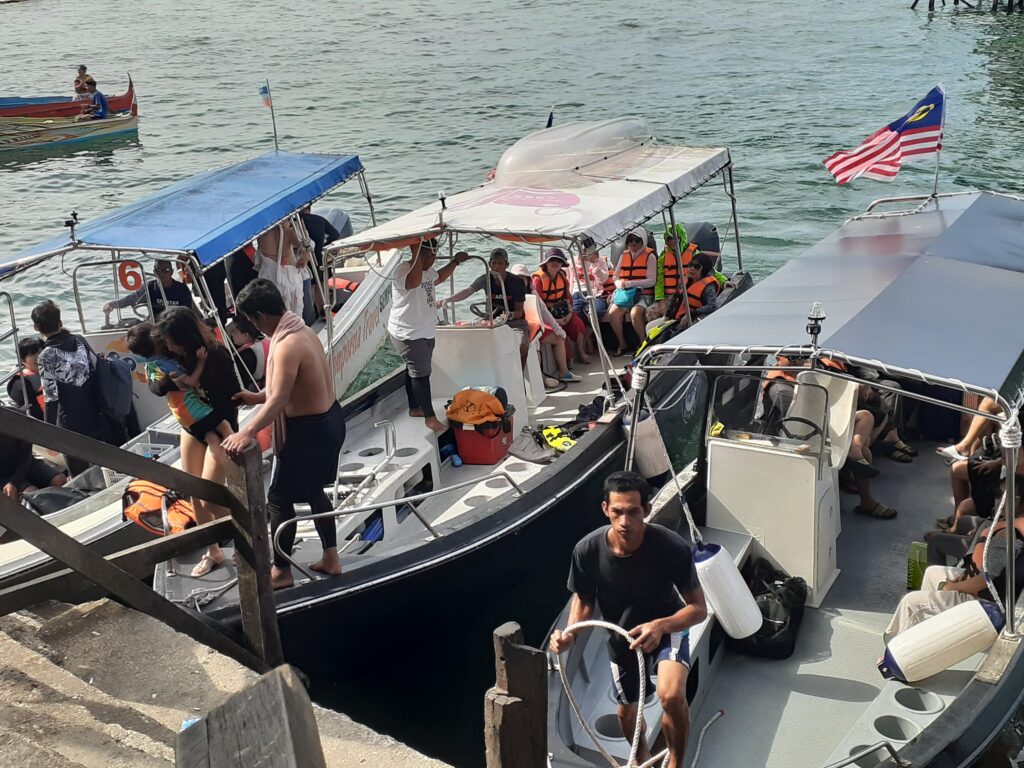 There is a landing area at the waterfront lined with restaurants, where boats from various companies pick up tour guests.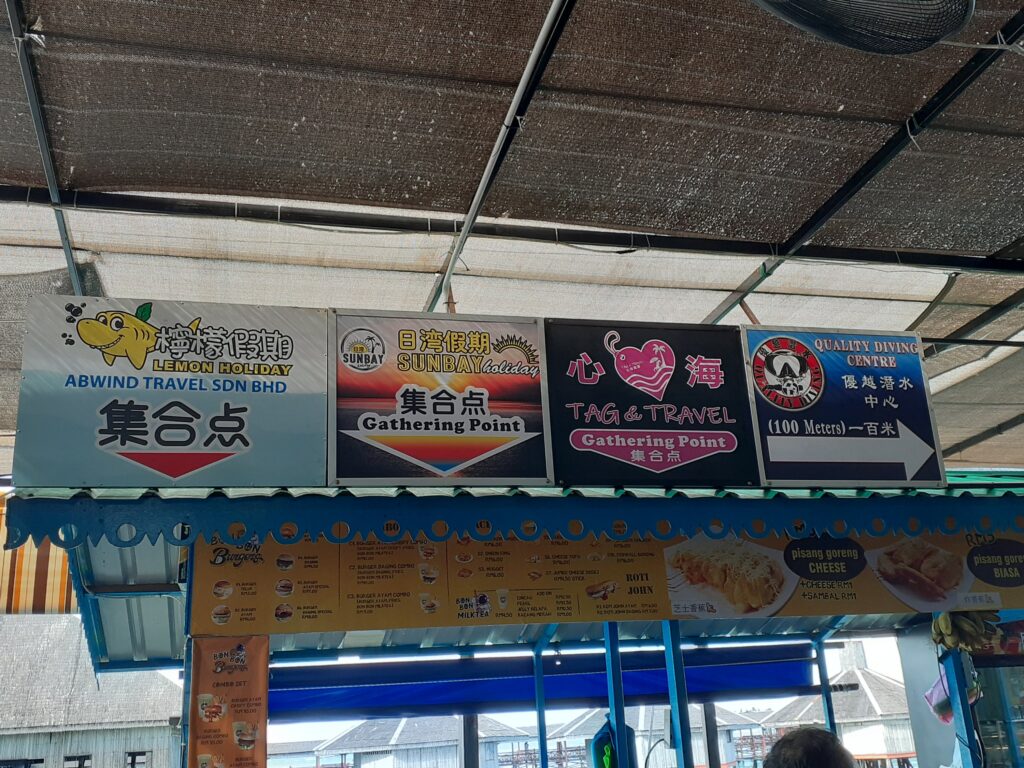 There are signboards like those above near the boat landing. There is no sign for Halo Halo Semporna Travel, but if you wait in this area, you should be able to see a boat with the Halo Halo logo coming to pick you up.
The Halo Halo Travel seemed to run day trips on a fairly large scale, with several boats arriving around 8:45am and setting sail with around 20 participants.
We boarded one of these boats, confirming the destination. Halo Halo Travel offers tours with different destinations, so make sure you are on the right boat.
The boat left the landing with a dozen Malaysian and Chinese travellers on board, besides us. Life jackets were distributed and after a short briefing, we set sail for the outlying islands.
There were five staff on the boat, and one of them spoke Chinese. The majority of the tourists were speaking Mandarin, so the explanation was spoken in Mandarin which Mai understands well. Luckily, there was a kind Malaysian lady sitting behind us and she explained to us in English as well.
Timba Timba Island: 9:45 am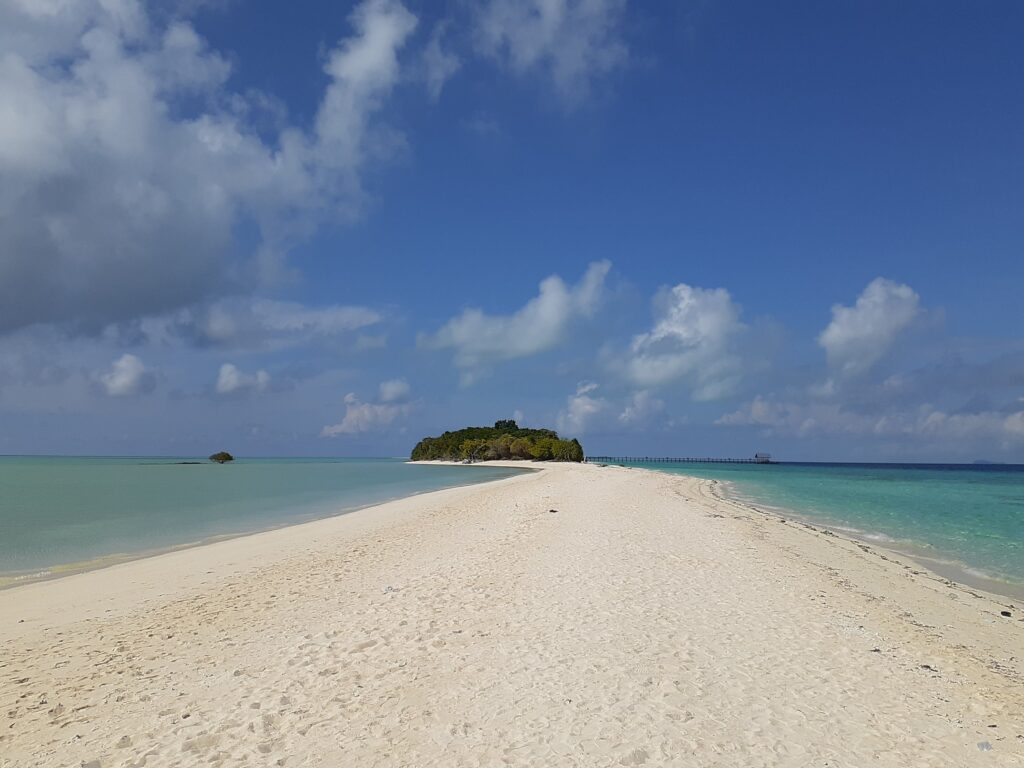 The distance from Semporna to Timba Timba Island is approximately 36 km. The boat left the coast of Semporna at 9am and arrived at Timba Timba Island in 45 minutes. We had a 20-minute photo stop.
Snorkelling near Timba Timba Island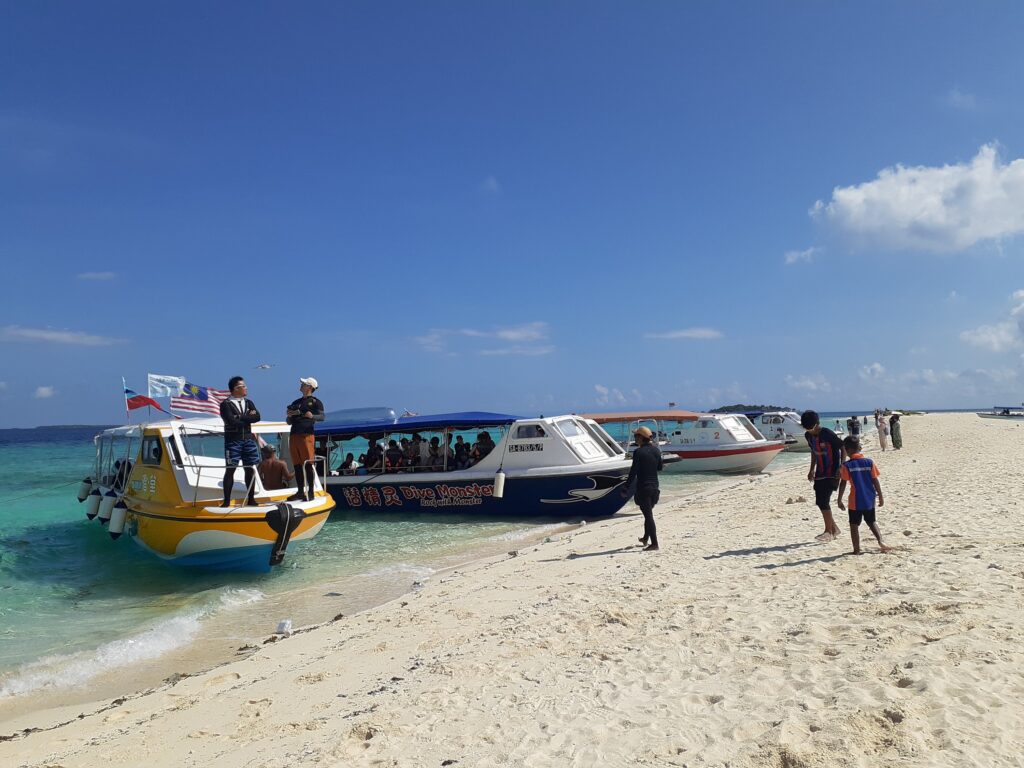 After anchoring at the beach, we left the beach at around 10:15 am and headed for the snorkelling spot.
Snorkelling near Timbatimba Island, the reef was not bad, but the spot near Matakin Island, which we visited later in the day, was more colourful.
We saw a sea turtle in the distance, but not many fish. Many people were snorkelling and diving and we wondered if there were more humans than fish.
Mataking Island: 11am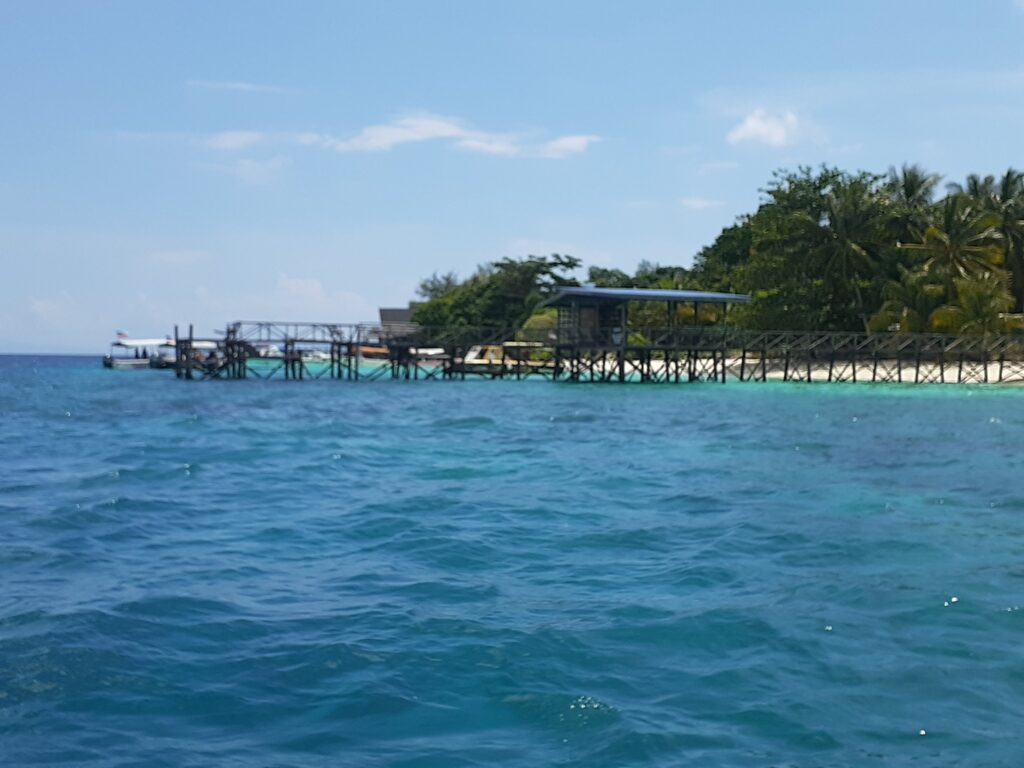 After snorkelling at TimbaTimba, there was a 40-minute lunch break at Mataking Island. Lunch was included in the price. We were given a lunch box and a bottle of water which were carried in the boat from Semporna. There were at least two different packed lunches – chicken or pork.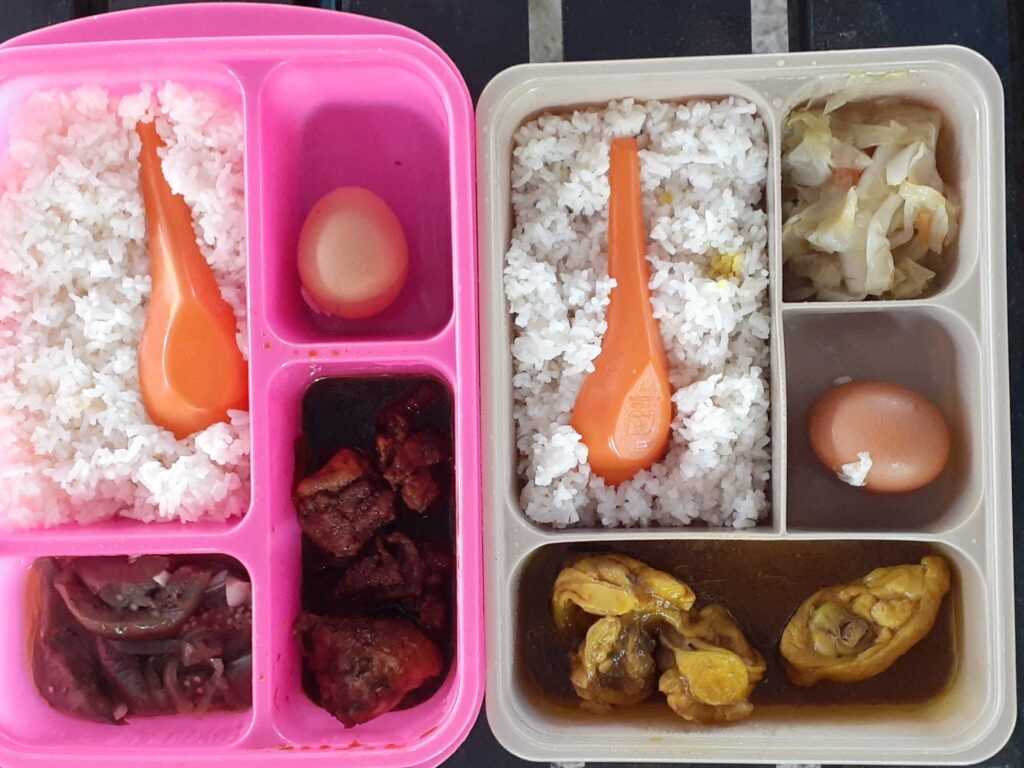 There was a thief on the boat!
There was a picnic area on the island where we had lunch. It was Chinese food and tasted good.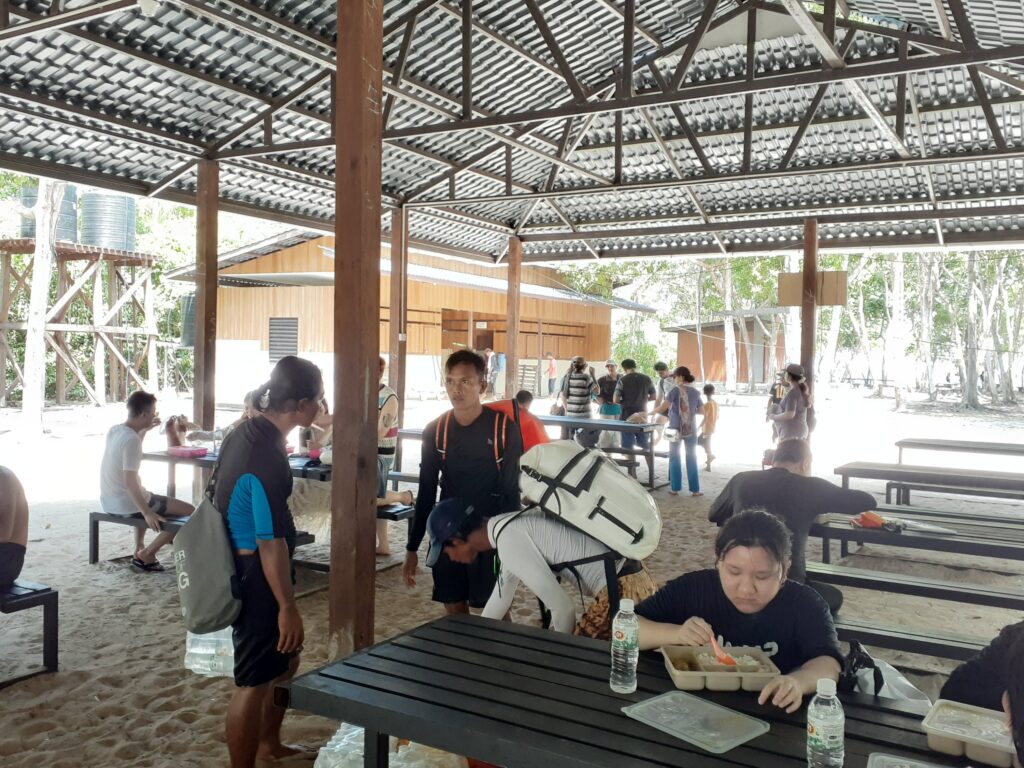 Then, something happened.
We saw a Chinese speaking family sitting next to us in the picnic area, and suddenly the wife rushed back towards our boat, ingnoring her child shouting behind "ma-ma!?"
We didn't realise that the situation was so serious until the Malaysian lady whispered to us "(they are) missing money".
Apparently, they brought all of their valuable things including cash and passports, and some of their cash disappeared while they left their bag on the boat. At the next table, we saw the husband and wife counting their money and checked their passports. It seemed that they didn't lose their passports but some Malaysian ringgit, Chinese yuan and US dollars were missed while their Singapore dollars were still all there.
We finished our lunch, but didn't move onto the next snorkelling spot. The boat crew came over to their table and the husband phoned someone speaking Mandarin to explain and complain.
The tour boat staff contacted headquarters, waited for the person in charge to arrive and questioned them again, etc. It was supposed to be a 40-minute lunch break, but ended up being two hours long.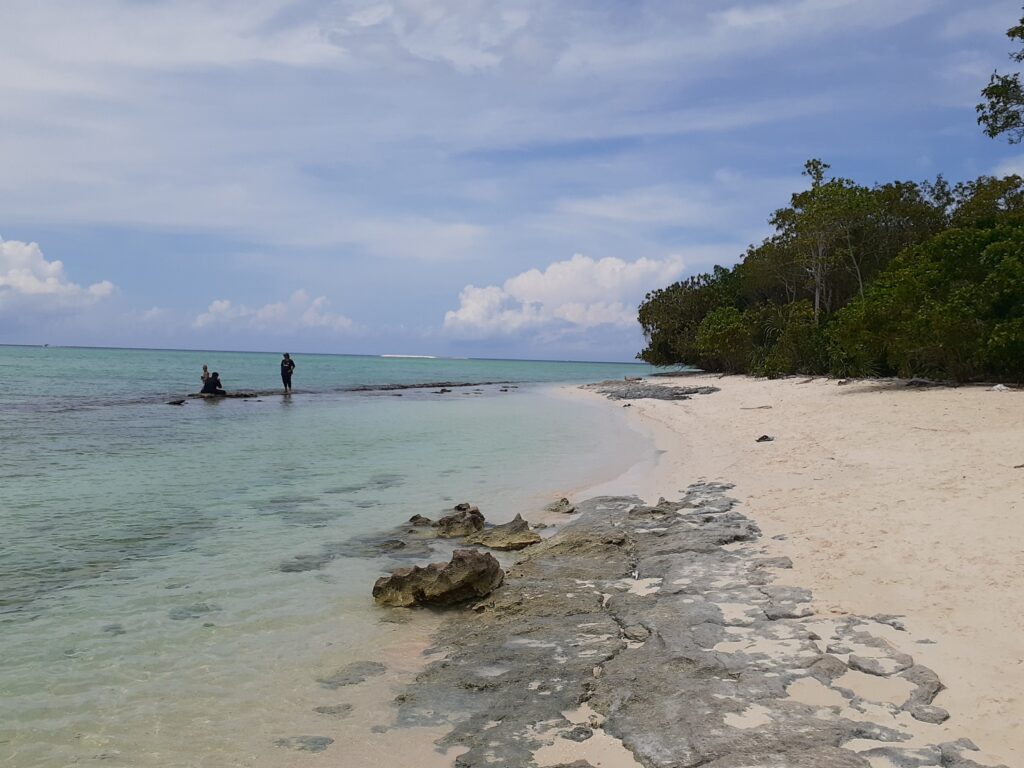 While we were waiting, we took a dip in the shallow beach on the other side of the pier and took some photos.
Snorkelling off Matakin Island: 1pm
At 1pm we finally managed to leave the lunch area. Nobody wanted this kind of thing happened. All staff members looked tired and definitely with no smiles on their faces. They had previously been having a good time together.
We went snorkelling off Matakin Island as scheduled. Despite the hazy mood caused by the incident, the second snorkelling spot of the day turned out to be the most beautiful and enjoyable snorkelling spot for us.
The coral reefs were in excellent condition and there was a wide variety of fish. Tour staff were also in the water, pointing out the sights and helping with photography for other guests. The wind picked up in the afternoon, making it a bit choppy. So we didn't move around extensively, but we still had a great time. We were snorkelling for probably around 45 minutes.
Snorkelling at Pom Pom Island: 2:10pm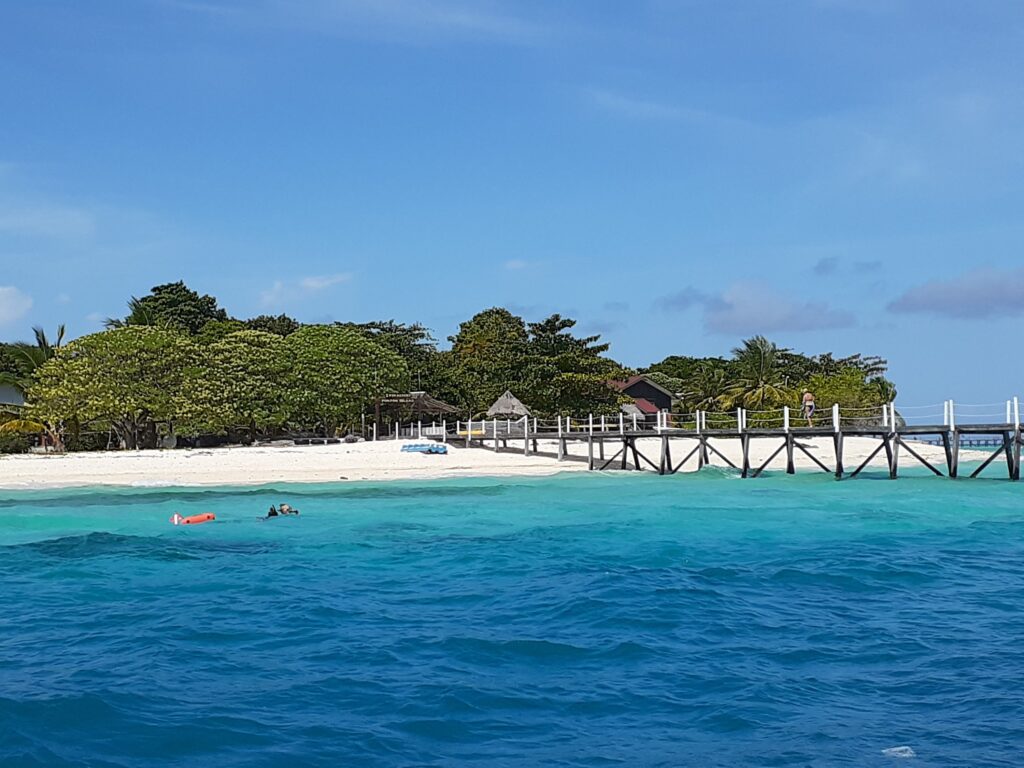 Finally, we went to Pom Pom Island, the third stop on our snorkelling tour. There are at least two well-constructed jetties here, between which we swam and snorkelled offshore from the beach.
The boat arrived at the beach, so participants who were not interested in snorkelling enjoyed taking photos from the jetties.
Pom Pom Island has a gentle sloping drop off. It is not so attractive for snorkelling, however we did see a large sea turtle in the sand, jack fish, spadefish, squids and rays.
The waves were a little high, but there were no other boats at the beach and the snorkelling guide was with us. After 30 minutes of relaxing snorkelling, we left the island for Semporna.
End of tour and investigation: 3:50pm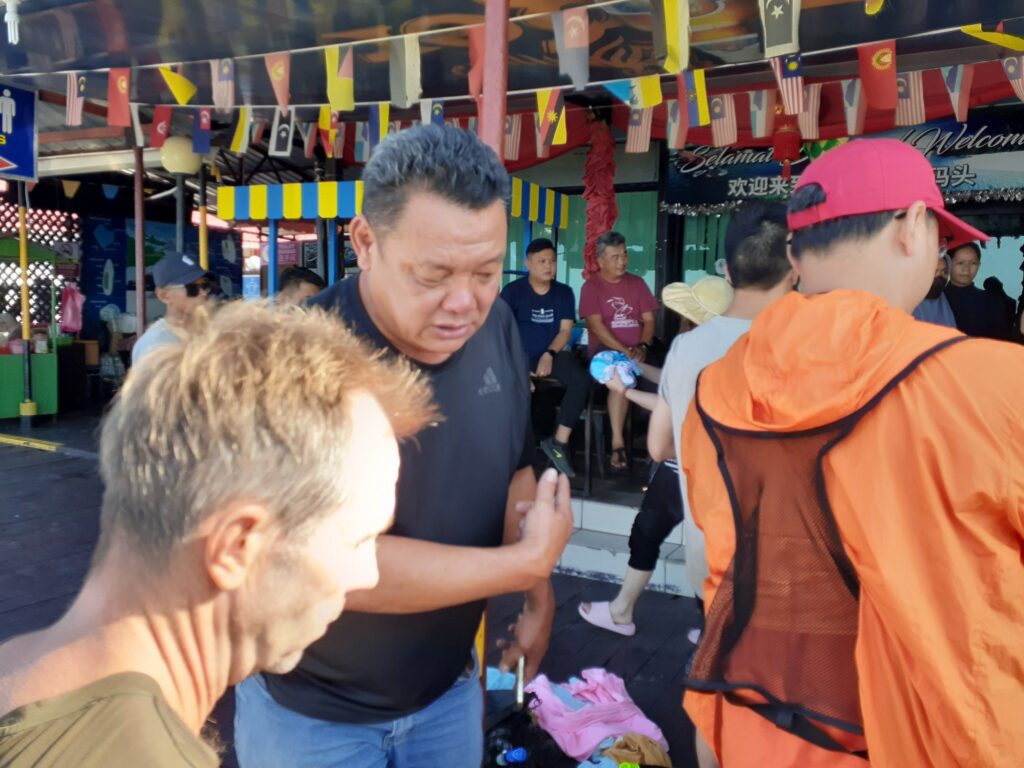 Normally, the tour would have ended back at the wharf where we were picked up in the morning, but this time was special. Due to the missing money, we arrived at a different landing, which was not the meeting point. There seemed to be the main office of Halo Halo Semporna Travel. Their staff on ground and supervisors came. Somewhat expectedly, there was a luggage inspection of all passengers and staff as well as the boat.
Honestly speaking, we have to say that it was unbelievable that they would bring thousands of US dollars equivalent of cash and valuables on a boat tour, not knowing what kind of other tourists might be on board. They were not a solo traveller, but two adults, a husband and a wife, and two children who were not very small. Even they had to bring all of valuables, couldn't they have kept their eyes on their belongings if they didn't want to lose them? All that said, no one expects to lose things on trips like that
Dismissal at the meeting point: 4:05 pm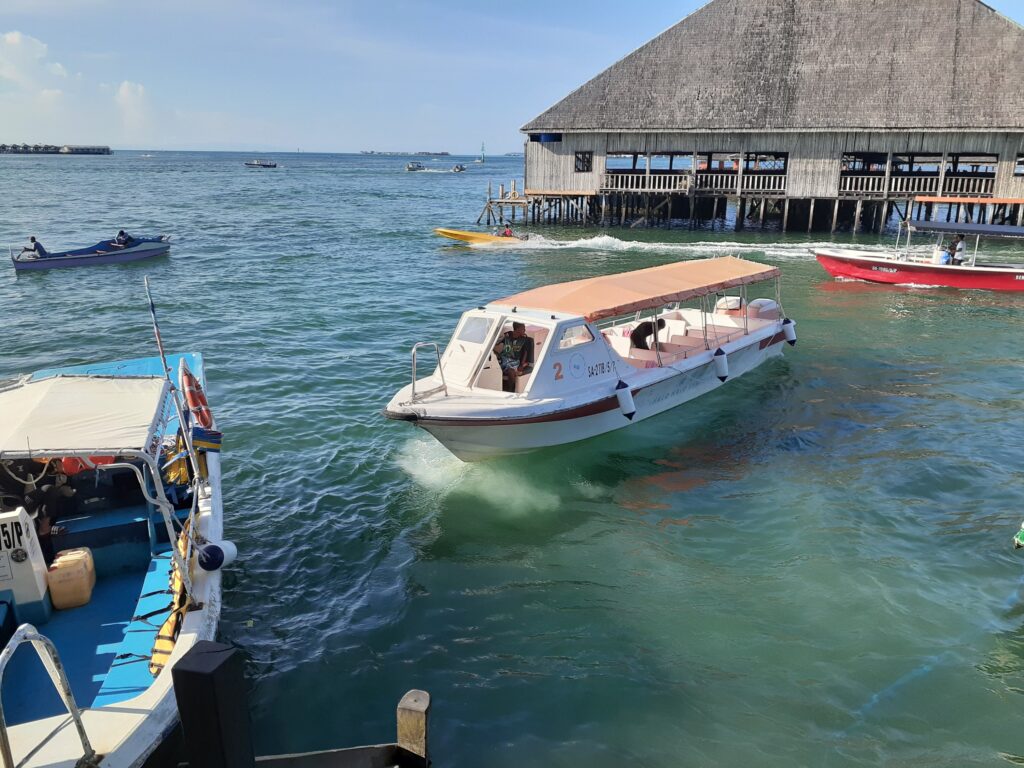 After inspecting the passengers' luggage, the missing cash was not found (no surprise) and the investigation was over in about 25 minutes. We were finally sent back to our meeting point in the morning.
That was the end of our boat tour. It's a real shame about the missing money which created a grey mood and obviously a very upset family. That aside, the trip was a lot of fun and also good value for money. However, no matter what kind of tour you take, please take care of your valuables!