After a night in Adana, we travelled by long-distance bus all the way to Manisa. Manisa is a town beyond Izmir, but there is an overnight bus service from Adana.
In this post, I am going to share about the night bus from Adana to Manisa.
Getting from Adana to Manisa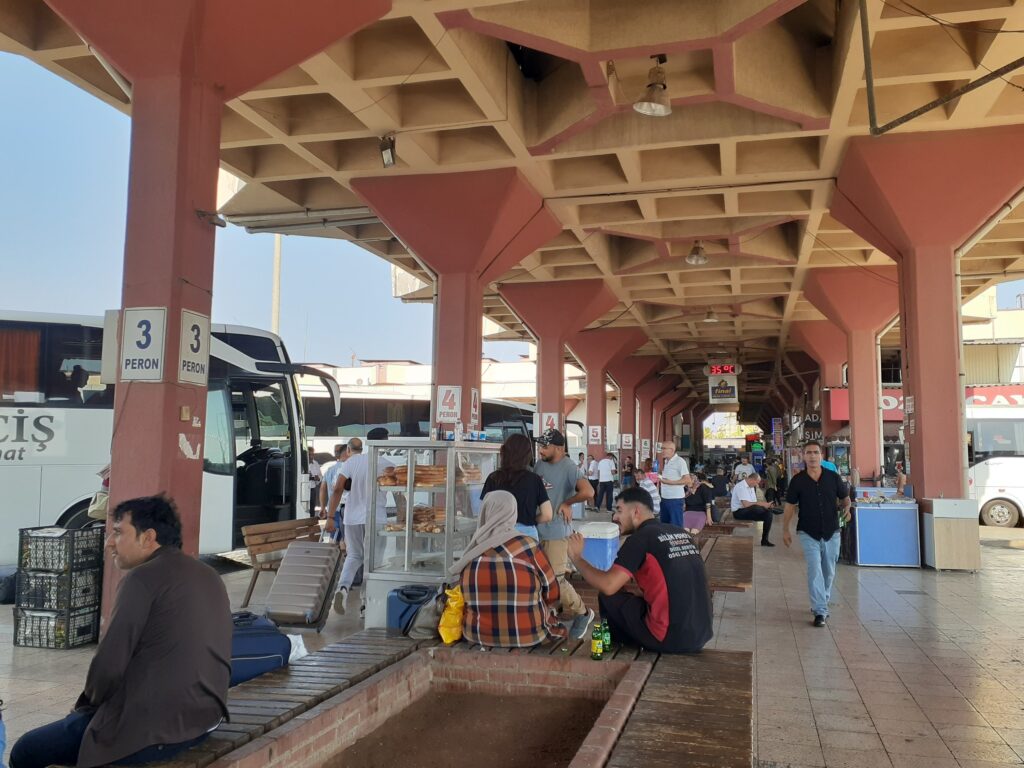 We came to Adana to meet our friends, after which we will slowly move towards the Bulgarian border. Just a few days ago we bought plane tickets from Bucharest, Romania, to London. That means our year-long trip, which started in September 2022, is going to end soon.
Now, while heading towards the Bulgarian border, I was looking for a bus to Izmir to visit historical sights, when I realised that there was a bus that goes to Manisa, a half hour away from Izmir. It is operated by the Metro bus company and there are two buses to Manisa every day, one at 5:25pm and one at 10pm. The distance to Manisa from Adana is approximately 880 km and it takes 13 hours.
There are more frequent buses to Izmir, but we wanted to go to Manisa anyway, so it would be easier if we could get to Manisa in one go. So we decided to take the 5:25pm bus from Adana to Manisa.
Buying bus tickets from Adana to Manisa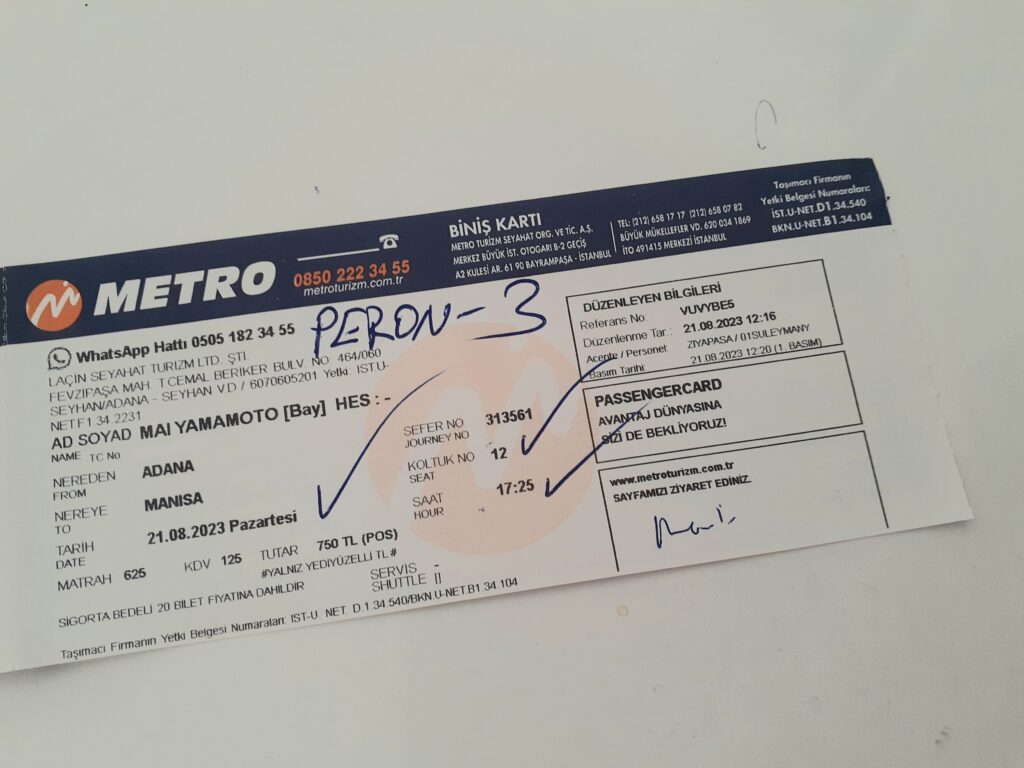 You are supposed to be able to buy long-distance bus tickets online, but for some reason it didn't work for us. So we asked our Turkish friend to book it for us over the phone. We managed to book by phone on the morning of the day and were told to come to pay the bus fare by 2pm.
We were going to go to the old town of Adana with our friends that day, so we went to the Metro bus office in the city centre and paid the fare there. We presented our passport and tickets were issued after we paid for with the credit card. The bus fare to Manisa was 750 Turkish Lira per person. (27 USD)
Tickets were issued with the name and seat number printed on them, as shown in the image above. The platform number was handwritten by a member of staff.
Boarding the bus to Manisa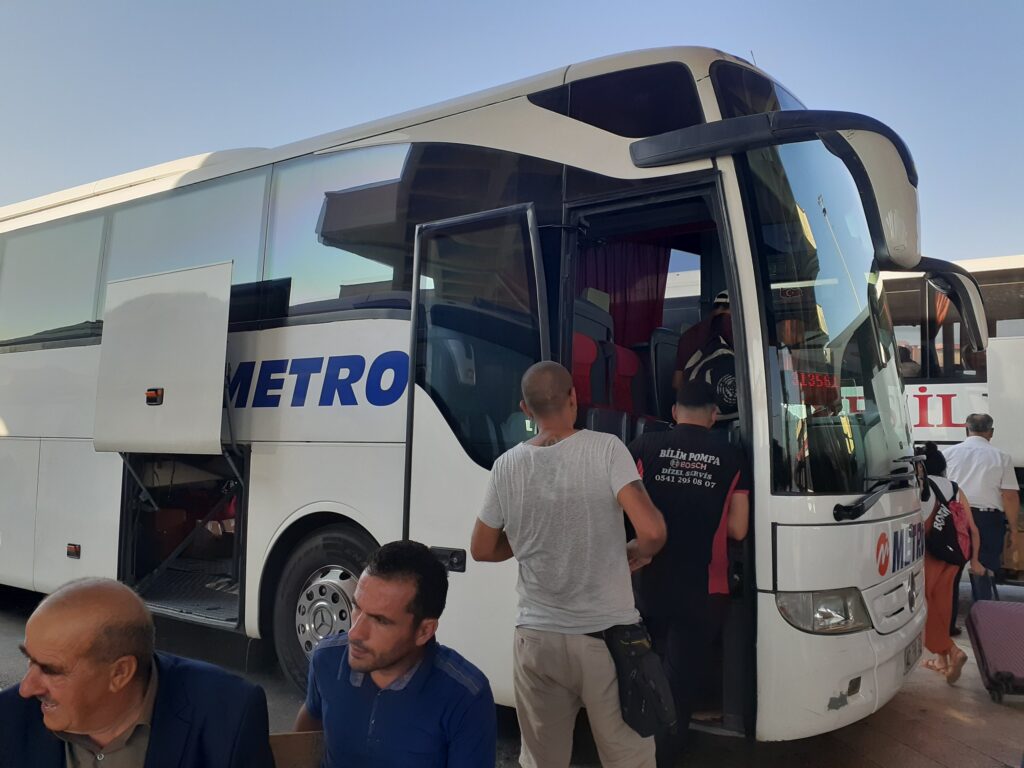 Adana bus terminal is far from the town centre, but our friends kindly drove us there. We arrived at the bus terminal at around 4:45pm and the roads around the bus terminal were busy. We recommend that you allow plenty of time to get to the bus terminal.
Our bus left from platform 3. The bus had not yet entered the platform. It seemed that our bus would come from somewhere else, not staring at Adana. At around 4:55 pm, a bus arrived with the 'to Izmir' sign. This was our bus.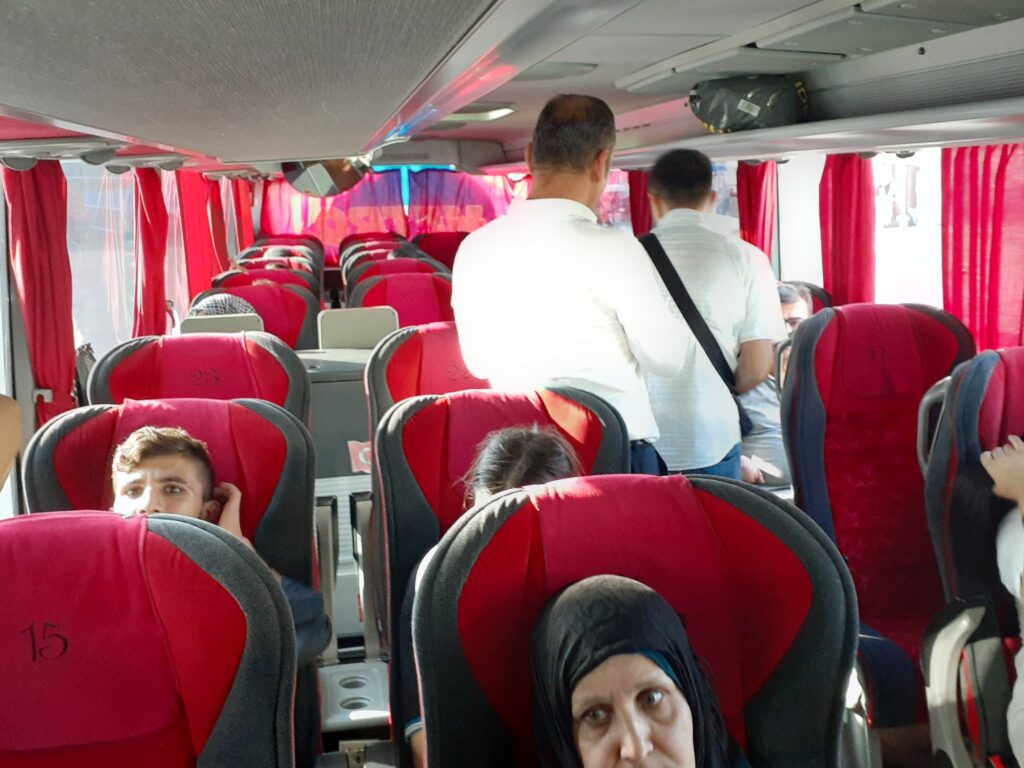 We boarded and left our packs underneath the bus. We were seated according to our seat numbers. The bus was spacious, with one seat and two seats on each side of the aisle.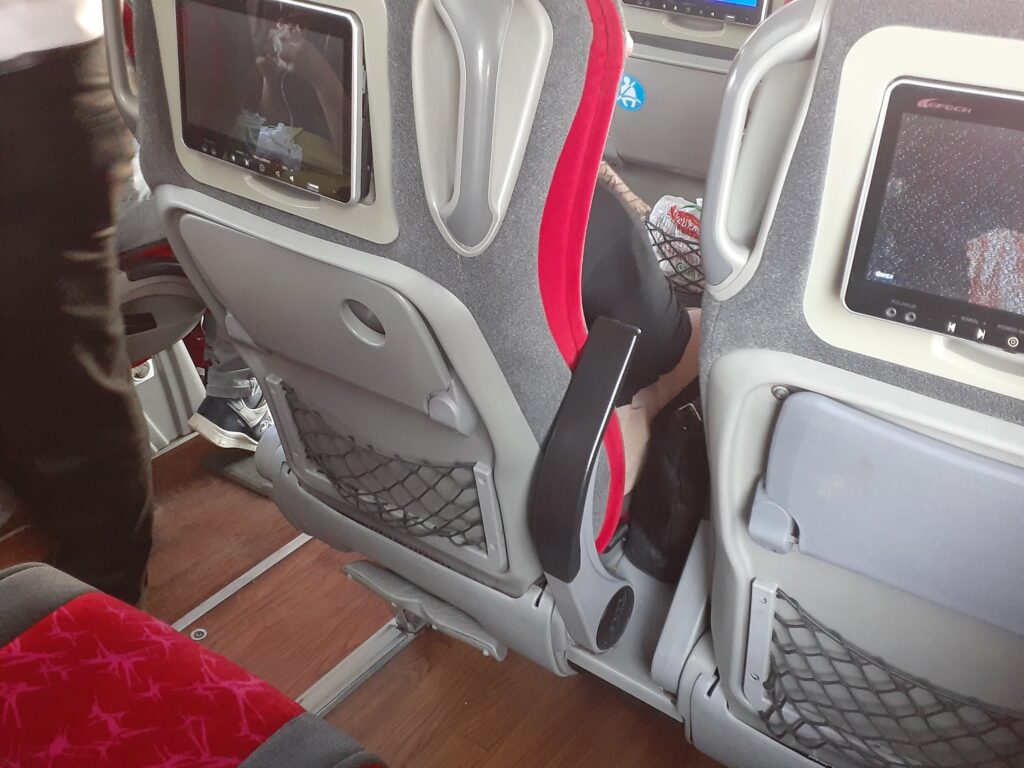 The seats are deluxe type, with a table, footrest and screen in each seat. There was a USB charging socket by the screen, but the conductor told us not to use USB socket by the screen and to use the under-seat plug to charge battery. We didn't know why we couldn't use the USB port.
Bus journey from Adana to Manisa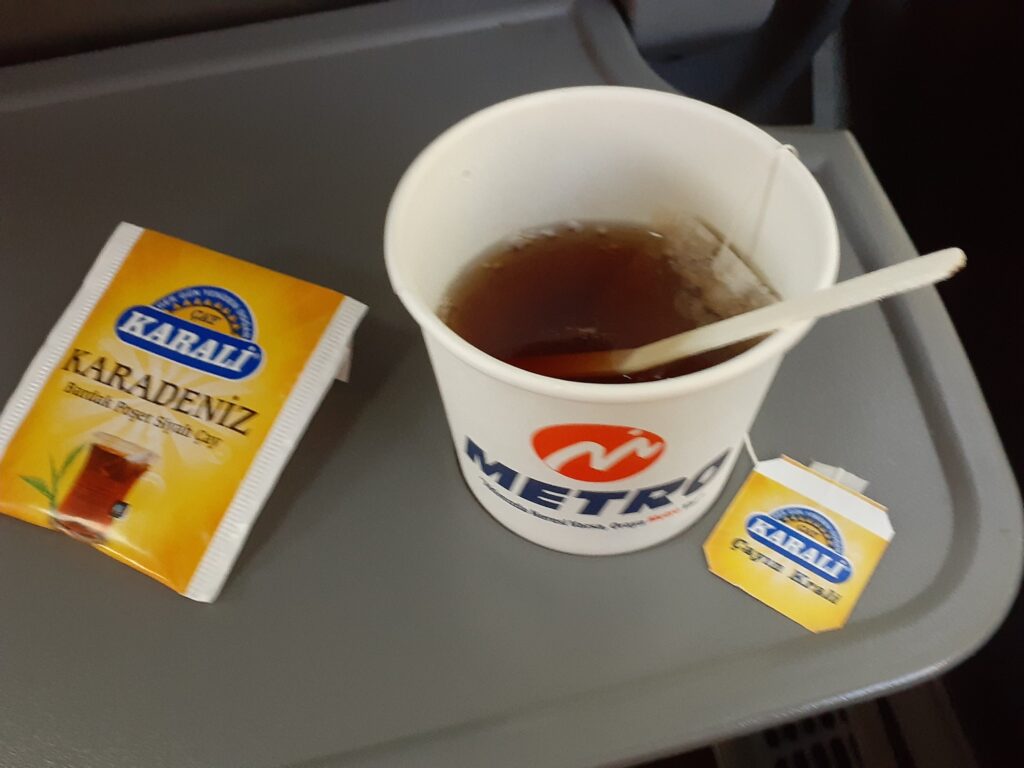 The bus departed from Adana bus station at 5.25pm as scheduled. Shortly after departure there was a beverage service.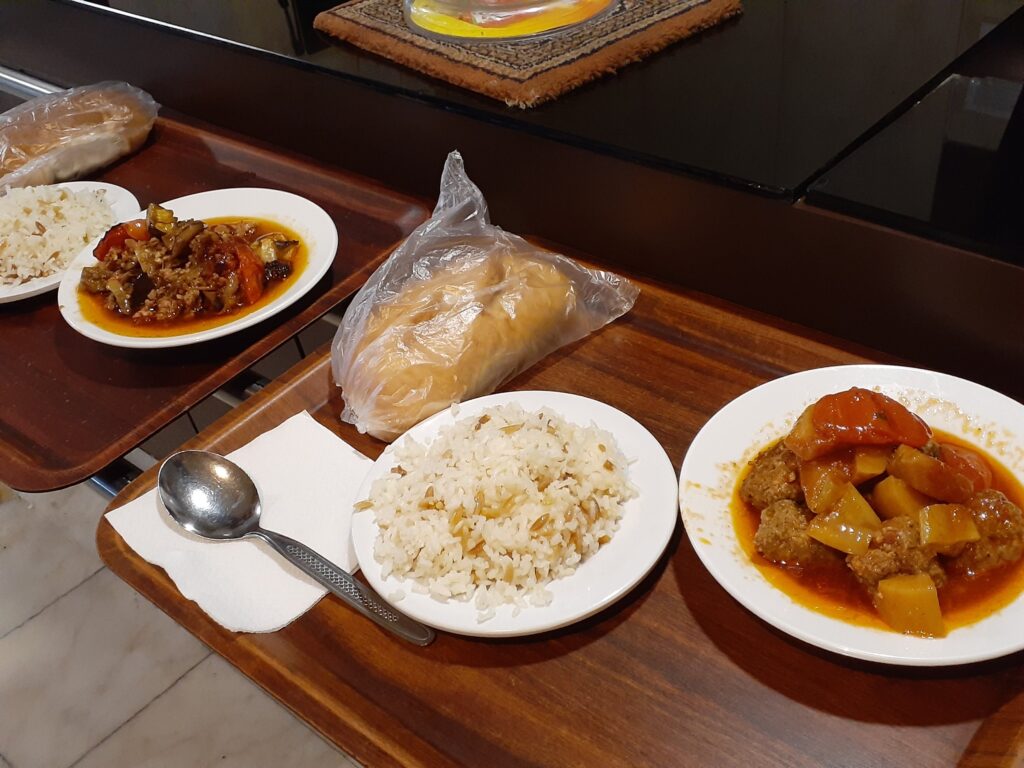 At 6:55pm, the bus stopped at a service area for a 30-minute meal break. We had rice and köfte (Turkish meatballs), etc., at 320 TL for two people, which was a motorway price.
Arrival in Manisa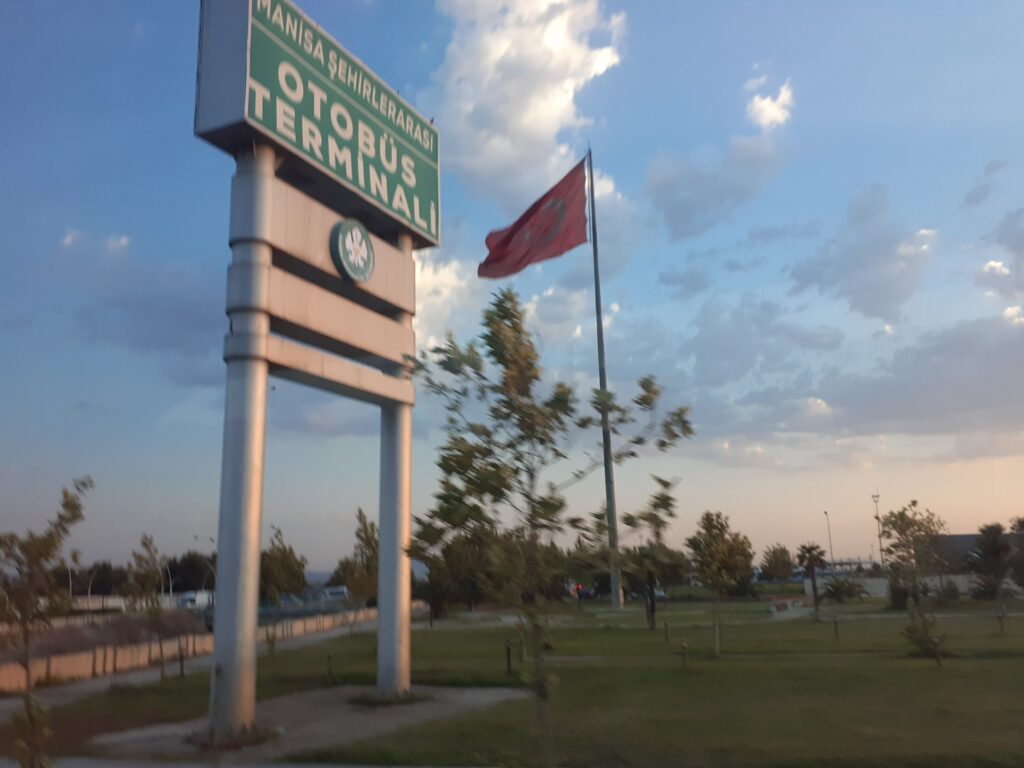 The bus continued westwards, stopping at several city bus terminals. At several of these stops, the bus sometimes stopped for 15 minutes for toilet breaks.
The cabin was air-conditioned and comfortable. After sleeping and getting up for toilet breaks, we arrived at the long-distance bus terminal in Manisa at around 7am the next morning.
The new long-distance bus terminal is located about 3 km north of the city. We walked from there to our hotel in the city centre.