We took the train from Udomxay (Muang Xai) to Vang Vieng.
I'm going to share how to buy tickets at Muang Xai railway station and also details of the journey on the high speed train.
Oudomxay to Vang Vieng: LaoChina Railway
In 2021, a railway line was opened connecting Vientiane, Laos, to the Chinese border town of Bo Ten. This railway will quickly reduce overland traffic in northern Laos and also save a significant amount of journey time.
The town of Oudomxai (Muang Xai), is served by the railway, and from here the Lao-China Railway can be used to reach Bo Ten in the north and Vientiane in the south.
We decided to go to Vang Vieng for our next destination from Oudomxai (Muangxai).
Buying tickets at Muang Sai railway station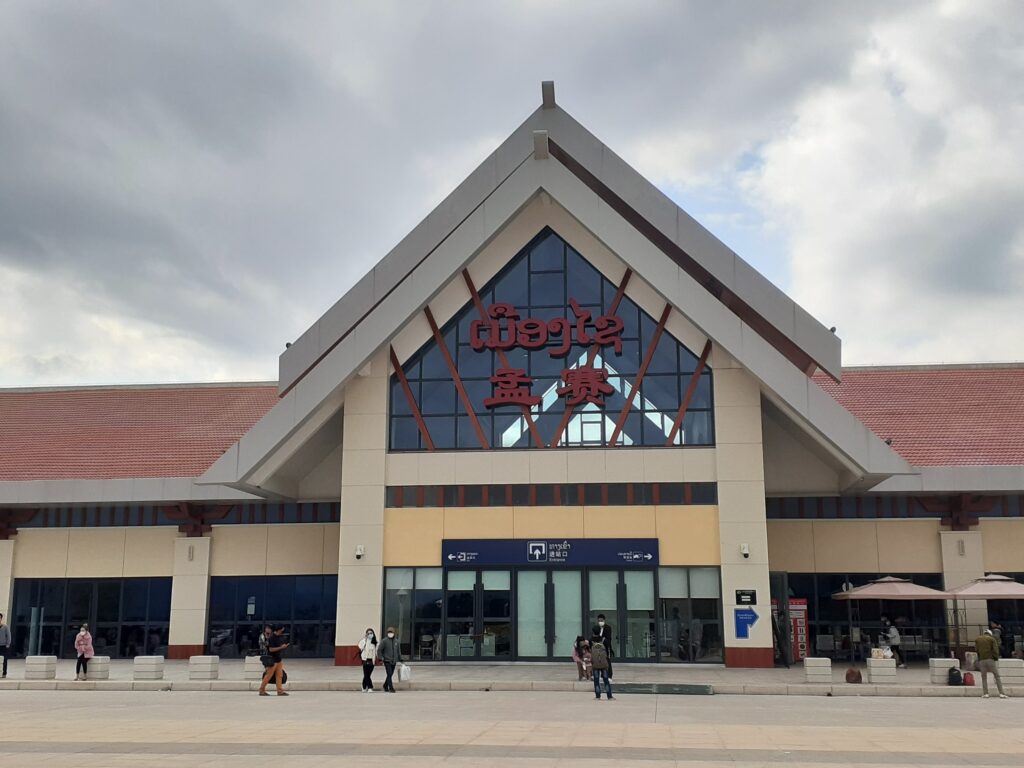 Udomxai is also known as 'Muang Xai'. The town's railway seems to be named Muang Xai Railway Station.
The online system for Lao-China Railway tickets is currently not functioning and tickets must be purchased at the railway station or at a railway ticket office in the departure city (only possible in Vientiane and Luang Prabang). Sales basically start two days before departure, although they vary slightly from one ticket office to another.
I have previously purchased a Lao-China Railway ticket in Vientiane. I bought the tickets at a ticket office in Vientiane, so it is a little different from buying tickets at a railway station. For more information, see this article.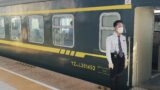 How to take the train from Vientiane to Luang Prabang
TherearenowthreedailytrainsfromVientianetoLuangPrabangontheLaos-ChinaRailway.Wetooktheslightlyslowertrainwhichbasicallyc...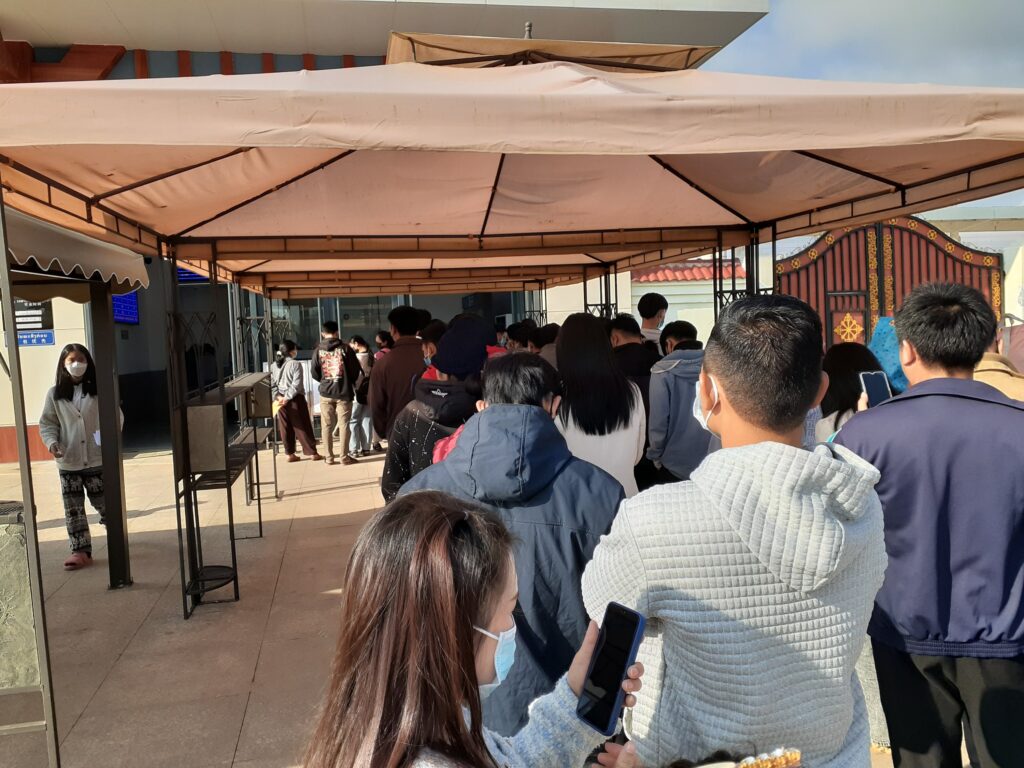 The railway station ticket office is marked as open from 9.30am to 3pm. However, when we arrived at the station at around 9.15am, it was already open and there were many people queuing.
We were planning to travel from Muang Xai to Van Vieng, but if we couldn't get tickets to Van Vieng, we wanted to go to Luang Prabang.
The December timetable shows that there are three trains a day from Muang Xai to Vientiane, two of which are high-speed trains and one is a regular train.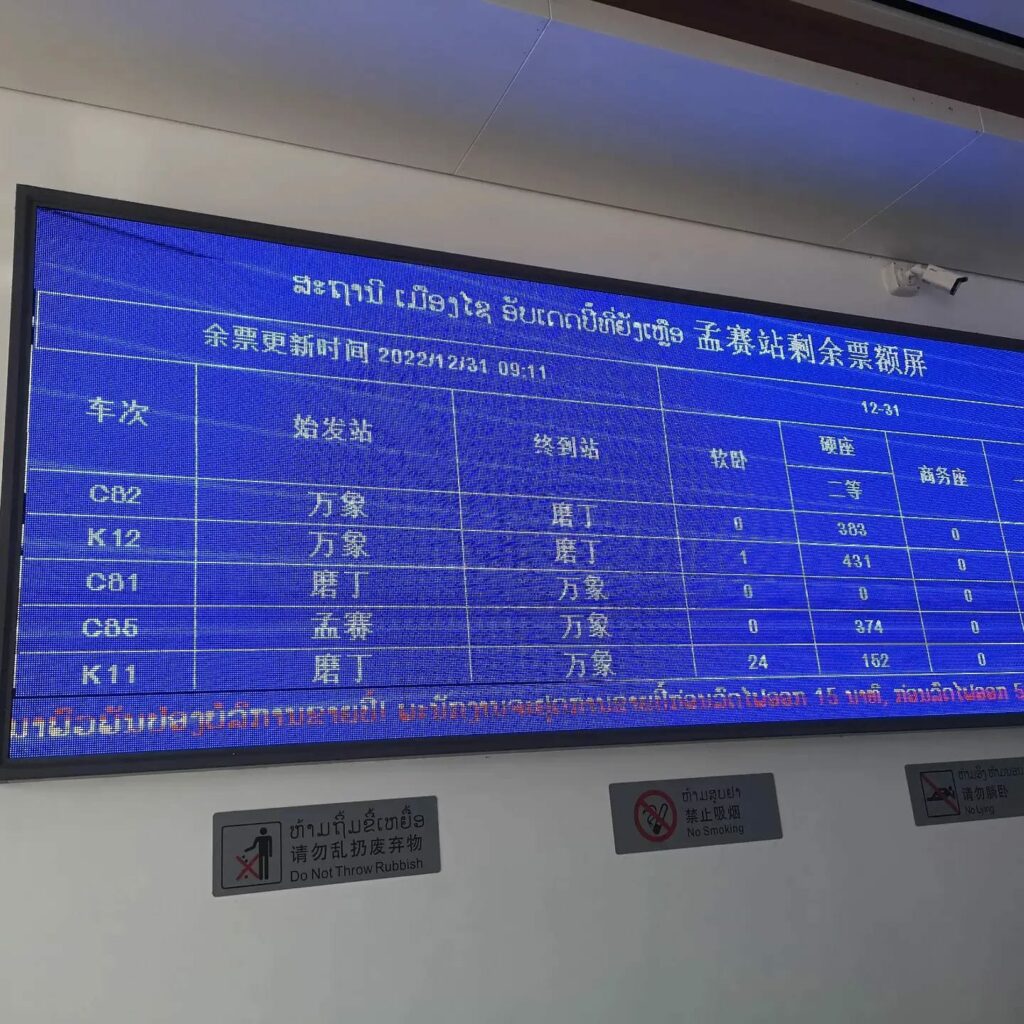 The ticket office at the railway station displays the current seat availability, which is very clear.
In addition, there were two staff members in light blue uniforms and when I spoke to them they responded in broken English.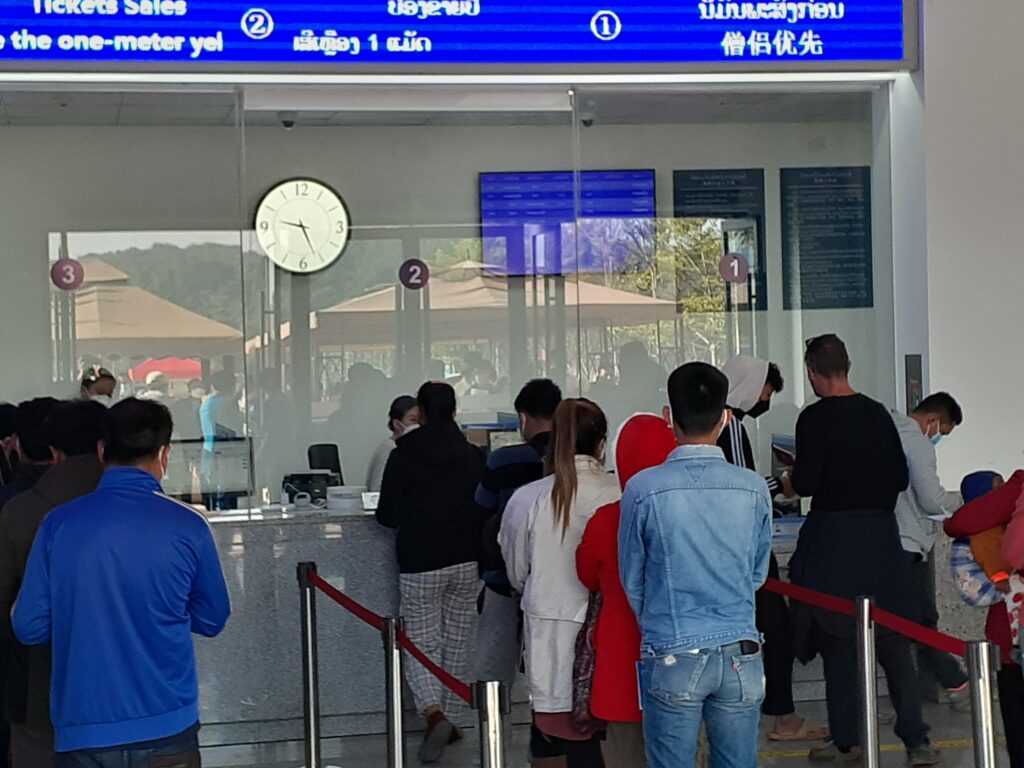 At this time it was mandatory to wear a mask to enter the station, but neither of us had one. However, a kind young Lao man nearby gave me one of his new masks so he could go inside the station and buy a ticket.
Luckily, I managed to get a place quite close to the front of the queue because of the support of the blue uniformed workers! My turn came around in less time than expected.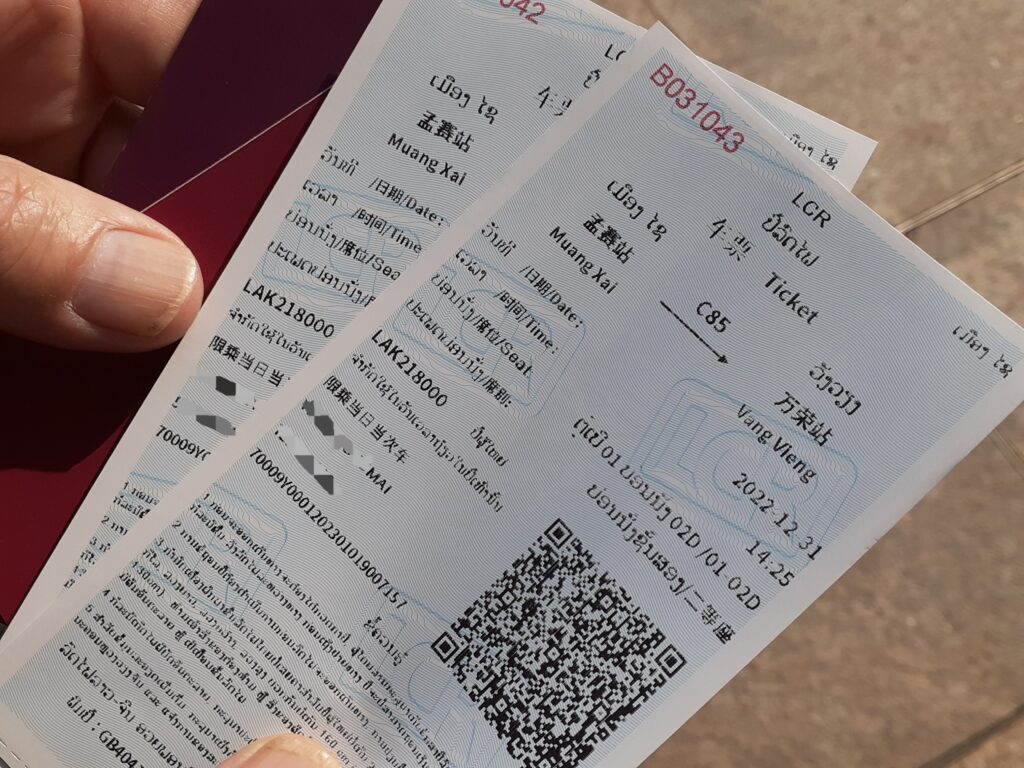 Second class, departing at 14:25 for Van Vien. When purchasing a ticket, a passport must be presented, and your name and passport number are printed on the ticket. The carriage number and seat number are also clearly marked and you board the train accordingly.
Entering Muang Sai Railway Station
Departure from Muang Sai Railway Station is at 14.25 hrs, but security checks are carried out when entering the station and you will only be allowed onto the platform five minutes before departure time, so make sure you arrive at the station well in advance.
We arrived at the station at about 1.05pm entered the station through the right hand side of the main entrance which was closed. You have to present your passport and train ticket when entering the Railway Station.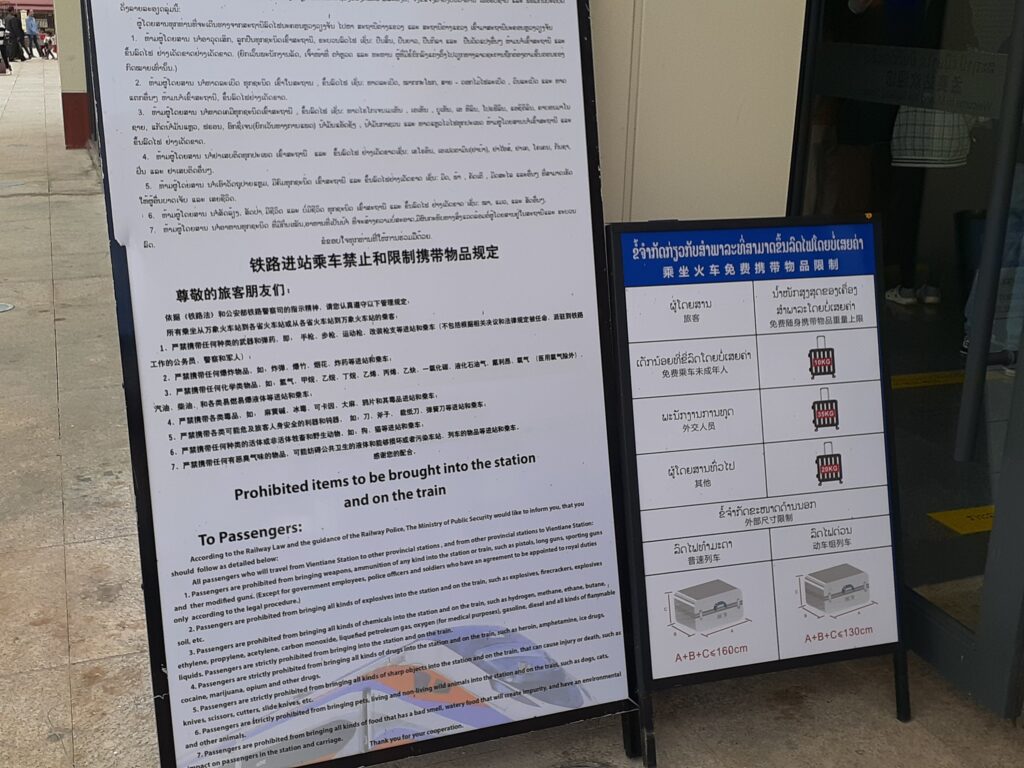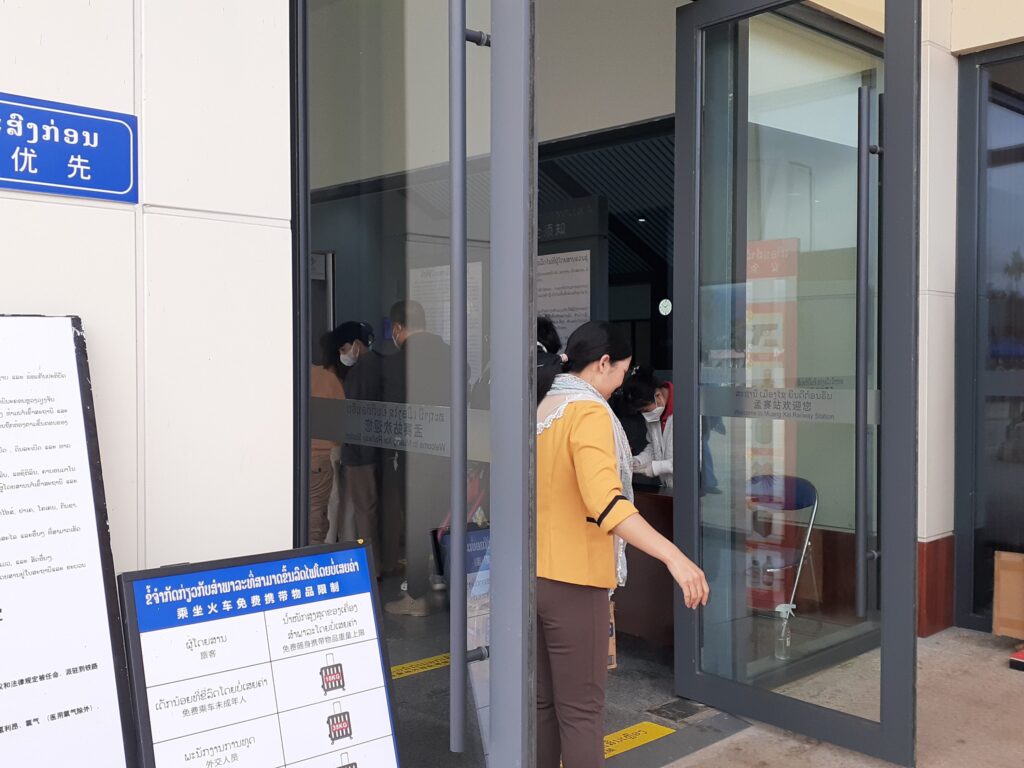 Your luggage is screened and there is a light body check by a female staff member.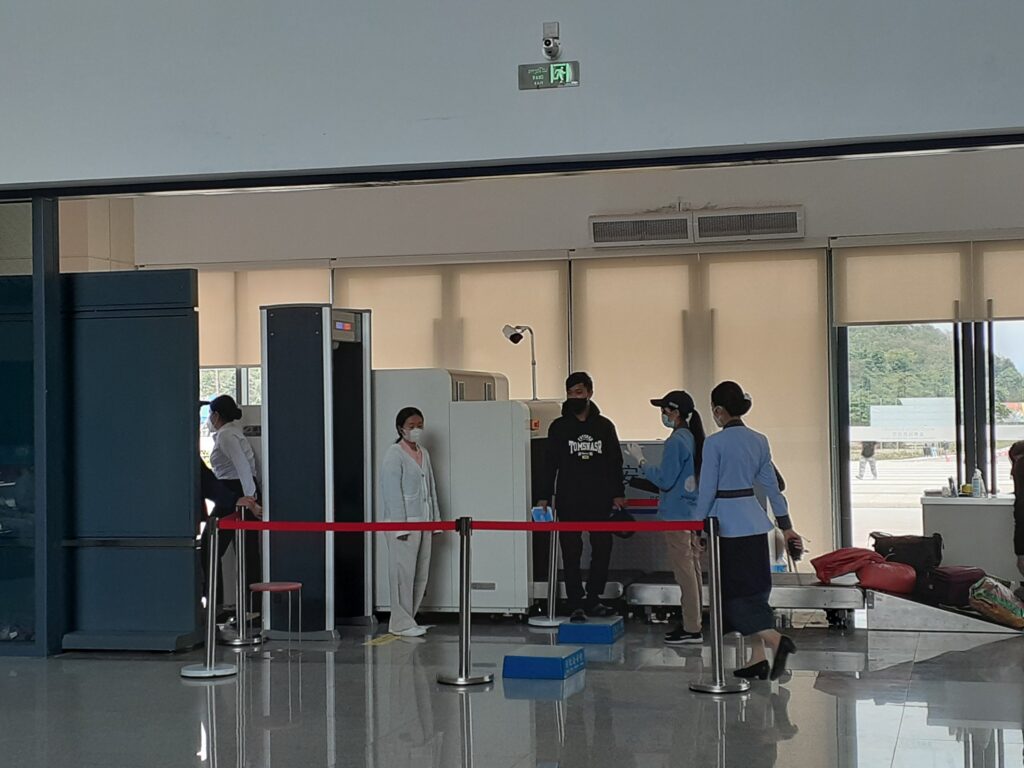 When you enter the station, there is a blue notice board at the front, showing the trains for the day. There is a fixed time to enter the platform, so you will have to wait in the waiting room until that time.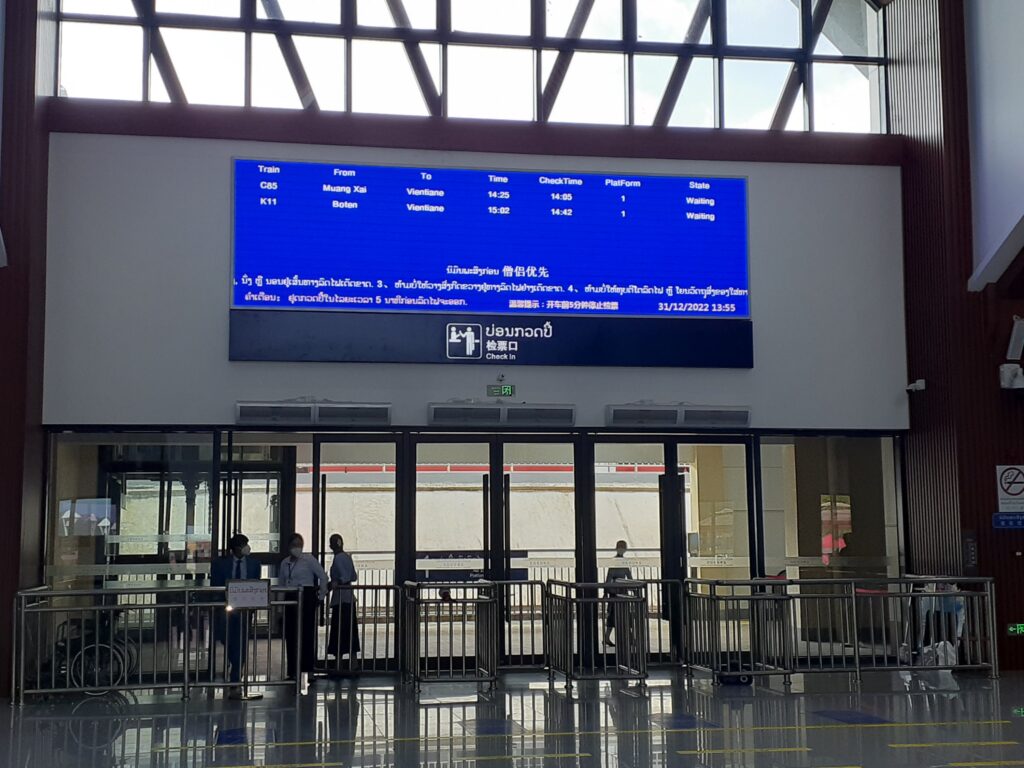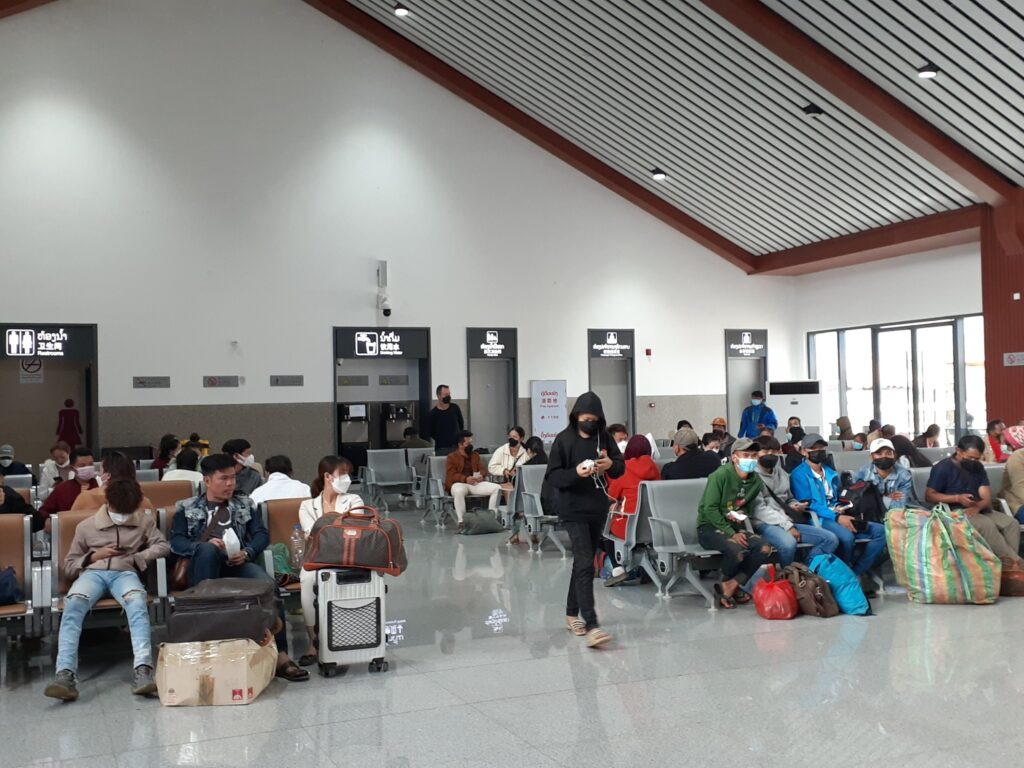 Getting a High-speed train of the Lao-China Railway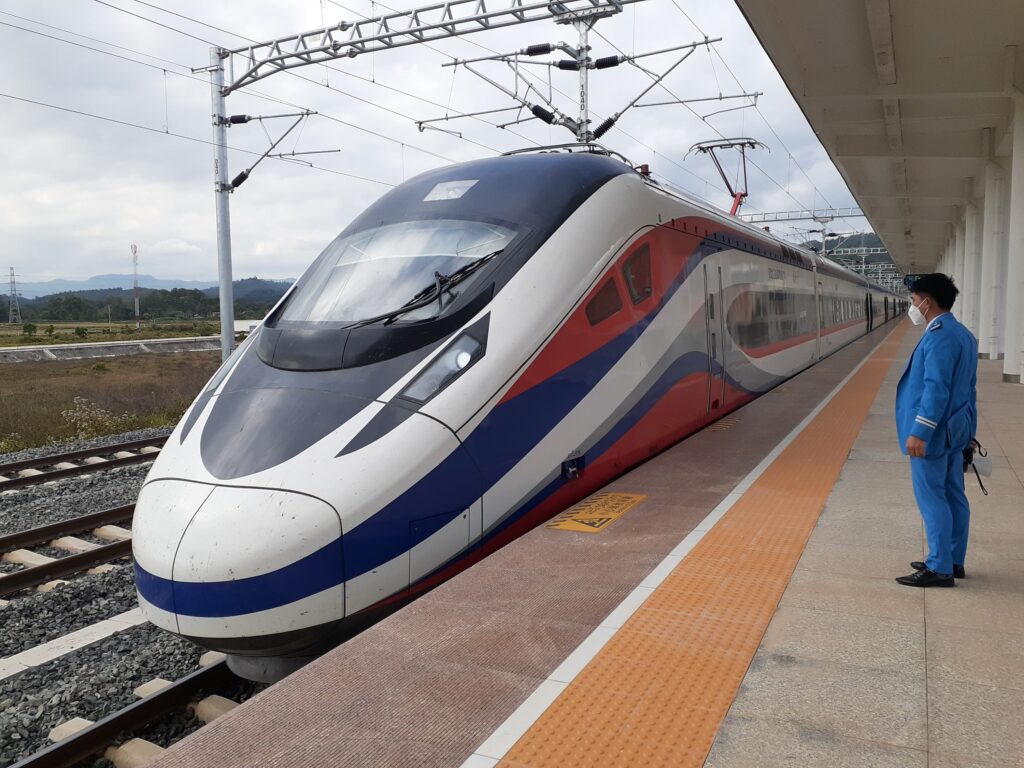 Our high-speed train, C85, was shown as starting boarding at 14:05. Our train started from Oudomxai (Muang Xai), so the train was already on the platform.
At the scheduled time, the boarding gate was opened and staff checked our tickets.
An official checking tickets at the ticket gate
After passing through the ticket gate, we moved to platform 1, where our train was to depart.
When we arrived at platform 1, there were several staff members here too, and they guided us to our carriage.
You have to board the train according to the carriage number and seat number shown on your ticket.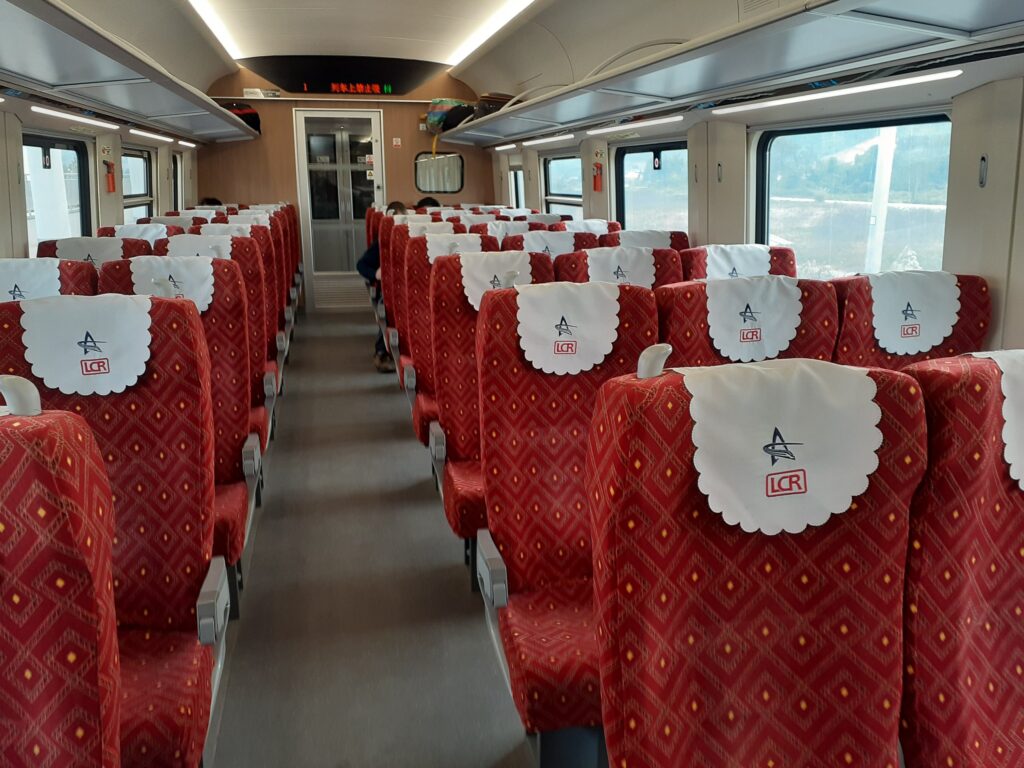 We travelled on New Year's Day, but the carriage we got on was an empty one. At the next station, Luang Prabang, there were a lot of people queuing at the platform, so I wondered if it would get crowded, but almost everyone got into the next carriage. Perhaps the trains are separated by destination. It was a bit baffling!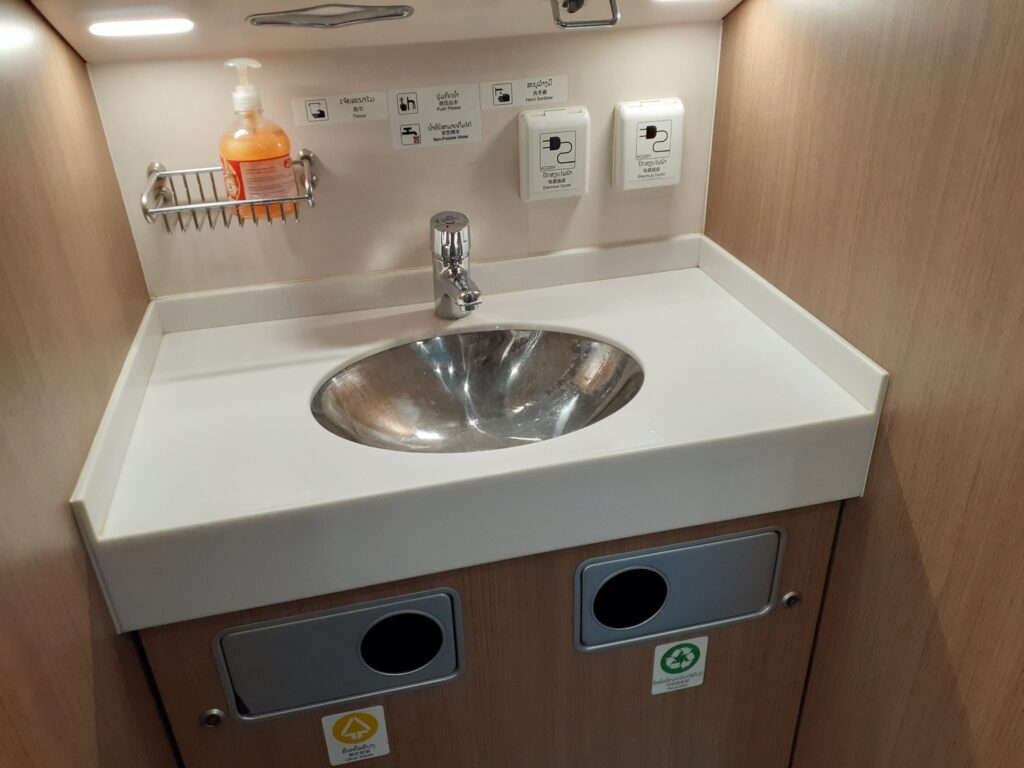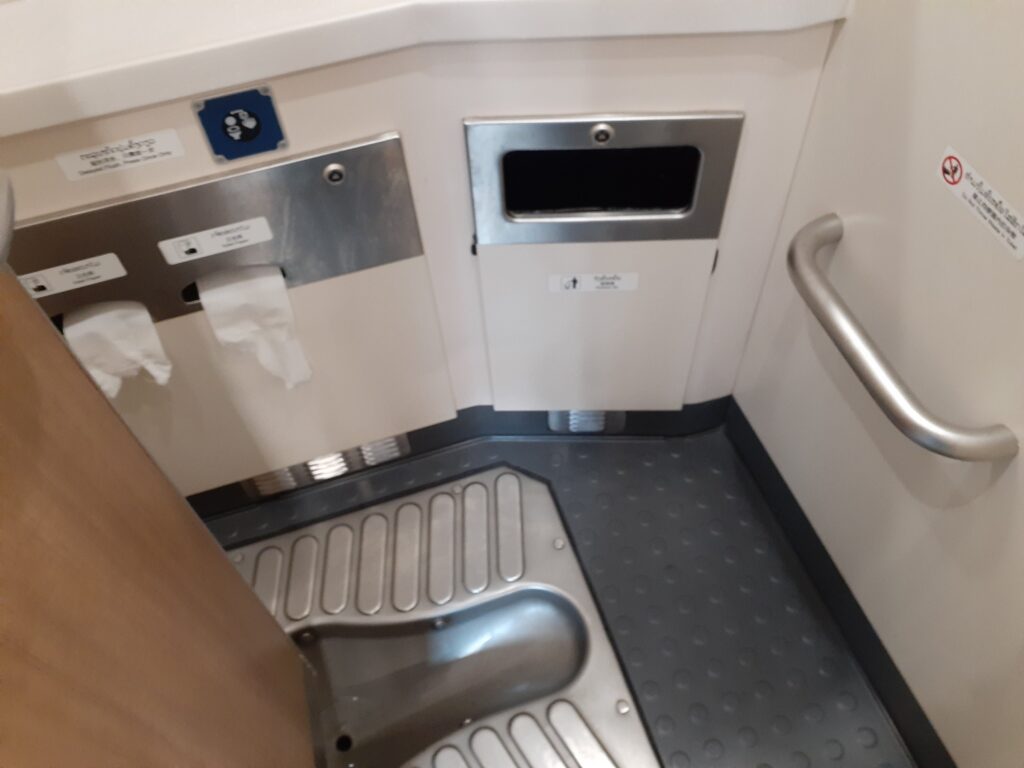 The journey from Oudomxai (Muang Xai) to Van Vieng has a lot of tunnels, but in between you can enjoy the beautiful Lao landscapes.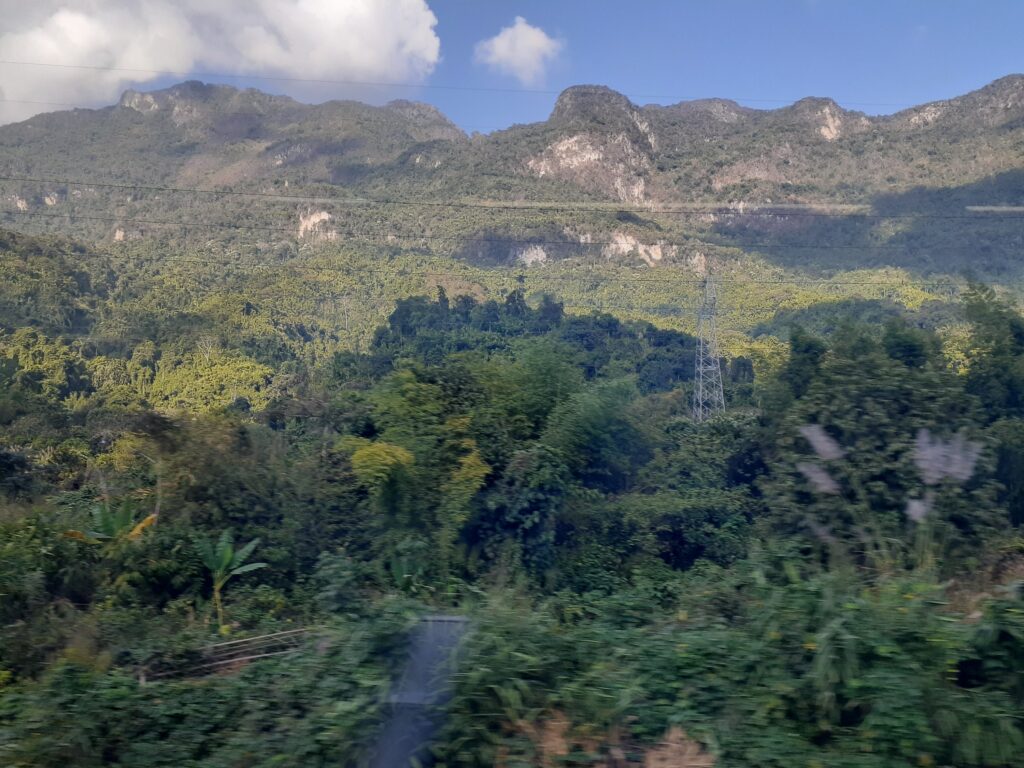 Arrival at Van Vieng railway station and transfer to the city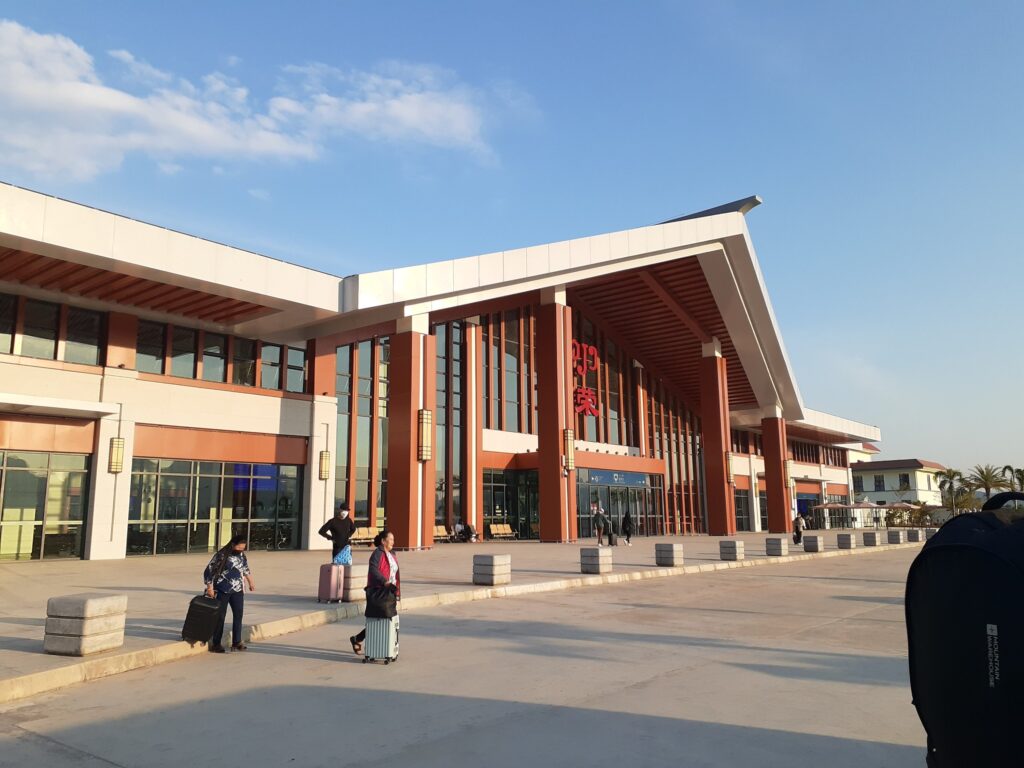 The scheduled arrival time at Van Vieng was 16:39 and we arrived on time.
Van Vieng railway station is located 4 km north of the city centre. It is not too far to walk, but we decided to take a songtaew into the city as we were planning to go to a guesthouse at the southern end of the city.
In addition to the songtaew, buses are also parked in front of Van Vieng train station.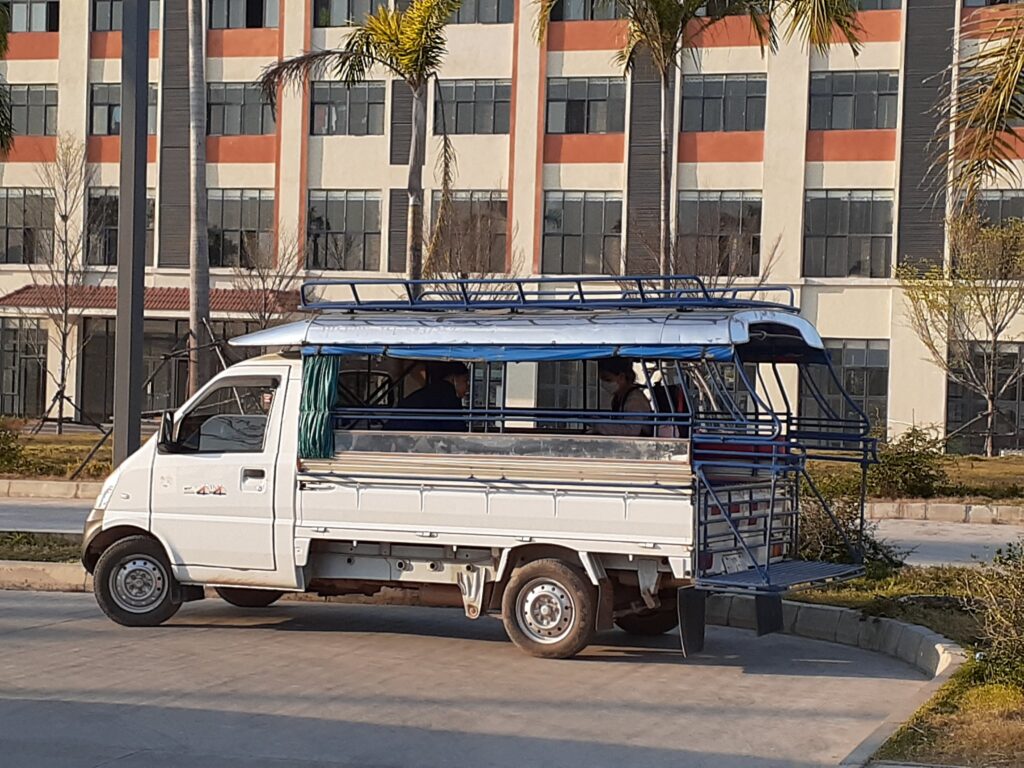 Both cost 30,000 kip per person. Foreigners are told to take the bus, but the bus was quite full, so we took the songtaew. Just tell them where your guesthouse is in the city and they will drop you there.