After two nights in Nukus, we organised a tour to Khiva, a World Heritage-listed historical city, visiting six fortresses along the way.
Several tour operators offer one-day trips including transport Nukus-Khiva plus sightseeing of the fortress. After comparing a few agencies, we chose one of the tours offered by a travel agency based in Khiva.
Ancient Fortresses (Kala) between Nukus and Khiva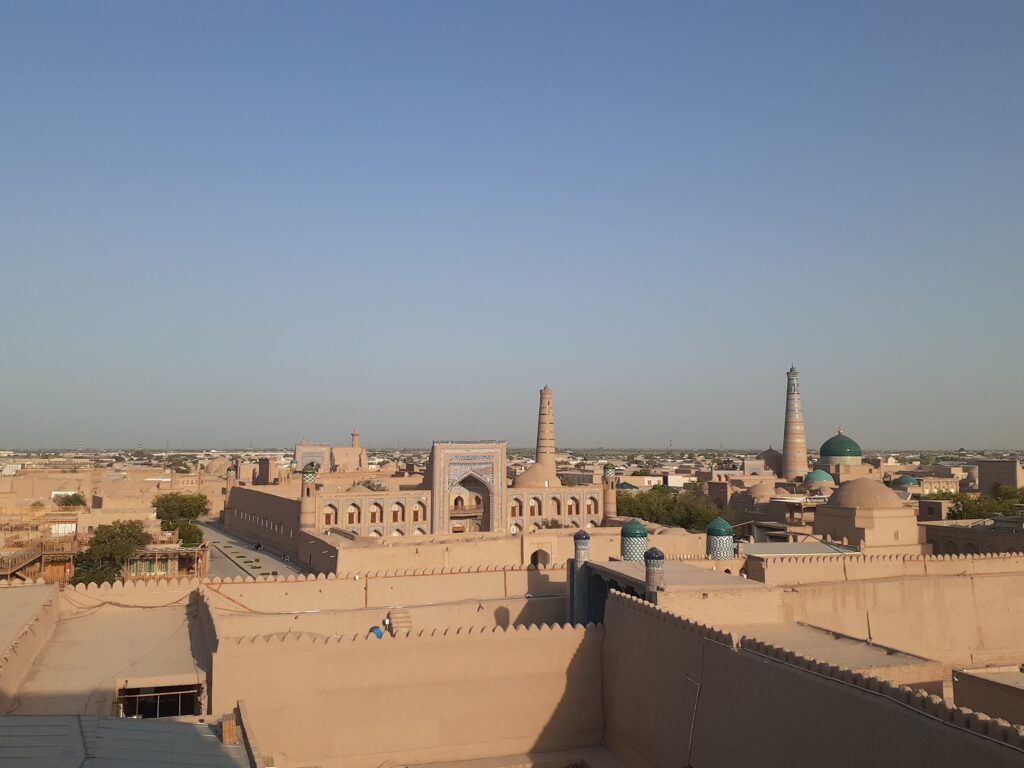 Khiva is a city in Khorezm, Uzbekistan. It has a long history and the old town / Ichan Kala is known from archaeological excavations to have existed as early as the 1st century, and was inscribed on UNESCO's World Heritage List in 1990. The city also used to be the capital of the Khivahanate (early 16th century to early 20th century).
Several ancient fortresses were built near Khiva and are now a tourist attraction as ruins. However, these fortress ruins are scattered over a large area and are not individually accessible by public transport. Therefore, to get around the fortress sites efficiently, it is recommended to join a tour organised by a travel agency.
As the fortress is located between Nukus and Khiva, the best plan is to travel between the two towns while visiting the fortresses. This means that you can either leave Nukus and arrive in Khiva or leave Khiva and arrive in Nukus, and the tour operators are present in both Nukus and Khiva.
This tour is good value for money for travellers who want to tour around the area, as they can travel between the two cities while sightseeing.
We were staying in Nukus and contacted several travel agencies with the intention of joining the fortress tour from Nukus to Khiva. One that offered a reasonably priced six fortress tour was Islambek Travel & Hotels in Hiva. We contacted them via WhatsApp and booked the tour. Murad the owner is very professional and understands the needs of travellers. I would highly recommend them.
Onr-day tour to visit 6 ancient castles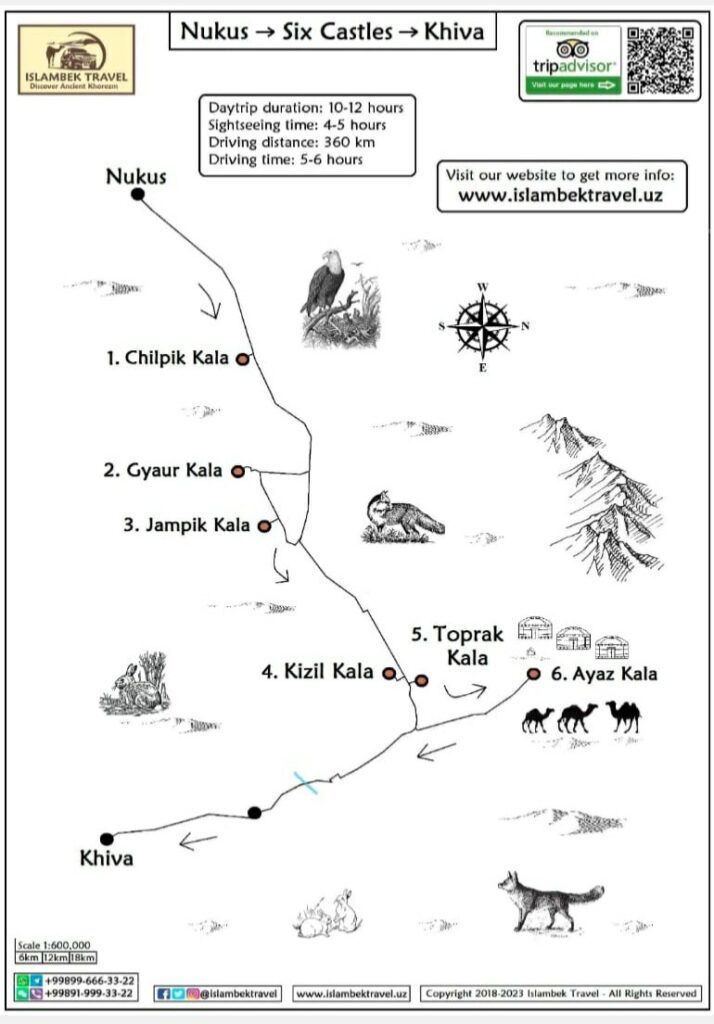 Islambek Travel & Hotels offers a number of tours. A tour to visit 4 castles between Nukus and Khiva is also available, as well as 6 castles. Check their website for more information.
On the Nukus-Khiva 6 Fortresses tour we took, a car picks you up at a designated location in Nukus (guesthouse, hotel, etc.) at a specified time on the day and takes you to the city of Khiva, visiting the six ancient fortress sites on the way. Entrance fees to the fortress sites and meals are not included in the tour price. The entire tour takes 10-12 hours and ends at a designated location (accommodation) in Khiva. The cost was USD 79 per vehicle, in a vehicle comfortably sized for two to three persons.
The distance directly from Nukus to Khiva is approximately 170 km, but the tour stops at six fortresses, so the overall distance travelled is 360 km.
Islambek Travel & Hotels says that the tour can start at any time on the day, but a morning start is recommended. We booked to be picked up from our guesthouse in Nukus at 7:45am.
Departure from Nukus: 7:50 am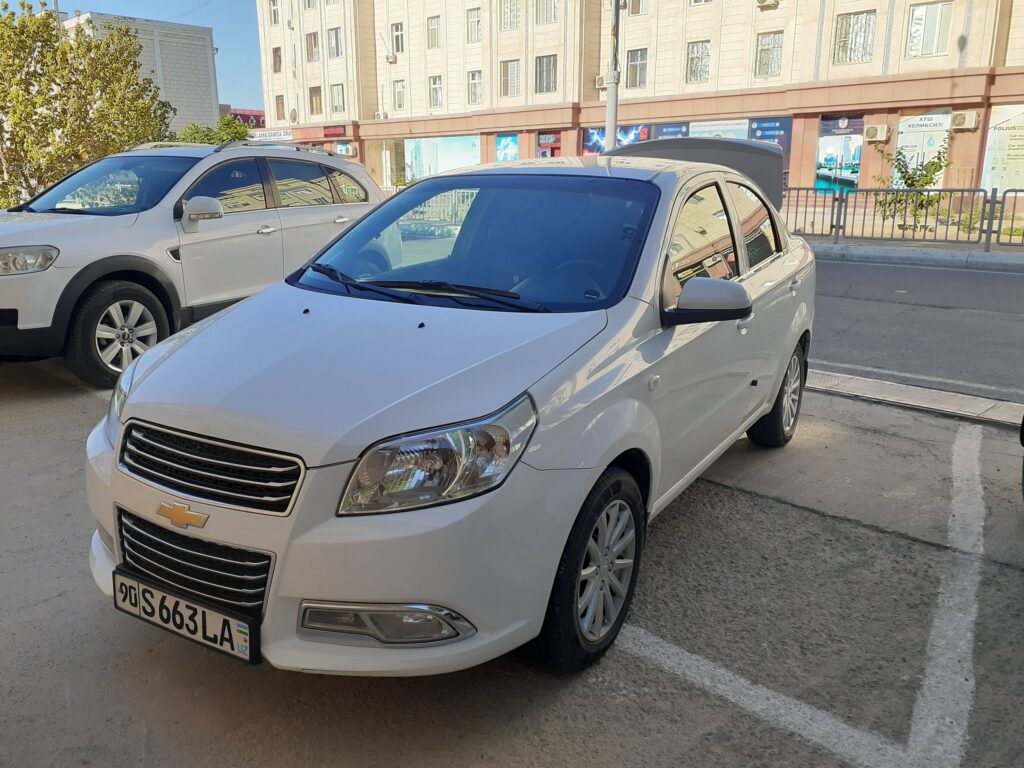 On the morning of 11 July 2023, when we went down to the front desk of the guesthouse we were staying at in Nukus at 7:45 am, as per our booked time, the tour driver had already arrived. We checked out, loaded our luggage into the car and the tour started at 7:50 am.
The car was well-maintained. We put our backpacks in the boot and boarded the seats, which were covered with beautiful carpeted cover. The car was air-conditioned and very comfortable.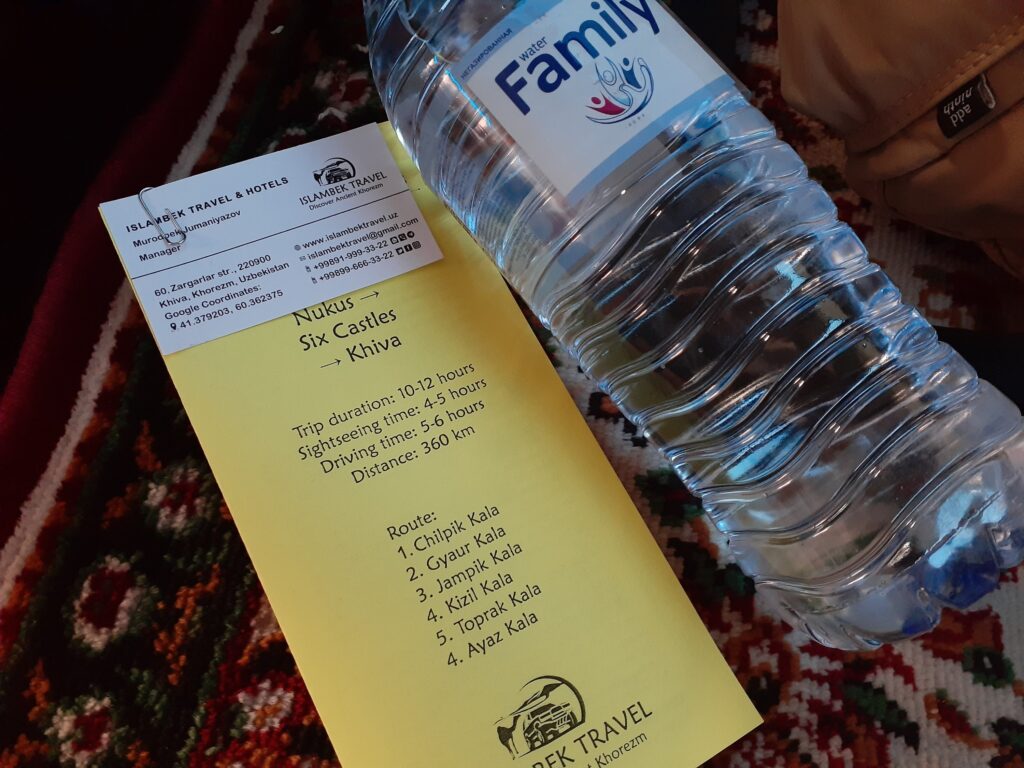 Tour leaflets and drinking water were provided. The leaflet is written in English and contains an introduction to the fortress sites to be visited.
Our Uzbek driver, Umrbek, understood a little English. For the more complicated discussions, I could practice my Uzbek (similar to Turkish) and sometimes Russian, as well as Google Translate, to communicate with him.
Chilpik Fortress Ancient Castle (Chilpik Kala): 8:40 am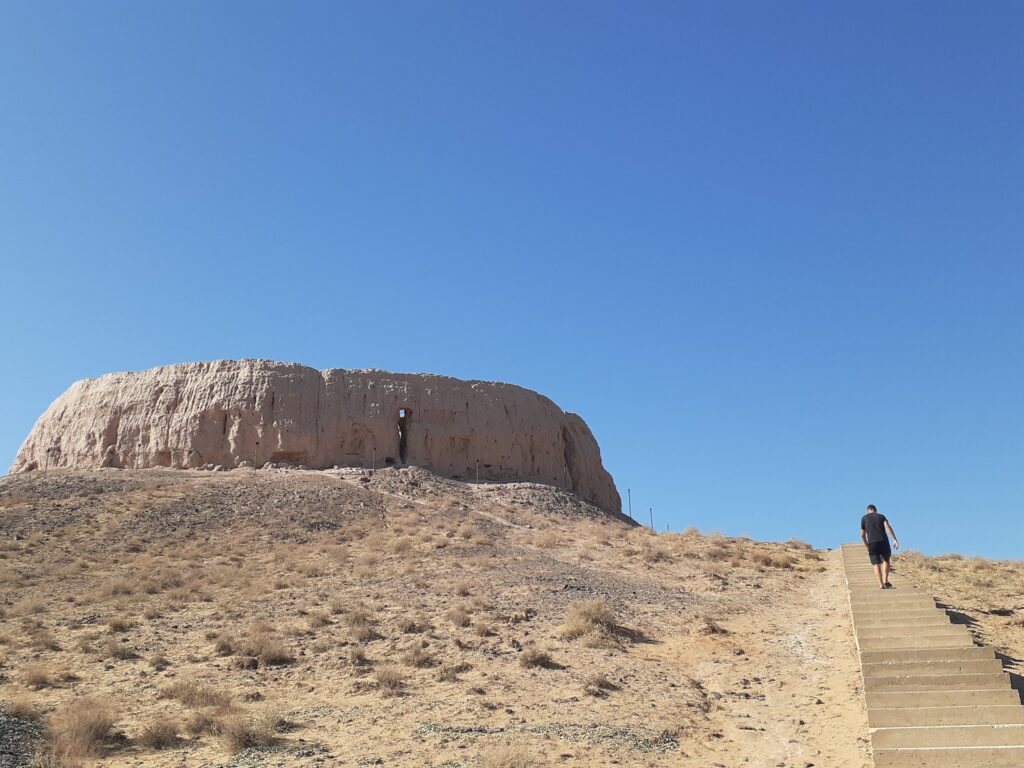 The first fortress on the tour is Chilpik Fortress. It takes about 40 minutes to get there after leaving the town of Nukus.
The fortress was built in the 1st century and has been rebuilt several times since. It was used by the Zoroastrians and dead bodies were placed at the top of the fortress on the sacrificial altar. The dead bodies were placed under the blue sky. After the birds had eaten them, the bones were collected by the family and buried in an ossuary made of clay and stone.
Entrance fee for foreigners is 10,000 som per person. Toilets available.
Gas refill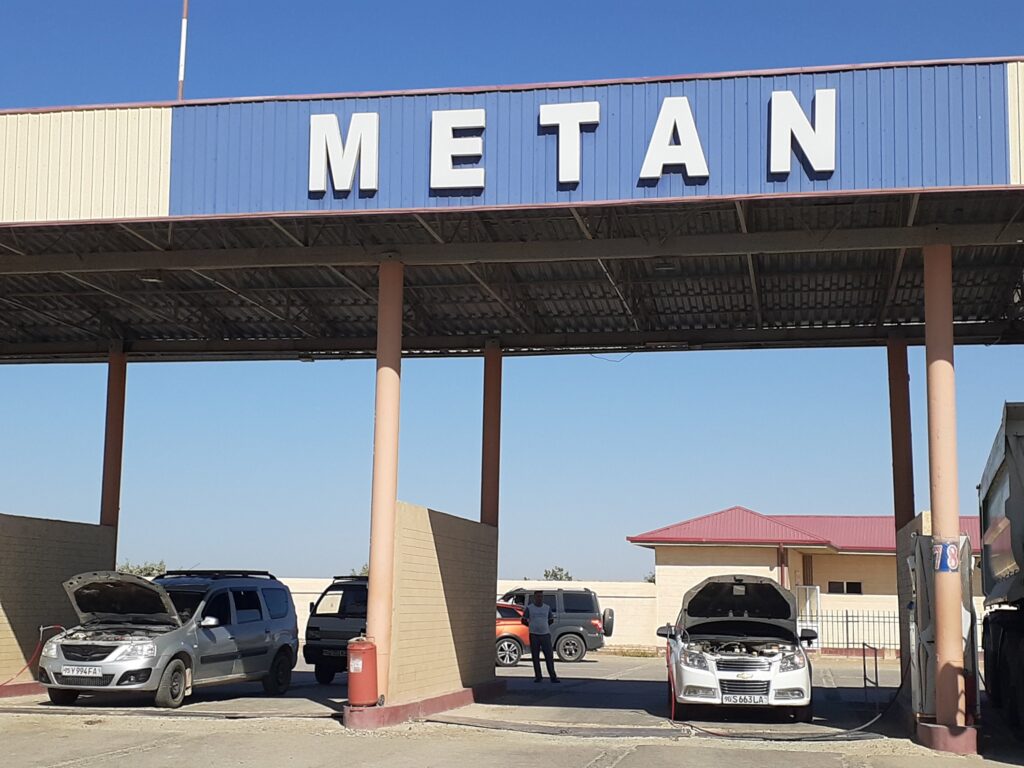 This is a gas refuelling stop. Methane gas vehicles are attracting attention as a clean energy source, and there are many vehicles running on methane gas in Uzbekistan. This tour vehicle was one of them, and we refilled it at a methane gas station. The car is compatible with both methane gas and petrol, and can switch between the two.
Gyaur Fortress Ancient Castle (Gyaur Kala): 10:20 am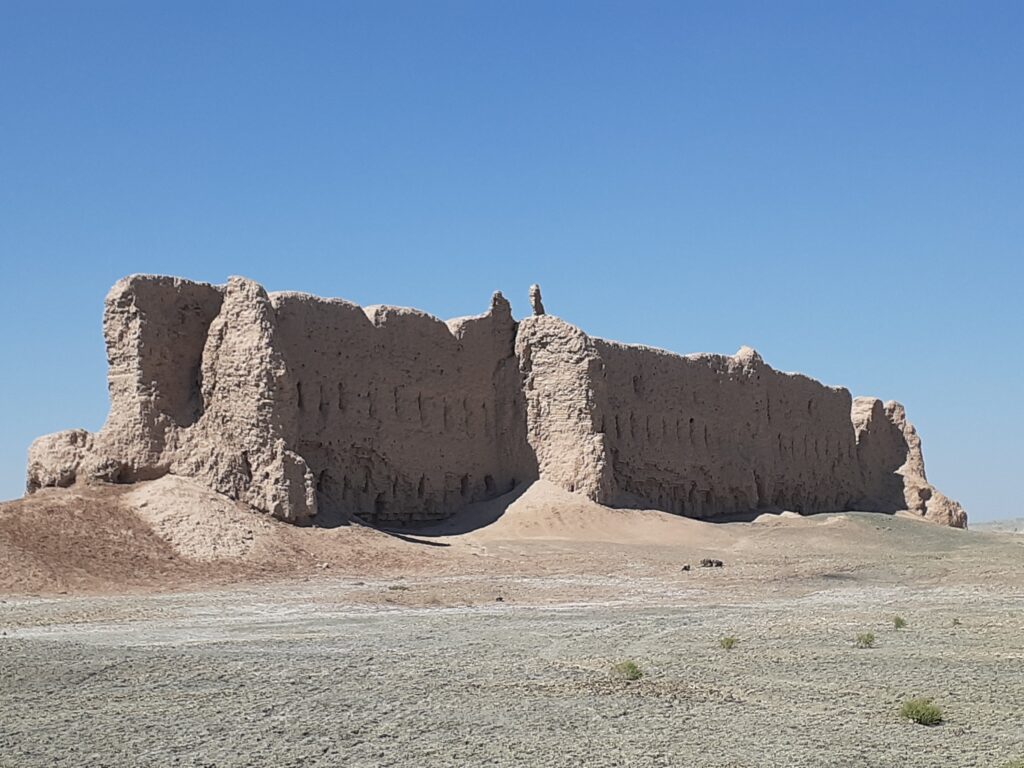 This is the second spot of the day. When you see the monolithic walls from a distance, that's Gyaur Kala – a different atmosphere from that of the Chilpik Fortress.
Gyaur Fort is known to have been in use until around the 3rd or 4th century. The long northern wall and the short western wall remain, while only the foundations of the eastern wall remain. The wall is said to have once been 400 meters long, and the brickwork is still visible when viewed up close.
Free entrance. No toilets.
Jampik Fortress Ancient Castle (Jampik Kala): 11am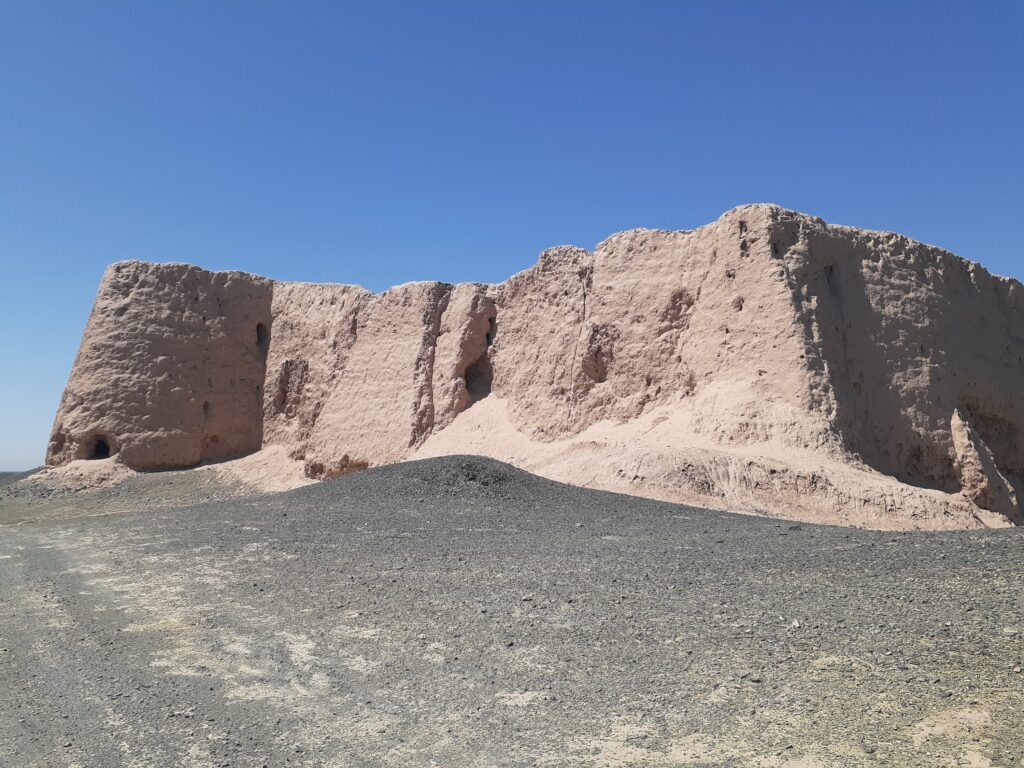 The oldest part of the foundation dates back to the 4th-1st century BC. The walls, which are now clearly visible from a distance, were built in the Middle Ages. A palace-like structure is thought to have existed to the northwest within the walls, and the fissured walls are thought to have been its façade.
Free entrance. No toilets.
Kizil Fortress Ancient Castle (Kizil Kala): 12.10 pm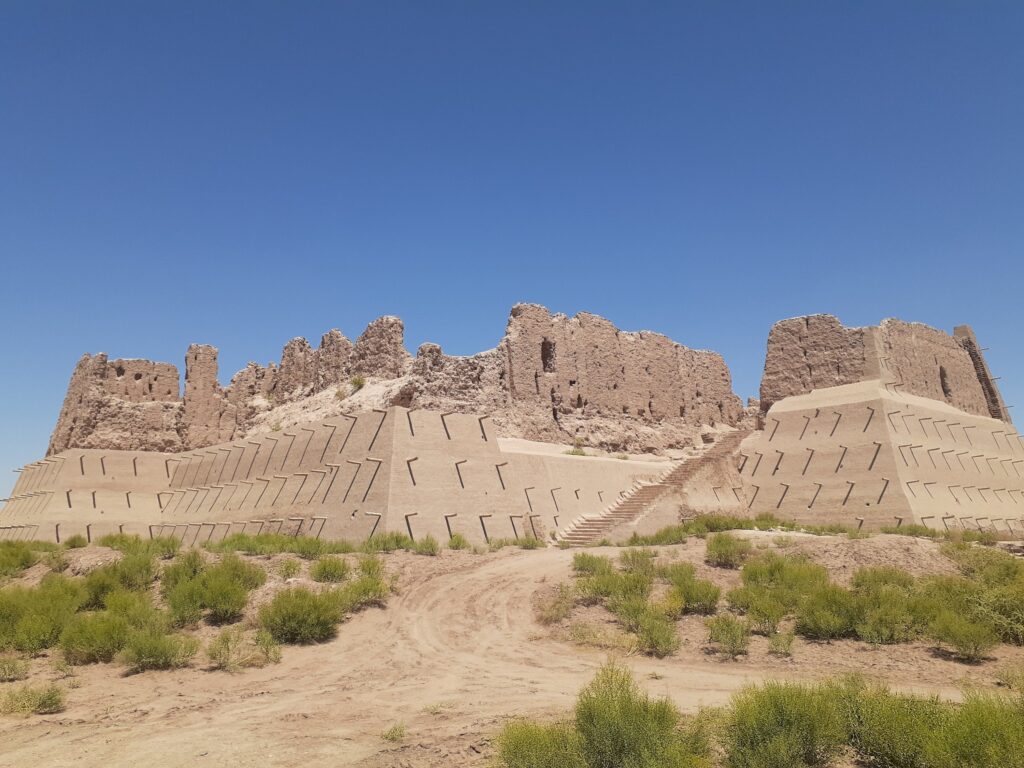 Reinforced sections of the fortress can be seen. The stairs to the top of the fortress were well-maintained and easy to walk on.
The fortress was built between the 1st and 4th centuries, but abandoned for hundred years; it was rebuilt in the 12th and 13th centuries.
Free entrance. No toilets.
Toprak Fortress Ancient Castle (Toprak Kala): 12:40 pm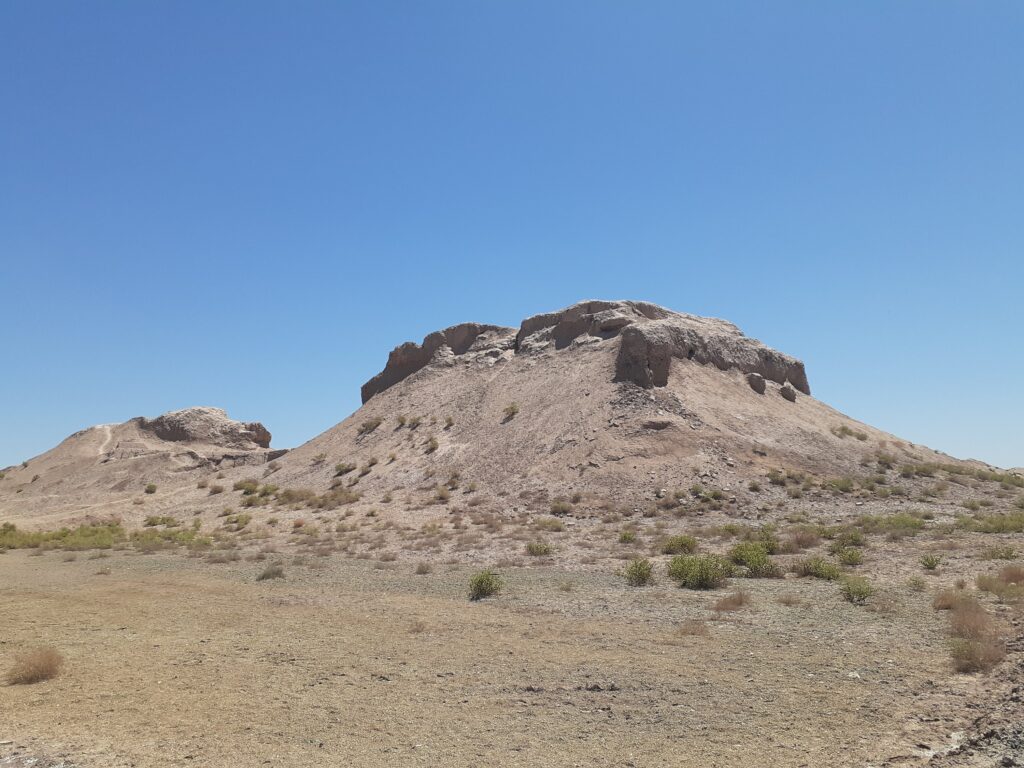 Toprak Fortress is located close to Kizil Fortress. Although it is largely buried under sand and soil, it still retains its rustic appearance.
It is thought to be a royal palace built in the 2nd-3rd centuries. It was abandoned for a period but was later used as an administrative fortress.
Admission free. Toilets possibly available.
Lunch by the Akchakul Lake: 1:10 pm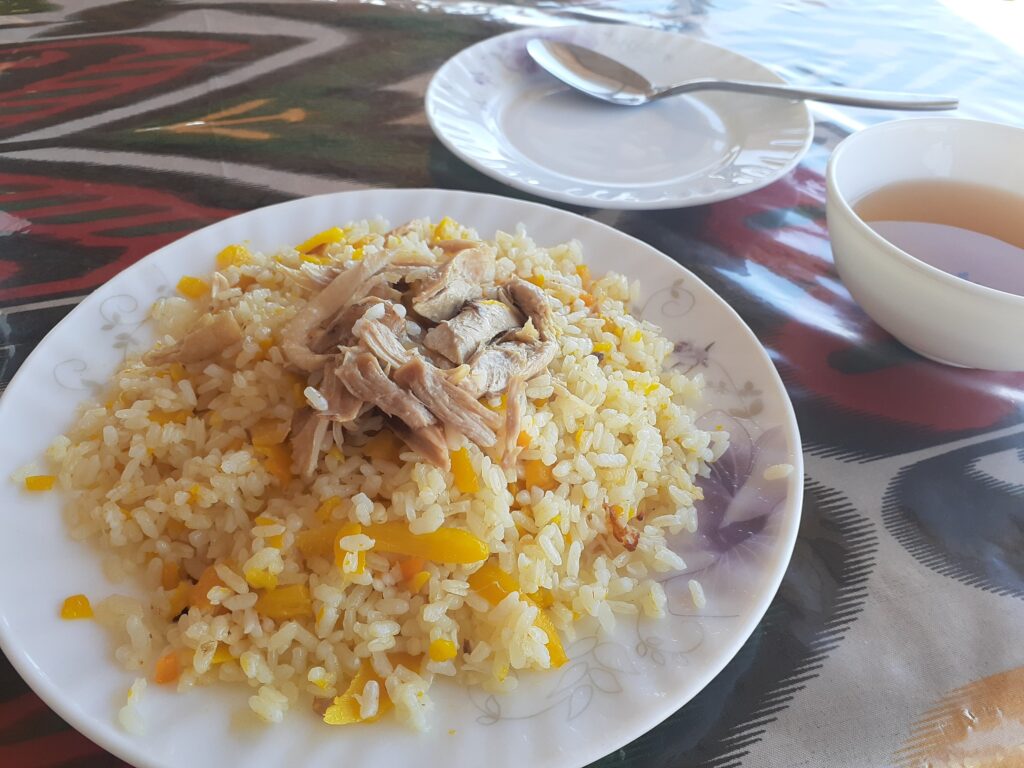 Lunch break here. We had plov for lunch at a restaurant on the shores of Lake Akchakul.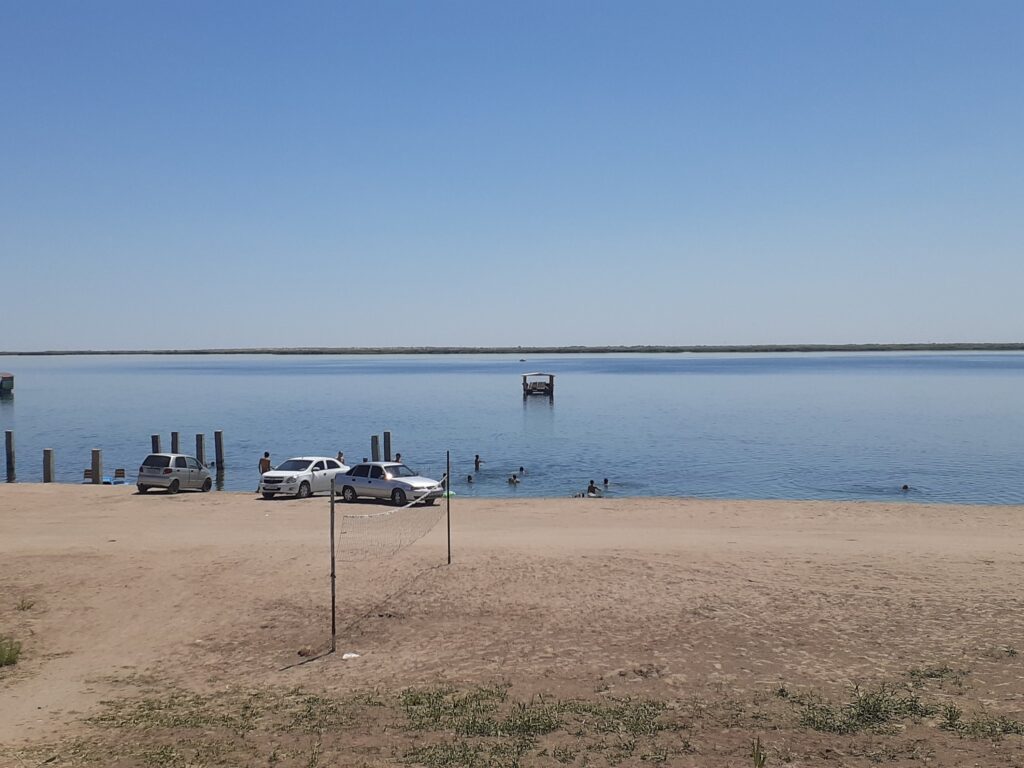 It was a weekday afternoon, but there were several families coming to bathe in the water and they were cheering.
Ayaz Fortress Ancient Castle (Ayaz Kala): 2:30 pm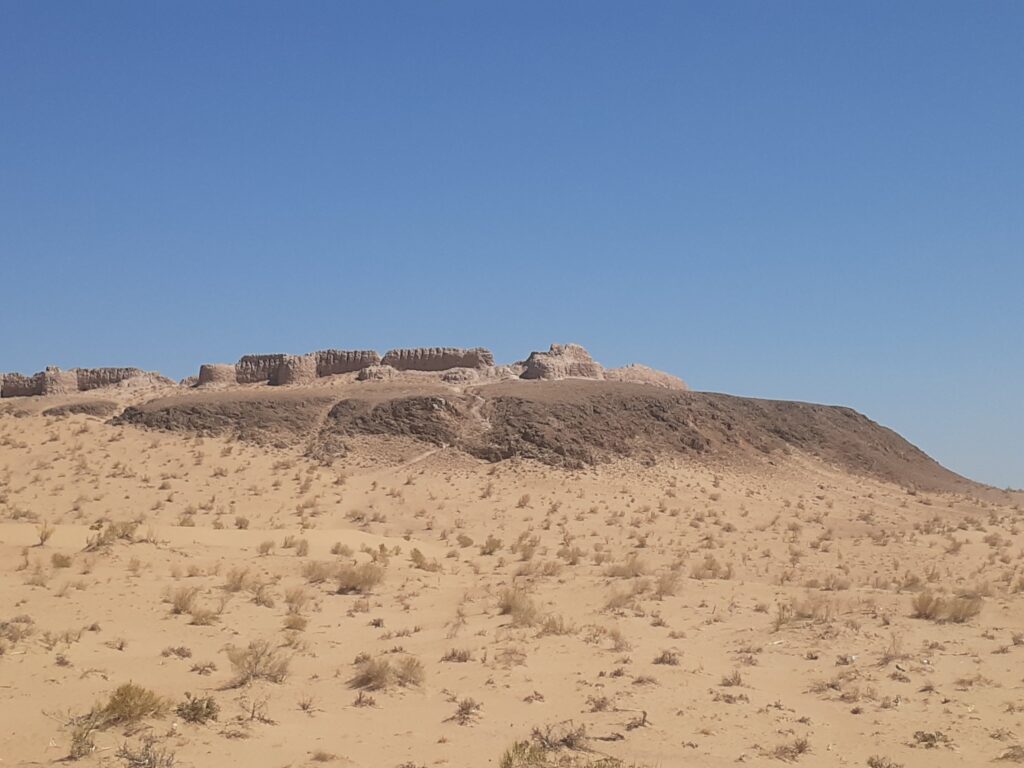 This was the last stop on today's tour, Ayaz Fortress. There was a row of nomadic tents next to the car park, but we did not stop and headed towards the fortress.
It is believed to have been built in the 7th-8th century. It was built as a fortress to withstand attacks from nomads.
Ayaz Fortress is a cluster of three buildings, of which only the foundations seem to remain. It is literary a fortress in the desert, and we walked for several minutes on the sandy ground to reach its footings. It was 2:30 pm, the hottest time of the day. The temperature must have been close to 50 degrees Celsius. There is almost no shade at this fortress. It was so hot that there were no other tourists except us! No one else stupid enough perhaps?!
Entrance fee is 10,000 som per person. Toilets are probably available.
Arrival at the hotel in Khiva: 5:30 pm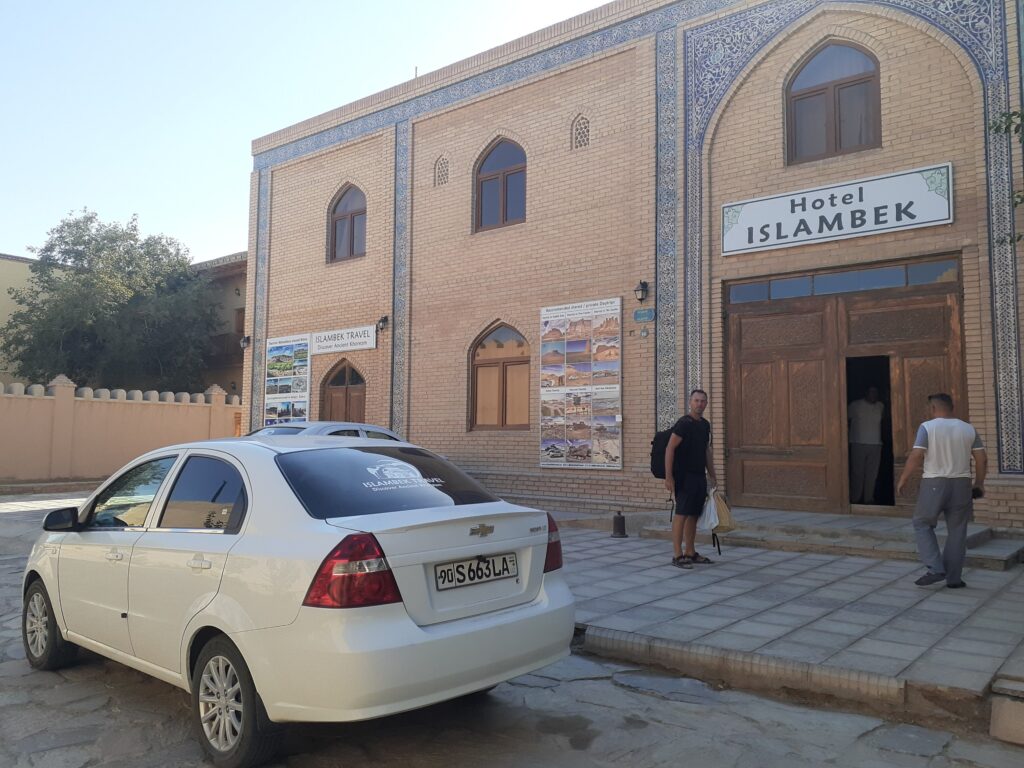 We arrived at our hotel in Khiva about two hours after leaving Ayaz Fortress. On the way, we had to refill our gas again and stop at a shop to buy drinking water. We also had to pass through some traffic, so it took longer.
It was a long day, but we didn't feel very tired. It was a really good day.
Pre-tour preparations
When taking the tour from Nukus to Khiva I would suggest the following preparations.
Protection from the sun
The tour travels 360 km in total. Although you spend a lot of time in the car, there is very little shade when wandering the fortress. Therefore, make sure you go out with good sun protection, including a hat, sunglasses and sun cream. Seems obvious, but if you don't you will fry. 
Bring your own drinking water
Drinking water is provided, but it is recommended that you also bring your own. It is a very dry area, so you will be thirsty and it's easy to get dehydrated.
There are almost no shops once you leave the city. It is a good idea to bring not only drinking water but also something like biscuits in case you get hungry.
The toilet situation
Some fortress sites have toilets, while others do not. I think it is better to go to the toilets when you find one. Don't forget to carry toilet paper.
After the tour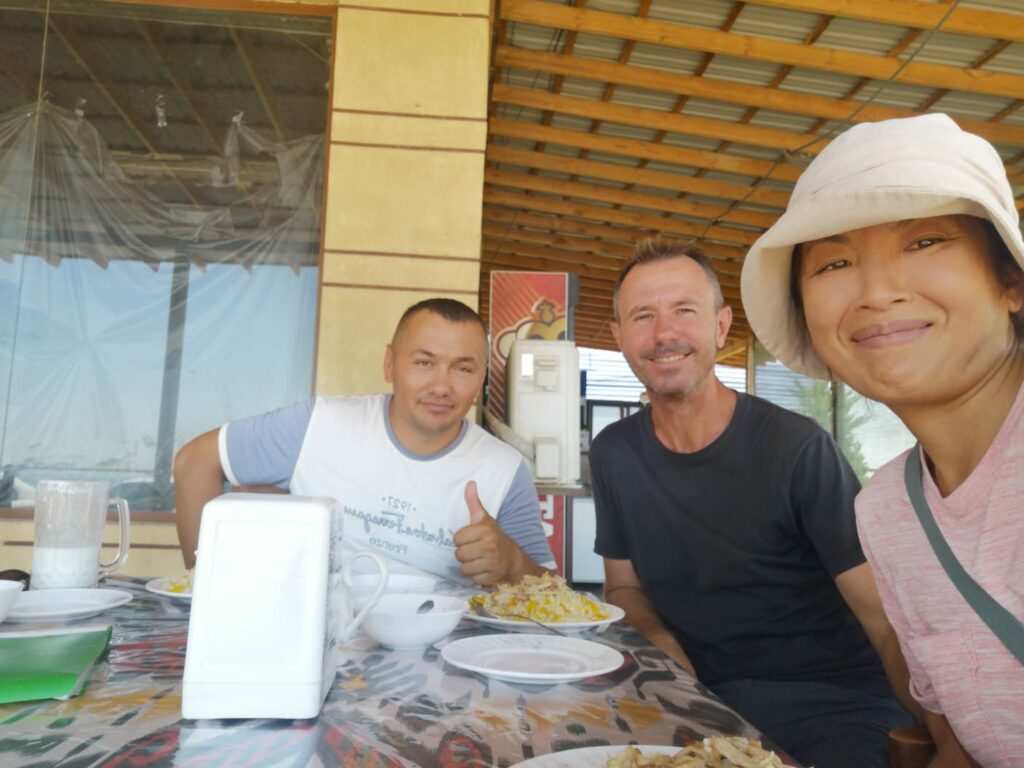 We visited six fortified old castles, each with different characteristics, which we enjoyed without getting bored.
Mr Umrbek was a good driver, and we never felt anxious. Even though we didn't speak the language, we felt that he took care of us in many ways.
Please note that the entrance fees on the post were the information of the time we visited. This may vary from time to time.
We joined this tour with Ialambek Travel & Hotels. Prices and content are correct at the time of posting. Please contact them directly for the latest information.