After four nights on Siquijor Island, we went to Bohol Island, southeast of Cebu.
There is a daily fast ferry service from Siquijor to Bohol Island, so we decided to take it.
About Bohol Island
Bohol is the tenth largest island in the Philippines. It has a population of approximately 1.3 million.
It is located southeast of Cebu and is often visited by day-trippers from Cebu, as ferries operate several times a day.
The largest city on Bohol is Tagbilaran and that's where we took the ferry to.
South-west of Bohol and connected to Bohol by two bridges is the island of Panglao. Panglao Island is home to Alona Beach, which is a popular tourist destination, and there are ferries from Cebu to Panglao Island.
However, Alona Beach seems to be extremely crowded with tourists, so we skipped it and concentrated on Bohol Island.
Fast ferry from Siquijor to Bohol Island
There is an Ocean Jet fast ferry service to Bohol Island from Siquijor harbour departing at 8:20am.
The journey from Siquijor to Bohol Island took about 2 hours and cost 800 pesos per person.
Buying fast ferry tickets from Siquijor to Bohol Island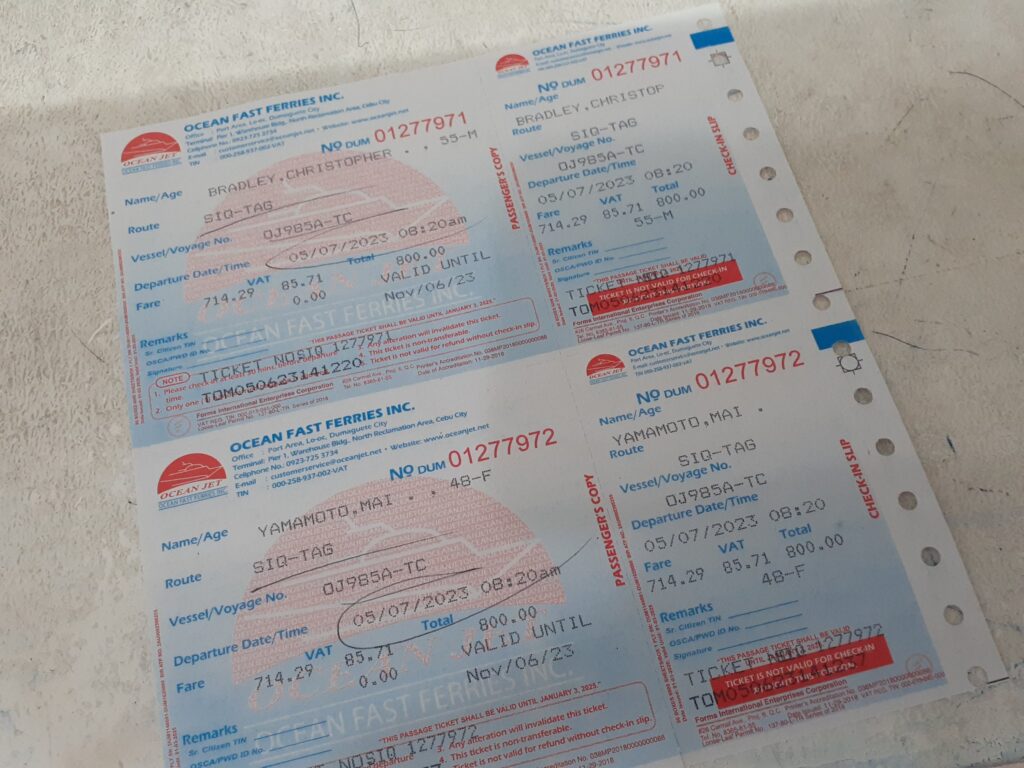 Fast ferry tickets from Siquijor to Bohol Island can be purchased at the Siquijor Port Ticket Office.
There is only one morning ferry service to Bohol Island per day, and you do not know how long it will take to purchase a ticket on the day. It is safer to make arrangements the day before.
We too went to the port ticket office the afternoon before the day before to buy our tickets.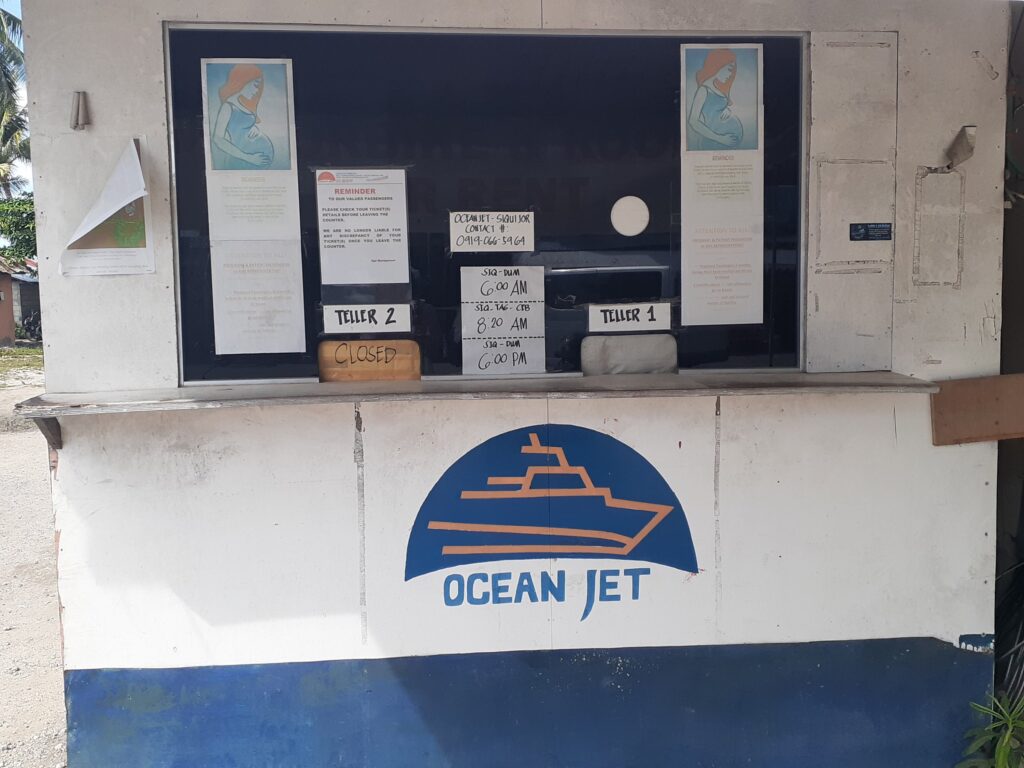 There was an Ocean Jet booth near the Siquijor port, so we stopped there, but it was closed. As we looked puzzled, a woman from a neighbouring shop told us that the ticket office was in the building over there at the port.
The white building on the left with the sign 'Ticket Office' was where all the ferry companies' ticket booths were located.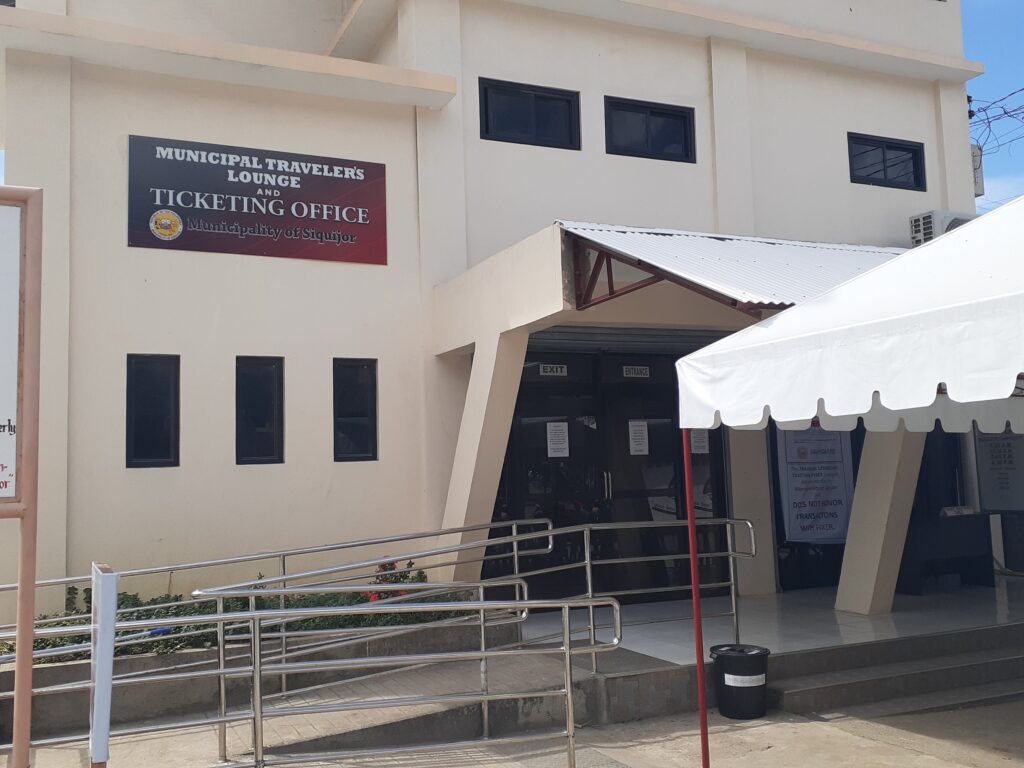 A white board at the entrance to the building displays ferry timetables.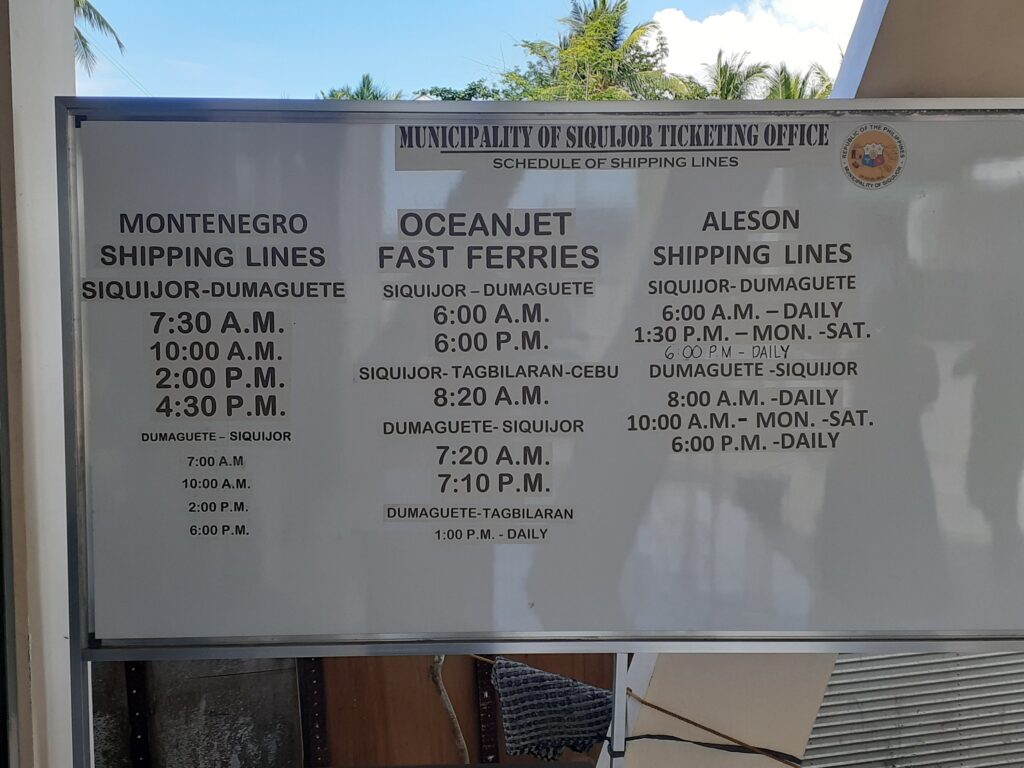 Once inside the building, the system is designed to take numbered tickets for each ferry company you wish to purchase.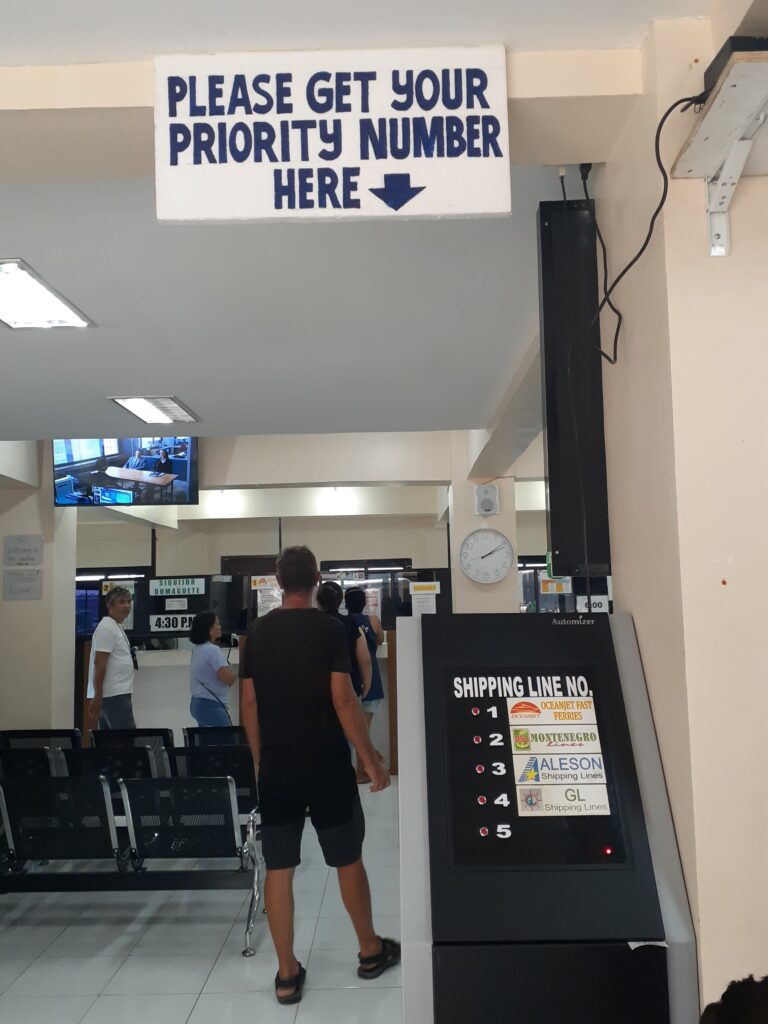 We wanted to take the Ocean Jet ferry, so we pressed the Ocean Jet button and received a numbered ticket. It was a Saturday afternoon, but it was not crowded and our turn came quickly.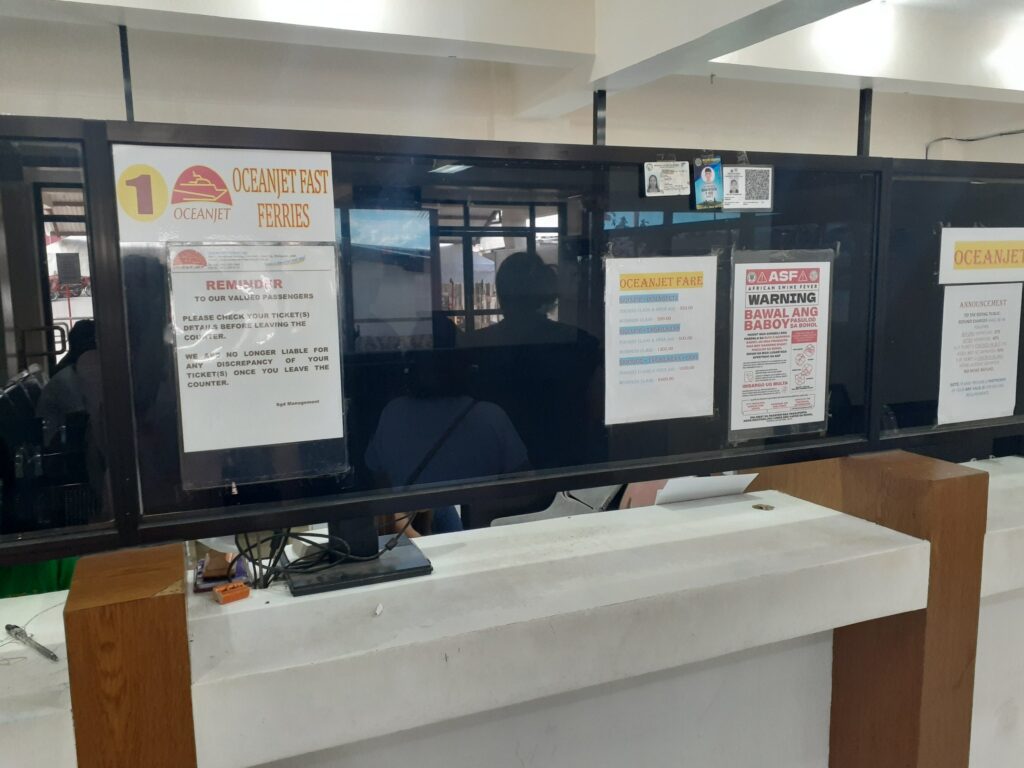 We went to the Ocean Jet ticket sales booth to buy our ferry tickets. Payment is by cash only. You need to show your passport when purchasing a ticket.
A ticket with our names printed on it was issued and I was told to come to the port 40 minutes before departure the next morning.
Siquijor port check-in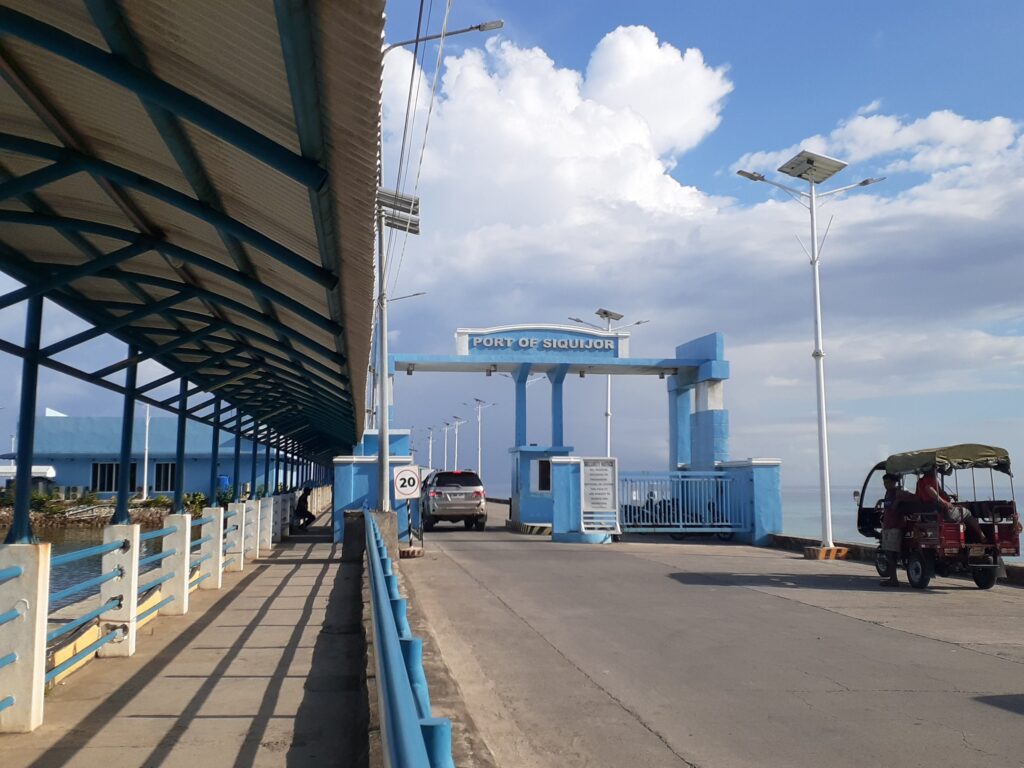 I checked out of the guesthouse in the morning and headed for Siquijor Port. We returned the motorcycle we had rented at the rental shop at around 7:10 am. This shop is located very close to the boat landing, so we walked to the port from there.
Before that, we bought breakfast at a nearby bakery. It was 7:30 am when we arrived at Siquijor harbour.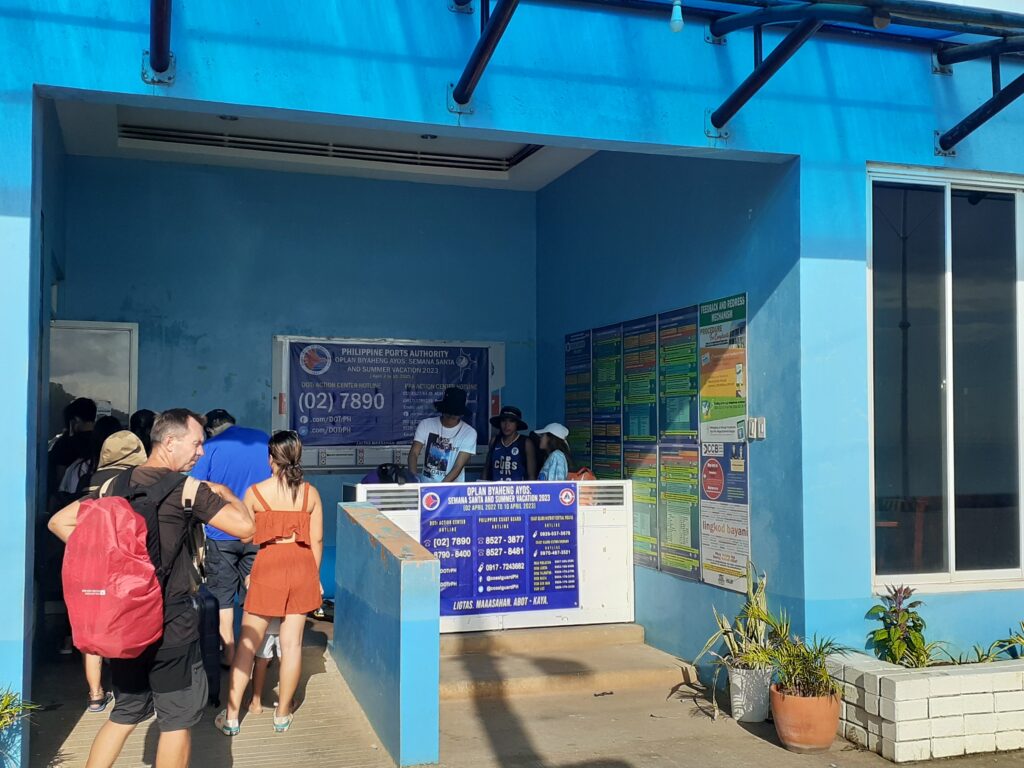 The blue building after the gate is the ferry terminal. There is a security check at the entrance.
Terminal fee payment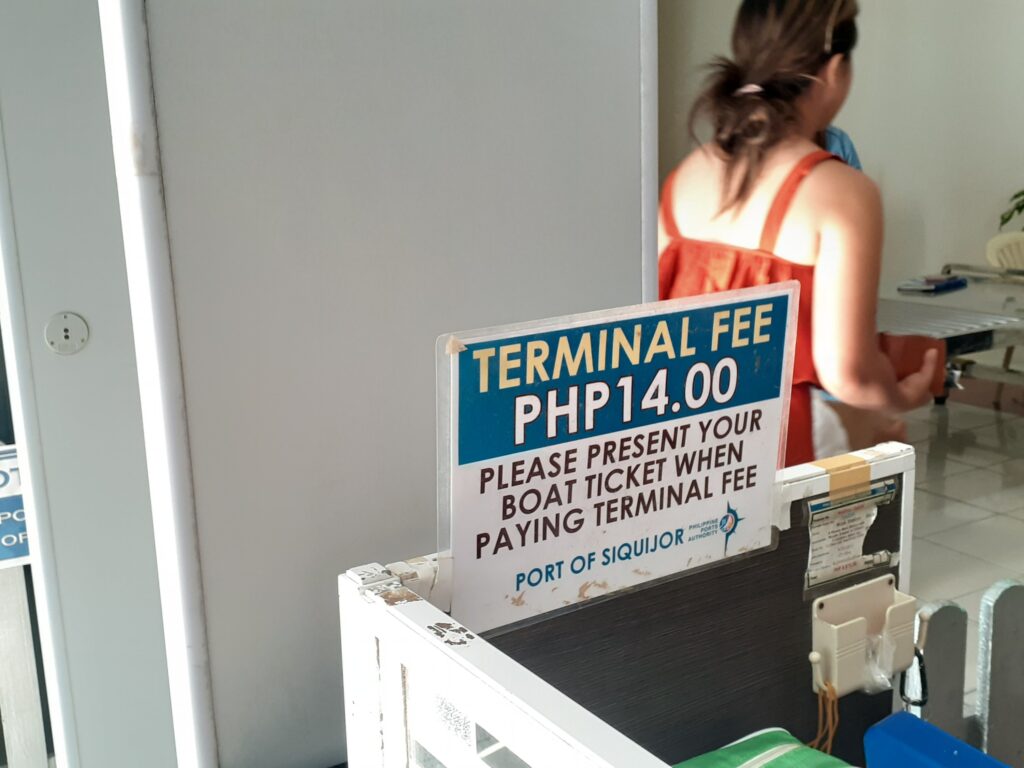 There is a booth to pay the port fee just before the security check at the terminal entrance. Show your ticket and pay 14 pesos per person.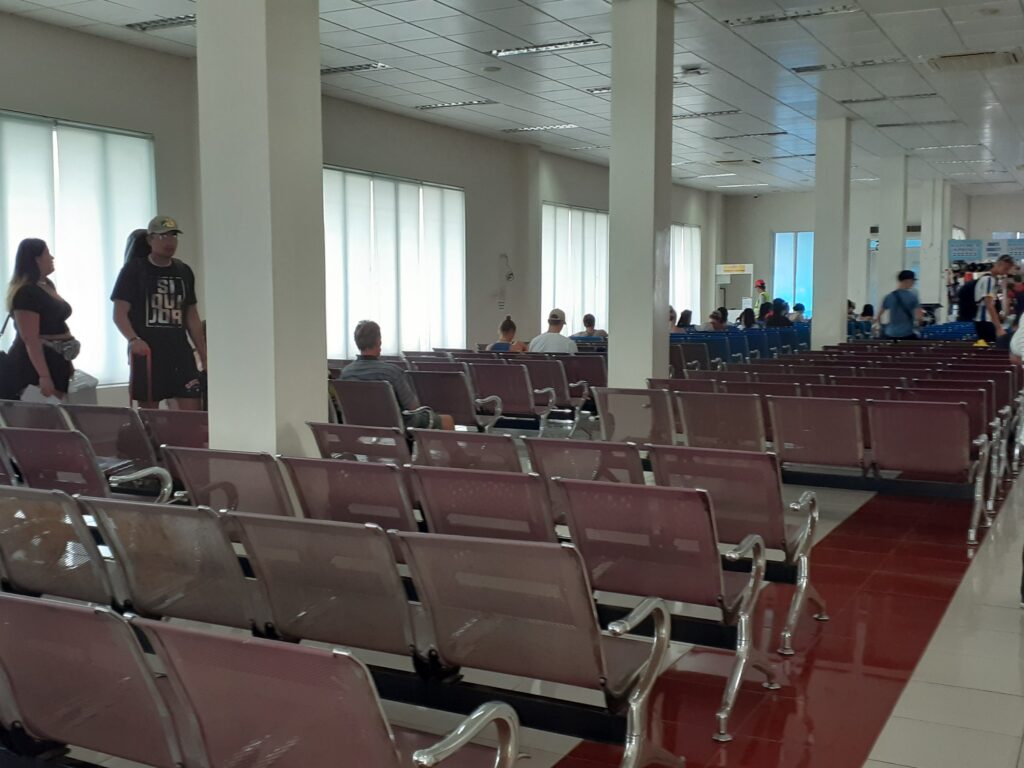 As soon as you pass through the security check, you will find yourself in the waiting area. On your left as you enter, there is a seat number desk and you will be asked to go there.
Seat number issuance and baggage check-in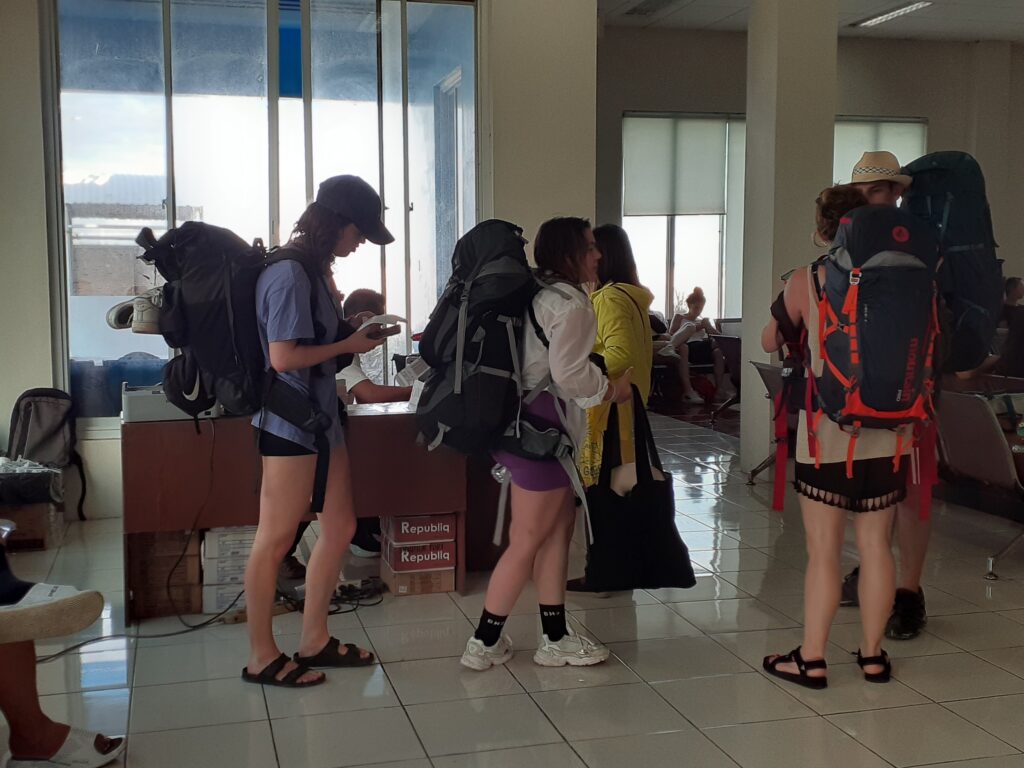 When you go to the seat number desk and hand in your ticket, a seat is issued and stapled to your ticket.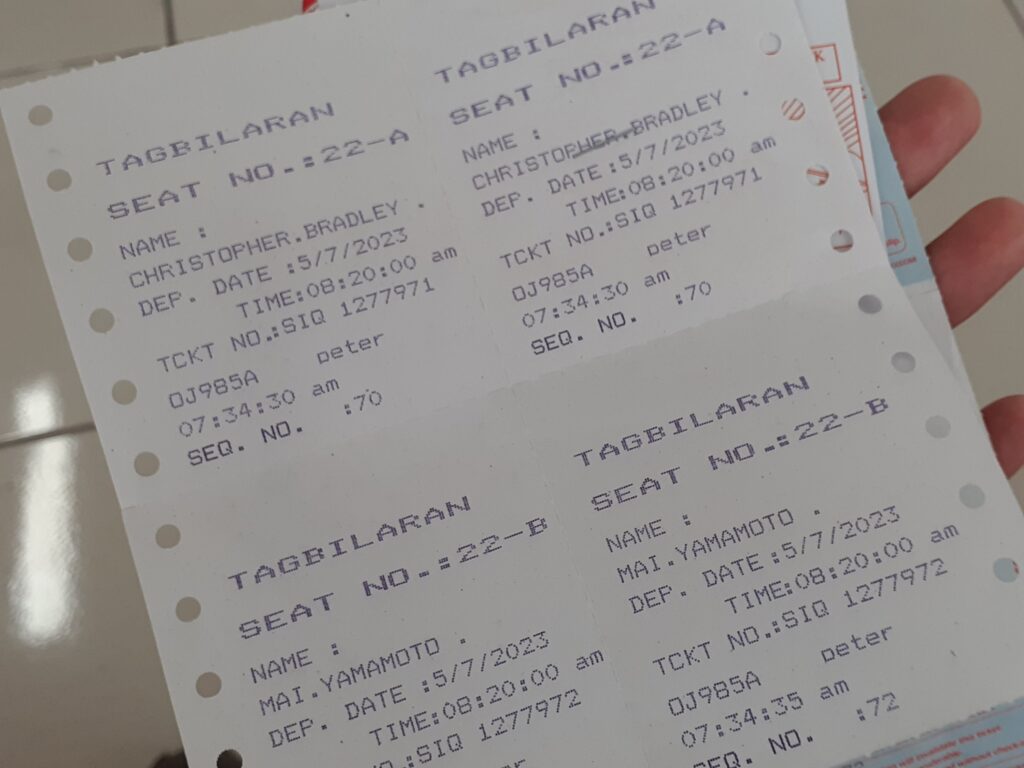 Our seats were 22 A and B.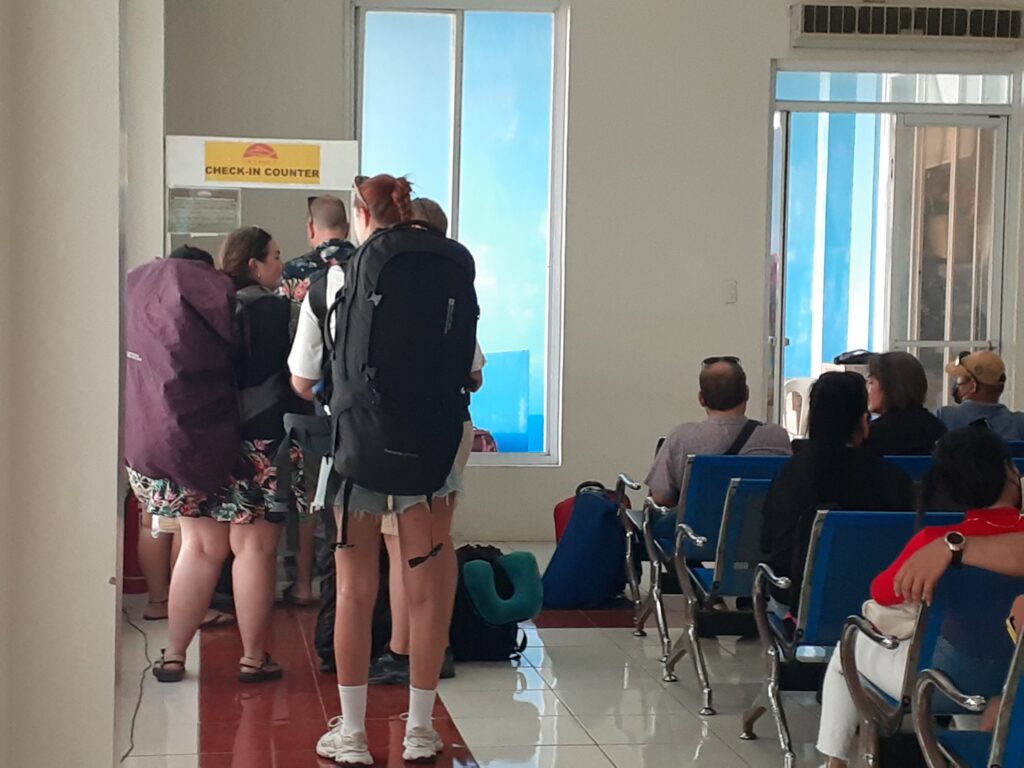 Large luggage can be checked in. There is a luggage check-in booth in the corner of the waiting room where you can leave your luggage. Each piece of checked luggage is likely to cost 100 pesos, but the fee may vary depending on the weight and size of the item.
We only had two daypacks, so we brought them on board without checking them in.
Boarding the fast ferry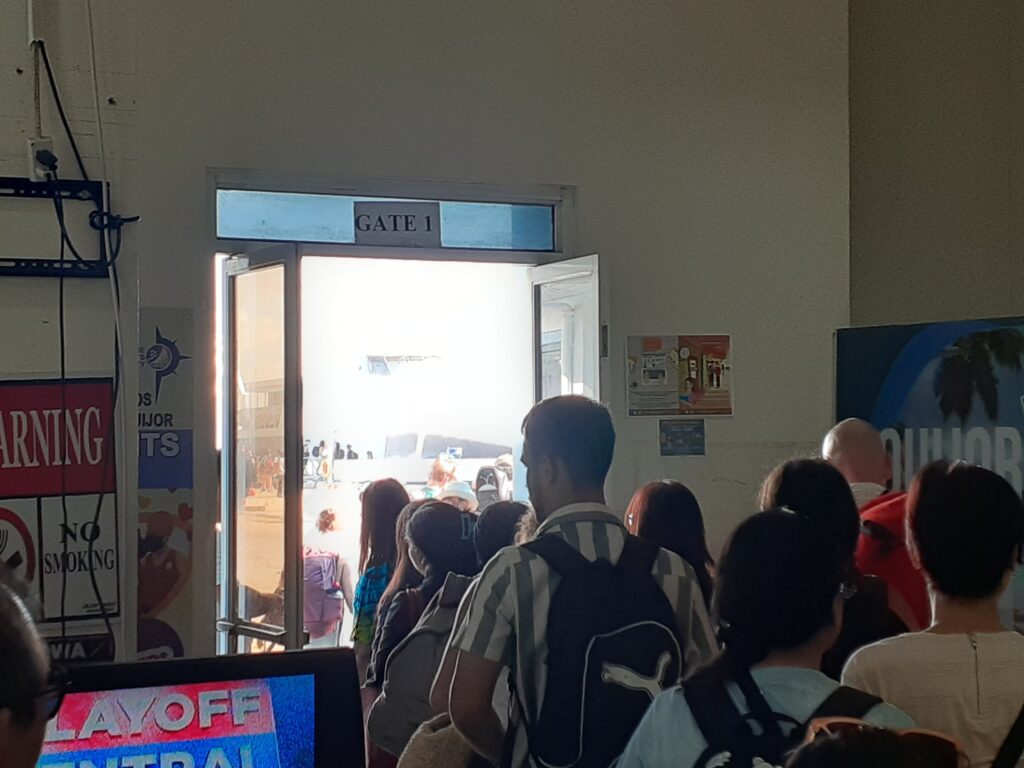 Boarding started at around 8:10am. There were no announcements, and before long we saw other passengers walking out to line up at the gate, so we got in line too.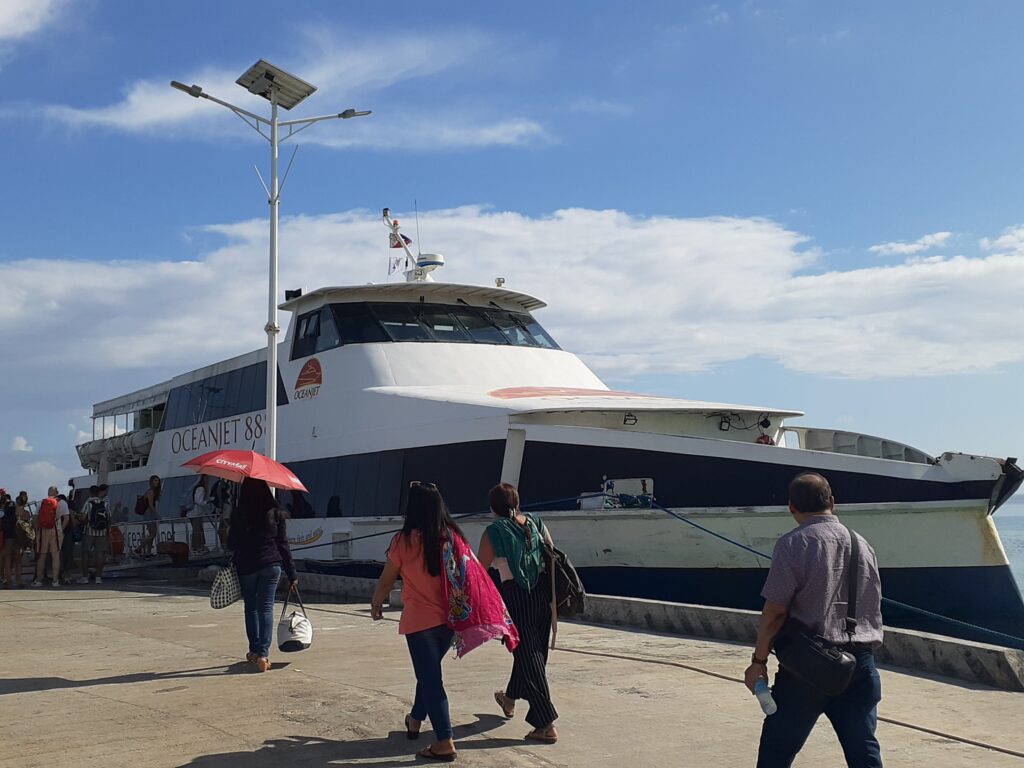 We walked through the gate and boarded the boat.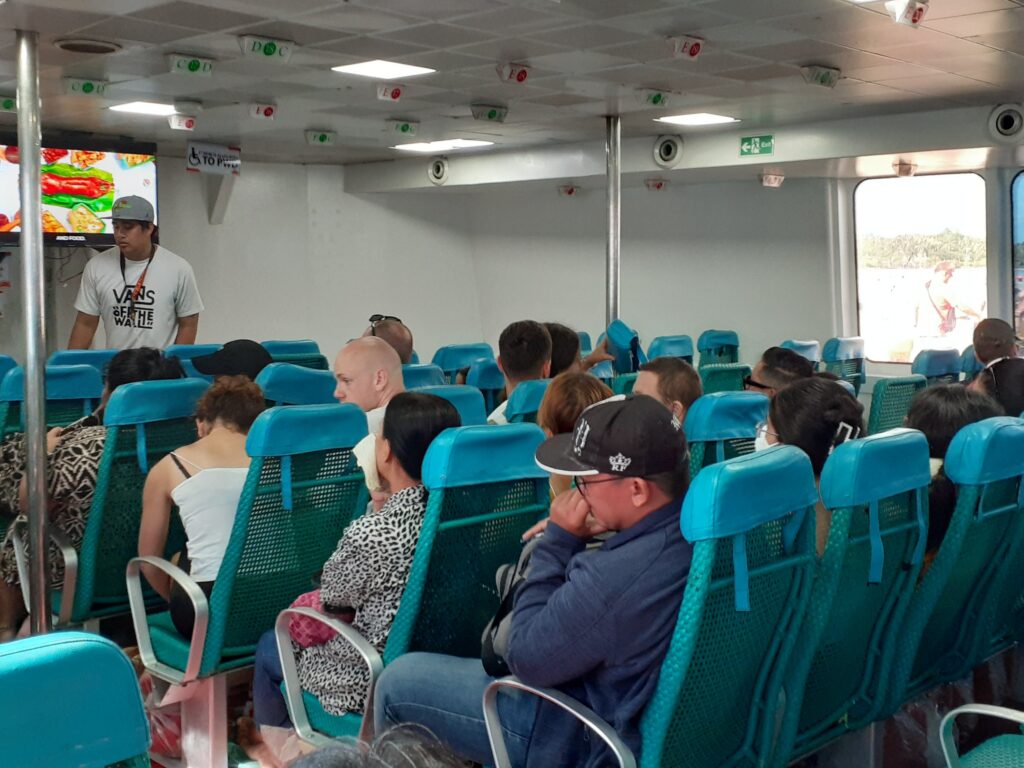 Seats on board are light blue seats. Seat numbers are marked on tags hanging from the ceiling and you sit accordingly.
Boat trip from Siquijor to Tagbilaran, Bohol
We got off the boat in Tagbilaran, Bohol, as the ferry goes to Cebu. The journey to Tagbilaran takes about two hours and from Tagbilaran to Cebu takes another two hours.
The ferry left Siquijor Harbour at almost the scheduled time of 8.25 am. The weather was sunny and the sea was very calm.
Arrival at Tagbilaran, Bohol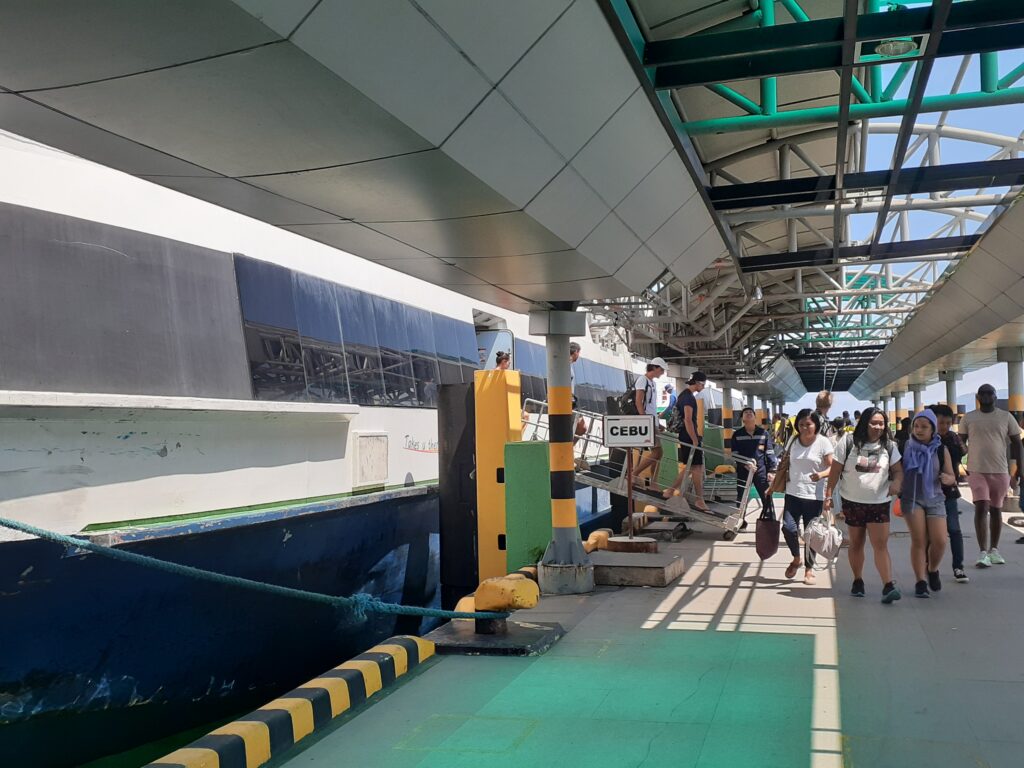 The ship sailed smoothly and arrived at Tagbilaran Port, Bohol at 10.10am.
The ship would continue its voyage to Cebu, so passengers were lined up outside to go from here to Cebu.
As we left the ferry terminal building, we were approached by tricycles, taxi drivers and bike rental shops. Many travellers must be heading to Alona Beach from here.
We headed to the bus terminal to catch a bus to Batuan.