After two nights in Sighişoara, we headed to Sibiu. In this post, we'd like to share our train journey from Sighişoara to Sibiu.
The journey from Sighişoara to Sibiu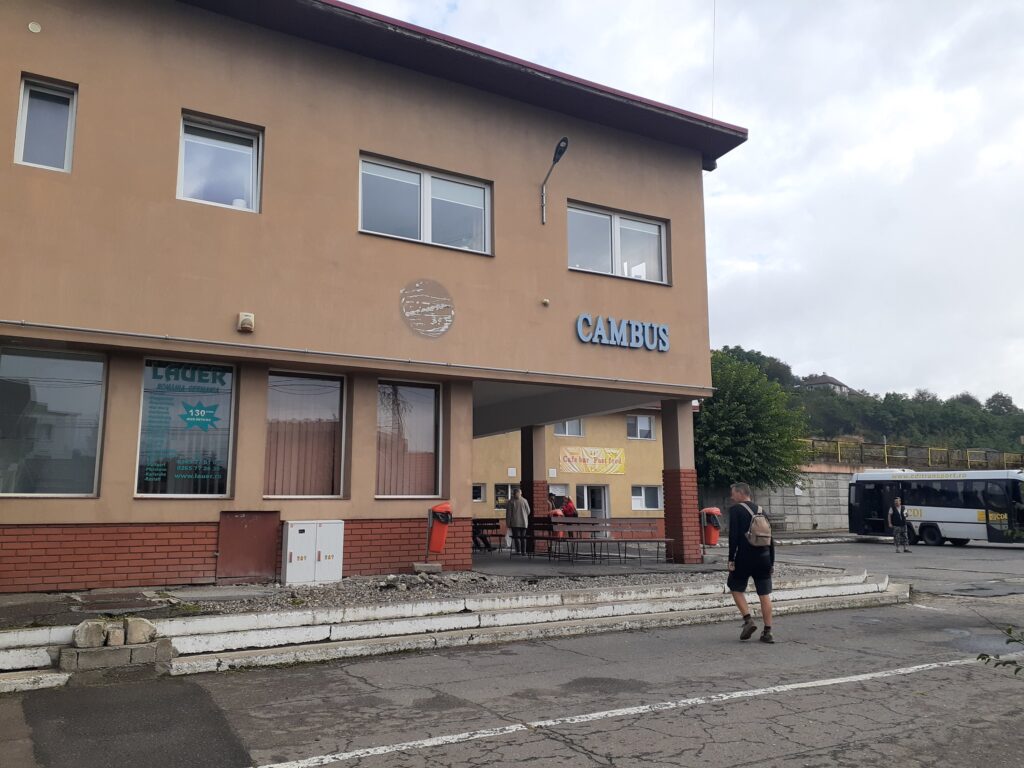 Sibiu is located approximately 100 km south-west of Sighişoara. There is a train service to Sibiu from Sighişoara, but we wondered whether there was a bus service between the two towns.
The Sighişoara bus terminal is right next to the railway station, so we went there and inquired, but they said that there were no buses from Sighişoara to Sibiu. The only way to get there is by train.
However, the trains to Sibiu are only available in the early morning (6:45 am) or late afternoon (3:00 pm), and at other times of the day you have to change trains at Mediaş. So we decided to get up a little earlier next morning to catch the 6:45am train.
Buying tickets to Sibiu at Sighişoara station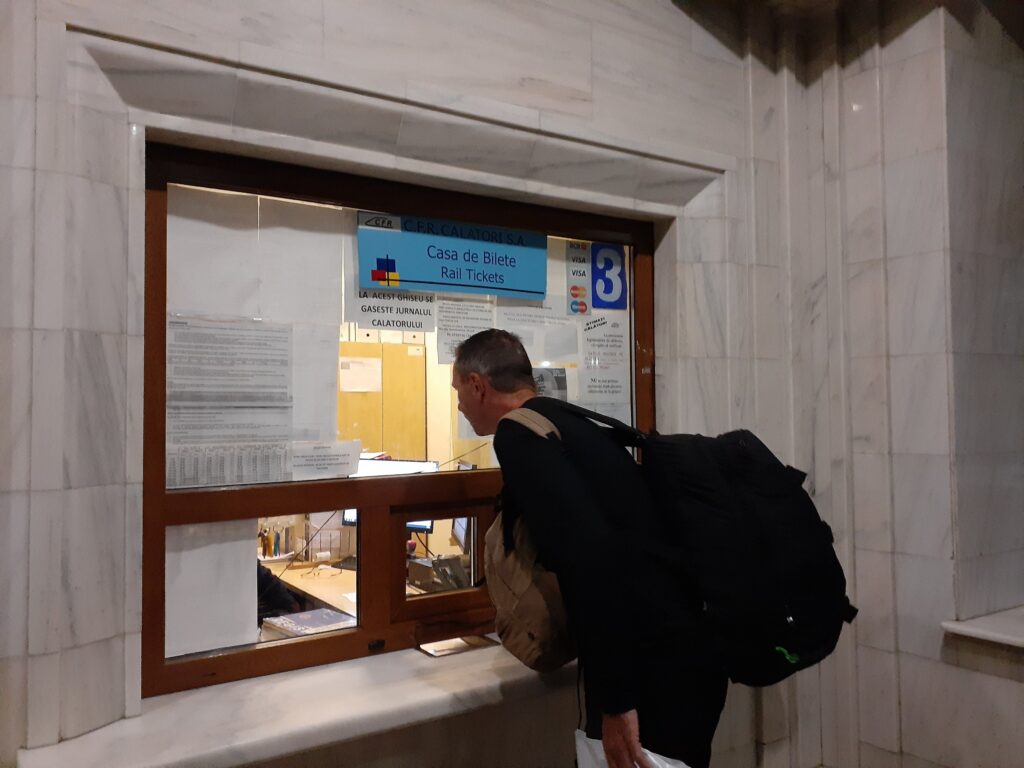 At 6am the next morning, we walked to the railway station from the guesthouse where we were staying. Although it was early in the morning a ticket counter was open and we bought our ticket there.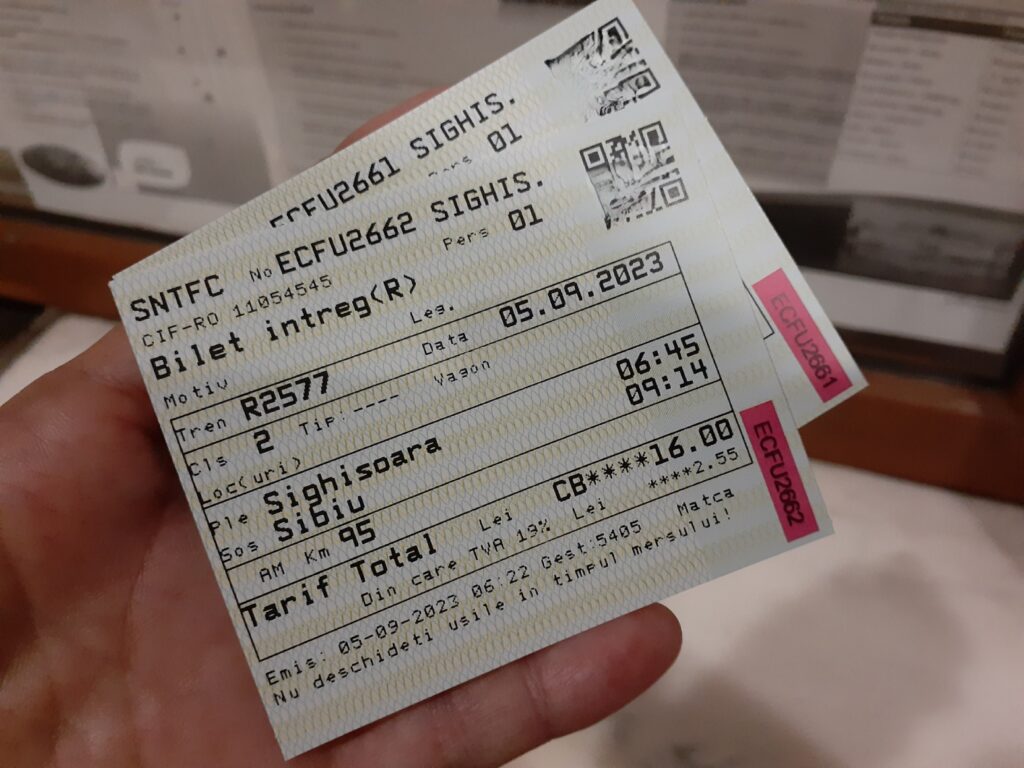 The train R2577 departed Sighişoara at 6:45 am and was scheduled to arrive in Sibiu at 9:14 am. Seats were unreserved and the fare was 16 lei per person. Payment was made by credit card.
Boarding the train from Sighişoara to Sibiu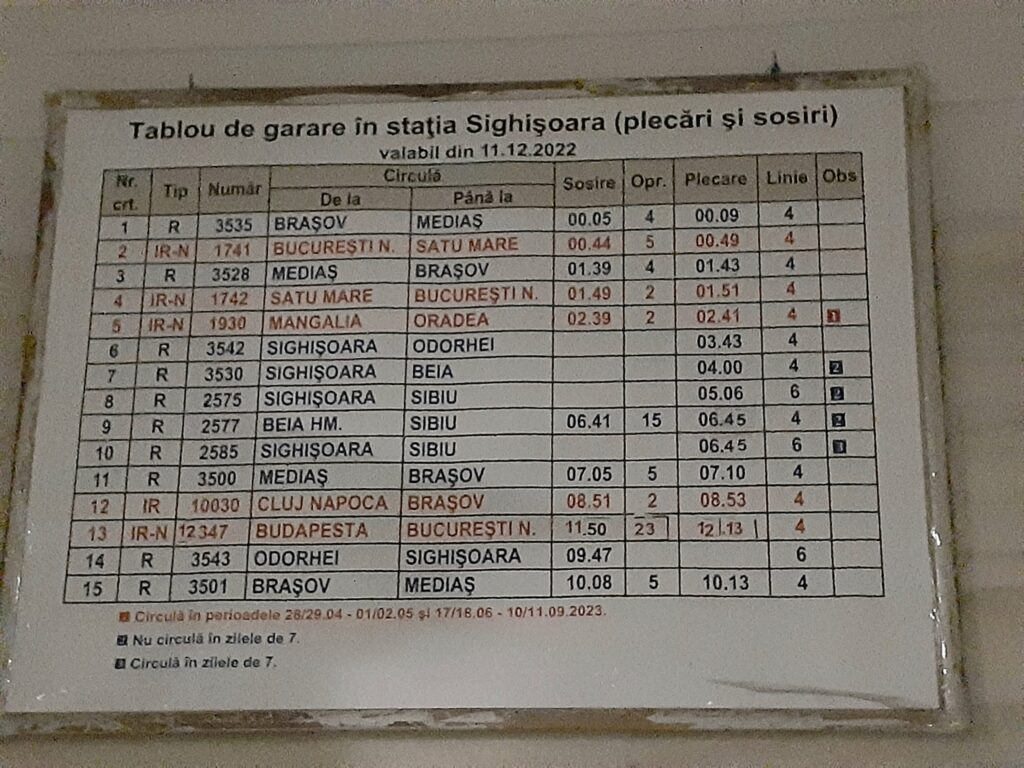 At this time, Sighişoara railway station was under construction on the platform. There was no electronic notice board installed yet, but there was a little noticeboard above the corridor in the station, so you can check the platform with it.
Our train, R2577, was shown as platform 4 (the platform number is indicated as 'Linie' in the image above), so we followed it to the platform.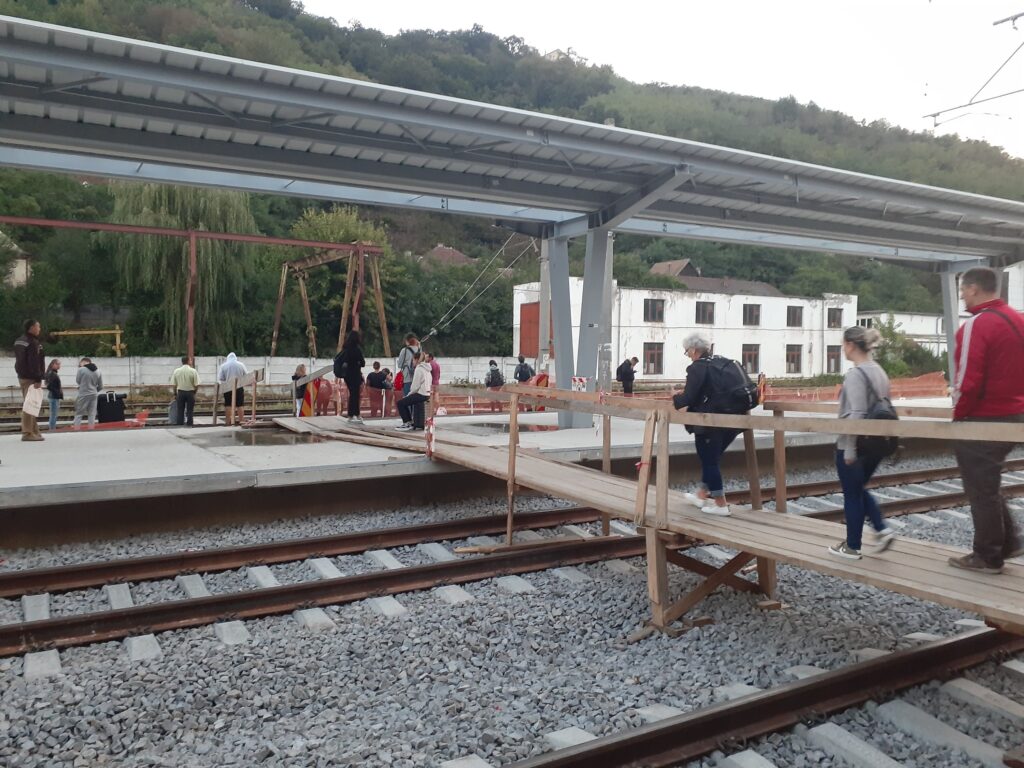 Because the platform was under construction, so we moved across a temporary bridge with wooden planks passed over it; platform 4 was not even a platform itself yet, and we boarded our train from the simple concrete foundation.
After a short wait, the train arrived and was pretty modern.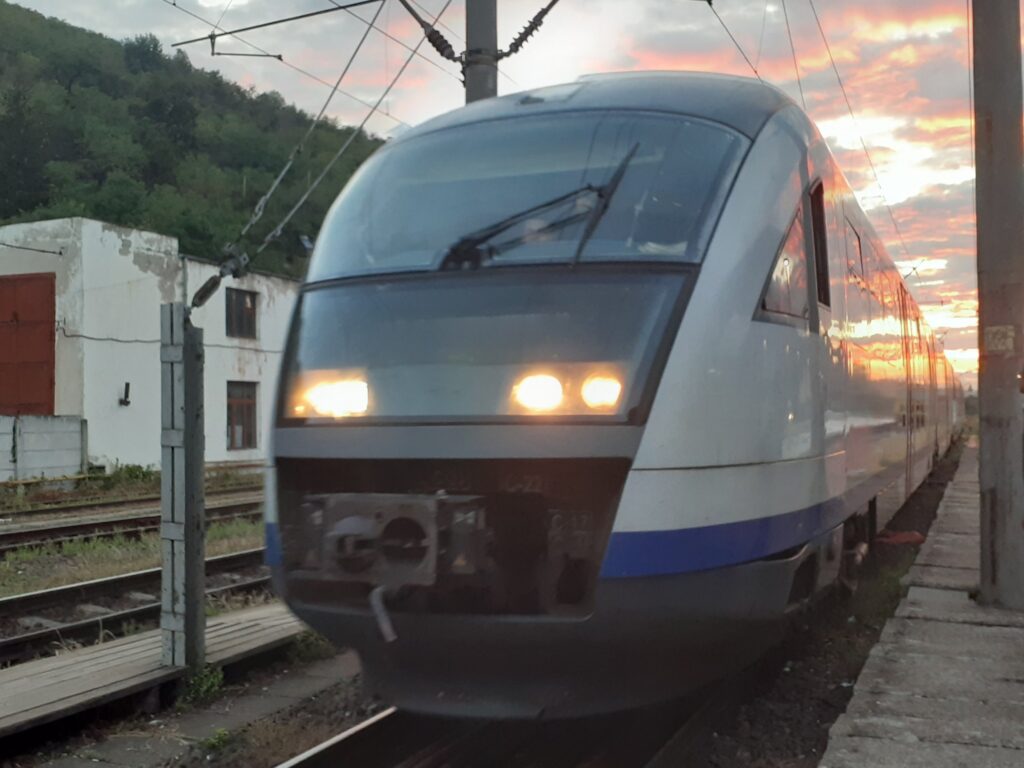 Inside the train was a box seat with four cloth seats facing each other. As it was an early morning train, there were lots of empty seats.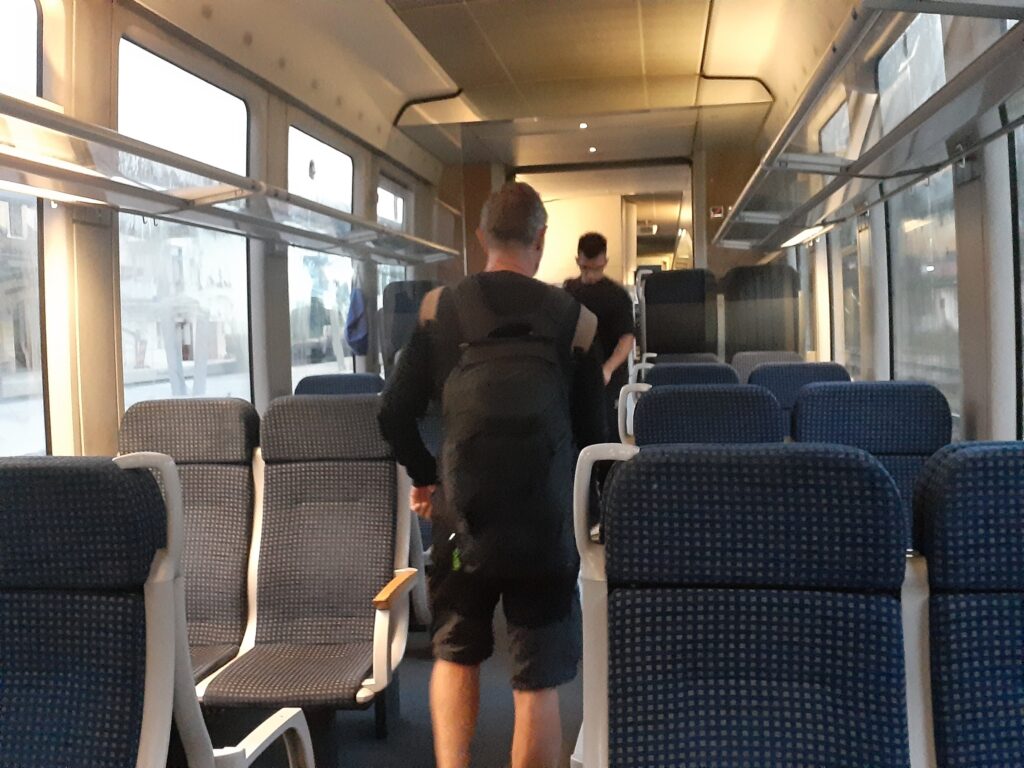 The train departed shortly after boarding, earlier than scheduled at 6:41 am. The journey to Sibiu was 95 km and the estimated journey time was 2.5 hours.
Arrival in Sibiu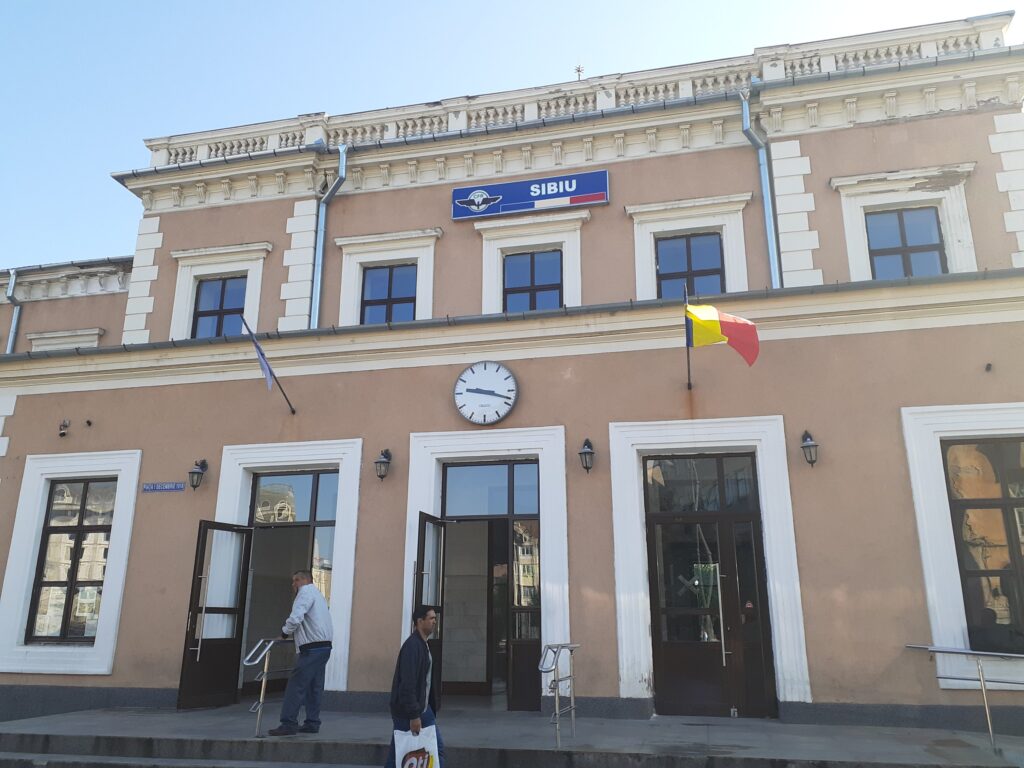 As we approach Sibiu, the number of passengers increased, but not to the point where the train was full. Passing through corn fields glistening in the morning sun, we arrived at Sibiu railway station at 9:14 am on schedule.
We were happy getting up early because we still had plenty of time to walk around the town of Sibiu. First of all though we went from the station and found a nearby guesthouse.