After a relaxing stay in Almaty recovering from sickness, we decided to fly to Ankara, Turkey.
The number of international flights from Almaty is limited. We decided to fly out on Pegasus Airlines to Ankara which was the cheapest last minute option.
Flights from Almaty to Ankara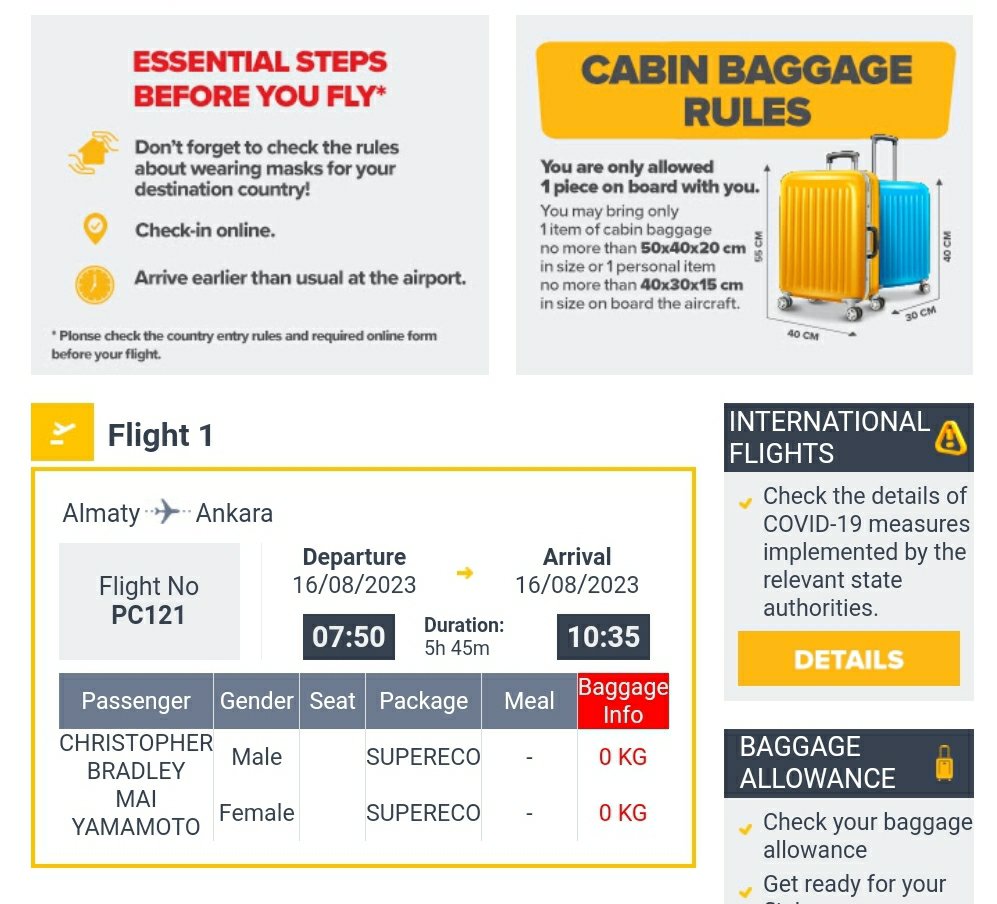 Pegasus Airlines offers several daily flights from Almaty to Ankara. However, the flights with the best times are quite expensive, so we booked and purchased the cheapest flight, departing at 7:50am, online.
Flight PC121 departs Almaty at 7:50am and arrives in Ankara at 10:35am. The flight time is 5 hours 45 minutes and there is a three-hour time difference between Almaty and Ankara.
Pegasus Airlines is an LCC based in Turkey, but its baggage rules are a little stricter. Each passenger is limited to one carry-on item, weighing no more than 10 kg. Weight is probably not a problem for us, but we each have two small bags, so they might stop us…
Getting to the Almaty airport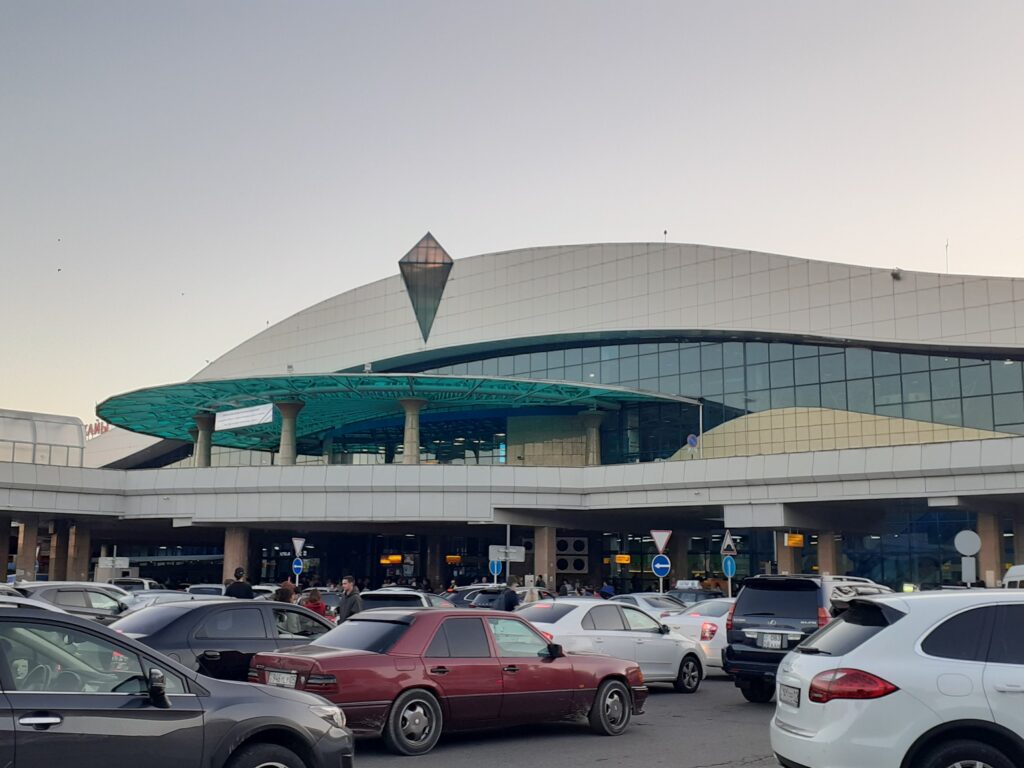 The flight departed at 7:50am, and you need to arrive at the airport two hours in advance. We tried to check in online the day before, but for some reason Mai was able to check in but I was not. I wonder if my British passport has been flagged because this happened before… We had no choice but to check in at the airport check-in counter on the morning of the flight.
Almaty Airport is about 20 km from the city. We woke up at 5:00 am and called a Yandex taxi at 5:30 am to take us to the airport. The journey to the airport took about 30 minutes and the Yandex taxi cost 2,500 tenge.
Despite the early morning, the airport was extremely busy. The parking lot was overflowing with cars and there was a traffic jam at the parking. The airport was also overflowing with people. We went up to the second floor, where the international flight departure lobby is located, and looked for the check-in counter.
Checking in at Almaty Airport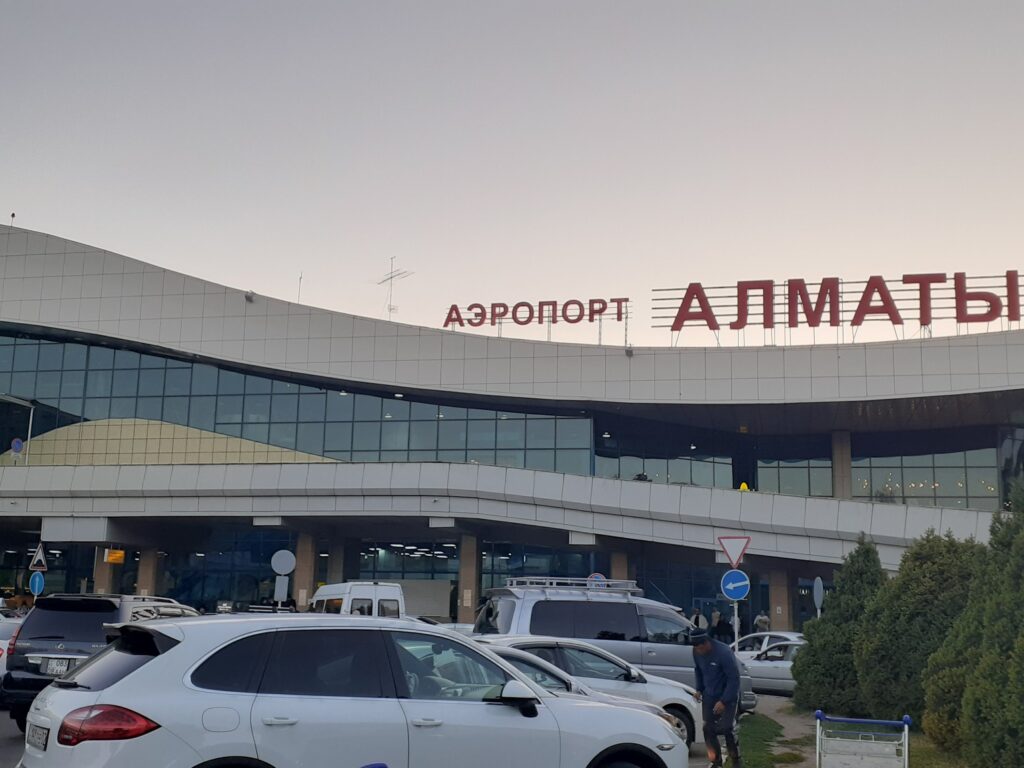 There were two Pegasus Airlines check-in counters available, but both had long queues. Despite the European atmosphere of the city of Almaty, we had the impression that the airport was not very functional. Anyway, there were long waiting times for everything. The airport is definitely too small for the number of passengers.
After a long wait, check-in was finally completed and we received our boarding passes. We were not asked anything about carry-on luggage and there was no weight check. Many other passengers had a lot of checked baggage, and several people asked us if we could check in their baggage for them. However, nowadays people don't do it, we refused off course.
Passport control is located right next to the check-in counter, where you can complete your departure formalities there.
Departing Kazakhstan and shopping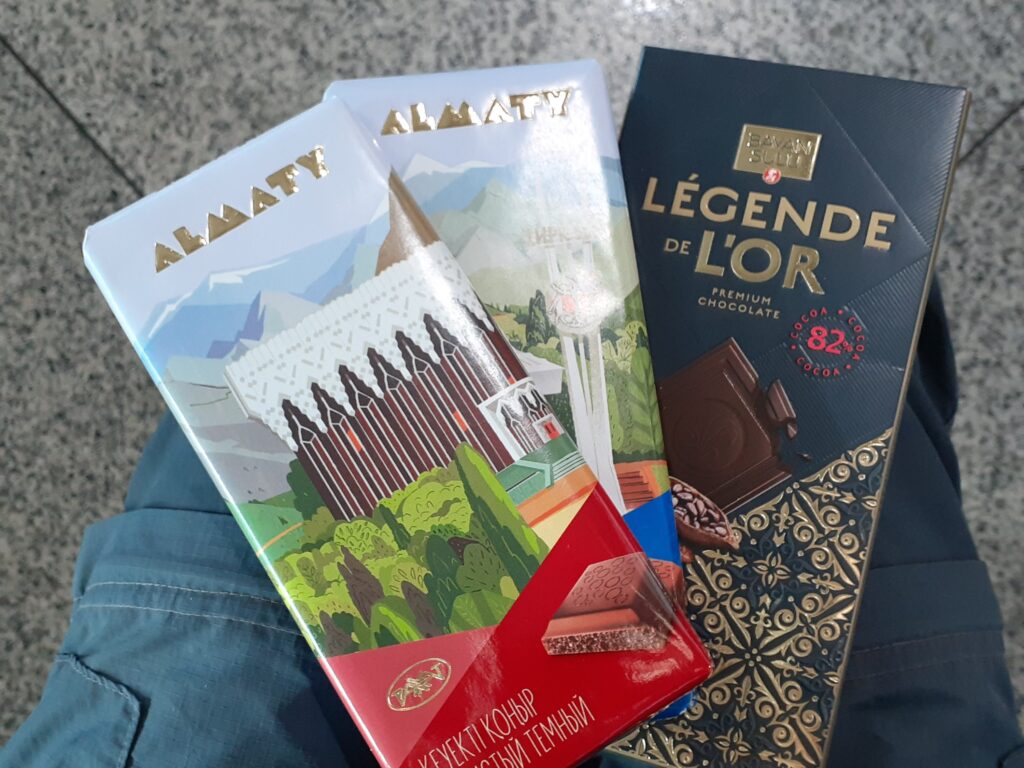 There were many people lined up at passport control. It took a long time for the departure procedure, but when it was our turn, we understood why.
Mai, who is a Japanese passport holder, was able to get her departure stamped relatively easily, but I had my Canadian passport checked for quite a long time. The examiner scrubbed my passport and checked it with a magnifying tool. It seemed that she was scrutinising the passport to see if it was genuine or not. This process was done on a lot of passengers' passports, so it took a huge amount of time.
No matter how much it is rubbed or enlarged, my passport is genuine. Eventually, the departure stamp was applied and we could proceed to the security check.
The security check is located right next to passport control. It is a small airport, so it was good not to have to walk. The security check was just a scanning of our luggage. We passed through smoothly without the need to take out our computer or other devices or liquids. We had a 1-litre bottle of drinking water with us, but that was also passed through.
As soon as we left the security check, we went to the waiting lounge, where we had an extra 2,000 tenge in cash, but we didn't see any exchange offices, so we bought some chocolates at a shop.
Boarding Pegasus Airlines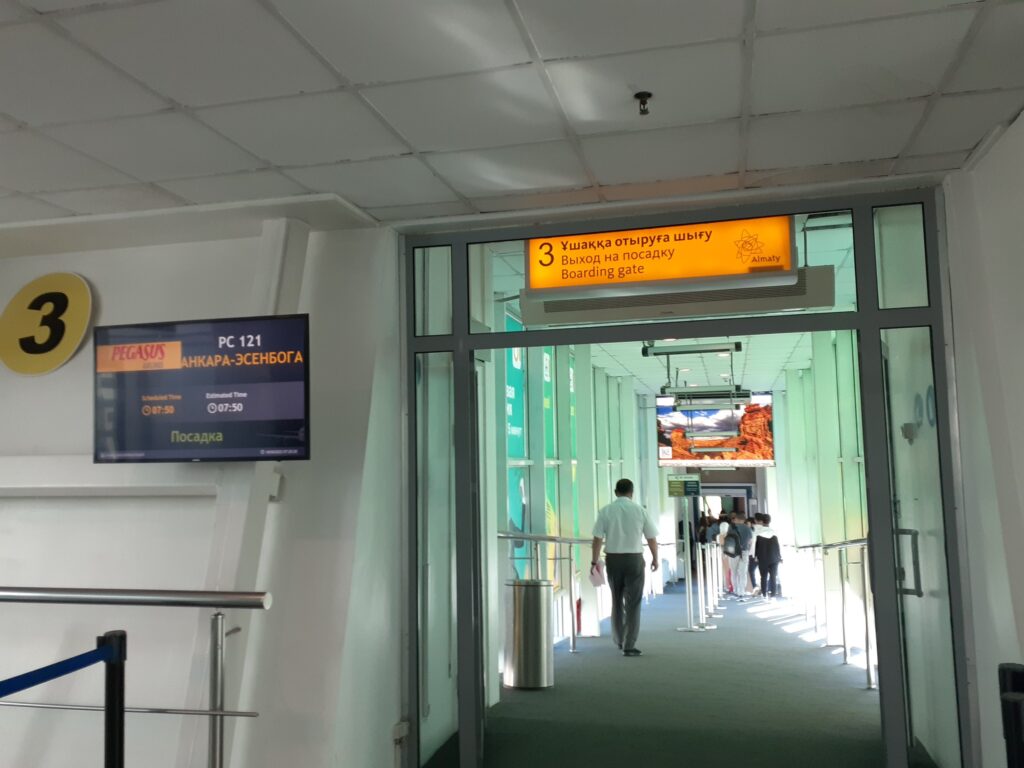 Our boarding gate was gate 3, but even at the boarding start time printed on our boarding pass, the notice board still showed 'Wait in Lounge'. However, boarding started while we were buying chocolates and using the bathroom.
The boarding gate opened and we boarded the plane directly. There was no check of our cabin baggage, only identification with our passports.
The aircraft was an Airbus A320 with three rows of seats on each side. The legroom was not spacious, but it was a flight of less than six hours, so we just needed to be patient.
Arrival in Ankara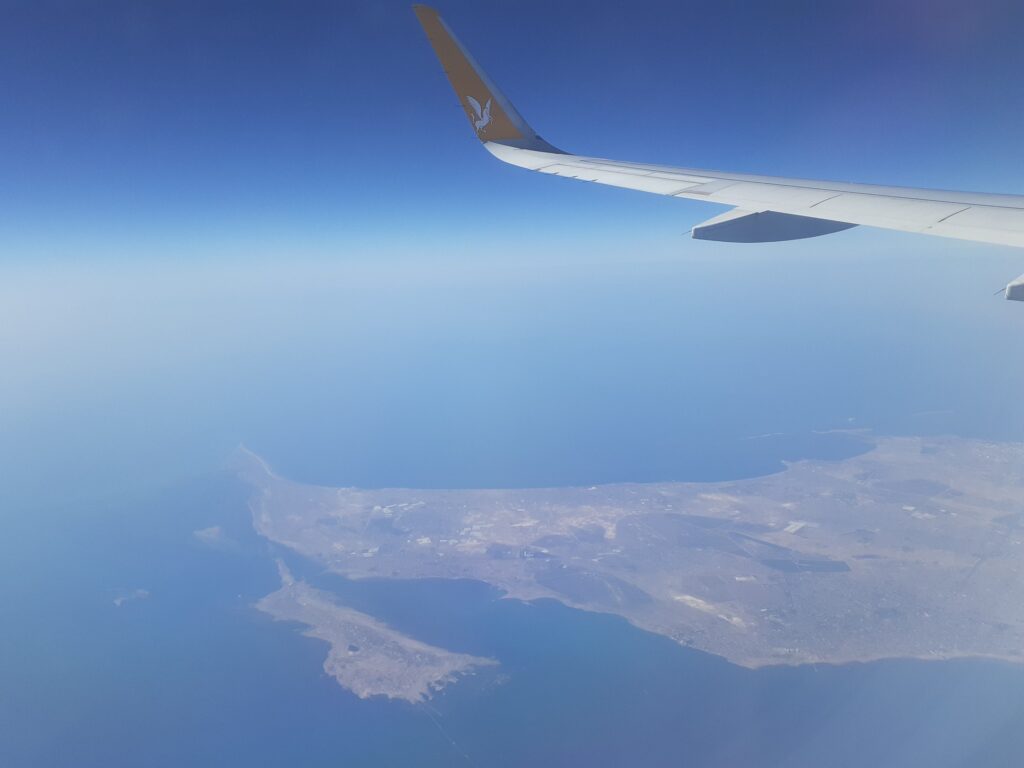 Arrive in Ankara at 10:10, ahead of schedule. Immigration was almost empty and immigration procedures were completed quickly.
We tried to withdraw Turkish lira from the ATM at the airport, but gave it up because of the poor rate (8% + off). At any rate, we needed money for transportation to the city, so we exchanged 100 USD at a Vakif bank near the ATM.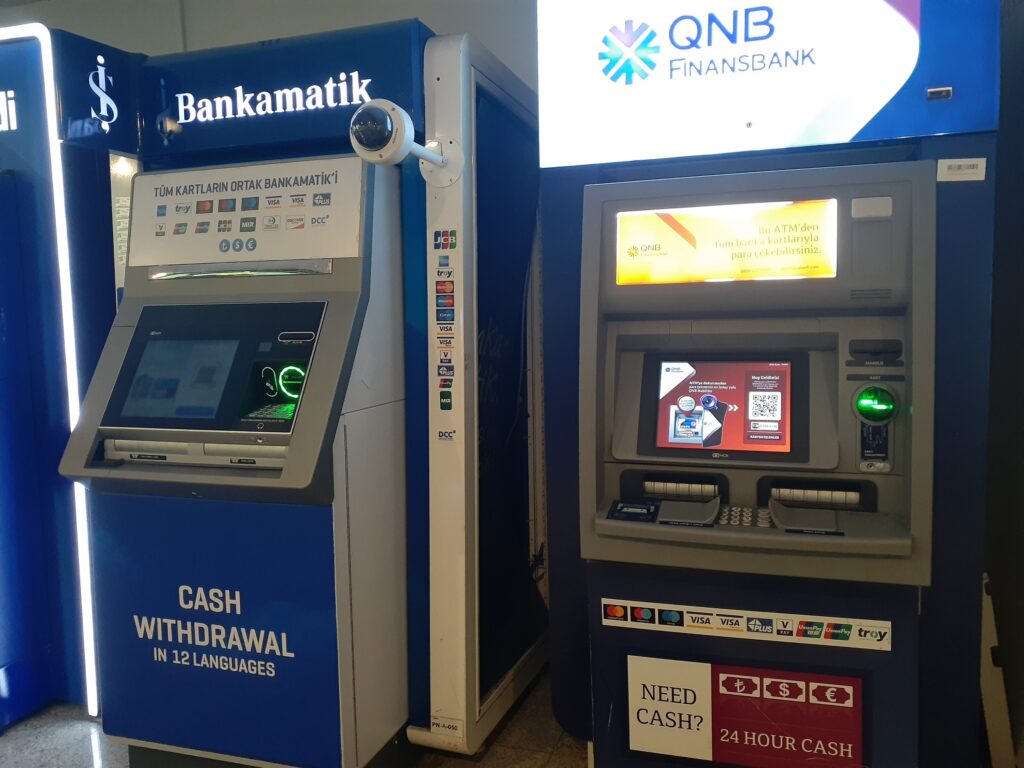 The security guard at the bank spoke some English, so I asked him about it and he told us to take city bus 442 to the Ulus area in the city. He said it was a red bus.
Getting from Ankara Airport to the city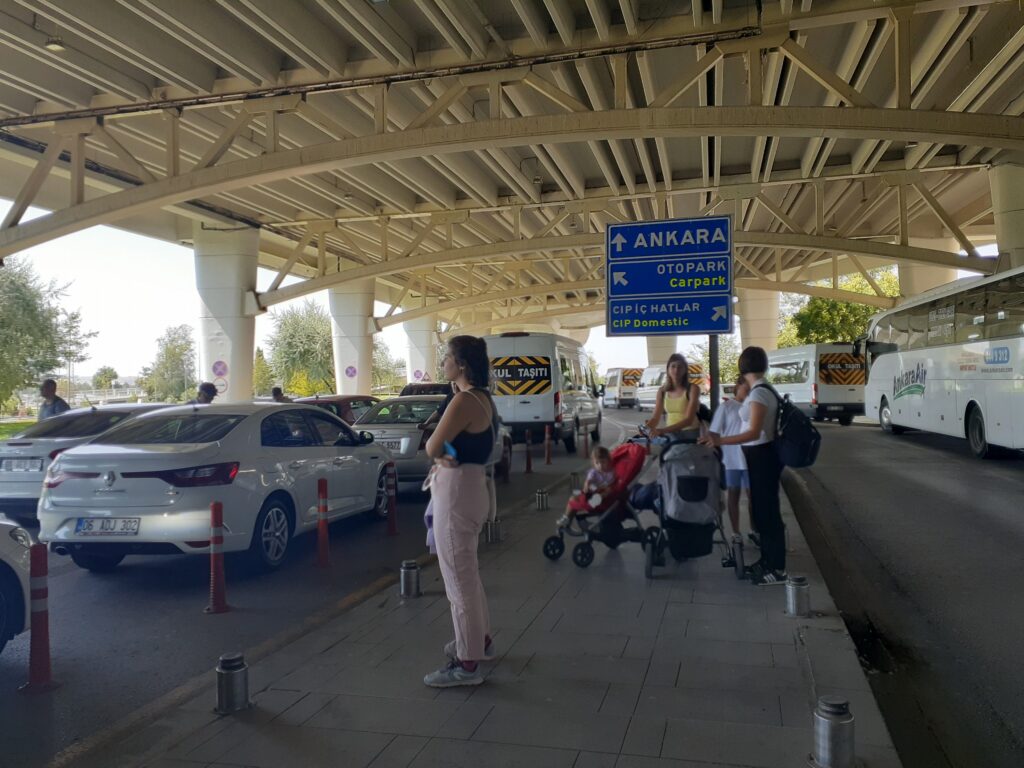 As we exited the building towards the direction he pointed, we saw several Havas buses parked there. The city bus stop was on the other side of the building, in the area with the big blue sign. The boarding area was not clearly marked and was chaotic as cars were triple parked.
After waiting for a while people gradually gathered, a red bus arrived. However, due to the multiply parked cars, it was not easy to come in.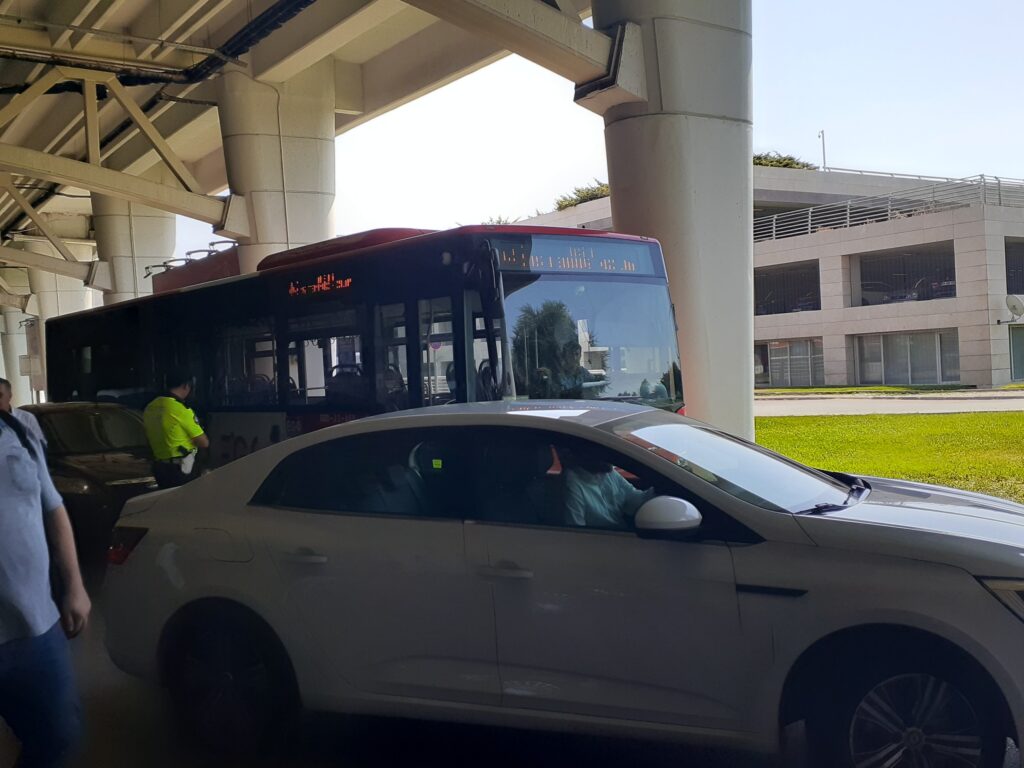 Finally, we got on and paid the fare. City buses are usually paid for with a transport IC card, but when I handed over the cash, the driver paid the fare with the transport card he had and accepted my cash. The bus fare was 25 lira per person, 50 lira for two people.
The journey from the airport to the city is about 25 km. It took about 30 minutes to reach the Ulus area. After getting off the bus, we walked to our hotel.