Last time I wrote about buying a one-way ticket to London.
We had already decided that our first destination for our year-long backpacking trip would be the UK.
I have millions of idea about destinations, but one thing we both agree on is that we will travel to Turkey after our stay in the UK.
And today, we finally booked our one-way tickets from London to Turkey!
One-way tickets from London to Turkey
The next destination after the UK is Turkey, and we've just bought our one-way tickets to Izmir.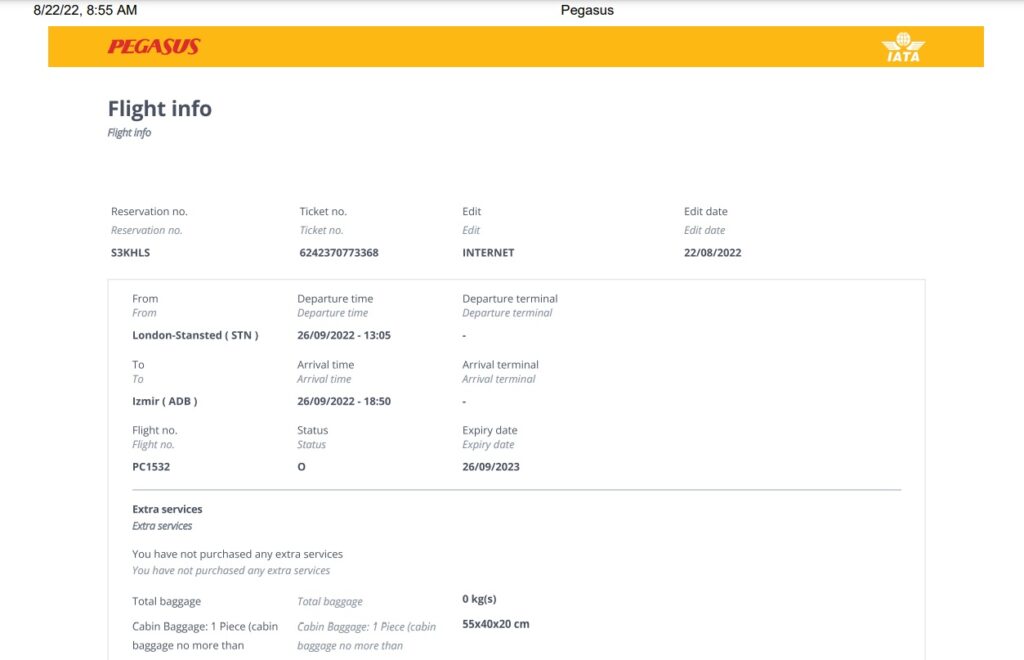 'Pegasus' is a budget airline based in Turkey.
Our departure for Turkey is on Monday, 26 September 2022.
The flight departs from London Stansted Airport at 1:05 pm to Izmir, Turkey, with arrival at 6:50 pm local time.
The flight time is 3 hours 45 minutes.
As a low-cost carrier, there is no checked baggage included in the price. Carry-on baggage is allowed which is good enough for us.
Missing flights
Before we booked these tickets, we were about to buy some completely different tickets and for a different route – Bangkok to London with Singapore Airlines.
This trip is for one year, but next year, in January 2023, my mother in England will celebrate her 90th birthday. We are planning to be in the UK at that time to celebrate it with her.
Therefore, we will go to the UK at some point in January.
Just as I was researching airline tickets, I found a very reasonably priced Singapore Airlines flight from Bangkok to London.
Singapore Airlines is one of the favourite airlines for both of us. We were both excited that we could buy tickets to London from Bangkok, Thailand, on Singapore Airlines at such a reasonable price.
However, the moment we got our passports ready and were about to click the bottom to book them, the airfare deals that had previously been displayed disappeared.
The ticket we had been looking at was with a connecting flight in Singapore, and the connecting time was four hours. We both thought it was a good deal, but disappointingly the ticket had disappeared. It still showed the same route, but with a connection time of more than nine hours.
The four hour connection in Singapore was just fine, but nine hours is a bit too long.
We could even make a stopover in Singapore, but we have already been to Singapore many times, so we didn't feel like staying longer in Singapore this time.
We ended up giving up on that flight for now. Ultimately, good deals are not around for long, so you have to take action quickly and believe your instinct.
From the UK to Turkey
We missed the Singapore Airline tickets, but we got the flight tickets for Turkey now.
We will arrive in a town called Izmir, and we will probably travel by train immediately after arrival to access another smaller town, Selcuk.
I will write more about our plans and ideas soon!